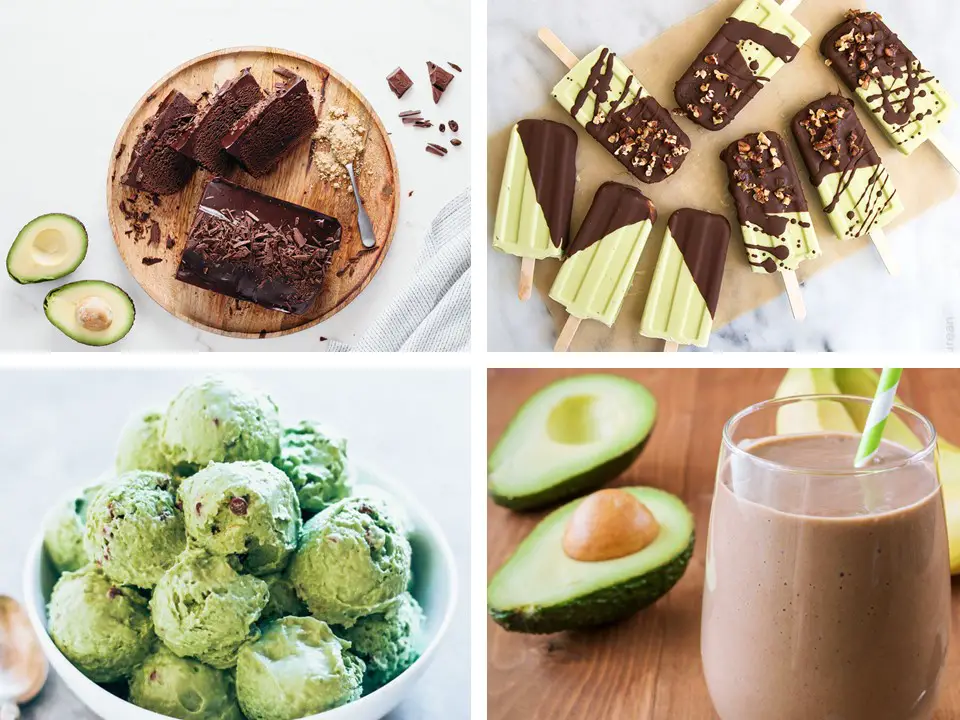 It doesn't matter how strict your diet is, there will always be a time where you crave a delicious and decadent chocolate dessert. But what if you could enjoy a chocolatey sweet without the lashings of sugar, fat, and guilt?
What if this dessert could actually be good for you, in more ways than one? 
Today, we're rounding up the top 25 desserts combining chocolate (or should we say cacao) with the superfood avocado, giving you a dessert that isn't just creamy and silky smooth, but also quite healthy too.
After all, avocado contains a wide variety of nutrients, including 20 different vitamins and minerals. It also features more potassium than bananas and is loaded with heart-healthy, monounsaturated fatty acids.
Ready to check out these 25 healthy desserts combining chocolate with avocado? Let's get started!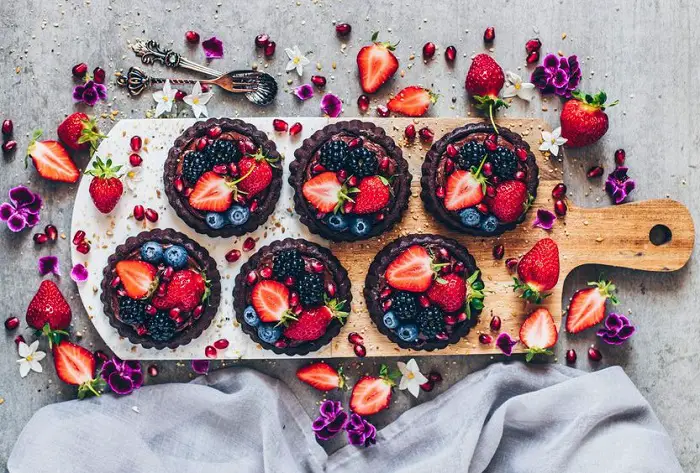 1. VEGAN CHOCOLATE TARTS WITH AVOCADO CHOCOLATE PUDDING FROM BIANCA ZAPATKA
These chocolate tarts with avocado chocolate pudding are the epitome of a perfect summer dessert – especially when you eat them chilled and straight from the fridge.
Not only are they vegan, but they're also quite healthy, using ingredients such as bananas, agave syrup, berries, and of course, avocado.
Serve up a batch of these next time your friends come around, or you'd certainly be forgiven for wanting to keep them all to yourself!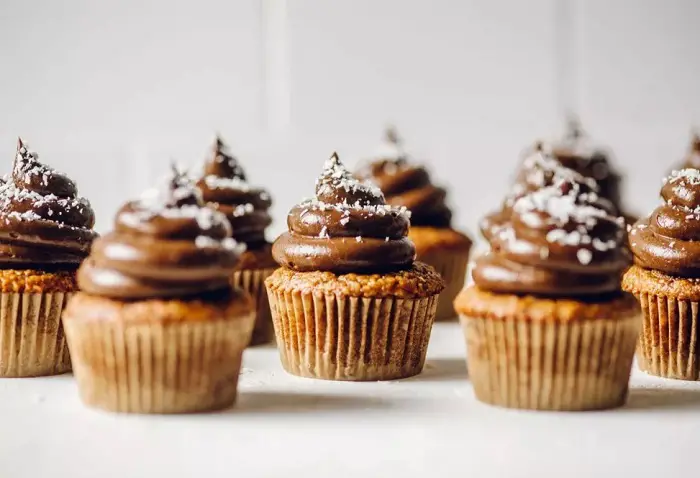 2. FLOURLESS COCONUT QUINOA CUPCAKES WITH CHOCOLATE-AVOCADO FROSTING FROM BREWING HAPPINESS
These flourless coconut quinoa cupcakes with chocolate-avocado frosting are a totally gluten-free sweet treat made with wholesome ingredients.
In this recipe, you'll find healthy additions such as avocados, cacao powder, shredded coconut, and quinoa, giving you a dessert that's not only delicious, but pretty darn good for you too.
As much as we love avocados, you might be pleased to hear that you don't actually taste them in this dessert, so your sweet cravings will be instantly satisfied.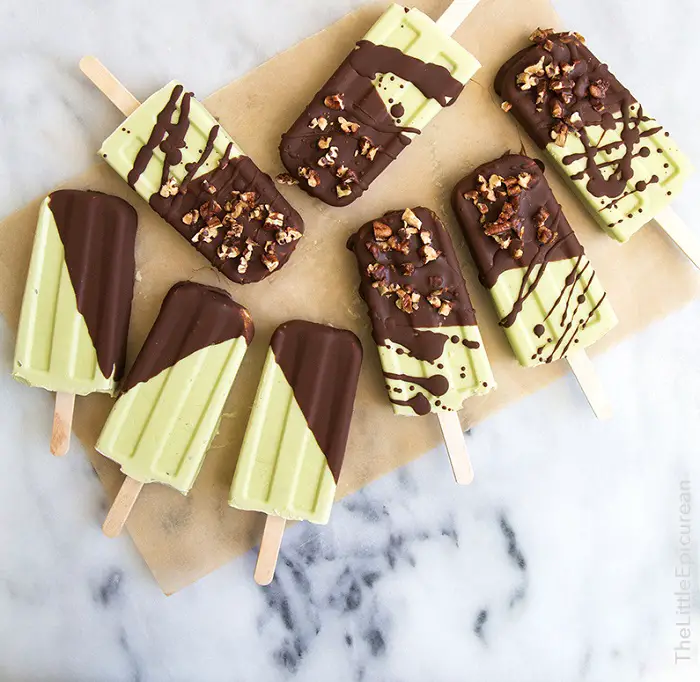 What's better than a dessert that looks amazing? One that tastes incredible too! These coconut avocado popsicles are the real deal, containing creamy vegan ice cream, hard chocolate, and crunchy pecans.
To make them, you'll need avocados, coconut milk, honey, dark chocolate (which can be substituted for raw chocolate / cacao), coconut oil, and candied pecans. Sounds divine! Kids won't even be able to say no to these popsicles, despite them containing avocado.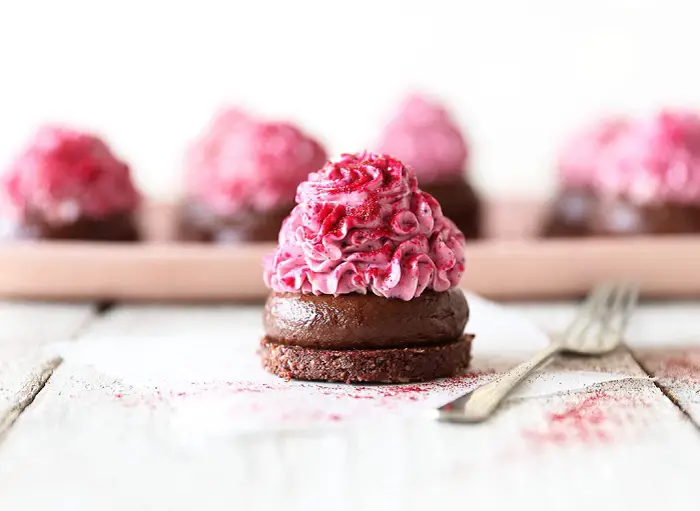 4. RAW CHOCOLATE MOUSSE KISSES WITH RASPBERRY CHEESECAKE FROSTING FROM SWOON FOOD
Dark chocolate biscuits, rich chocolate mousse, and a tangy raspberry cheesecake frosting – does it get any better than that?
This delicious dessert might look naughty, but in actual fact it contains some pretty healthy ingredients, including desiccated coconut, brazil nuts, cacao powder, medjool dates, coconut milk, and of course, avocado, just to name a few.
While this recipe serves as the perfect Valentine's Day dessert, we think it's good enough to eat all-year-round – without the guilt factor.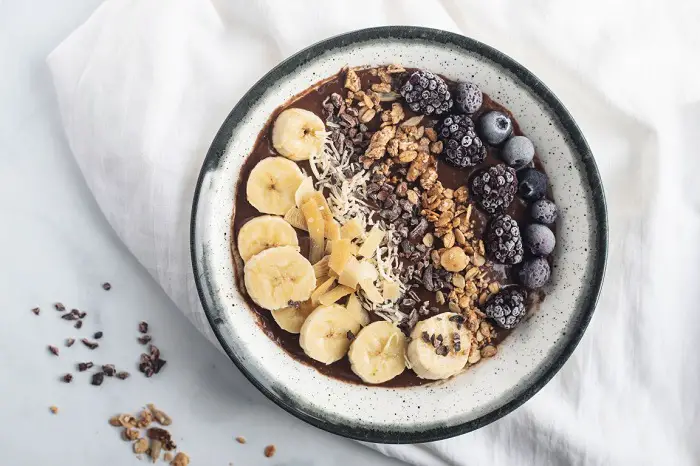 5. CHOCOLATE AVOCADO SMOOTHIE BOWL FROM EVERY LITTLE CRUMB
Smoothie bowls can serve as an excellent breakfast, snack, or dessert, depending on your mood and what you put them in, of course.
This is what makes this chocolate avocado smoothie bowl so perfect, as it contains ingredients you can feel good about, including dates, banana, almond milk, avocado, and cacao.
It tastes like a deliciously decadent chocolate pudding, but without any of the guilt (or refined sugar!). The avocado can't be tasted, but adds a creamy, thick texture that you'll love.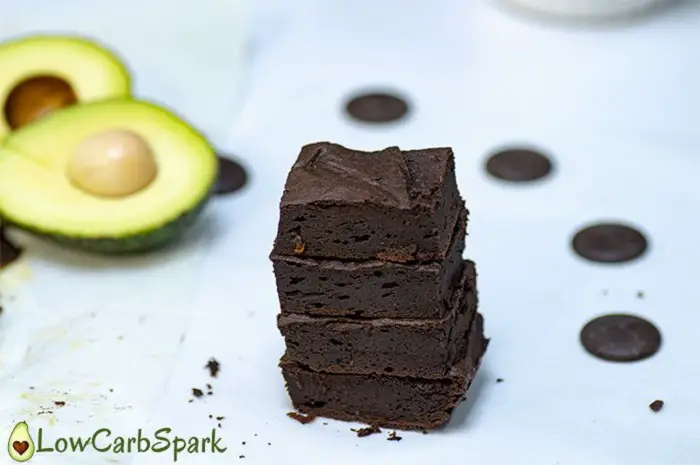 6. AVOCADO BROWNIES RECIPE FROM LOW CARB SPARK
These avocado brownies are super fudgy, rich and heavenly chocolatey, so you'll never guess that they're actually quite healthy.
Not only are they gluten-free, but they only contain 3g net carbohydrates per square and are classed as a keto recipe.
Aside from avocados, these brownies also contain ingredients such as eggs, cacao, almond flour, coconut oil (refined), and dark chocolate. Just make sure your avocadoes are ripe and creamy to give these brownies their fudgy consistency!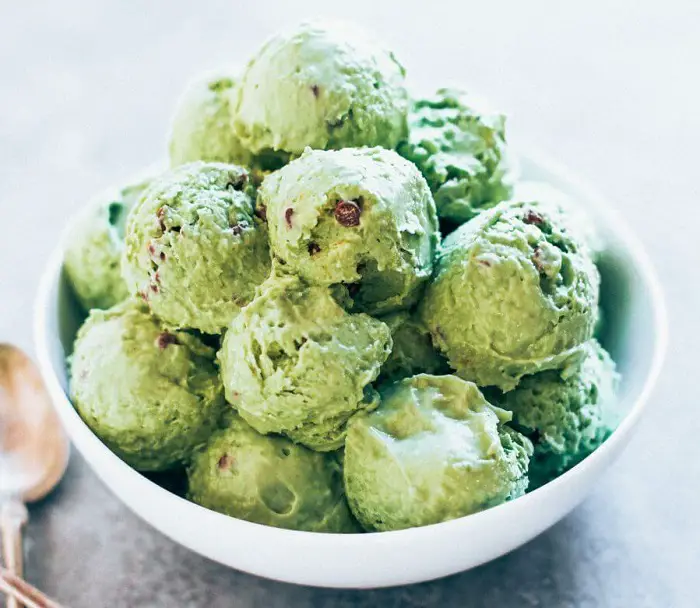 It might sound and look like a simple mint chocolate chip ice cream, but this dessert is so much more. You see, it's made with avocados, is dairy free, paleo and vegan friendly, and doesn't require an ice-cream churner to create.
You simply need 4 avocados, maple syrup, coconut milk, mint extract, and mini chocolate chips (or cacao nibs if you really want to make it all healthy).
Just combine everything in a blender (except the chocolate chips) until it's smooth, then add in the chocolate chips and stir. Lastly, pour the ice-cream into a metal bowl and chill in the freezer overnight or until it reaches ice-cream consistency.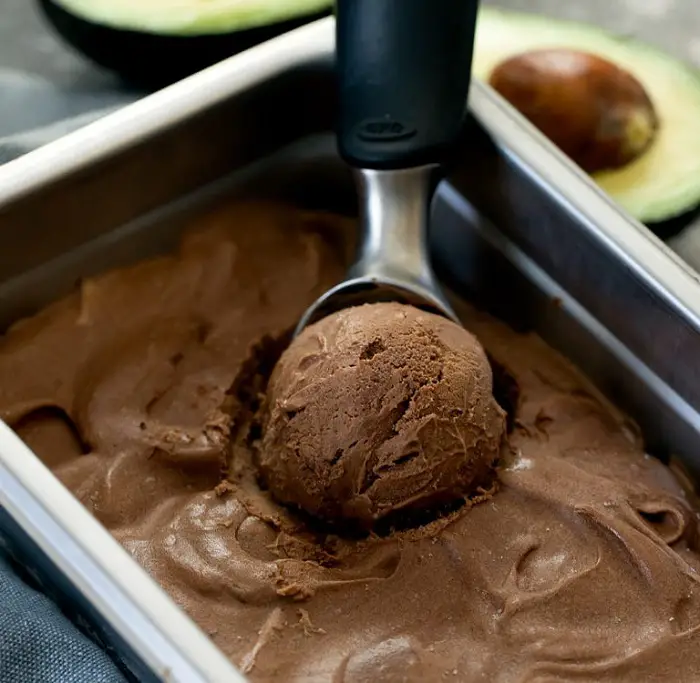 8. CHOCOLATE AVOCADO ICE CREAM FROM KIRBIE'S CRAVINGS
Ready for a no-churn, creamy chocolate avocado ice cream that's perfect for summer?
This delicious chocolate ice cream has a secret ingredient – avocado – making it thicker, creamier, and more luxurious.
Combined with sweetened condensed milk, cacao powder, and cold heavy cream, the result is a decadent chocolate ice cream that doesn't taste like it contains avocado at all (making it a great recipe for kids!).
Top with desiccated coconut, berries, or your favorite ice cream toppings.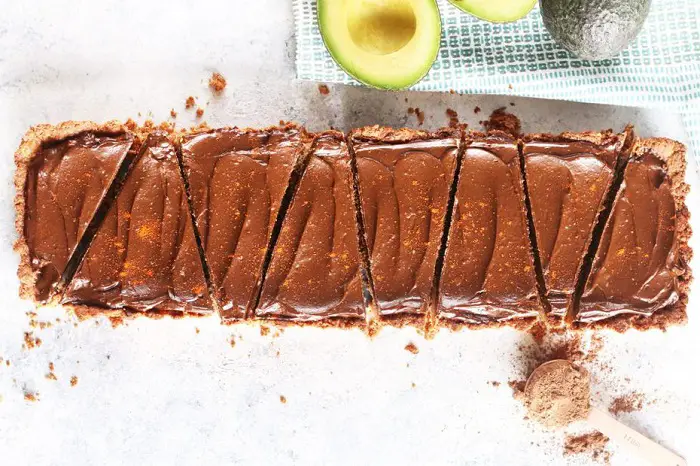 9. SPICY CHOCOLATE AVOCADO TART FROM CAKE N' KNIFE
This spicy chocolate avocado tart is the vegan-friendly dessert that's cool, rich, and spicy. It features a creamy, smooth, and spicy chocolate avocado filling and an easy-to-make crumbly crust.
The best part? This dessert is actually healthy, as it also contains ingredients such as coconut flakes, cacao, agave nectar, pure maple syrup, and cayenne pepper.
It's the perfect dish to serve up next time guests come around and is very simple to make. Just be warned: everyone will be begging you for the recipe!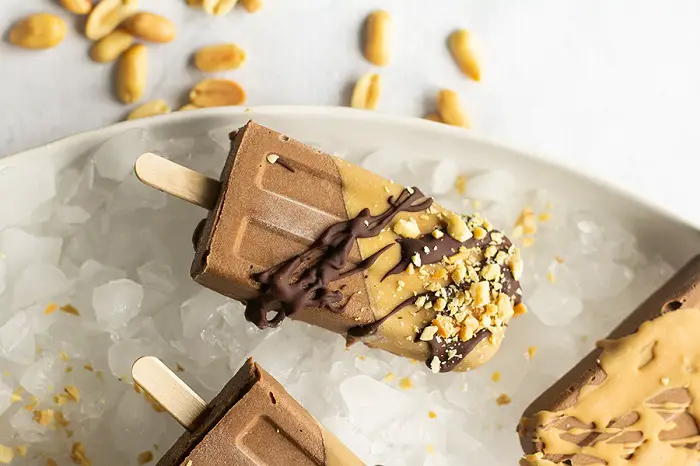 This recipe is a great way to use up avocados that are a little past their prime, plus you can easily make this recipe dairy-free by using an alternative milk such as coconut or almond milk.
If these chocolate avocado pudding pops look irresistible, that's because they taste heavenly!
You simply blend all of the ingredients together in a food processor or blender until smooth, then fill the popsicle molds with the mixture and insert the popsicle sticks.
Freeze for at least 24 hours, then add your toppings, set, and enjoy!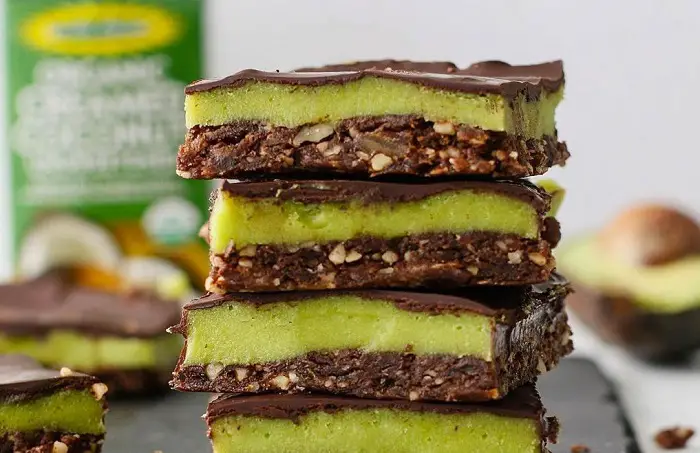 11. CHOCOLATE AVOCADO BARS FROM WELL AND GOOD
These seven-ingredient chocolate avocado coconut cream bars are free of gluten, grains, oil, and refined sugar, making them a perfect addition to just about anyone's healthy treat line up.
They contain a base layer, avocado layer, and a chocolate layer, including ingredients such as dates, walnuts, cacao, organic creamed coconut, pure maple syrup, and of course, avocado. You'll be adding this recipe to your shortlist for sure!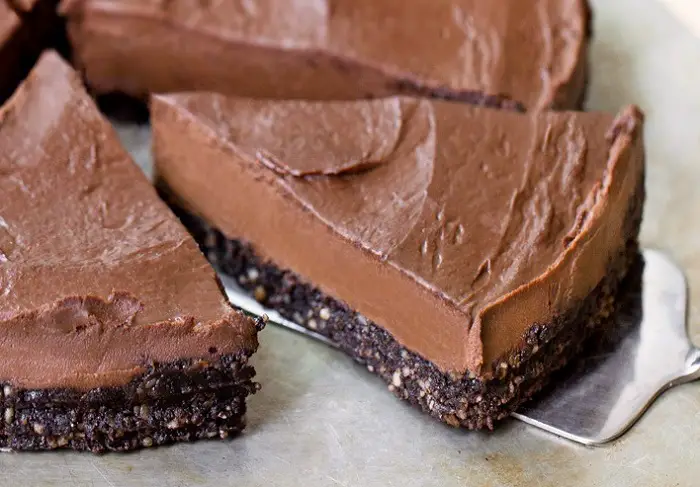 This secretly healthy avocado chocolate pie is silky smooth, no-bake, and features just 5 ingredients!
All you'll need is cocoa powder (or cacao if you want the added health benefits), avocado, chocolate chips (or cacao nibs), sweetener of your choice (i.e. honey, maple syrup, agave syrup, etc.), and a pinch of salt.
Feel free to use your favorite store-bought or homemade crust or keep it crustless and serve in ramekins. Too easy!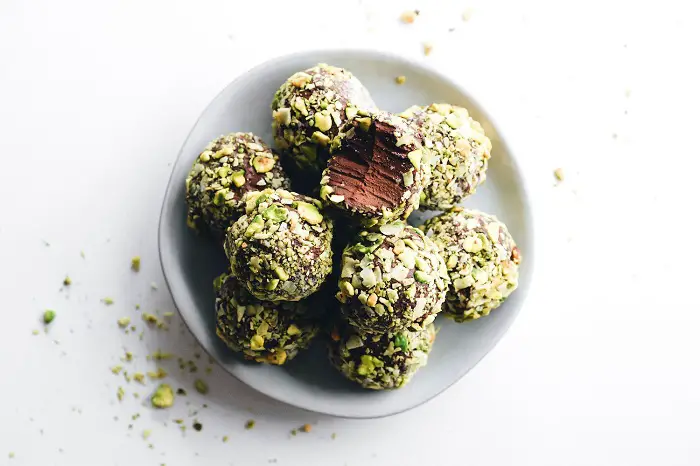 13. CHOCOLATE AVOCADO PUDDING TRUFFLES FROM FEASTING ON FRUIT
These ultra-decadent chocolate avocado pudding truffles contain the most heavenly texture and a crunchy pistachio coconut coating. Plus, did we mention they're both paleo and vegan?
They take just 10 minutes to prep, followed by 2 hours chill time, making them an easy dessert to whip-up and enjoy the same day. You'll need ingredients such as avocado, maple syrup, cacao, shelled pistachios, and unsweetened shredded coconut. Yum!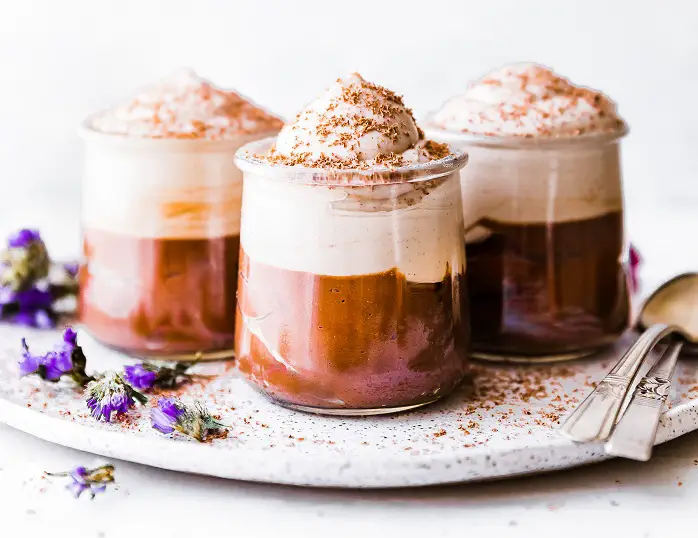 14. MEXICAN CHOCOLATE AVOCADO MOUSSE FROM COTTER CRUNCH
This Mexican chocolate avocado mousse is dairy-free, gluten-free, refined sugar- free, vegan, paleo, and takes just 20 minutes to make.
All it requires are avocados, unsweetened cocoa, dates, coconut milk, coconut cream, Mexican chocolate spices (think chili powder, cayenne, cinnamon, and cocoa), and extra dark chocolate to shave and sprinkle on top.
If you are really looking to lower the carbohydrate intake, simply skip the dates and add an extra avocado and scoop of unsweetened cocoa.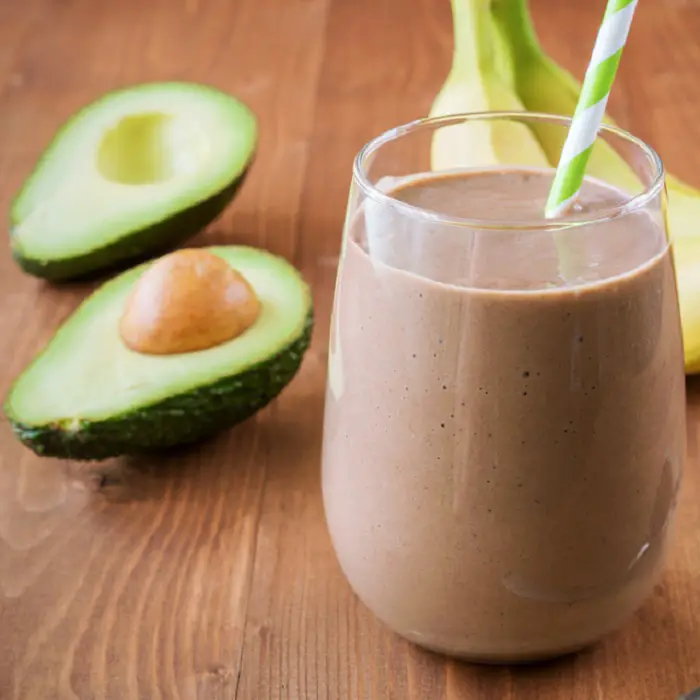 15. CHOCOLATE AVOCADO PROTEIN SMOOTHIE FROM BOOMER NUTRITION
Did you know that avocado can also serve as a delicious and creamy ingredient in protein smoothies?
If you're looking for a great way to add the health benefits of avocado to your diet, give this chocolate avocado protein smoothie a try!
You'll just need a cup of milk of your choice, whey protein powder, one-third of an avocado, half a banana, ground flax seeds, hemp seeds, and ice cubes. For something so simple, it's incredibly delicious!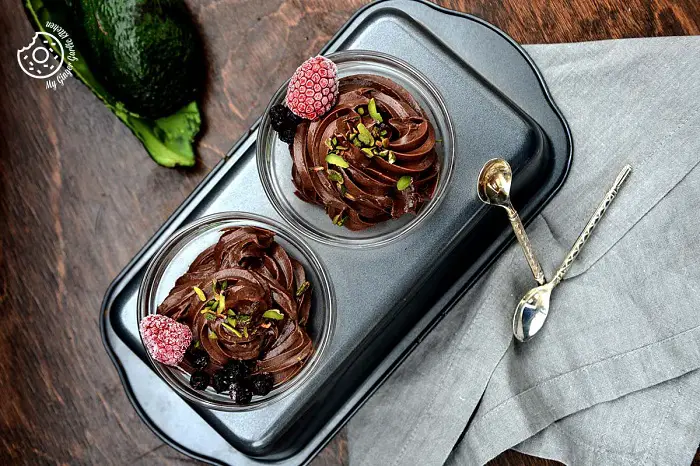 This is a non-dairy and vegan-friendly avocado chocolate mousse that contains pistachio and raspberry toppings. It doesn't include any refined sugar at all and instead, uses healthy ingredients such as unsweetened cocoa powder, almond milk, vanilla extract, and more.
To make this recipe vegan, make sure that the semi-sweet chocolate you are using is vegan. It takes just 2 minutes to blend all of the ingredients together, then pipe the mixture into ramekins and chill for up to 2 hours.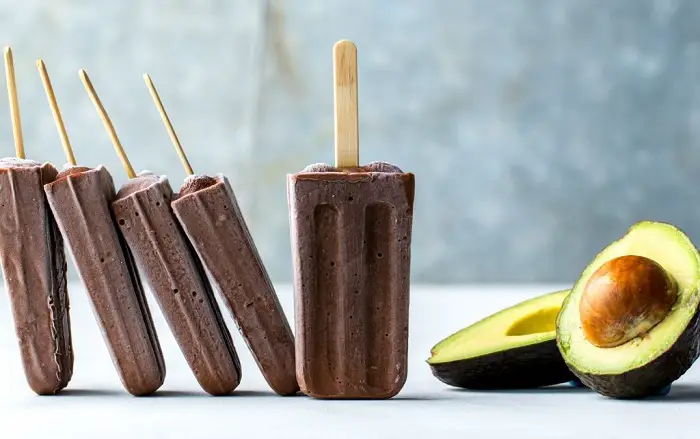 If you loved fudgesicles when you were a kid, then you'll adore this delicious summertime recipe. They might look decadent, but these pops contain our all-time favorite combination of chocolate and avocado, giving them a health boost.
Other ingredients include unsweetened almond milk, coconut milk, maple syrup, and vanilla, helping to create a lighter chocolate snack that doesn't just satisfy your sweet cravings, but is kind on your waist (and overall health) too.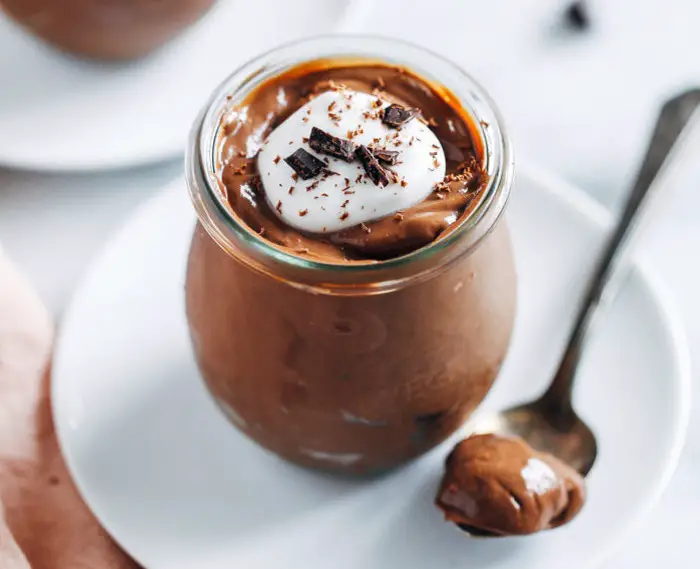 This simple chocolate pudding takes less than 10 minutes to make. It's deliciously decadent and packed with healthy fats, so is sure to become your new favorite dessert!
It contains some highly nutritional ingredients which give it its superfood qualities, including avocado (of course), raw cacao powder, dairy-free milk, pure maple syrup, and vanilla extract. It takes less than 10 minutes to whip everything up, but even less time to devour it all!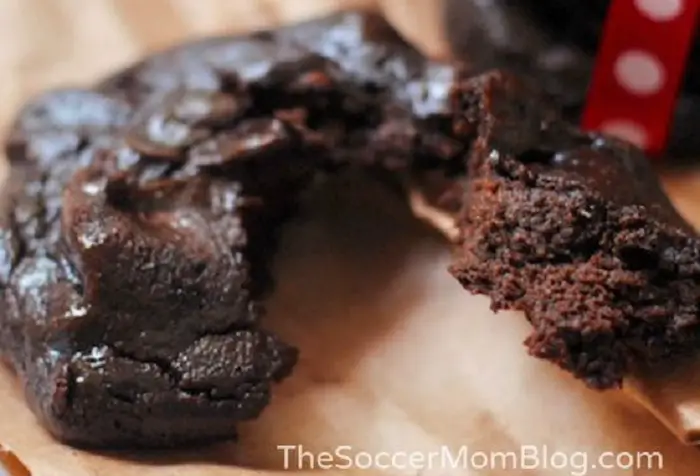 Looking for a delicious cookie recipe that's gluten free, paleo, and keto friendly?
These chocolate avocado cookies are unbelievably rich and fudgy, whilst only containing about 115 calories each! If you're feeling particularly peckish, you can even turn them into a 'nice cream' sandwich.
To make them, you'll just need avocados, as well as almond flour, unsweetened cocoa powder, coconut sugar, eggs, baking soda, and chocolate chips (optional).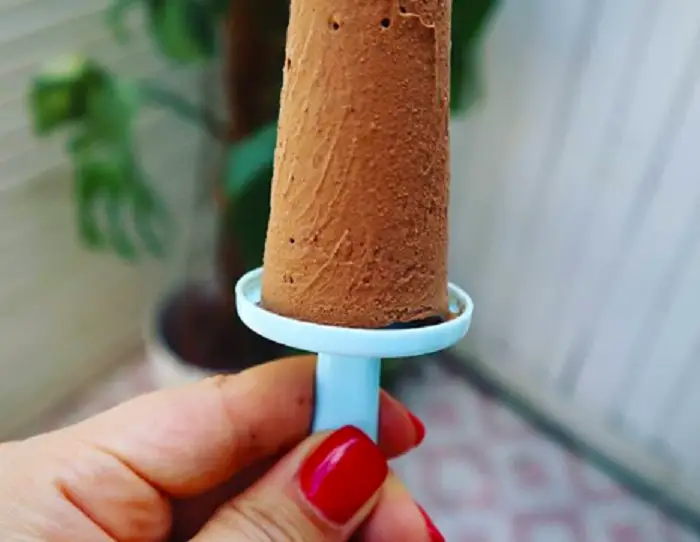 20. CHOCOLATE AVOCADO ICE LOLLIES FROM MADELEINE SHAW
These chocolate avocado ice lollies are the perfect way to cool down this summer. They contain just 5 ingredients and can be whipped-up in as little as 5 minutes.
With healthy ingredients such as avocado, raw cacao powder, medjool dates, coconut milk, and vanilla extract, they're kind on your health (and waistline!).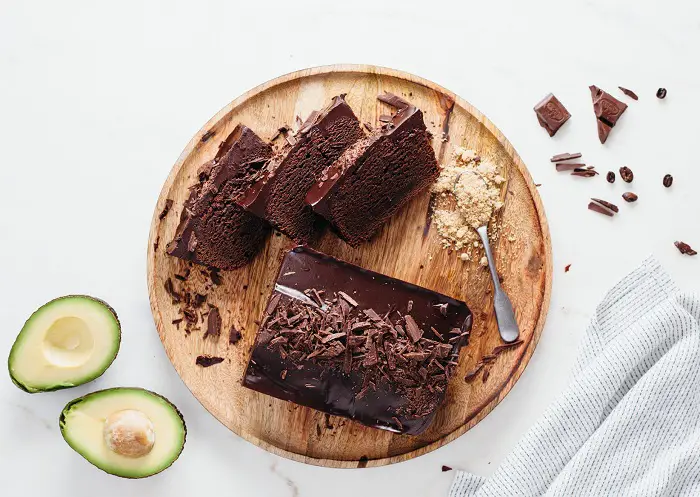 21. FUDGY CHOCOLATE AVOCADO LOAF FROM SO VEGAN
This fudgy chocolate avocado loaf has got our mouths watering!
The great thing about this vegan chocolate avocado loaf is it only includes 9 ingredients, including apple cider vinegar, plant-based milk, dark chocolate, avocado, self-raising flour, light-brown sugar, coffee, and baking powder.
For the optional chocolate ganache, simply combine dark chocolate with plant-based milk. Then, add chocolate shavings on top and you're good to go!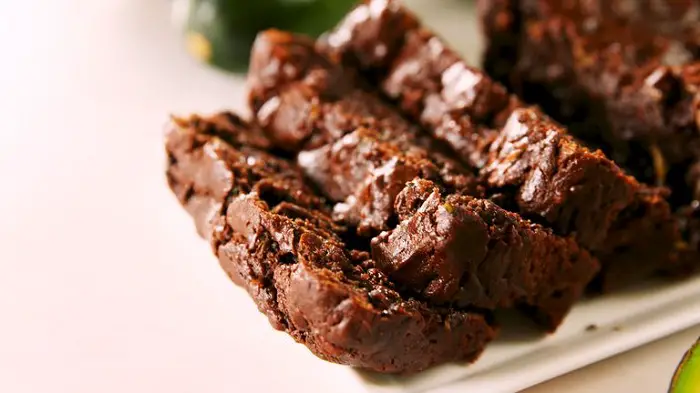 22. CHOCOLATE AVOCADO BREAD FROM DELISH
Chocolate bread that also contains avocado, zucchini, and cinnamon? Count us in! This recipe gives you a lighter, healthier version of the popular dessert, switching regular oil for the natural oil contained in avocadoes.
It takes just 15 minutes to prep and an hour and 30 minutes all-up to complete, leaving you with a deliciously soft, moist, and decadent bread that's not too harsh on your health.
Did you know that there is such a thing as 'healthy cakes'?
These truly healthy cakes are not made with flour, dairy products, nor artificial sweeteners, but instead use avocado to replace butter, along with other ingredients such as honey or maple syrup.
This chocolate avocado cake is one such 'healthy cake', which even claims it can help you lose weight. A dessert that an be classed as diet food? Today is your lucky day.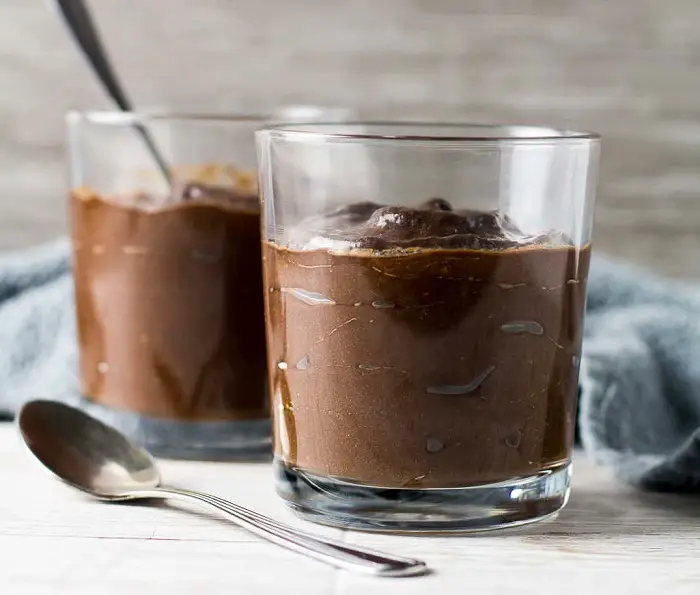 This deliciously rich and creamy pudding is super healthy, loaded with flavor, and perfect for when you're craving a sweet treat!
The avocado makes this pudding incredibly creamy, whilst the bananas and cocoa powder provide flavor, and the honey (or maple syrup or agave if vegan) adds sweetness.
You just blend in the food processor until completely smooth, then spoon the mixture into serving bowls before refrigerating for at least an hour.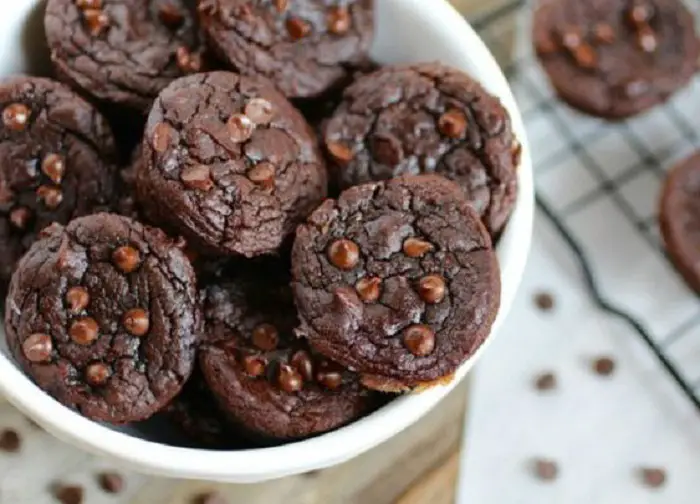 25. AVOCADO SWEET POTATO BROWNIE BITES FROM ASURANSIMOBIL SPACE
Fancy adding even more superfood goodness to your next dessert?
Try these avocado and sweet potato brownie bites, which taste as good as they look! They're also paleo, dairy-free, and gluten-free, making them the perfect all-rounder for when guests come over.
You'll just need ingredients such as sweet potato puree, avocado, coconut oil, cacao powder, walnuts, honey, and more to make this delectable sweet treat.
Time to Get Your Chocolate Avocado Cravings On!
There you have it – 25 desserts combining chocolate with avocado! Not only are these desserts absolutely scrumptious, but they also contain the added health benefits of avocados, as the superfood is an excellent source of vitamins and minerals.
Forgot sugar-laden, fatty, and processed desserts – next time you're craving some chocolatey goodness, look to one of these desserts instead. Many of them are so healthy, that you could even enjoy them as breakfast or a post-workout snack.
Remember, even if you're not a huge fan of the taste of avocado, you will still enjoy devouring these chocolate and avocado recipes. You see, the avocado is purely there to boost the recipe's nutrition, as well as to give it a creamier, more luxurious consistency.
When combined with strong chocolate flavors such as raw cocoa or cacao powder, the avocado itself can't be tasted. It just lends a helping hand to the rest of the ingredients.
Which chocolate and avocado recipe will you be trying this week? Start with the one that catches your eye (and makes your mouth water) the most, then slowly work your way through each of them to see which recipe you like best!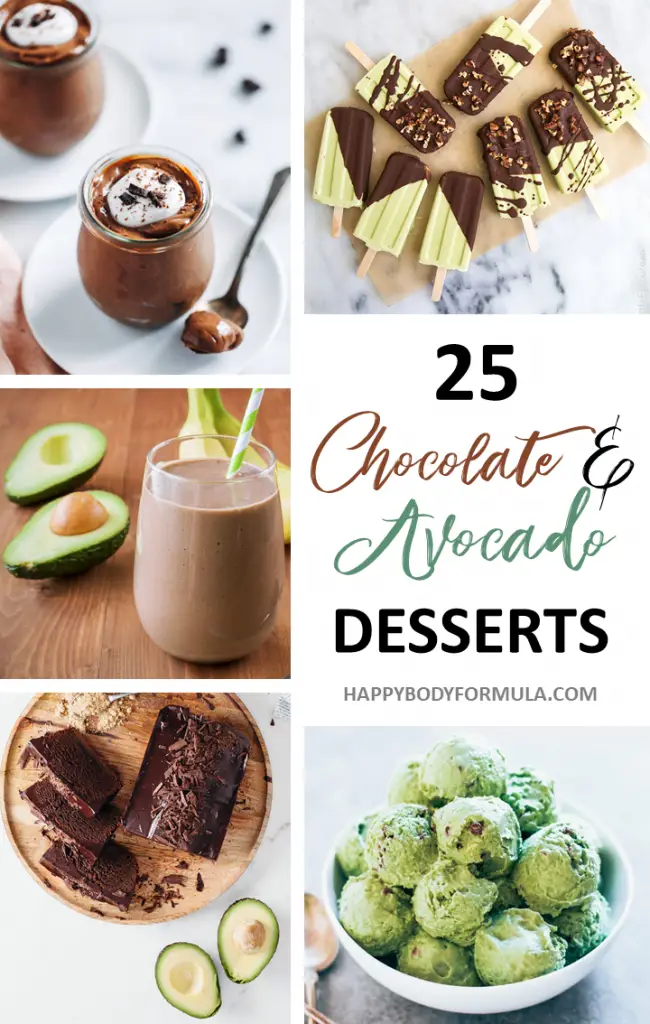 Melanie Clarke is the founder of Whim Online Magazine, an online magazine based in Australia that has a strong focus on whimsical + dreamy photography, as well as art and fashion content.