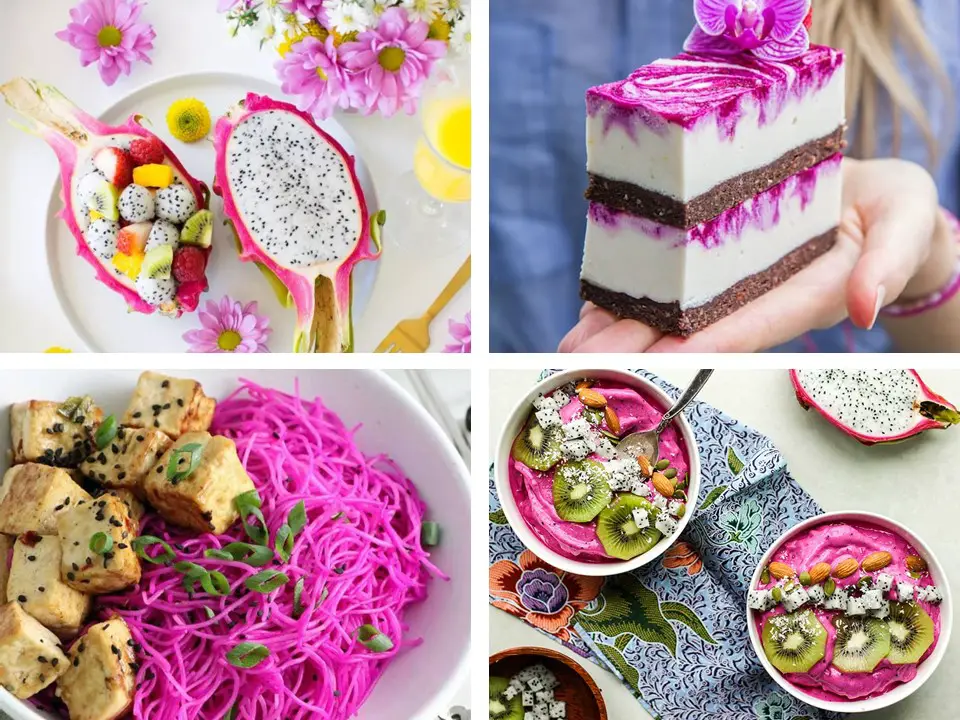 Dragon fruit might sound like a mythical beast, but this fancy fruit is all real. Also known as pitahaya or strawberry pear, dragon fruit is known for its unique appearance, featuring vibrant red skin and white and black speckled pulp.
While it might make a stunning addition to a smoothie bowl (or any recipe for that matter) due to its Instagrammable appearance, this fruit also packs plenty of health benefits too.
It's low in calories but full of essential vitamins and minerals such as iron, magnesium, vitamin C, and vitamin E. It also contains much-needed plant compounds like polyphenols, carotenoids and betacyanins, along with a substantial amount of dietary fiber and high levels of antioxidants.
If you're wondering how you can include more dragon fruit in your life, but unsure where to start, then you're in luck. We've rounded up the 13 best dragon fruit recipes, ranging from sweet and savory, to liquids and solids. There's sure to be something for everyone!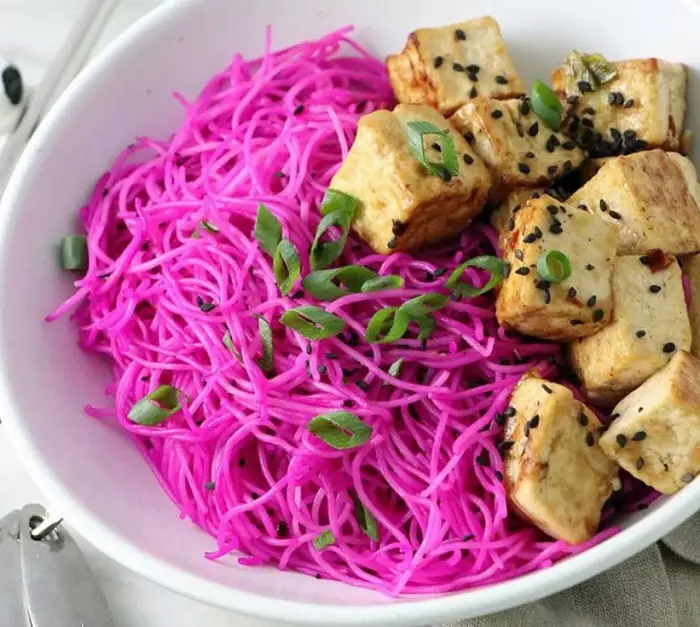 1. DRAGON FRUIT NOODLES WITH KOREAN BBQ TOFU FROM PITAYA PLUS
If you're tired of plain, boring noodles, then this is the recipe for you. Not only does it infuse a mealtime favorite with a vibrant pink color, but adding dragon fruit to a tasty Korean dish also imbues it with additional vitamins, minerals, and all-round nutritional goodness.
It involves plenty of staple ingredients and can be whipped-up in just over half an hour.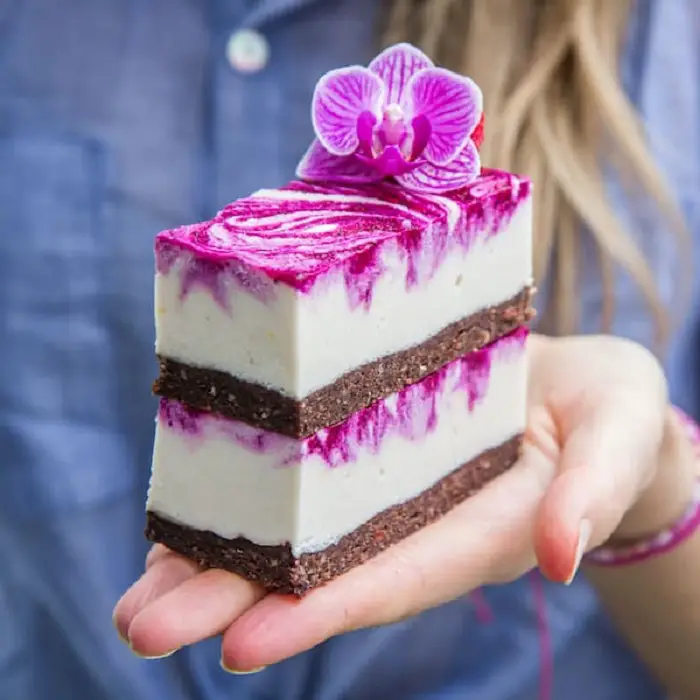 2. VEGAN DRAGON FRUIT CHEESECAKE BARS FROM CHOOSING CHIA
These vegan dragon fruit cheesecake bars are a perfect healthier option for dessert. They're completely raw and made with wholesome nutritious ingredients such as Medjool dates, raspberries, cashews, walnuts, and of course, dragon fruit!
The best part? Each serving contains just 272 calories.
3. BERRY WATERMELON DRAGON FRUIT SALAD FROM ABERDEEN'S KITCHEN
This salad is jam-packed with fruit favorites such as strawberries, blueberries, raspberries, cherries, watermelon, and (of course) dragon fruit!
Because there are enough naturally sweet flavors in here, there's no need for salad dressing. Instead, just sprinkle on some poppy seeds and garnish with mint. Delicious!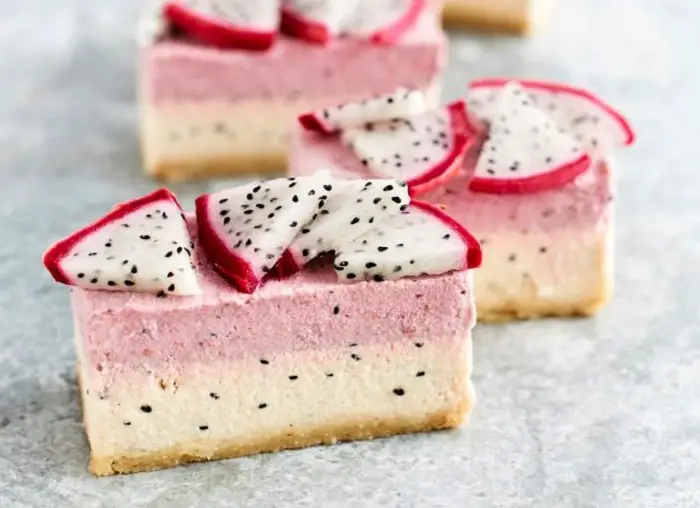 4. HEALTHY DRAGON FRUIT CHEESECAKES FROM HARRIS FARM
Fancy a dairy free and refined sugar free cheesecake that's still creamy and delicious?
Look no further than this healthy dragon fruit variety, which features everything from melted coconut oil and cashews, to maple syrup, raspberries, coconut cream, and dragon fruit flesh. It takes just 30 minutes to make (not including chilling time) and looks divine.
5. DRAGON FRUIT MARGARITA FROM LITTLE BITS OF
Whether you're celebrating Cinco de Mayo or simply want to celebrate your weekend in style, this dragon fruit margarita is a must.
You'll just need a dragon fruit (pink flesh is best), lime juice, honey syrup, tequila, and ice. Sure, alcohol is far from 'healthy', but adding a little fruit to your boozy beverage can help.
6. LEMONADE DRAGON SPRITZER FROM PITAYA PLUS
Here's another beautiful dragon fruit beverage for you to sip on this summer. What could be more refreshing than a fizzy and fruity lemonade spritzer containing dragon fruit cubes (or powder), sparkling water, lemonade, ice cubes, and mint and lemon slices to garnish.
Make a whole batch to serve at your next BBQ or pool party!
This fruit salad is the ultimate dragon fruit recipe, as it even uses the fruit as a bowl! It's perfect for a special family breakfast or brunch on the weekends, but also makes the perfect entertaining idea if you are hosting a fun get-together with friends.
You can use any fruit combination you like, however this recipe suggests mango, kiwi, raspberries, and dragon fruit. Then, just drizzle with pineapple juice and honey. Delicious!
Surprise and delight your taste buds by combining dragon fruit with creamy avocado for a refreshing guacamole. Simply serve it in a dragon fruit shell to ramp-up the fun factor!
According to this recipe, the combination of this juicy tropical fruit with traditional guacamole ingredients— buttery avocado, cilantro, lemon juice, and red onion—is unbeatable.
9. DRAGON FRUIT 'NICE' CREAM FROM SOLFUL HEALTH
Fancy some dairy-free, healthy ice cream? This dragon fruit version isn't just vibrant and colorful, but is also packed with plenty of vitamins and minerals.
There's also a wide range of other healthy ingredients in this "nice cream", including bananas, unsweetened almond milk, and the juice from two limes.
10. DRAGON FRUIT STRAWBERRY CHIA PUDDING SMOOTHIE FROM DELIGHTFUL MOM FOOD
This stunning and delicious dragon fruit and strawberry chia pudding smoothie is the perfect way to start your day, enjoy as a snack, or eat after a workout to refuel your body.
This smoothie recipe itself has a total of 13 grams of fiber and 14 grams of protein, helping to keep you fuller for longer. It also contains ingredients such as vanilla flavored cashew milk, chia seeds, maple syrup, strawberries, banana, and more.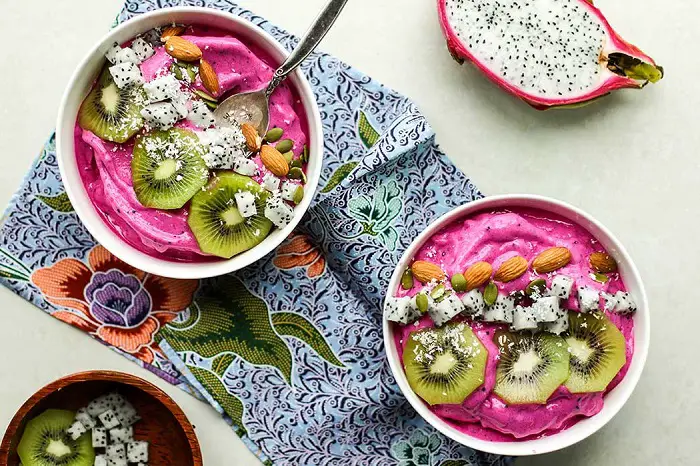 11. DRAGON FRUIT SMOOTHIE BOWLS FROM SUNKISSED KITCHEN
A dragon fruit smoothie bowl is a great vegan or paleo breakfast option, plus it can be enjoyed as a healthy snack or dessert. To get that beautiful, vibrant color, make sure you use red dragon fruit – not the one with white pulp.
You can also use either fresh or frozen dragon fruit. The toppings are where all the fun lies, so be as creative as you want!
12. DRAGON FRUIT BUTTERCREAM FROSTING FROM HOUSE OF NASH EATS
This dragon fruit buttercream frosting pairs perfectly with moist chocolate cupcakes to make an interesting, yet totally tasty dessert. You can expect  it to taste slightly floral and lightly citrusy, with beautiful specks of black seeds throughout it.
It's a wonderful way to add some nutrients to a naughty dessert.
13. DRAGON FRUIT LYCHEE MIMOSA FROM I SUGAR COAT IT
Ring in the New Year (or any special occasion for that matter) with this refreshingly fragrant and pretty-in-pink dragon fruit lychee mimosa.
It contains both white and pink dragon fruit, as well as juice from fresh or canned lychees, a large bottle of champagne, two limes, and kaffir lime leaves. It's the best way to feel a little better about popping some champagne!
Which Way Will You Have Your Dragon Fruit?
There you have it – 13 of the best dragon fruit recipes that you can whip-up this weekend, whether it's as a snack, healthy dessert, breakfast, dinner, or beverage. While some of these recipes can be described as naughtier than nice (everything in moderation!), some are completely healthy, helping you to feel good from the inside out.
Dragon fruit isn't just one of the most visually stunning and interesting fruits, but it's also packed full of nutritious benefits, including antioxidants, vitamins, minerals, fiber, and more. The fun colors and paired back flavor of dragon fruit also makes it a great fruit to encourage children to eat.
They'll love turning traditionally healthy recipes (such as smoothies, smoothie bowls, etc.) bright pink or specked with tiny black seeds.
Which dragon fruit recipe will you be trying? We'd love to hear from you in the comments section below!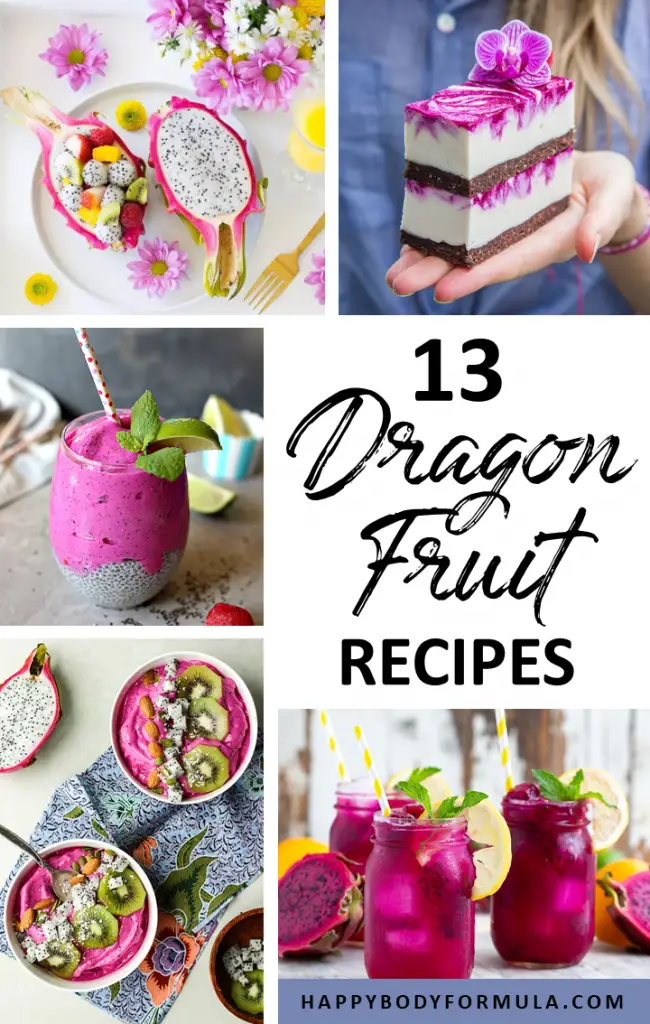 Melanie Clarke is the founder of Whim Online Magazine, an online magazine based in Australia that has a strong focus on whimsical + dreamy photography, as well as art and fashion content.