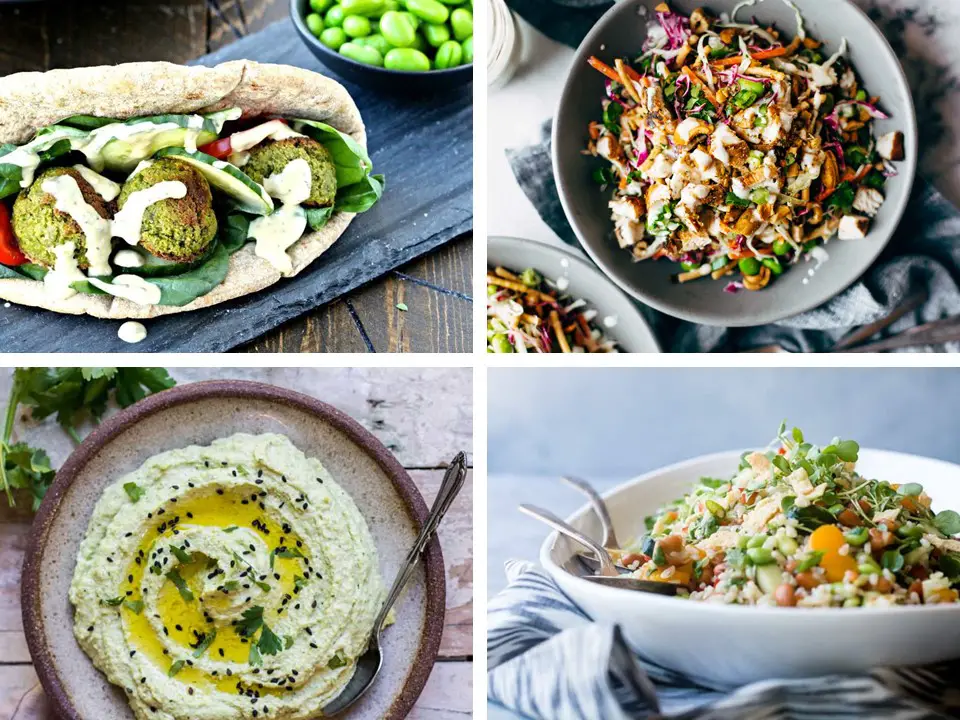 If you've been to a Japanese restaurant before and scratched your head at the mention of "edamame", then you're not alone.
Although this humble little bean has been named a superfood, it isn't exactly the most well-known vegetable. So, what exactly is edamame, you ask? Edamame are young soybeans that are usually eaten while they're still in the pod.
Unlike mature soybeans, edamame beans are soft and edible, however the pod itself isn't actually edible!
Despite their strange name, edamame beans provide a whole host of health benefits, including boosting your immune system, improving bone health, improving cardiovascular health, helping with weight management, and assisting a healthy digestive system.
They're a great source of protein and fiber, as well as a number of essential amino acids. Plus, they're an impressive source of vitamins and minerals, including iron, calcium, magnesium, potassium, sodium, zinc, phosphorus, copper, manganese, Vitamin C, riboflavin, thiamine, niacin, Vitamin B6 and Vitamin E.
With such incredible health benefits, it comes as no surprise that many of us want to find ways to consume even more edamame in our diet. Thankfully, we've rounded up 17 easy and delicious edamame recipes below!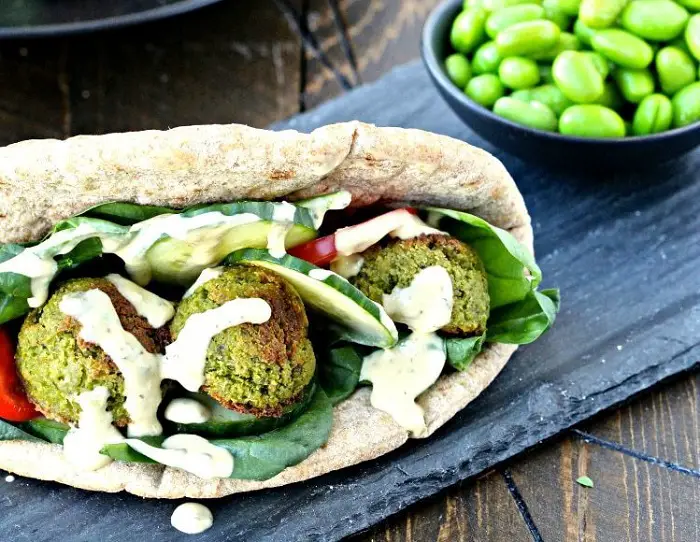 Made with edamame instead of chickpeas, these nutrient-packed falafel sandwiches are a delicious twist on a classic dish.
You simply shell the edamame beans in a food processor, along with fresh herbs and dried spices, then add just a little bit of flour and baking powder to hold the felafels together. To finish off, fry or bake your felafels to perfection!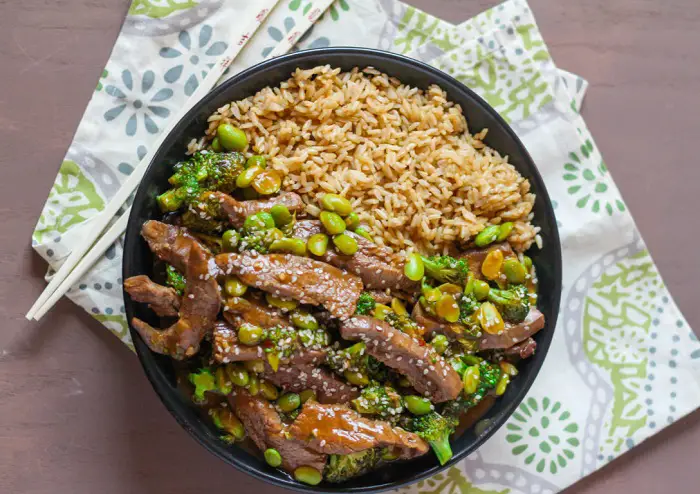 2. BEEF AND BROCCOLI EDAMAME STIR FRY FROM ZEN & SPICE
This beef and broccoli stir fry can be made in less than 15 minutes! Using edamame beans as one of the main ingredients, this recipe gives you a healthier version of your average beef stir fry.
After all, the addition of frozen, shelled edamame adds fiber, protein and heart-healthy fats. Plus, you can use brown rice, rather than white rice, to really boost the nutritional value of this meal.
Trust us, you'll be adding it your list of favorite meals as soon as you eat it!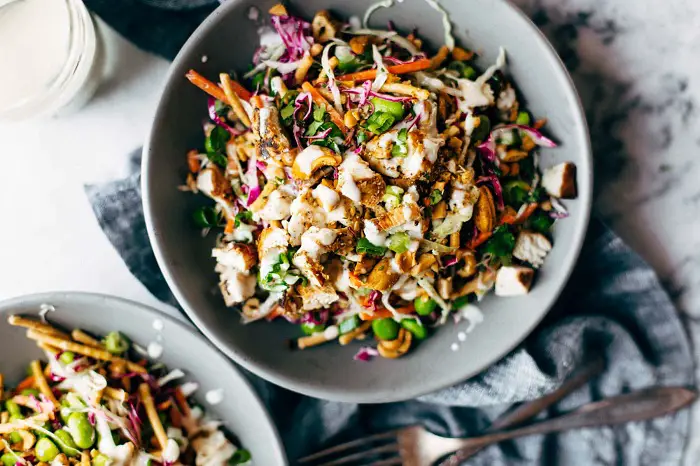 3. CASHEW CRUNCH SALAD WITH SESAME DRESSING FROM PINCH OF YUM
If you've never been much of a salad eater, then this recipe is the one for you. Not only does it contain the goodness of edamame, but it's also easily customizable to suit your individual needs, whether you're gluten-free, vegan, or like your salads to pack in the protein!
It's a healthy yet filling option for lunch or dinner and is guaranteed to make you feel great.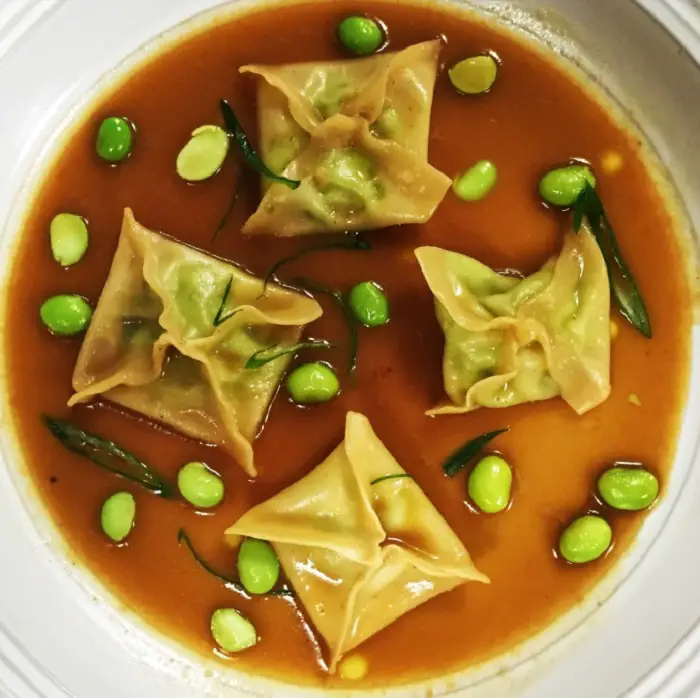 4. EDAMAME DUMPLINGS IN WHITE TRUFFLE MISO FROM SPOON UNIVERSITY
If you're looking for a unique take on your favorite dumplings, why not add edamame? Not only is it a great way to infuse your dish with more flavor, but we all know just how beneficial these humble beans are for your everyday health.
Along with the star ingredient, these dumplings also contain garlic, scallion, ginger, miso, truffle oil, cayenne pepper, soy sauce, and parsley. Sounds delicious!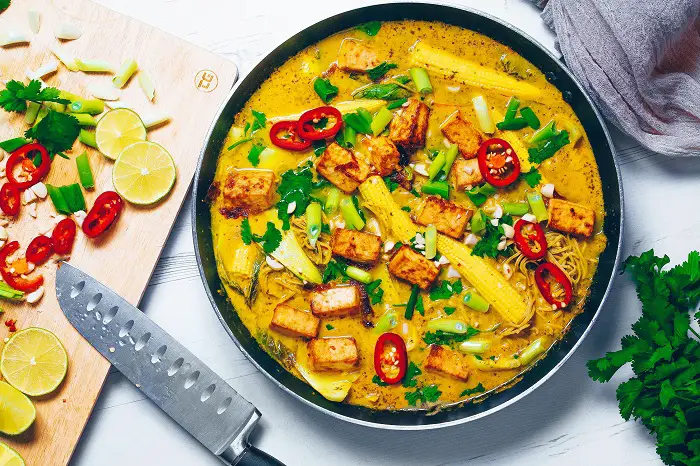 This vegan and gluten-free soup will certainly warm you from the inside out!
It's packed with protein and vegetables and combines the delicious flavors of lime, chilli, ginger, cloves, tamari, maple syrup, coriander, coconut milk, and turmeric.
This recipe is rather unique too, as you get your edamame hit not from beans, but from the edamame noodles. Genius!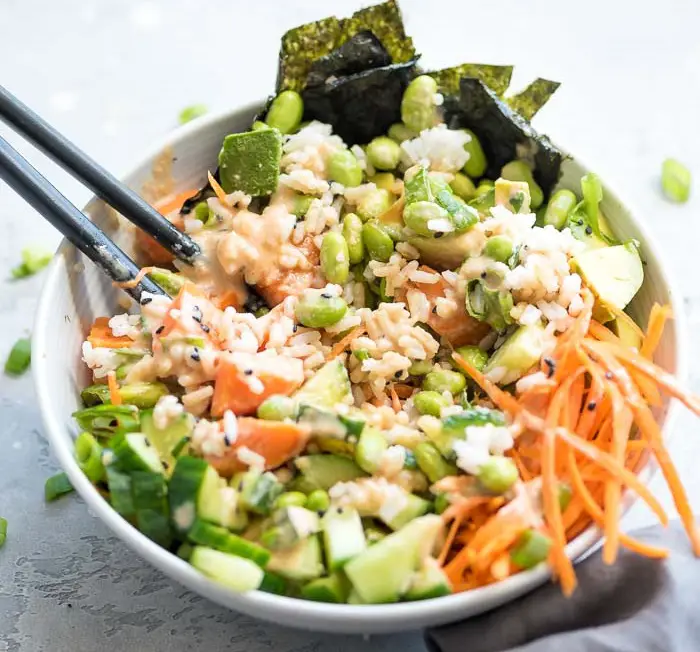 6. SUSHI BOWL WITH VEGAN SPICY MAYO FROM RUNNING ON REAL FOOD
This sushi bowl with vegan spicy mayo is everything you love about sushi, served up in a bowl. The bowls featured yams, cucumber, carrot, avocado, green onion, sesame seeds, rice, nori, tofu, and of course, edamame beans!
Plus, the creamy cashew vegan spicy mayo you use to dress it with is potentially the best salad dressing you've ever eaten!
7. EDAMAME SALAD WITH BROWN RICE AND SESAME DRESSING FROM FOODNESS GRACIOUS
Looking for another fresh and healthy edamame salad? Along with our favorite ingredient, edamame beans, you'll also find pinto beans and brown rice in this salad, as well as microgreens.
Microgreens are just smaller versions of the plants they would be if fully grown, but because they're smaller and picked at a much earlier age, the flavor and nutrients are denser.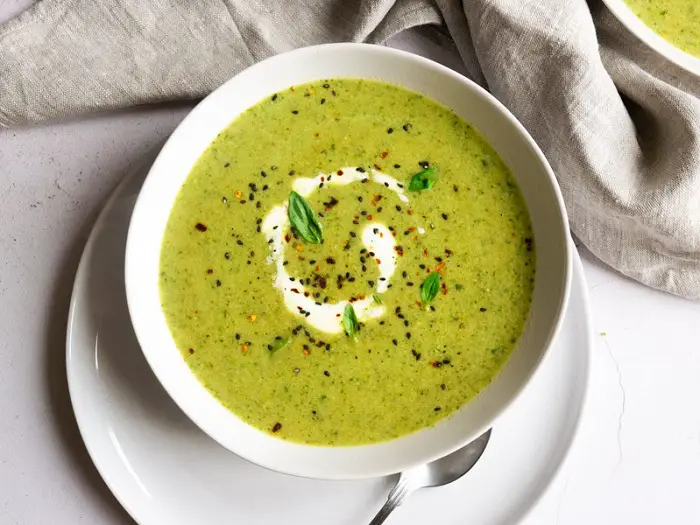 8. VEGAN BROCCOLI SOUP RECIPE WITH EDAMAME AND MISO FROM ELIZABETH CHLOE
If you fancy your edamame fix in soup form, then this vegan broccoli soup recipe featuring edamame and miso is for you.
Not only does it combine the goodness of nutritional ingredients and warm you from the inside out, but it can also be made within just 30 minutes, making it the perfect quick and easy weeknight meal.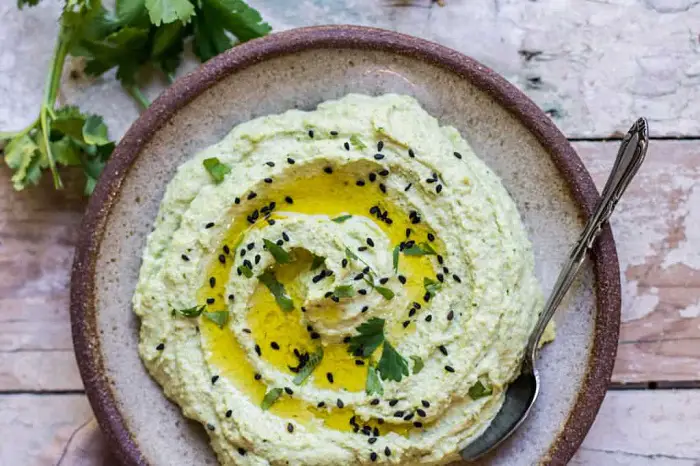 This edamame hummus is a nice take on regular, chickpea-based hummus. It has a mild but unique flavor, plus its pretty mint green color will make you want to eat the whole bowl!
Just keep in mind that if you use frozen edamame, you will want to boil them for a little just to get them thawed. If you use fresh edamame, however, then you are good to go!
Pair this dip with crackers and fruit, or why not add it to a delicious buddha bowl?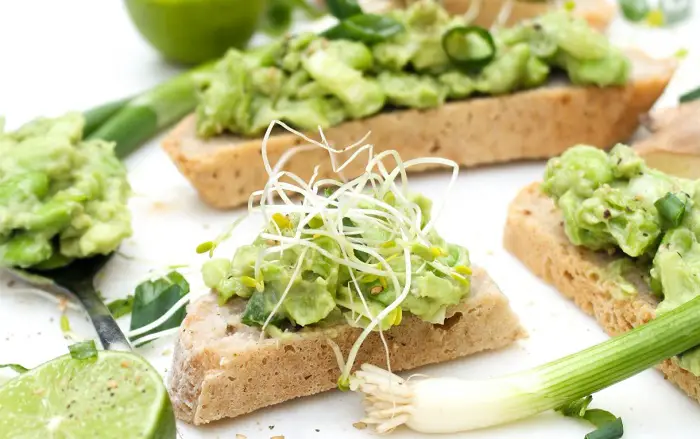 10. SMASHED EDAMAME AVOCADO SALAD FROM CATCHING SEEDS
Many of you will already love smashed avocado, but have you ever combined it with the deliciousness that is edamame? This salad is creamy, crunchy, protein-packed, light, and so flavorful.
Plus, it's great when enjoyed on toast, with some tortilla chips, on a salad or even in a wrap! The best bit? It takes just 5 minutes to prepare, followed by 5 minutes to cook, making it a healthy lunch idea for those on-the-go.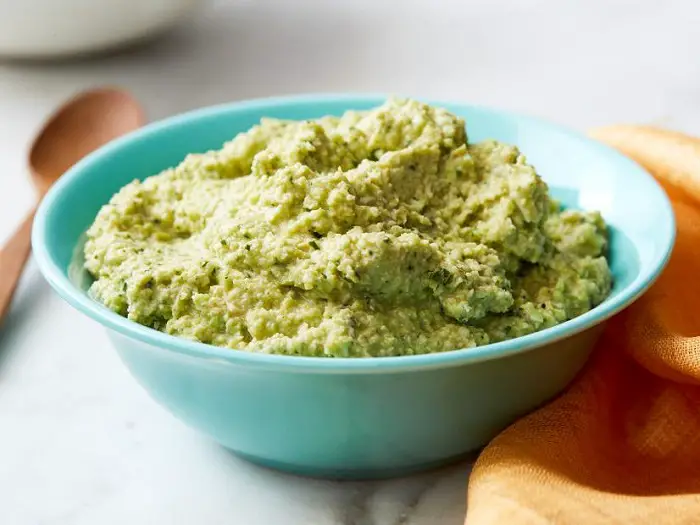 11. SPICY EDAMAME DIP FROM FOOD NETWORK
Looking for another edamame dip, but one that packs a bit of spice? This spicy edamame dip combines our favorite superfood with ingredients such as garlic, cayenne pepper, cumin, olive oil, lime juice, cilantro, and salt and pepper.
While the recipe recommends pairing the dip with pita chips, you can enjoy with just about anything that takes your fancy – bread, vegetables, crackers, or more.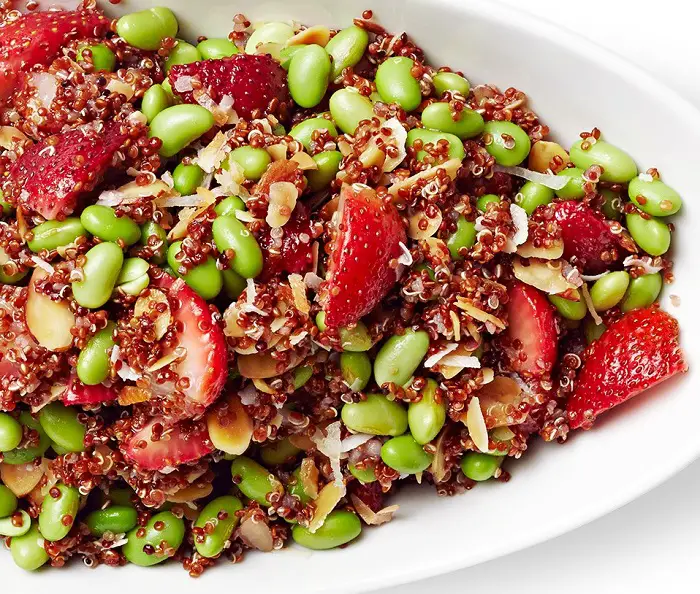 12. STRAWBERRY, QUINOA & EDAMAME SALAD FROM EATING WELL
This strawberry, quinoa, and edamame salad will certainly turn heads at your next dinner party!
This cold grain salad beautifully pairs the nutty flavor of red quinoa with fresh strawberries, edamame beans, almonds, and toasted coconut.
Then, you simply add a balsamic dressing to really make those flavors pop. It's quick and simple to create!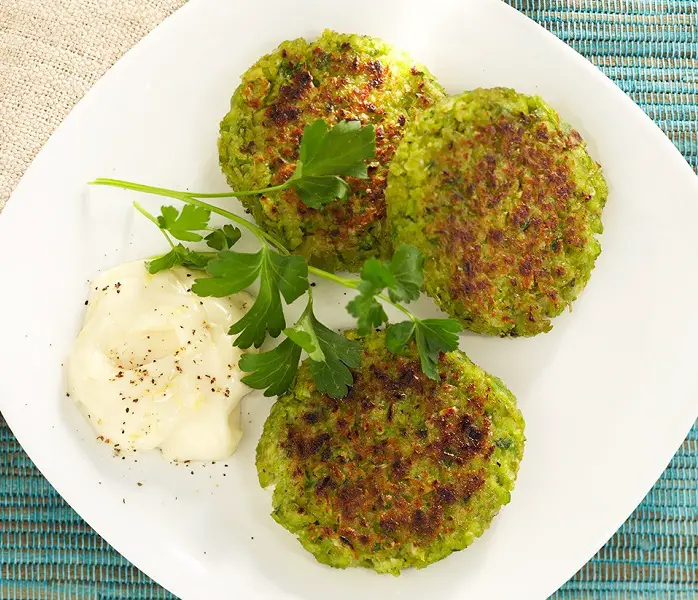 13. EDAMAME FALAFEL WITH LEMON AIOLI FROM EATING WELL
These edamame falafels with lemon aioli are a twist on the classic chickpea falafel. They simply contain edamame with green sweet pepper, whole wheat flower, Italian parsley, egg white, garlic, lemon peel, salt, and pepper.
While the preparation can take around 25 minutes, these falafels only need 4-5 minutes to cook, making it a relatively quick and easy dish to create.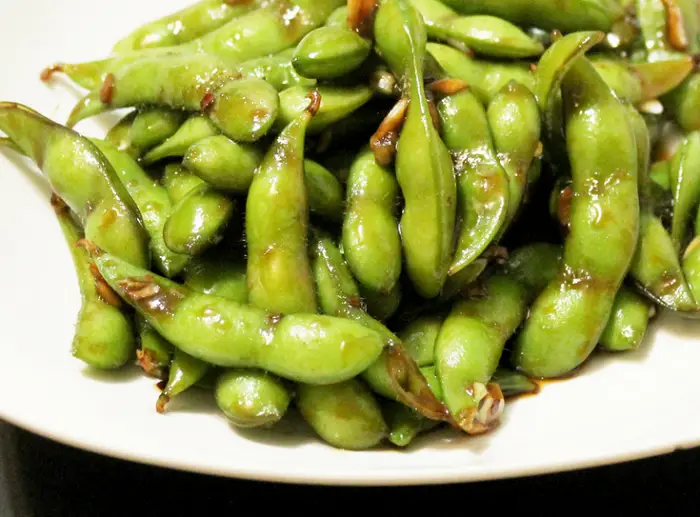 14. SWEET AND SPICY EDAMAME FROM SIMPLY TASHEENA
These sweet and spicy edamame beans are the perfect snack or meal side. The recipe uses scrumptious ingredients including oyster sauce, sesame oil, garlic, soy sauce, honey, and red pepper flakes.
You simply cook the edamame according to the package's instruction, then toss in a fry pan with all of the other ingredients. So simple!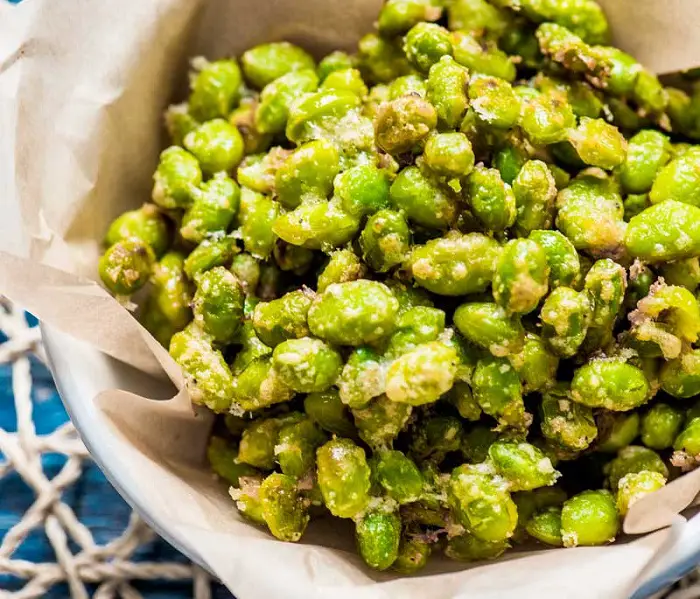 15. CRISPY PARMESAN GARLIC EDAMAME FROM HOMEMADE HOOPLAH
Baked in the oven, this edamame recipe is a tasty snack with only 123 calories!
When you combine the flavors of edamame with olive oil, parmesan cheese, garlic powder, salt, and black pepper, you get these amazing, bite-sized clusters of delicious edamame beans.
It's diet food without the mundane, giving you a recipe that you'll love cooking for your friends and family.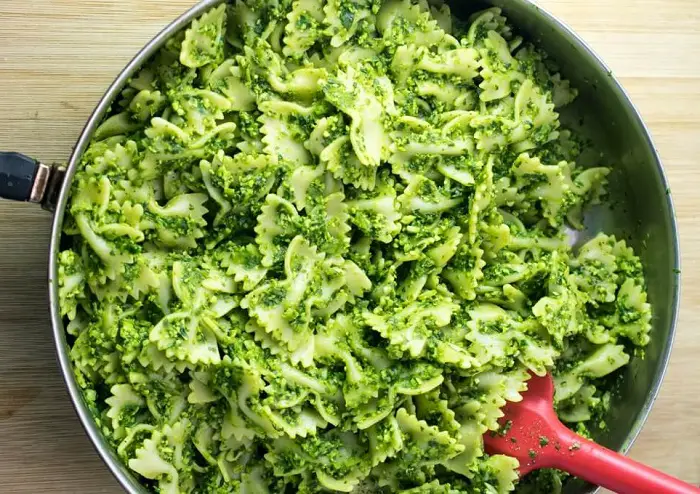 16. EASY EDAMAME PESTO PASTA FROM YUP, IT'S VEGAN
This quick and easy edamame pesto pasta is just a slight twist on the popular dish, spinach pesto. Instead of nuts, this edamame pesto uses buttery green edamame for a satisfying, lower-fat and plant-powered dish!
For all of you spinach fans, however, don't fret. This recipe still uses the leafy ingredient for both flavor and nutrients!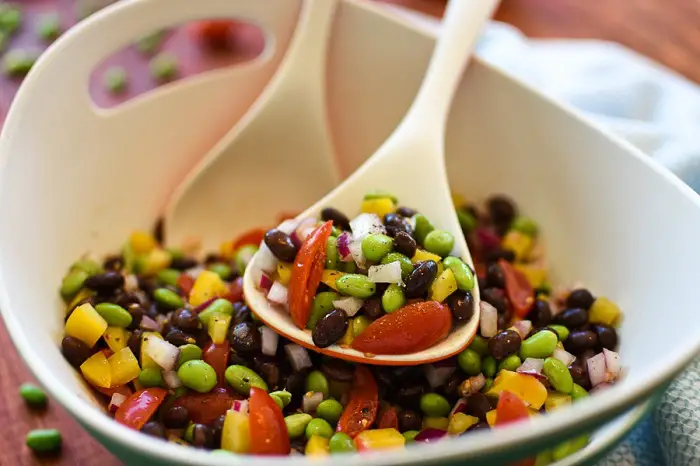 17. EDAMAME-BLACK BEAN SALAD WITH RED WINE VINAIGRETTE FROM THE FOODIE AND THE FIX
This edamame-black bean salad is full of crisp veggies, a sweet-tart dressing and a nutritional boost from the black beans and edamame.
It's also gluten-free and vegan, making it a great side option for many dietary needs. It takes just 15 minutes to prepare and no cooking is involved, making it a wonderful addition to dinner parties, BBQs, or anywhere else that a delicious salad is required!
Time to Choose Your Edamame Fix
There you have it – our round-up of 17 edamame recipes that aren't just delectable, but highly nutritious too. These immature soybeans are a great source of protein, fiber, vitamins, minerals, and essential amino acids, so you'll certainly want to embrace them in your daily life as much as possible.
Whether it's with a delicious and hearty soup, pasta dish, stir fry, or more, edamame brings a delectable flavor to any dish you add it to.
The recipes we've rounded up are perfect for a variety of cooking skill sets, plus you're sure to find a recipe that suits your needs – whether you've got 10 minutes or an hour of preparation time up your sleeves.
Simply work through the list at your own pace or choose just one or two dishes that take your fancy to begin with. The choice is yours!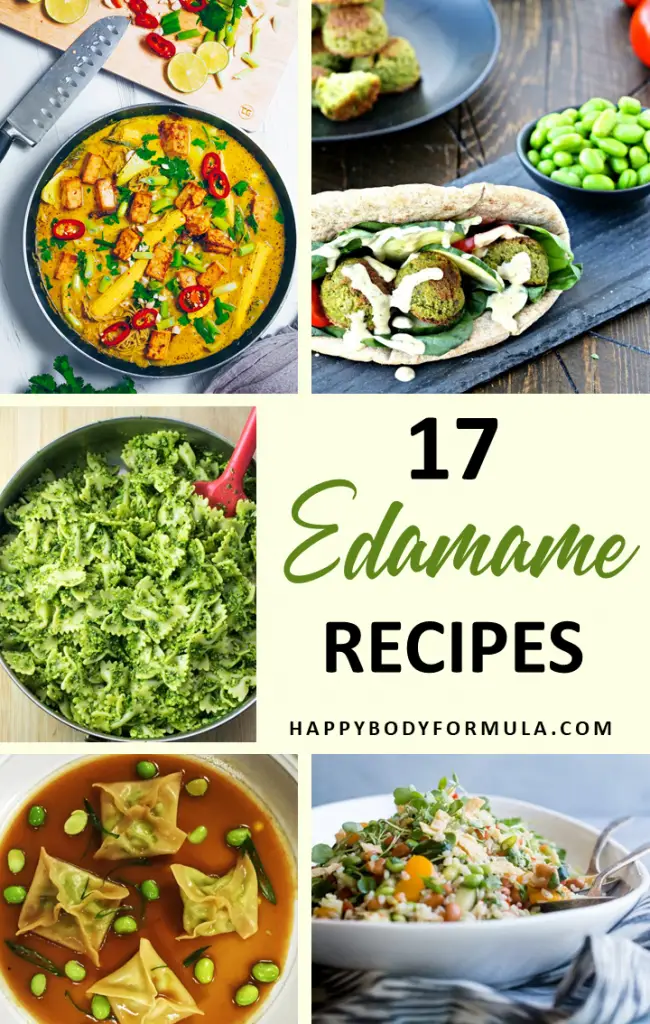 Melanie Clarke is the founder of Whim Online Magazine, an online magazine based in Australia that has a strong focus on whimsical + dreamy photography, as well as art and fashion content.