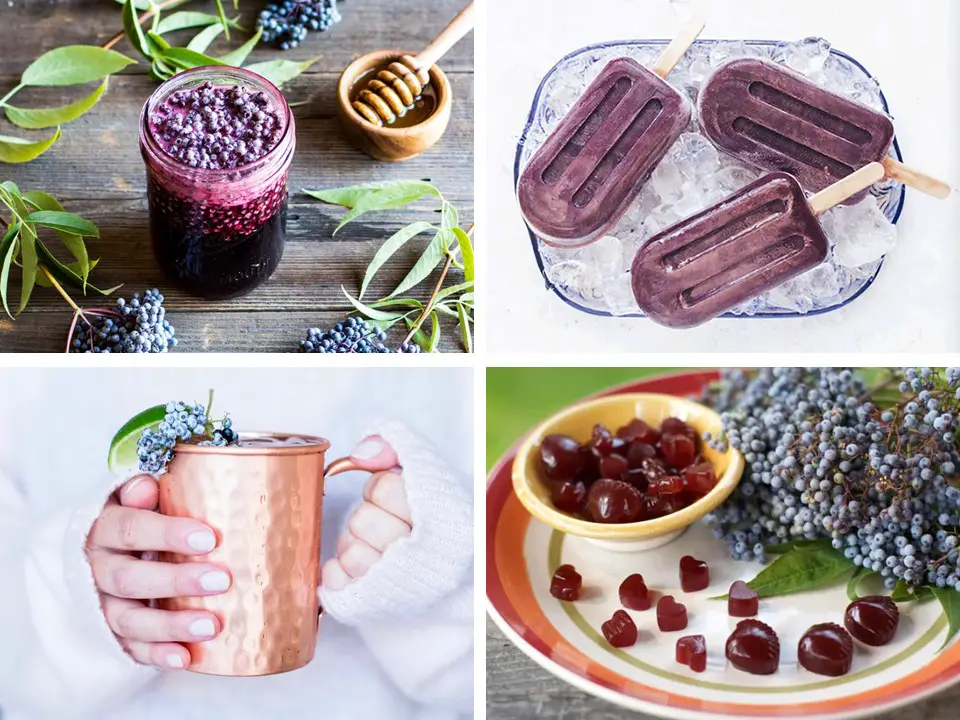 Did you know that in folk medicine today, the elderberry is widely considered one of the world's most healing plants?
This is because both the flowers and berries of an elder plant are packed full of antioxidants and vitamins, helping to boost the immune system.
When it comes to remedying common ailments or illnesses, the elderberry seems to help with just about everything, including:
lessening stress
joint and muscle pain
headaches
minor skin conditions
stress management
heart conditions
easing constipation
kidney problems
If you're wondering how you can boost your intake of elderberries, our suggestion is to try to include the ingredient in at least one beverage or meal each week (bonus points if you can consume it even more!).
That's why we've rounded up the top 21 elderberry recipes, featuring everything from breakfast, lunch, and dinner, to snacks and dessert!
Please note: It's important to remember that elderberry stems, leaves, and unripe berries are toxic. Be cautious when using elderberries you have picked yourself. Always cook them before consumption or opt for store-bought, edible elderberries if you're unsure.
1. ELDERBERRY SYRUP FROM MARISA MOORE
Ever wondered how you can make elderberry syrup at home using dried elderberries, honey, and spices?
Well, this recipe will show you the step-by-step process!
You can make it for a fraction of the cost of buying a bottle of elderberry syrup, plus it'll take around just one hour to complete.
Take it each day as a medicinal syrup or drizzle it over desserts for a treat.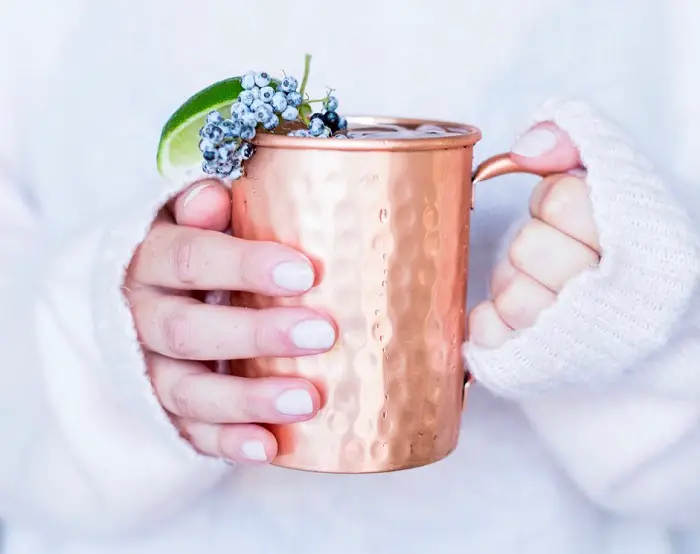 The festivities are far from over, thanks to this brilliant elderberry Moscow mule recipe, which features ingredients such as vodka, lime juice, ginger beer, elderflower syrup, and limes and elderberries for garnish.
Make a big batch next time you entertain!
3. ELDERBERRY MUFFINS WITH CRUMBLE TOPPING FROM NAMELY MARLY
This is a vegan muffin recipe, made without eggs or dairy. Not only does it contain a delicious crumble topping, but it also has elderberries in it as a main ingredient, giving you additional health benefits.
You bake them for just 17 – 20 minutes, before it's time to enjoy the warm, gooey muffin. Delicious!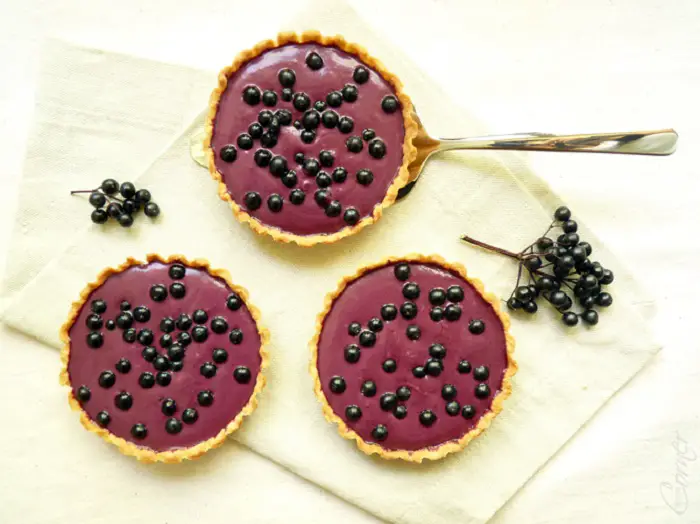 4. ELDERBERRY TARTELETTES FROM ALMOND CORNER
How delicious do these elderberry tartelettes look?
They contain ingredients such as apple juice, icing sugar, gelatine, mascarpone, cream, and (of course) elderberries. Decorate the tops of the tartelettes with a few more elderberries and you've got yourself one delectable and pretty dessert.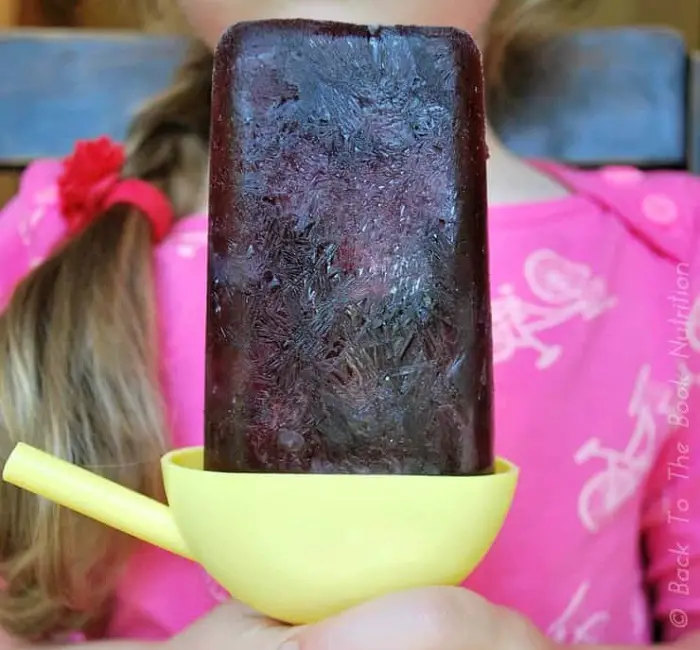 Adults and children alike will love this recipe for immune-boosting, cold and flu fighting elderberry juice pops.
They might sound medicinal, but these juice pops are a delicious and refreshing way to boost the immune system, especially whilst poolside in summer!
You won't believe how easy these are to whip-up either.
6. PROBIOTIC ELDERBERRY WATER KEFIR FROM RAIA'S RECIPES
With the probiotics and immune boosting vitamins of elderberries, this fizzy and delicious probiotic elderberry water kefir is a healthy, healing drink.
While kefir is usually made from fermented milk, this vegan-friendly version is made using water and coconut milk. Simply combine with dried elderberries and you've got yourself one delicious, gut-healing drink.
7. PALEO ELDERBERRY LOLLIPOPS WITH LEMON BALM & LAVENDER FROM SALT IN MY COFFEE
These nutritious elderberry lollipops made with elderberry syrup, lemon balm, and lavender are just the thing to help little ones (or adults) get through a nasty cold!
They're gluten-free, paleo, and grain-free too, making them gentle on sensitive stomachs. Who needs a lozenge when you can have one to be savored on a stick?
8. ELDERBERRY VINEGAR HONEY CARAMELS RECIPE FROM THE NERDY FARM WIFE
Elderberries and apple cider vinegar combine with honey, butter, and vanilla to make these delicious, yet antiviral, elderberry vinegar honey caramels.
You can also use frozen elderberries instead of fresh or dry, if it's easier. Simply wrap your caramels in baking paper and twist the ends for a healthy treat you can enjoy on-the-go.
9. PLUM ELDERBERRY JAM WITH VANILLA FROM NICEST THINGS
You'll love spreading this plum and elderberry jam with vanilla on everything.
It contains delicious ingredients such as plums, freshly squeezed lemon juice, water, vanilla pods, sugar, and of course, elderberries.
Why not put the mixture in some cute little jars and give them to your loved ones?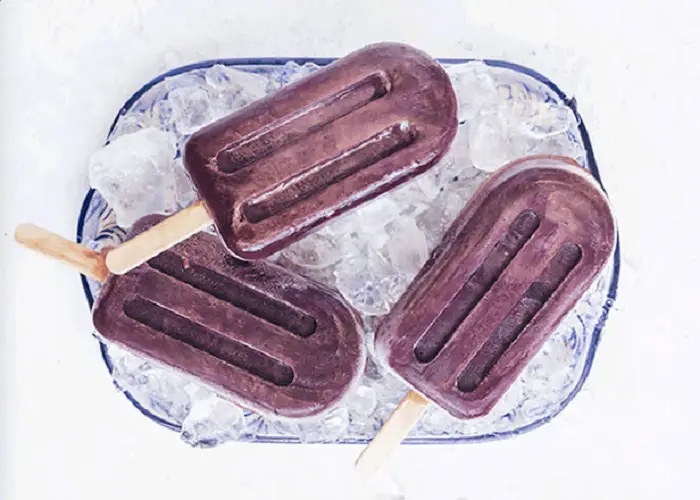 10. ELDERBERRY POPSICLES FROM MEDICAL MEDIUM
These fun and colorful popsicles contain elderberry syrup, giving them their amazing health benefits.
When combined with fresh orange juice or coconut water, you've got yourself a treat that isn't just good for you, but will also win over any fussy eater.
Genius!
11. IMMUNE BOOSTING HERBAL ELDERBERRY TEA FROM WELLNESS MAMA
Making a soothing and herbal elderberry tea is as simple as combining elderberries with cinnamon powder, turmeric powder, raw honey, and filtered water.
While the cinnamon and turmeric aren't completely necessary, they give the tea a delicious flavor and boost its health effects even more.
This elderberry and port jelly is so versatile. It can be spread on some warm scones, paired with a meat or chicken dish as a fruit jus, or even used as a BBQ glaze!
To make it, you just need elderberries with their stalks removed, the juice and zest of unwaxed lemons, water, jam sugar, and port. In just over an hour, you'll have the most delicious jelly you've ever eaten!
Elderberries and a cassis flavored custard fill this butter pastry tart – how good does that sound?
Not only does it look and sound incredible, but you can take comfort in the healing properties of elderberries when you indulge in this dessert.
At least, that's what we'll be telling ourselves!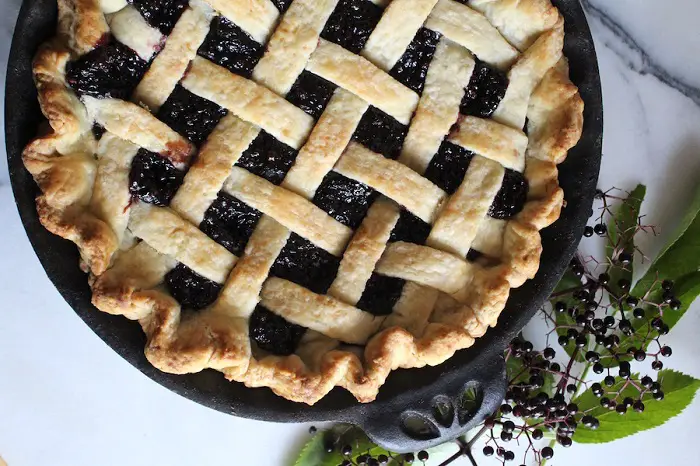 Speaking of dessert, this elderberry pie recipe is both tasty and easy to make. As the chef explains, "just a few cups of elderberries and you're well on your way to a delicious old-fashioned elderberry pie".
You'll want to try and use fresh elderberries for this recipe, but if you can't get your hands on any, dried will do just fine.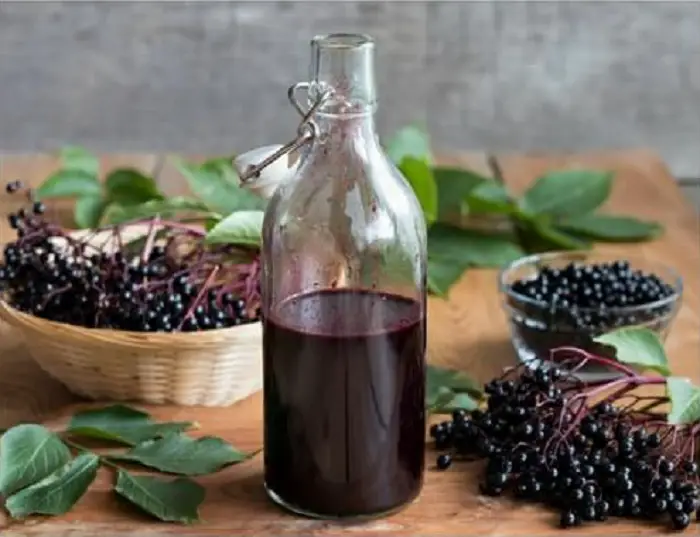 Kombucha is surprisingly easy to make at home—it just requires tea, sugar, and an active starter culture of bacteria and yeast.
This recipe then gives you three alternatives to making elderberry kombucha, whether it's using dried elderberries, elderberry syrup, or strongly-brewed elderberry tea.
This elderberry gin recipe is the perfect way to use any elderberries you might have come across during a stroll around your garden or a friend's (we won't tell!).
The fruity, sweet flavor of the berries will leech out into the gin over time, resulting in a great-tasting beverage that's perfect for mixing into cocktails or topping up with tonic.
Garnish with some more elderberries or a sprig of your favorite herb and you've got yourself a merry tipple for the end of the year.
Here's a child-friendly way to take elderberry syrup to keep away those nasty colds and flus this winter.
To make these elderberry syrup gummies, you just need elderberry syrup, water, gelatin, and silicone molds (like these fun gummy bear ones).
They might be a hit with the young ones, but adults can totally enjoy these delicious and nutritious gummies too!
These gummies really pack a powerful punch when it comes to healing ingredients.
They might be called elderberry gummies, but they contain other useful ingredients such as dried rose hips, cinnamon chips, liquorice root, freshly ground black pepper, apple juice, and gelatin.
The first step is to make everything into a juice before turning it into fun-size gummies.
19. FERMENTED ELDERBERRY HONEY FROM GROW FORAGE COOK
By now, we all know the health benefits of elderberries, but did you know raw honey also has medicinal benefits on its own, and when it's fermented it gives you even more beneficial bacteria that will help to prevent sickness?
This is what makes this recipe for fermented elderberry honey great! Within just a few weeks, you'll be left with a bubbly honey containing a rich berry color.
20. HOMEMADE, SUGAR-FREE ELDERBERRY JAM FROM CLAUDIA CANU
Fancy making a dairy-free, gluten-free, sugar-free, paleo, keto and vegan jam?
Look no further than this homemade elderberry jam, which also contains strawberries (or another berry of your choice), stevia, and kazu as a thickening agent. You can create a big batch of jam this weekend and gift it to your loved ones to enjoy.
Some of the featured elderberry recipes use elderberry syrup as a base, so here's a helpful recipe to show you how it's done!
Additionally, elderberry syrup is a brilliant way to get the medicinal values of elderberry each day or when you're feeling under the weather. Just put a bit on a spoon! We've also heard this goes well when drizzled over ice cream…
Put Some of These Elderberry Recipes to the Test!
There you have it – 21 easy elderberry recipes that aren't just tasty, but also very good for your health. Remember, elderberries are packed full of antioxidants and vitamins, which are effective at looking after your immune system.
If you happen to come across some elderberries in your backyard or on a walk, don't eat them raw!
Some types of elderberries are toxic, particularly their leaf, stalk, and under ripe berries. It's best to do your research first and if safe, only consume elderberries once they have been cooked.
Which elderberry recipe will you be trying first? Whether you're looking for a healthy breakfast, lunch, dinner, or dessert option – there's something for everyone among this list!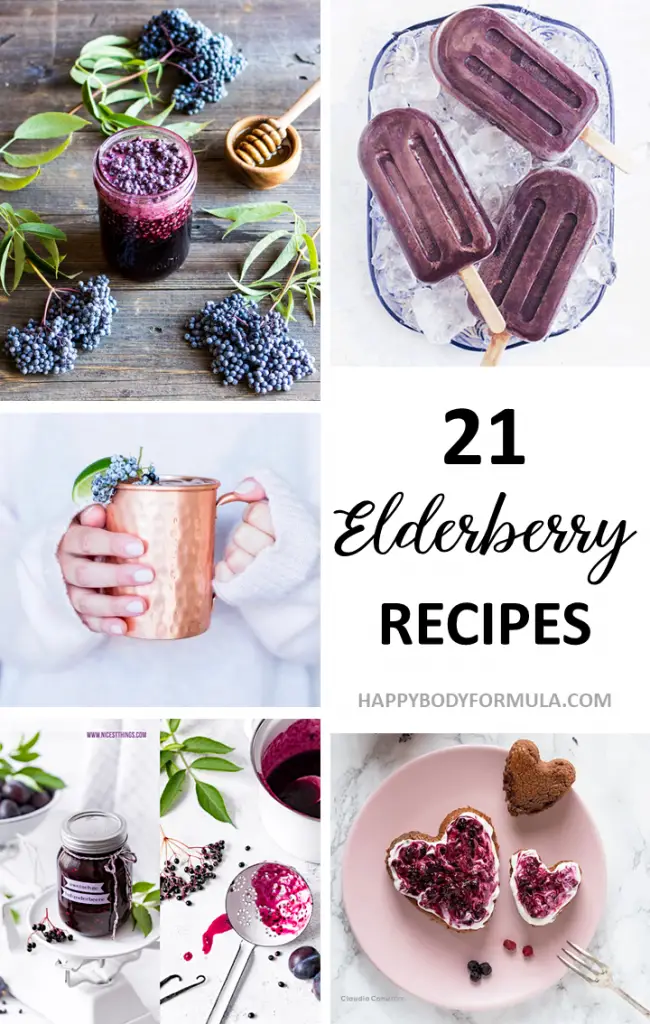 Melanie Clarke is the founder of Whim Online Magazine, an online magazine based in Australia that has a strong focus on whimsical + dreamy photography, as well as art and fashion content.