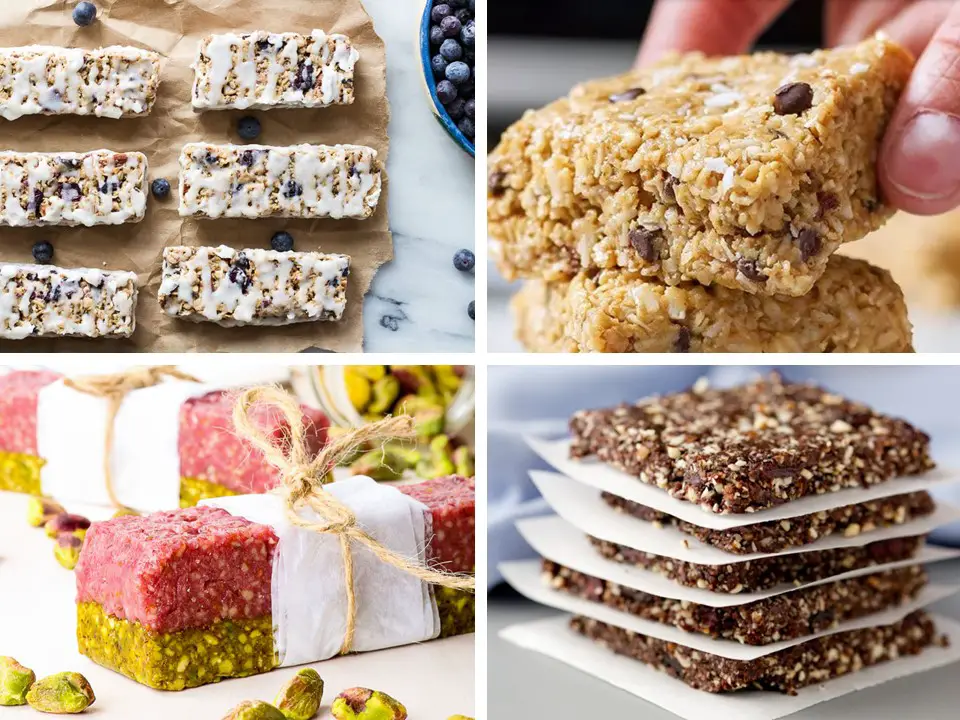 We all lack energy from time-to-time, but if you find your levels slumping each afternoon without fail, then you may need the boost that an energy bar can give you.
By energy bar, we don't mean those sugar-laden, sweet versions that you find on many supermarket shelves. We're talking about healthy, homemade, and nourishing energy bars that you can whip-up in your own kitchen within just minutes.
When done right, there are plenty of health benefits of a good, homemade energy bar. Aside from boosting your energy, of course, these bars are often packed-full of other helpful ingredients, including those high in sources of protein, antioxidants, iron, magnesium, and so much more.
In fact, the sky is the limit when it comes to turning these energy bars into health food, as you can fill them with any supplement (such as cacao, matcha, acai, hemp, etc.) that you desire!
Ready to see 30 healthy and homemade energy bar recipes that you just have to try? Let's get started!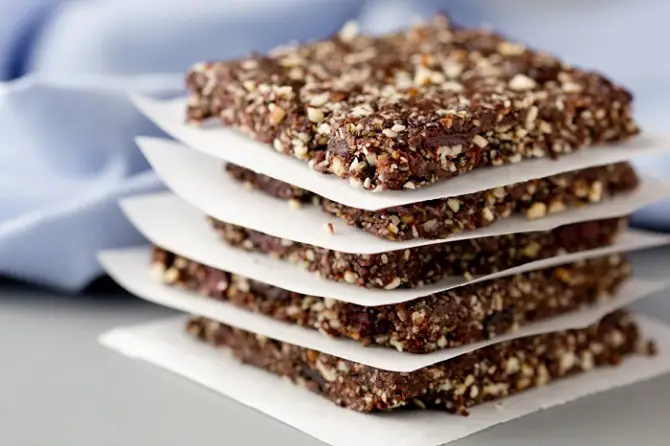 CHIA SEED ENERGY BARS FROM FIT LIFE TV
Whether you are a busy professional that is looking for an afternoon healthy pick-me-up or a mom that wants a healthy alternative for your kids to snack on, these chia seed energy bars are versatile enough that everyone will love them.
As for the chia seeds, they're an excellent source of fiber, omega-3, protein, as well as essential vitamins, minerals, and antioxidants.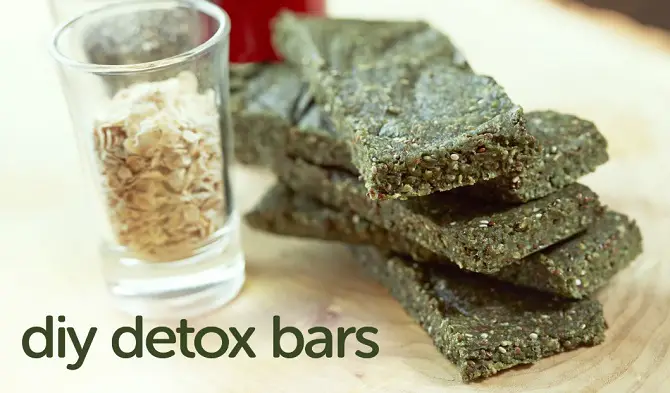 How about a homemade energy bar that also helps you detox? These have the equivalent antioxidant content of 6 servings of fruit and veggies, plus they taste delicious!
This recipe gives them a balanced flavor by also incorporating maple syrup and cinnamon. You'll find other goodies in here too, such as chia seeds, rolled oats, almond butter, and coconut oil.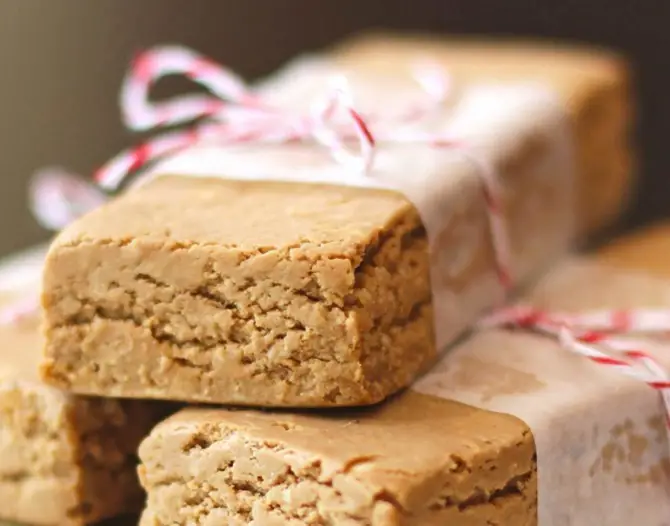 Don't let the delicious, dessert-like name fool you; these protein bars might look like a sweet treat, but they're actually good for you!
With ingredients such as roasted peanut butter, unsweetened vanilla almond milk, vanilla brown rice protein powder, and peanut flour, these bars are sugar free, low carb, keto friendly, gluten free, dairy free, AND vegan too.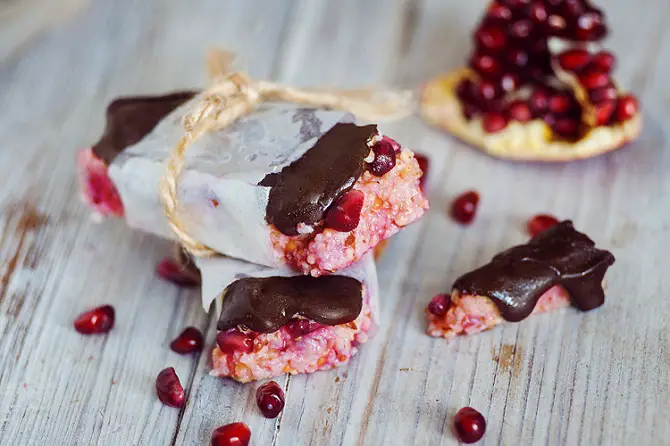 SUPERFOOD PROTEIN BARS FROM SKINNY MS
These DIY energy bars are a perfect combination of superfoods, including quinoa, flax seeds, pomegranate seeds, and more.
Plus, unlike many protein bars out there on the market, these are made with all-natural ingredients that are so easy to put together at home. They're perfect for a breakfast on-the-go, or even as a post-workout pick-me-up or afternoon treat.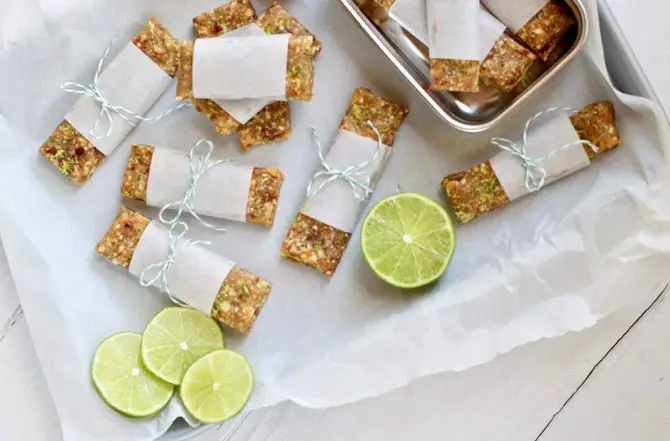 These tasty energy bars are so delicious, you won't believe they're made with just 5 ingredients. Featuring dates, almonds, raw cashews, shredded coconut, and lime zest and juice, this recipe takes hardly any time at all to whip-up.
Don't forget to make an extra batch for unexpected visitors, kid's lunchboxes, or those last-minute breakfasts!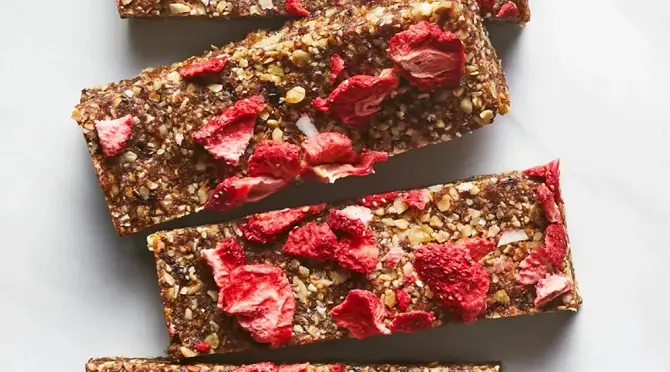 FRUIT AND NUT ENERGY BARS FROM REAL SIMPLE
These chewy energy bars are packed with protein and fiber, making them perfect for a breakfast on-the-go or to tide you over between meals.
This recipe doesn't contain any nasty fillers or unnecessary sugars, plus you can customize it until your heart is content. Want to try a different combination of nuts or decorate with dried fruit on top? Go for it!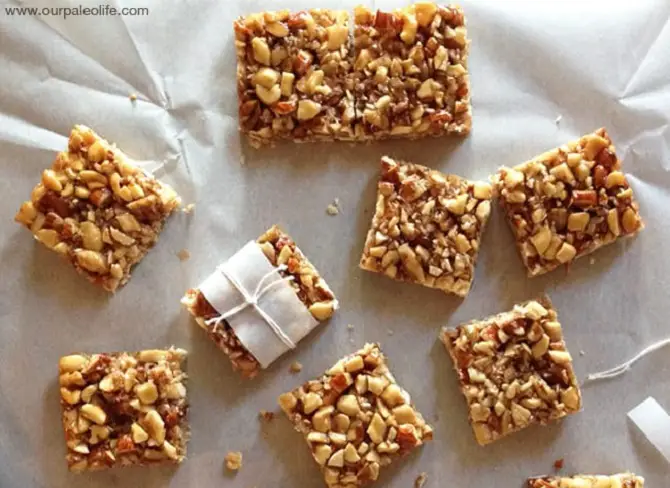 When making these delicious DIY bars, the real trick lies in getting the honey just-right. You see, you want to make sure the honey doesn't burn while at the same time making sure it gets heated enough to harden when it cools.
This results in a crunchy bar that holds its shape and doesn't fall apart. Don't worry though, it isn't hard to master, and the results are totally worth it anyway!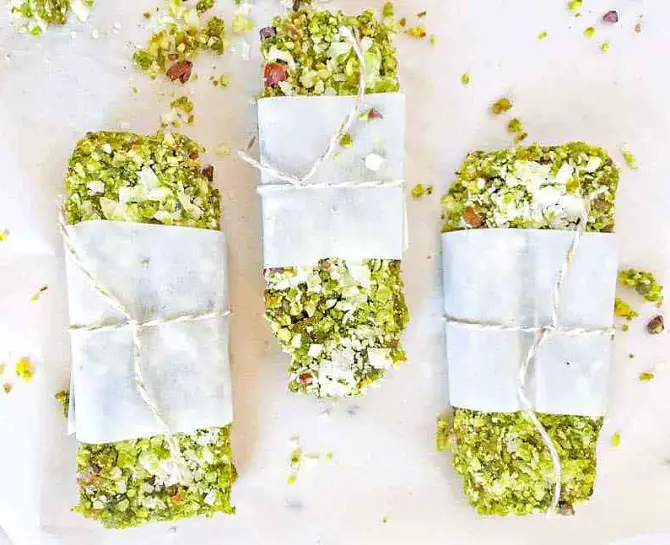 COCONUT MATCHA ENERGY BARS FROM GRATEFUL GRAZER
Did you know that matcha contains even more beneficial antioxidants and nutrients than regular green tea alone?
This is because the entire leaf is used to make the powder, resulting in a nutrient-packed superfood that's perfect for an energy bar recipe. This version uses a combination of nuts, seeds, shredded coconut, and matcha green tea powder. Delicious!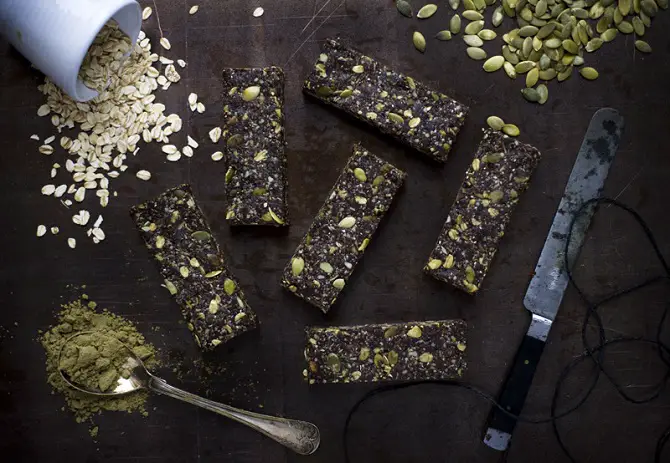 Hemp seems to be the latest health food trend, and for good reasons too. Hemp seeds are a complete source of protein, providing all nine essential amino acids, plus they're high in fiber and other essential vitamins and minerals.
This recipe combines the ingredient with pumpkin seeds, shredded coconut, chia seeds, and bee pollen.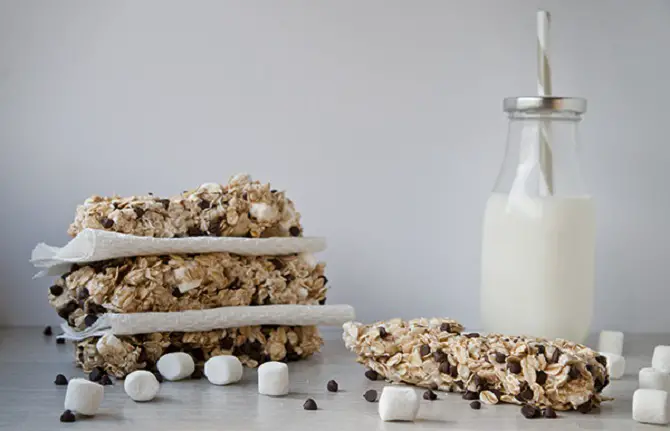 To make these tasty bars, all you need is a handful of ingredients, a microwave, and 5 minutes of your time. Everyone loves the taste of s'mores and now you can enjoy them as an energy bar whenever those cravings strike.
To make this an even healthier version, simply substitute the chocolate chips for cacao nibs, the butter for a nut butter (like almond butter), and the regular marshmallows for their sugar free version.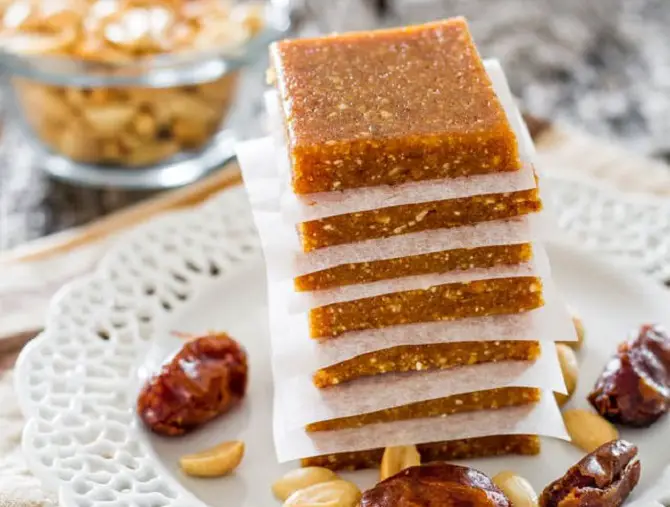 3 INGREDIENT HEALTHY ENERGY BARS FROM JO COOKS
Can you believe these homemade energy bars use just 3 ingredients?! Featuring a healthy (and delicious) blend of peanuts, dates and dried apricots, this recipe is very easy to make.
Simply pulse all of the ingredients together, pour into a baking tray, refrigerate, cut-up, and enjoy. Plus, if you don't have peanuts, you can easily substitute them for any other nut and the results will be just as tasty.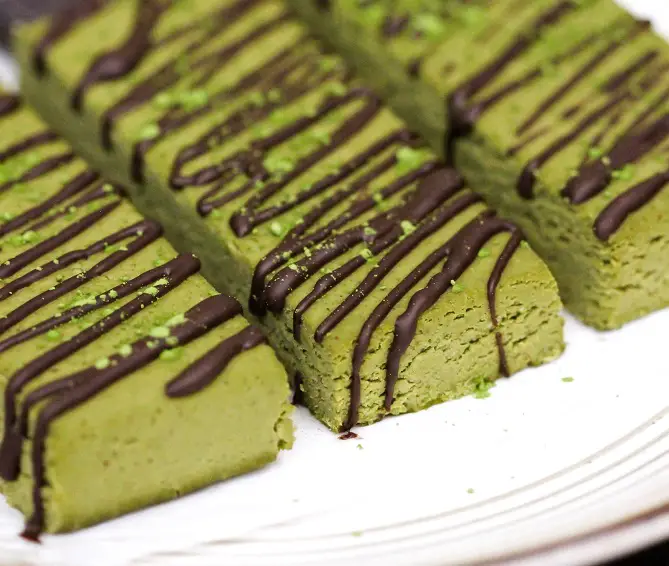 If you're after an energy-loaded bar that has the consistency of fudge (but is still insanely good for you), then is it.
They're packed with protein, healthy fats, complex carbs, fiber, and all-natural goodness, plus they have that delicious match green tea flavor that's super addictive. Simply drizzle with melted cacao nibs to add some sweetness (that's more nice than naughty).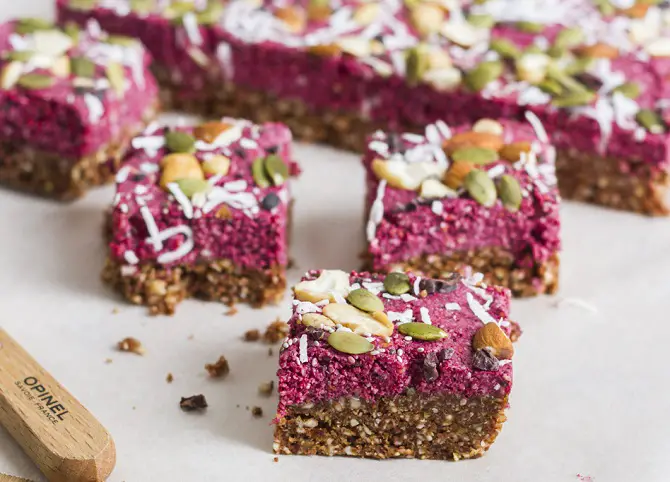 CHOCOLATE BERRY SUPERFOOD BARS FROM PHEEBS FOODS
If you're someone who always reaches for the overly sweet, highly processed, muesli, chocolate or protein bar in the afternoon, then you might want to give these super healthy and nutritious bars a go!
They don't only look divine, but feature delicious ingredients such as almonds, cashews, coconut, maca, cacao, dates, peanut butter, acai powder, chia seeds, and so much more.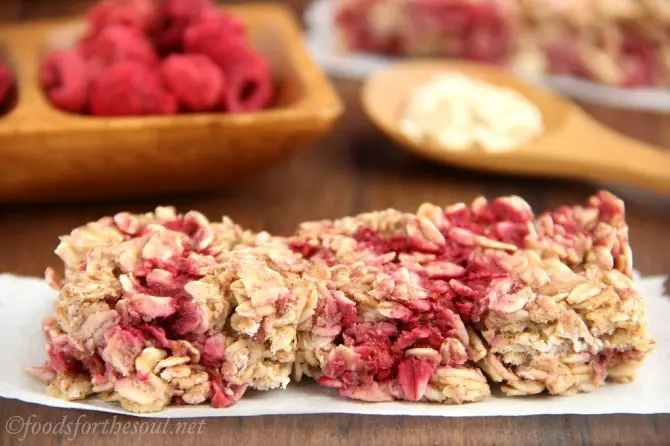 These homemade bars contain only 100 calories and are made without butter, refined flour or refined sugar. Instead, they're packed full of fruit and are a great healthy option for breakfast, snacks, or even dessert!
Just some of the ingredients you'll need to make your own include unsweetened applesauce, honey, cinnamon, old-fashioned oats, and frozen unsweetened raspberries.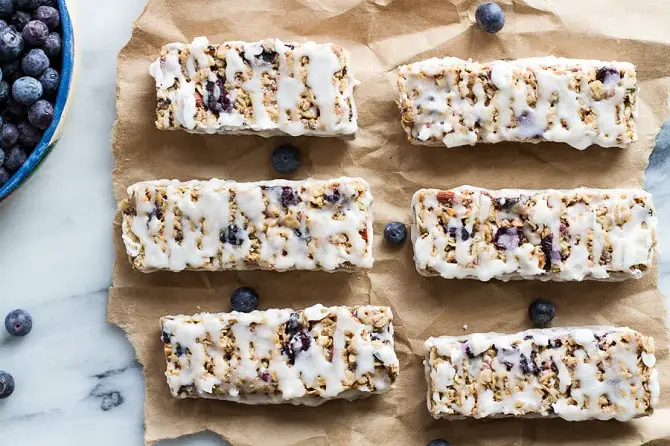 BLUEBERRY VANILLA GREEK YOGURT GRANOLA BARS FROM HALF-BAKED HARVEST
These DIY bars can be rested overnight to ensure they've combined together and their coating has completely dried. Not only are they healthy, kid-friendly, and easy to make, but they also look like mini works of culinary art!
You could also substitute the blueberries for any berry of your choosing, or why not add additional berries for extra color?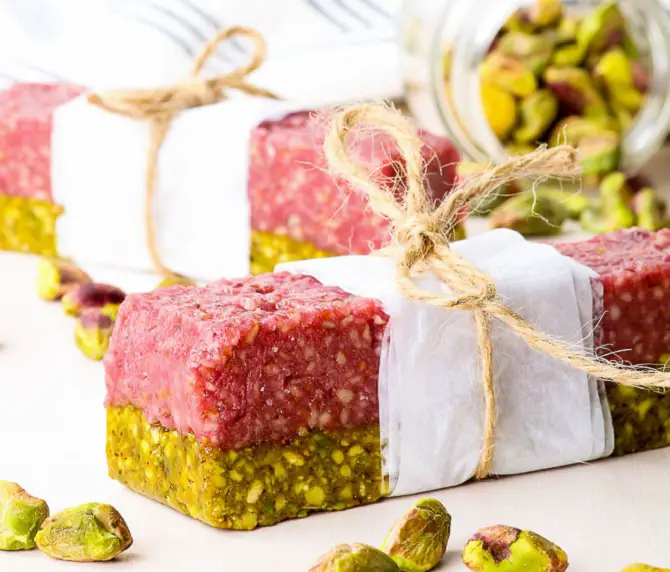 PISTACHIO RASPBERRY ENERGY BARS FROM THE LOOPY WHISK
They might look like candy, but these pistachio and raspberry bars are anything but! They contain healthy and nutritious ingredients such as pistachios and raspberries (of course), as well as honey, almonds, and coconut oil.
They'd also make a wonderful, energy-filled snack to share with your friends.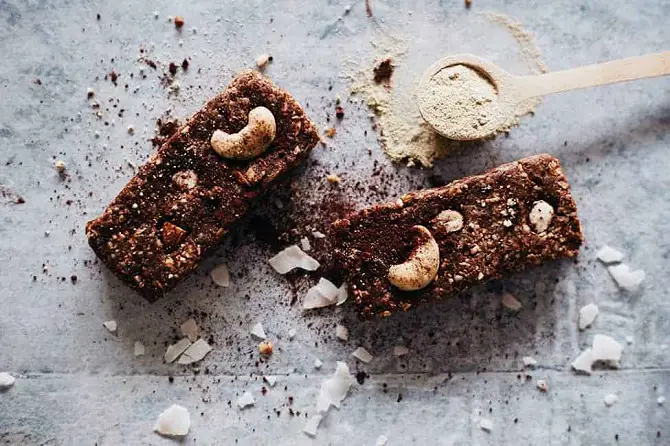 HOMEMADE HORMONE-BALANCING CHOCOLATE ENERGY BARS FROM HELLO GLOW
If you suffer from severe PMS, sudden mood changes, oily hair or spontaneous acne, then you may have a case of hormone imbalance.
While it's not serious, it can certainly disrupt your life from time-to-time, but thankfully, there's plenty you can do to fix it. These homemade energy bars are a good start, as they contain hormone-balancing ingredients such as maca, cacao, dates, and mixed nuts.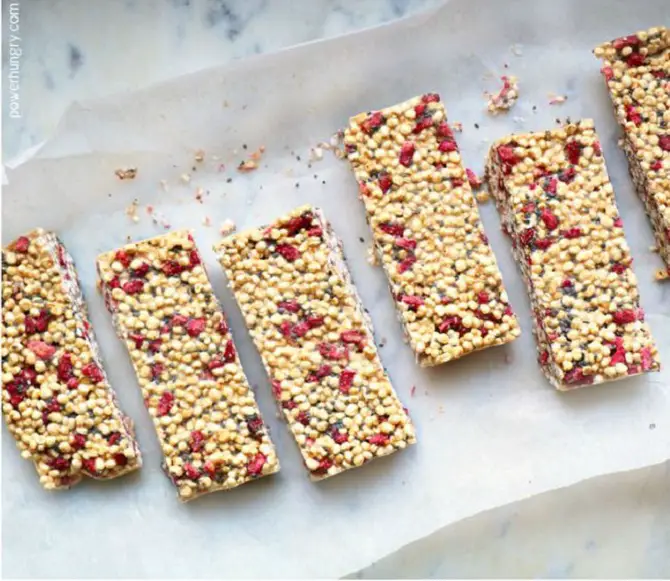 STRAWBERRY & LEMON ENERGY BARS FROM POWER HUNGRY
These chewy and easy-to-make energy bars are bursting with two favorite flavors of summer: strawberry and lemon! They are no-bake, as well as naturally nut-free, gluten-free and vegan, making them the perfect on-the-go snack for everyone.
Their key ingredient is millet puffs, which are high in fiber, as well as a host of minerals (such as calcium and magnesium) and other nutrients.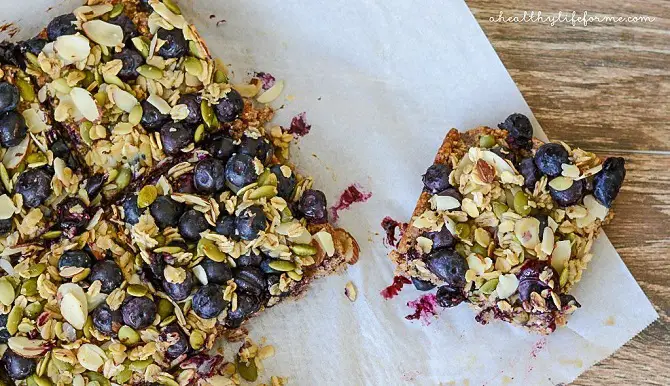 It can be difficult to find enough time in the morning to whip-up a breakfast that isn't just nutritious, but delicious too. This is where these homemade oatmeal superfood breakfast bars come in handy, as you can make them on the weekend, or the night before, and have a stash ready to go for the morning.
They're loaded with healthy ingredients like oats, pumpkin seeds, and blueberries, plus they're gluten-free!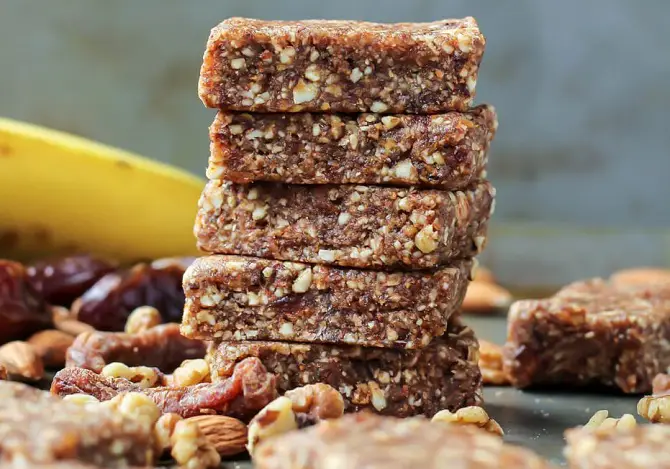 BANANA BREAD DATE NUT ENERGY BARS FROM FIT MITTEN KITCHEN
This copycat recipe tastes identical to the store-bought version, but contains just three key ingredients: dates, dried bananas, and almonds.
These bars are also paleo, plus they contain no added sugar, making them a great snack for both children and adults alike. With just 10 minutes of prep time and 10 minutes of cooking time, these are the perfect treat to make when those cravings hit.
PUFFED QUINOA, DATE & PEANUT BUTTER BARS FROM CHOOSING CHIA
These puffed quinoa, date, and peanut butter bars are a healthy snack packed with ingredients to give you long-lasting energy.
Ingredients such as dates, quinoa, pumpkin seeds, sunflower seeds, and almonds are designed to keep you fueled, and not spike your blood sugar (like sugar-laden snacks tend to do).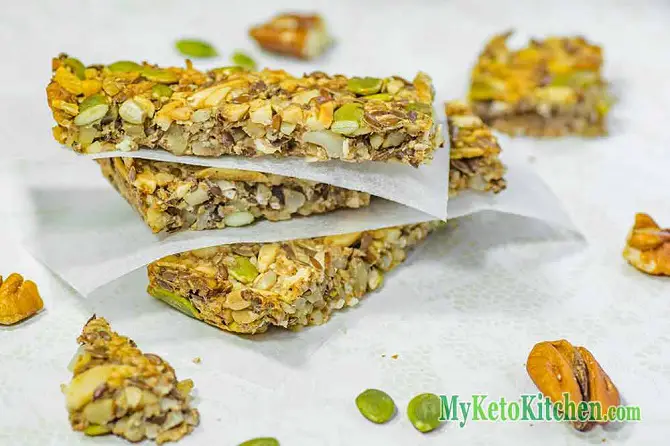 This easy-to-make keto granola bar is great for breakfast or a snack, as the ingredients are full of healthy fats, vitamins, and minerals.
It also gets better – these homemade bars are low-carb, grain-free, gluten-free, dairy-free, and sugar-free with no added cereal! There's nothing better than a tasty snack that is thoroughly good for you, so be sure to give this recipe a try.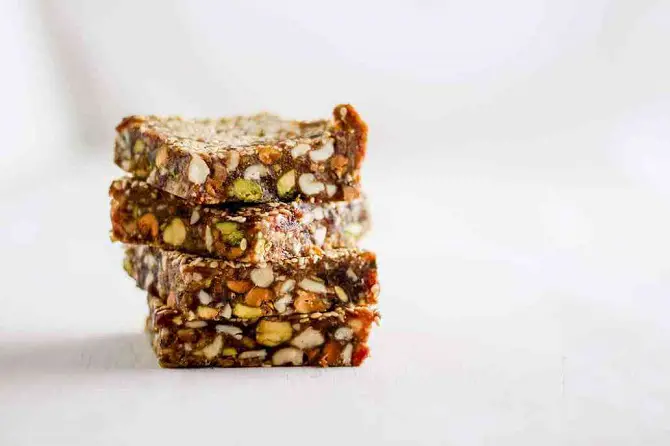 EASY NO-BAKE SESAME DATE BARS FROM GRATEFUL GRAZER
These homemade sesame date bars are easy to make, plus they're packed with plant-based protein from chickpeas, nuts and seeds.
You'll find simple ingredients such as dates, pistachios, cashews, sesame seeds, and more – but don't be fooled; they pack in all the protein, fats, carbs, and other good stuff you need to feel energized longer.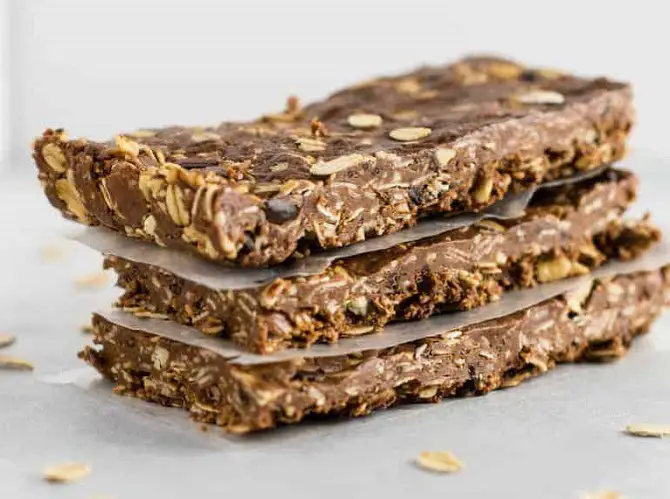 CHOCOLATE CASHEW PROTEIN BARS FROM BUILD YOUR BITE
If you're looking for an easy protein bar recipe that tastes like dessert, we've got good news for you. This is the one!
Despite using some of the most delicious ingredients around, these homemade bars are naturally gluten free, dairy free, and vegan. They include rolled oats, cashews, cacao, peanut butter, honey, and more. Amazing!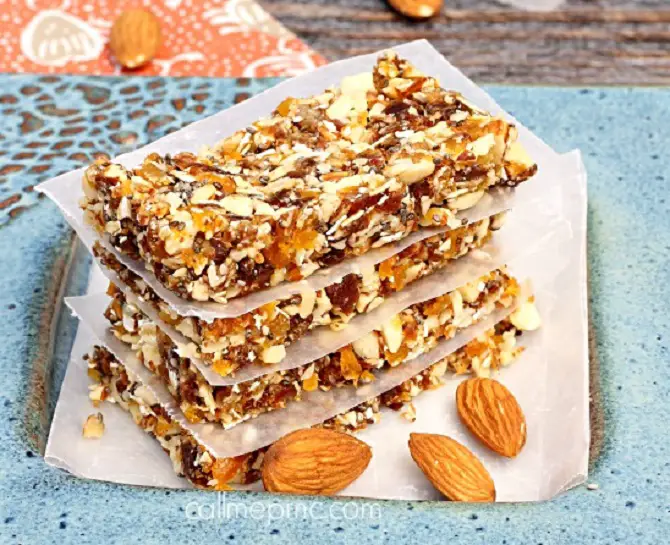 APRICOT ALMOND ENERGY BARS FROM CALL ME PMC
Here's an energy bar that takes just 5 minutes to make using 6 ingredients! Simply combine dates, dried apricots, almonds, honey, chia seeds, and rolled oats in a food processor, before placing the mixture into a lined tray.
You can eat it straight away or set it aside to help the mixture set. Not only is it a colorful and delicious recipe, but it's also highly nutritious!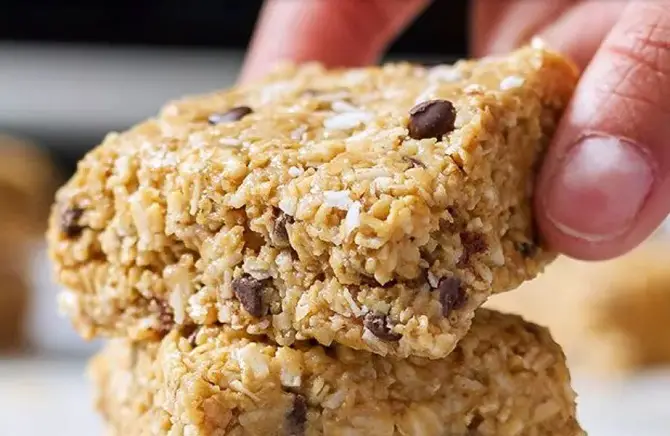 NO BAKE ENERGY BARS WITH OAT PEANUT BUTTER CHOCOLATE FROM EATWELL101
Need an energy boost? These homemade bars are packed full of energy-boosting ingredients such as oatmeal, coconut, honey and peanut butter.
This makes them the perfect breakfast on-the-go or afternoon snack to beat that 3 o'clock slump. Plus, they look like (a much healthier) chocolate chip slice, so are extremely hard to resist!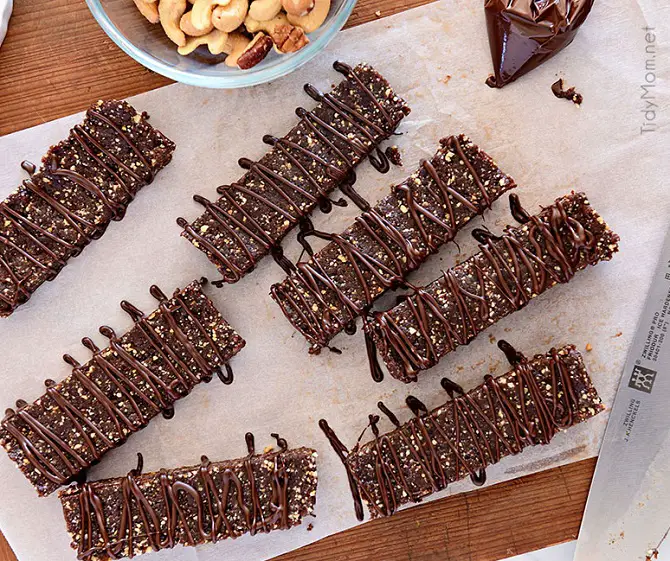 HOMEMADE HAZELNUT ENERGY BARS FROM TIDY MOM
These homemade hazelnut energy bars are jam-packed with hazelnuts, pecans, cashews, and chocolate, making them an easy, no-bake treat that's ready in no time at all.
They might look extremely decadent, but there are two main ingredients that come with a lot of great health benefits; dates and coconut oil. Plus, substituting regular cocoa powder and chocolate chips for their cacao counterparts will give you an additional health boost without compromising on flavor.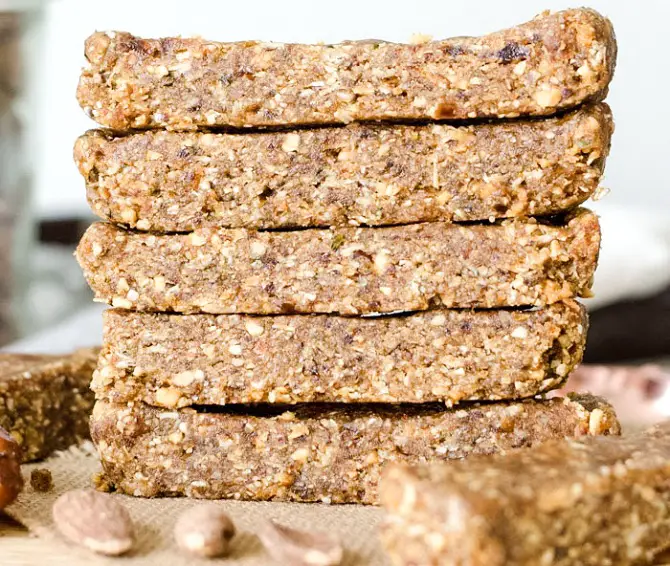 These delicious, no-bake bars are super easy to make with just 6 wholesome ingredients. If that hasn't won you over, then we bet this will: they're also vegan, naturally sweetened, naturally gluten-free and contain 8 grams of protein per bar.
With ingredients such as dates, oats, almonds, peanut butter, hemp seeds and maple syrup, you're certainly in for an addictive treat that you can enjoy at any time of the day!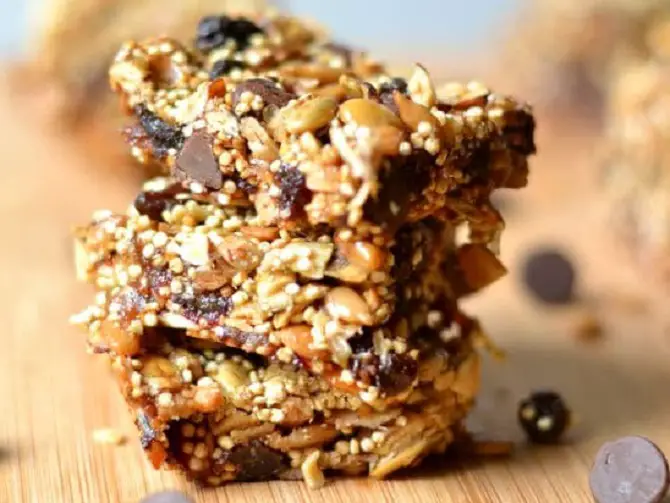 These yummy superfood energy bars are packed full of nutrients and sweetened with honey and just a little touch of chocolate.
Other ingredients include almonds, dates, raisins, and coconut oil, so you can easily substitute the chocolate for cacao nibs to boost the nutritional factor even more!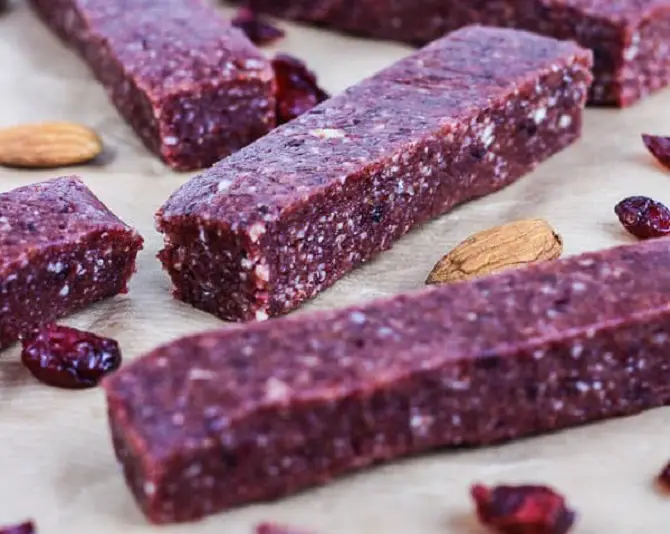 RAW CRANBERRY AND NUT ENERGY BARS FROM FROM THE LARDER
Here's another highly nutritional and easy-to-make energy bar to add to your list of recipes! This version is vegan, gluten-free and sugar-free, plus it's full of protein and bursting with a fruity flavor.
It uses great-tasting ingredients such as dates (the staple of any good energy bar!), dried cranberries, macadamia nuts, blanched almonds, and freeze-dried raspberry powder.
Final Thoughts
There you have it – 30 healthy and homemade energy bars to help you get through the day! Whether you eat them for a breakfast on-the-go, afternoon snack, or nutritious dessert to keep-in with your diet goals, you're sure to benefit from both their flavor and sources of vitamins and minerals.
Another great thing about these DIY energy bars is that they're so simple to make, with many requiring just 5 minutes preparation time. Simply make a batch on the weekend or night before, then place them in the refrigerator to enjoy for the week ahead.
It doesn't matter if you're craving an energy bar that's fruity, nutty, sweet, or decadently rich. These recipes certainly have something for everyone and will satisfy even the toughest of tastebuds!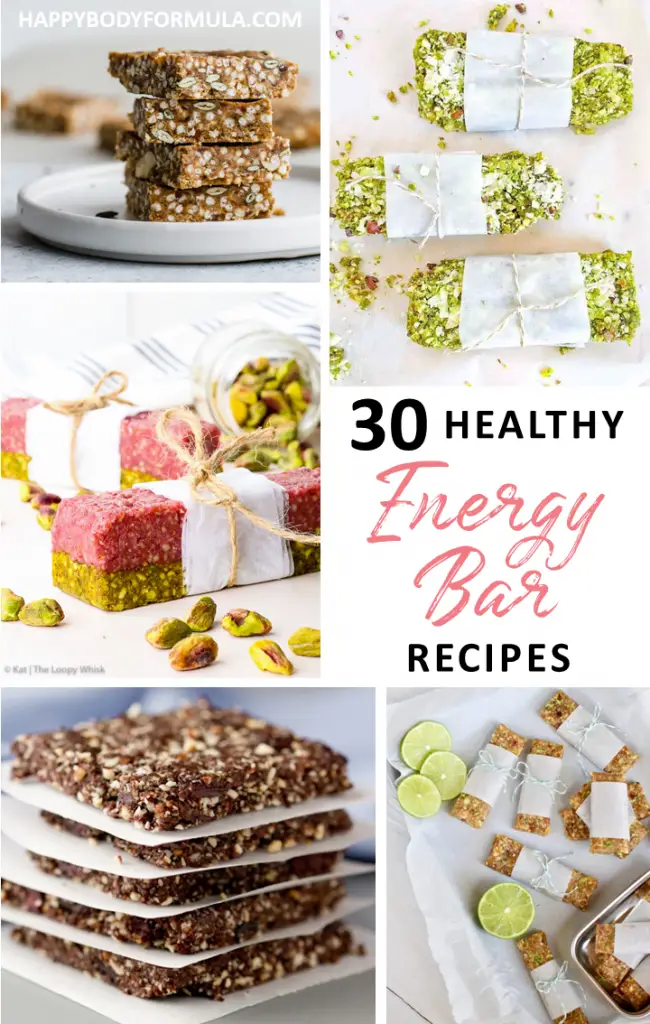 Melanie Clarke is the founder of Whim Online Magazine, an online magazine based in Australia that has a strong focus on whimsical + dreamy photography, as well as art and fashion content.