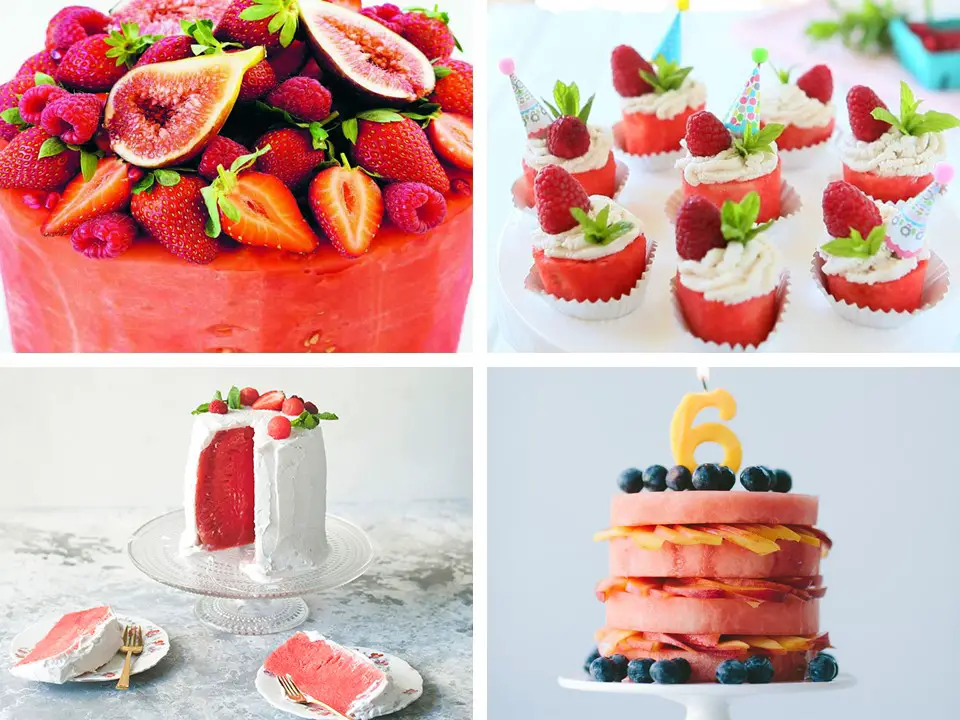 What is a party without cake? If you're on a strict diet or have dietary restrictions that prevent you from tucking into a slice of cake, however, then it can be disheartening.
Rather than miss out, why don't you embrace what's known as an 'all fruit birthday cake', which (as the name suggests) is made entirely from slices of fruit, such as watermelon, cantaloupe, pineapple, and so much more?
Trust us, these cakes provide a totally new spin on the term 'fruit cake'!
If you've never seen an all fruit cake before, then it can be difficult to know exactly where to begin. Fear not, as we've rounded up the best 15 all fruit party cakes we've ever seen, many of which can be made in 30 minutes or less!
Not only are they low on calories and high in vitamins, but they're also the perfect refreshing treat on a hot summer's day. Ready to rock your party the healthy way? Let's get started!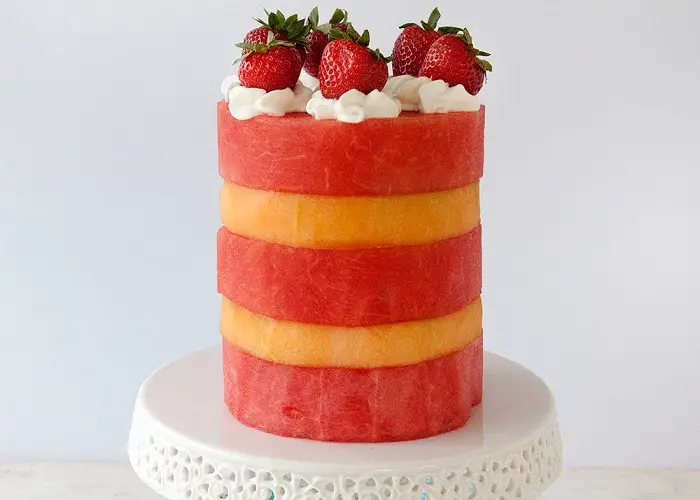 1. SUMMER FRUIT CAKE FROM BRIT + CO
This stunning all fruit cake is the best way to eat (and show off) summer's tastiest fruits. There's no butter or eggs involved in this dessert.
Instead, towering layers of watermelon and cantaloupe are stacked with a sweetened yogurt and whipped cream surprise filling! Simply garnish with some plump strawberries and you've got yourself a party cake that everyone will want a slice of.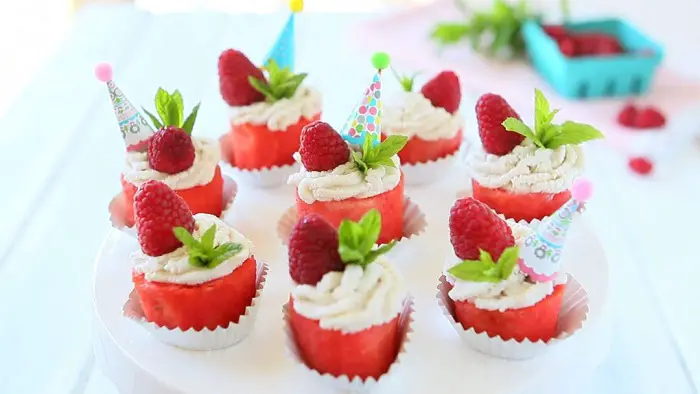 2. WATERMELON AND COCONUT CREAM CAKES FROM BUON PAPPA
These beautiful little 'cupcakes' don't contain dairy, sugar, eggs, gluten, or flour! Instead, they're made from watermelon and iced with a mixture of coconut milk, maple syrup, vanilla, raspberries, and mint.
Kids will love chowing down on these at their next birthday party, completely oblivious of these cakes' added health benefits!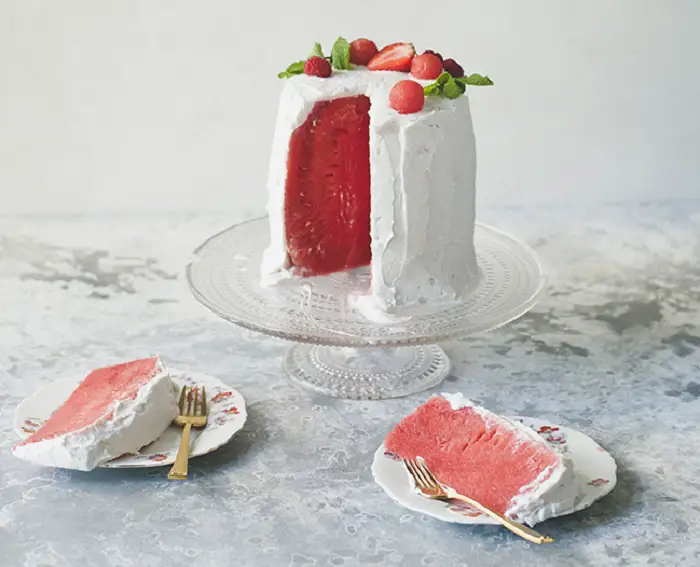 This watermelon cake may contain more than just fruit, but we think the cake-like frosting is a clever touch!
Similar to the last recipe, the frosting is made using coconut milk, honey, and vanilla bean, as well as mint sprigs and strawberries, raspberries, and watermelon balls for garnishing.
It's a great way to surprise a loved one for their birthday or even to simply enjoy summer's best fruit on a warm afternoon.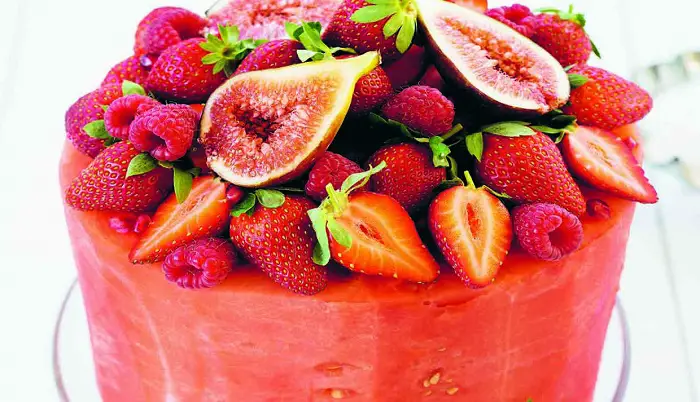 4. WATERMELON CAKE WITH SWEET COCONUT CREAM, FIGS & BERRIES FROM QUEEN
This watermelon cake looks like an absolute work of art! Not only is it refreshing, but it also makes a healthy alternative to a traditional celebration cake.
Along with the goodness of watermelon, serving as the bulk of the 'cake', you've also got delectable strawberries, raspberries, and figs on top. The best bit? You don't have to feel guilty when you go back for seconds…or thirds.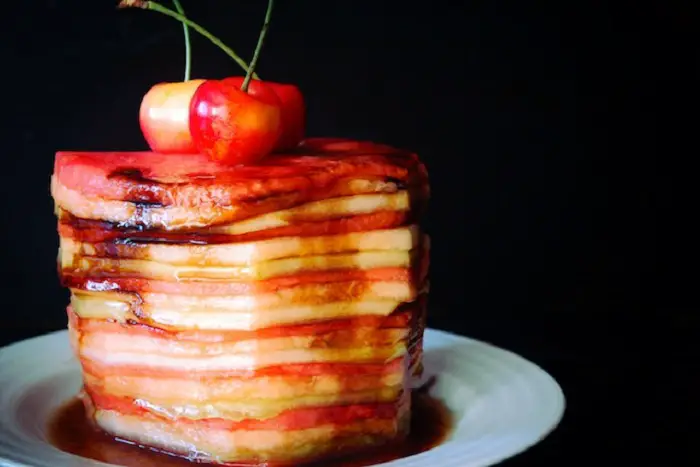 Here's another vegan, fat-free, dairy-free and gluten-free 'cake' recipe. This version uses thin melon slices and stacks them on top of one another, before drizzling with a tasty balsamic glaze.
Just top with cherries (or any other fruit of your choice) to serve. It might seem fiddly, but the extra effort is totally worth it!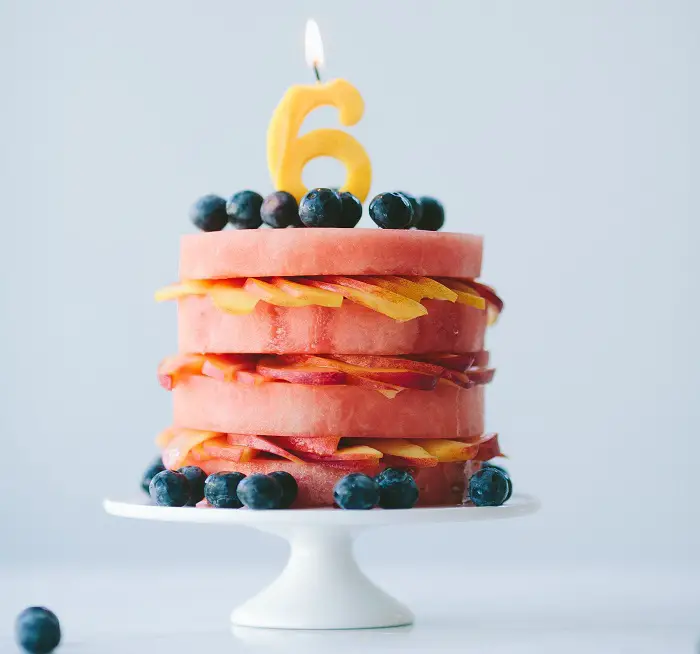 6. WATERMELON AND PEACH FRESH FRUIT CAKE FROM NOT WITHOUT SALT
All you need to make this picture-perfect cake is a small watermelon, 2-3 peaches (thinly sliced), and 1 cup fresh blueberries. The size of your cake depends on the size of your watermelon; it's that simple!
This cake is perfect for a kid's birthday party, as it's exciting enough to be eaten without abandon, yet serves as a super healthy alternative to traditional cake.
You can drizzle it with a Greek yoghurt sauce or agave syrup, but this one looks just as good served as-is.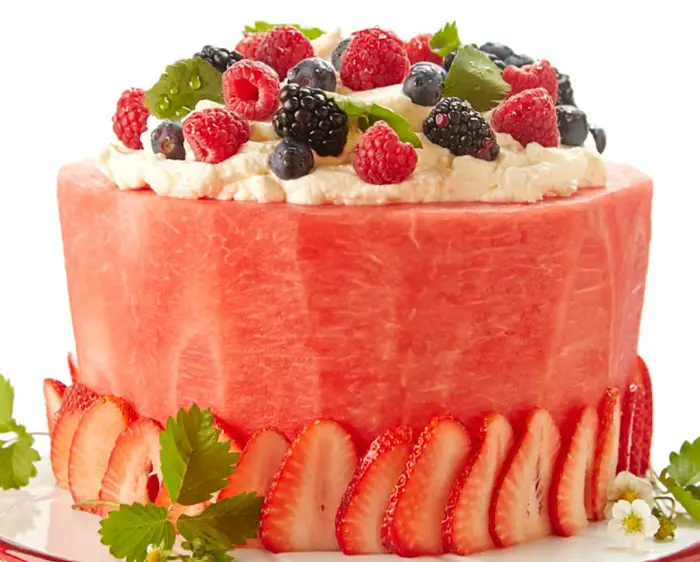 Who would have thought there would come a day when a child would request a birthday cake made of melon?
This masterpiece requires a whole watermelon, strawberries, blueberries, raspberries, blackberries, and whipped cream (but you can make it vegan-friendly using a coconut variety of cream).
If you're creating this cake for a more grown-up party, why not infuse the watermelon with gin? The options are endless!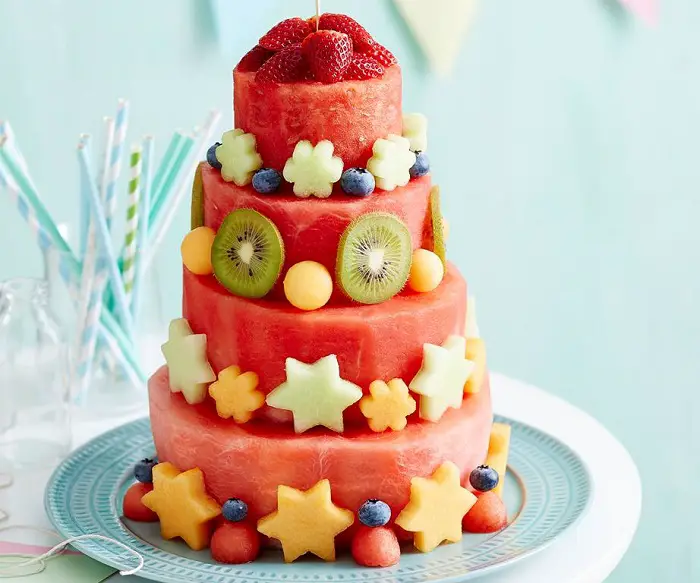 Forget your traditional tiered cakes, we think this fruity alternative looks and tastes much better!
While this is wonderful for a kid's birthday party, we can't help but imagine it being used as an alternative wedding cake too.
It'll leave enough room for guests to enjoy another serving of dessert. To make, just cut your watermelon in various sized layers, then decorate with fruit shapes and fresh strawberries.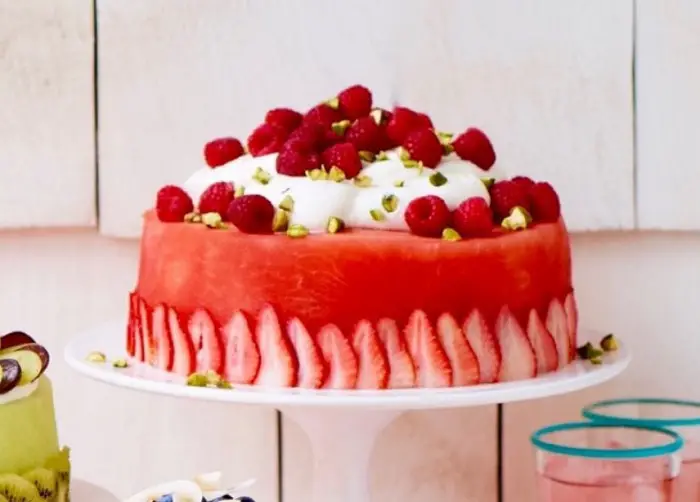 This stunning yet simple watermelon cake serves as the perfect centerpiece at your next summer party.
We love the addition of thin strawberry slices around the base of the cake, as well as those thick dollops of cream on top. The cake is further garnished with fresh raspberries and chopped pistachios for a little color and crunch.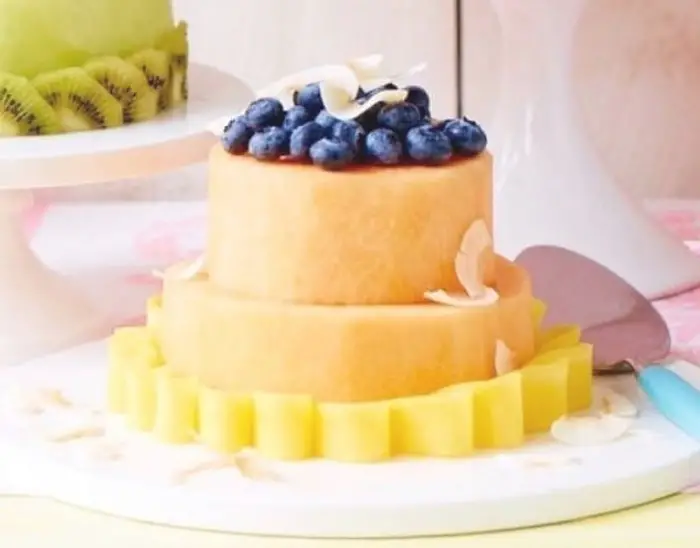 10. FRESH CANTALOUPE CAKE FROM TARA TEASPOON
Prefer to use cantaloupe as your cake's base? Then this recipe is for you! Simply cut the cantaloupe into two round layers and sit the smaller one on top of the larger one.
Then, get a fresh mango and cut the cheek into very thin slices. Bend these slices in half, layering them along the bottom edge of the cantaloupe. Then, fill the center of the cantaloupe with extra diced fruit and cream. Divine!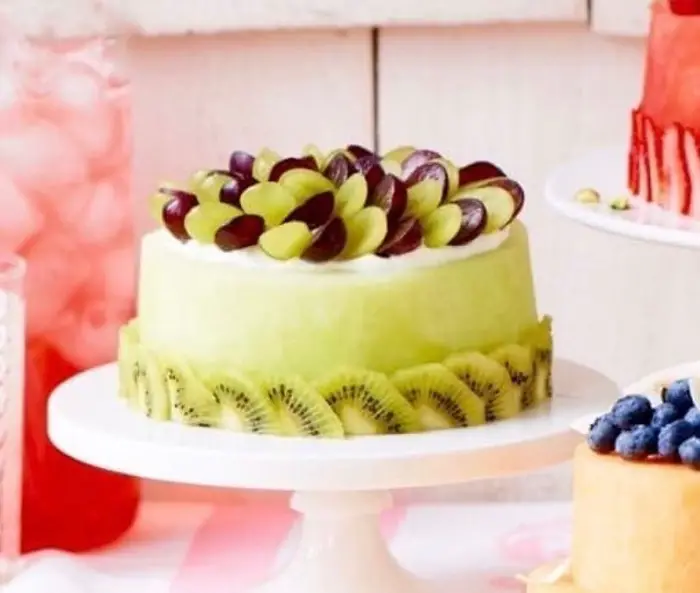 Tara Teaspoon has developed not one, but three melon cake recipes! This one uses delicious honeydew as its main element and base, giving the cake a gorgeous green hue.
Decorated with kiwi fruit and grapes, this cake doesn't just look amazing, but taste great too. Oh, and it's incredibly good for you also, containing a ton of vitamins and essential minerals. How good is that?!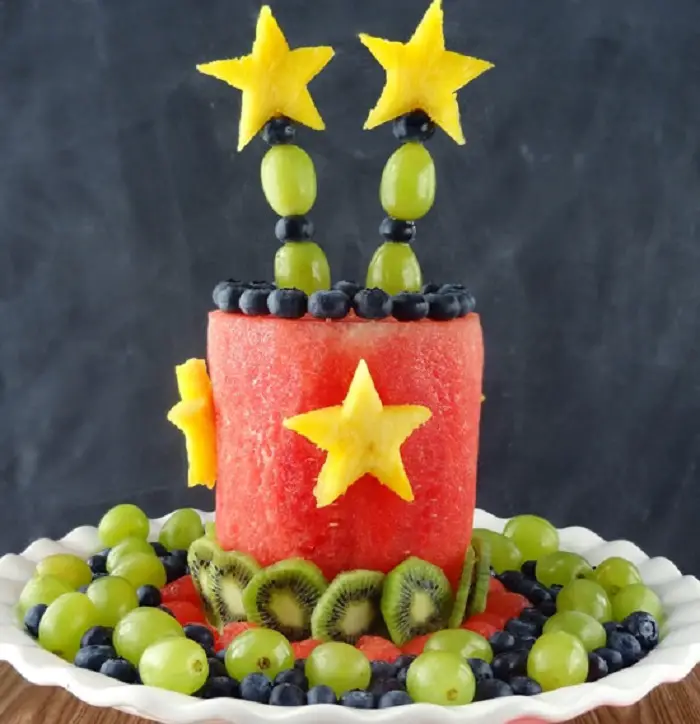 This all fruit watermelon cake is so easy to make! Plus, for those trying to lose or watch their weight for a New Year's Resolution, this cake is the perfect way to celebrate an occasion and not break the calorie bank.
It uses an assortment of watermelon, pineapple, kiwis, blueberries, and grapes, but feel free not to stop there. See what's in-season and get creative! Also, stock up on toothpicks for this one – they're the secret to everything holding together so well.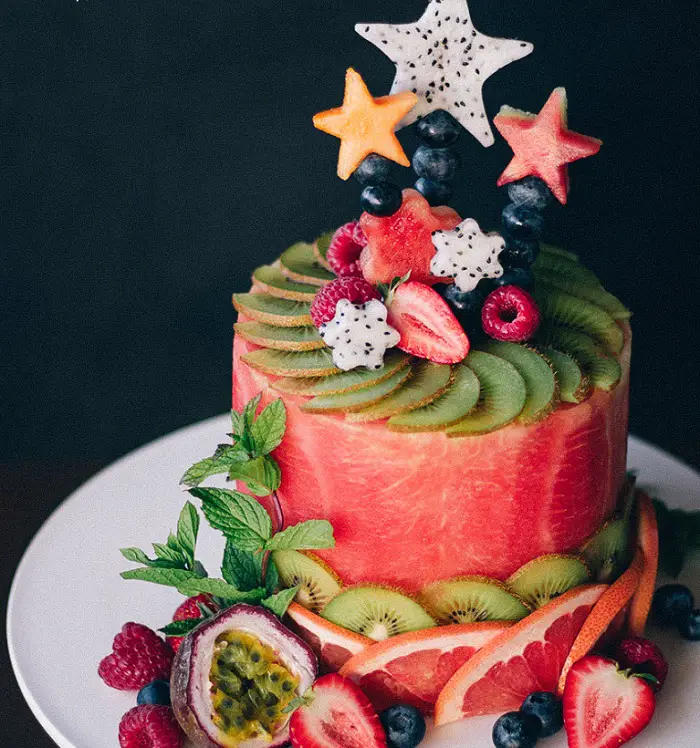 13. WATERMELON CELEBRATION CAKE FROM MISS MARZIPAN
When it comes to works of edible art, we think this one takes the cake (pun intended!). With cut out stars of dragon fruit, cantaloupe, and watermelon, as well as layered kiwi slices on top and orange slices around the base, it's safe to say we're in love…with a cake.
There are easily 8 different types of fruit here, not to mention a sprig of mint, making this all fruit party cake an absolute pleasure to eat – for your tastebuds, waistline, and health.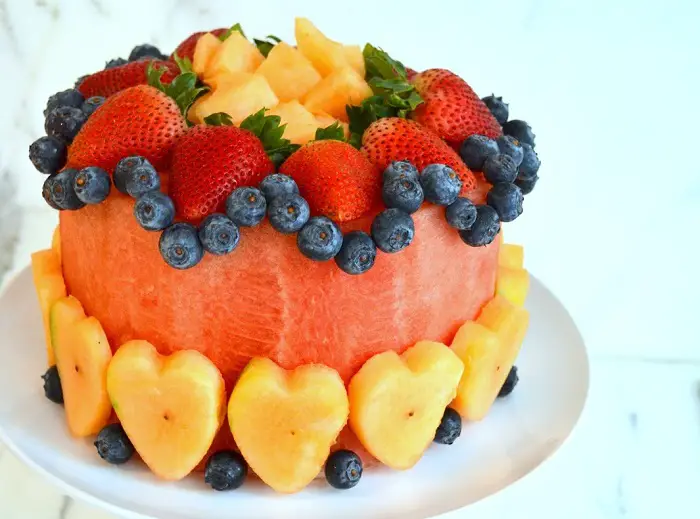 14. WATERMELON CAKE MADE OUT OF REAL FRUIT FROM JULIE ANN EVENTS
Sliced up strawberries, cantaloupe cut outs, and blueberries serve as the perfect accessories to this watermelon base.
This cute and colorful cake would be wonderful for a birthday (kid's or adult's), baby shower, or simply to celebrate the best of summer's fresh fruit. The heart-shaped pineapple slices are adorable, as is the zig-zag of blueberries around the top edge.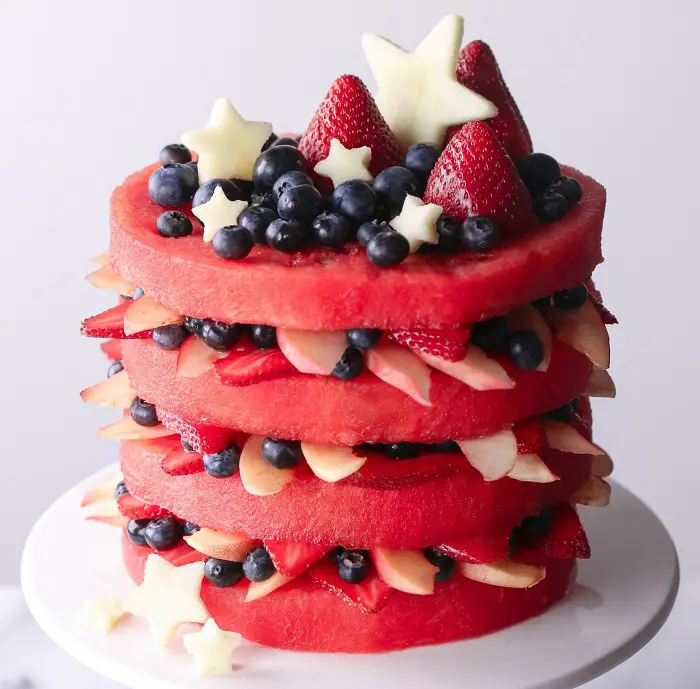 15. FRESH WATERMELON LAYER CAKE FROM WIFE, MAMA, FOODIE
This simple dessert idea is easy to make and contains the tastiest fresh and colorful fruit! Feel free to customize this recipe by using the fruit of your choice or whatever is in-season where you live.
It would be perfect for summer get togethers, birthdays, and other special occasions, serving as the ultimate centerpiece at your next event. Just be warned though: this all fruit cake is sure to steal the show!
Which Birthday Fruit Cake Will You Make?
There you have it – 15 all fruit party cakes that look like stunning, edible works of art. Not only are the majority of them vegan, dairy-free, gluten-free, and paleo friendly, but they're also jam-packed with vitamins, minerals, and other essential elements that your body needs.
These fruity cakes are great ways to get the kids excited about eating fruit, plus they can be soaked with a splash of alcohol for adult parties, if the occasion calls for it!
In fact, with these recipes you can have your cake and eat it too – without the guilt! Why not go back for seconds? You know you want to!
Which all fruit cake do you want to create? Let us know in the Comments section below!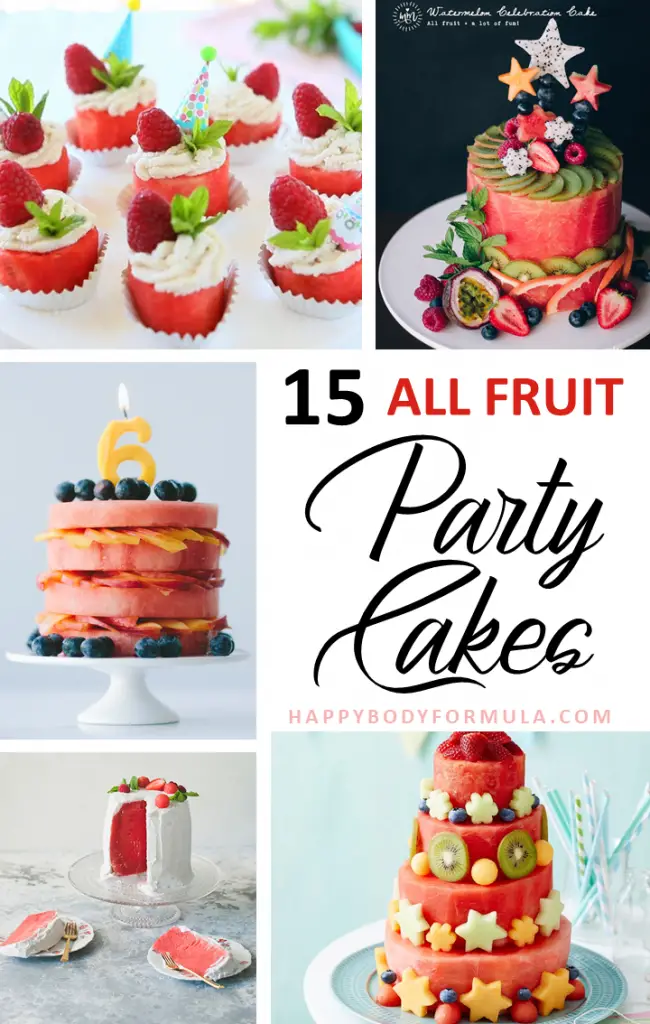 Melanie Clarke is the founder of Whim Online Magazine, an online magazine based in Australia that has a strong focus on whimsical + dreamy photography, as well as art and fashion content.