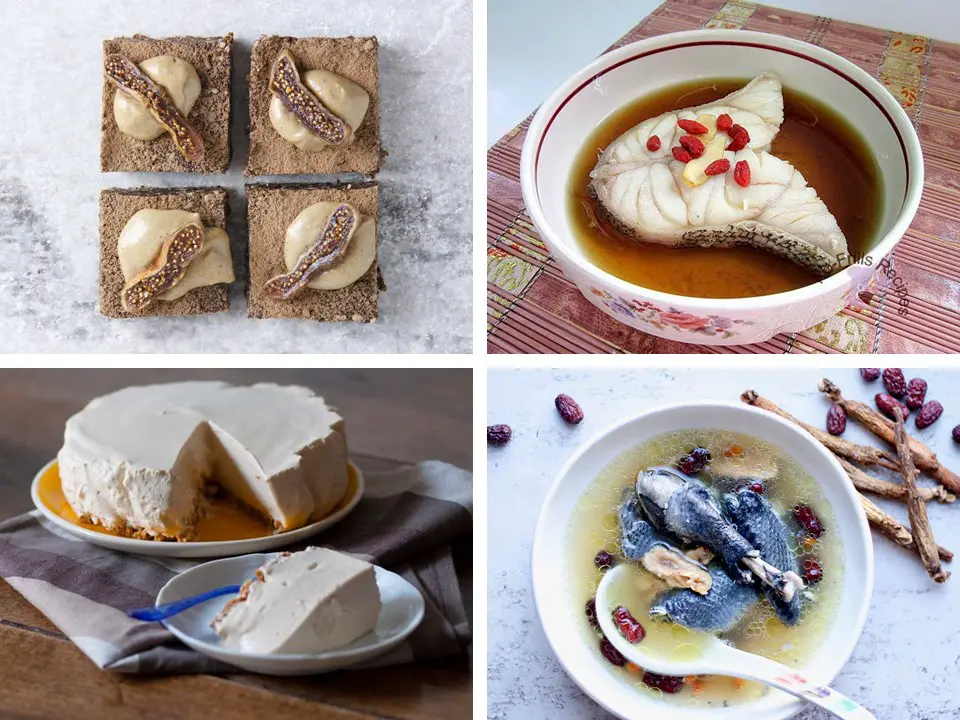 Ginseng has been used in traditional Chinese medicine for centuries and for plenty of good reasons too.
You see, ginseng contains two significant compounds – ginsenosides and gintonin – and these compounds work together to provide immense health benefits. Some of these include:
Reducing inflammation
Improving brain functions such as memory, behavior and mood
Assisting with the treatment of erectile dysfunction
Boosting the immune system
Reducing the risk of certain types of cancer (such as lip, mouth, esophagus, stomach, colon, liver and lung cancer)
Fighting fatigue and promoting energy
Lowering blood sugar levels
If you're wondering how you can boost your ginseng intake on a daily or weekly basis, you're in luck.
We've rounded up 13 of the tastiest recipes containing the wonderful ingredient – including smoothies, lunches, dinners, desserts, and more.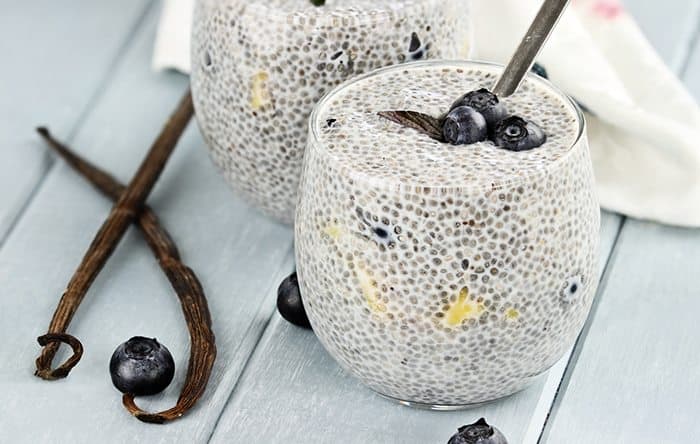 1. CHIA SEED PUDDING FROM CLEAN PLATES
Who doesn't love a chia seed pudding?
Not only do they serve as super-healthy dessert ideas, but they're also the ideal breakfast that you can prepare the night before and eat before you rush out the door in the morning.
This one contains ingredients such as black chia seeds, lime juice, matcha powder, grated ginger, and (of course) ginseng powder.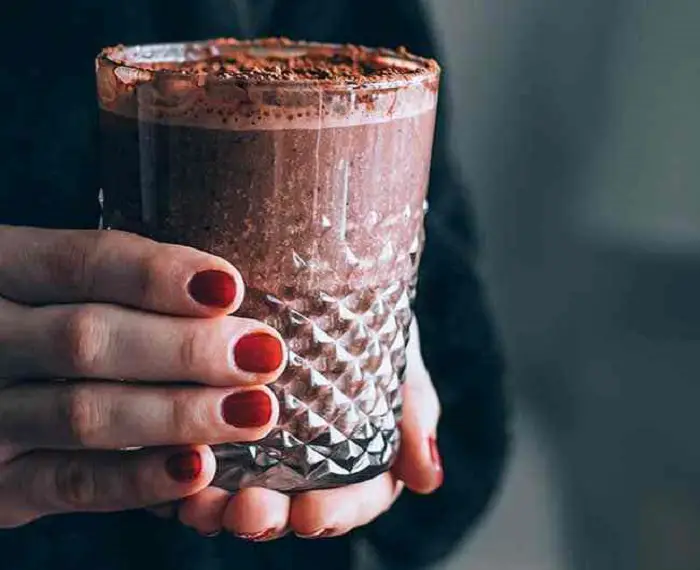 2. HEADACHE-SOOTHING ADAPTOGENIC HOT CHOCOLATE FROM HELLO GLOW
Next time you have a headache and you're about to reach for the painkillers, stop. There could be a delicious and healthy alternative to the aspirin – that is, this headache-soothing hot chocolate!
This recipe contains dark chocolate (at least 70% cacao), almond milk, almond butter, black beans, maca powder, maple syrup, and Siberian ginseng. Delicious!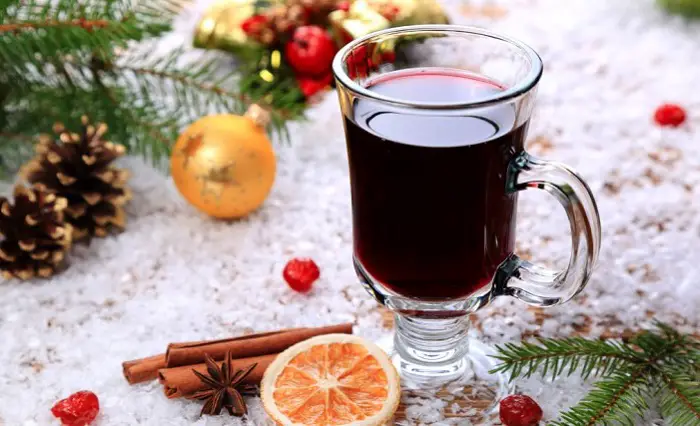 3. WARMING WINTER CHERRY-GINSENG WINE FROM ZLIVING
What if we told you there was a way to increase your ginseng intake while getting a bit merry?
This delicious mulled wine recipe contains the goodness of ginseng, as well as ingredients such as cherry bark, ashwagandha root, black cherries, and sugar (or dehydrated cane juice). Make a big batch and serve it up this festive season.
Your friends will love it!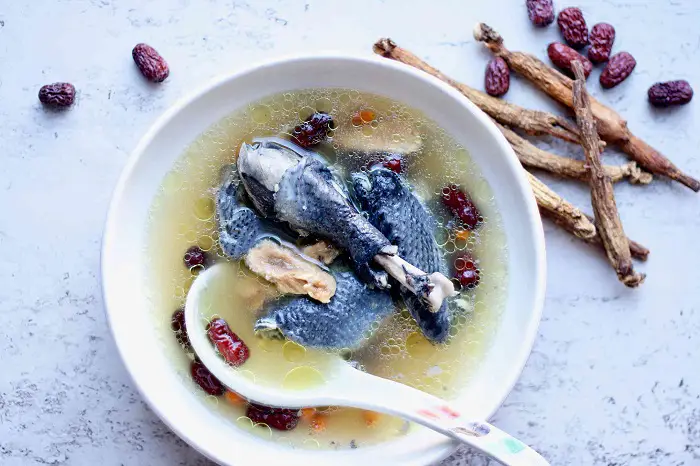 Ginseng chicken soup is a staple of many oriental cuisines and this both looks and sounds delicious!
It uses a Silkie chicken, also called black chicken, as it contains more minerals, vitamins and anti-oxidants than regular chicken breeds.
Along with ginseng, you'll also find nourishing ingredients such as ginger root, jujubes, and goji berries.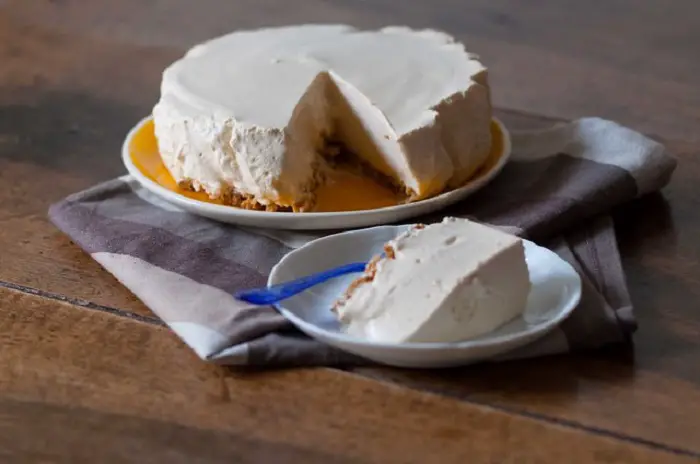 This delicious Italian recipe utilizes ginseng in a dessert!
It uses interesting ingredients such as cereal biscuits, jelly, ginseng coffee, sweet white yoghurt, and more.
Although we haven't tried the combination of ginseng and coffee before, it sounds like a real treat!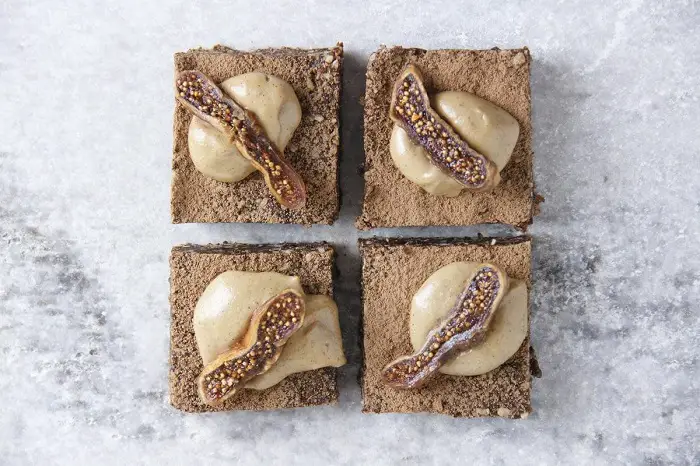 6. GINSENG, PRUNE, CACAO, STAR ANISE AND VANILLA SLICE FROM ASCENSION KITCHEN
How delicious do these look?!
Any excuse for dessert is welcome, but when it contains healthy ingredients such as ginseng, prune, cacao, star anise, almonds, and figs, it's a dessert you shouldn't feel guilty about.
Serve your slice with a dollop of cream and a thin slice or two of dried fig on top.
Just be warned: your friends and family will beg you for the recipe!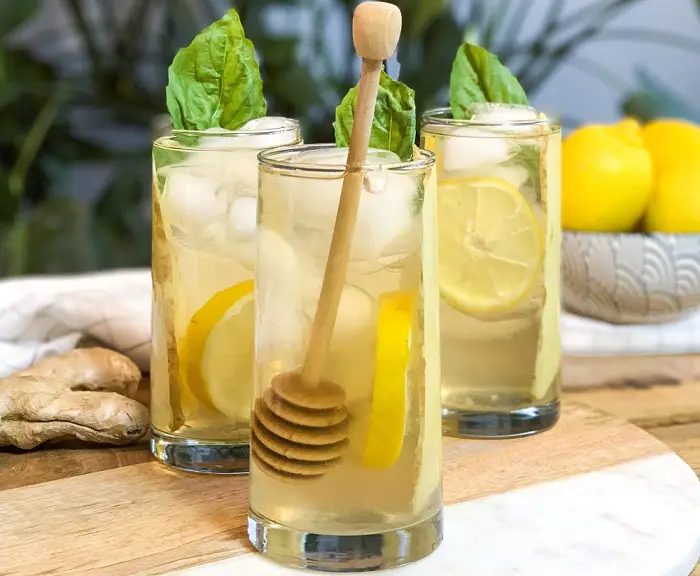 This iced tea is non-alcoholic and contains ginger, ginseng and honey. But the best part about this concoction?
It's intended to cure a hangover or any feelings of nausea! You simply combine ginger ginseng tea with fresh ginger root, sliced lemon, honey, and lots of ice.
It also sounds like a refreshing and healthy beverage to sip on during the summer months.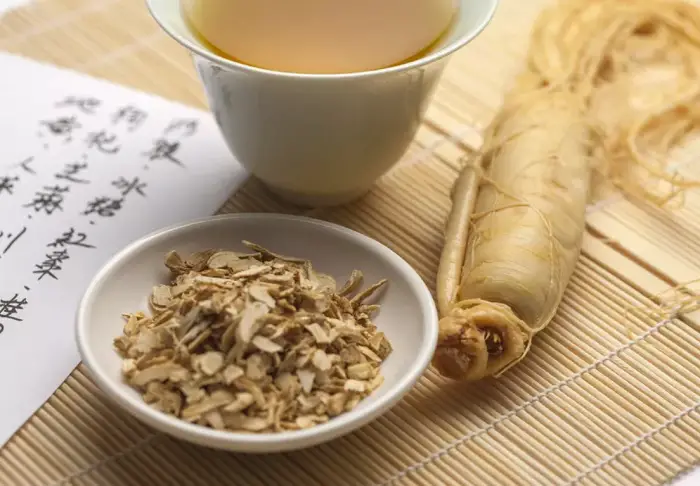 8. KOREAN GINSENG TEA (INSAM CHA) FROM THE SPRUCE EATS
This tea is a staple of Korean culture. This is because Koreans are interested in the strong connection between food and medicine, and ginseng is a restorative tea that gives a boost to one's health and vitality.
To make it, you'll just need sliced ginseng root, honey, and water. Does it get any easier than that? Try to have one of these each day and you'll soon notice its incredible health benefits.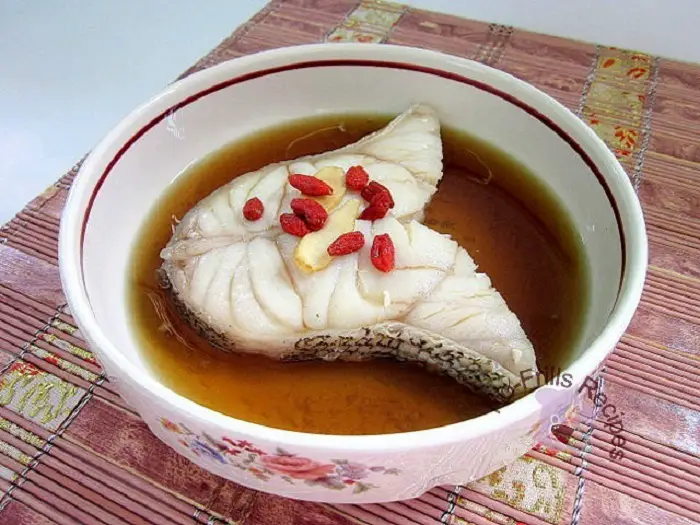 Steamed fish serves as a delectable and healthy dinner, but infusing it with a ginseng and chicken essence broth?
Now, that's genius!
You'll also need Shaoxing wine, wolfberries, and salt to taste. When your next stay-at-home dinner can be this decadent, why bother leaving the house?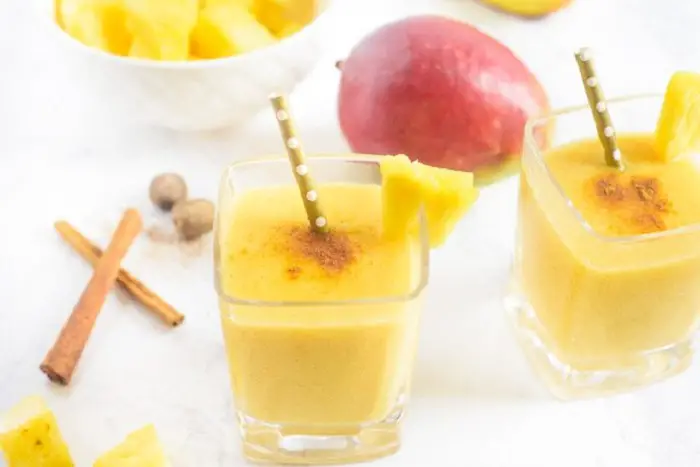 10. TROPICAL GINSENG SMOOTHIE RECIPE FROM SOLLUNA
When the summer months roll around, you often find yourself craving those tropical flavors.
Rather than booking an island getaway (although that would be nice), opt for making this tropical ginseng smoothie instead.
It contains coconut water, fresh mango, fresh pineapple, ginseng powder, cinnamon, and nutmeg. Delicious!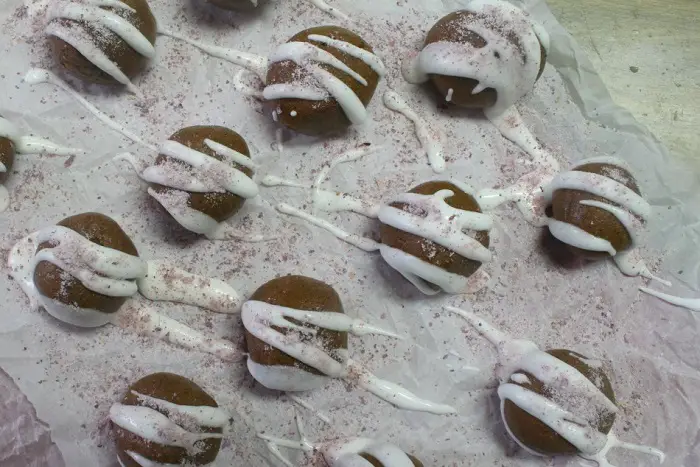 11. RAW MACA & GINSENG APHRODISIAC TRUFFLES FROM GROWING UP HERBAL
Looking for a healthier alternative to Valentine's Day treats?
These truffles combine delicious and nutritious ingredients such as maca powder, raw honey, ginseng powder, coconut butter, ginger powder, vanilla beans, and lemon juice.
Did you know that many of these ingredients also act as an aphrodisiac? Love will certainly be in the air!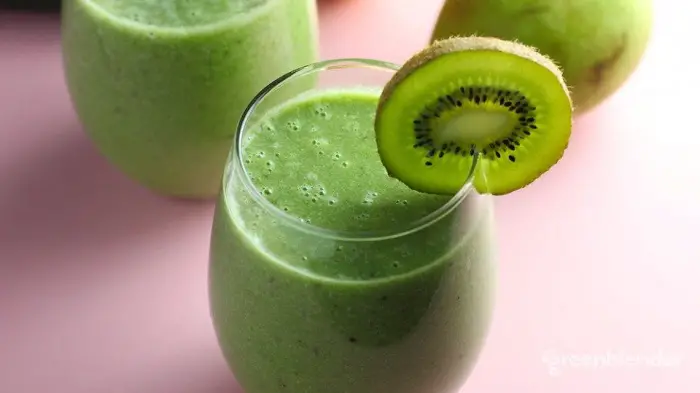 12. "YOU MAKE MY HEART GINSENG" SMOOTHIE FROM GREEN BLENDER
You're going to love the healing powers of this bright green smoothie, which combines ginseng with other body-loving ingredients such as arugula, kiwi fruit, lemon, pear, and Persian cucumber.
Whip one of these up each morning and you'll notice how much more energy you have during the day.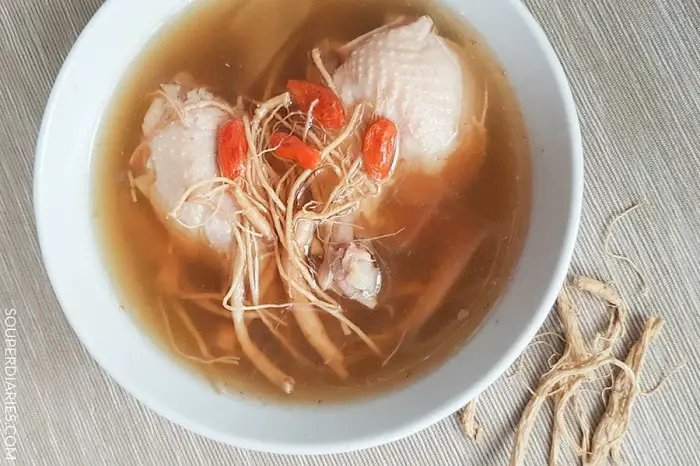 13. GINSENG CHICKEN SOUP FROM SOUPER DIARIES
We may have featured another ginseng chicken soup earlier, but this dish means big business!
The traditional recipe is huge in oriental cuisine and this one contains a noticeable difference – it uses regular chicken, along with ginseng beard.
Unlike ginseng root, ginseng beard has a milder and more neutral taste.
You can also sweeten the dish with honey should you need to.
Time for You to Whip Up One of These Ginseng Inspired Recipes
There you have it – 13 tasty recipes featuring ginseng that will immediately give you more energy, vitality, and nutrients.
Remember, ginseng is a wonderful natural ingredient which possesses numerous health benefits, whether it's decreasing stress, lowering blood sugar levels, boosting the immune system, increasing memory, and so much more.
It might not be a widely-used ingredient in western cuisine, but with these 13 delicious recipes under your belt, you can now embrace ginseng on a daily or weekly basis.
Don't forget to let us know your favorite recipes in the Comments section below!
Share on Pinterest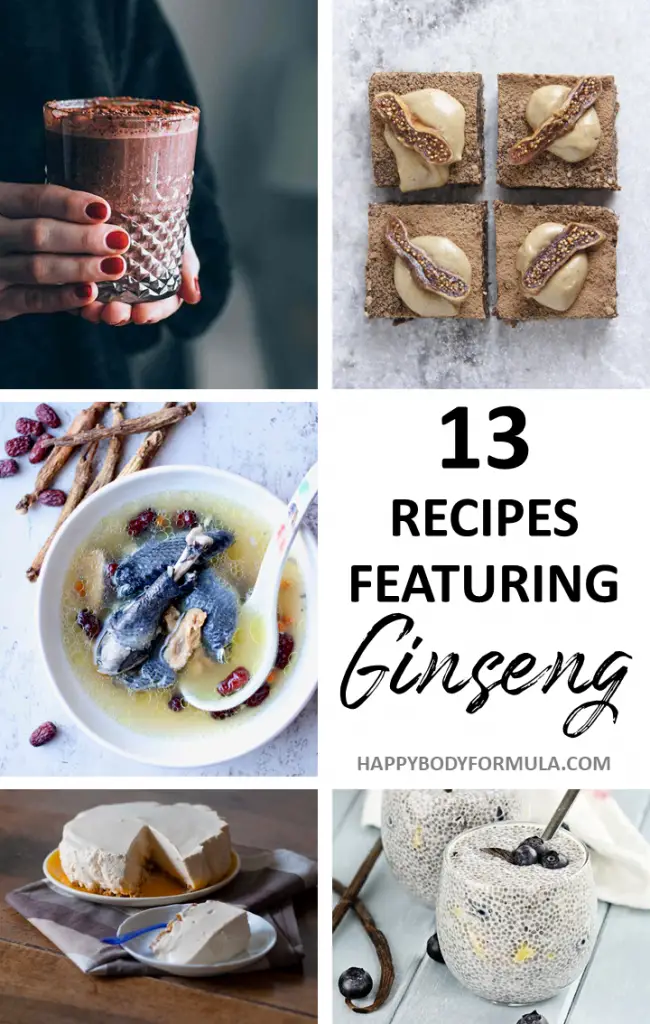 Melanie Clarke is the founder of Whim Online Magazine, an online magazine based in Australia that has a strong focus on whimsical + dreamy photography, as well as art and fashion content.