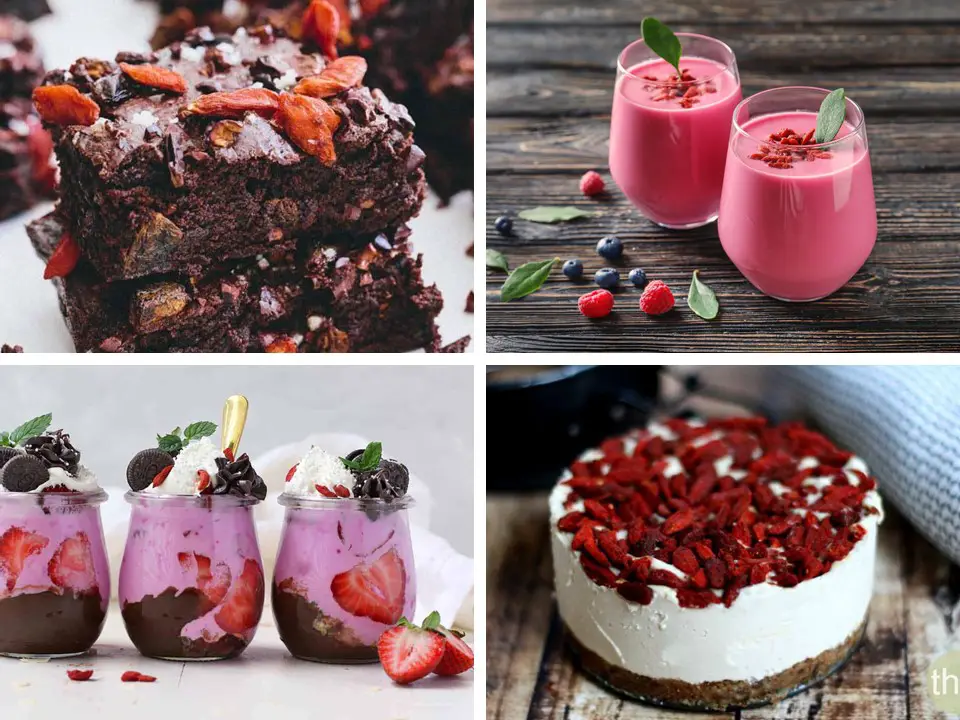 Goji berries might seem like one of the latest fads to put on your smoothie bowl, but they're (thankfully) here to stay. You see, this "superfood" has earned every bit of its title, with studies showing that the bite-sized berry has numerous health benefits when consumed.
Along with helping to prevent premature aging, they also dramatically boost the immune system, protect against cancer, improve blood sugar levels, help with weight loss, lower cholesterol, and so much more.
Goji berries have been used in traditional Chinese medicine for more than 2,000 years now and are excellent sources of fiber, protein and a range of vitamins and minerals including iron, copper, selenium and vitamins A and C.
In addition, they are packed full of powerful antioxidants, including carotenoids, lycopene, lutein and polysaccharides.
If you want to add more goji berry goodness to your diet, then you're in luck. We've rounded up 22 tasty goji berry recipes that are both simple and fun to make. Let's get started!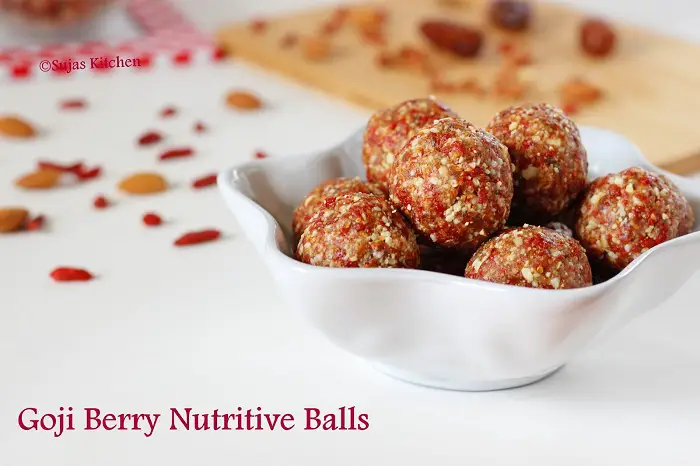 1. GOJI BERRY-ALMOND-DATE POWER BALLS FROM SUJAS KITCHEN
Fancy a no-cook recipe featuring these powerful berries? This recipe has no added sugar, is all natural, gluten free, vegan, and paleo too!
Along with goji berries, it uses pitted dates, raw almonds, pumpkin seeds, cinnamon powder, and raisins to create these delectable, yet healthy, nutrient-packed power balls. Count us in!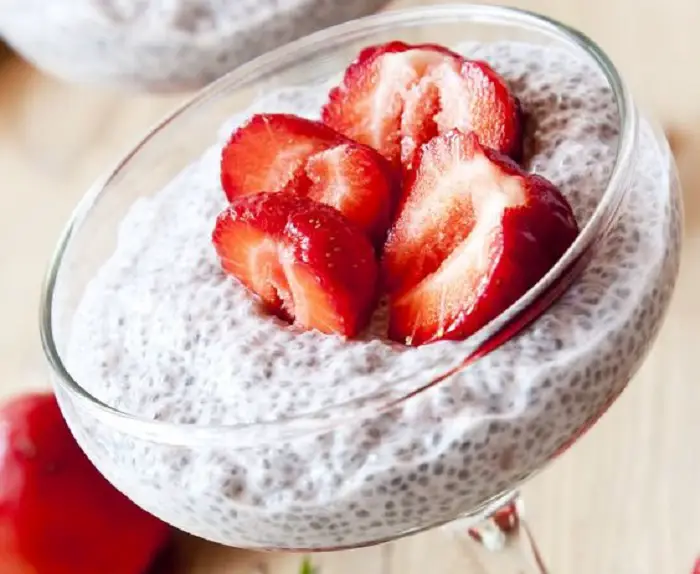 2. GOJI BERRY CHIA SEED PUDDING FROM VITASAVE
Are you always too rushed to enjoy breakfast? Prepare this simple, 5-minute, nutrient packed goji berry chia seed pudding recipe the night before and you'll have the best start to your day!
This goji berry chia seed pudding contains high-quality protein, healthy fats, and fibre rich complex carbohydrates, helping you to maintain your energy levels all day. Plus, it'll take just minutes to make!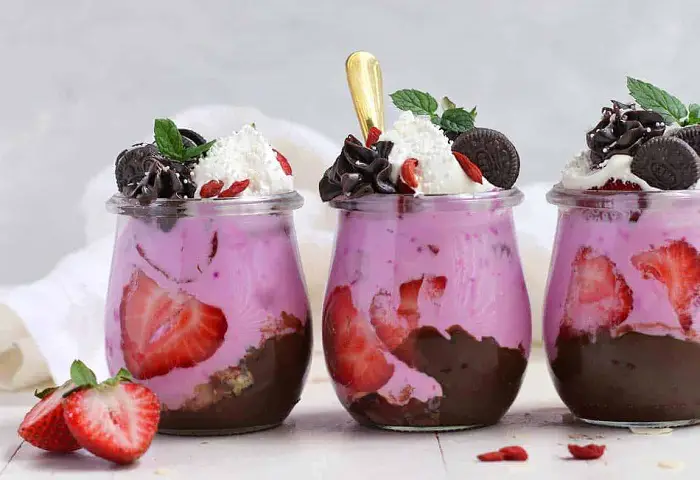 Here's another vegan and dairy-free recipe that contains our favorite superfood, goji berries. This healthy Nutella goji berry parfait is as delicious as it sounds, plus it's the perfect guilt-free dessert for those with a sweet tooth.
Even the "Nutella" contains healthy ingredients such as hazelnut meal, plant milk, cacao powder, coconut oil, and more. Delicious!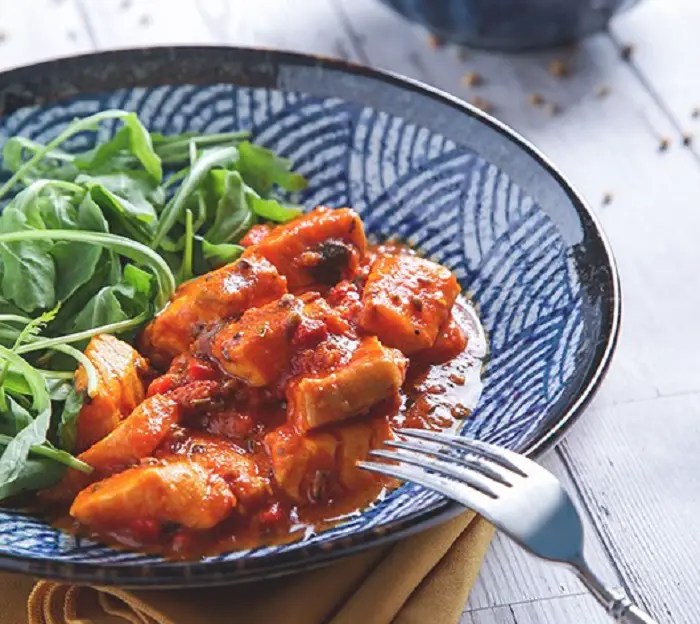 4. SALMON & GOJI BERRY CURRY FROM SHEERLUXE
Here's a great way to include goji berries in your mid-week dinner. This delicious salmon and goji berry curry features a wide range of other healthy and heart-warming ingredients too, including fresh ginger, turmeric, bulgar wheat, curry leaves, and more.
Oh, and it's developed by Scott Harrison, founder of The Six Pack Revolution, so you know you're onto a good thing.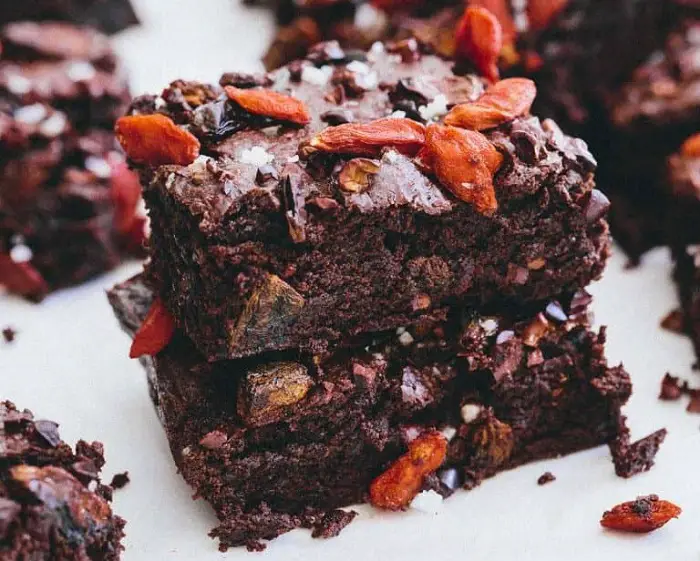 These gluten free superfood brownies are packed with goji berries and cacao nibs and baked to chewy fudge-brownie perfection!
Not only do they make the perfect Valentine's Day dessert, but they're filled with beneficial nutrients and minerals, so you certainly don't have to feel bad about them. That's our kind of dessert!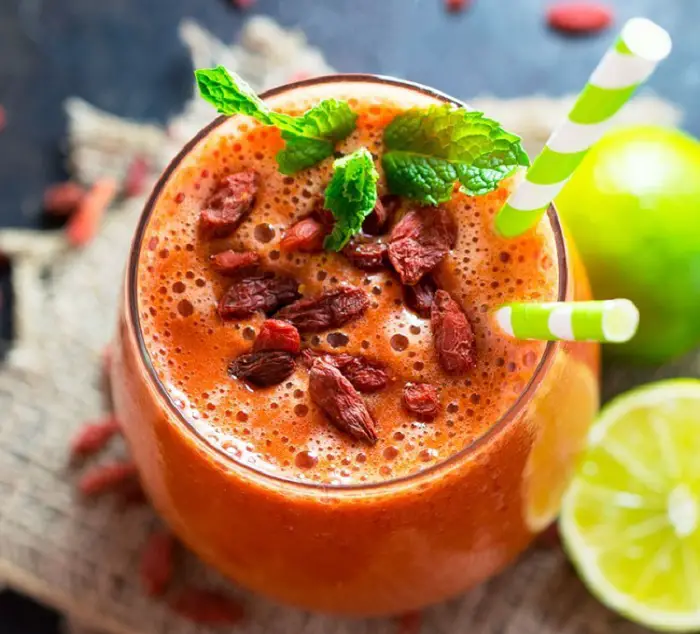 6. GOJI BERRY LIME SMOOTHIE FROM RAW REVIVE
If you're after a goji berry filled snack that you can enjoy on-the-go, then this smoothie recipe is for you!
Flavors such as lime, pineapple, and strawberries compliment the natural sweetness of the goji berries, plus they allow this delicious smoothie to be packed-full of even more vitamins and minerals.
Simply top with some more goji berries and a sprig of mint and you've got yourself one refreshing drink for summer.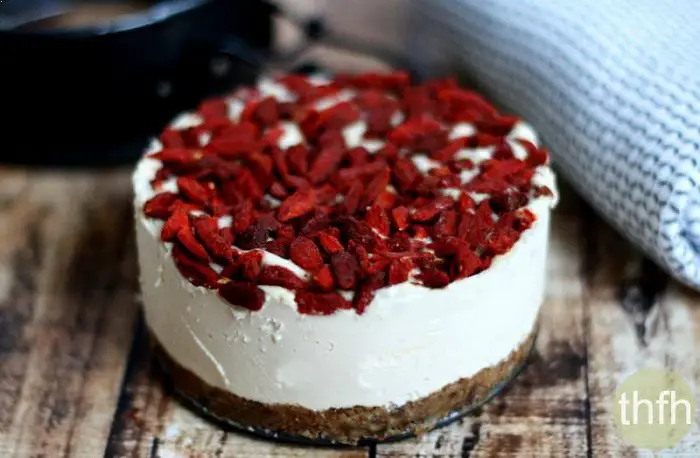 This recipe follows the steps of a basic raw cheesecake but contains a superfood twist! This healthier version made with clean, real food ingredients is raw, vegan, gluten-free, dairy-free, egg-free, paleo-friendly and contains no refined sugar.
With other goodies, such as coconut oil, cashews, pecans, maple syrup, lemon juice, and pink Himalayan salt, you can truly feel good about this cheesecake.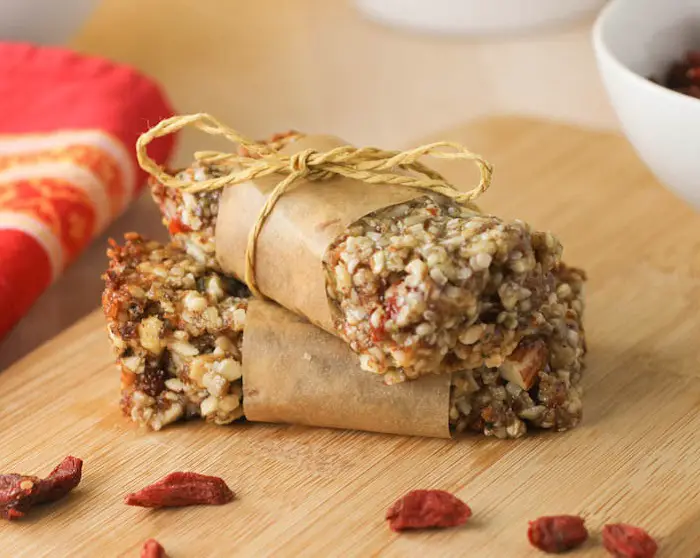 8. NO-BAKE PROTEIN GOJI BERRY GRANOLA BARS FROM CITRON LIMETTE
These bars only take a few minutes to make, and they're far healthier than store-bought protein bars.
They're packed with healthy ingredients and make a wonderful gluten-free snack, plus they satisfy that mid-morning craving and give you energy before or after a workout. Sounds like a wonder bar to us!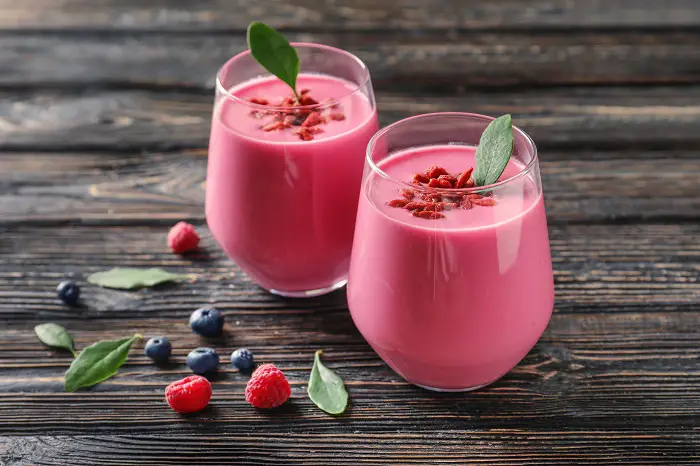 This goji berry smoothie is an excellent and refreshing smoothie with a great combination of bananas, frozen berries, and goji berries.
It takes just 5 minutes to prepare but is so delicious that you'll want to gulp it down within just seconds! The whole thing is brought together with a squeeze of honey for additional (yet natural) sweetness.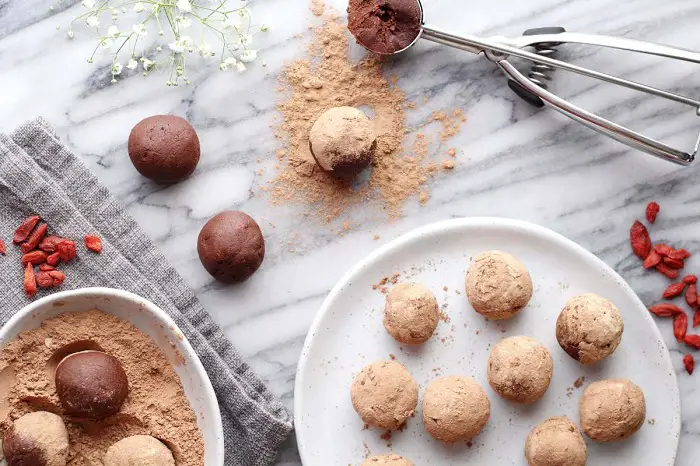 10. CHOCOLATE GOJI BERRY MACA TRUFFLES FROM JESSI'S KITCHEN
They might look and sound like a decadent dessert, but these truffles contain healthy ingredients such as goji berries, maca powder and cacao.
The flavor of the cacao balances the maca perfectly and then also compliments the tart goji berry. These truffles can be made ahead of time and stored in the refrigerator for several days. You also can recoat them in the maca/cacao powder if needed.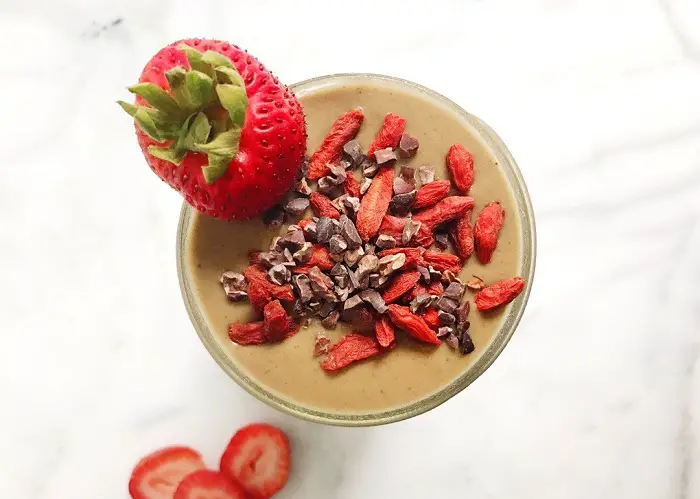 This cacao goji berry smoothie is packed full of antioxidants from raw cacao powder, plus the goji berries give it the perfect sweet and chewy topping!
To make this scrumptious smoothie, you'll need goji berries (of course), almond milk, zucchini, protein powder, avocado, chia seeds, lucuma powder, ashwagandha, truvia, fresh strawberries, and cacao nibs. Sounds incredibly healthy!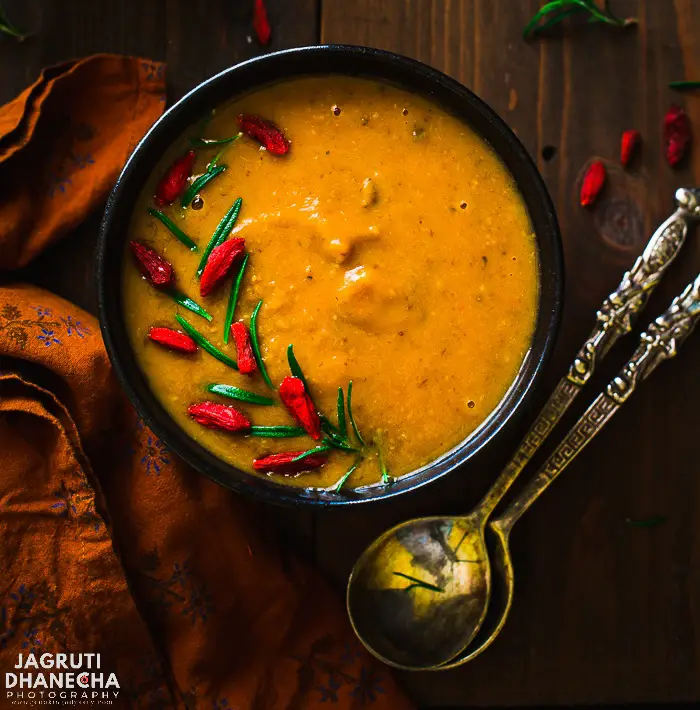 12. GOJI BERRIES, MUSHROOM AND SWEET POTATO SOUP FROM JAGRUTI'S COOKING ODYSSEY
This goji berries, mushroom and sweet potato vegan soup is nothing but a powerhouse of goodness!
Each and every ingredient used in this soup has their own medicinal benefit values, and it provides a family with a wholesome and hearty meal.
Goji berries are packed with nutritious value such as fibre, vitamin and minerals that help you to boost your immune system, making this soup the perfect meal to enjoy during cold and flu season.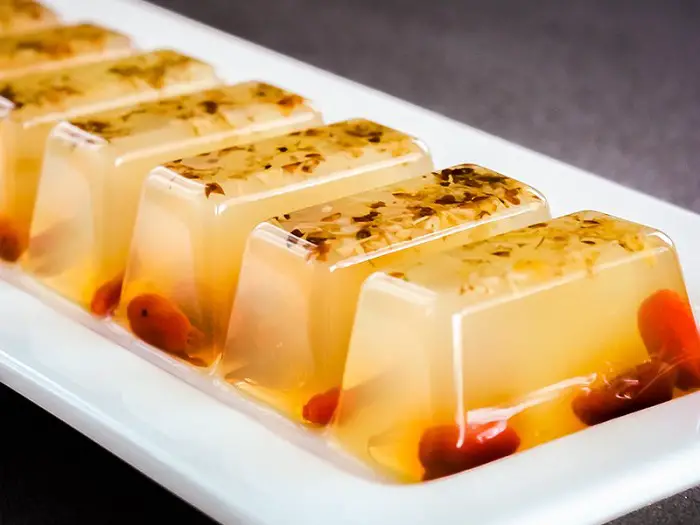 13. OSMANTHUS AND GOJI BERRY AGAR FROM DAILY COOKING QUEST
Have you ever made Agar before? This pretty-as-a-picture dessert isn't just good to look at – it also contains some incredibly beneficial ingredients, including goji berries, dried osmanthus flowers, and agar-agar powder.
We think it'd make the perfect dish to surprise your loved ones with next time you have a dinner party.
14. SUPER CACAO & GOJI BERRY BLISS BALLS FROM REAL FOOD PLEDGE
These cacao and goji berry bliss balls can be whipped up in less than ten minutes and are the perfect snack to have in the fridge for when visitors arrive, or even to enjoy with a hot cup of tea.
They contain all sorts of goodness too, such as almonds, cashews, dates, desiccated coconut, cacao powder, coconut oil, and of course, goji berries. Don't mind if we do!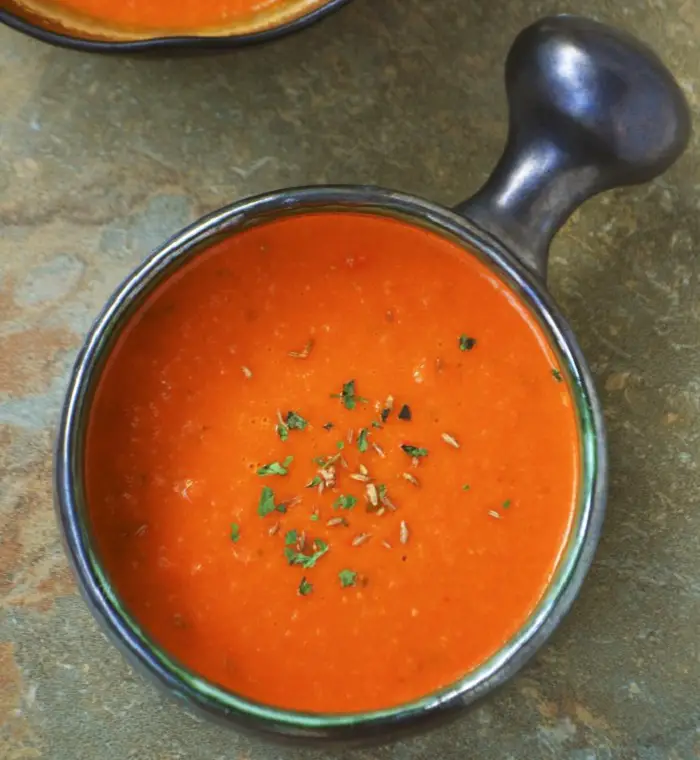 If you've been looking for an invigorating, energizing and delicious soup, then you just found it!
This soup will warm you from the inside out and contains a number of wholesome, healthy ingredients to make you feel pretty good about yourself too. Think goji berries, tomatoes, vegetable stock, onion, chili, cumin, coriander, and more.
To make this incredible goji berry tea, dried goji berries are steeped in hot water to release a mild fragrant aroma, which can then be enjoyed as a nourishing beverage.
These are the only two ingredients you need to enjoy this hot beverage too, so it's quick, easy, and extremely beneficial for your health. You can even eat the hydrated goji berries once you're done!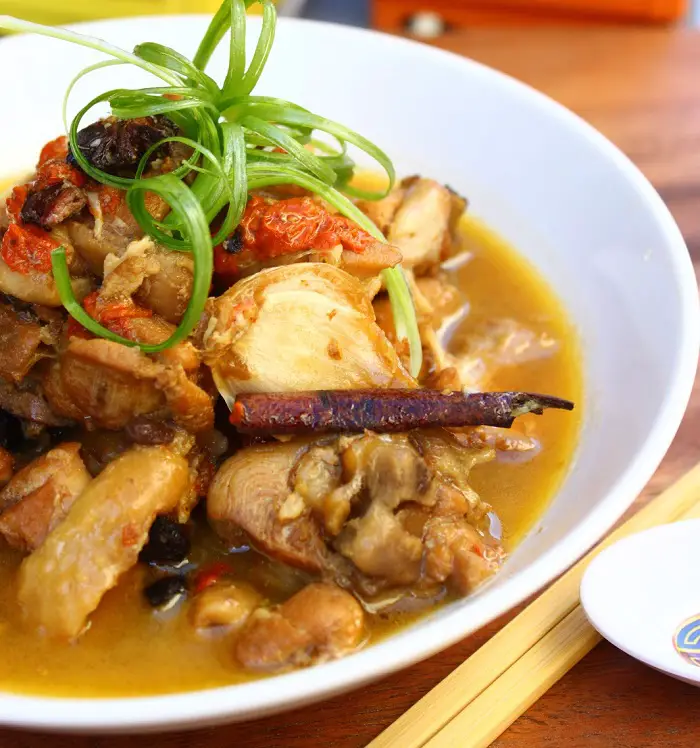 17. GARLIC & GOJI CHICKEN FROM SIMPLY JUNE
Here's another winter warmer which comes with a long list of health benefits, thanks to the use of goji berries. Next time you feel like some Chinese inspired chicken, make this nutrient-packed dish instead!
It contains garlic, cinnamon, star anise, light soy sauce, goji berries, and other delicious ingredients.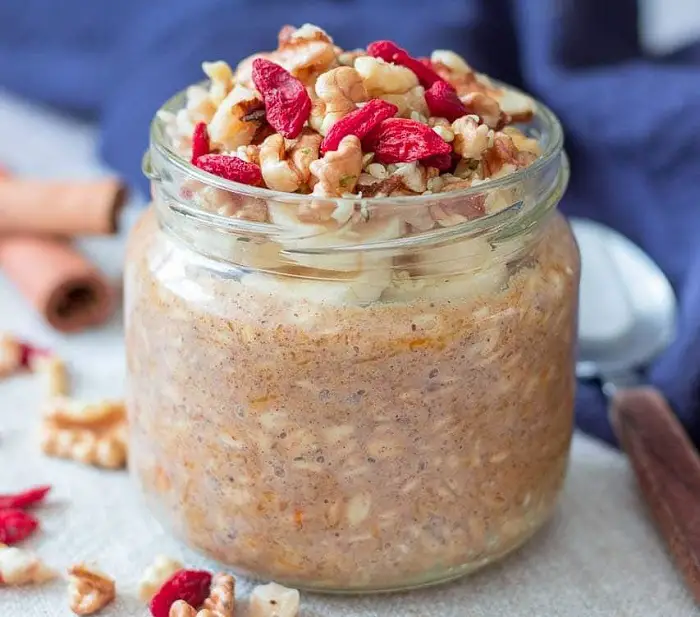 These creamy and delicious pumpkin overnight oats are the perfect way to start your mornings. This recipe is loaded with healthy ingredients, including hearty oats, sweet pumpkin, and healing spices.
It's a nutritious, added sugar-free meal ready in no time. In fact, you might even liken it to eating pumpkin pie for breakfast!
19. GOJI BERRY SPARKLING LEMONADE FROM BREWING HAPPINESS
If you can't imagine what this tastes like, it's basically a slightly sweet, slightly tart, slightly fizzy, slightly berry flavored lemonade. Sounds good to us!
It's a great drink to enjoy during those hotter months, as lemonade is refreshing, whilst goji berries give it a seriously healthy and nutritious boost. We have a feeling the kids will love this sparkling beverage too!
20. SUPERFOOD CACAO FUDGE BITES FROM BAKERITA
We've said it before, and we'll say it again: why should vegans or the gluten-intolerant miss out on treats such as fudge?
These fudge bites cater to vegans, the paleo diet, and those who can't eat gluten, plus they're packed-full of superfoods, such as cashews, goji berries, chia seeds, cacao, and more.
They're also filled with antioxidants and healthy fats, so you really can feel good about eating them.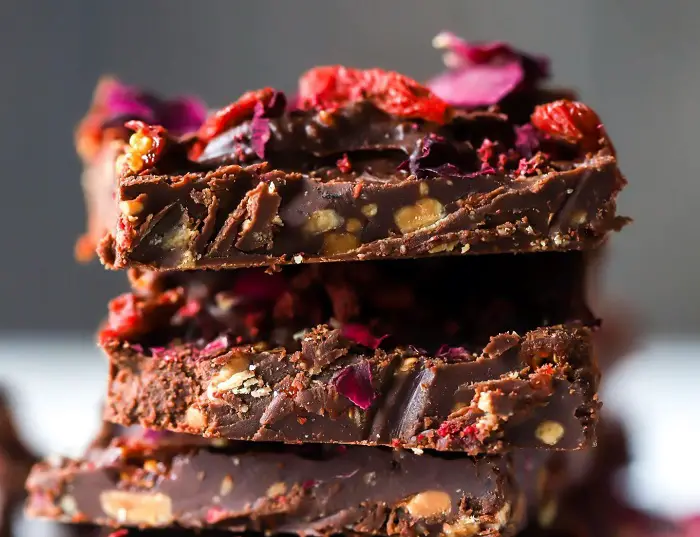 21. GOJI BERRY & ROSE CHOCOLATE FUDGE BARK FROM CHARLEY'S HEALTH
These look like a work of art and we're sure they taste delectable too! Many of us love chocolate fudge bark, but when it's topped with superfoods such as goji berries, you really can go to town on it.
The petals are also a nice touch, making this dessert the perfect treat to give to a loved one on Valentine's Day (or to enjoy yourself – we won't judge!).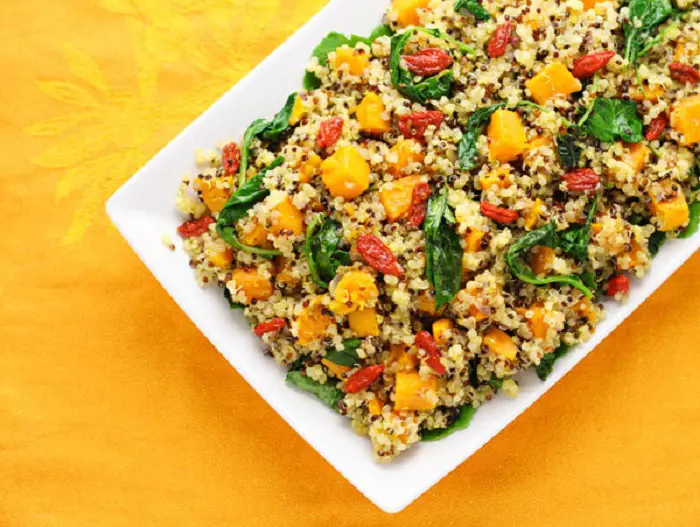 22. WARM QUINOA SWEET POTATO KALE SALAD WITH GOJI BERRIES FROM TASTEFUL VENTURE
This warm quinoa sweet potato kale salad with goji berries comes together in about 30 minutes and is so hearty and healthy!
Quinoa on its own can taste quite bland, but once you add in ingredients such as sweet potato, nutmeg, baby kale, goji berries, honey, and more, you've got yourself a tasty dish that everyone is sure to love.
The best part? It contains 0% cholesterol, 37% of your daily intake of vitamin A and 18% of your daily intake of vitamin C. How good is that?!
Which Goji Berry Recipes Will You Try?
There you have it – 22 tasty recipes containing goji berries to give you and your family a superfood boost. Remember, goji berries aren't just delicious; they're also excellent sources of antioxidants, fiber, protein and a range of vitamins and minerals including iron, copper, selenium and vitamins A and C.
And when it comes to health benefits, the list is seemingly endless – from helping to prevent premature aging and dramatically boosting the immune system, to protecting against cancer, improving blood sugar levels, helping with weight loss, lowering cholesterol, and so much more.
Next time you're contemplating making breakfast, lunch, dinner, dessert, or a snack, consider if you can add goji berries to the meal to make it more nutritious and tastier. Your health will certainly thank you for it!
Which goji berry recipes will you be making? We'd love to hear from you in the Comments section below.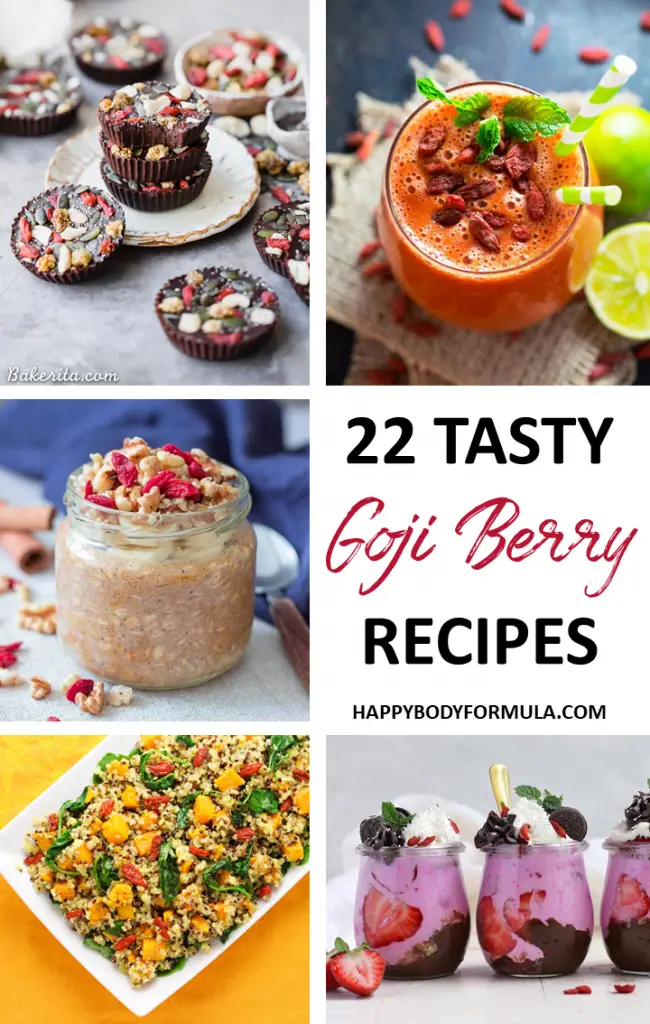 Melanie Clarke is the founder of Whim Online Magazine, an online magazine based in Australia that has a strong focus on whimsical + dreamy photography, as well as art and fashion content.