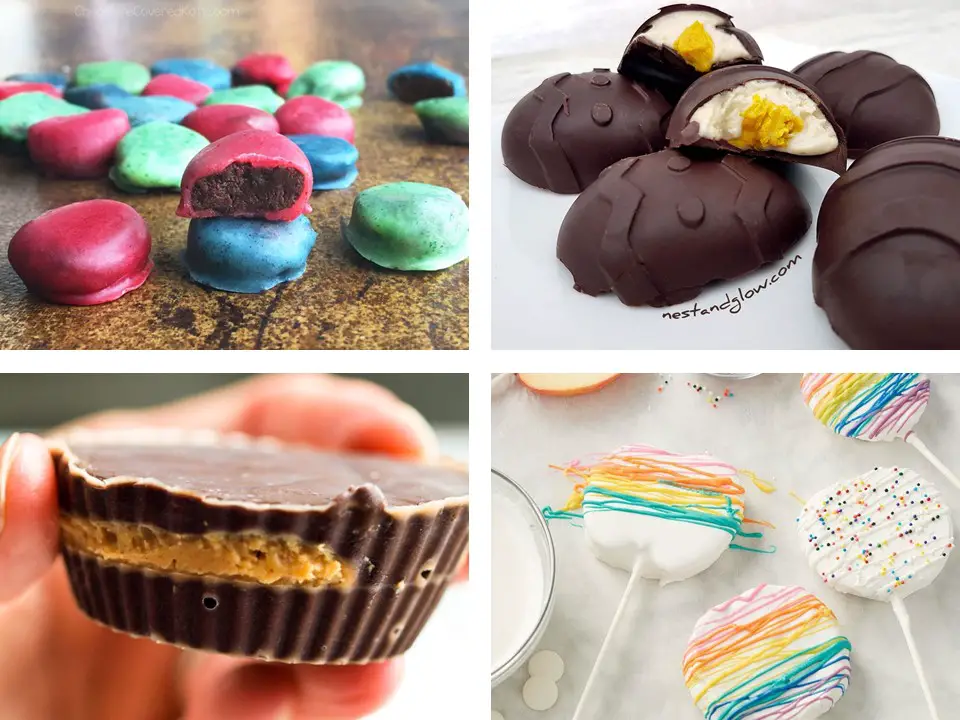 It isn't uncommon to crave sweet candy; after all, we're only human.
But rather than curbing your cravings and denying yourself something tasty, why not just opt for healthy versions of candy instead?
If you didn't think it was possible to replicate the sugary or chocolatey taste of sweets, minus the sugar and fat, then you're in for a treat (pun intended).
We've rounded up 30 healthy candy recipes that aren't just easy to make, but extremely tasty to eat too.
Let's take a look!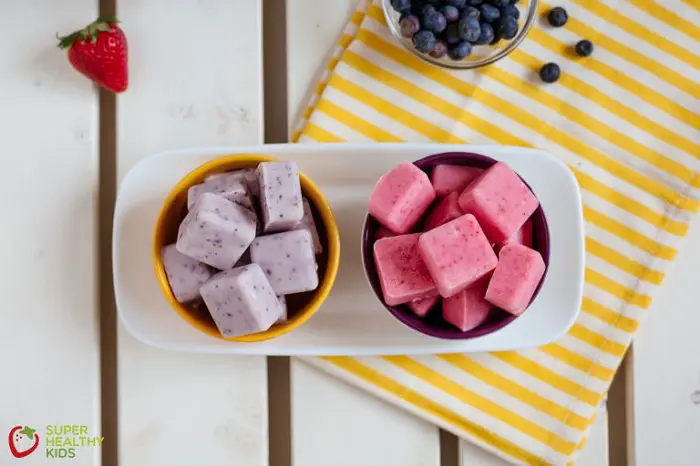 These fruity froyo bites deliver the goodness of yogurt and fresh fruit in a fun way – but without the added sugars.
Yoghurt is filled with protein, calcium, and probiotics for healthy digestion, so when you (or your kids) tuck into this treat, you can kiss the guilt goodbye.
Dip the froyo bites in toppings (like crushed nuts, cacao nibs, or granola) for an extra kick.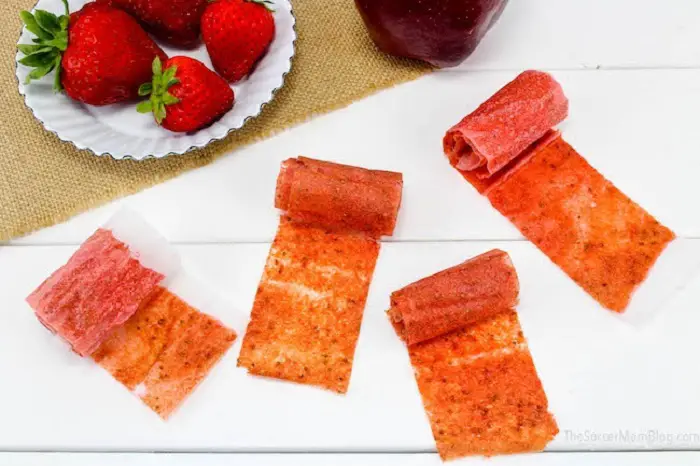 2. HOMEMADE FRUIT ROLL UPS (ONLY 2 INGREDIENTS) FROM THE SOCCER MOM BLOG
These homemade fruit roll ups are made with real fruit, unlike many of the refined sugar and preservative-laden options at the store.
They contain 20% of your daily value of vitamin C per serving and use just two ingredients: strawberries and apple sauce. Genius!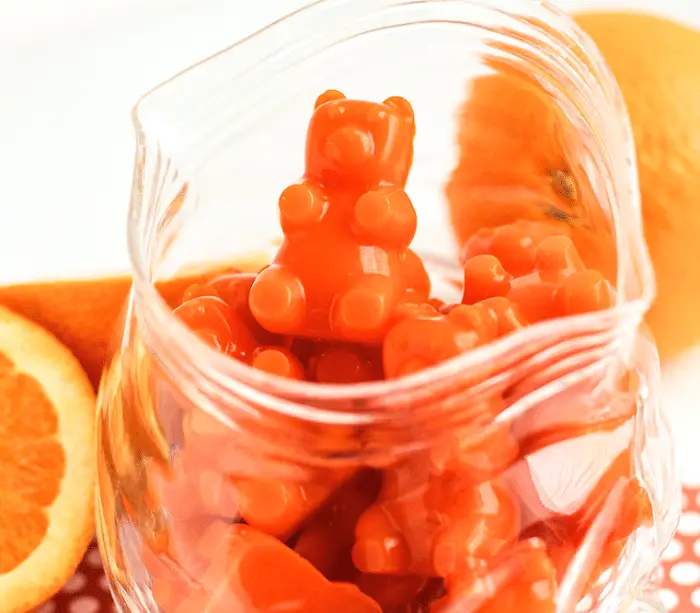 Fancy some soft, chewy, and flavorful gummy bears that taste just like store-bought versions, only way healthier?
These sweet treats are fat free, refined sugar free and all natural, plus they contain no high-fructose corn syrup, artificial food flavorings, synthetic food dyes or preservatives whatsoever.
Instead, they contain orange, carrot, liquid stevia extract, orange flavor, and unflavored gelatin.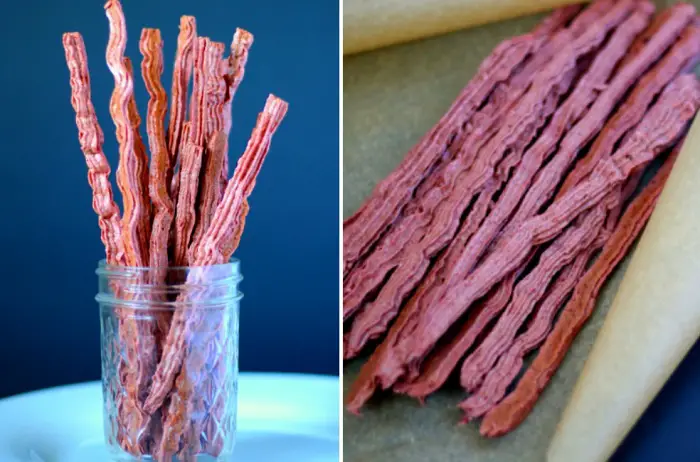 4. HOMEMADE TWIZZLERS (PALEO) FROM COCONUT MAMA
These homemade twizzlers are made with whole food ingredients, including date paste, freeze-dried strawberries, and collagen peptides (optional).
Forget the corn syrup and Red 40 – these childhood favorites can now be enjoyed without the guilt (or sugar highs!). Plus, it's a great way to get your children eating dates.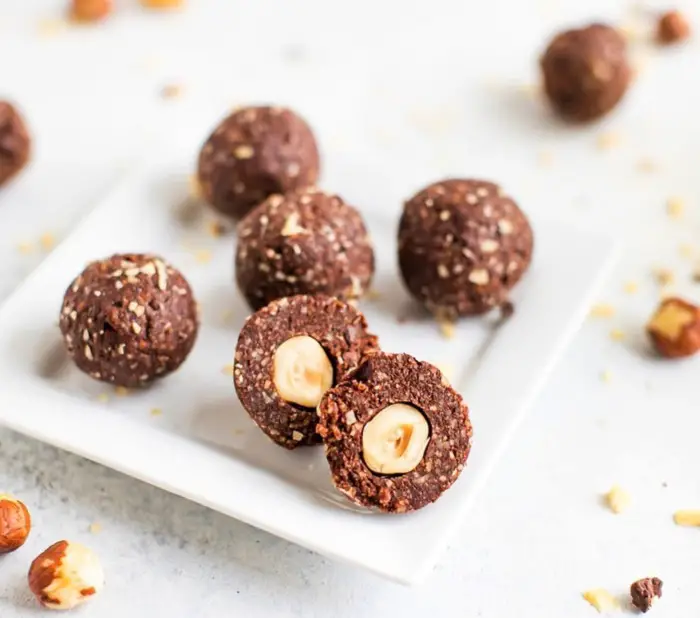 5. HAZELNUT CHOCOLATE BALLS (COPYCAT FERRERO ROCHER) FROM EATING BIRD FOOD
Healthy Ferrero Rocher? Count us in! This candy copycat recipe isn't just good for you, but many rave that it's better than the store-bought treat.
These healthy hazelnut chocolate balls are gluten-free as well as vegan and paleo friendly. They contain ingredients such as hazelnuts (raw or toasted), cacao powder, maple syrup, vanilla extract, sea salt, and diary-free mini chocolate chips or dark chocolate chunks (optional).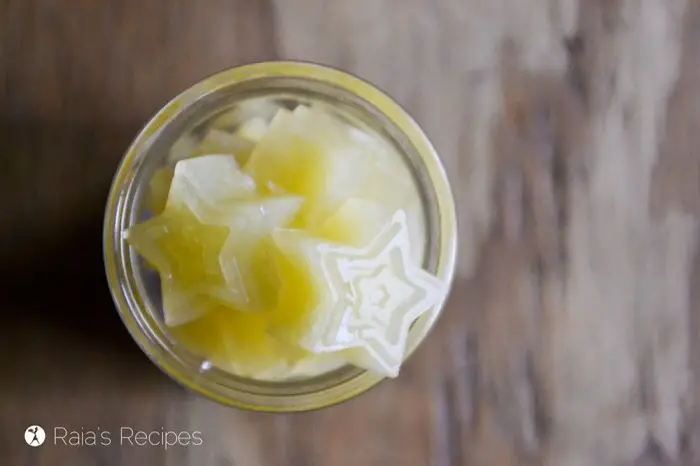 6. HOMEMADE GRAPEFRUIT GUMMIES FROM RAIA'S RECIPES
These paleo, homemade grapefruit gummies are packed full of vitamin C and probiotics.
Inside them, you'll find ingredients such as water kefir for probiotic strength, honey for added minerals (niacin, thiamine, pantothenic acid, riboflavin, vitamin C & B6, calcium, and iron, to name just a few), and magnesium powder, since it's one of the 6 macro-minerals that our bodies need.
Kids and adults will love these!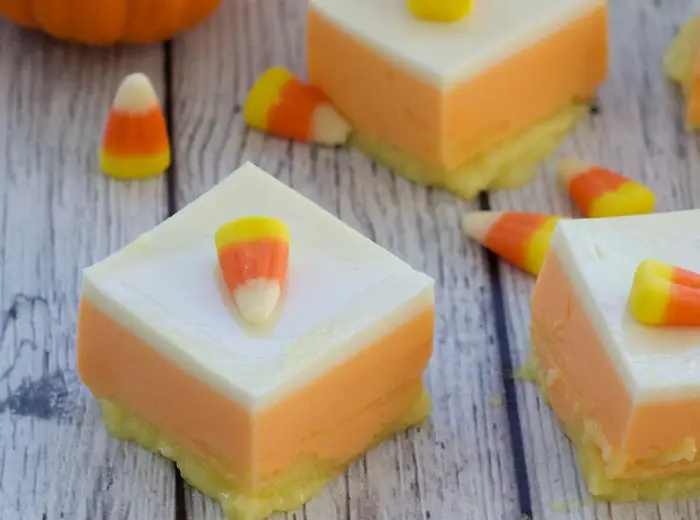 These healthy candy corn bars are made with Yogurt and Jell-O – both of which are fat and sugar-free.
Using just the two ingredients, the recipe is so simple and quick to make, meaning that you can spend more time devouring the sweet treats once they're ready!
It's a Halloween 'candy' that you'll actually want to feed your children.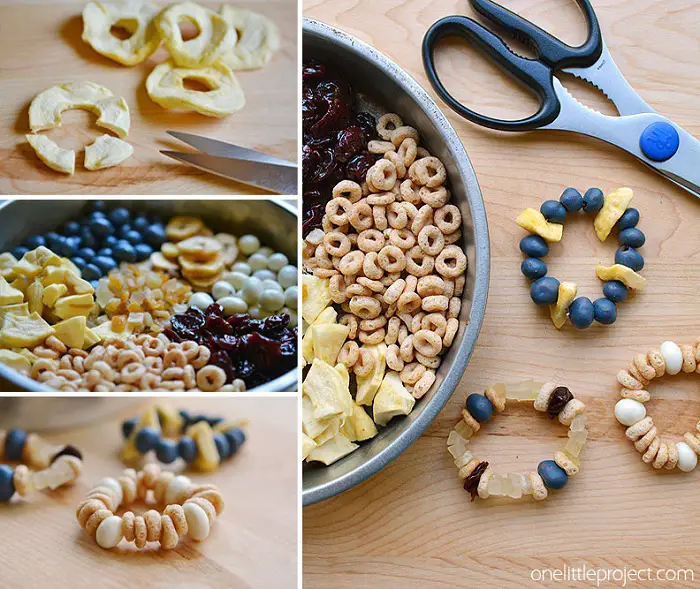 Every child loves making candy bracelets, but what if you could turn those sweet and sugar-laden treats into something that isn't just fun but healthy too?
These candy bracelets feature dried apples, candied blueberries, banana chips, dried citrus peel, cheerios, dried cherries and yogurt covered raisins – opt for whichever combination you prefer!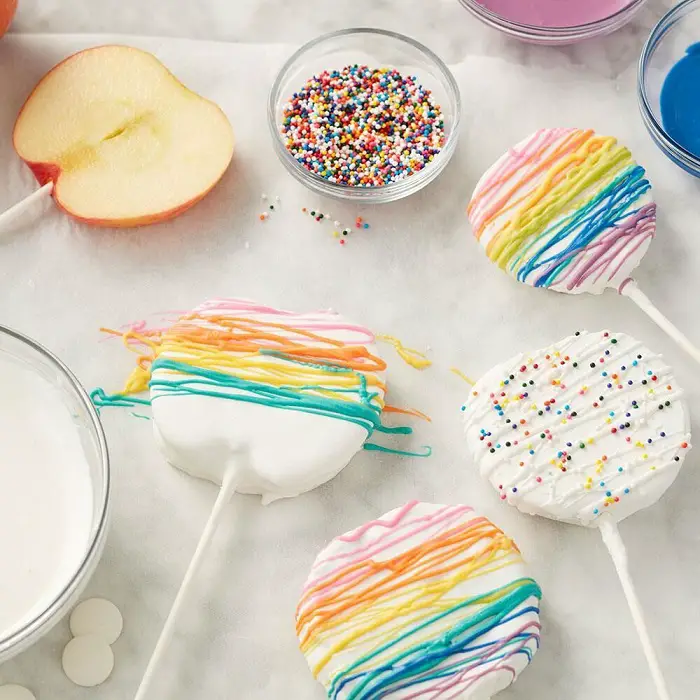 9. CANDY-COVERED APPLE LOLLIPOPS RECIPE FROM WILTON
These candy-covered apple lollipops serve as an after-school treat with a healthy twist. Essentially, they're apple slices which have been covered in candy melts and sprinkled in fun treats such as nonpareils.
To make this candy even healthier, swap the candy melts for yoghurt and the sugary decorations for crushed peanuts, chia seeds, or cacao nibs. Delicious!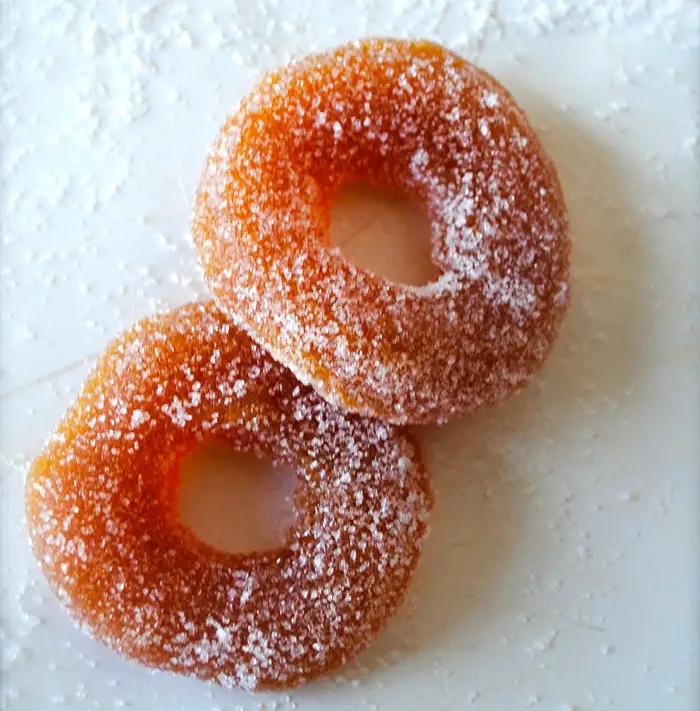 10. HOMEMADE PEACH RINGS MADE FROM REAL FRUIT FROM THE MAMAS GIRLS
These homemade peach rings might look like the sugary store-bought version, but they contain real peaches (6 to be precise)!
Other ingredients include sugar, powdered pectin, light corn syrup, and fresh lemon juice. They might be a little bit naughty, but they sure do beat the regular peach rings you find in candy stores!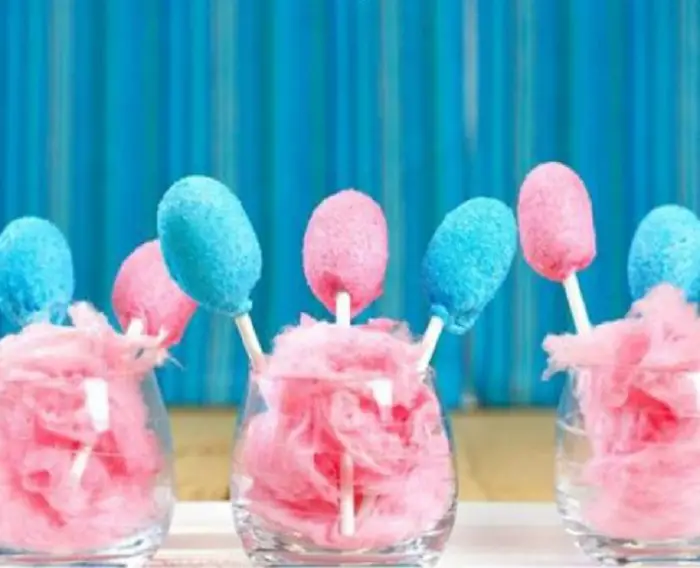 Forget the carnival version of the sugary treat – this recipe features grapes dipped in marshmallow creme and colored sugar for a fruity and healthier version.
Sure, they can't exactly be classed as health food, but these fun treats would be ideal for serving at a kid's birthday party when a little sugar is allowed.
Plus, they look incredible!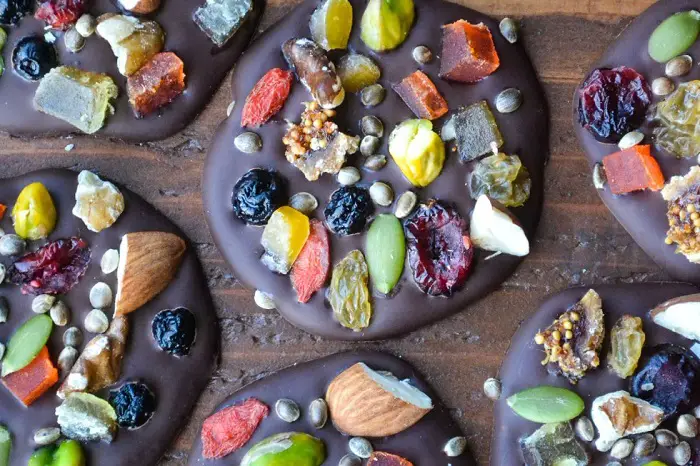 These dark chocolate detox bites are made with antioxidant rich dark chocolate topped with fruits, nuts, and seeds, making them the healthy way to enjoy a sweet treat.
This specific recipe used dried blueberries, cranberries, goji berries, figs, pineapple, mango, papaya, walnuts, pistachios and almonds, hemp seeds and pepitas, but feel free to experiment with what tastes best for you or your kids!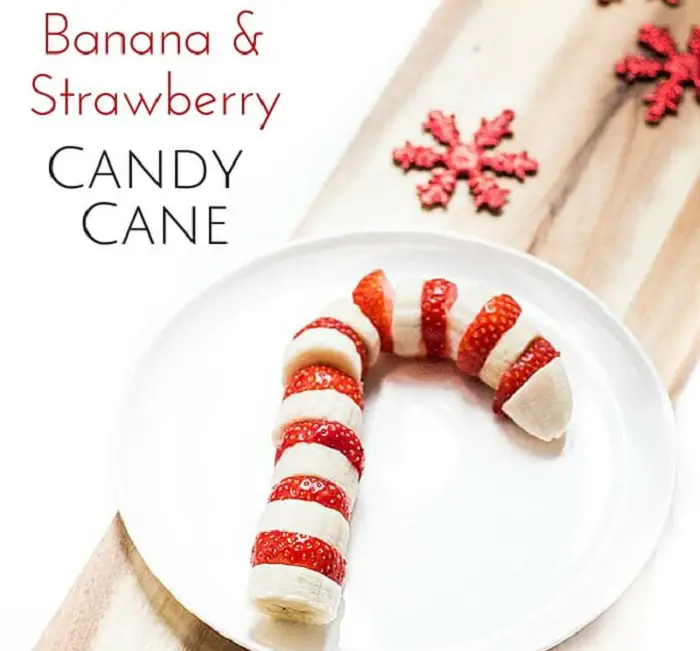 When the festive season is upon us, candy canes seem to be everywhere in stores, but what if you could entice your children (or yourself) with one made entirely from fruit?
This clever candy cane looks as good as the original, just without the 'candy' part. Simply slice a banana and several strawberries and place them together to form candy cane stripes. Just cut the fruit on a wedge to form the curve.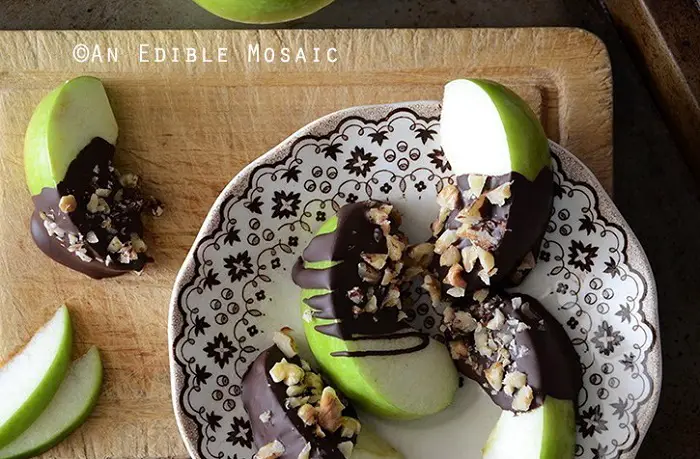 14. HEALTHY CANDY APPLE WEDGES (PALEO) FROM AN EDIBLE MOSAIC
Here's a healthier treat that will satisfy any naughty sweet cravings in an instant. These tasty apple wedges are dipped in antioxidant-rich, dark chocolate and topped with toasted walnuts.
You can also enjoy them with other healthy toppings, such as other nuts, seeds, coconut flakes, chia seeds, cacao flakes, etc.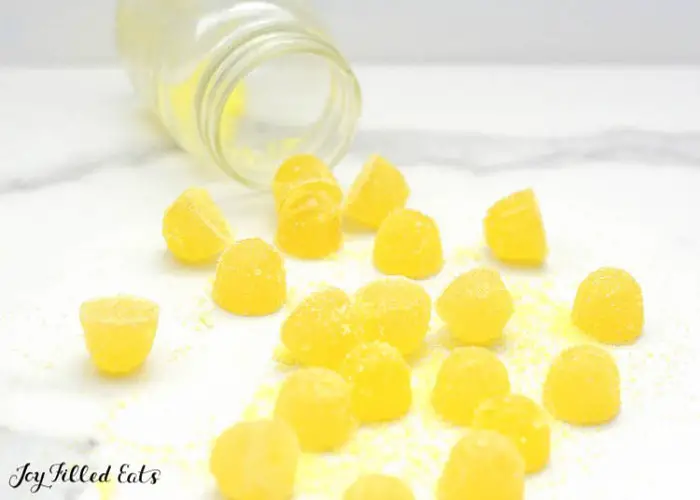 15. SOUR LEMON GUMDROPS RECIPE FROM JOY FILLED EATS
If you love sour candy, then these sour lemon gumdrops (which are low-carb, keto, and sugar-free) are the healthy treat for you.
They contain ingredients such as lemon juice, water, powdered sweetener, gelatin, erythritol, food grade citric acid, and yellow food coloring (optional).
Your kids won't even know that they're a healthy version, as they taste as good as, if not better than, the store-bought versions.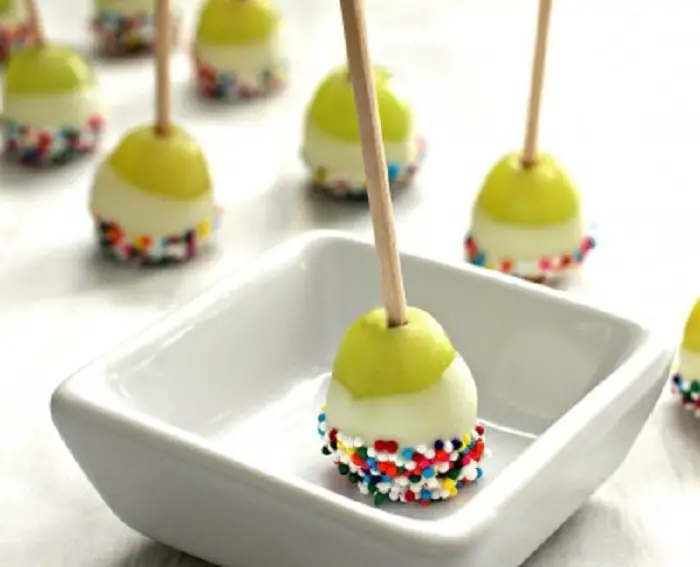 Imagine this: fresh grapes covered in vanilla candy coating and dipped in nonpareils. These are a great treat for your next party, or why not freeze the grape poppers in summer for something that's even more reminiscent of candy?
Swap the nonpareils for crushed nuts if you want to make them even healthier!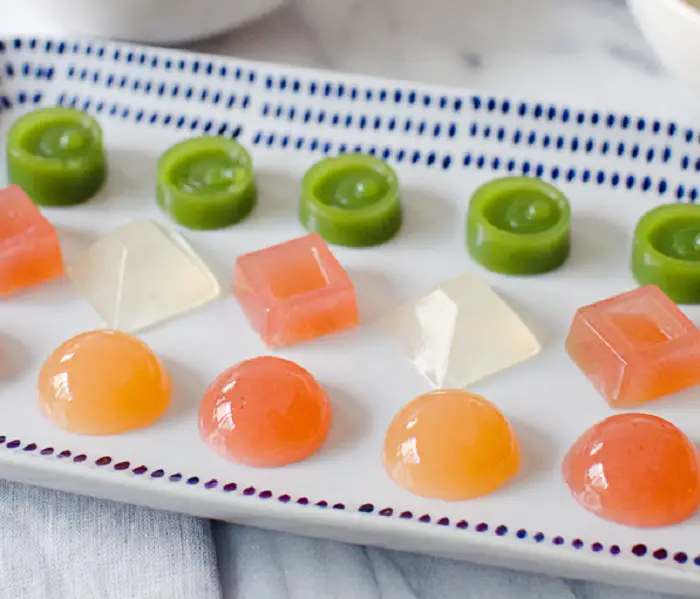 17. HEALTHY HOMEMADE FRUIT SNACKS RECIPE WITH NATURAL JUICE FROM A SIDE OF SWEET
These homemade fruit treats are an easy snack recipe, kid friendly, and all-natural with NO high fructose corn syrup.
They take just 10 minutes to prep, followed by 5 minutes to cook, and contain ingredients such as fruit or vegetable juice, powdered gelatin, and honey.
Use some fun, shaped molds and you've got yourself some healthy candy that you can feel good about.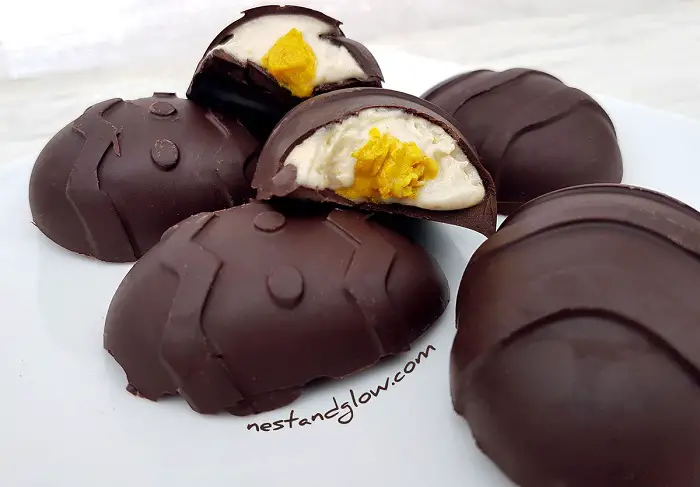 18. CASHEW CREAM EGGS RECIPE FROM NEST & GLOW
Love cream eggs but don't enjoy the countless spoons of sugar that come with them?
These homemade cashew cream eggs aren't just fun to make but are also a way healthier version of the popular candy.
They're bursting with nutrition, healthy fats and protein, plus they're vegan. Ingredients include chocolate, cashews, maple or coconut syrup, coconut oil or coconut butter, water, vanilla, turmeric, and salt. Intriguing!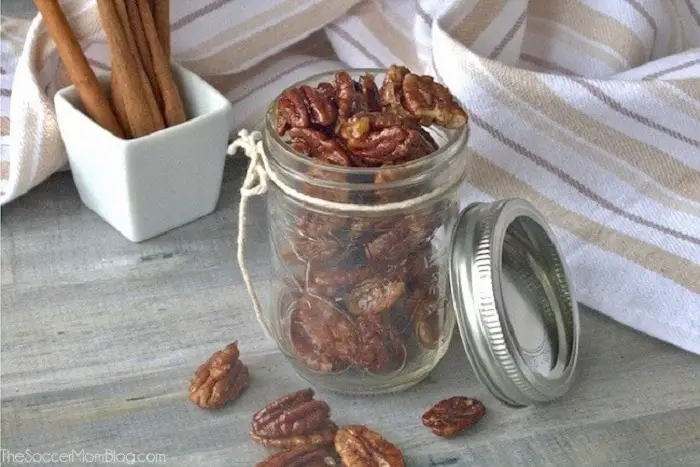 These healthy paleo candied pecans are the perfect combination of sweet, savory, and crunchy, plus they only take minutes to make.
These Paleo candied pecans are also gluten free and dairy free, making them a great alternative to candy for those on particular diets. You can even add these to salads for a nice alternative.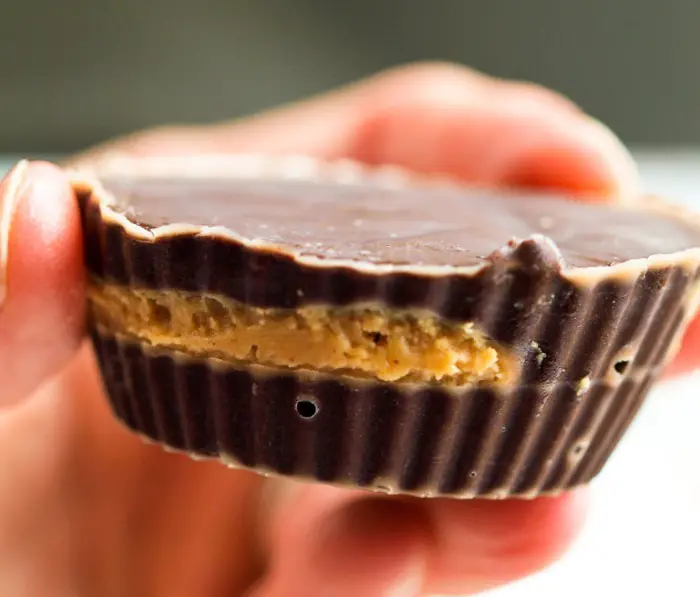 20. HEALTHY 4-INGREDIENT CHOCOLATE PEANUT BUTTER CUPS FROM HAPPY HEALTHY MAMA
These healthy, homemade peanut butter cups are a great way to get your chocolate fix – just without the lashings of sugar and preservatives, of course!
These ones contain unsweetened cocoa powder, coconut oil, maple syrup, and peanut butter, making them a healthier (but just as tasty) alternative to the store-bought classic treat.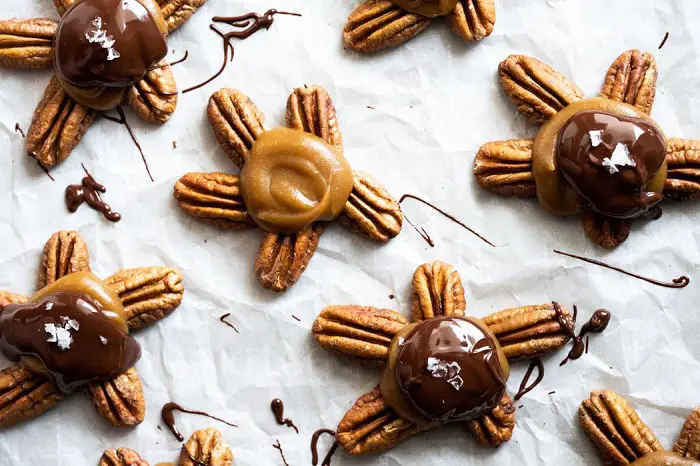 21. CARAMEL PECAN TURTLE CANDY FROM GNOM-GNOM
These homemade caramel pecan turtle candies are incredibly adorable, plus you'll love the fact that they're gluten free and keto.
To make them, you'll just need to whip-up a keto salted caramel (included in the post), lightly toasted pecans, dark chocolate chips, and flaky sea salt.
Shape them into turtles or simply cluster everything together – either way, they still taste amazing!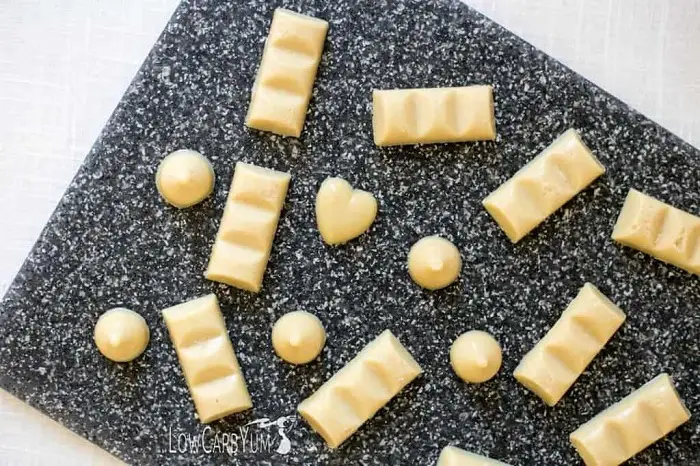 22. SUGAR FREE WHITE CHOCOLATE BARS FROM LOW CARB YUM
Ever wanted to make your own chocolate?
Now you can, and this delicious recipe involves way less sugar than you'd think!
It uses cocoa butter, powdered sweetener, coconut milk powder (or whey protein powder), sunflower lecithin (optional), stevia concentrated powder, monk fruit powder, and vanilla extract (look for one with no added sugar).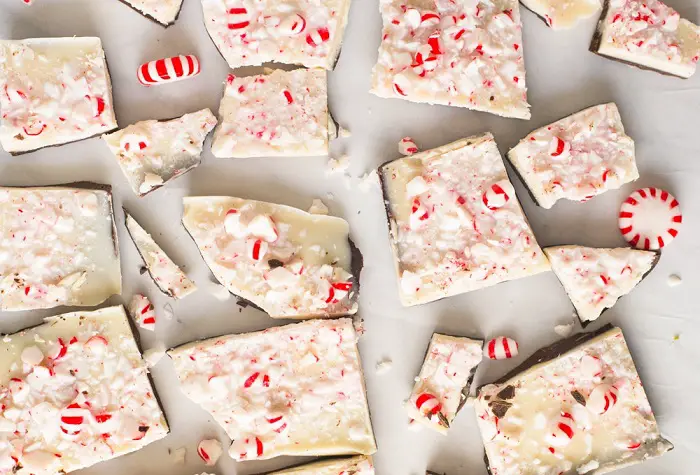 23. EASY VEGAN PEPPERMINT BARK FROM MINDFUL AVOCADO
Fancy a new holiday candy tradition that isn't quite so bad for you?
This vegan peppermint bark recipe is gluten-free and paleo and will have you enjoying dark chocolate layered with a peppermint white chocolate and topped with crushed peppermints in no time!
Why not make an extra-large batch and share it with your friends and family too? Tis' the season for sharing, after all!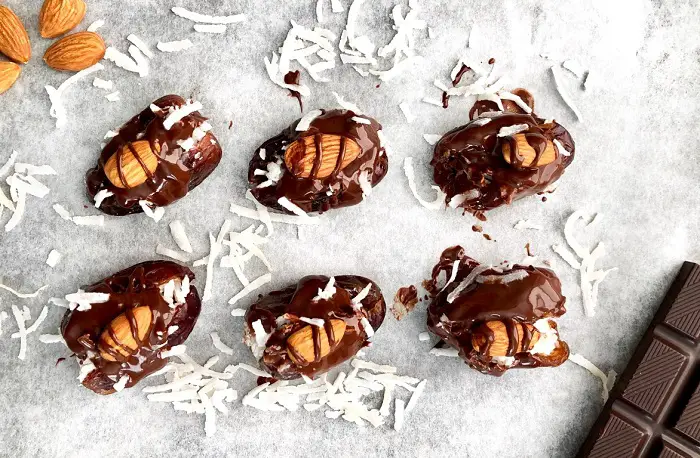 24. HOMEMADE ALMOND JOYS FROM GARLIC HEAD
These almond joy truffles are a real treat that's totally plant-based! They're vegan and gluten-free but made with healthy ingredients that taste like candy.
Ingredients include Medjool dates, unsweetened desiccated coconut, maple syrup, dark chocolate chips, and roasted almonds. They might look naughty, but they're very nice.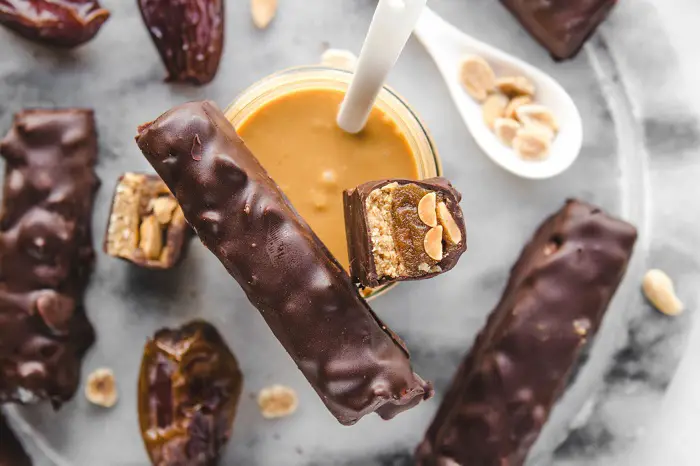 25. HEALTHY SNICKERS BARS (VEGAN) BY FROM MY BOWL
These healthy Snickers bars are made with only 6 plant-based ingredients, so they're easy to make and good for you too!
They're vegan and gluten free, plus there's no preservatives, artificial colors, or any questionable ingredients.
Ingredients include Medjool dates, peanut butter, vanilla extract, maca powder (optional), salt, oat flour, roasted peanuts, and vegan chocolate.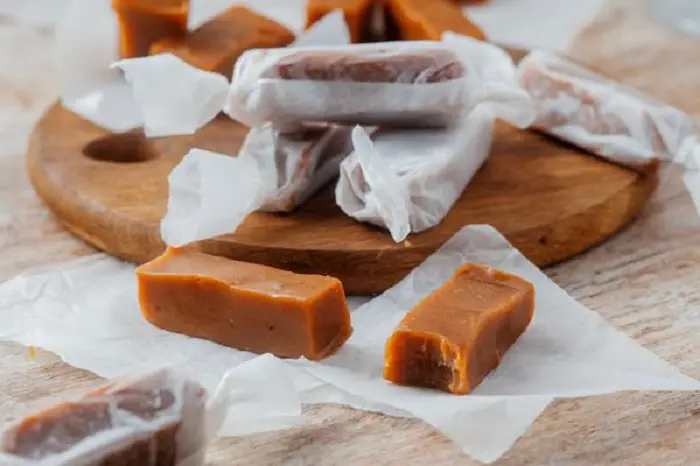 26. SUGAR FREE KETO CARAMEL CANDIES FROM KIMSPIRED DIY
If you are missing candy on a ketogenic diet, these will do the trick to curb your craving. You can put this candy together in 5 minutes and they contain butter, erythritol, and sour cream.
The recipe makes 48 pieces of healthy caramel that you can snack on any time you please. Just be warned, everyone will want the recipe for these delicious, sugar-free candies.
27. TRIPLE BERRY SUGAR FREE GUMMY BEARS (KETO) FROM SUGAR FREE LONDONER
These homemade Keto gummy bears are a super healthy sugar free treat. Not only are they keto, but they're also low-carb and paleo.
These fruity bears are a wonderful combination of fresh berry juice and grass-fed gelatin – not an artificial sweetener in sight!
They take just 15 minutes to prep and cook but you'll want to leave to chill for 2 hours before enjoying them.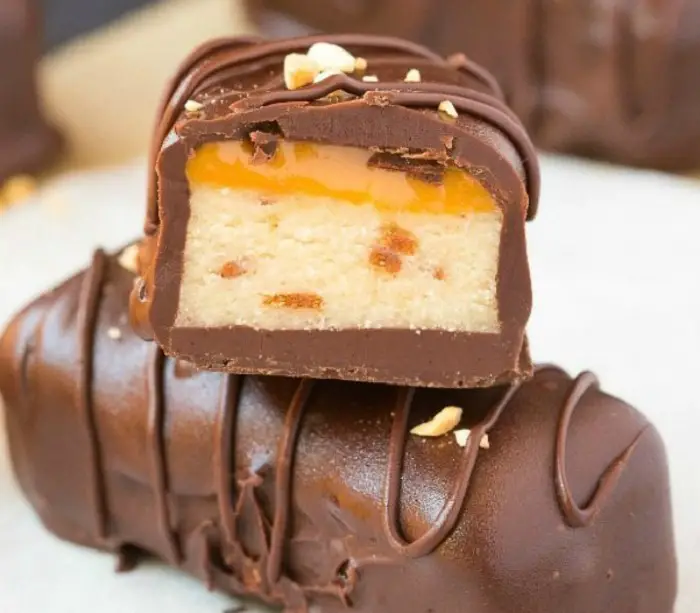 28. HOMEMADE PALEO VEGAN TWIX BARS (VEGAN, SUGAR FREE, NO BAKE) FROM THE BIG MAN'S WORLD
Who doesn't love the famous Twix bar?
This homemade version is about to become your favorite new candy, as it's vegan, sugar free, paleo, and no bake.
Inside it, you'll find ingredients such as almond flour, coconut flour, granulated sweetener of choice, maple syrup, unsweetened almond milk, almond butter, coconut oil, and chocolate chips.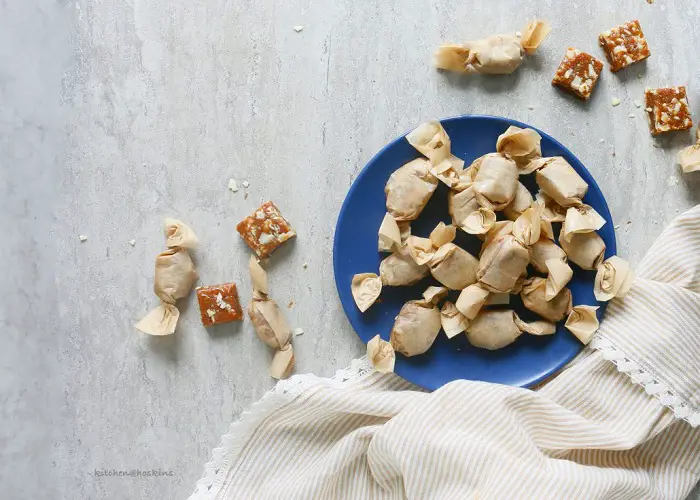 29. HEALTHIEST DATE AND ALMOND CANDY FROM KITCHEN @ HOSKINS
Want to know why everyone is raving about these healthy date and almond candies?
They're vegan, gluten-free, dairy-free, paleo, no-cook, no-bake and most importantly totally guilt-free.
Ingredients include Medjool dates, almond butter, coconut oil, and sliced almonds. Does it get any healthier (or more delicious) than that? Count us in!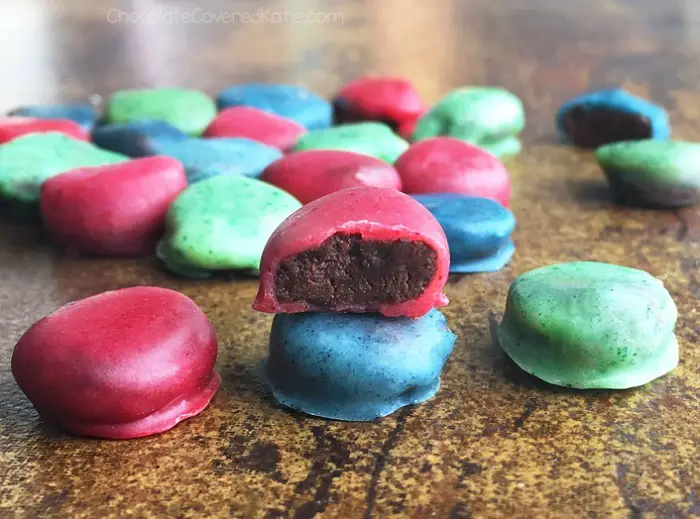 This recipe can be vegan, paleo, and gluten free. For keto M&Ms, simply use a keto-approved sweetener as your sugar of choice.
You won't believe how much these taste like the real deal!
This blogger uses ingredients including cacao powder, sweetener of choice, salt, nut butter of choice, cacao butter or coconut butter, food coloring (or a pinch spirulina for green, turmeric for yellow, beet juice or acai powder for pink and red, and blue spirulina for blue).
Which Healthy Candy Recipe Will You Make With Your Kids?
There you have it – 30 healthy candy recipes you can enjoy without the guilt-factor!
Many of these recipes are sugar-free, low-carb, paleo, keto, vegan, and dairy-free, making them a wonderful alternative to traditional, store-bought sweets.
While it's often ok to enjoy many things in moderation, it can't hurt to swap the sugar and preservative-laden candy with versions containing real fruit or other plant-based ingredients.
Plus, they make excellent treats to make for your children – even at birthday parties- so they too can enjoy candy without the nasties.
What healthy candy will you be trying first? Many of these recipes take less than half an hour to whip-up, making them the perfect task to add to your to-do list this weekend. Enjoy!
Share on Pinterest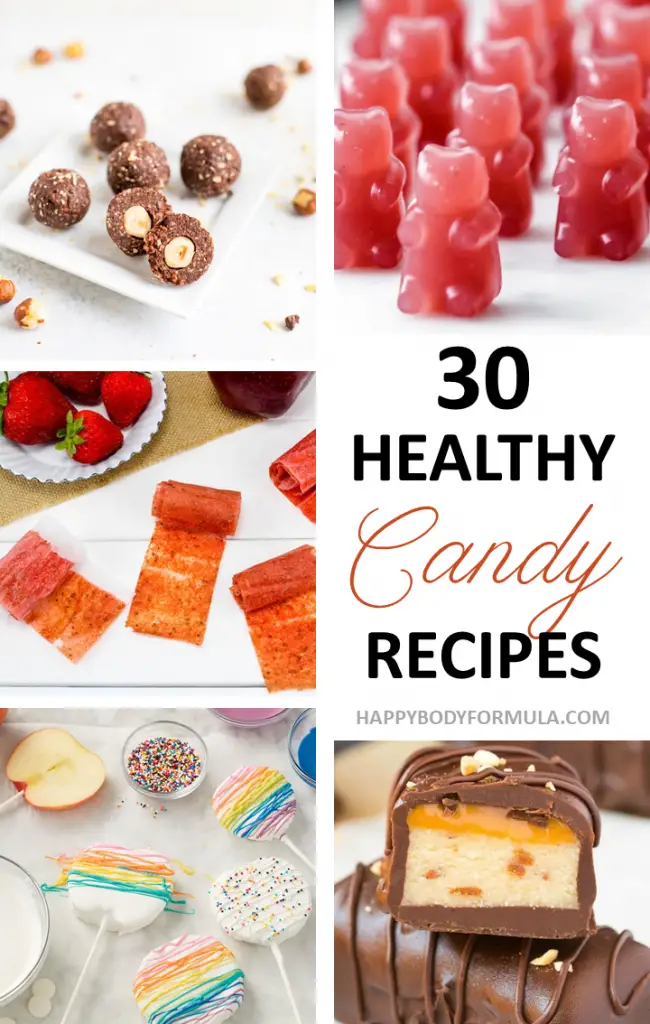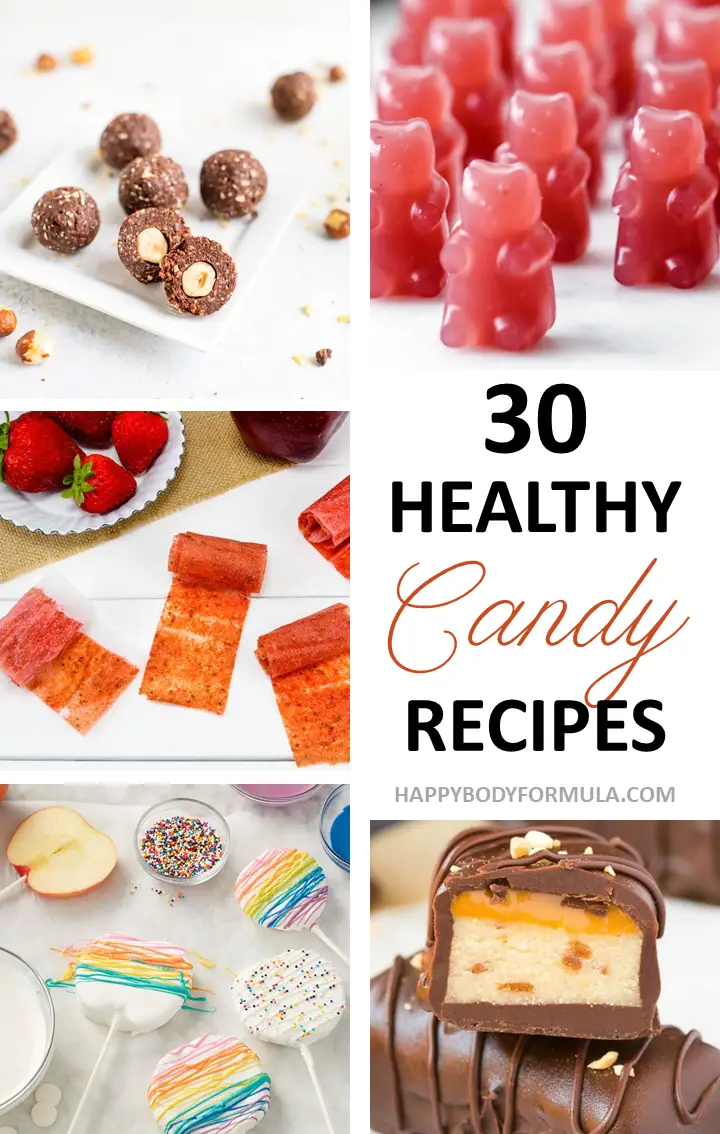 Melanie Clarke is the founder of Whim Online Magazine, an online magazine based in Australia that has a strong focus on whimsical + dreamy photography, as well as art and fashion content.