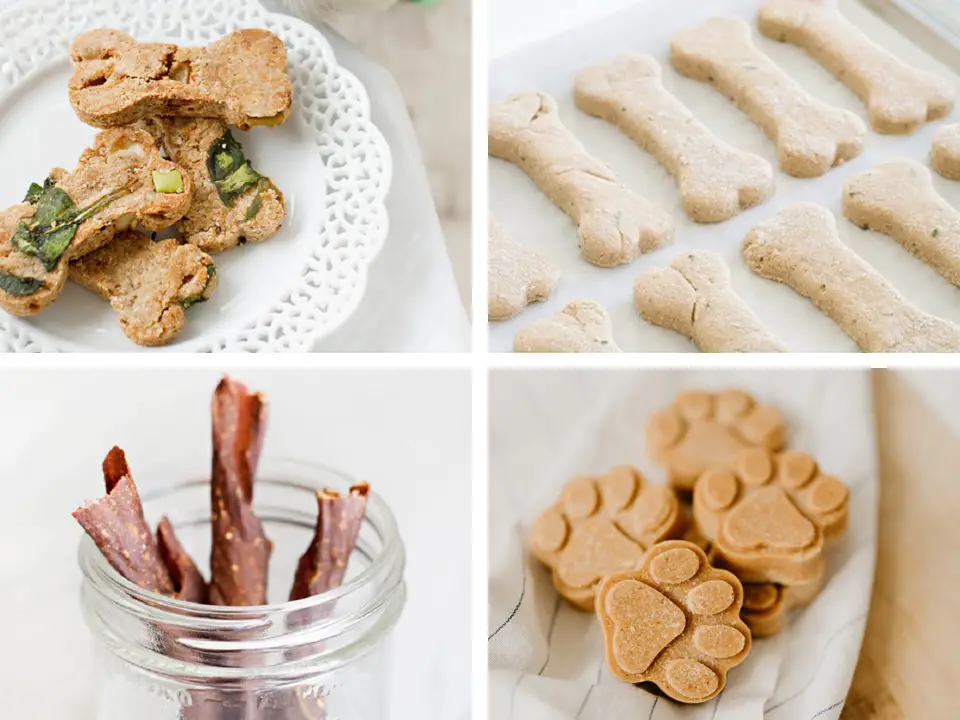 If you love your pooch, chances are you want them to be as healthy as possible throughout their life. After all, a dog is a man's – or a woman's – best friend.
While it may be convenient to simply grab your pup some treats from the supermarket shelf, have you ever considered what actually goes into these products?
Some brands will boast that they only use the best ingredients in their dog treat recipes, but upon closer inspection, you may find they contain non-nutritional fillers, artificial colors, or preservatives. 
Just because it's called a treat, doesn't mean it should be unhealthy. Skip the store-bought doggie snacks and head home to make your own instead.
We'll help you to get started too, as we've rounded up 24 of the most delicious and healthy dog treat recipes you can DIY.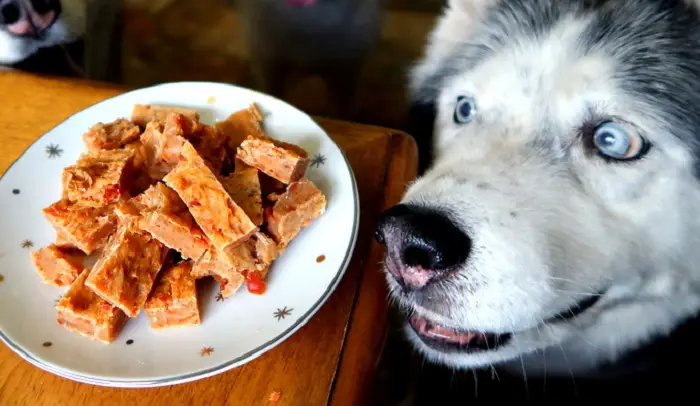 These salmon brittle dog treats are sure to be a winner with your furry friend.
You see, salmon is a great source of omega-3 fatty acids, which support the immune system, may decrease inflammation, and can keep your dog's coat looking shiny and healthy.
Aside from salmon, these treats use just two other ingredients: all-purpose flour and eggs. Easy, yet nutritional!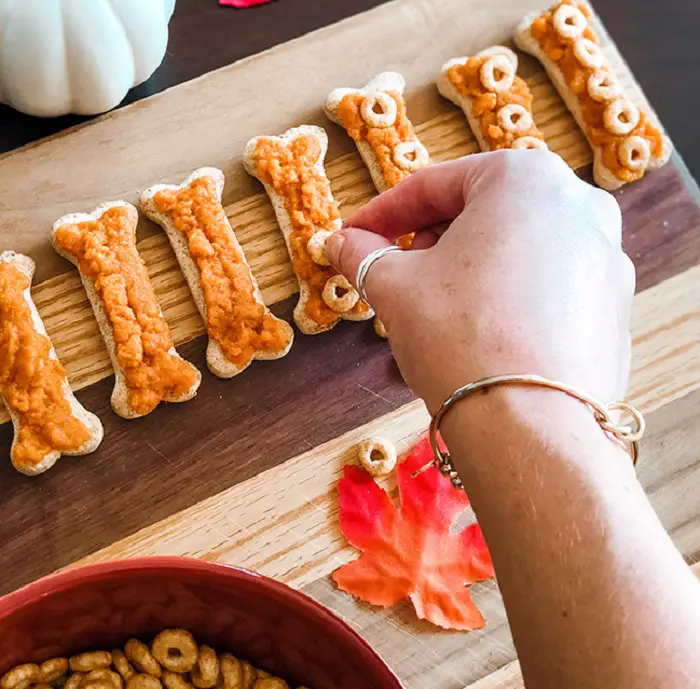 2. SEMI-HOMEMADE PUMPKIN BISCUITS FROM INSPIRED BY THIS
Pressed for time? If making a dog treat entirely from scratch isn't quite your thing, or you're simply in a hurry, then we recommend trying these semi-homemade pumpkin dog biscuits.
You simply buy some dog biscuits from the store (remember, the healthier and more natural ingredients, the better), then top each with pureed pumpkin and some Cheerios (or any other nutritious cereal you have on-hand). Clever!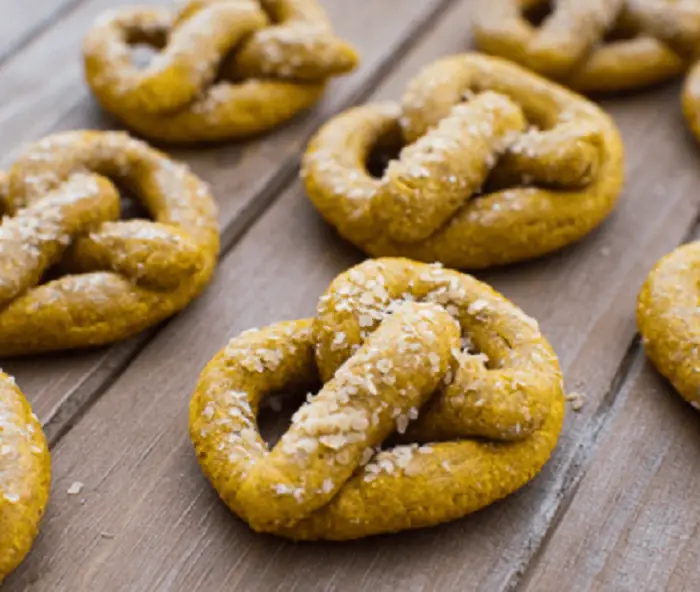 3. PUMPKIN SPICE PRETZELS FROM SIT STAY LOVE
To make these fall-inspired pumpkin spice pretzels, you'll just need whole wheat flour, pumpkin puree, cinnamon, and egg.
Sounds pretty good to us! Pumpkin has cancer-preventing antioxidants and helps your dog to feel full longer with the extra fiber boost.
It's also a great ingredient to give them if they're suffering from diarrhea or constipation.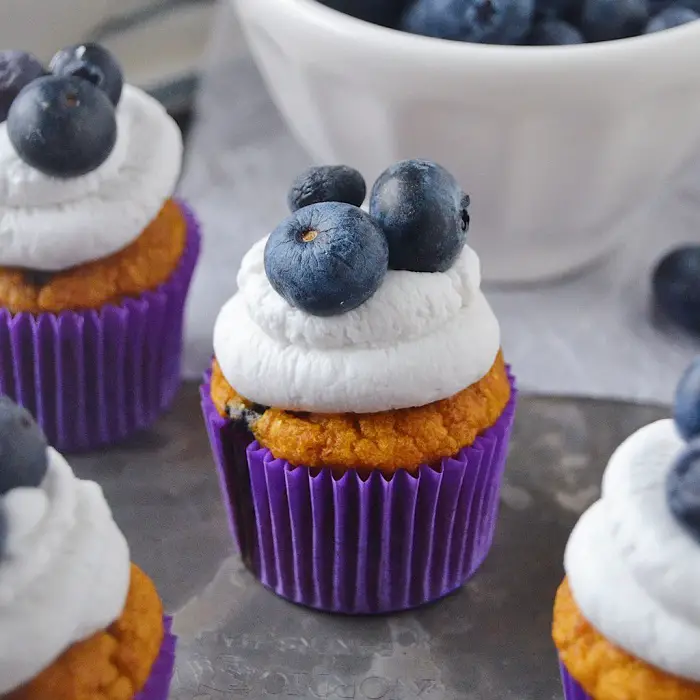 4. SWEET POTATO BLUEBERRY PUPCAKES FROM PUPCAKE SUGAR
Imagine your pup chowing down on these sweet potato and cranberry pupcakes with coconut cream frosting, topped with delicious blueberries?
It sounds so good, we could tuck-into them ourselves!   
Other ingredients include whole wheat flour, olive oil, plain yoghurt, and egg. It's the perfect treat for your dog's birthday (or when they've been extra-good)!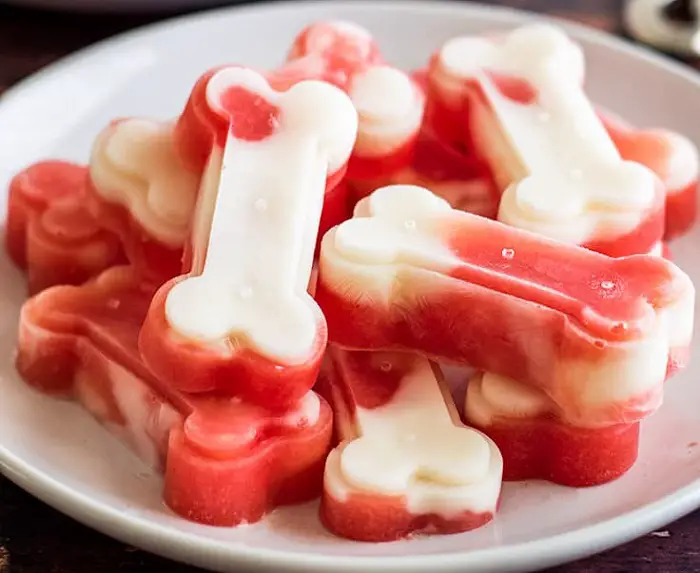 5. WATERMELON YOGURT FROZEN DOG TREATS FROM BAKING MISCHEIF
Make a big batch of these two-ingredient watermelon and yogurt frozen dog treats to keep your pup cool this summer!
All you do is blend up the watermelon and yoghurt together, then pour the mixture into silicone moulds and place in the freezer.
Keep in mind that some dogs don't process dairy well, so if that's the case for your dog, simply omit the yogurt.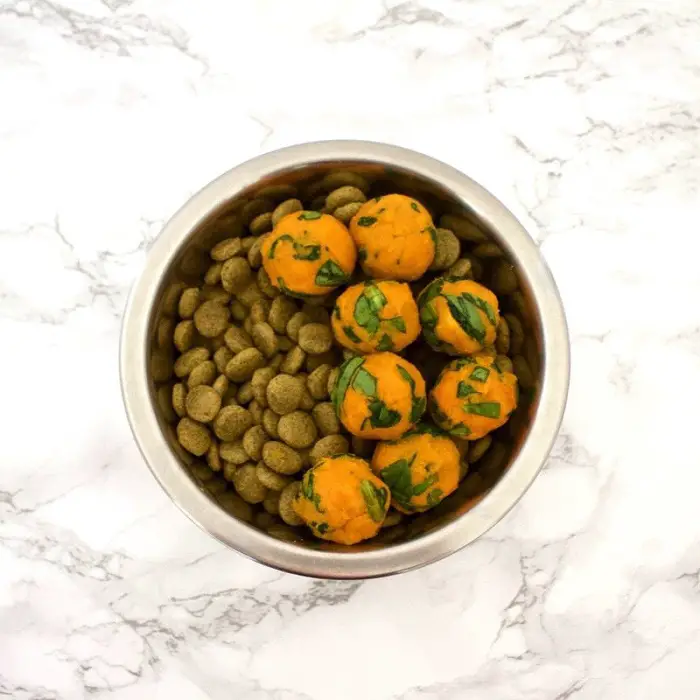 6. SWEET POTATO & SPINACH BITES FOR DOGS FROM VEGANNIE
These sweet potato and spinach bites are healthy, vegan, and gluten-free. To make them, you just need two medium sweet potatoes, as well as one cup of spinach.
The sweet potatoes get microwaved then mashed, while the spinach is combined into the mixture. Then, once cool, you simply roll the mixture into balls and serve them to your dog. Easy!
7. CRANBERRY AND HERB GELATIN GUMMY DOG TREATS FROM DALMATION DIY
It turns out even your dog loves healthy gummies too! These ones contain ingredients such as water or stock, gelatin powder, pureed cranberries, dog-friendly herbs, and beetroot powder.
Gelatin is a great source of collagen, which supports your pooch's general bone and joint health, gastrointestinal health, plus their skin and coat.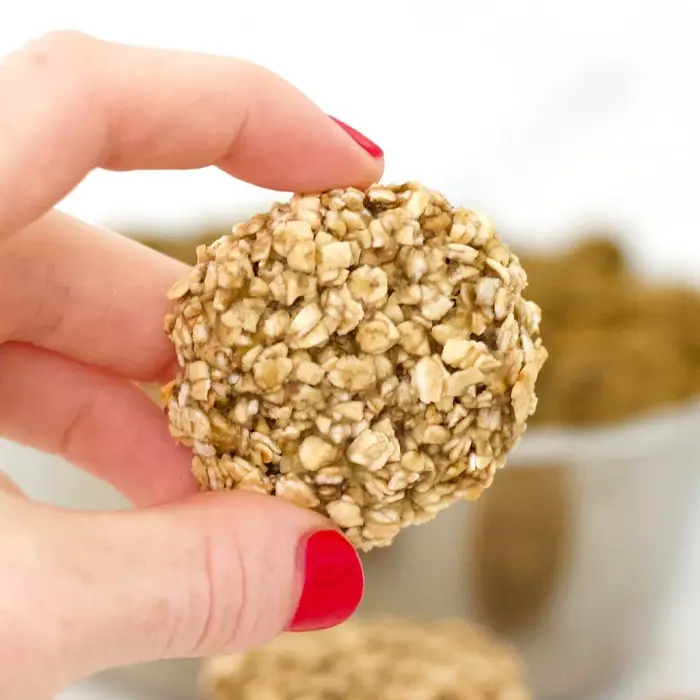 8. BANANA OATMEAL COOKIES FOR DOGS FROM VEGANNIE
Why should your furry friend miss out on oatmeal cookies?
This dog-friendly version contains just two simple, healthy ingredients: gluten-free quick oats and banana. Plus, they're vegan, gluten-free, low-fat, oil-free, and contain no added sugar.
Trust us, your dog will love you even more for them.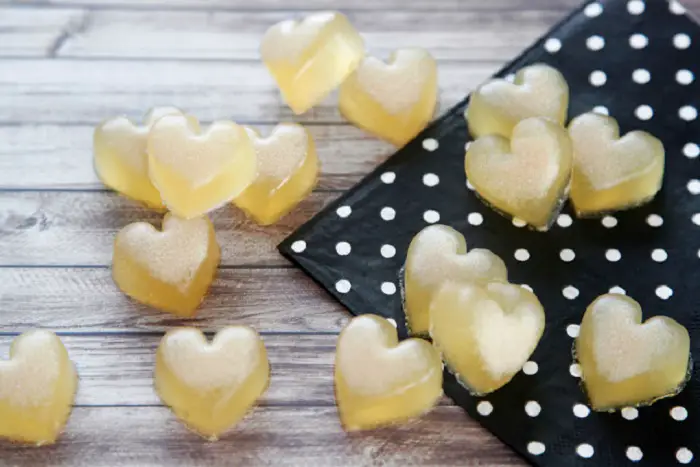 9. HEALTHY GUMMIES FOR DOGS FROM DALMATION DIY
Here's another healthy gummy recipe that your dog will love.
You probably already understand just how good bone broth is for both humans and animals, so you can imagine how fantastic these gelatin gummies are for your four-legged friend's health – especially for their mobility and aging joints.
This recipe tells you how to make these from scratch when making your own gelatin, or how to make them the shortcut way.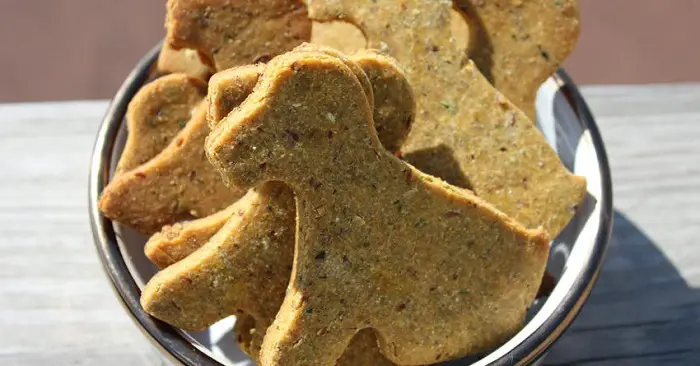 10. CHICKPEA GRAIN-FREE DOG TREATS FROM THE HONEST KITCHEN
Chickpea flour is full of fiber and protein, plus it has anti-inflammatory abilities which help dogs that have digestive tract issues.
Along with chickpea flour, these dog treats also contain ingredients such as coconut flour, flaxseed meal, parsley, turmeric, and vegetable broth.
They're incredibly nutritional, plus your dog will think they taste delicious!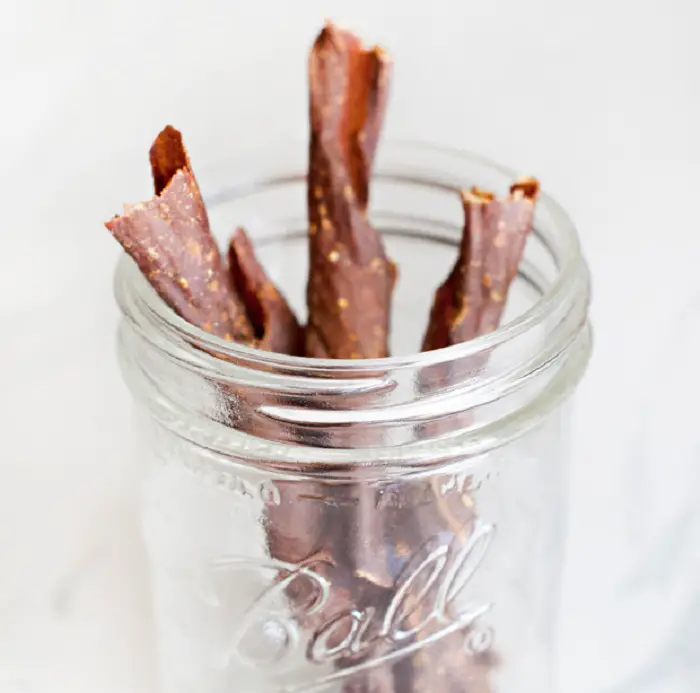 11. DIY APPLE PUMPKIN PIE CHEW STICKS FROM PRETTY FLUFFY
These Thanksgiving inspired treats are just the thing for your puppy this fall!
They might look fancy, but the truth is, they're so easy to make. They require just three ingredients: pure organic applesauce, pure organic pumpkin puree (not pumpkin pie puree!), and organic cinnamon.
The mixture then gets smeared onto some baking paper and baked / dehydrated for 6-7 hours. Don't worry – it's completely worth the wait, according to your dog!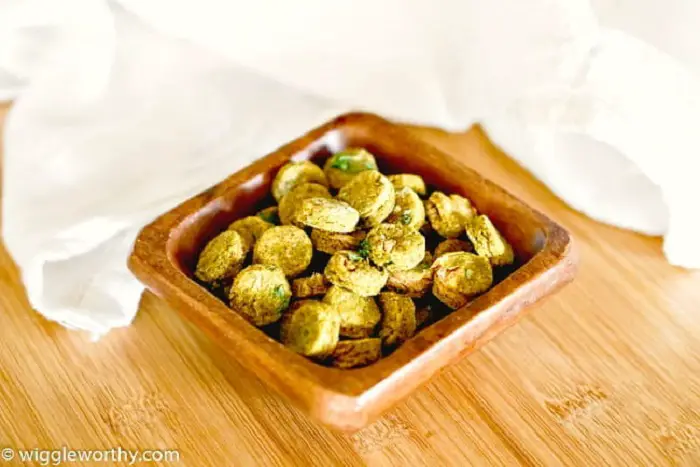 12. TUNA AND TURMERIC DOG TREAT RECIPE FROM WIGGLEWORTHY
This tuna and turmeric dog treat recipe is super tasty and tempts your dog's sense of smell as well as their tastebuds. Canned tuna is a healthy treat for your dog (in moderation) and is rich in protein, calcium and other vital nutrients.
Turmeric, on the other hand, has strong anti-inflammatory properties as well as a whole host of vitamins, minerals and other nutrients.
A tasty treat to reward your dog's good behavior, whilst keeping them healthy? Perfect!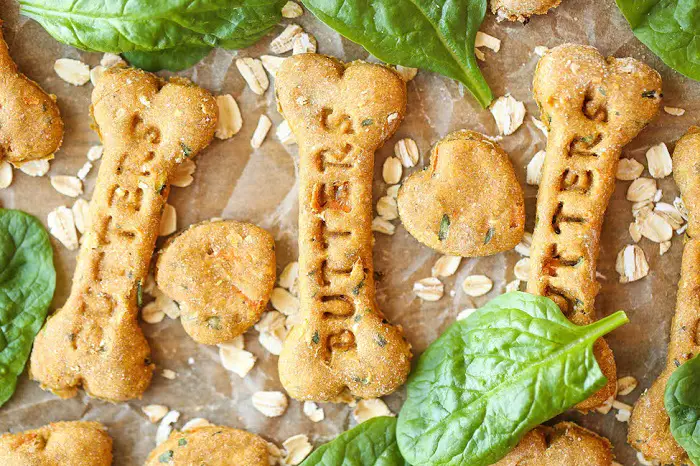 13. SPINACH, CARROT AND ZUCCHINI DOG TREATS FROM DAMN DELICIOUS
These might look like mini, culinary works of art, but you too can create these in your own kitchen.
They use ingredients such as pumpkin puree (dogs love pumpkin puree!), peanut butter, eggs, old fashioned oats, whole wheat flour, carrot, zucchini, and spinach.
How healthy does that sound?! They make great, regular treats to keep your pups looking and feeling their best.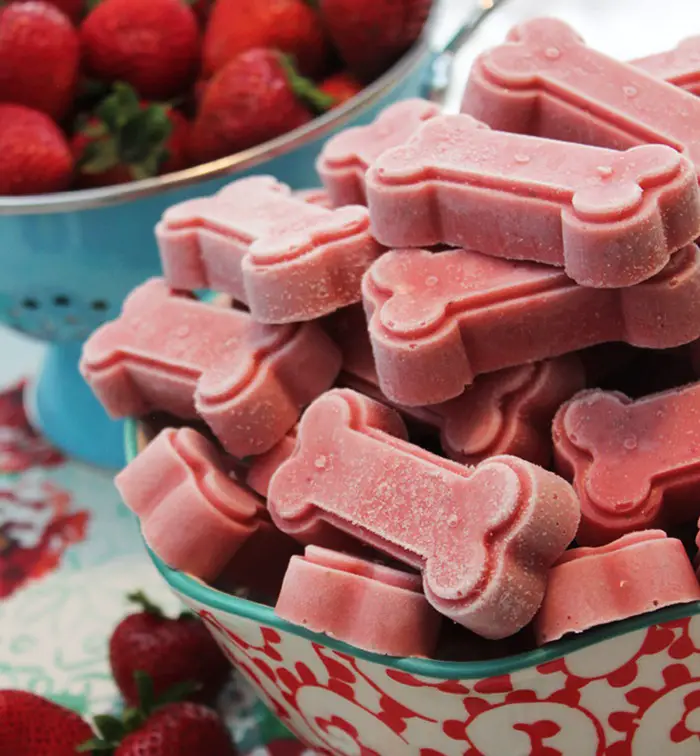 14. FROZEN STRAWBERRY AND BANANA SMOOTHIE DOG TREATS FROM THE COTTAGE MARKET
Turns out your dog likes smoothies too, just in the form of dog treats!
They take just 10 minutes to whip up the mixture and are the perfect way to help your dog stay cooler in summer, all whilst keeping healthy, of course.
Inside these doggie treats, you'll find strawberries, plain Greek yoghurt (low fat), banana, skim milk, and honey. They sound so good; you might be tempted for a nibble!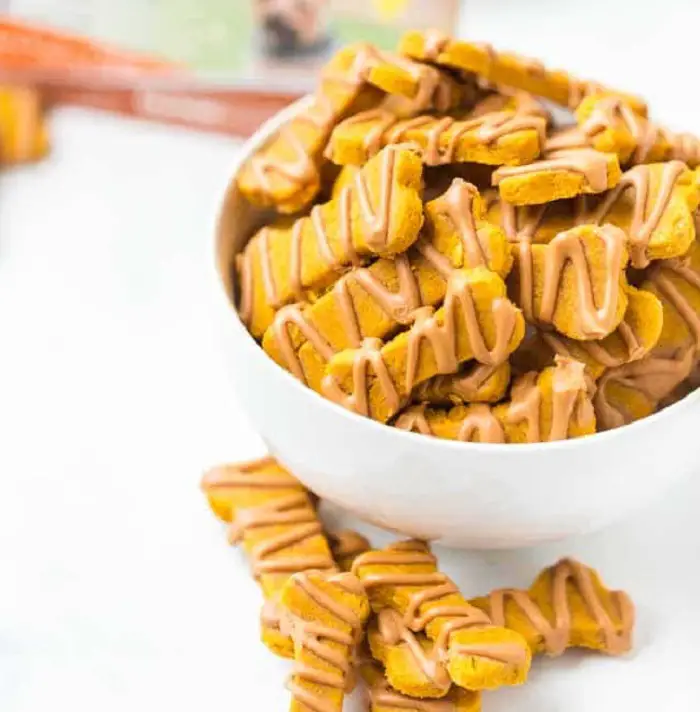 These easy pumpkin dog treats are a great way to spoil your best friend, because they contain a number of healthy and tasty ingredients that they will go crazy for.
These include pumpkin puree, peanut butter containing no salt or sugar, oats, egg, and brown rice flour. Why not whip up an extra large batch and share them around with your friend's or neighbor's dogs?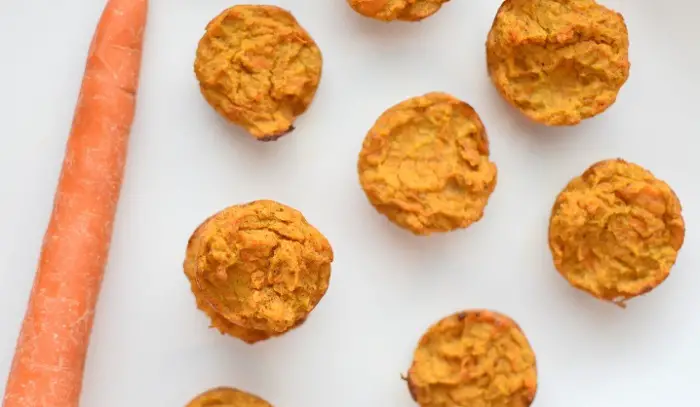 16. SWEET POTATO PUPPY MUFFINS FROM PROUD DOG MOM
These "bark-worthy muffins" take just 5 minutes of prep time and use a few ingredients that you likely already have in your kitchen, such as sweet potato, carrot, egg, ginger, and cinnamon.
Sweet potatoes provide a nice serving of fiber, key vitamins, and various minerals, while carrots are well known for their vitamin A but also contain immune-boosting vitamin C, digestive-aiding fiber, and potassium.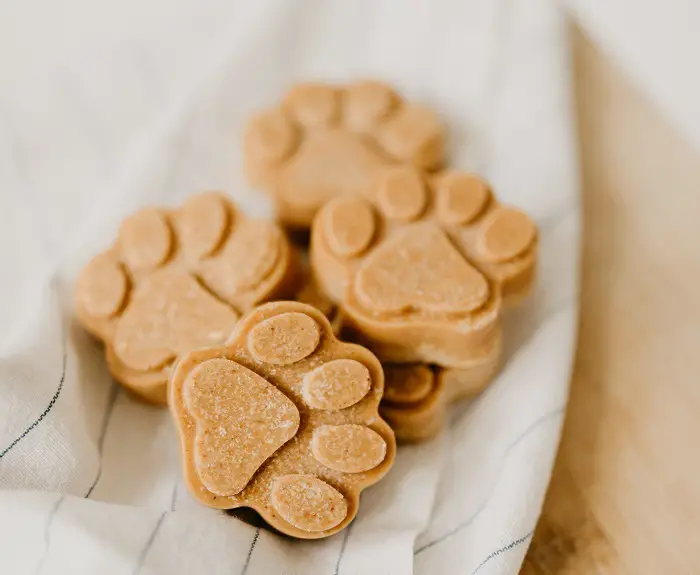 17. HEALTHY HOMEMADE PEANUT BUTTER COCONUT OIL DOG TREATS FROM HOUSE FUR
Aren't these paw-shaped peanut butter and coconut oil dog treats adorable?
We know coconut oil has a number of health benefits for humans, but it also works wonders with your dog. Along with coconut oil, you'll also find ingredients such as natural peanut butter and cinnamon in these tasty treats.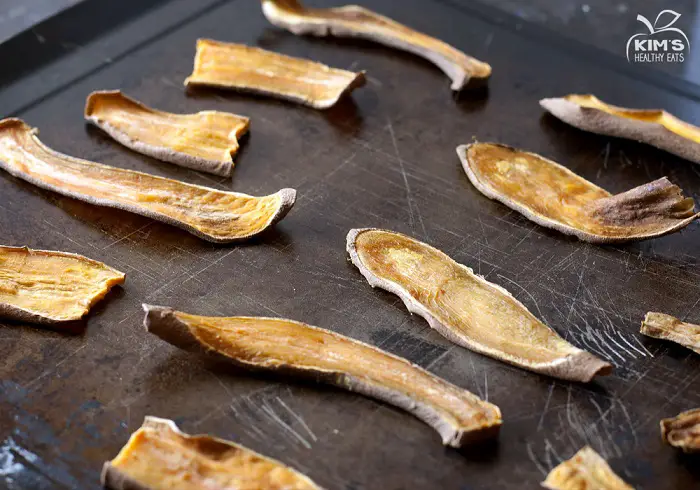 18. HOMEMADE SWEET POTATO DOG TREATS FROM KIM'S HEALTHY EATS
Dogs just love orange vegetables, don't they?
You'll be pleased to hear that this one contains only one ingredient: sweet potato.
You simply cut the sweet potato lengthwise to form strips, then bake these in the oven so they become harder. Your dog will love them and the best bit?
These treats contain no added nasties!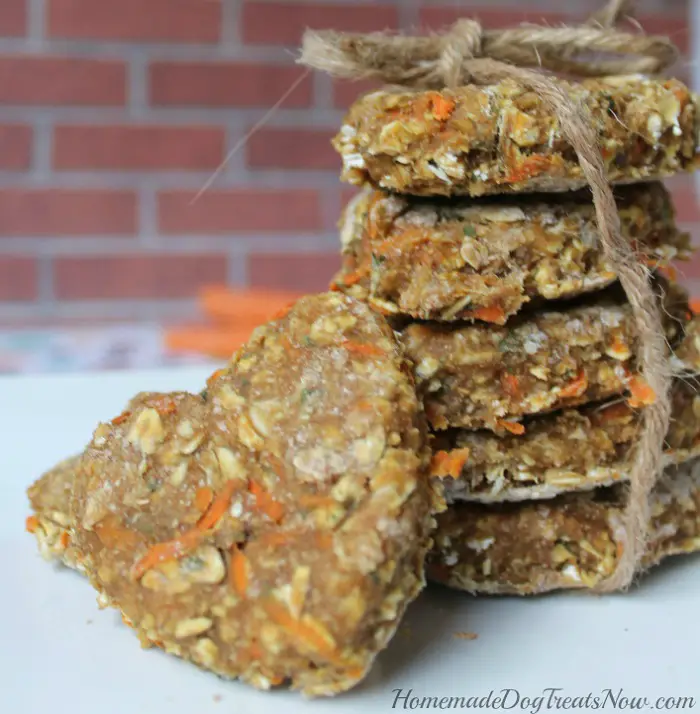 Here's what's in these delicious dog treats: oatmeal for a great source of soluble fiber, bananas for potassium, carrots for the beta carotene and antioxidant properties, coconut oil for healthy coat and skin , and parsley to promote fresh breath and to aid in digestion.
To make these gluten free, you can also use oat powder in place of whole wheat flour.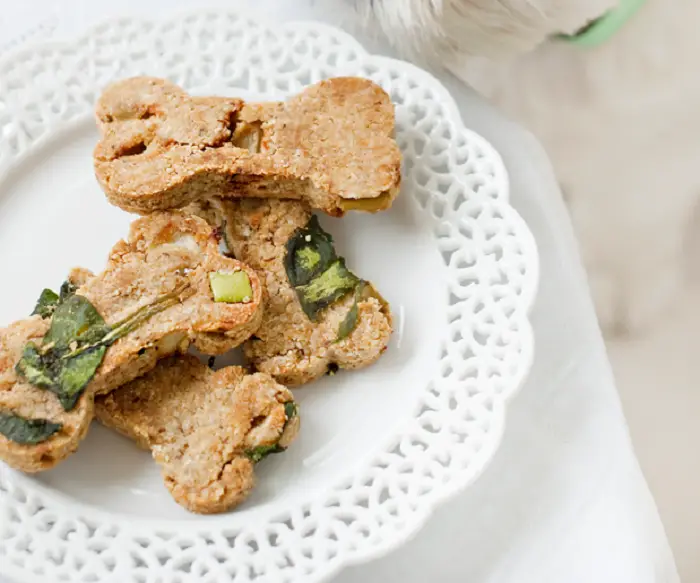 20. SPINACH & GREEN APPLE BISCUITS FROM PRETTY FLUFFY
If you're hosting a St. Patrick's Day soiree with your friends, don't let your pooch miss out.
Instead, make him or her these spinach and green apple biscuits, which contain almond flour, organic unsalted peanut butter or almond butter, cinnamon, green apple (seeds and core removed), baby spinach, and water.
They'll love these!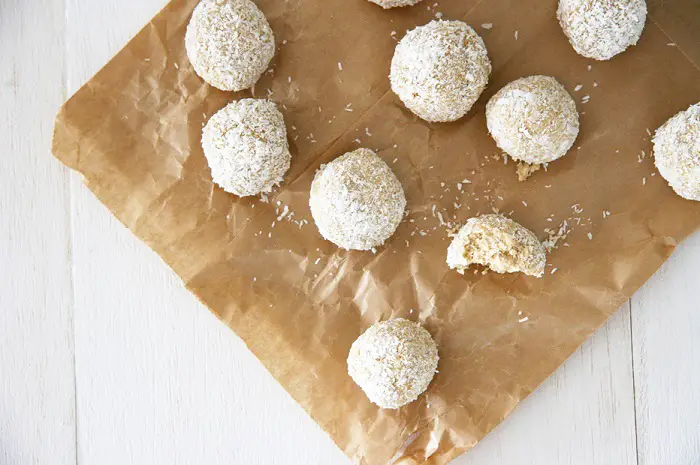 21. NO BAKE COCONUT DOG TREATS FROM PRETTY FLUFFY
With just 4 ingredients and 4 easy to follow steps, your dog will be chowing down on these no-bake coconut dog treats in no time.
To make them, you'll just need coconut oil, peanut butter, rolled oats, and shredded coconut. This recipe makes approximately 20 treats – just don't give them to him or her all at once!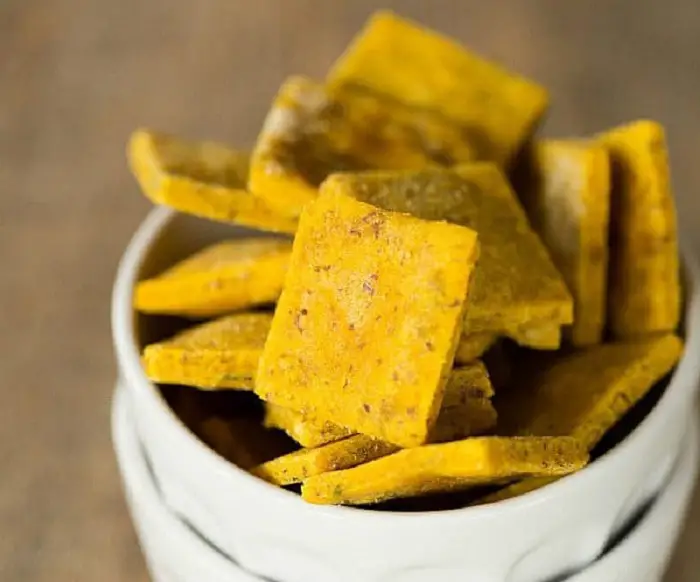 22. GRAIN-FREE HOMEMADE DOG TREATS FROM BROWN EYED BAKER
Fancy some healthy, grain-free treats for your pup?
This recipe asks you to combine chicken broth, coconut oil, canned pumpkin, tapioca flour, coconut flour, sea salt, nutritional yeast, ground flaxseed, and fresh parsley.
They look like (healthy) crackers, but for your dog!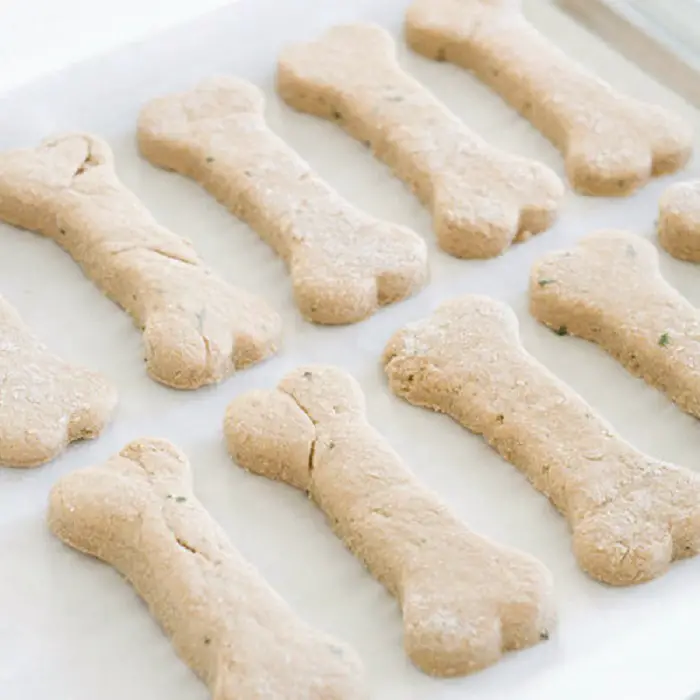 23. TWO-INGREDIENT HOMEMADE DOG TREATS FROM DESIGN MILK
If you're just starting out in the world of homemade dog treats, you might want to try this recipe first.
It'll show you how to make your very own healthy dog biscuits using just two ingredients: organic whole wheat flour (or wheat germ, spelt, rolled oats — or a mixture of these) and two jars of pureed baby food (beef, blueberry, sweet potato, chicken, etc.). Clever!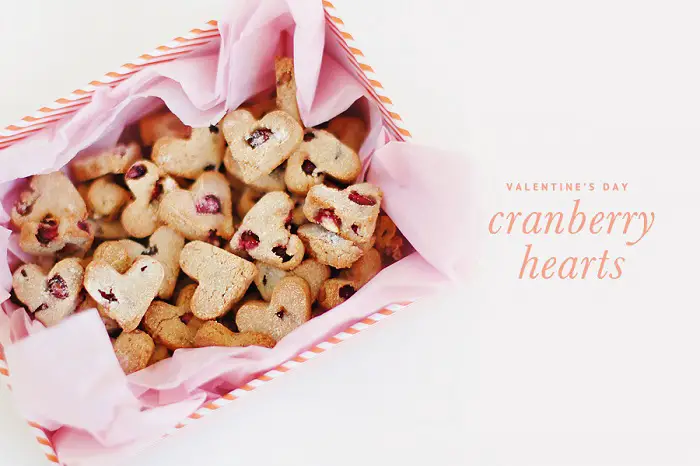 24. CRANBERRY HEARTS VALENTINE'S DAY DOG TREATS FROM PRETTY FLUFFY
Valentine's Day can be made just that little bit more fun by making these adorable, heart-shaped dog treats for your pooch. After all, why should they have to miss out?
These biscuits contain free range eggs, almond flour, coconut oil, coconut flour, and dried cranberries. They're healthy, delicious, and will have your furry friend feeling all loved-up.
Time to Treat Your Doggy to Some Delicious Healthy Treats!
There you have it – 24 healthy, homemade dog treats that your best friend will adore.
Whether you're looking to make a healthier version of the traditional dog biscuit, a pupsicle to keep your dog cool during summer, or a pupcake to celebrate a special puppy milestone – there's a recipe here for everyone.
Remember, some store-bought dog treats contain fillers lacking nutritional value, as well as preservatives or artificial colors. Keep your dog in tip-top shape by making your own treats containing essential vitamins, minerals, and other nutrients.
Your furry friend will thank you for it!
Which dog treat will you be making yourself? We'd love to hear from you in the comments section below!
Share on Pinterest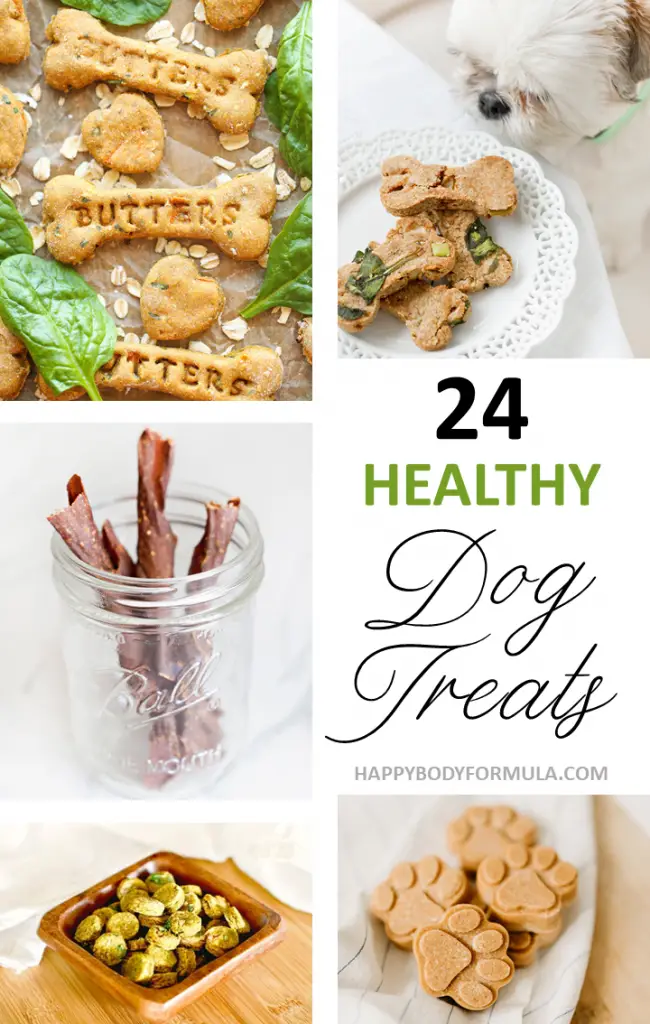 Melanie Clarke is the founder of Whim Online Magazine, an online magazine based in Australia that has a strong focus on whimsical + dreamy photography, as well as art and fashion content.