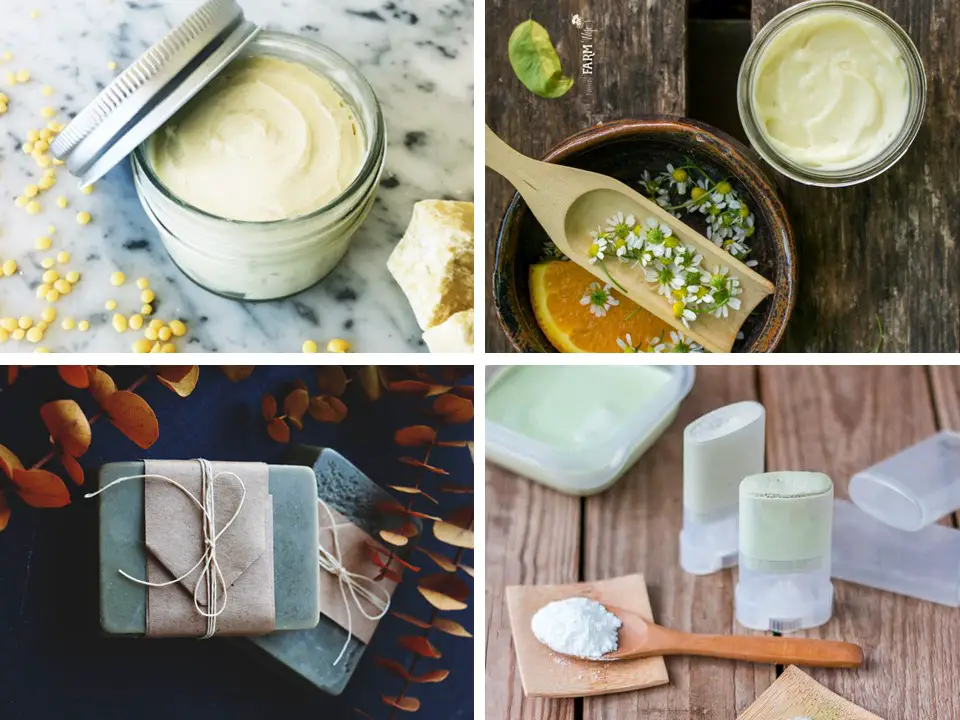 If you've ever glanced at the ingredients list of a store-bought deodorant, you would have noticed a list of ingredients with names so long, you can't even pronounce them.
Triethanolamine, diethanolamine, and propylene glycol? We give up.
What's worse is that the majority of these ingredients are chemicals, toxins, and suspected carcinogens; all of which we allow our underarms to soak-up every day.
It may seem frightening, but help is at hand. You see, you can still mask bad odors and reduce sweat by applying natural, homemade deodorant to your armpits instead.
Below, we've shared not one, but 17 homemade deodorant recipes to help you get ahead.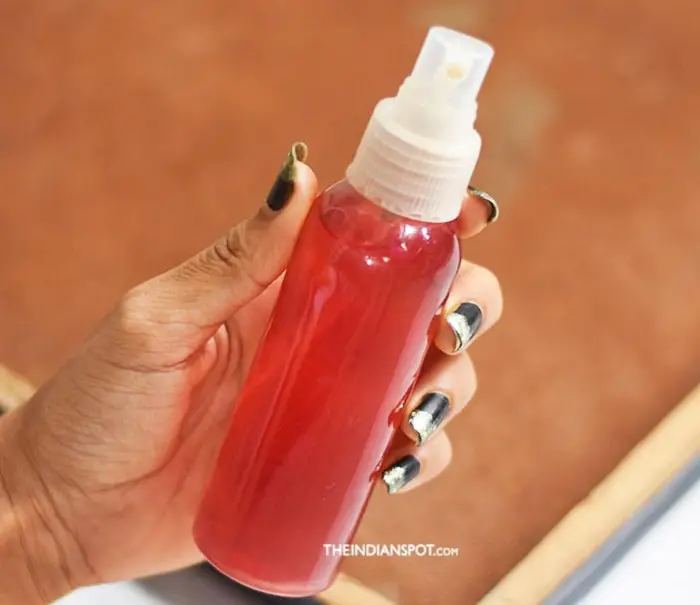 1. DIY NATURAL ARMPIT DETOX SPRAY FROM THE INDIAN SPOT
This DIY tutorial explains that the benefits of homemade deodorant goes beyond just not containing any nasty chemicals.
You can also enjoy advantages such as less odor, less sweating (especially over time), no rashes or skin irritation, and naturally whitened underarms. This version uses just 3 amazing ingredients too, including apple cider vinegar, lavender essential oil, and rose water.
2. ORANGE AND EUCALYPTUS DEODORANT FROM THE OGNC
Orange and eucalyptus both smell divine together, plus the essential oils have additional benefits for both your health and skin.
This homemade deodorant also uses some other common ingredients found around the home, plus you can even print your own labels to stick onto whichever vessel you house it in – whether it's a roll-on or push-up stick, or even a small glass jar.
3. DIY HIMALAYAN SALT DEODORANT FROM BEAUTY MUNSTA
Himalayan salt is super rich in minerals that nourish the skin and help it detox, plus it's antibacterial, soaks up excess sebum and sweat, and neutralizes bad body odor.
This makes it a great ingredient for homemade deodorant, especially when combined with other ingredients such as witch hazel, vegetable glycerine, rosemary oil, peppermint oil, and so much more.
4. HOMEMADE WITCH HAZEL DEODORANT FROM IOLIE
This simple and straight-forward DIY deodorant uses a wide range of beneficial and natural ingredients, including witch hazel, baking soda, lavender, clary sage, and more.
Simply combine it all together in a spray bottle and ta-da! Your underarms will certainly be thanking you for it.
5. VEGAN NATURAL DEODORANT RECIPE FROM BIOME
This DIY deodorant celebrates no-waste, toxin-free, and ethical ingredients. It contains soothing and ultra-moisturizing cocoa and shea butters, coconut oil to eliminate bacteria, yeast and fungi, vegan candelilla wax to protect, and arrowroot and kaolin white clay to absorb moisture.
It'll leave your underarms soft, protected and odor free!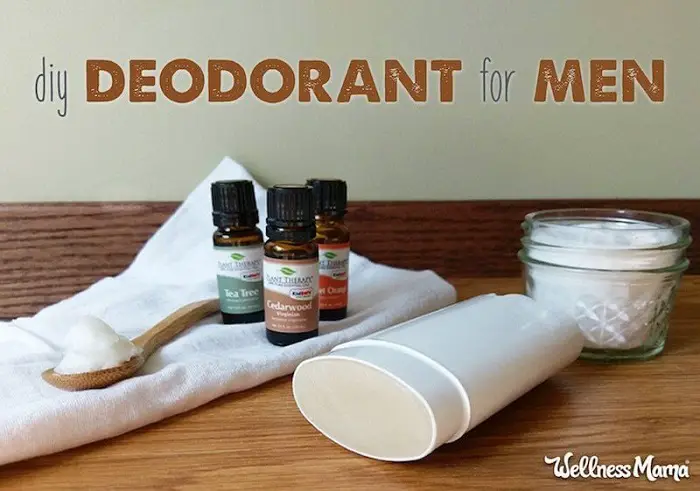 6. NATURAL DEODORANT FOR MEN FROM WELLNESS MAMA
Most of these DIY deodorants are aimed at females with their sweet scents, so here's one with a more masculine tone for all you males out there (or the males in your life).
It contains everything from coconut oil and beeswax, to essential oils such as orange, cypress, and frankincense. There's even a ton of variations you can use to suit your own taste (or should we say smell?).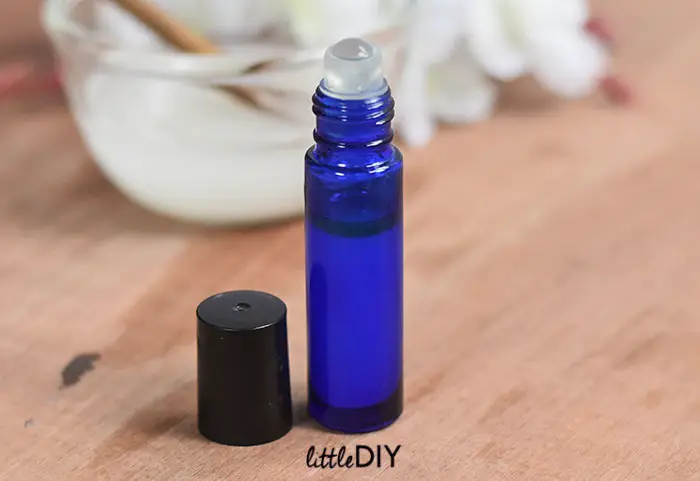 7. DIY NATURAL ROLL-ON DEODORANT FROM LITTLE DIY
For this quick and easy DIY deodorant tutorial, you'll just need a number of simple ingredients, including water, witch hazel, arrowroot, lavender oil, and sweet orange oil.
Not only do they smell great, but these ingredients also work together to neutralize odors, lighten your underarms, and nourish your skin.
8. ALL-NATURAL DEODORANT BARS FROM FREE PEOPLE
Here's something a little different which you're sure to love! It's an all-natural, DIY deodorant…but in the form of a bar!
These bars are full of healthy ingredients, such as bacteria-fighting tea tree oil, moisturizing shea butter, toxin-zapping bentonite clay, and odor-fighting baking soda. Plus, they look good enough to gift to your loved ones too!
9. DIY LEMONGRASS DEODORANT FOR SENSITIVE SKIN FROM JOYBILEE FARM
This recipe for homemade deodorant is perfect for sensitive skin, as it doesn't use slightly more harsh ingredients such as baking soda.
Instead, its main ingredient is lemongrass, which is anti-inflammatory, antibacterial, and anti-fungal. It's also soothing to sore muscles and is gentle for sensitive skin.
This delightful DIY deodorant is light, refreshing, and slightly cooling, but not overpowering. It uses a variety of beneficial, natural ingredients such as mango butter, shea butter, baking soda, lime essential oil, spearmint essential oil, and lemongrass essential oil.
Once combined and hardened, all you need to do is take a pea-sized amount and rub it gently into each arm pit.
11. HOMEMADE (BAKING SODA FREE) DEODORANT FROM A BLOSSOMING LIFE
If you need another baking soda free recipe for your sensitive underarms, then this is it. It uses some great ingredients, including arrowroot powder, coconut oil, tea tree oil, lavender oil, lemon, orange, peppermint, and frankincense.
If you need stronger protection, you can use 1/4 cup arrowroot powder and 1/4 cup bentonite clay, or even diatomaceous earth.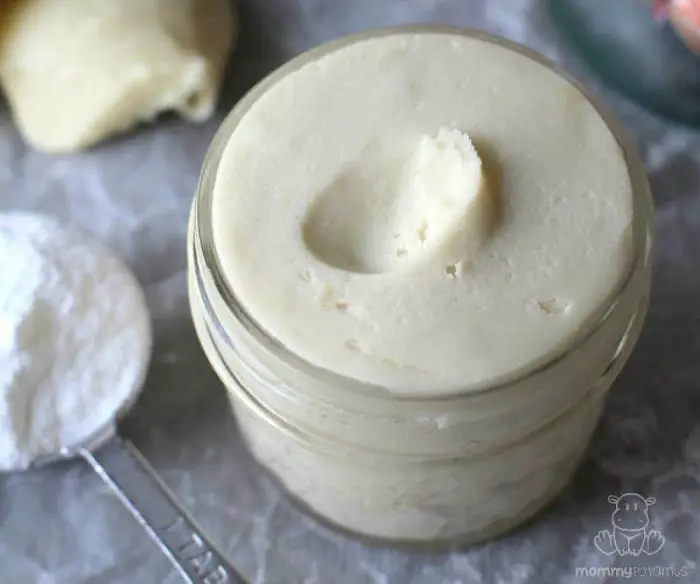 12. EASY HOMEMADE DEODORANT FROM MOMMYPOTAMUS
Skin soothing shea butter is a great option in DIY deodorants because it's not greasy and absorbs quickly, which is super important if you're getting dressed in a hurry.
Thankfully, this recipe uses a good amount of the stuff, as well as other natural ingredients such as arrowroot powder, and essential oils including tea tree, frankincense, lavender and patchouli.
13. HOMEMADE DEODORANT RECIPE WITH LAVENDER AND SAGE FROM GROW FORAGE COOK FERMENT
DIY deodorant, such as this homemade recipe, is the perfect beginner recipe for DIY beauty products, mainly because it's simple to make, and also because it's good for your health.
What sets this recipe apart from many others, however, is that it adds beeswax and shea butter to make the whole thing a thicker consistency. This means it will hold up in an actual deodorant container or in a half circle mold, making for much easier application.
14. NATURAL HOMEMADE DEODORANT FOR SENSITIVE SKIN FROM THE THINGS WE'LL MAKE
This DIY deodorant is soothing, yet effective, as it works without baking soda nor coconut oil and uses zinc to help combat odors for those with sensitive skin.
In this version, you'll find shea butter, sweet almond oil, beeswax, zinc oxide, matcha, vitamin E, and a whole range of other natural and beneficial ingredients.
15. SWEET ORANGE AND FRANKINCENSE HOMEMADE NATURAL DEODORANT FROM THE NERDY FARM WIFE
This non-toxic, homemade deodorant recipe features sweet orange and frankincense essential oils, along with herbal infused coconut oil for extra skin-soothing properties.
It makes a cream-style natural deodorant that you store in a jar and spread on with your fingers. The best bit? You only need a small amount for it to be effective, so this mixture will last for ages!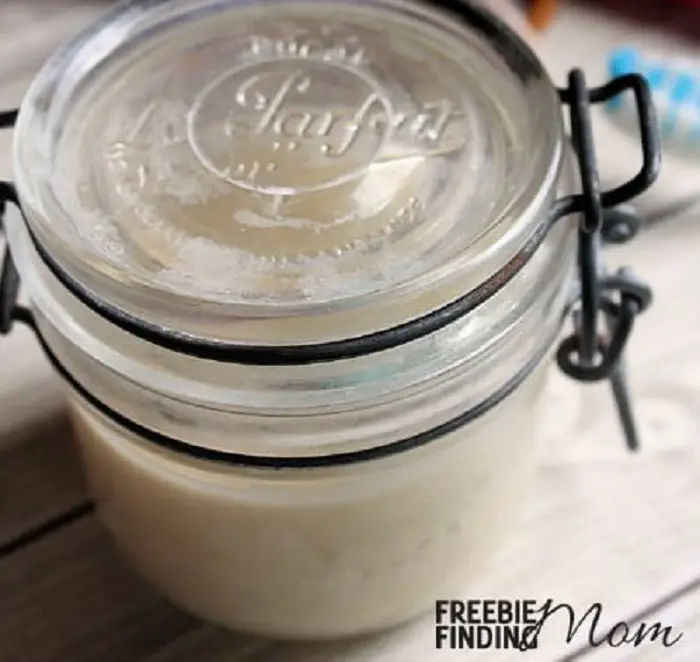 16. DIY ALL-NATURAL LAVENDER DEODORANT FROM FREEBIE FINDING MOM
This particular homemade natural deodorant may not only help you cover up the stresses of the day, but actually overcome them, thanks to the lavender essential oil.
You see, lavender oil is known to promote relaxation, helping you to remain calmer and sweat less! It also uses other amazing ingredients such as coconut oil, arrowroot powder, shea butter, tea tree, and more.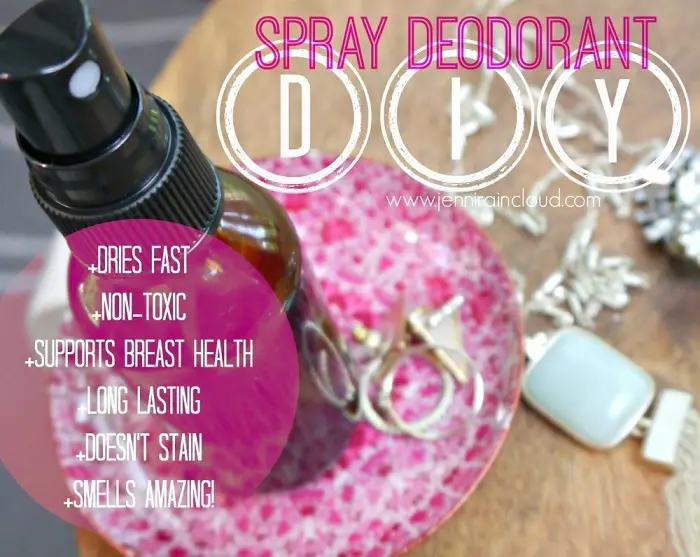 17. SO SIMPLE SPRAY DEODORANT FROM JENNI RAINCLOUD
It might say it in the title, but this DIY deodorant really is so simple! You simply combine 1/4 cup witch hazel, 20 drops frankincense essential oil, 20 drops lavender essential oil, and 20 drops lemon essential oil.
Shake them all together in a small spray bottle, and voila! You've now got your very own natural deodorant that you can take with you in your handbag.
Which Natural Deodorant Will You Make?
There you have it – 17 DIY deodorant recipes that are all-natural and incredibly good for both your skin and health!
Remember, it may take a little more effort to make your own deodorant than to go out and buy one from the shops, but it's totally worth it in the long run.
Not only are you saving yourself from being exposed to thousands of toxins (many of which are known carcinogens or have been banned in countries around the world), but you're also saving a pretty penny too.
Which homemade deodorant recipes will you be trying for yourself? We'd love to hear from you in the comments section below!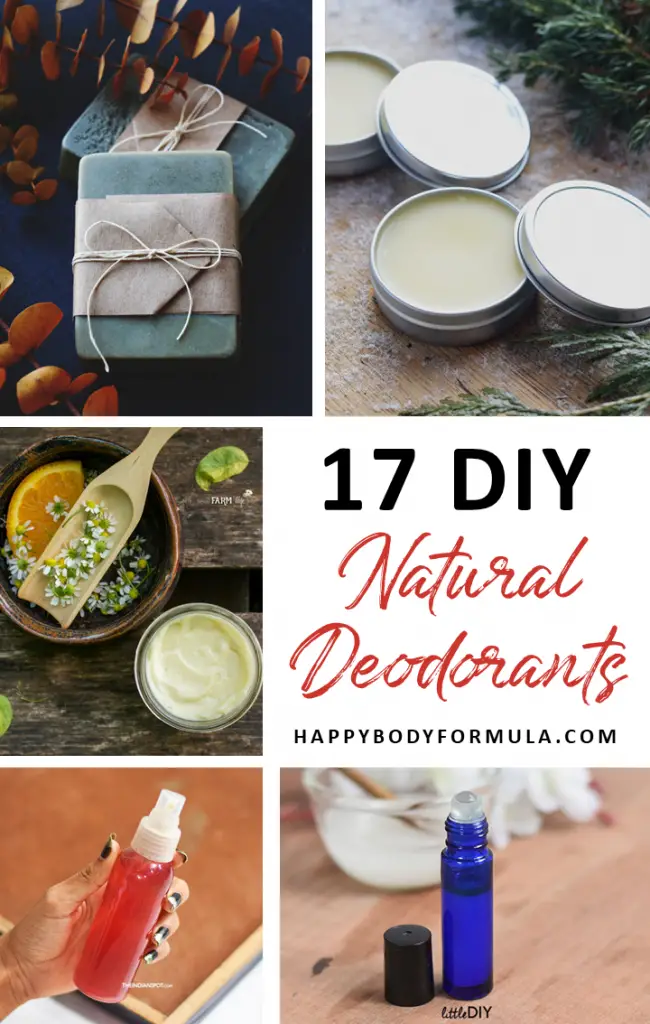 Melanie Clarke is the founder of Whim Online Magazine, an online magazine based in Australia that has a strong focus on whimsical + dreamy photography, as well as art and fashion content.