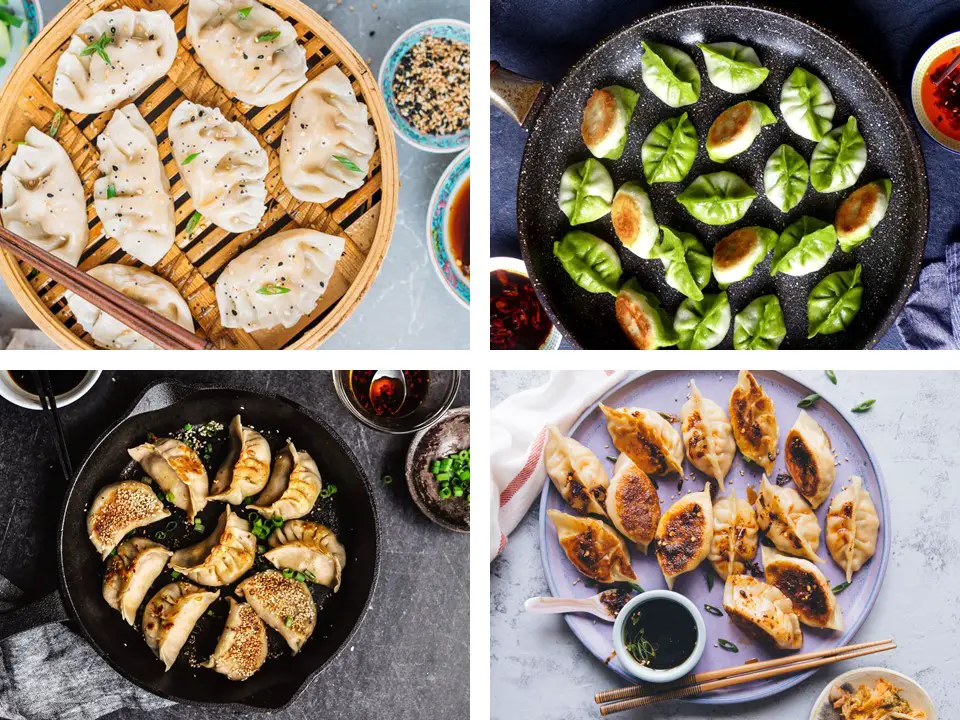 Dumplings have always been a crowd favorite, thanks to their soft, pillowy outside and juicy contents, but they're not often the healthiest snack to devour.
You see, when fried in oil, they become high in saturated fat, while the popular accompaniment of soy sauce can be high in salt. But what if you could enjoy homemade dumplings that were kind to your waistline and your health?
We've got you covered!
This post rounds up 17 healthy (but oh-so-delicious) dumpling recipes that you'll be busting to make next time friends and family come around. Or when you're spending a quiet weeknight by yourself watching Netflix…we won't judge!
Let's take a look!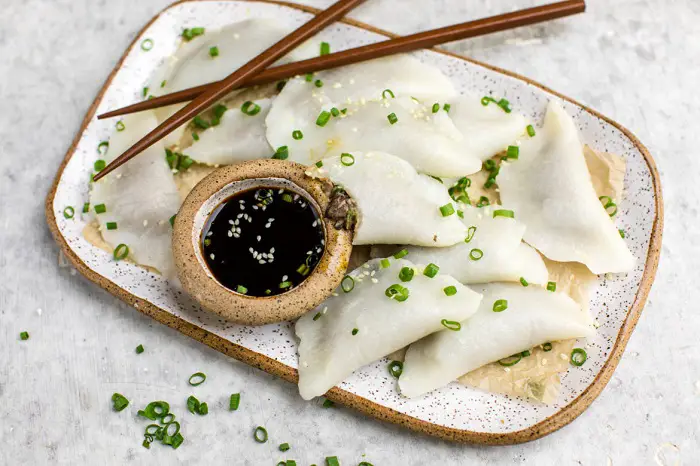 1. CREAMY MUSHROOM DUMPLINGS (VEGAN & GF) FROM FROM MY BOWL
Made with only 8 ingredients, these creamy mushroom dumplings are such a healthy, satisfying, and yummy treat. The secret ingredient to achieving this multi-dimensional dumpling?
Vegan cream cheese! Other delectable ingredients include baby Bella mushrooms, green onions, minced garlic, ginger, vegetable broth, tamari, sesame seeds, and vegan wonton wrappers. Unique, yet totally delicious!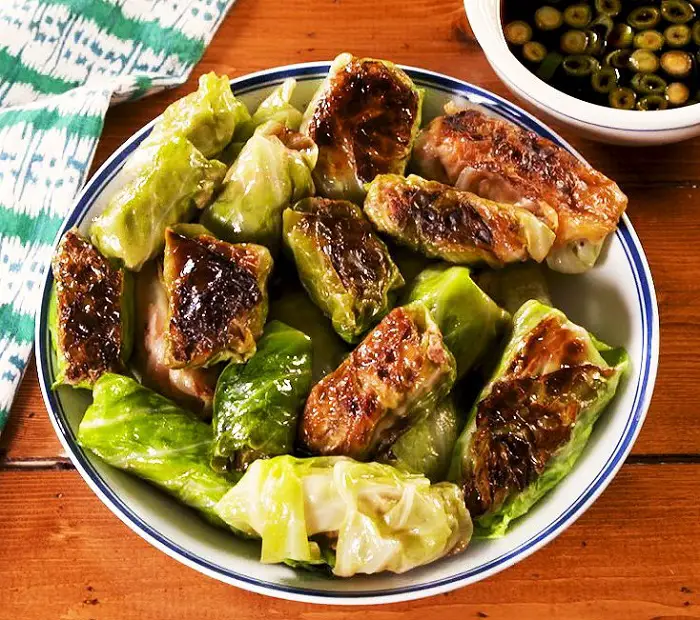 2. LOW-CARB CABBAGE DUMPLINGS FROM DELISH
These dumplings might be low in carbs, but that doesn't mean they're low in flavor!
What sets them apart from the pack is that instead of using a traditional dumpling covering, these morsels of flavor are housed within a neat parcel of cabbage. Talk about healthy!
Their filling is made from pork, green onion, garlic, ginger, cilantro, soy sauce, sesame oil, and an egg.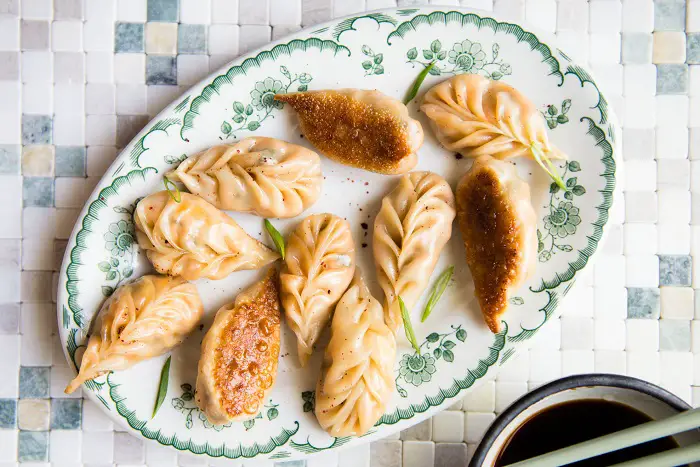 3. RED CURRY TOFU DUMPLINGS FROM HEALTHY NIBBLES
These red curry tofu dumplings are great for parties or dinner! Simply serve them with chili oil or sweet chili sauce to perfectly balance out their flavors.
They contain firm tofu, chopped shallots, minced ginger, garlic, sliced napa cabbage, finely sliced scallions, salt, red curry paste, and coconut milk. We have to mention the beautiful pleating of these dumplings too – the tutorial will show you how to achieve that!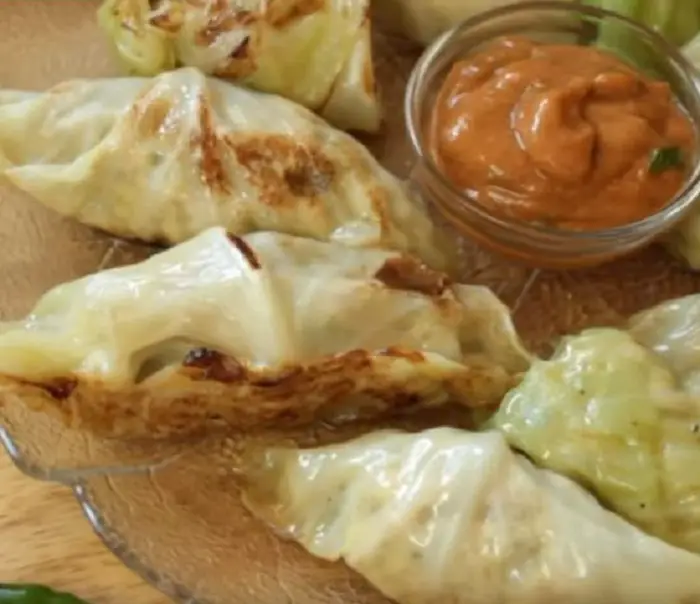 If you're on a ketogenic diet or are just looking for a healthier dumpling recipe than most out there, then these keto chicken dumplings are certainly worth a try.
They contain ingredients such as chicken mince, onion, ginger garlic paste, spring onion, fresh coriander, cabbage leaves, Schizuan pepper powder, pandan powder, cayenne pepper, and so much more. There's even a really tasty dipping sauce recipe to accompany them!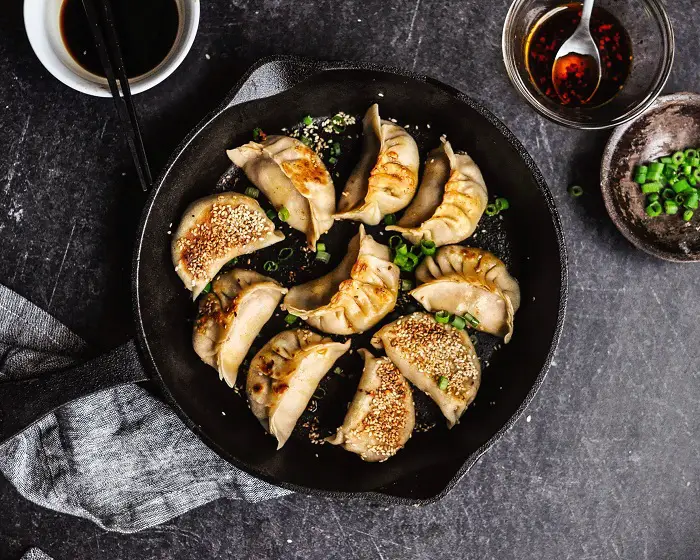 5. VEGAN MUSHROOM POTSTICKERS (PAN-FRIED DUMPLINGS) FROM HANNAH CHIA
A vegan version of the traditionally pork-filled Chinese pan-fried dumpling? Count us in! These plump, and savory potstickers are packed with healthy ingredients such as mushroom, chives, cabbage and carrots.
An optional (yet totally genius) step before frying is to dip the bottom of each dumpling in water and then in a layer of white sesame seeds to coat. This makes them crispy, toasty, and incredibly mouth-watering.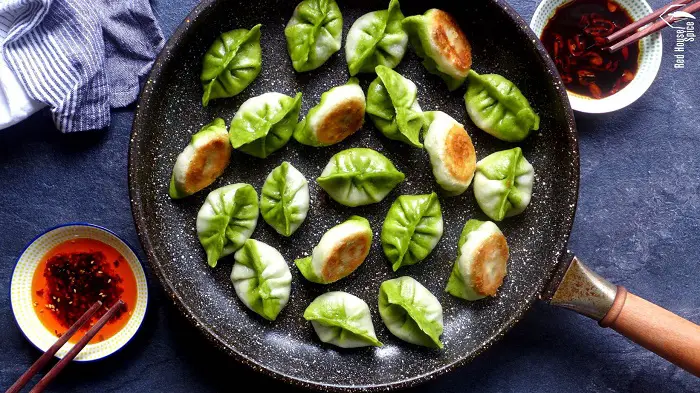 6. PAN-FRIED VEGETARIAN DUMPLINGS / POTSTICKERS FROM RED HOUSE SPICE
According to Northern Chinese tradition, dumplings are served on New Year's Eve, New Year's Day and the fifth day of the New Year.
Whether you follow tradition or like to enjoy your dumplings year-round, you're sure to fall head-over-heels in love with these colorful dumplings. Firstly, you get to learn how to make those gorgeous green-to-white dumpling wrappers – Lucky you!
The dumplings then contain ingredients such as Chinese cabbage, carrot, shiitake mushroom, dried mung bean vermicelli noodles, spring onion, minced ginger, and ground Sichuan pepper.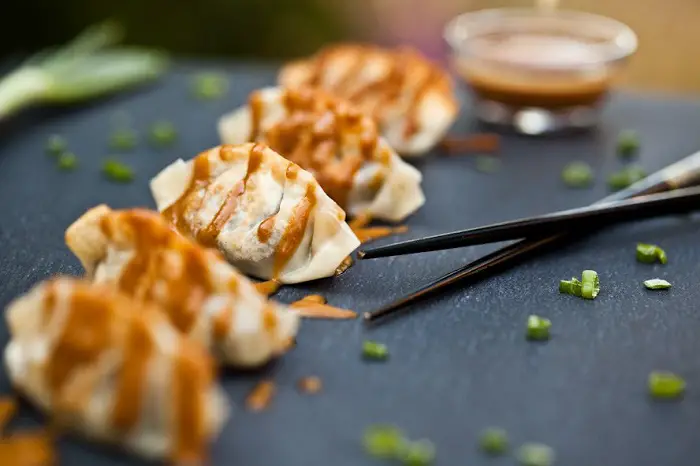 7. VEGAN DUMPLINGS WITH EASY PEANUT SAUCE FROM CARROTS AND FLOWERS
How good does this sound? "Savory, scrumptious vegan dumplings with bok choy, baked tofu, and shitake mushrooms". Our mouths are watering already!
Perhaps the best part about these healthy, vegan dumplings is that they're served with an easy peanut sauce for dipping and drizzling! Trust us, your friends and family will want the recipe for this one, so be prepared!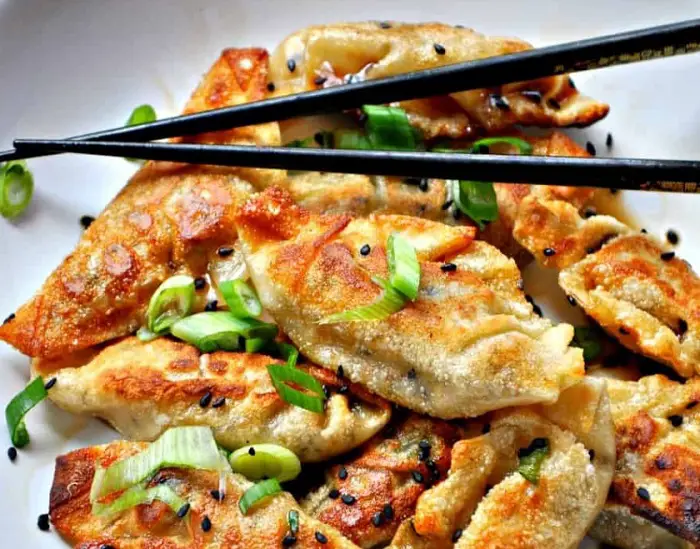 8. VEGAN SESAME TOFU DUMPLINGS FROM RABBIT AND WOLVES
If you would love nothing more than a Friday night devouring countless dumplings with your favorite people, then listen up: these vegan sesame tofu dumplings aren't just delectable, but they're also so healthy, meaning you can enjoy your meal without the guilt.
You can leave them steamed and soft or fry them up for an ultra-crispy shell – the choice is yours. Dip them into soy sauce mixed with rice wine vinegar or sweet chili sauce.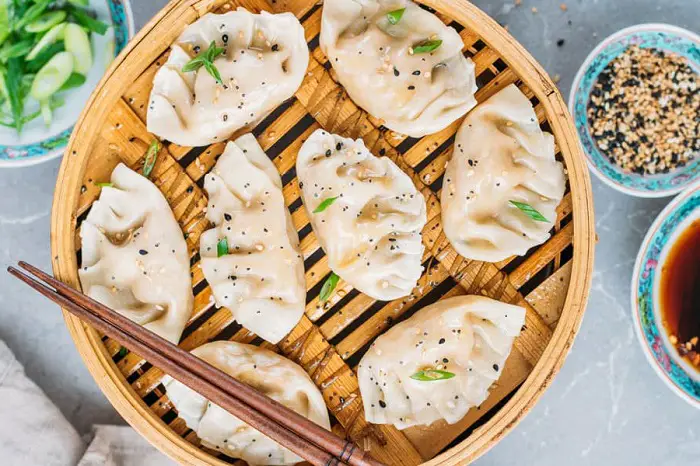 9. VEGETARIAN STEAMED DUMPLINGS FROM CHOOSING CHIA
These vegetarian steamed dumplings make for a perfect healthy appetizer, side, or even light lunch! They are loaded with healthy veggies and tofu for protein.
According to their chef, you'll never need to order restaurant dumplings ever again! To make them, you'll just need ingredients such as brick tofu, nappa cabbage, cilantro, carrots, cloves, ginger, scallions, avocado oil, sesame oil, soy sauce, crushed black pepper, and dumpling wrappers. Bon Appetit!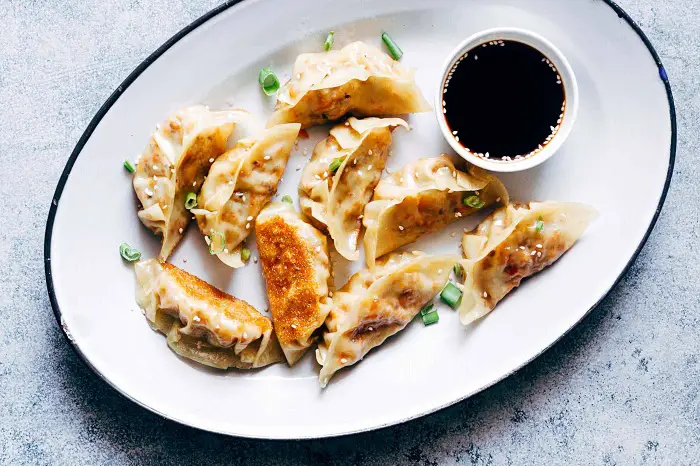 10. VEGETARIAN GYOZA POTSTICKERS WITH CARROT AND PANEER FROM MY FOOD STORY
These vegetarian gyoza potstickers are incredibly easy to make and contain a delicious mixture of carrots, dried shiitake mushrooms, sesame oil, minced ginger, minced garlic, crumbled paneer or cottage cheese, light soy sauce, salt, and ground black pepper.
Did you know that you can also freeze your uncooked dumplings to make at a later date? Make an extra-large batch and enjoy them on multiple occasions!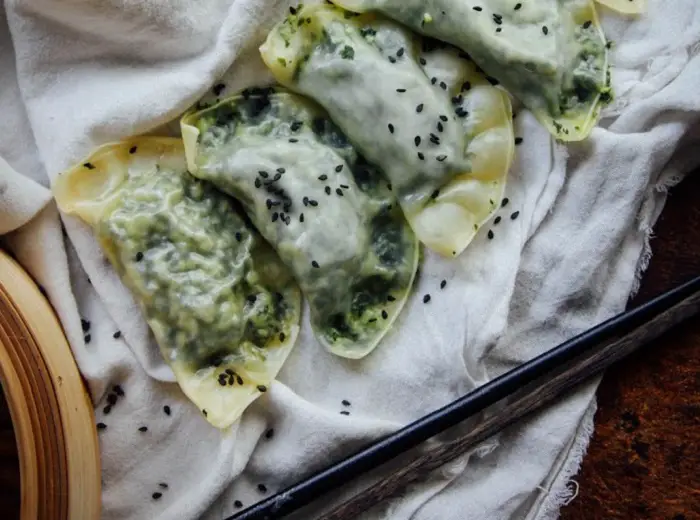 11. KALE AND EDAMAME DUMPLINGS WITH A SIMPLE DIPPING SAUCE FROM THIS RAWSOME VEGAN LIFE
Get ready for a list of mouth-watering ingredients in this dumpling recipe, including kale, edamame beans, garlic cloves, tahini, lemon juice, green onions, salt, pepper, maple syrup, and black sesame seeds (and that's just the filling!).
Besides from the incredible flavor, these dumplings contain super foods, meaning they're very kind on your health and wellbeing (and yup, your waistline too).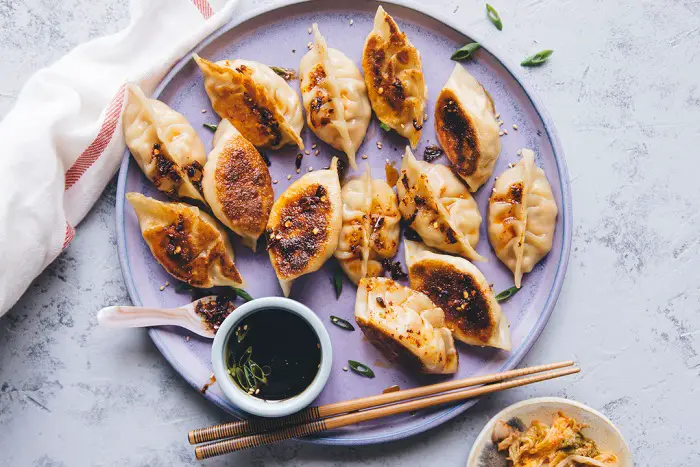 12. TOFU AND KIMCHI DUMPLINGS FROM HEALTHY NIBBLES
Speaking of extremely healthy ingredients, how does tofu and kimchi in a dumpling sound? Additional ingredients include shallots, garlic, ginger, carrot, scallions, coriander, and more.
And when it comes to a mouth-watering dipping sauce, you can enjoy a concoction of soy sauce, rice wine vinegar, scallion, minced ginger, minced garlic, and sesame oil. Sign us up!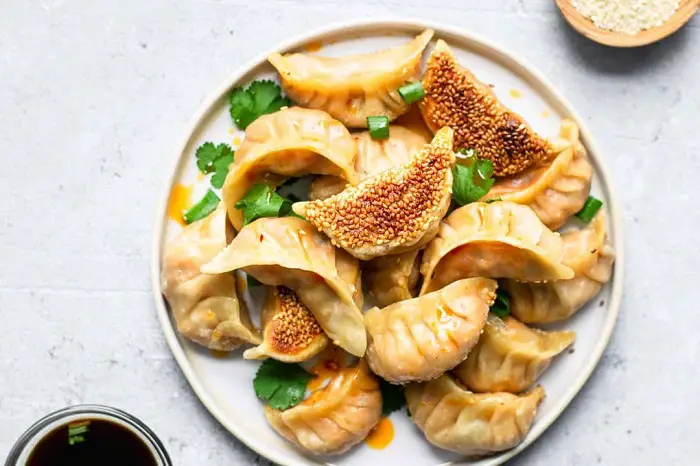 According to the chef, "these delicious gochujang tofu dumplings have a spicy Korean-inspired filling and make a great snack, appetizer, or eat more and make it a meal!
Their crispy sesame seed coated bottoms makes them extra special." We're intrigued by their ingredients list, including the goodness of firm tofu, green cabbage, green onions, garlic, cilantro, gochujang paste, hot water, toasted sesame oil, soy sauce, and sesame seeds.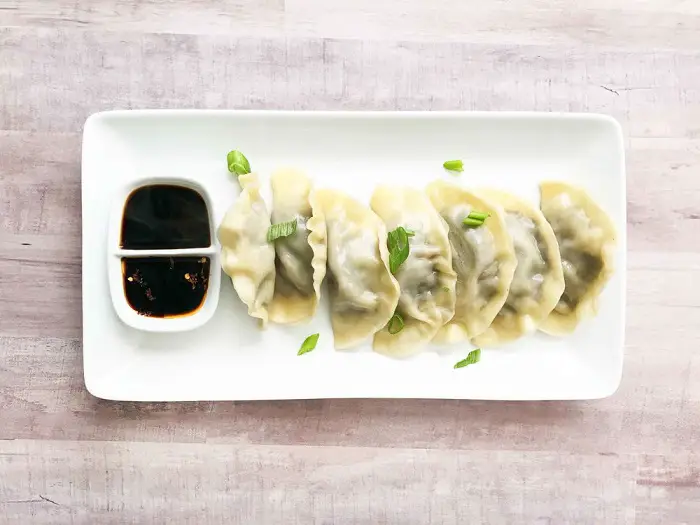 14. SPRING ONION & MUSHROOM STEAMED DUMPLINGS FROM THE SKINNY FORK
Making your dumplings into a healthier version can be as easy as swapping meat ingredients for mushrooms! These ones contain just 101 calories and 0 grams of saturated fat, making them a totally guilt-free snack or light dinner.
They contain mixed fresh mushrooms, freshly grated ginger root, spring onions, dried shiitake mushrooms, sherry cooking wine, and more.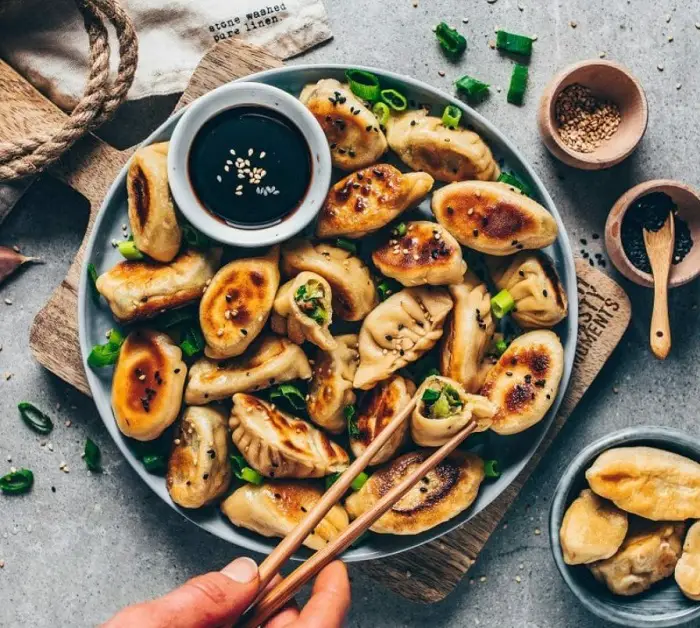 15. VEGETABLE DUMPLINGS (VEGAN GYOZA / POTSTICKERS) FROM BIANCA ZAPATKA
If these dumplings haven't got your mouth watering, then we don't know what will!
These delicious morsels are plant-based, dairy-free, egg-free, and meat-free, containing tasty ingredients such as garlic, ginger, onion, carrot, mushrooms, leek, cabbage, soy sauce, rice vinegar, salt, and pepper.
Make them for an easy mid-week dinner or a weekend celebration with friends.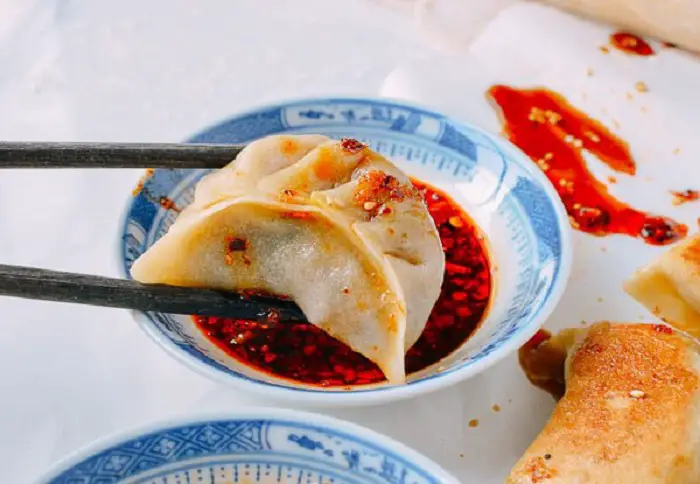 Perhaps what is most awesome about this list of healthy dumplings, is that each one is so unique – despite there being numerous vegetable dumpling recipes, no two are alike!
Take these ones, for example, which contain Chinese chives and Shaoxing wine or dry sherry, along with the usual culprits such as ginger, garlic, shiitake mushrooms, cabbage, carrots, and more. Sounds divine!
17. THE "EASIEST WAY TO MAKE HEALTHY DUMPLINGS AT HOME" FROM WELL AND GOOD
Also known as "vegan chick'n and broccoli dumplings", this recipe will teach you how to achieve healthy, low-fat dumplings – all from the comfort and convenience of your own kitchen.
To make these, you'll need dumpling wrappers, vegan chicken, broccoli, green onions, sesame oil, soy sauce, maple syrup, and ground ginger. And that's just the filling!
Enjoy these with a dipping sauce of red pepper flakes, soy sauce, maple syrup, water, and sesame oil.
Which Dumpling Recipe Will You Try?
There you have it – 17 utterly delicious yet healthy dumplings that you can enjoy for lunch, a snack, dinner – the choice is yours!
While many of these dumplings are vegetarian or vegan, others are simply low in fat or keto-friendly, meaning no one has to miss out on this crowd pleaser.
If you've never made dumplings at home before, then you're in for a treat, as it doesn't matter if you choose to make your own dumpling wrappers or purchase some from the store – it's still a very easy method to follow.
So, which healthy dumpling recipe will you be trying first? Whether you steam yours or fry them, either way your newfound dumpling recipe is sure to impress. Enjoy!
Share on Pinterest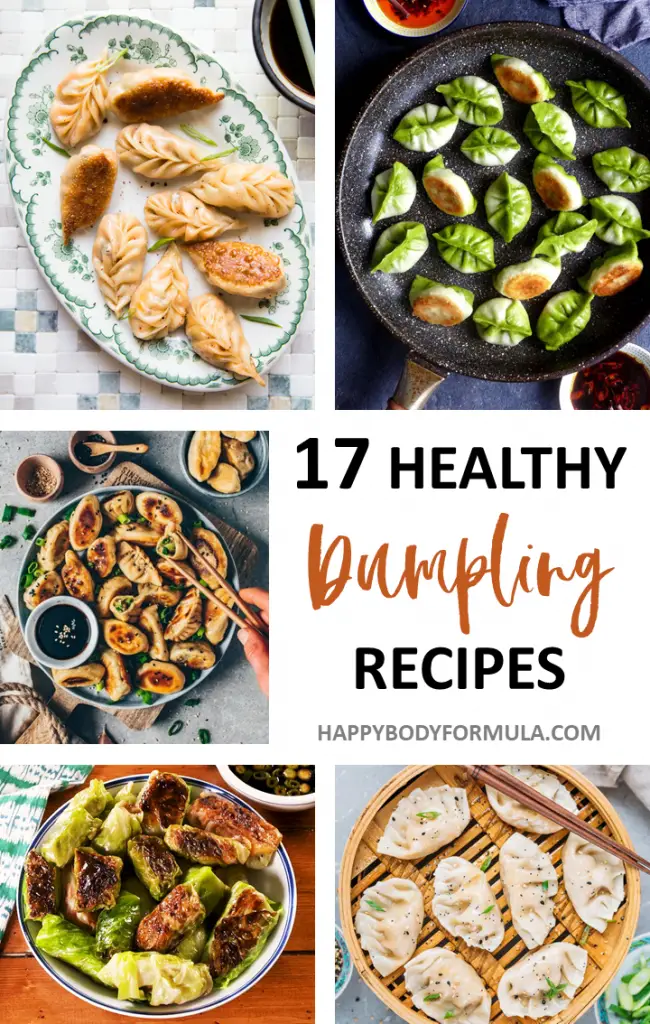 Melanie Clarke is the founder of Whim Online Magazine, an online magazine based in Australia that has a strong focus on whimsical + dreamy photography, as well as art and fashion content.