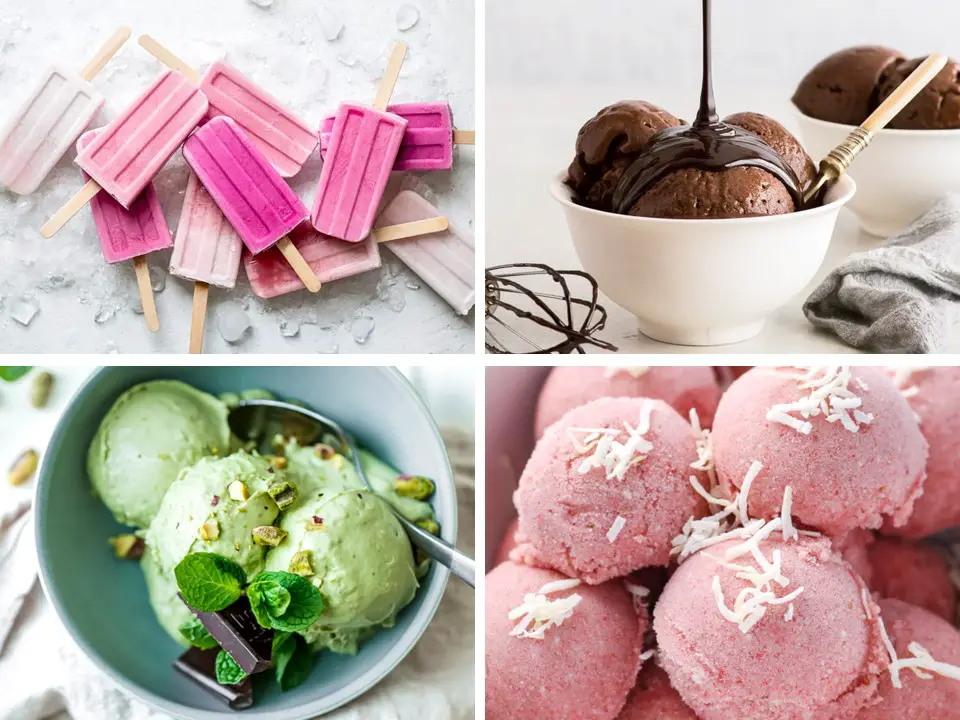 For many, ice cream is their favorite dessert, especially on those long, hot summer days. But what happens if you're embracing a dairy-free lifestyle?
Or you simply don't want to consume the unhealthy fat, sugar, and carbohydrates in such a treat? This is where healthy ice cream comes into play (or 'nice cream', as it's often referred to), allowing us all to enjoy the delicious and creamy dessert, but without damaging our waistline or health.
Healthy ice cream is built on a few trusty foundations: the humble banana, which is sliced and frozen while ripe, as well as other ingredients such as avocado and coconut cream.
These are then blended with a wide range of other nice (not naughty) ingredients to create a soft serve that will rival the best gelateria in town.
If we've got the attention of your tastebuds, then keep reading, because we've rounded up not one but 18 healthy ice cream recipes to get you started.
1. BLACK SESAME COCONUT MILK ICE CREAM FROM I HEART UMAMI
This no churn black sesame coconut milk ice cream is made with maple syrup and is both creamy and delicious.
Black sesame ice cream is a really popular dessert in Japan, Taiwan, and China, and after trying this version, you'll certainly know why! The best bit? This recipe is suitable for vegans and the Paleo diet.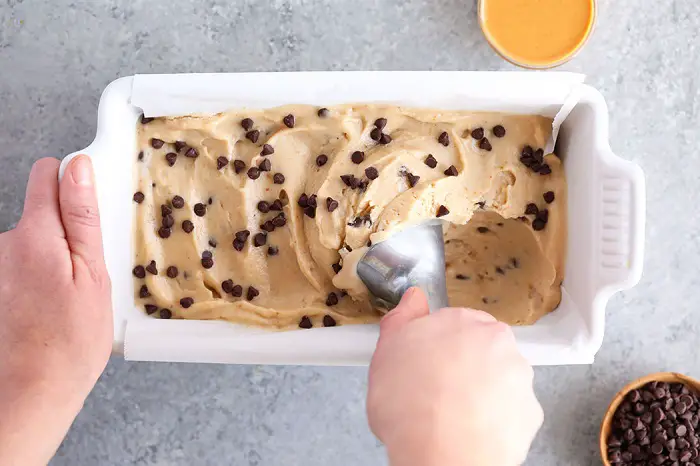 2. PEANUT BUTTER BANANA NICE CREAM FROM FIT FOODIE FINDS
With only 4 ingredients, this peanut butter banana nice cream is dairy-free, vegan and ready in under 10 minutes. Simply top with chocolate chips and serve immediately or freeze for later!
It contains beneficial ingredients such as frozen sliced bananas, natural peanut butter, unsweetened almond milk, and mini chocolate chips.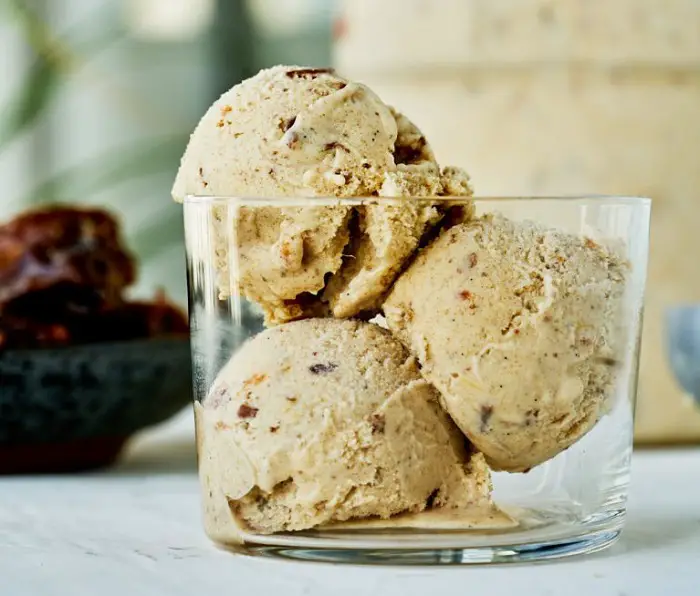 This ice cream recipe contains no added sugars – only the natural sugars found in delicious, yet healthy ingredients such as Medjool dates and vanilla bean.
Other tasty ingredients include egg yolks, whole milk, cream, and pistachios for topping. Simply switch the whole milk and cream for plant-based varieties to make this even healthier!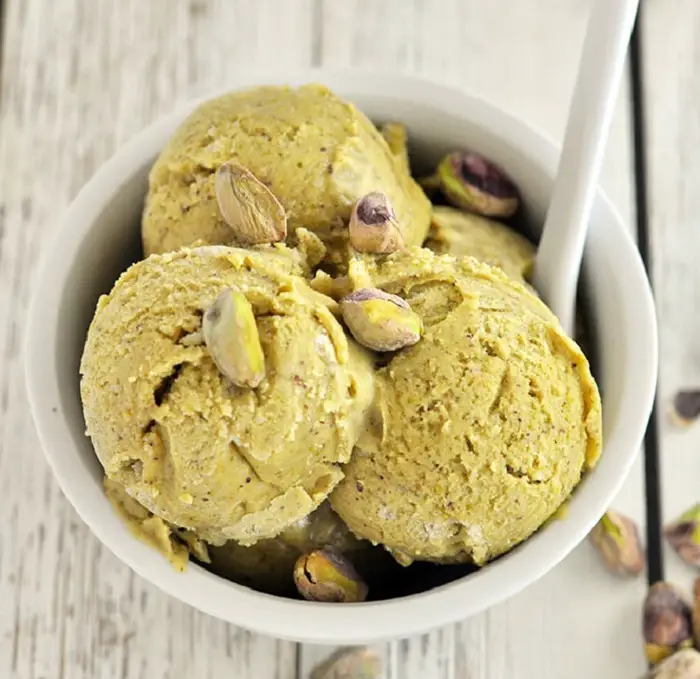 4. TWO INGREDIENT PISTACHIO ICE CREAM FROM MY WHOLE FOOD LIFE
This healthy recipe is vegan, gluten free, paleo, and contains no added sugar. Can it get better than that? To make this delectable pistachio ice cream, you just need frozen bananas and pistachio butter.
Simply blend it all together in a food processor, then place the mixture into the freezer for 30 minutes before serving.
This peanut butter nicecream uses a very simple recipe to create the mixture, then inspires you to decorate your nicecream with other delicious, yet healthy options, such as cacao nibs, almonds, rawnola, walnuts, raw chocolate pieces, or extra (all-natural) peanut butter.
We love the end result: a nice cream that looks decadent and rich, but without unnecessary carbs or sugar.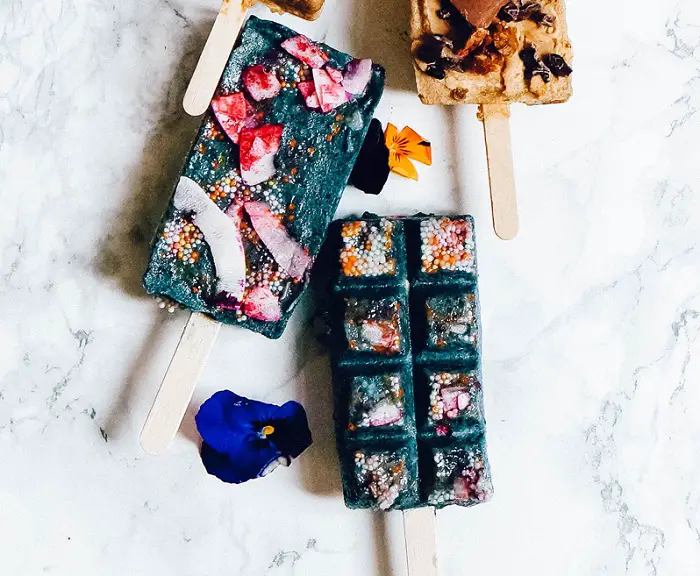 Oh my, these spirulina popsicles look like edible works of art! We all know the numerous health benefits of spirulina, so to put the superfood in an ice cream is an absolutely genius idea.
This recipe uses ingredients such as almond milk, pitted dates, ground vanilla, cashew butter, and a pinch of salt. Then, just decorate your popsicles with coconut flakes, edible petals, goji berries, or whatever takes your fancy!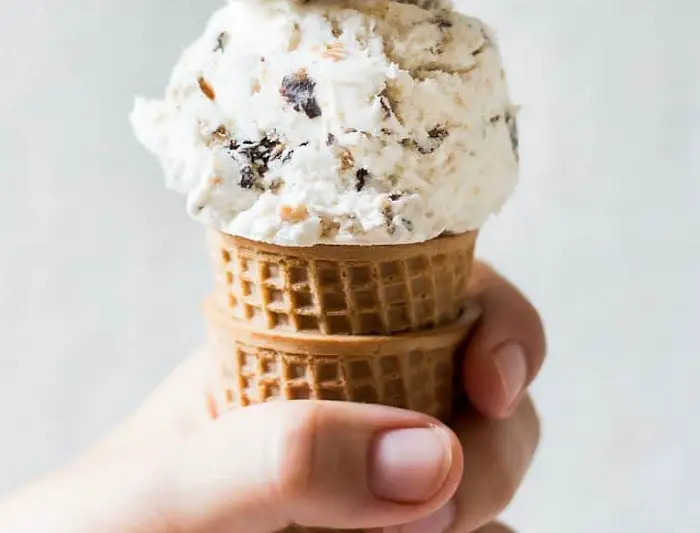 7. CHOCOLATE PEANUT BUTTER ICE CREAM FROM LEELALICIOUS
This decadent chocolate peanut butter ice cream combines peanut butter with dark chocolate, along with a luscious coconut milk ice cream base.
It's dairy free, vegan and with a different nut butter it can also be made paleo friendly. This one uses an ice cream churner, but the end result is totally worth the extra time, effort, and equipment!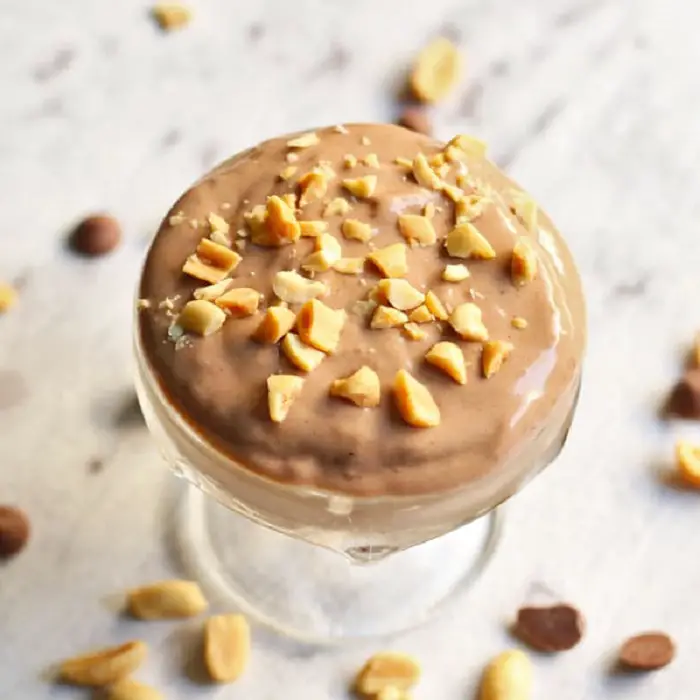 8. FOUR INGREDIENT SNICKERS NICE CREAM FROM COOK IT REAL GOOD
This deliciously healthy four-ingredient Snickers nice cream is made with just frozen bananas, peanut butter, almond milk and cocoa powder.
It's also vegan, dairy free and refined sugar free, meaning that no one has to miss out on the fun! Top with crushed peanuts, banana slices, and chocolate chips and you've got yourself a winner.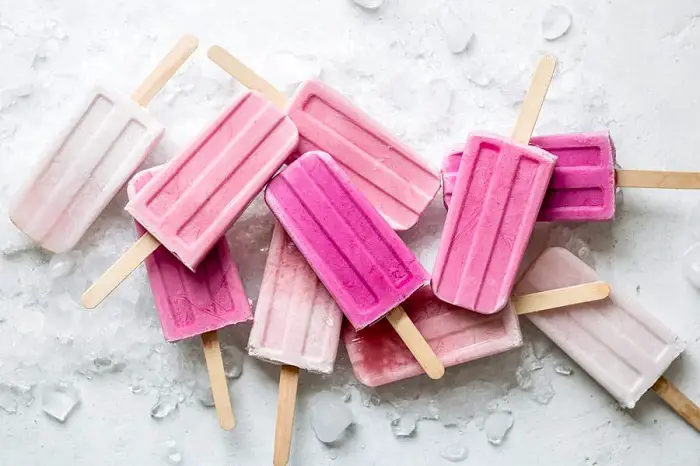 9. RASPBERRY COCONUT CREAMSICLES FROM CHOOSING CHIA
These raspberry coconut creamsicles are a dreamy treat that are vegan, gluten-free and refined-sugar-free! You can also make these pops with an ombre effect for an impressive and fun treat.
They take just 10 minutes to prep and use a handful of simple ingredients, including coconut milk, unsweetened coconut yoghurt, vanilla extract, maple syrup, raspberries, and freeze-dried dragonfruit powder (although this last one is optional).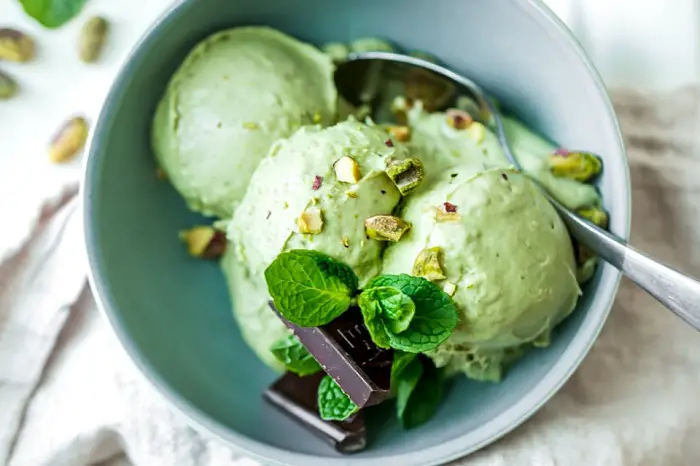 This avocado ice cream is a very easy and healthy homemade ice cream that's vegan, paleo-friendly and of course, deliciously tasty. You'll find it to be creamy, smooth and ultra-rich, but the best part?
You don't need an ice cream maker! All you need is a blender and ingredients including avocados, coconut milk, banana, maple syrup, lemon juice, and mint leaves.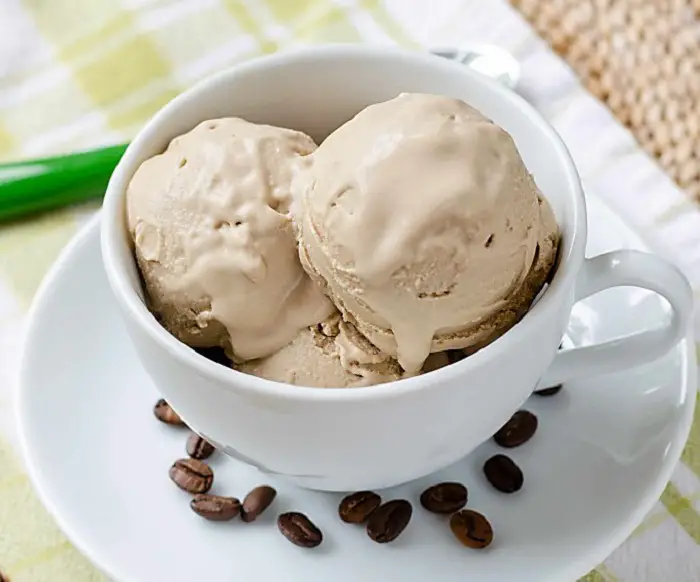 Here's an easy dairy-free ice cream recipe with that classic coffee flavor. It contains just 5 ingredients and is vegan, paleo, gluten-free, and refined sugar-free.
This nice cream uses a base of coconut milk and cashews for a creamy texture, as well as other ingredients such as cold brew coffee concentrate, maple syrup, vanilla extract, and instant espresso powder to taste (optional). Sounds divine!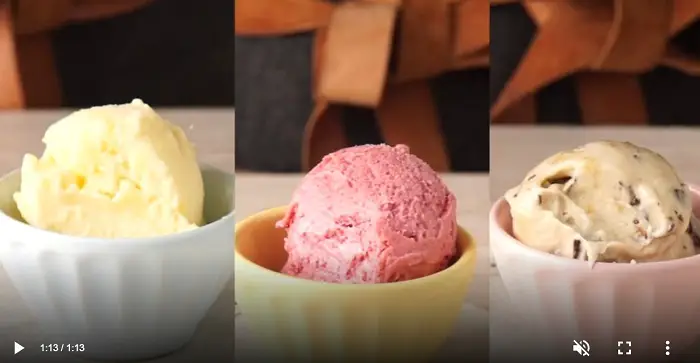 12. THREE FRUIT ICE CREAMS FROM TASTEMADE
In this tutorial, you'll find not one, but three different recipes for a fruity, healthy ice cream. There's banana and chocolate (our favorite), strawberry, or pineapple and coconut. Yum!
Each recipe only uses two ingredients as well, making them the simplest nice cream recipes among this list. Choose your favorite flavor to create, or why not make all three for when guests come over? They're certainly easy enough!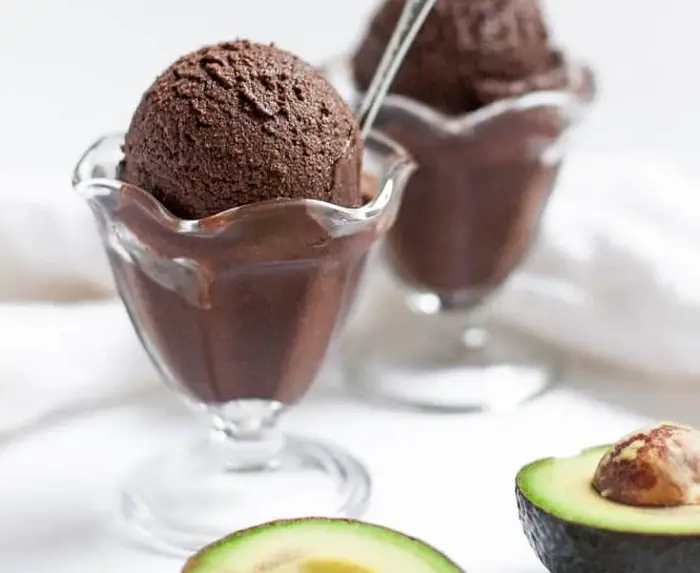 13. DARK CHOCOLATE AVOCADO ICE CREAM FROM WHOLE NEW MOM
If you're a chocolate lover, you're going to LOVE this chocolate avocado ice cream recipe. It's super creamy, incredibly rich, and we think you'll agree once you try it – much tastier than store bought vegan ice cream.
It uses three whole avocados, as well as other ingredients such as cocoa (which you can substitute for cacao), organic MCT oil, and more.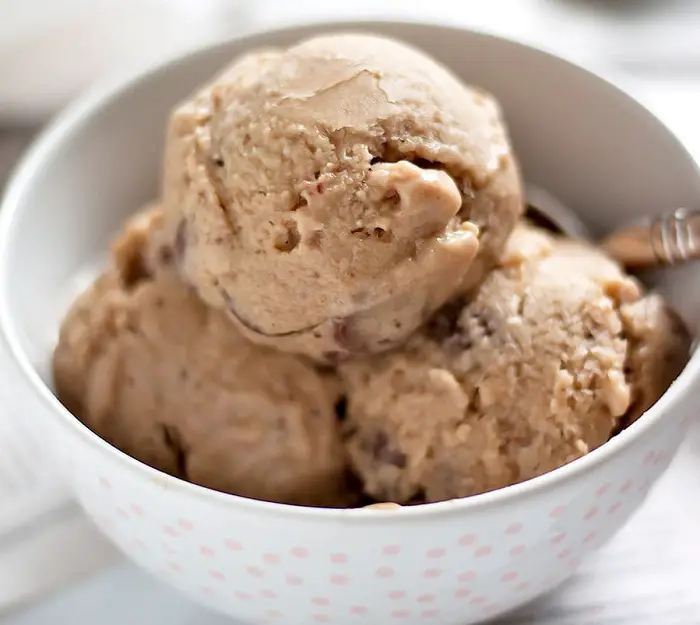 14. TWO-INGREDIENT BANANA ALMOND BUTTER ICE CREAM FROM A SASSY SPOON
If you're craving some homemade, healthy ice cream, but don't want to make a trip to the shops for ingredients, then you're in luck.
This banana and almond butter ice cream uses just two ingredients and we're sure you can already guess what they are!
It's a great way to use ripe bananas, plus the mixture doesn't need churning. Simply blend, then freeze. You can even add in optional extras such as cacao nibs or any nuts.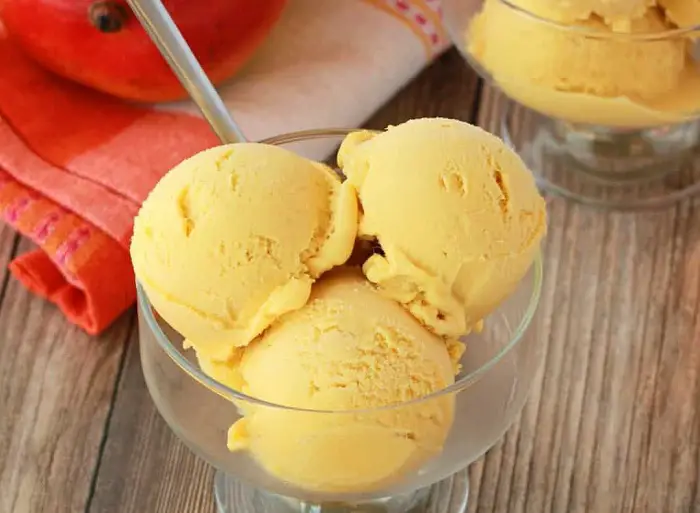 15. VEGAN MANGO ICE CREAM FROM LOVING IT VEGAN
This easy, 5-ingredient recipe is perfectly sweet, contains a gorgeous color, and has all the mango flavor you could dream of.
It uses ingredients such as coconut cream, coconut milk, white sugar (which you can substitute for Stevia, or something similar), maple syrup, and of course, fresh, pureed mango. It's a wonderful vegan ice cream that you and your family are sure to love!
16. PEANUT BUTTER BANANA ICE CREAM FROM THE ENDLESS MEAL
This peanut butter banana ice cream is one of the best healthy, dairy-free ice creams around. It's made with only 3 ingredients, all of which you probably have in your kitchen right now!
You simply combine frozen bananas with all-natural peanut butter, and dark chocolate chips or shavings (although this is optional). Then, just blend together, freeze, and serve. So easy!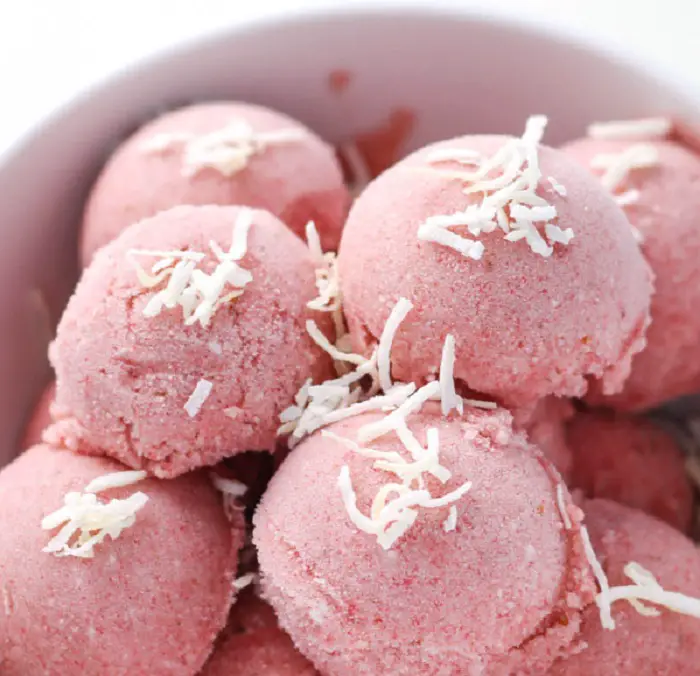 17. HEALTHY COCONUT STRAWBERRY BANANA ICE CREAM FROM TASTEFUL ADVENTURE
This recipe is so easy to make using frozen strawberries, bananas, and some coconut milk powder to keep it dairy free.
Once your food processor has mixed everything up, it will have the consistency of soft serve ice cream, but if you want it to be a little firmer, just pop the mixture in the freezer for around an hour. Then, top with coconut flakes, berries, cacao nibs, or whatever takes your fancy!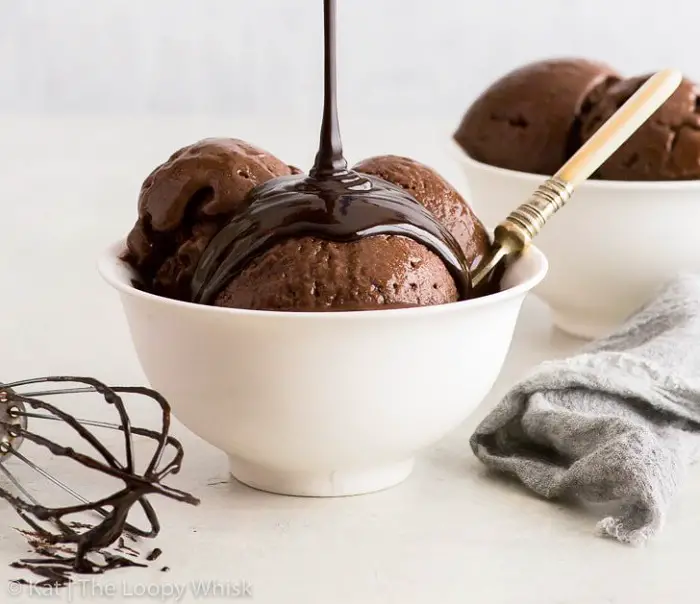 18. FOUR-INGREDIENT HEALTHY CHOCOLATE ICE CREAM WITH SAUCE FROM THE LOOPY WHISK
With a rich and luxurious healthy chocolate sauce, this vegan and paleo ice cream recipe is every chocolate lover's dream. The chocolate "nice cream" contains delicious (and beneficial) ingredients such as coconut cream, maple syrup (or honey), cocoa powder, and frozen bananas.
The velvety sauce can also be deemed healthy, containing the goodness of melted coconut oil, maple syrup or honey, and cocoa powder. Divine!
There you have it – 18 healthy ice cream recipes that are totally guilt-free! Just looking at these delectable and mouth-watering desserts, you'd be forgiven for thinking they're packed full of sugar, fat, and other nasties that usually accompany sweet treats.
Instead, you can take comfort in the fact that many use healthier, more beneficial bases of banana, coconut, or other fruits.
It doesn't matter if you're vegan, dairy-free, Paleo, or more – now you can make your own ice ream and eat it too!
From the decadently chocolate, to wonderfully fruity, or deliciously weird (black sesame ice cream, we're looking at you), there's a "nice cream" for absolutely everyone on this list.
Which healthy ice cream recipe will you be making? We'd love to hear from you in the Comments section below!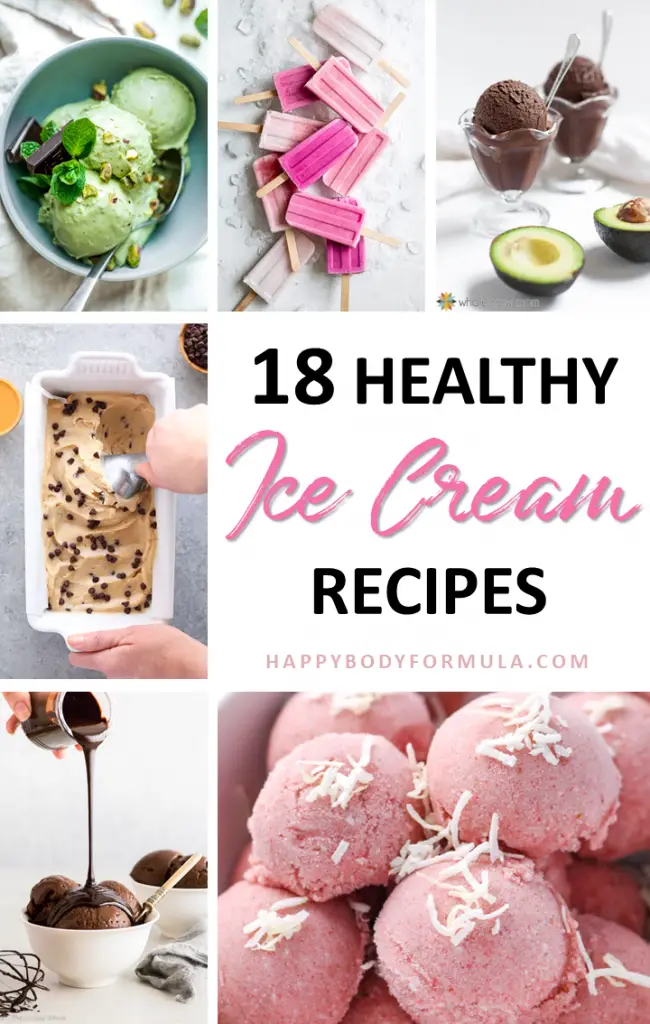 Melanie Clarke is the founder of Whim Online Magazine, an online magazine based in Australia that has a strong focus on whimsical + dreamy photography, as well as art and fashion content.