Fact checked by Aimee McNew for Accuracy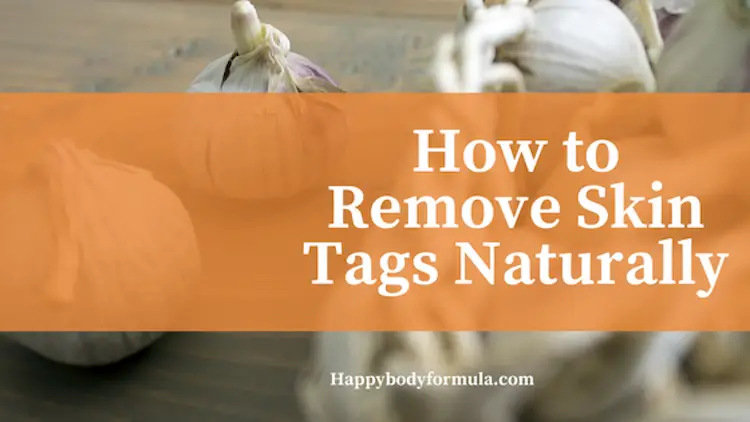 Skin tags are annoying but benign growths that occur on the surface of the skin, typically in middle age and older.
While they aren't harmful, many people are self-conscious about their presence, and desire to have them removed.
So what causes them?
Can you reduce the occurrence of skin tags?
And can you remove them yourself?
What Are Skin Tags?
Skin tags are benign growths on the skin that are similar to raised moles, but are in a category of their own. They are medically known as acrochordon or fibroepithelial polyps, and are are not cancerous because they are made of normal fat and skin tissue. They are often the same color of skin or a little darker.
Skin tags typically occur in areas that get rubbed a lot or have high amounts of friction. As a result, they can get irritated and become inflamed or bleed, making them a mildly painful irritation that most people want to be rid of.
They commonly appear in areas like the neck, under the arms, around the breasts, and on the thighs. More rarely, they can occur around the eyelids, on the torso, or in the groin.
If you're uncertain as to whether something is a skin tag or not, it's best to get it evaluated by a dermatologist, because while skin tags aren't harmful, other skin conditions and changes can be indicative of more malignant growths.
What Causes Skin Tags?
Skin tags can happen to anyone, and while they may run in families, people can develop them without any family history of them. If someone's parents has them, then they're more likely to develop them, too.
Genetics aren't the only factor that can cause them. Hormone changes during pregnancy can lead to their development, sometimes rapidly.
Additionally, the natural weight gain that occurs during pregnancy as well as the potential for gestational diabetes or blood glucose imbalances can increase the chances of development.
Obesity is another common factor that can lead to skin tag development, typically because of increased friction from skin to skin contact.
Diabetes is associated with skin tags, too, although the link isn't completely understood. Doctors and research guess that insulin resistance and changes in how hormones function in diabetic people can have a hand in the development of skin tags and other skin changes, such as with pigmentation.
Can You Prevent Skin Tags?
While you can't alter your genetics, you can control some of the other factors that can lead to skin tags. Reducing skin friction, like not wearing jewelry or clothing that leads to rubbing, can cut down on the likelihood.
Maintaining a healthy blood glucose level and properly managing diabetes can also reduce the chances of developing them, or developing more.
How Dermatologists Handle Skin Tags
Dermatologists remove skin tags frequently, and will typically freeze small ones with liquid nitrogen, which causes them to fall off on their own within a day or two. If the skin tags are larger, dermatologists will typically numb the area and remove them by snipping them with surgical scissors.
Both remedies can cause momentary pain and a scab or irritated area for a few days. In some clinics, laser treatments will be used to remove small to medium sized skin tags, often with a topical anesthesia.
While dermatologists can easily remedy skin tags, many insurance companies won't pay for their removal because they are benign and are more of a cosmetic procedure.
If paying out of pocket, it can cost anywhere from $100 to $500 or more per tag removal, depending on the location and size.
Can Skin Tags Grow Back?
People often wonder if a removed skin tag can grow back, similar to warts. Once a tag has been removed, the same one won't grow back, but more can grow in the same area if the factors for development are there, such as genetics, friction, diabetes, or pregnancy.
How to Remove Skin Tags Naturally
While there are safe ways to remove skin tags, be mindful that not everything on the internet is safe. Some sites will recommend tying the tag off with floss or cutting with scissors, using nail polish remover or duct tape.
These are unsafe ideas that should not be done because they can lead to infection. Additionally, it's always best to remember that if a skin tag at any time looks inflamed or irritated, or becomes very painful, it's time to get a dermatologist involved.
The location of the skin tag also determines if you should attempt home removal or not. Skin tags around the eyes, in the groin, or around the breasts should never be self-removed, and should always be addressed by a dermatologist.
Skin tags that are the best candidates for natural removal are the armpits, neck, and thighs.
Finally, before you attempt to remove a skin tag, be absolutely certain that's what it is. Trying to remove a mole or other skin lesion can be dangerous and should not be done.
Natural methods for removing skin tags are not fast, and are not backed by solid research. It's an experiment that doesn't have guaranteed results, so you should be sure that you understand what you're getting into.
If any methods cause irritation, pain, or redness, they should be discontinued immediately.
10 Ways to Naturally Remove Skin Tags
These at-home methods might work to remove skin tags when used consistently for days or weeks. For all of them, be sure to wash the affected area with basic soap and water before applying any natural treatments.
1. Tea Tree Oil
This common essential oil is safe for use on the skin, although direct contact without a carrier oil can cause skin irritation for some. If that's the case, pair it with some coconut oil to dilute the strength of skin exposure.
Tea tree oil is considered effective for skin conditions like warts or skin tags because it dries out the skin underneath the tag and may encourage it to fall off naturally. Never pull at a skin tag for any reason.
To use tea tree oil, put 5-7 drops on an organic sterile cotton ball or q-tip and place on the skin for 15 minutes, three to four times per day.
2. Garlic
While most would consider garlic a tasty seasoning for food, it can actually be beneficial as a topical treatment for certain skin ailments thanks to its antiviral and antibacterial nature.
This remedy has been used for hundreds and even thousands of years. Crush a fresh garlic clove and apply a small amount to the skin, securing with a bandage. This must be repeated two to three times daily, or worn overnight, for several weeks.
3. Vitamin E Oil
A common skin treatment for eczema, vitamin E oil can also be used for skin tags, although this method might be one of the slowest. However, it's possibly the best one for sensitive skin, as it is highly moisturizing.
To use it as a skin tag removal treatment, apply vitamin E oil to the skin tag and cover with a small square of plastic wrap, securing with a bandage. This remedy will typically take two or more months.
Be mindful to note how the skin is after using plastic, since cutting off the air supply can cause irritation. If the skin appears to be inflamed or red, discontinue use and see a dermatologist.
4. Apple Cider Vinegar
The darling of the natural health world, ACV with "the mother" is used for numerous skin and body conditions because it can help create a balanced pH, kill bacteria, or reduce the presence of fungi.
It is often used for skin conditions like warts, acne, fungus, and even skin tags. To use this method, soak an organic cotton ball in apple cider vinegar and apply to the area for 20-3o minutes a few times a day.
If the skin gets irritated, discontinue. If no irritation is present, compresses may be worn overnight. This should be done for a few days to a few weeks, or until the skin tag falls off.
5. Dandelion Juice
Dandelions might be a pesky weed to some, but they're actually a nutrient-dense food that can be added to salads. To use for topical skin care, pull the whole weed from the ground, and squeeze the stem to extract some of the milky white liquid.
Apply a few of these drops to the skin and allow to air dry. Do this three times per day for four to six weeks to achieve desired results. If allergic to pollen or other flowers, do not use this method.
6. Coconut Oil
This popular remedy for just about everything can also be used to deal with skin tags. The lauric acid in coconut oil is antibacterial, antiviral, and anti-fungal. Coconut oil can be used to remove warts, and works similarly on skin tags.
It should be applied three to four times daily and left uncovered. While it may not fully remove the skin tags, it might help to shrink them or make them less prone to irritation. Some notice results in as quickly as two weeks.
7. Banana Peel
Apply a banana peel to the skin tag area and secure with a bandage. Repeat nightly until the tag dries and falls off. Keep in mind, this remedy is not safe for anyone with a latex allergy or sensitivity, and if any irritation is noticed, it should not be used again.
8. Papaya Peel
Similar to banana peel, papaya peel can be used in the same way. Apply a small portion of peel to the tag, secure with a bandage, and wear for a few hours or overnight. Do not use if sensitive to latex.
This method can take several weeks or even months to work naturally.
9. Oil of Oregano
This potently antiviral and antibacterial oil is so strong that it must be mixed with a carrier oil before using. Coconut oil is an excellent option.
Put the mixture onto the affected area and allow to air dry, repeating two to three times a day. Be sure that skin is not broken or irritated before applying this remedy.
10. Castor Oil and Baking Soda
Don't use this method if you have sensitive skin, since baking soda can cause redness or itching. Create a paste using two parts oil and one part soda, rubbing over the tag.
Cover with a cotton bandage and leave on overnight. Repeat until the skin tag falls off on its own. You can also pair this with the banana or papaya peel methods.
This article was fact checked for accuracy by Aimee McNew, MNT, a certified nutritionist. As always, this is not personal medical advice and we recommend that you talk with your doctor.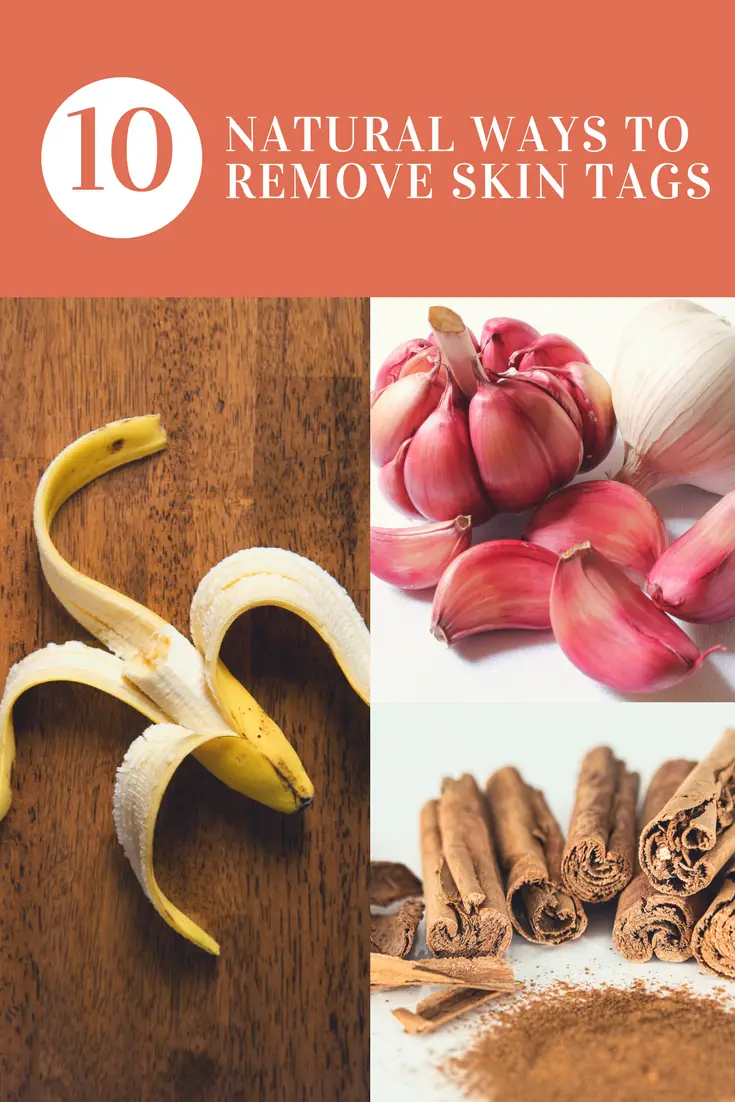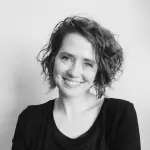 Aimee McNew, MNT, CNTP, is a certified nutritionist who specializes in women's health, thyroid problems, infertility, and digestive wellness. She ate her way back to health using a Paleo diet, lost 80 pounds, and had a healthy baby after numerous miscarriages. She focuses on simple nutrition practices that promote long-lasting results.