It likely comes as no surprise that bananas are a healthy food. Who doesn't love bananas?
They're practically nature's candy. A good ripe banana is naturally sweet, the texture is fantastic, and they're cheap to boot. They come in a naturally protective shell making them a portable food whether you're on the road or on the trail.
Kids love them and adults do, too. They're a wonderful source of complex carbohydrates for quick energy when you need it the most. Again… what's not to love?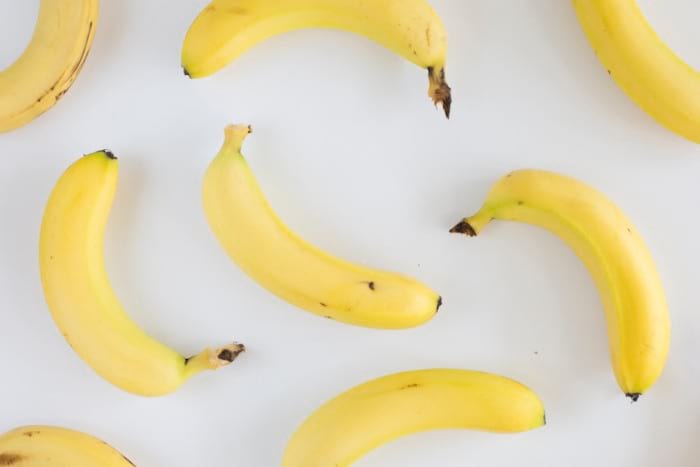 Today, we're going to let you in on all the beauty that bountiful bananas hold. Yes, we know they're a great source of potassium, but their benefits stretch far beyond that.
Bananas are a convenient and delicious food for so many reasons, and we want to share that knowledge with you. Better yet, we're sharing some of our favorite, most mouthwatering healthy banana recipes ever!
Bananas contain a ton of potassium.
This is perhaps what banana is most notorious for. Everyone knows that behind the peel is a pot full of potassium, right?
Well, like I mentioned above, potassium and magnesium work together to maintain an important balance, particularly in blood pressure and cardiovascular health.
In fact, according to this research, a diet rich with potassium can decrease risk of stroke substantially. Additional research links potassium intake to lower risk of all cardiovascular disease.
It also works to relax the muscles, relieve minor anxiety, and keep the brain healthy. It can relieve cramping as well, making bananas a good snack choice for PMS symptoms.
Oh, and potassium promotes great kidney health. It's clear why we LOVE bananas as an awesome source of the stuff.
Bananas are a great source of magnesium.
Magnesium is an essential mineral, and many people are actually deficient in it. Food sources are the best way to ensure you're getting enough magnesium.
It's a powerful mineral for a few reasons. It's a natural muscle relaxer which makes bananas a solid choice to avoid DOMS after a tough strength training workout. It's also a healthy way to relax before bed and get better rest because it soothes anxiety.
Finally, it helps to balance out potassium, sodium, and calcium levels, a.k.a. your electrolyte balance. This further develops the banana's case as a food for stable energy when you need it the most!
Bananas contain a unique fibre complex.
Particularly, green bananas contain something called resistant starch. Resistant starch is linked to promising health finds because of its unique properties.
This fermented fibre doesn't get digested, instead converting to food (prebiotics) for our gut. Prebiotics essentially feed probiotics, and green banana or green banana flour is one of the most potent sources of resistant starch out there.
Bananas are great for keeping things regular.
Bananas are one of the best foods for healthy digestion. Pectin – a type of fibre found in bananas – aids digestion while that prebiotic fibre produces digestive enzymes which help to absorb the rest of the nutrients in your gut.
The fibre alone can work as a gentle laxative, while the electrolytes can help keep fluids in check, even if you're losing fluids a little too fast. Overall, your gut just LOVES banana.
Bananas are great for regulating blood sugar.
How many sweet foods can say that? If you're craving sugar, grabbing a ripe banana is the way to go if you're worried about the dreadful blood sugar spike and drop you get with candy.
While ripeness can change the glycemic index of bananas and we recommend a partially ripe or "just ripe" banana for the best blood sugar regulation, an unripe banana will only jump about 30 points on the scale to ripe, ranging from 30 (unripe) to 60 (ripe).
No – it's not a great choice for a diabetic, but it is a good choice for an otherwise health individual. The fibre helps slow down the sugar release into the bloodstream, offering up more sustainable energy than other sources of refined carbs.
Bananas are a great choice for weight loss.
This fruit has a few things going for it in terms of being a "diet-friendly" food. First, it's helpful to curb your sweet tooth the all-natural way.
It's a relatively low-calorie food with plenty of sweetness to fulfill your cravings without reaching for processed, calorie-dense foods that are sure to break the bank.
Second, it's got fibre that will help fill you up. Finally, if bananas help to keep blood sugar regular, you can expect less cravings for sugary foods overall.
Bananas are an antioxidant-rich food.
Antioxidants are compounds found in many fruits, veggies, and super foods that manage and prevent oxidative stress in the body and reduce free radical damage.
This is why antioxidants are technically anti-cancer as that free radical damage can encourage cancer cell growth amongst other disease-causing factors and negative side effects.
After all, disease begins in the cell! Antioxidant-rich foods like banana are great for mood management, mitochondrial health, and longevity.
Bananas are the ultimate pre-workout and post-workout food.
They're lightweight, portable, tasty, and easy to eat on their own. They also provide sustainable energy while giving you a nice boost via carbs that your body will love as a pre-workout snack – cardio, resistance, yoga, or a hike.
Moreover, because they have some anti-cramping properties and the ability to relax the muscles, you can munch on the other half after your workout to chill out, prevent pain, and replenish those now depleted glycogen stores with healthy carbs.
Bananas are an incredibly convenient food.
They're cheap to buy, often the most inexpensive produce at the store – even the organic variety! They're easy to take on the go because they're already "packaged" for you in their sturdy peel.
They are great to use in recipes (as demonstrated below), but they're tasty on their own. Basically, they're the most convenient food out there, and nearly everyone can reap the bountiful benefits of banana.
Banana recipes we love
Bananas are most commonly used as a snack, but they're a quite versatile ingredient with so much satisfying potential! We all occasionally come down with an unrelenting sweet tooth.
Bananas make a beautiful beginning for a healthy, low-glycemic, healthful indulgence whether you like smoothies or a good old-fashioned slice of banana bread… and don't forget the butter.
We're practically obligated to kick things off with a gorgeous slice of banana bread. This is the perfect recipe for using that bunch that's getting ripe faster than you expected.
With natural sweetness from the fruit, you don't need any other sweetener making this a low-sugar choice. It's grain-free, cooked to perfection with the moist and fluffy texture you're used to.
Spread some almond butter on each slice or a spoon of melted butter for the best results.
The best part of waking up is a fluffy, maple-syrup soaked, crispy-edged waffle on your plate. These grain-free waffles are protein-rich, low-sugar, naturally sweetened with mashed banana, and foolproof meaning you can trick your kids into eating the "healthy" waffles.
Shh… they'll never know it's gluten-free! Top with fresh berries and a dollop of coconut cream.
Anyone who knows anything knows that chocolate and banana are the best combination (besides maybe either/or with peanut butter, but I digress). These muffins combine the two without refined sugars, grains, or any other nasties – just real food!
Look at how fluffy and rich these look. If decadent is the name of your game, break out the muffin tin and whip up a batch of these.
Banana ice cream – sometimes called "nice cream" – is an easy one-ingredient recipe for healthy, paleo-friendly soft-serve at home. Yes – it's true!!
Simply freeze bananas and give them a run for their money in your Vitamix for a creamy, ice cream-like treat when you're craving something cool. This recipe features ten flavor variations so you can soothe any of your cravings from fruity sorbet to peanut butter chocolate swirl.
Some of us just don't have the time to be baking. Some of us just don't have the self control to be keeping tempting, full loaves of banana bread hanging around the house (guilty!).
This mug cake recipe makes it easy to create a single-serving banana bread in your microwave. Does it get any more convenient? There are two variations here, but both are totally healthy and totally Happy Body-approved.
This recipe is obsession-worthy. If you like Reese's chocolate cups but have an affinity for bananas and chocolate with peanut butter or your nut butter of choice (because there's no such thing as too much here), this recipe is for you.
It hits the candy craving by combining favorite flavors and textures for a few bites of heavenly bliss in every piece. These will be a hit with the kids, too.
Sometimes, it's not just all about dessert. How about post-workout? A little protein is necessary. Sometimes, gnawing on a chicken breast or some sort of processed protein bar doesn't seem appealing though, and we can't blame you.
These banana-infused muffins contain a healthy dose of Vital Proteins Whey formula for a healthy, grass-fed protein source to fuel you and keep you satiated.
We featured banana waffles, but what about banana pancakes? This classic dish takes on new life with the addition of matcha and collagen.
A boost of green caffeine plus gut-friendly, hair and skin-loving collagen will have you feeling vibrant and healthy all day. This stack of flapjacks is brunch-worthy, so make sure to bookmark the recipe for the weekend!
10. Acai bowls from Hurry the Food Up
This recipe features eight different variations of the acai bowl. These tropical bowls begin with a base of frozen acai packets – a potent super food berry with loads of nutrition and a beautiful purple color – plus frozen banana for a creamy, thick, and sweet base.
Then, you add in whatever else you like and lay the toppings on thick. I love shredded coconut, sprouted seeds and grains for some crunch, and fresh berries.
Let us know in the comments what your favorite way to enjoy bananas is! We hope you learnt something new today and feel inspired to use this amazing fruit in new and exciting recipes.
Pin it for later from here
Music, mountains, dogs, travel, food and friends.