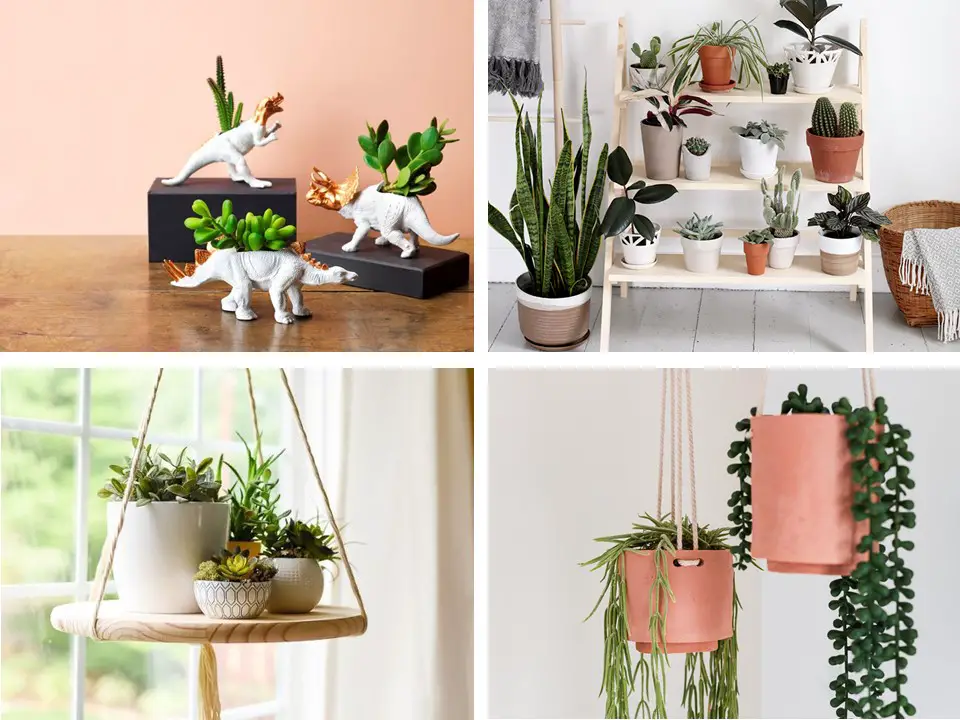 Indoor plants might be the in-thing at the moment, but this trend comes with a number of benefits for your health and wellbeing too. You see, plants have proven to reduce stress and create a feeling of positivity when placed in our indoor environments.
Additionally, studies have shown that indoor plants reduce carbon dioxide levels, increase humidity, reduce air born dust levels, and reduce levels of certain pollutants, such as benzene and nitrogen dioxide.
If you look around your home, you might find that it's lacking in the greenery department. While a plant here or there can work wonders, the trick is to infuse your indoor environment with as much foliage as you can to truly reap the health benefits.
That's why we've rounded-up 20 fun DIY ways to include plants in your home – from clever hacks and hints, to cute homemade planters, and brilliant plant décor ideas. Let's get started!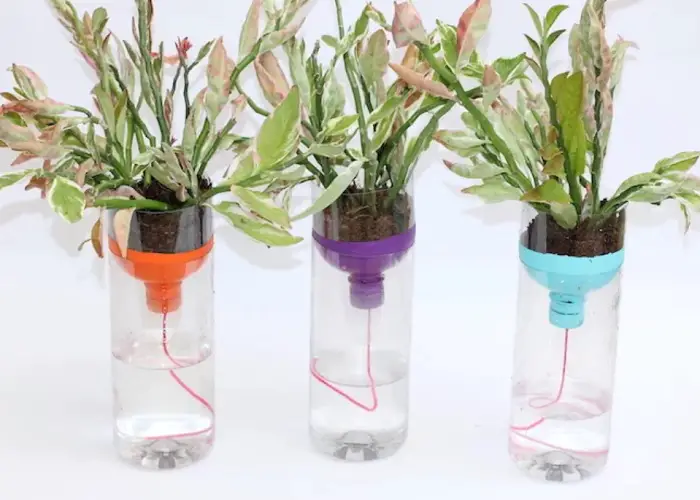 1. DIY SELF-WATERING PLANTERS FROM MUMTASTIC
If you've under watered or overwatered plants in the past, you many be hesitant to jump on the indoor plant train.
Never fear, as this clever DIY will show you how to create self-watering planters which basically look after the plant for you. The concept is simple: the string sucks up the water from the bottom of the planter and feeds it to the top of the plant. Genius!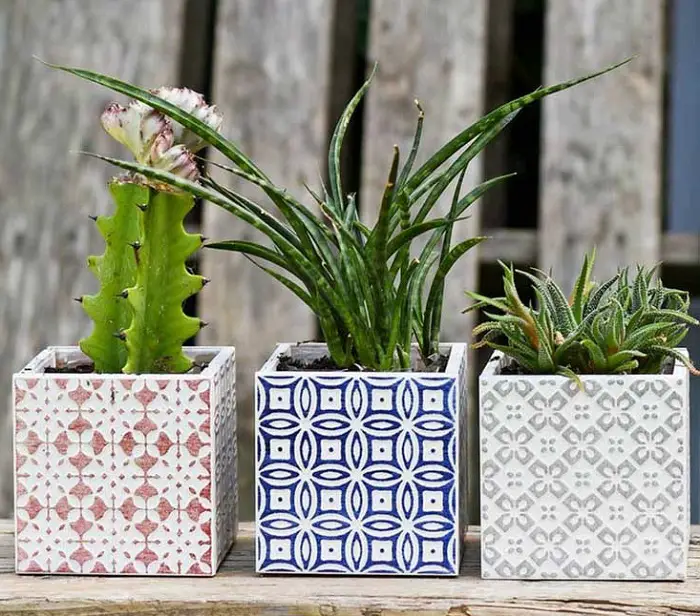 2. TILED MOROCCAN PLANTERS FROM PILLAR BOX BLUE
Need a gorgeous planter to house your indoor plant? Not only do these DIY Moroccan tile planters look incredible, but you won't believe how easy they are to make.
All you need is 4 Moroccan style tiles (from your local tile shop), superglue, a 2-liter plastic soda bottle, and scissors. Each planter takes just 5-10 minutes to create too, so you'll soon have an indoor garden of Moroccan planters in no time!
Have you seen these quirky dinosaur planters at a local makers market or online? They're perfect for housing cacti and succulents, as these low-maintenance plants need little water or attention to thrive.
To make your own, all you'll need is a hand drill, plastic dinosaur figurines, wire snips or a craft knife, matte spray-paint, a fine paintbrush, metallic paint, planter soil, and small plants.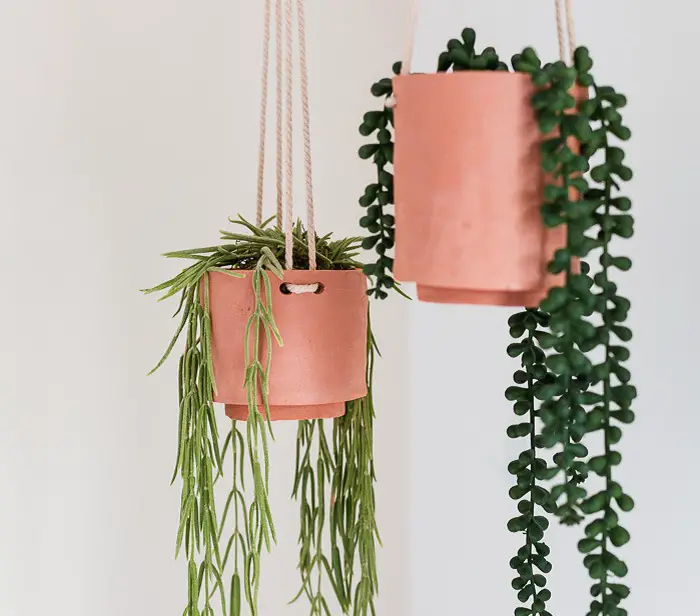 4. DIY TERRACOTTA CLAY HANGING PLANTERS FROM FALL FOR DIY
If you've been dying to get in touch with your inner ceramicist, then this DIY terracotta planter tutorial is for you. To make these, terracotta-colored air-dry clay has been used, so there's no need to invest in a pottery wheel just yet.
Here's another secret: the plants shown in this photo are actually fake! While you can sit some real air plants in these, fake plants are a great option for those with a black thumb who still wish to feel at ease with extra greenery around them.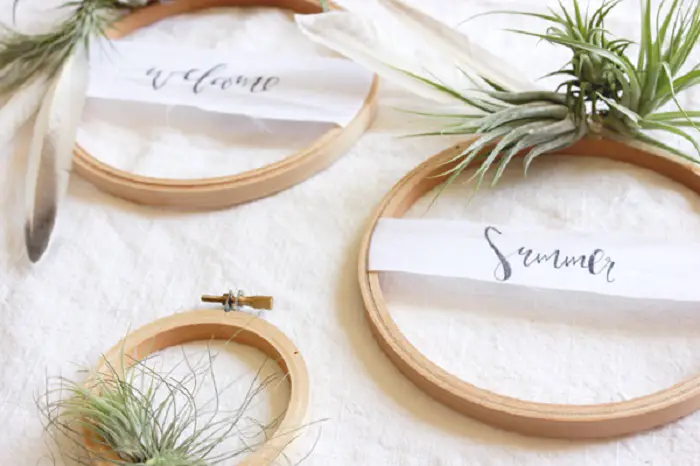 Air plants are perfect for wreaths since all you really have to do is mist them once in a while!
Along with some of these beauties, you'll also need embroidery hoops, white fabric, a black Sharpie, scissors, a glue gun, and any embellishments you wish to add in order to complete this project.
This is one the kids will also enjoy taking part in. After all, the more help, the merrier!
There's nothing like a gorgeous and spacious new plant stand to encourage you to bring some more plants into your home. This DIY version is fairly easy to create, and will also match a variety of décor styles, ensuring it doesn't clash with your current surroundings.
It might take a few hours to put it all together, but once you've completed this project, you'll feel so proud and accomplished!
7. HOMEMADE ROSE QUARTZ PLANTER FROM ADORABLEST
Air plants are so easy to care for. They don't need soil to grow, but benefit greatly from a light dunking in water around once a week.
Another benefit of this plant is that it can live in a variety of decorative planters, including this beautiful rose quartz rock. While this is a stunning home décor idea to bring more plants into your surroundings, it would also serve as the perfect gift for a loved one.
8. HOW TO MAKE A HANGING SUCCULENT GARDEN FROM THE HIP HOMESTEAD
This DIY tutorial will have you combining succulents with a fun gardening technique called Kokedama. Kokedama simply refers to moss balls or string gardens, helping you to create your very own hanging succulent garden.
Hanging gardens are great for small indoor spaces, plus they're cheap and easy to make. Another benefit is that they only take a couple cups of soil each!
9. DIY FLOATING PLANT SHELF FROM HOMETALK
If you're lacking floor space to fill with plants, then another clever idea is to make your own floating plant shelf.
This would be wonderful hanging near your bed, particularly if housing plants such as the snake plant, which is one of the very few plants that continues to produce oxygen when the sun goes down. To make it, all you need is a wooden plate, as well as yarn and scissors. So easy!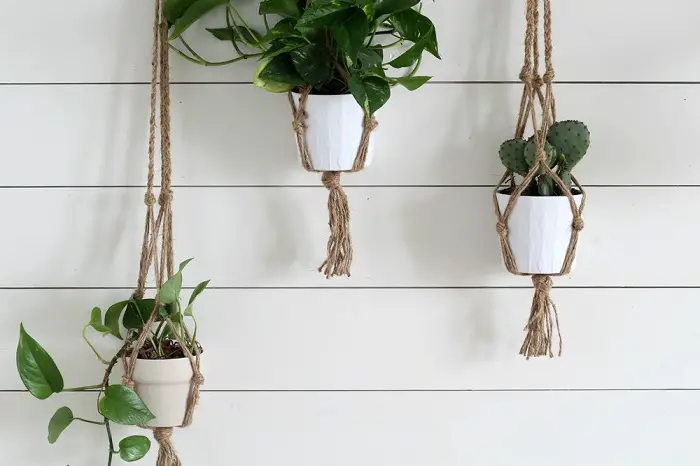 10. SIMPLE DIY MACRAME PLANT HANGER FROM FARMHOUSE ON BOONE
When it comes to this indoor plant DIY, the possibilities are endless. In fact, once you get the hang of making these macramé, jute-style plant hangers, you could easily whip-up three of them within just 30 minutes!
Plus, you can make them larger or smaller, or even tie multiple hangers underneath each other to create more of a vertical garden.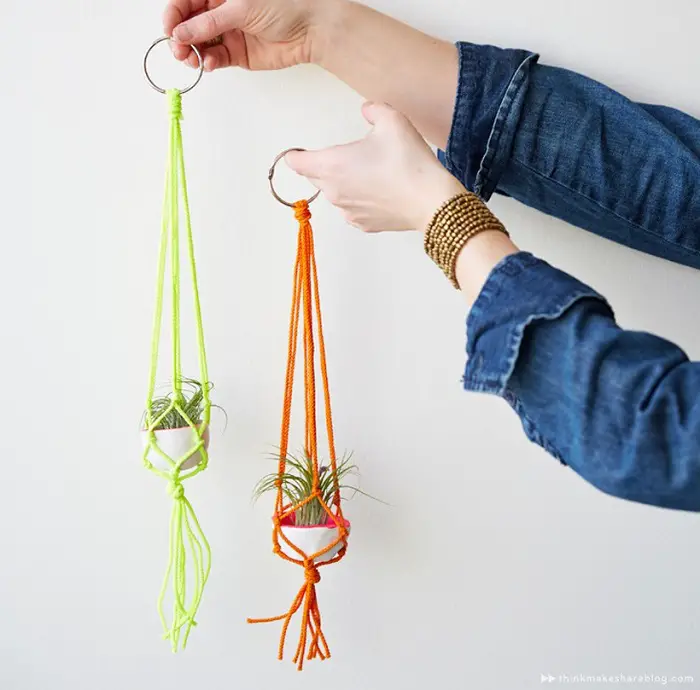 11. DIY MINI MACRAMÉ PLANT HANGERS FROM THINK, MAKE, SHARE
Speaking of macramé plant hangers, here's a more colorful DIY version from the clever creative studio of Hallmark. All you need to make them is cord, twine, or string and a small ring.
They're perfect for housing mini plants and hoisting them up into the air (particularly where little hands – or paws – can't get to them).
12. CUSTOM POTTED HANGING HERB GARDEN FROM FRESH MOMMY BLOG
This DIY project is perfect for those with limited indoor space, yet who want to inject their space with a wide range of plants to boost their health and wellbeing.
This custom potted hanging herb garden is fun to make (just a couple of hours from start to finish!) and looks so good hanging from any ceiling.
This tutorial has filled their hanging garden with herbs, but you could mix it up with basically any small plants your heart desires.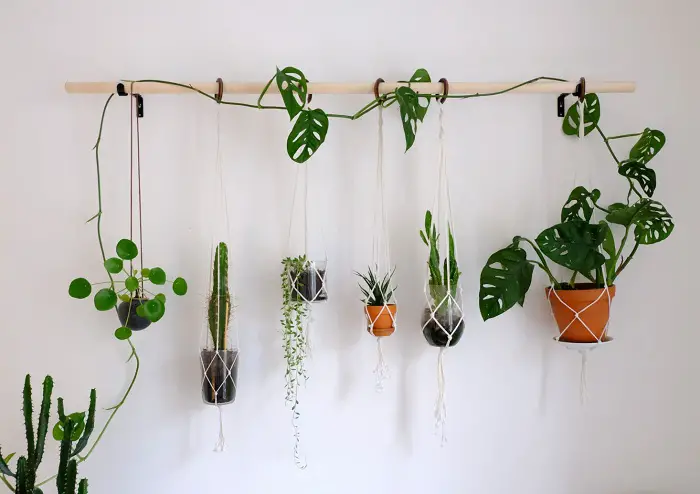 13. DIY PLANT WALL MADE FROM A BROOMSTICK FROM GARDENISTA
Here's another clever hanging garden hack, this time featuring one made using a broomstick! The planters hang from wooden curtain rings that Maria bought at a secondhand store.
For planters she uses a mix of vessels, including clear glass jars and vases that she finds at thrift stores. Not only is this indoor plant project beautiful and simple to create, but it's also very budget friendly.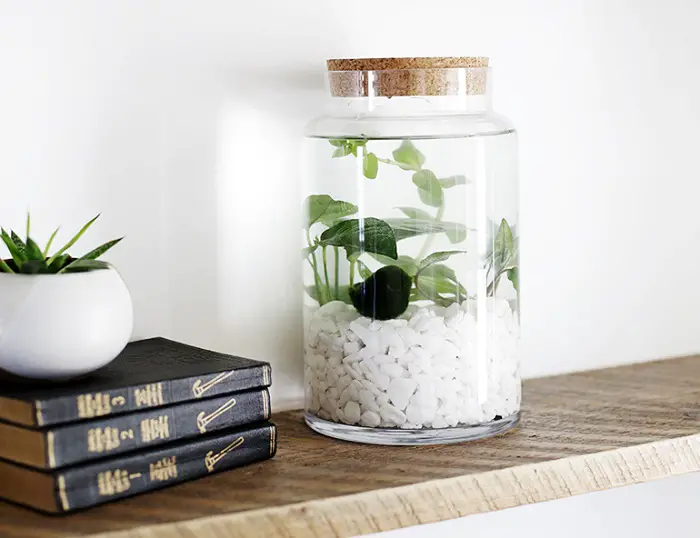 If you always forget to water your indoor plants, then this might be the tutorial for you. These DIY water gardens don't just look stunning – they're also very low maintenance and serve as the perfect plant-inspired décor.
All you'll need to make it happen is a glass jar, aquatic plants of your choice, aquarium stones, and water (of course). Simple, yet effective!
15. DIY WOOD LEATHER PLANT HANGER FROM MADE IN A DAY
This DIY wood leather plant hanger is made from a salad bowl! It's a brilliant way to create a beautiful hanging planter for your new plant.
All you need is a wooden bowl (bonus points if it's from an op-shop), leather cording, acrylic paint, a paint brush, washi tape, clear spray enamel, and a hand drill.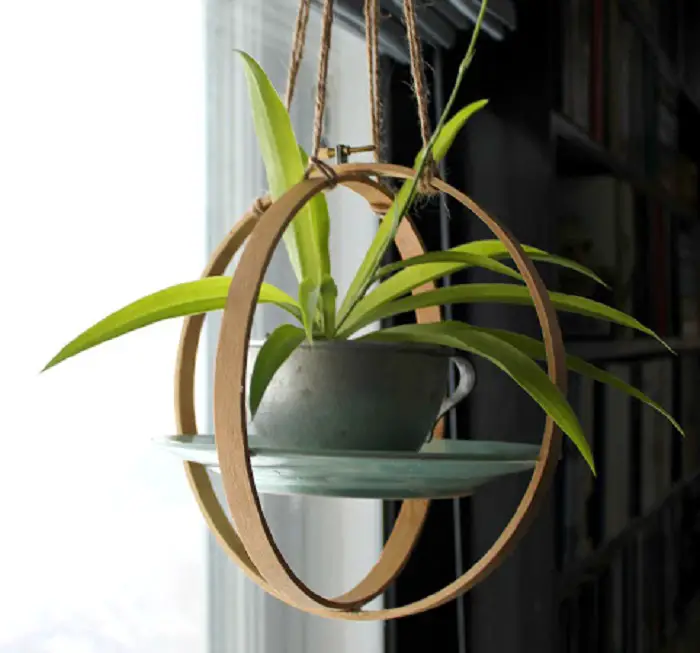 If you've got some embroidery hoops and a saucer lying around at home, then you've got yourself a DIY plant hanger that'll need to be filled with a plant, stat.
This project is like no other plant hanger you've seen before, so it's sure to add some quirkiness and bohemian vibes to your indoor space.
17. THREE EASY STEPS TO PLANT PROPAGATION FROM PAPER & STITCH
Sometimes, the answer to having more plants in your home doesn't come from buying additional ones, but from propagating the plants you already own.
This tutorial shows you how you can correctly propagate your plants using just three easy steps. Propagating is also a great way to spread the plant love with your friends and family, without spending much money at all!
If you require more plant storage before you purchase additional plants, then you'll love this tutorial for a plant box stand.
It doesn't take up a lot of floor space, so it's perfect for tiny apartments or studios, plus you can sit it directly under a window to give your plants the perfect amount of exposure to sunlight. What plants will you be filling your planter with?
19. DIY NESPRESSO CUPS TO TINY PLANTERS FROM SPRING IN FIALTA
Here's a really clever way to not only bring more greenery into your home, but to upcycle those pesky Nespresso containers that seem to fill-up the trash can.
To make your own, you'll need some of these cups, as well as 7 wooden sticks, tiny air plants, glue, string, an embroidery needle, and scissors. Then, simply sit the unique planter on your desk, dining table, or a windowsill for maximum effect.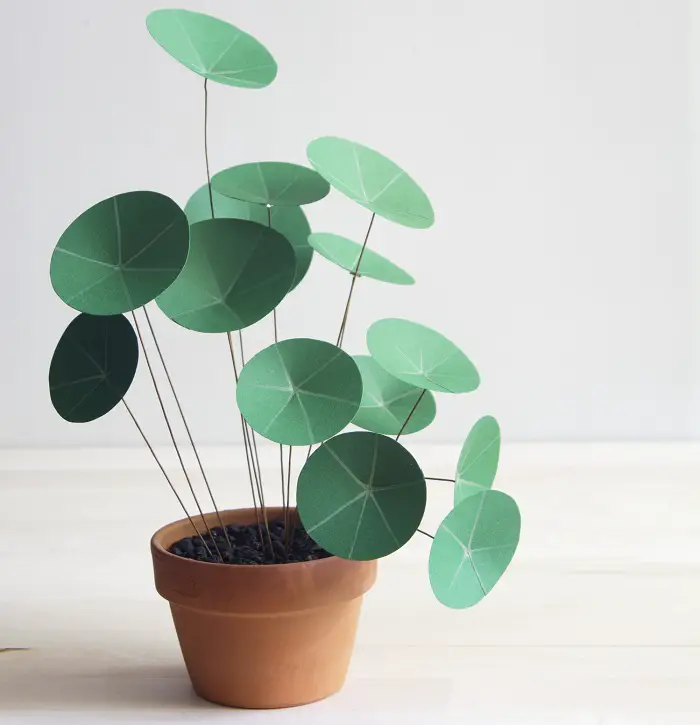 20. DIY PAPER CHINESE MONEY PLANT FROM APPLE OF MY DIY
Ok, we just had to include this one last! Many people are scared to bring indoor plants into their home because they haven't been able to keep them alive in the past, but why should they miss out on infusing their indoor space with stunning greenery?
This DIY Chinese money plant is made from paper, so it doesn't require watering, nor will it need to be re-potted or die. It's a win-win!
Start Making Your Own Indoor Plants
There you have it – 20 fun DIY ways to include more plants in your home! Remember, plants don't just look pretty, but they also have several advantages for you and your family's health and wellbeing.
They're great at purifying the air, as well as boosting a person's happiness and productivity levels when placed indoors.
It doesn't matter how big or small your indoor space is too; these DIY projects will suit any type of home and successfully help you to bring some of the great outdoors inside.
Which DIY plant projects will you be creating for yourself? We'd love to hear from you in the Comments section below!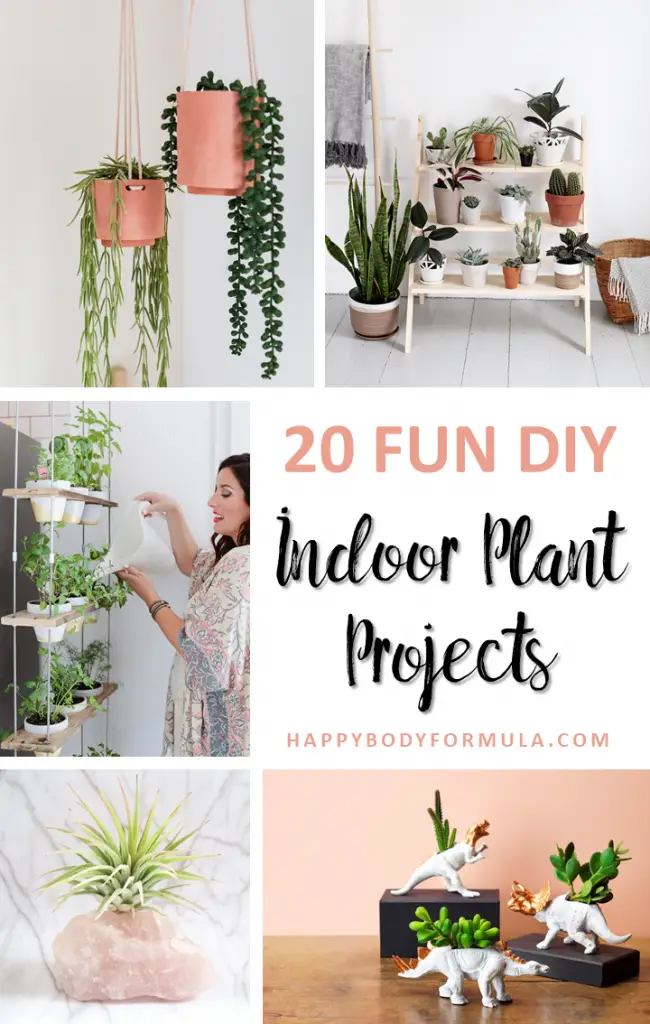 Melanie Clarke is the founder of Whim Online Magazine, an online magazine based in Australia that has a strong focus on whimsical + dreamy photography, as well as art and fashion content.