Today's recipe is straight out of Leanne Vogel's book, simply called The Keto Diet. Leanne is a passionate nutrition educator, host of The Keto Diet Podcast, four-time bestselling author, and has the largest keto resource on YouTube.
She runs The Healthful Pursuit blog where you can find even more low-carb awesomeness going down in her kitchen. Her new book is your guide to eating high-fat, low-carb food that's delicious, and this bacon mac 'n' cheese is the perfect example.
This is a fabulous meal for those of you following a low-carb diet or anyone just craving some good old-fashioned comfort food. You can check out more of our favorite keto dinner ideas here.
If you're curious about keto and have some questions about the how's and why's of it all, Leanne was kind enough to give us some insight in our recent keto Q&A!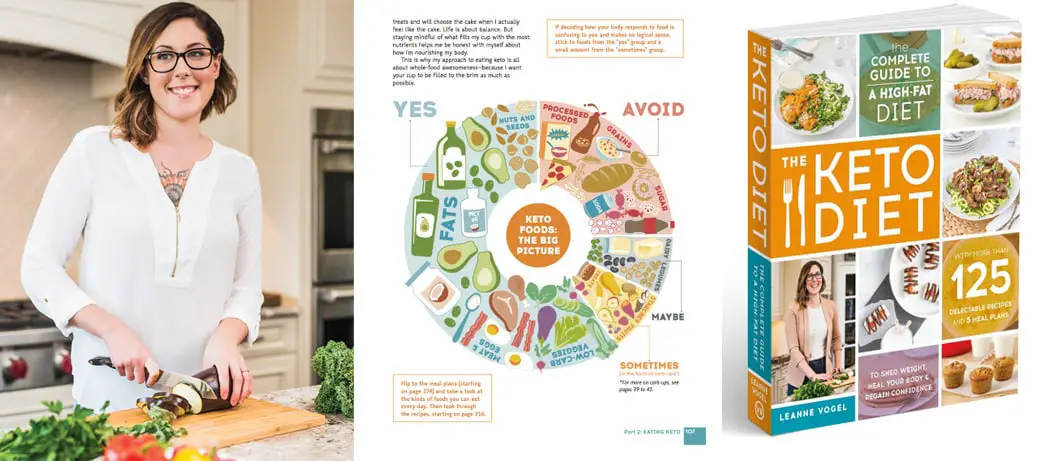 Now for this dish! While you may not think that a pasta-free, cheese-free mac 'n' cheese would be any good, I'd like for you to make this and have me prove you wrong.
When I make this recipe again, I'm going to prepare it in single-serving ramekins so that each person gets their own and can't steal my portion! Yes, I'm speaking to you, dear husband…
Because this dish contains gelatine, it will congeal when chilled. Simply use the reheating instructions below to return it to cheesy goodness. It's pretty good at room temperature, though!
Nutrition information (per serving)
calories: 440 | calories from fat: 244 | total fat: 27g | saturated fat: 8.8g | cholesterol: 128mg
sodium: 973mg | carbs: 14.6g | dietary fiber: 6.6g | net carbs: 8g | sugars: 4.8g | protein: 34.6g
Keto Bacon Mac 'n' Cheese
Ingredients
Coconut oil, for the dish
1 large head cauliflower (about 1 & ⅔ pounds / 750 g), cored and broken into ½-inch (1.25-cm) pieces
⅓ cup (22 g) finely chopped fresh parsley
6 strips bacon (about 6 ounces/170 g), cooked until crisp, then crumbled (reserve the grease)
2 cups (475 ml) unsweetened non-dairy milk
2 tablespoons unflavored gelatin
1 tablespoon fresh lemon juice
1 teaspoon onion powder
1 teaspoon finely ground gray sea salt
¼ teaspoon garlic powder
⅓ cup (22 g) nutritional yeast
2 large eggs, beaten
2 teaspoons prepared yellow mustard
2 ounces (60 g) pork dust or ground pork rinds
Instructions
Preheat the oven to 350°F (177°C) and grease a shallow 1½-quart (1.4-L) casserole dish with coconut oil. Set aside.
Place the cauliflower, parsley, and bacon in a large bowl and toss to combine.
Place the reserved bacon grease, milk, gelatin, lemon juice, onion powder, salt, and garlic powder in a medium-sized saucepan. Bring to a boil over medium heat, whisking occasionally. Once boiling, continue to boil for 5 minutes.
Whisk in the nutritional yeast, eggs, and mustard and gently cook for 3 minutes, whisking constantly.
Remove the saucepan from the heat and pour the "cheese" sauce over the cauliflower mixture. (If you've overcooked the sauce or didn't whisk it well enough, you may end up with small pieces of cooked egg; for an ultra-smooth sauce, pour the sauce through a fine-mesh strainer.) Toss with a spatula until all the cauliflower pieces are coated in the cheese sauce.
Transfer the coated cauliflower to the prepared casserole dish and smooth it out with the back of a spatula. Sprinkle the pork dust evenly over the top. Bake for 40 to 45 minutes, until the cauliflower is fork-tender, checking with a sharp knife on the edge of the casserole.
Allow to sit for 15 minutes before serving.
STORE IT: Keep in an airtight container in the fridge for up to 3 days.
REHEAT IT: Microwave until the desired temperature is reached. Or place in a covered casserole dish and reheat in a preheated 300°F (150°C) oven for 10 to 15 minutes, until warmed through. Or reheat in a frying pan, covered, on medium-low.
PREP AHEAD: Prepare the cheese sauce up to 2 days in advance. Bring it to a light simmer before continuing with Step 5.
SERVE IT WITH: Add a dollop or two of mayonnaise.
Music, mountains, dogs, travel, food and friends.