Casseroles are one of the easiest dishes to make. Most times, all you need is one dish to make it happen, which eliminates cooking work and the mess that ensues afterwards.
Moreover, they're great to dig into for easy weeknight dinners throughout the week, and they usually freeze pretty well. This is especially true without dairy.
This recipe forgoes heavy cream or cheese and flour, making it dairy-free and gluten-free. This is a classic dish with a healthy twist that takes on all the properties of proper comfort food.
Instead of using milk or cream, I made delicious onion, herb and lemon gravy, thickened with arrowroot powder/flour. The casserole has that cozy, creamy texture and lots of flour, but without being too heavy.
Shop for our favorite ingredients on Amazon: my favorite brand of almond milk, good chicken stock, nutritional yeast flakes, mixed Italian herbs, arrowroot powder.
Looking for more healthy recipes like this one? Check out our 7-Day Make Ahead Meal Plan, which will set you up with delicious meals throughout the week with just 3 hours of prep.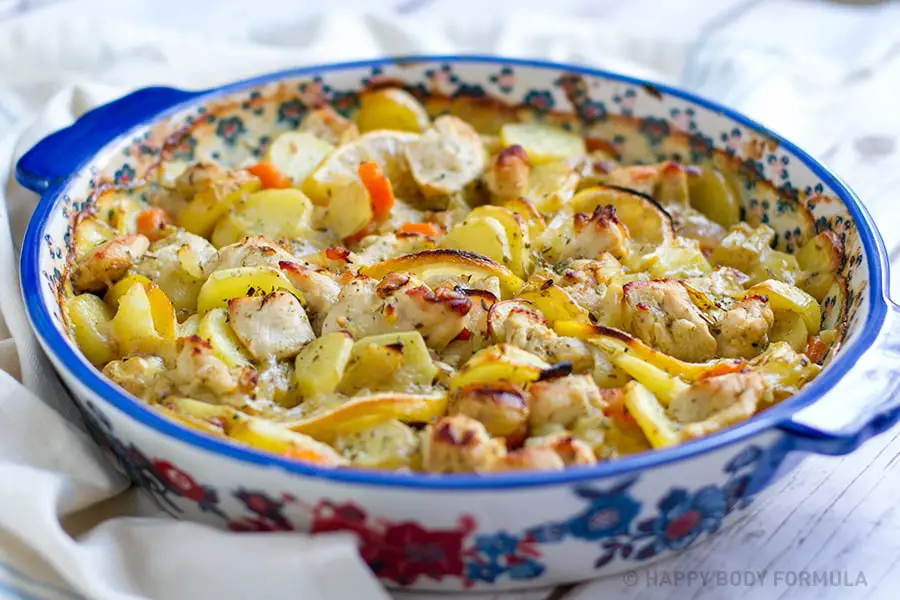 Lemon & Herb Chicken Potato Casserole
AIP: Sweet potato can be used instead of white potato. Turkey can be used instead of chicken. Nutritional yeast flakes are a cheesy and nutritious alternative to cheese and can be purchased in the bulk foods section or with other spices at your local health food store. Arrowroot powder/starch can be purchased in health food stores and online. Tapioca flour/starch can be used instead of arrowroot.
Ingredients
For the gravy
1 large brown onion, diced
1 tablespoon ghee or olive oil
1½ cups of almond milk (unsweetened)
Zest of ½ lemon
2 tablespoons lemon juice
1 cube of organic, natural chicken stock
2 tablespoons nutritional yeast flakes
1 tablespoon mixed dried herbs
2 large cloves garlic, finely diced
1 tablespoon arrowroot powder
For the rest of the casserole:
Generous pinch of pepper
400-450 g / 0.9 lb diced chicken breast or thighs
2 small carrots, peeled and sliced
400 g / 0.8 lb small new potatoes, peeled and sliced
5-6 thin slices of lemon
Instructions
Preheat the oven to 200 C / 390 F.
Place a large frying pan over medium heat. Add the onions and sauté for 5-7 minutes, stirring a few times.
In the meantime, pan-fry the chicken for 1-2 minutes over high heat in a separate frying pan - to brown off slightly. Remove from heat and set aside.
Add the rest of the gravy ingredients to the onions, stir and bring to boil. Let the mixture bubble away for a minute; then, remove from the heat. Dissolve arrowroot powder in 2-3 tablespoons of water and add to the gravy. Stir through - it will thicken slightly.
Add the chicken, carrot and potatoes to a casserole dish and pour over the sauce. Sprinkle with pepper and stir through. Wedge in the lemon slices in a few places and cover the dish with foil or an ovenproof lid.
Bake for 25 minutes at 200 C / 390 F. Then uncover and reduce the heat to 180 C / 360 F. Bake for a further 15 minutes. Sprinkle with extra herbs for garnish.
Serve with steamed greens or a fresh salad.
Make it tonight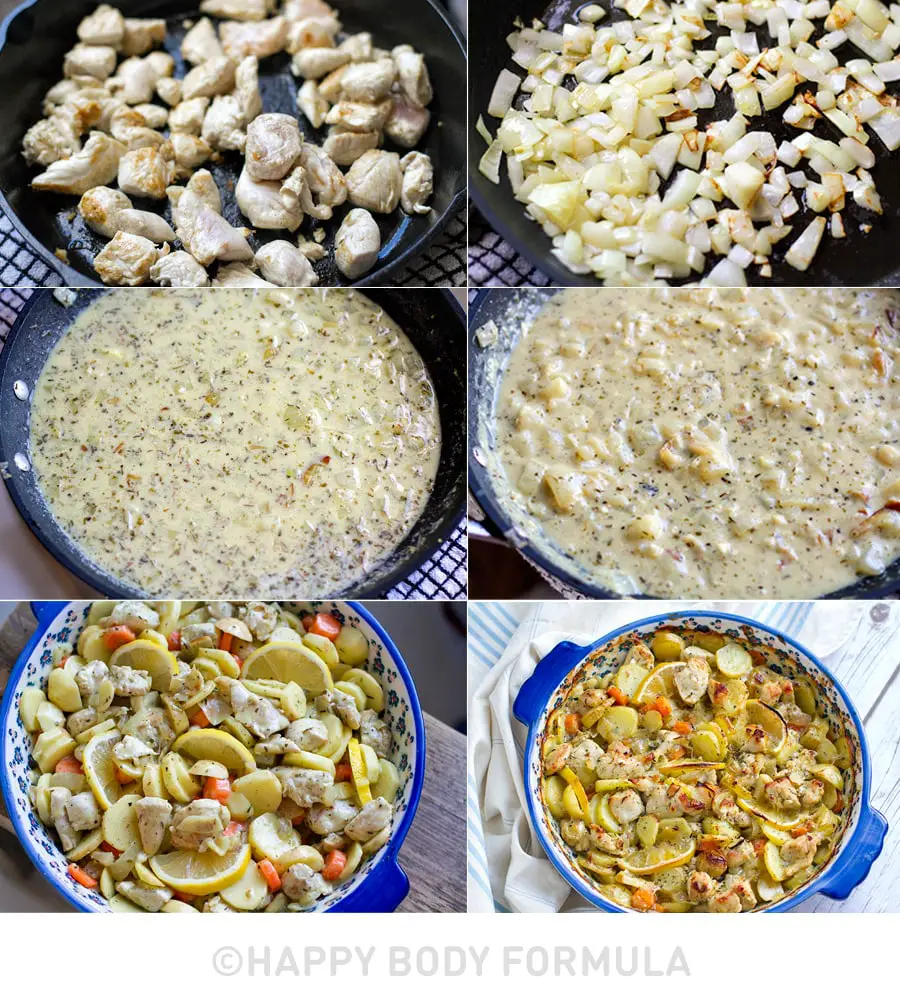 Pin it for later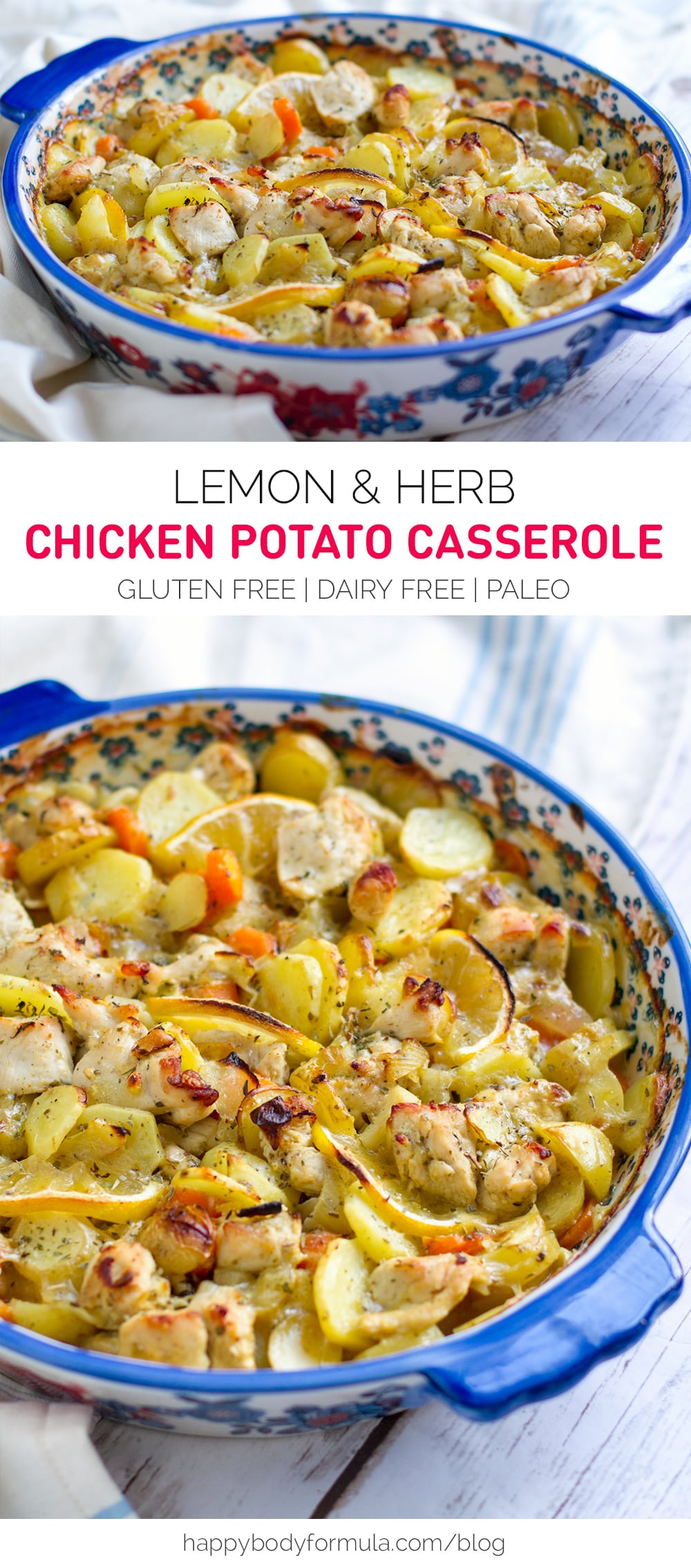 Music, mountains, dogs, travel, food and friends.