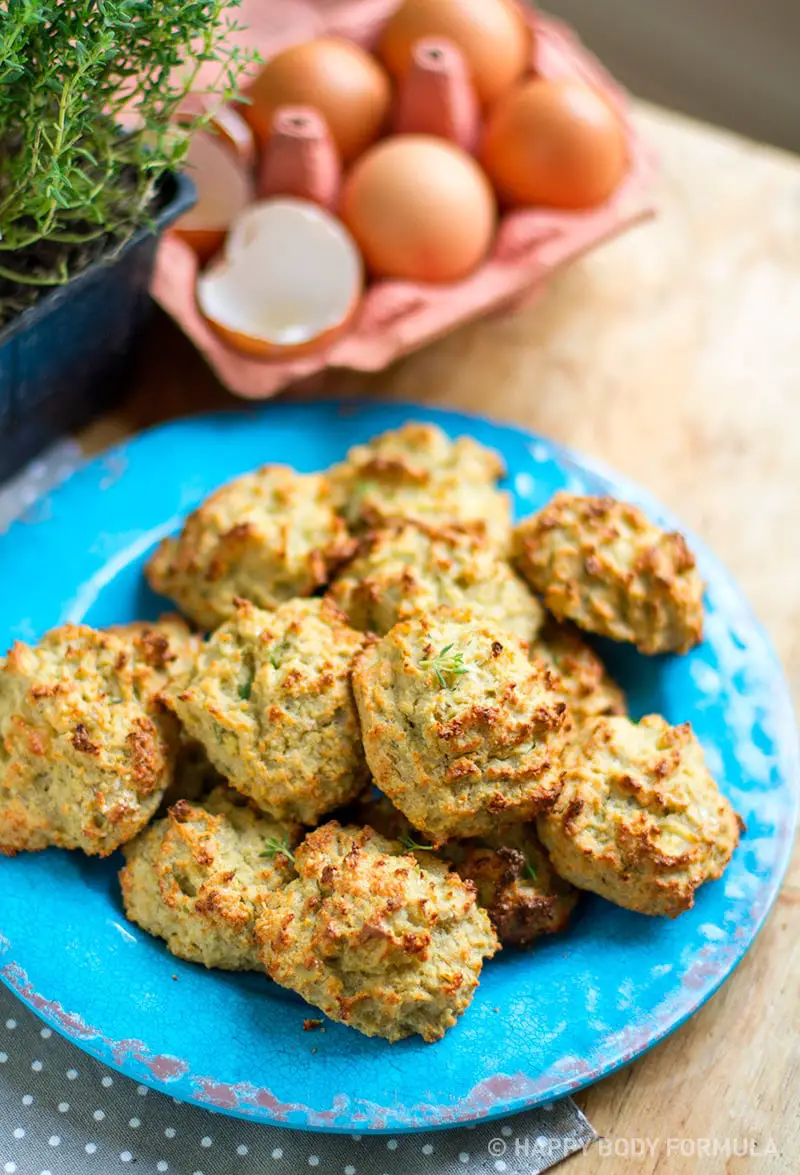 Going on a road trip or a long hike and looking for portable fuel? Perhaps you'd like new lunchbox additions or quick snacks to have on hand. Our gluten-free and low-carb cauliflower and thyme bites are just the thing.
You can make a big batch of these bite-sized savory rolls. They will last for a few days in the fridge, or you can even freeze a few for later.
Enjoy them warm or cold as an alternative to bread rolls with a hearty soup, alongside a fresh salad or topped with some good quality ham or prosciutto and cherry tomatoes. They are portable and perfect for lunch boxes.
These are low in carbohydrates (about 4 grams of carbs per bite, based on our ingredients), high in fibre, and packed with protein. Plus, they contain loads of nutrients such as vitamins C, E, B6 and magnesium. Serving size: 4-5 bites per person.
Shop for pantry ingredients for this recipe on Amazon: almond meal or buckwheat flour, gluten-free baking powder, nutritional yeast flakes, dried thyme.
Looking for more healthy recipes like this one? Check out our 7-Day Make Ahead Meal Plan, which will set you up with delicious meals throughout the week with just 3 hours of prep.
Low Carb Cauliflower & Thyme Bites
Cook's notes: We are using cauliflower in this recipe but you can just as easily use broccoli, which will make lovely green bites. Our flours are buckwheat flour and almond meal, but feel free to use all buckwheat flour if you'd like to avoid nuts. Parmesan cheese can be easily omitted, for those avoiding dairy.
Ingredients
350 g / 0.7 lb cauliflower, cut into small florets (1 small head)
2 medium eggs
1 tablespoon olive oil
Zest of ½ lemon
1 tablespoon lemon juice
2 cloves garlic, finely grated
2 tablespoons fresh or dry thyme leaves (oregano or rosemary can also be used)
½ cup almond meal
½ cup buckwheat flour
1 teaspoon salt
½ teaspoon GF baking powder
generous pinch of pepper
2 tablespoons nutritional yeast (optional if you can't find it)
1 teaspoon onion powder/granules
2-3 tablespoons, finely grated Parmesan cheese (optional)
Instructions
Heat the oven to 180 C / 360 F.
Bring a small pot of water to boil and add the cauliflower florets. Cook for 3-4 minutes, until just tender. Drain and rinse under cold water for 20 seconds. Strain well and transfer to a food processor. Add the rest of ingredients and process into coarse mixture (see picture).
Transfer to a bowl. Add grated cheese, if using, and mix through.
Line a large flat oven tray with baking/parchment paper, greased lightly with coconut oil.
Scoop a heaped tablespoon of mixture formed into balls, and place on the tray in rows of three or whatever fits best on the tray.
Bake for 25 minutes, middle shelf. Cool down, before storing in an air-tight container.
Make it tonight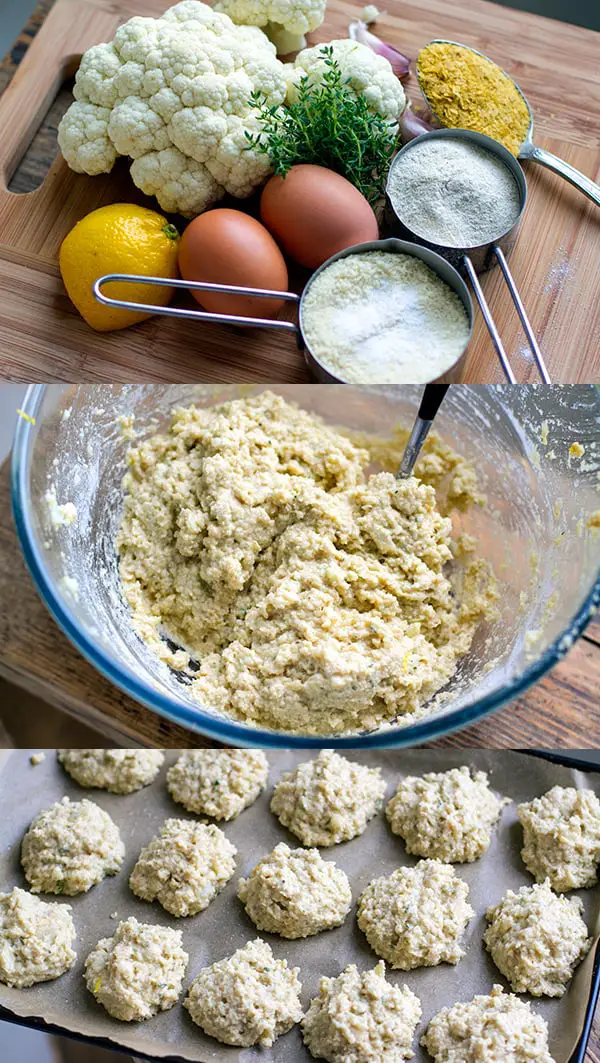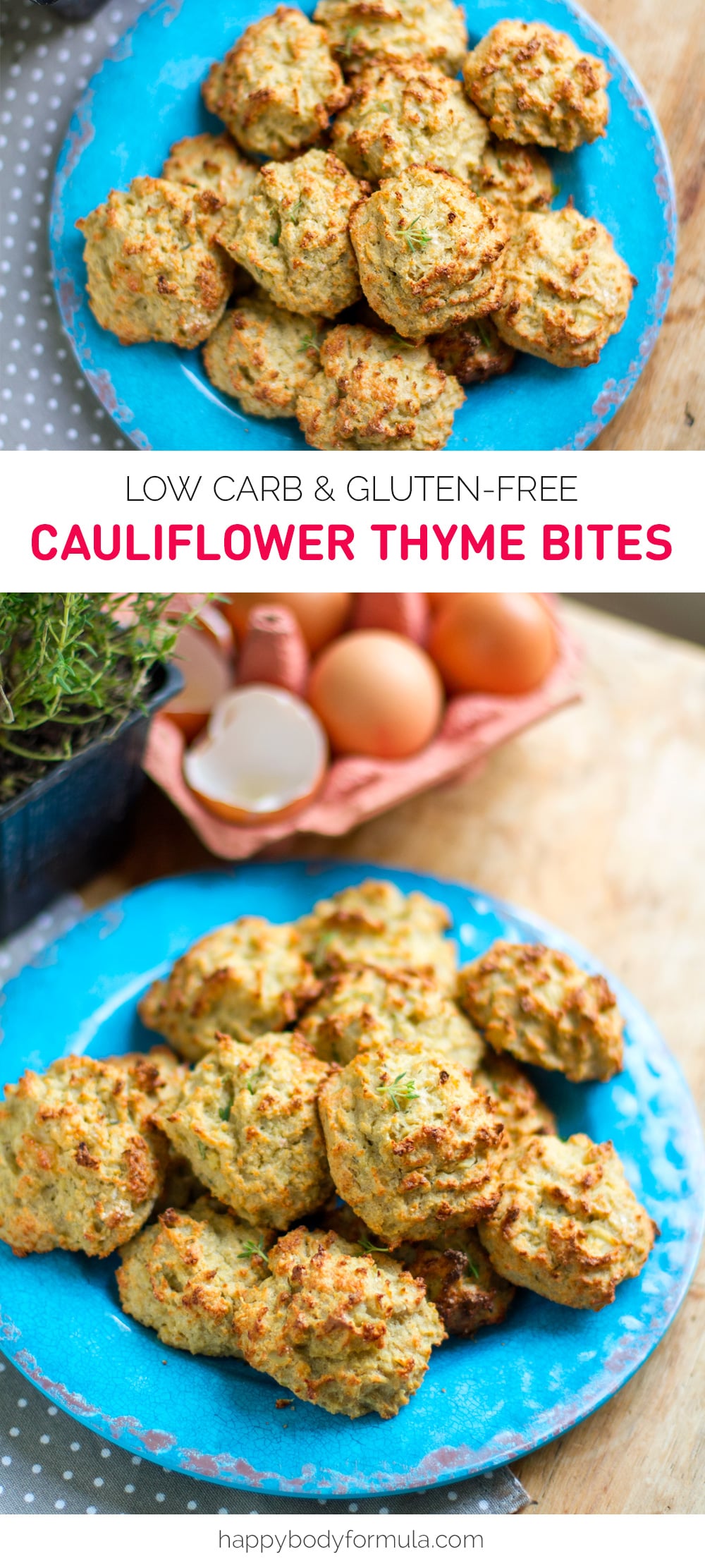 Music, mountains, dogs, travel, food and friends.