You've probably heard about turmeric if you've come this far in the world of real food. Whether it's your first encounter with this beautiful spice or you're already using turmeric in recipes, we have lots of good news for you.
Today, though, we're focusing on how to make turmeric latte a.k.a. golden milk or haldi milk. It's a nice way to wake up or wind down, and drinking this magical little potion has some healing benefits.
Trust me – you're going to feel ultra healthy just sipping on a cup of the stuff. It's a great way to kick coffee if you're looking to break the habit, and boost health. Here's why.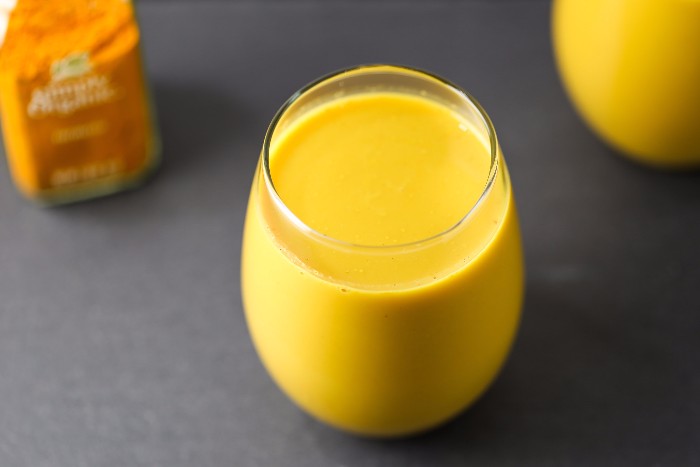 Benefits of turmeric
Turmeric or Curcuma longa has long been used in India, China, and South East Asia. In Ayurvedic medicine, this golden spice has been used therapeutically for centuries… and with pretty convincing reason.
Curcumin – its active constituent and yellow bioactive compound lending its color, has a wide variety of biological interactions when consumed.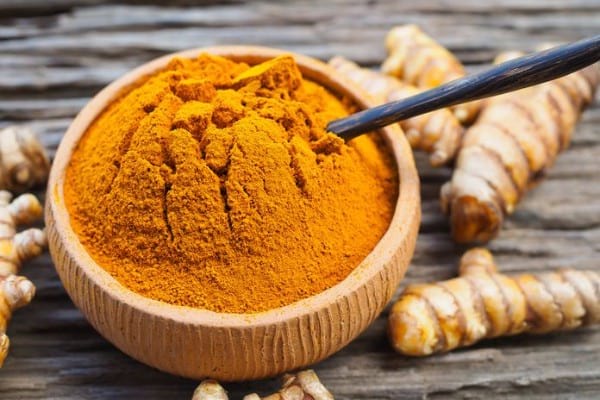 Powerful anti-inflammatory properties. Its properties are highly effective at reducing inflammation, even in people with rheumatic pain (2).
Curcumin is effective for prevention and treatment of chronic inflammatory disease (3). This leads us to believe it's a good food for healing leaky gut and managing pain.
Increases antioxidant capacity in the body. This means a reduction in oxidative stress and reducing harm. In one study, curcumin proved to prevent diabetes-induced oxidative stress despite a hyperglycaemic state, defying the odds (4). It's one of the most concentrated antioxidant foods you can consume!
It's naturally antibacterial and antiviral. This makes turmeric a powerful immune booster, warding off harmful strains of bacterial infection and viruses (2).
Improves cardiovascular health. Curcumin protects against damage from heart attack (2).
Anti-cancer properties. Research shows that turmeric extract and curcumin reduces the development of tumors.
Alzheimer's treatment. Due to its anti-inflammatory and antioxidant abilities, curcumin has promise as an outstanding neuroprotective agent, leading us to believe that it could be used to prevent Alzheimer's and Parkinson's disease (5).
Therapeutic treatment for depression. Curcumin can be an effective mood booster. It's been shown to reverse and protect hippocampal neuron damage in response to stress (7), and act as a monoamine oxidase enzyme which modulates the release of seretonin and dopamine – those "good mood" chemicals that are underproduced in the depressed brain (8).
Improves the nervous system. Turmeric's antioxidant activity protects against vascular dementia, which is brain damage caused by multiple strokes (2).
It's a great natural anti-ageing supplement. Due to curcumin's anti-inflammatory properties, it has the ability to slow down inflammation-related ageing processes and diseases (1).
It's also important to note that curcumin has limited absorption. This means the body can't always take in as much of the active ingredient as you're dosing, but it's still proven to be effective for therapeutic use despite this, and it still provides biological effects – even to cancer patients.
One of the simplest ways to increase its bioavailability is by adding a dash of black pepper to the mix. Don't worry – you won't taste it, even in golden milk. This is due to black pepper containing piperine. The combination can boost bioavailability up to 2,000% (6).
How to make turmeric latte a.k.a. golden milk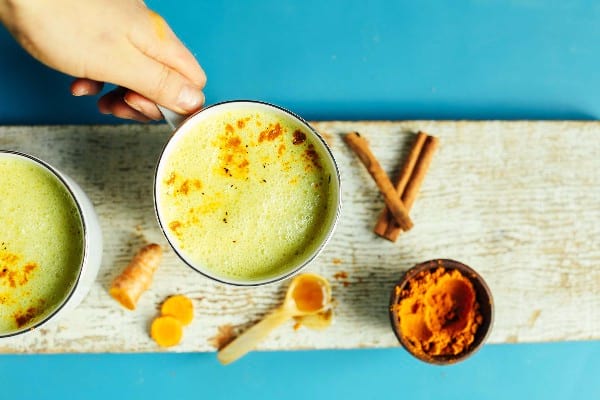 Now, let's get you on the path to reaping all of those wonderful benefits in a delicious, comforting way. Curcumin is a fat-soluble compound, so it's good to blend it with some healthy fats which we'll feature in this boosted golden milk latte or haldi ka doodh.
Ingredients:
1/4-1/2 tsp. turmeric powder (to taste)
1/2 tsp. cinnamon
1/8 tsp. ground black pepper
1/2 tbsp. ghee, butter, or coconut oil
1 cup milk of choice or dairy-free alternative
1 tsp. raw honey, maple syrup, or sweetener of choice (to taste)
Instructions:
If you can, first blend all the ingredients in a blender or food processor. If not, skip this step and move on to the next!
Add all ingredients to a saucepan on medium-high heat and bring to near boiling – but don't boil!
If the ingredients aren't already blended, use a whisk to evenly distribute the spices and oil through the milk.
Pour and serve! Another alternative to a blender is a simple handheld, electric milk frother which will give you a nice frothy latte.
Isn't turmeric simply amazing? One sip of the latte, and you'll fall in love with this aromatic super food. Enjoy!
Sources:
1. Sikora, E, et al. "Curcumin, Inflammation, Ageing and Age-Related Diseases." Immunity & Ageing, BioMed Central, 17 Jan. 2010, immunityageing.biomedcentral.com/articles/10.1186/1742-4933-7-1.
2. Chattopadhyay, Ishita. "Turmeric and Curcumin: Biological Actions and Medicinal Applications." repository.ias.ac.in/5196/1/306.pdf.
3. Aggarwal, Bharat B. "Potential Therapeutic Effects of Curcumin, the Anti-Inflammatory Agent, against Neurodegenerative, Cardiovascular, Pulmonary, Metabolic, Autoimmune and Neoplastic Diseases." The International Journal of Biochemistry & Cell Biology, vol. 41, no. 1, Jan. 2009, pp. 40–59., doi:https://doi.org/10.1016/j.biocel.2008.06.010.
4. Suryanarayana, Palla. "Effect of Turmeric and Curcumin on Oxidative Stress and Antioxidant Enzymes in Streptozotocin-Induced Diabetic Rat." Medical Science Monitor, 1 Dec. 2007, pp. 286–292., www.medscimonit.com/abstract/index/idArt/563761/new/1/act/3.
5. Cole, Greg M., et al. "NEUROPROTECTIVE EFFECTS OF CURCUMIN."SpringerLink, Springer, Boston, MA, 1 Jan. 1970, link.springer.com/chapter/10.1007/978-0-387-46401-5_8.
6. Shoba, G, et al. "Influence of Piperine on the Pharmacokinetics of Curcumin in Animals and Human Volunteers." Planta Medica., U.S. National Library of Medicine, May 1998, www.ncbi.nlm.nih.gov/pubmed/9619120.
7. Xu, Ying. "Curcumin Reverses Impaired Hippocampal Neurogenesis and Increases Serotonin Receptor 1A MRNA and Brain-Derived Neurotrophic Factor Expression in Chronically Stressed Rats." Brain Research, Elsevier, 21 June 2007, www.sciencedirect.com/science/article/pii/S0006899307012590.
8. Kulkarni, S K. "Potentials of Curcumin as an Antidepressant." The Scientific World Journal, Hindawi, 16 Oct. 2009, www.hindawi.com/journals/tswj/2009/624894/abs/.
Music, mountains, dogs, travel, food and friends.