Turmeric is one of the healthiest spices on the planet. It can be found in the spice aisle, bulk spices, or fresh in its root form. You can also purchase organic turmeric online.
If you opt for fresh, watch out – the flavor is strong! In its ground form, it actually has a quite mild flavor with vibrant color. Thus, it makes a healthy addition to just about any meal.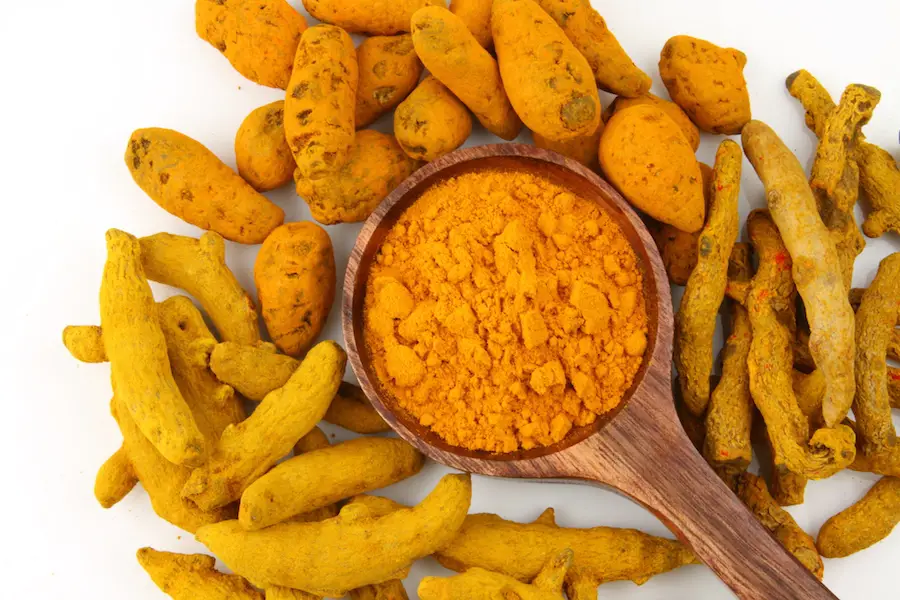 It's been used as a therapeutic herb in Ayurvedic medicine for centuries, and for good reason. Here are just a few benefits of turmeric:
Powerful anti-inflammatory properties
Increases antioxidant capacity in the body
Improved neural functioning
Lowers risk of heart and brain disease
Anti-cancer properties
Alzheimer's treatment
Therapeutic treatment for depression
… and so much more!
If you're brand new to the herb, you've likely already had it in curry as it's one of the primary ingredients in curry powder. We're taking it a step beyond curry today with 15 unique and nutritious turmeric recipes.
Golden milk iced latte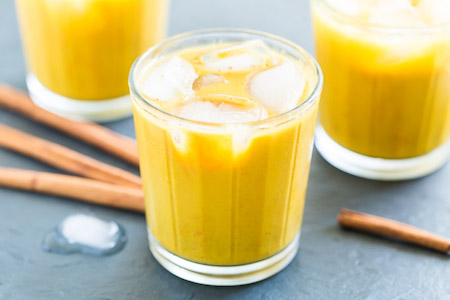 Golden milk is all the rage. This over-ice recipe steps it up a notch and makes it suitable for summertime. Otherwise, you can certainly opt to serve it warm for a classic golden milk latte.
The addition of black pepper boosts our body's ability to absorb all the benefits of turmeric, so don't shy away. Get the recipe from Get Inspired Everyday.
Golden milk ice cream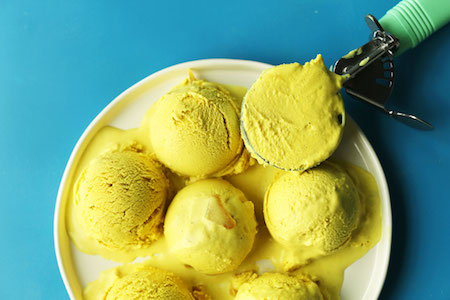 If the latte just isn't cutting it for you, perhaps a scoop of this good-for-you dessert will do the trick. This dessert is dairy-free and refined sugar-free with a gorgeous pop of color you're not going to find in the frozen treat aisle at the supermarket.
Serve it up with candied ginger – yum! Get the recipe from Minimalist Baker.
Lemony turmeric & pepper egg yolk dressing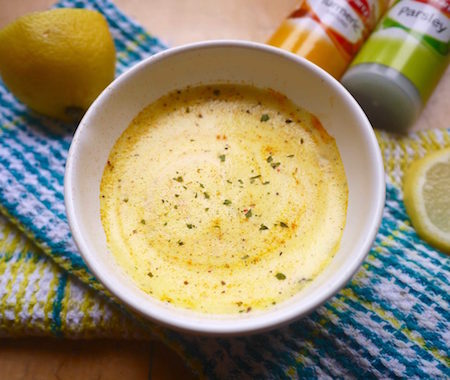 This versatile sauce is perfect for upping the nutrition on salads, roasted meats and veggies or a dip for artichoke leaves. Coconut milk and egg yolks lend this dressing its creamy goodness and healthy fats. Get the recipe from Perchance to Cook.
Turmeric chicken & kale salad with honey lime dressing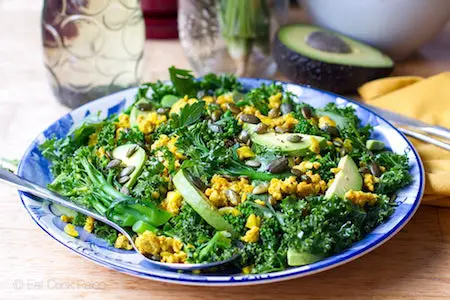 Kale and turmeric come together in this recipe to form the ultimate nutritional powerhouse. This salad is superfood central! The vibrant colors and touch of sweetness in the dressing will have you wanting to eat your greens. Get the recipe from Eat Drink Paleo.
Chorizo, tomato & turmeric frittata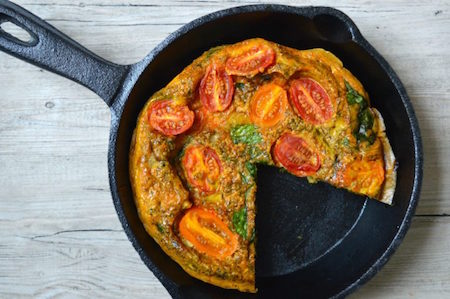 Frittatas are one of the easiest breakfasts to make, and having a go-to recipe for your weekly meal prep routine is fantastic to help you wake up on the right side of the bed every day.
Pair that with delicious chorizo and a healthy dose of turmeric, and you've got the recipe for success. Get the details from Paleo in Heels.
Turmeric garlic rice
Turmeric is a common addition to rice, giving it a lovely fragrance and pop of color. If you're opting out of grains, cauliflower rice is a fantastic substitute, and it takes on turmeric just as well.
Here's a simple, four-ingredient recipe to get you inspired from Paleo Foodie Kitchen.
Anti-inflammatory ginger-turmeric carrot soup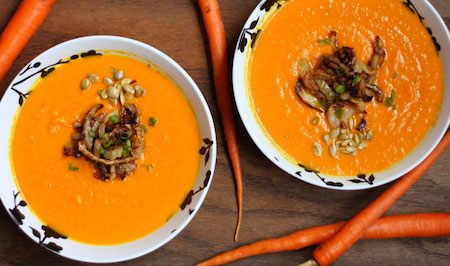 The name of this recipe says it all. Soup heals, and this soup lives up to that standard. Whether you just want a nourishing bowl of goodness to cosy up with or you're fighting off a cold, the stellar roundup of ingredients loaded into this soup are perfect.
It's also a great dish to freeze extras for later. Get the recipe from Slow Burning Passion.
Turmeric roasted carrots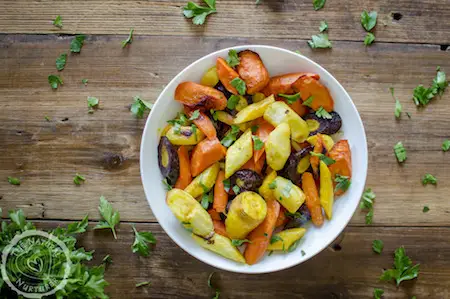 You could feasibly add turmeric to any roasted veggie to up your nutrition game without much effort at all. Cauliflower, potatoes and broccoli come to mind.
Or, you can try this idea with rainbow carrots in this humble but gorgeous recipe from The Natural Nurturer.
Vietnamese turmeric fish with herbs & mango sauce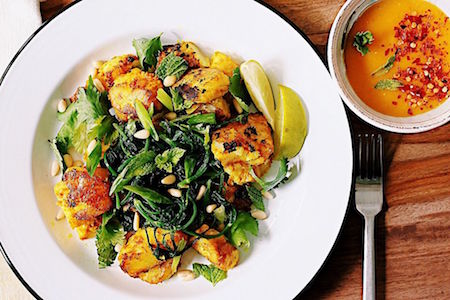 We featured this stunning dish from I Heart Umami on the Happy Body Formula blog. It features bright hues from both turmeric and mango for a spicy-sweet, Vietnamese-inspired recipe.
Top it off with fresh mint leaves, and you've got yourself one tasty main dish that will easily please a crowd. Get the recipe here.
Savory turmeric pancakes with lemon yoghurt sauce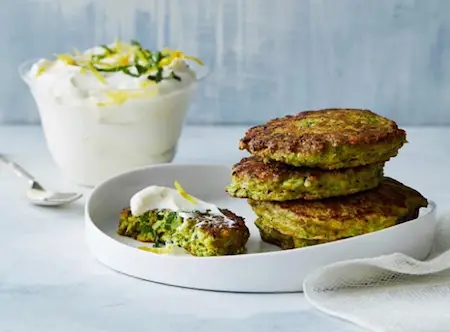 What's a recipe roundup without pancakes? These aren't your average pancakes – they take on the structure of a grain-free veggie fritter, so they're the perfect way to get in veggies first thing in the morning.
The creamy yoghurt sauce cannot be left out of the equation. Get the recipe from Hello Glow.
Chickpea turmeric stew with coconut "bacon"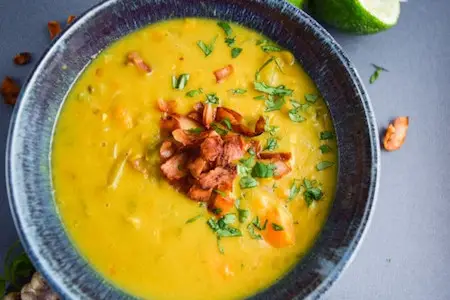 This meat-free recipe is perfect for those who include properly soaked and sprouted legumes in the diet. This meal is rich with healthy fats and a lovely sunrise color.
Top it off with coconut "bacon" (or real bacon if you prefer) for a smoky finish. Get the recipe from Cook Sisters.
Turmeric plantain chips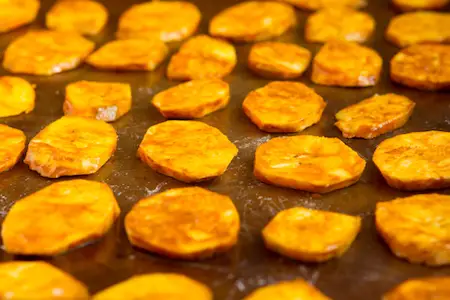 Sometimes, you just need a nutrient-dense snack to get you through the day. Whether it's the afternoon slump, a post-workout hunger attack, or packing for a long hike, these plantain chips fit the bill.
Turmeric's anti-inflammatory properties help the body recover properly after exercise, so they're great if you're active and on the go. Get the recipe from Healthful Pursuit.
Turmeric Zucchini & Coconut Soup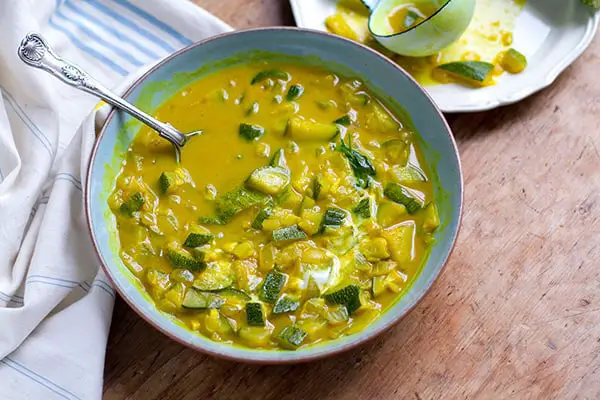 This recipe is budget-friendly and super easy to make. It's a great way to use up sad looking leftover zucchini and makes for a light, yet satiating meal. It's gentle on the tummy and great for your gut health. Get the recipe from Eat Drink Paleo
Golden milk gummies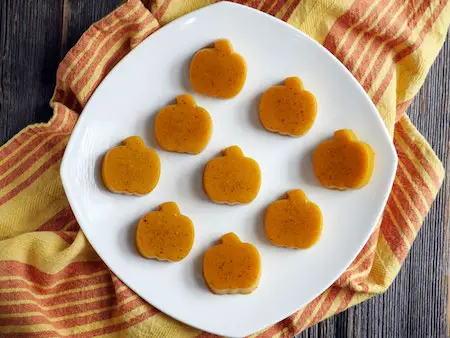 Clearly, the possibilities of golden milk are endless. These gummies use gut-friendly gelatine and superfood turmeric, making these the perfect all-natural 'multivitamin.'
If you're struggling to get the kids on board with eating turmeric, these gummies are the solution. Get the recipe from My Heart Beets.
Ginger and turmeric meatballs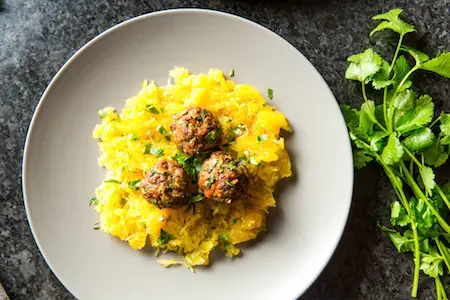 Turmeric and ginger are a dynamic duo, and this meatball recipe takes both flavors on beautifully. This is a simple dish – and another good one for batch cooking – that is dressed to impress.
Serve atop spaghetti squash or over cauliflower rice. Get the recipe from The Gantzery.
What is your favourite way to include more turmeric in your diet? Are you a golden milk enthusiast, or do you prefer curry? Share your ideas with us below!
Music, mountains, dogs, travel, food and friends.