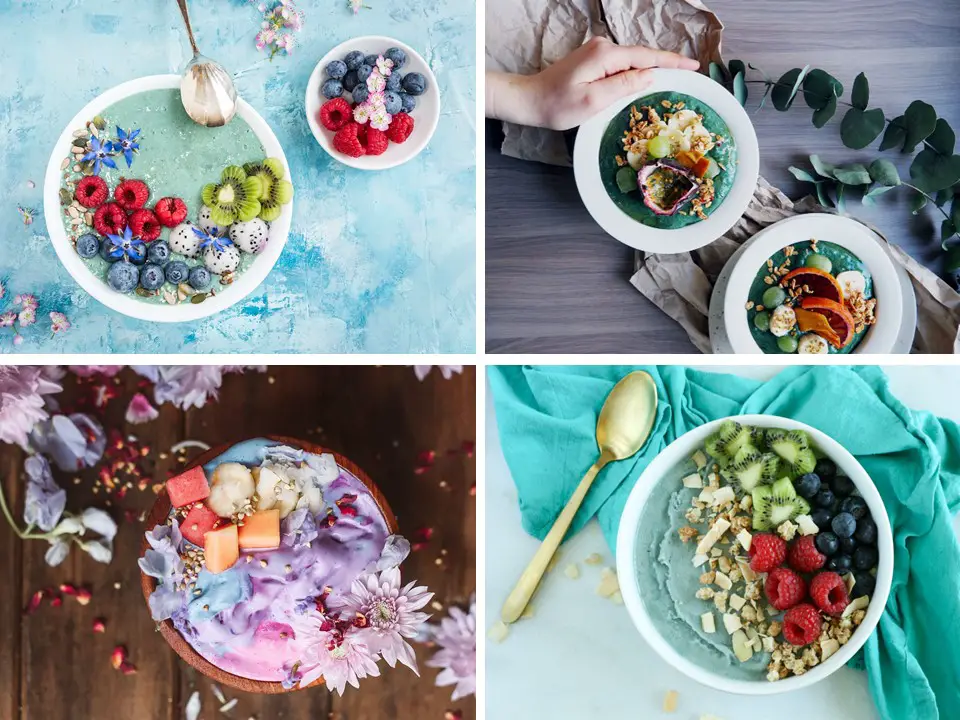 If you've never heard of the term 'mermaid bowl' before, then you're in for a treat. These crazy, colorful works of art have no doubt popped-up in your Instagram or Pinterest feed for months now, and the culinary trend is showing no signs of slowing down.
Mermaid smoothie bowls originally gained their name due to their gorgeous coloring of green, turquoise, and blue – colors which are often associated with the deep, blue sea.
When paired with a stunning color palette of fruits such as pineapple, dragonfruit, or berries, people began to think that these bowls were fit for an underwater queen (or, you know, a mermaid).
Fast-forward to the present day, and you'll find that while the mermaid smoothie bowl is still incredibly popular, the trend has extended into other types of meals too, such as ice cream, cheesecake, and even sushi.
If you've ever wanted to make your very own mermaid bowl, but didn't know where to begin, then we have good news: we've rounded-up 15 incredibly beautiful mermaid bowls that you're sure to fall in love with.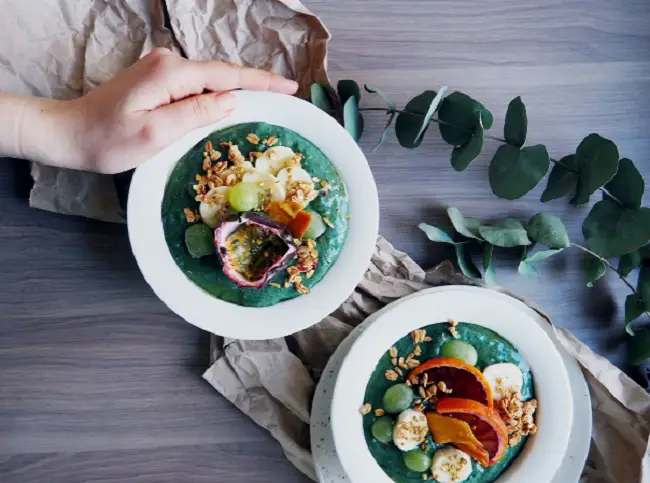 1. MERMAID BOWL WITH PASSIONFRUIT FROM EARTHRISE
For a mermaid bowl with earthier tones, look no further than this recipe, which features ingredients such as bananas, green peas, orange juice, apple, spirulina, and of course, passionfruit.
The chef also recommends adding additional ingredients on top to boost the mermaid bowl's impressive health benefits, including blood orange, granola, dried mango, bee pollen and grapes.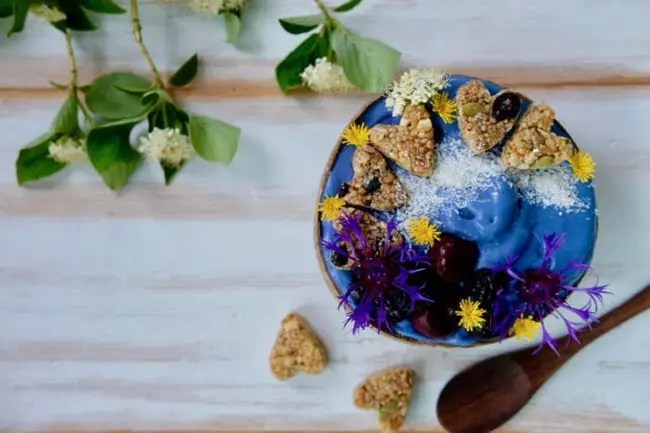 2. RAW VEGAN SOFT SERVE WITH BOOSH CHUNKS FROM HOOKED ON PLANTS
This mermaid bowl is ready in no time and provides all the dreamy, guilt-free spoonfuls your taste buds desire. The incredible blue color is achieved by using the active ingredient in spirulina, phycocyanin.
It's an immune enhancer, disease preventer, and anti-inflammatory! Other tasty ingredients include banana, peanut butter, plant-based milk, and a kombucha bar.
3. KETO SMOOTHIE BOWL WITH BLUEBERRIES, MARINE COLLAGEN AND MCTS FROM NATURAL FORCE
This pretty mermaid bowl features clean burning fats, collagen protein, and superfoods like spirulina and coconut. We've been told that it will not only keep you feeling full, but will also boost your mental focus, aid in detoxification, and help keep your hair, skin, nails, and joints strong and healthy!
This mermaid bowl is a little different to most. Inspired by Ariel (the Little Mermaid), this salad bowl is filled with ingredients that remind people of the sea, fun textures and colors, and perfectly delicious crab cakes.
Notice their rainbow hues? Very clever!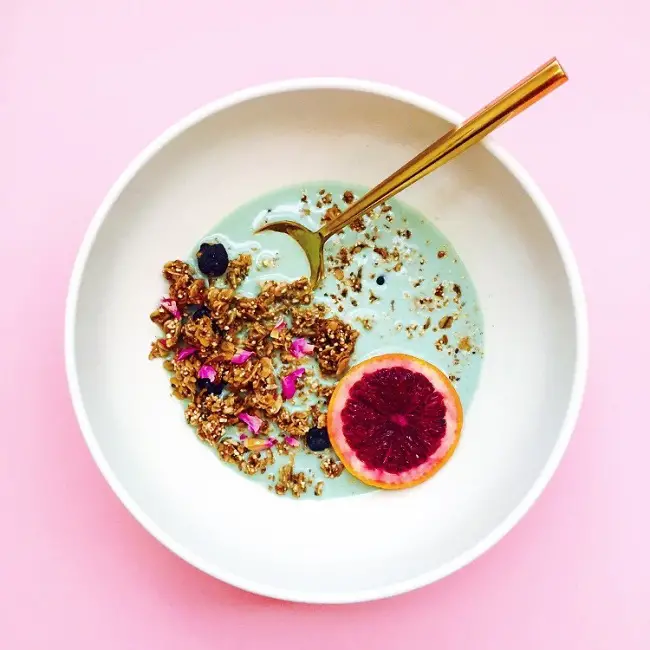 5. MERMAID MILK WITH NUT & SEED STOVETOP GRANOLA FROM THE BODY BOOK
Even actress Cameron Diaz isn't immune to the beauty of a mermaid bowl. Her website features a recipe to make what is known as "mermaid milk", featuring all-natural ingredients like chlorophyl, beets, and spirulina.
Plus, it'll tell you how to make either a pastel green, blue, or pink version of this recipe.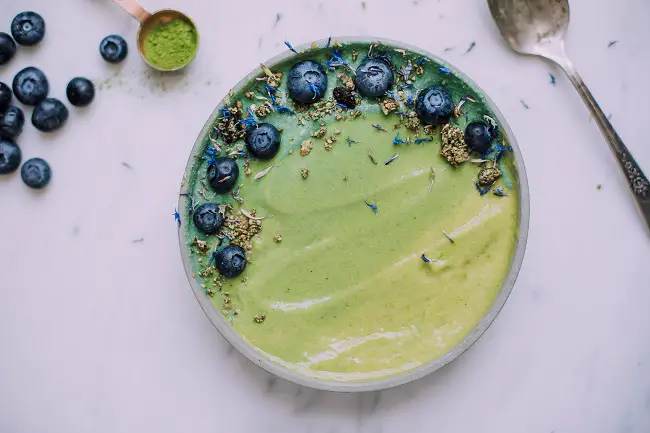 Don't you just love the ombre green-to-blue coloring of this bowl? The hero of this recipe are sweet peas, which aren't just delicious when combined with sweeter fruit, but also contain protein, fiber, complex carbohydrates, Vitamin K, manganese, folate, B Vitamins, zinc, magnesium, iron and potassium. Impressive!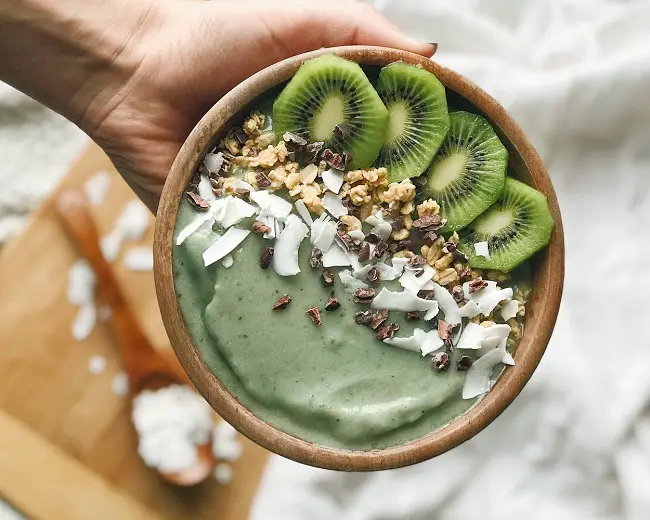 7. SPIRULINA MERMAID BOWL FROM BE WELL BY BRI
Not only does this mermaid bowl look gorgeous, but it also has spirulina in it – an all-round superfood whose health benefits are too good to pass up. Spirulina is a blue-green algae that is rich in vitamins, minerals, protein, chlorophyll, and antioxidants that help repair cell damage.
It has even been proven to prevent the risk of cancer and may also reverse it in some cases. If that's not amazing, then we don't know what is!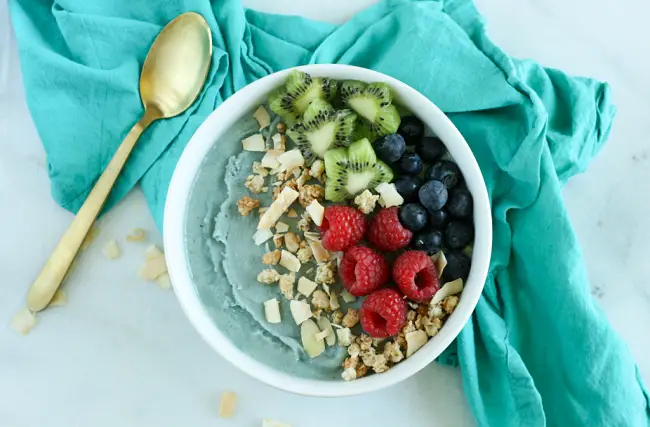 This mermaid bowl is the perfect treat for a summer's day when your body is craving unhealthy snacks such as ice cream!
You see, it's packed with a long list of health benefits due to its ingredients which are rich in vitamins and minerals. Plus, you can top your mermaid bowl with any fruit or nuts that your heart desires!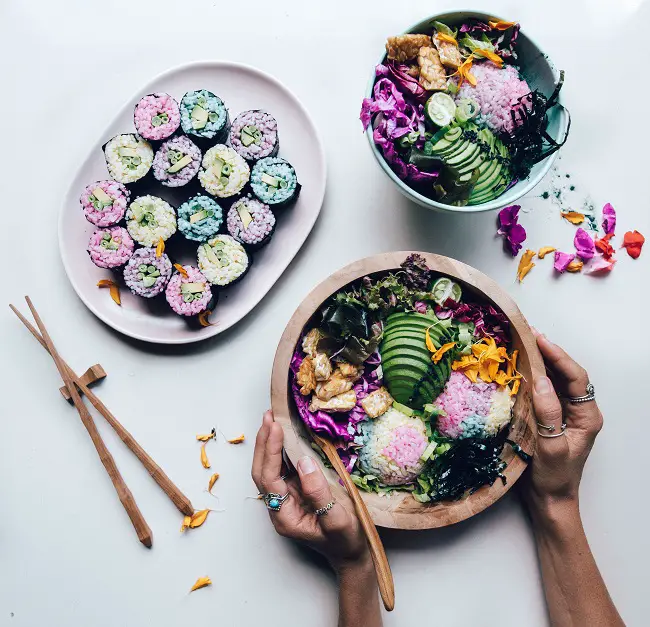 Sure, you've heard of mermaid smoothie bowls before, but what about mermaid sushi bowls? These delicious lunch or dinner bowls still pack as many nutrients as their smoothie counterparts, plus they look just as pretty too!
You'll find ingredients such as spirulina, apple cider vinegar, turmeric, beetroot powder, acai powder, avocado, and loads more in these.
Brace yourselves for what can only be described as a mermaid masterpiece. Sure, they're technically classed as a dessert, but with ingredients including spirulina powder, wild berries, coconut oil, and lemon juice, you can almost convince yourself that it's healthy!
It might be fun to assemble, but the real fun comes from eating this delicious treat.
11. BLURPINKLE SMOOTHIE BOWL FROM NUTRA ORGANICS
This smoothie bowl's name comes from the stunning array of colors it features – blue, pink, and purple. It features a healthy mix of bananas, coconut milk, watermelon, papaya, dried rose petals, and more.
A word of advice though: make sure your frozen bananas are as white as possible to help you achieve that beautiful, vibrant color scheme.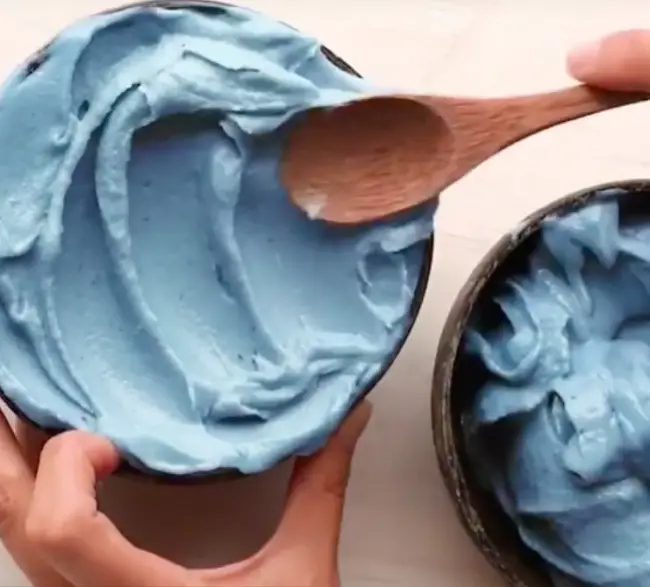 12. MERMAID SPIRULINA NICE-CREAM FROM COCONUT BOWLS
Wondering what nice-cream is? It's simply an ice-cream recipe that's actually good for you, containing none of the usual nasties that normal ice cream features (such as loads of sugar).
You just combine bananas, mango, almond milk, and blue spirulina in a blender until smooth and creamy. Then, top with your favorite mermaid-inspired ingredients!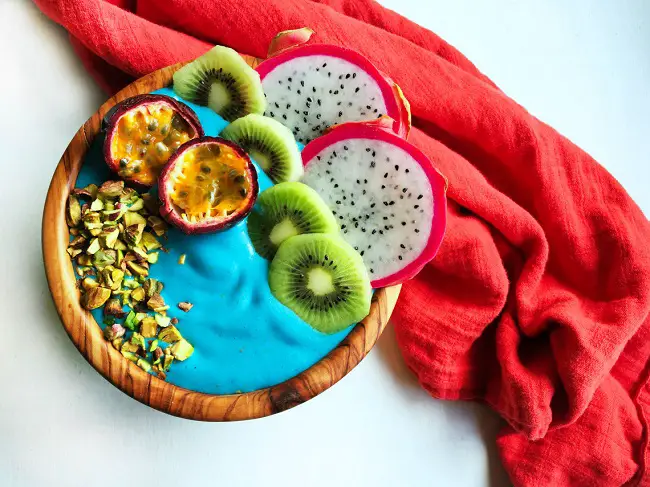 13. BLUE MERMAID SMOOTHIE BOWL WITH E3LIVE BLUE MAJIK FROM GREENS OF THE STONE AGE
E3Live Blue Majik is a potent algae that will boost your overall health. It has a whopping 22 times more iron than spinach, 6 times more antioxidants than blueberries, and 6 times more calcium than cow's milk.
Plus, it's responsible for turning your smoothie bowls into vibrant blue mermaid bowls!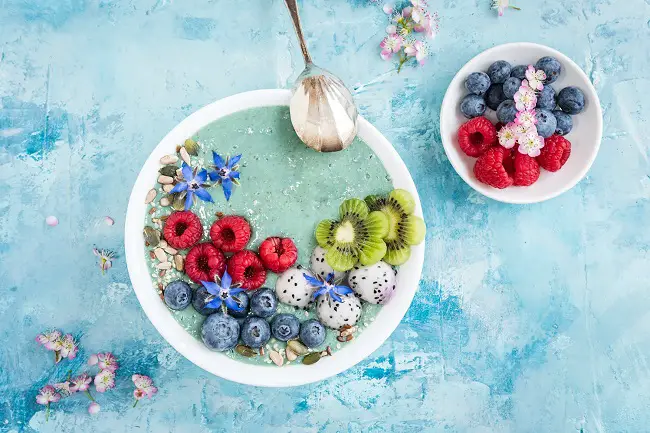 14. MERMAID SMOOTHIE BOWL FROM BRIT + CO
This mermaid smoothie bowl is almost too pretty to eat! It's packed-full of delicious and healthy ingredients such as coconut milk, bananas, rolled oats, agave syrup, chia seeds, and blue algae powder, so it's good for you too.
We love the decorative ingredients on top, as well as the fun shapes created using sugarcraft cutters. Too cute!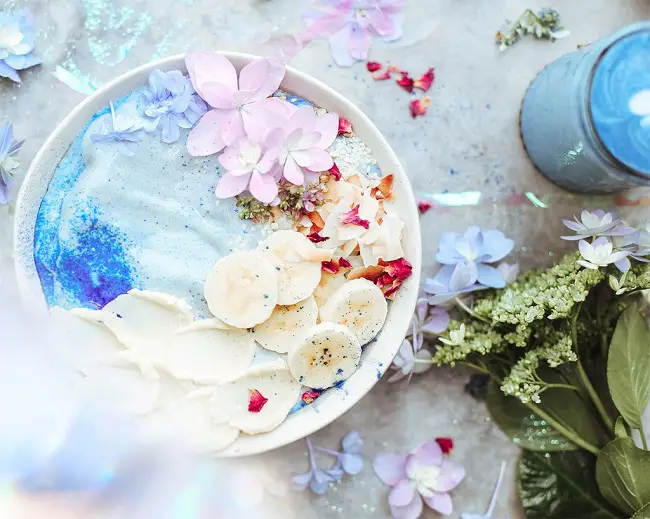 15. CREAMY MERMAID SMOOTHIE BOWL FROM NUTRA ORGANICS
Topped with sliced bananas, edible flowers, and cacao butter mermaid scales, this mermaid bowl looks as fun to create as it is to eat!
As always, the spirulina powder gives it that blue coloring, but this recipe also uses additional products (such as Mermaid Latte) to amp-up the mermaid factor. Why not surprise your friends with one of these next time they come to visit? They'll be talking about it for weeks.
Time to Make Your Own Mermaid Smoothie Bowl!
There you have it – 15 beautiful and healthy DIY mermaid bowls that anyone can try. Not only do they resemble works of culinary art, but these mermaid bowls are also packed with additional vitamins and minerals thanks to one core ingredient – spirulina.
Whether you're craving some mermaid magic for breakfast, lunch, dinner, or dessert, these recipes are sure to inspire and satisfy you. Just remember, once you've made one mermaid bowl, you won't be able to stop.
Trust us when we say that they're not only gorgeous to look at and delicious, but they make you feel on top of the world too.
Melanie Clarke is the founder of Whim Online Magazine, an online magazine based in Australia that has a strong focus on whimsical + dreamy photography, as well as art and fashion content.