Pashka, Paskha, Pascha or Pasha is a traditional festive dish made in Eastern Orthodox countries for Easter Sunday. Having grown up in Ukraine, I insisted on making a healthy version of this rich, velvety dessert for the blog in the lead up to the festive season.
Traditional Pashka is made from a type of farmer's cheese or curd cheese called tvorog. Cottage cheese and ricotta cheese are similar and can be used instead.
It's combined with rich ingredients like cream, butter and eggs and then sweetened with sugar, dried fruit and nuts. This dish is usually heavy on dairy, but I've lightened it up by using ricotta with only a small addition of yoghurt.
Then, I added our favorite coconut oil, coconut cream, and egg yolks of course. I also stayed away from processed sugar and used raw honey to get extra nutritional benefits.
Fresh raspberries and citrus zest add freshness and zing to this dish, which is often associated with the spring season.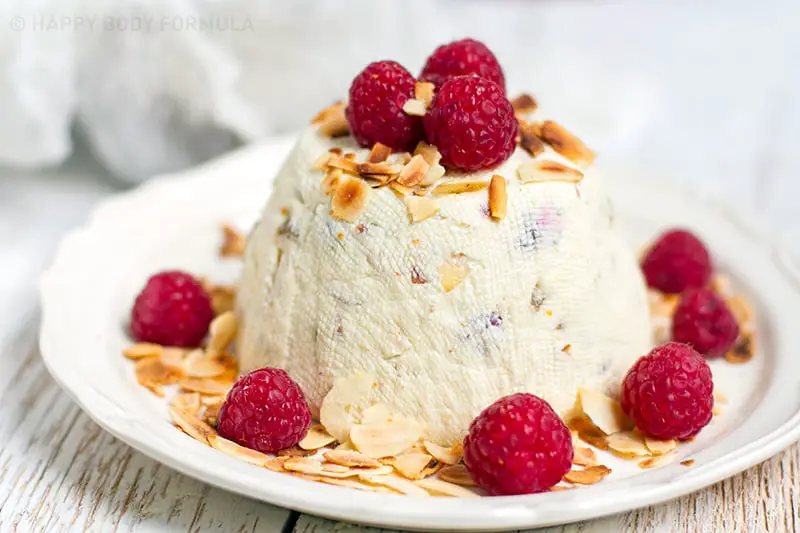 It can be left in the fridge in moulds for up to 48 hours, so it's a perfect make-ahead dessert. Serve it post-dinner or on Easter Sunday morning with fresh berries, extra nuts and some more yoghurt if you like.
Oh, and the reason it's shaped like a dome is because it's supposed to represent a church or the tomb of Christ.
Why it's good for you: Ricotta and yoghurt are great choices of dairy with all the benefits of calcium, protein and probiotics. Ricotta is made from milk whey and, as a result, contains very little casein and lactose, making it a safer choice for those normally sensitive to dairy because of those components.
However, if you are avoiding all cow's dairy, then you might want to try this vegan version from Scandi Foodie made with soaked cashew nuts. I much prefer the ricotta version.
In addition to that, raw honey and coconut oil are some of our favorite super foods, while fresh raspberries and almonds add a dose of antioxidants into this humble Easter dessert.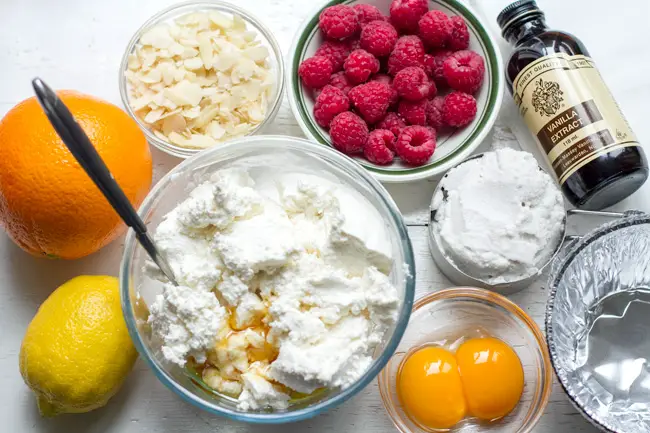 Cook's notes
The traditional version is much sweeter than ours, but we prefer it this way because you can always add a little extra honey when serving!
You can use one larger mould or something like a terracotta pot with a hole on the bottom. If you can't find anything with a hole on the bottom, you can use a regular cake mould and just leave a little space between the muslin cloth and the bottom for the liquid to sip through.
Farmer's cheese or fresh cottage cheese can also be used; just squeeze out any extra liquid. If you're using a drier, more crumbly farmer's cheese, push it through the sieve first to ensure smooth texture.
Other dried fruit can be used instead of apricot. Traditionally, soaked sultanas are used.
Nuts can be omitted and replaced with sesame seeds or poppy seeds.
It's a good idea to place coconut cream in the fridge for an hour so that the watery liquid separates from the cream.
This recipe makes about 10 servings or two moulds, but you can easily halve the ingredients for a smaller batch.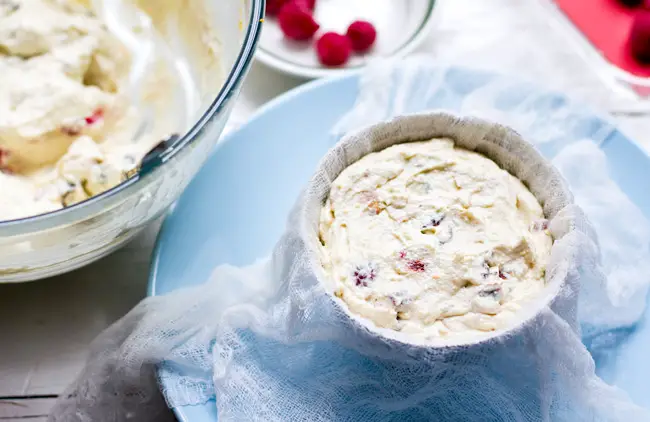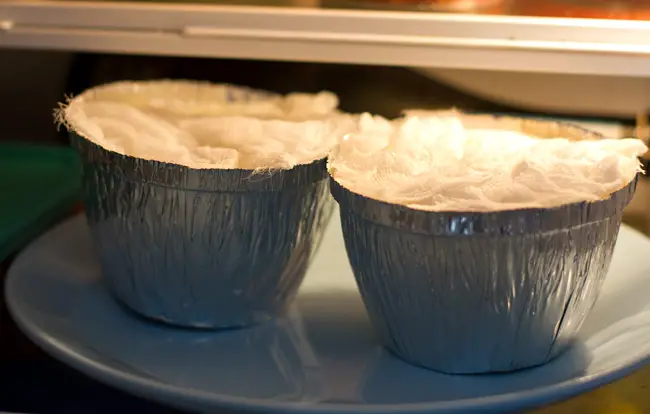 Easter Pashka with Ricotta & Raspberries
Ingredients
6 tbsp almond flakes
½ cup coconut cream (just the thick part, no watery liquid)
4 tsp room temperature coconut oil
1 tbsp vanilla essence/extract
2 egg yolks
500g full-fat ricotta
4 tbsp raw honey
Zest of 1 medium lemon
Zest of 1 medium orange
2 tbsp natural, full fat yoghurt
10 dried apricots, finely diced
1 cup fresh raspberries
2 medium foil pudding moulds
Fresh raspberries and natural yoghurt to serve
Instructions
In a medium frying pan, cook almond flakes over medium heat for 1-2 minutes, until light browned/toasted. Stir frequently to prevent burning. Set aside.
In a small saucepan, heat coconut cream, coconut oil and vanilla until just starting to simmer, whisking along a few times. Don't let it come to boil. Take off the heat and whisk a little more to cool just slightly. Add the egg yolks and whisk until well dissolved. Place back on very low heat and keep whisking for 2 minutes. The eggs yolks will cook gently and the mixture will thicken slightly into a custard like consistency. Take off the heat and pour into a large mixing bowl.
Add ricotta and honey to the egg mixture and whisk together until well incorporated. Then add lemon and orange zest and yoghurt and whisk until well combined. The mixture should be light and fluffy.
Fold in most of the almonds (reserve a tablespoon for garnish) and apricots until well integrated and then gently fold in most of the raspberries. Reserve a few whole raspberries for decoration at the end. If using foil pudding moulds like me, poke a few holes with a knife.
Fold a large muslin cloth in two layers and cut into two squares large enough to fill the moulds and have some left over to fold over the top. About 50x50cm. Wet and squeeze out the water. Place over the moulds and push down. Divide the mixture between two moulds or transfer to one cake mould and press down with a spoon. Flatten the top and fold the muslin cloth edges over, again pressing down gently.
Place the moulds on a plate and refrigerate for 4-8 hours, overnight if possible. The mixture will set and some of the liquid will sip out through the bottom. To serve, remove pashka from the moulds and peel away the muslin cloth. The easiest way to do this is to tip the mould upside down on to a plate and then pull it off and peel the muslin off. Garnish with extra almond flakes and raspberries on top. Serve with extra plain yoghurt and extra honey if you like.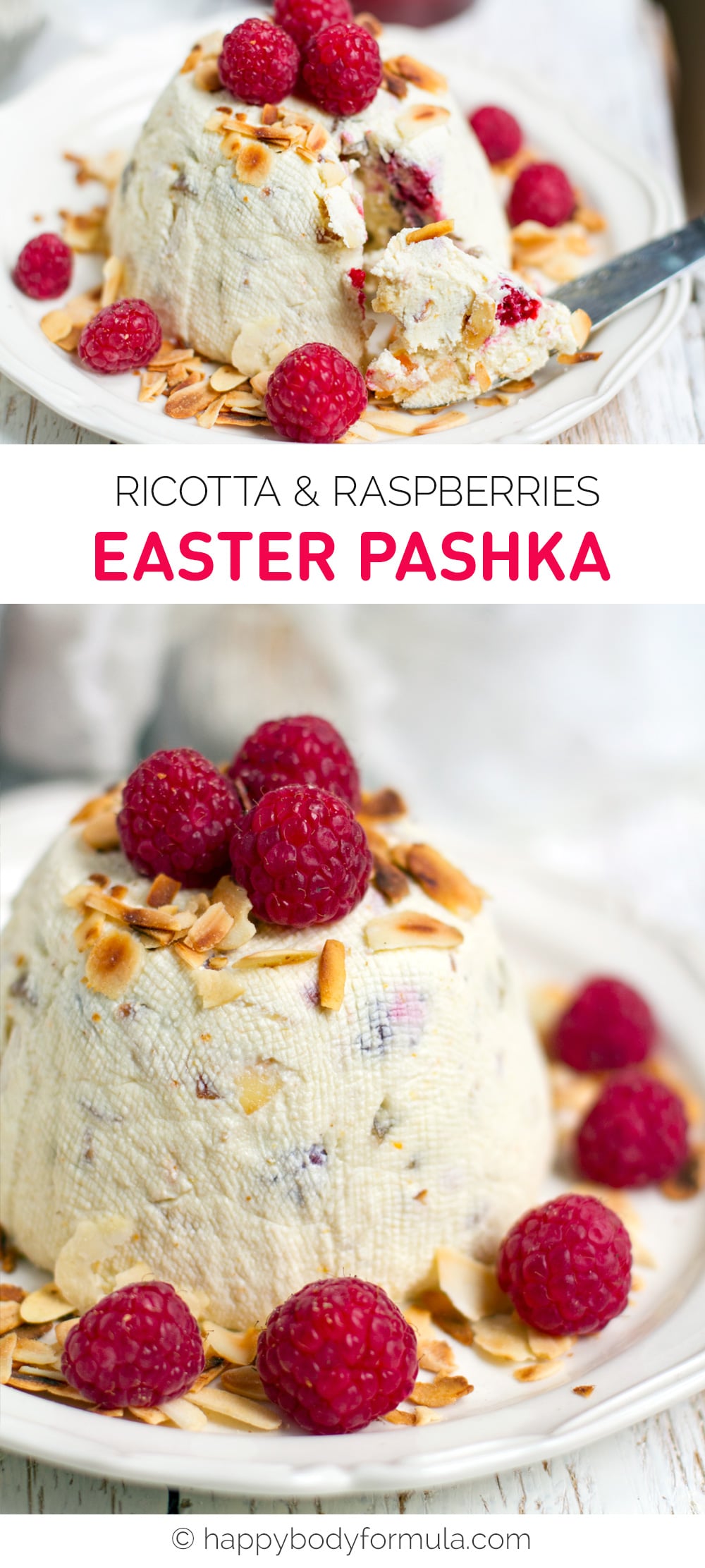 Music, mountains, dogs, travel, food and friends.