A few years ago I spent three months traveling around Europe in a van. We cooked most of our meals on a little gas stove and this amazing chorizo stew was one of my favorite cooking discoveries.
It all started with a box of veggies we picked up on the side of the road in Spain for cheap because they were at the end of their life. I needed to use them up ASAP so I decided to make a big stew.
As we were on the road, I didn't have fresh meat but I did have some dried chorizo sausage, onion and garlic, so I chopped everything up and threw it in the pot.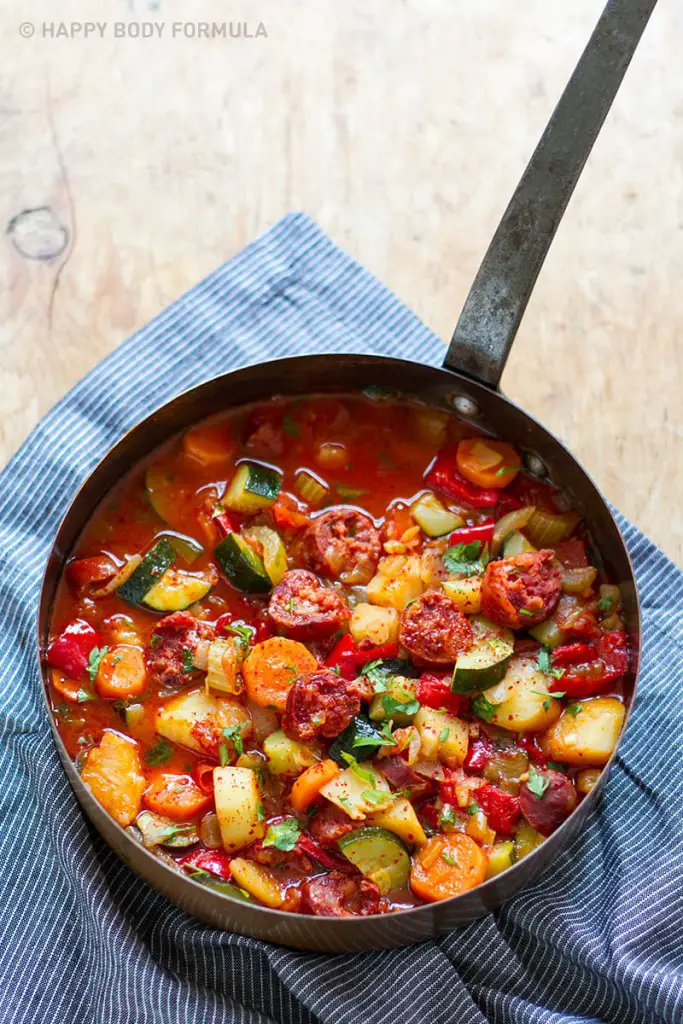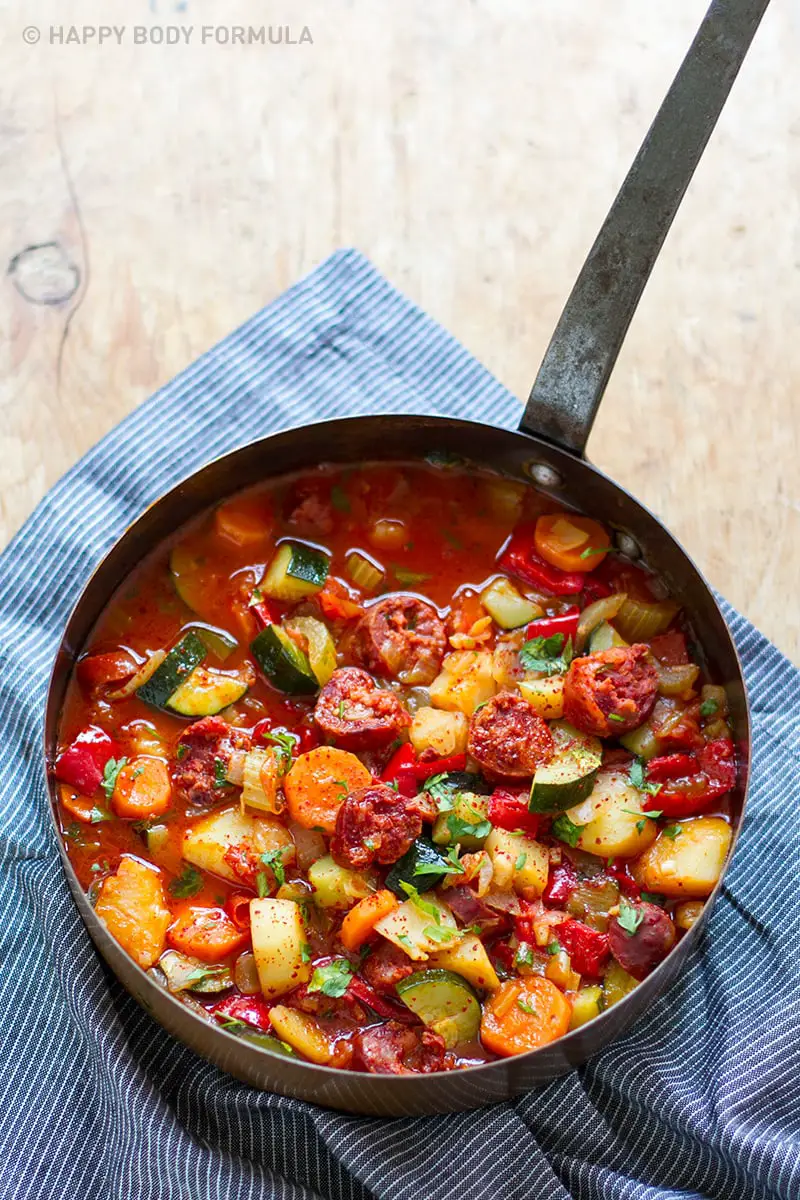 Thirty minutes later we had one of the best stews I've ever made…and I've made a few. While cooking, chorizo releases all its wonderful flavors, fats and color (from paprika) into the stew, so you really don't need to add much more than a bit of onion, garlic and stock on top of whatever vegetables you have around.
If you want more simple recipes to make ahead of time, check out our 7 Day Make Ahead Meal Plan.
Cook's notes
You can use dried chorizo or fresh but do look for good quality sausages with natural flavorings and ingredients. The colour should be coming from paprika and not from some color additive.
Make sure to peel the skin off the chorizo before slicing it. If you shop on Amazon, we like this brand of chorizo, and this is good quality chicken stock we like.
For those following AIP (autoimmune protocol), this stew has to me modified quite a bit because it has a lot of nightshade foods but you can still recreate something similar with a paprika free sausage (get something like a nice herb and garlic or other smoked sausage), and omit red peppers and tomatoes, swap white potatoes with sweet potatoes, and add more carrot, zucchini and maybe some leeks.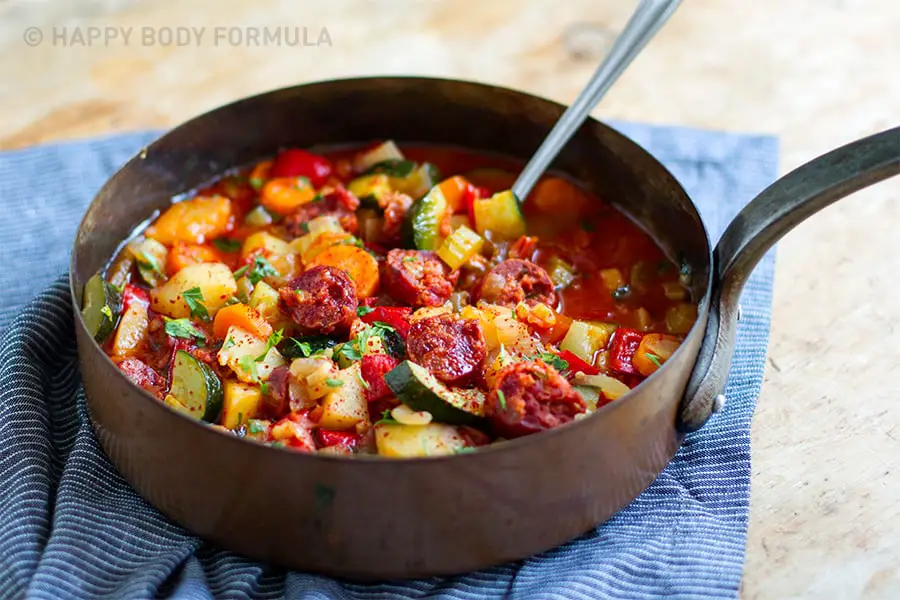 Best Ever Chorizo & Vegetable Stew
Ingredients
1 tablespoon coconut oil
1 large brown onion, roughly diced
2 medium chorizo sausages (about 150-200 g /5-6 oz each), skin peeled off and sliced
1 large carrot, sliced
1 large pointy red pepper (bell pepper/capsicum), seeds out and diced
1 large celery stick, sliced
2 medium white potatoes, peeled and diced
1 large tomato, diced
2 large cloves of garlic, diced
2 cups chicken stock or bone broth
1 tablespoon lemon juice
1 medium zucchini, diced
Sea salt and pepper
Handful of fresh parsley, chopped
Instructions
Prepare all the ingredients first.
Heat coconut oil in a medium saucepan over medium-high heat. Add the onion, chorizo, carrot and celery and sauté for 2-3 minutes, stirring frequently, until slightly softened and golden. Chorizo will start to release some fat, in which the vegetables will cook.
Then add the potato, red peppers, tomatoes and garlic and stir through for a minute.
Pour in the stock and lemon juice, stir and cover with a lid to bring to boil. Turn the heat to medium and cook, covered with a lid, for 10 minutes.
Then add the zucchini and a little black pepper. Stir through and cook over low-medium heat for a further 10 minutes.
By this stage the potato should soften up and thicken the sauce. Uncover the pot and bring the heat back to medium-high for 2 minutes, stir through. Then, take off the heat and add freshly chopped parsley.
Serve as is or with a side of steamed or sautéed greens.
For this recipe I use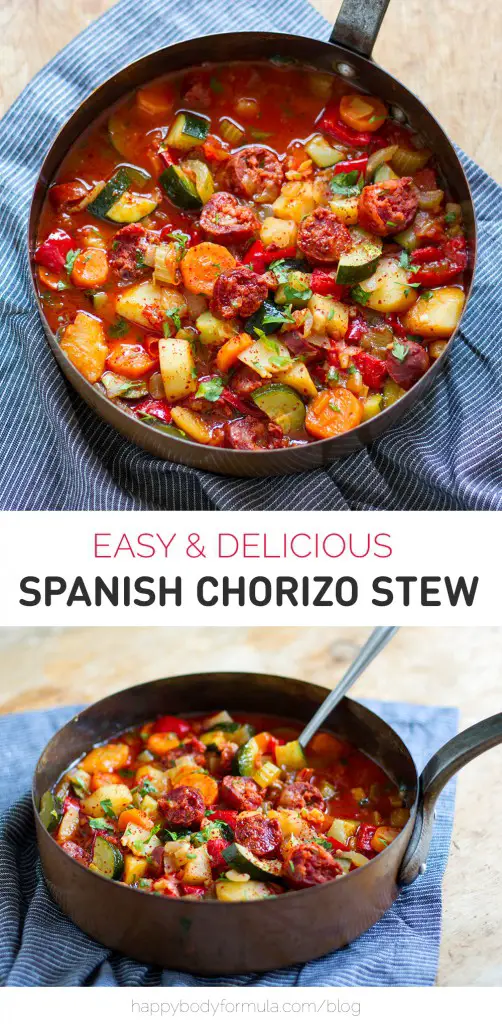 Make it tonight!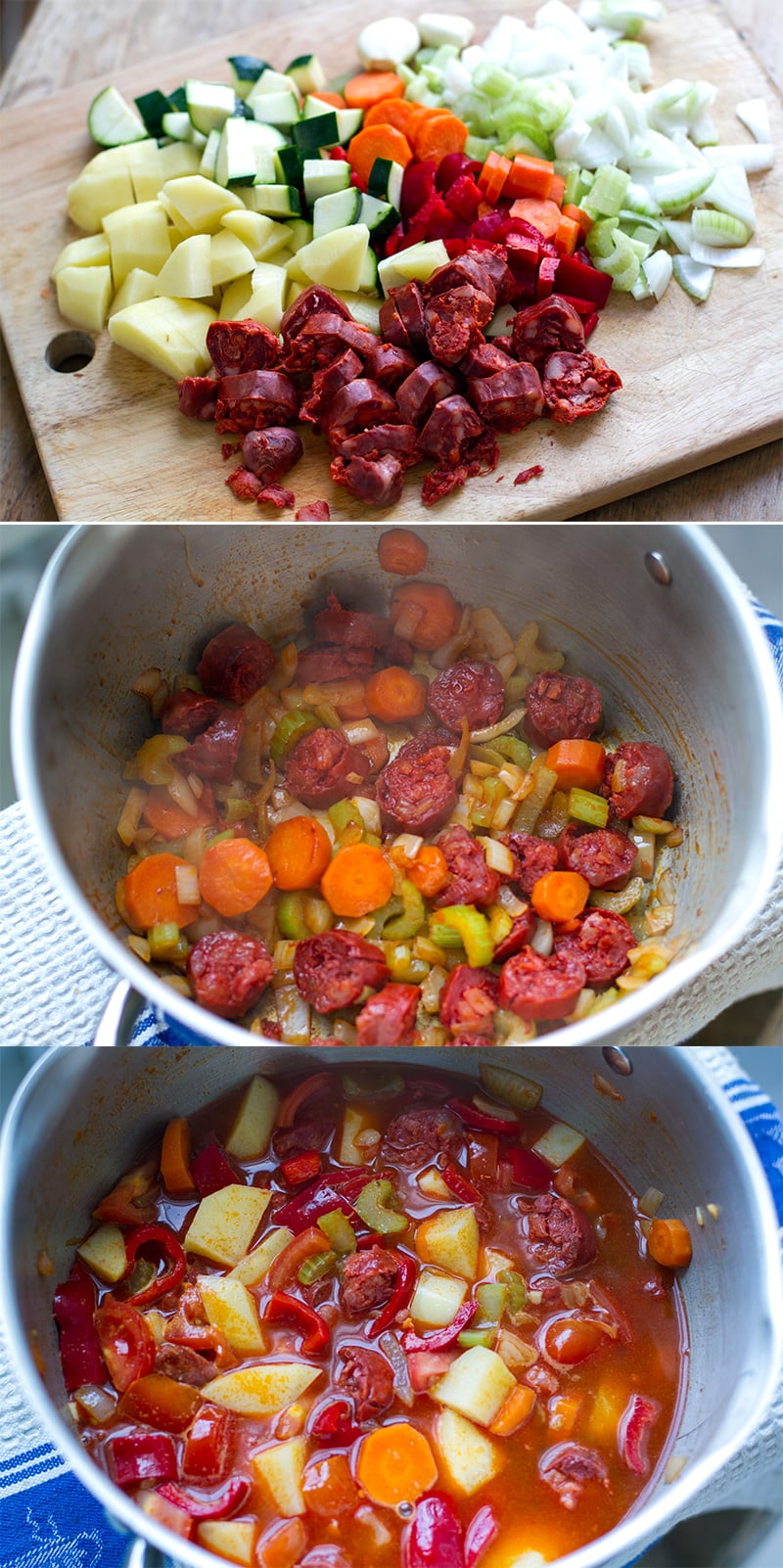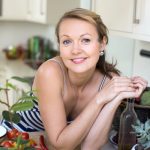 Internationally published author and blogger, Irena Macri, Eat Drink Paleo is a go-to stop for paleo recipes, healthy cooking and natural living.