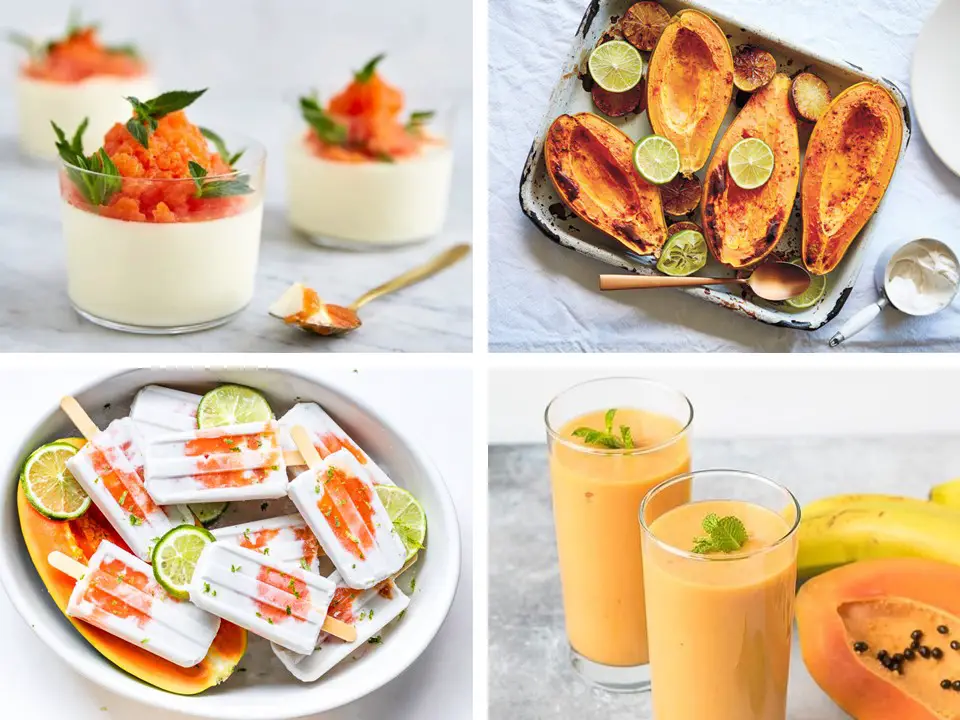 Not to be confused with rockmelon or cantaloupe, the papaya is a vibrant orange fruit which grows in tropical climates. It is also referred to as papaw or pawpaw and is most well-known for its extremely rich vitamin C content.
Along with vitamin C, the fruit also contains high amounts of fiber, antioxidants, vitamin A, vitamin E, phytonutrients, and flavonoids.
As you can imagine, papaya offers numerous health benefits when eaten regularly, such as lowering cholesterol, aiding weight loss, boosting immunity, preventing degenerating vision, protecting against arthritis, improving digestion, easing menstrual pain, reducing the risk of colon and prostate cancer, combating stress, and preventing various signs of aging.
If you're looking to take advantage of the benefits of this tasty fruit by increasing your weekly intake of it, then you're in luck.
We've rounded up the top 15 papaya recipes to give you several options for a papaya-based breakfast, lunch, dinner, or dessert. Let's get started!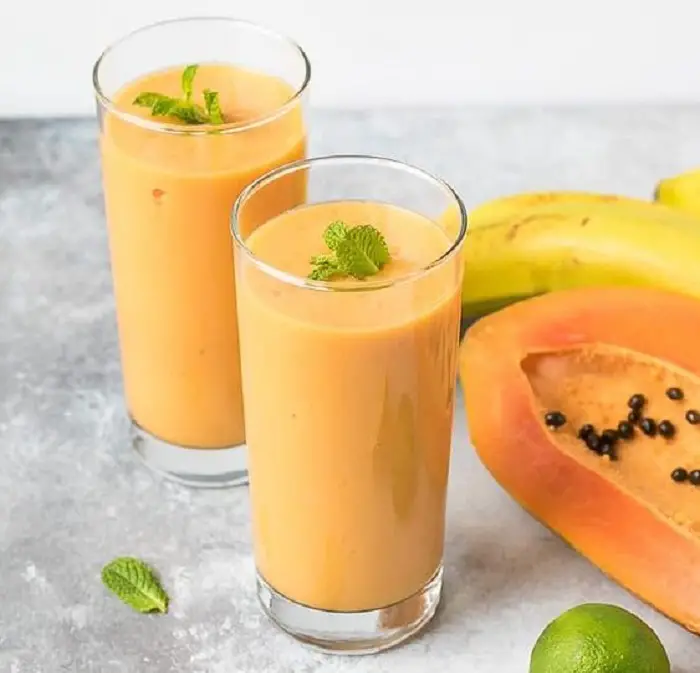 1. TURMERIC PAPAYA SMOOTHIE FROM COOKING LSL
It takes only 5 minutes to make this turmeric and papaya smoothie, but that doesn't mean it's bland. These two zingy flavors combine to create a smoothie that doesn't just taste fantastic, but is also really good for your health.
Other ingredients include frozen banana, almond milk, and sweetener. Have one of these a day and you'll soon notice how great you look and feel!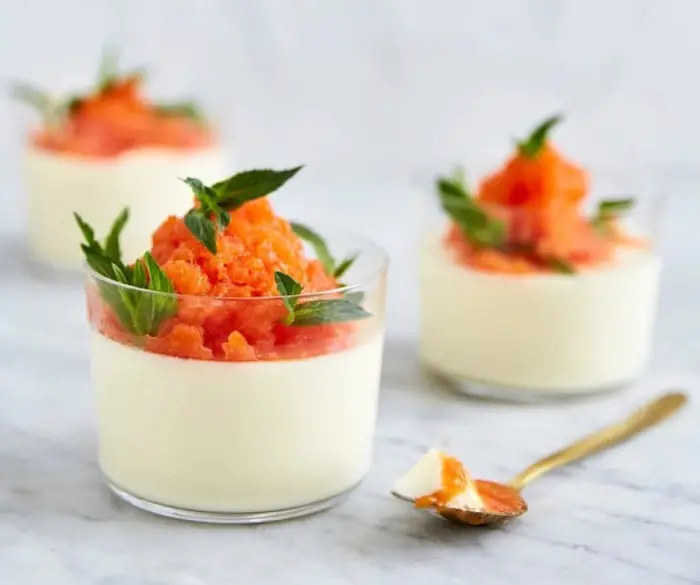 2. LEMONGRASS PANNA COTTA WITH PAPAYA LIME GRANITA FROM HARRIS FARM
Fancy enjoying some papaya with your dessert tonight?
This lemongrass panna cotta is delicious on its own, but when you add a papaya and lime granita on top, you're in for a real treat.
Plus, it can't all be bad if the fruit is rich in essential vitamins and minerals, can it?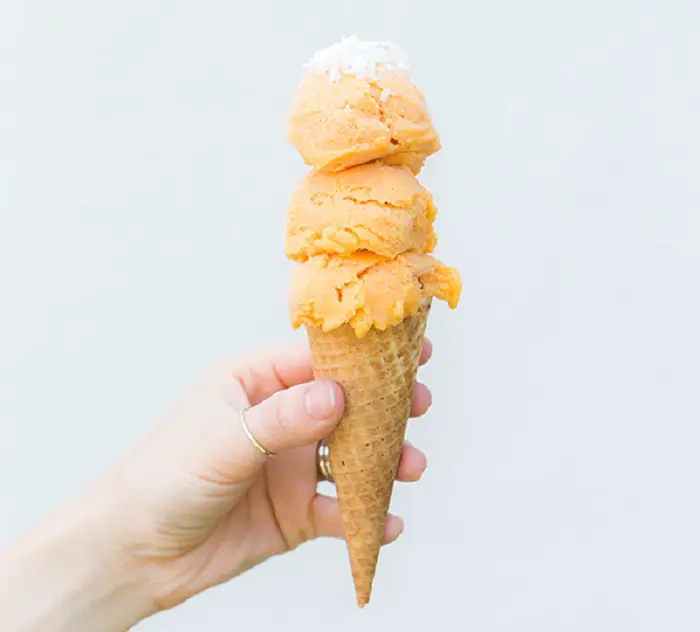 3. PAPAYA AND BANANA COCONUT SORBET RECIPE FROM SUGAR AND CHARM
Speaking of dessert, here's another delectable treat, this time featuring a mostly healthy papaya and banana coconut sorbet!
Is there any better way to cool down this summer?
Using ingredients such as banana, coconut milk, sugar, salt, and of course, papaya, this ice cream takes just 5 minutes to prep.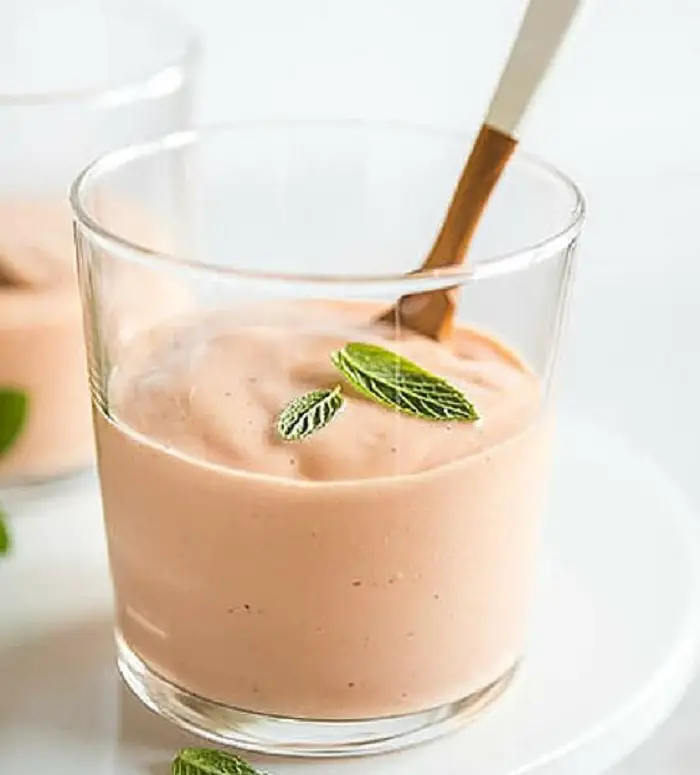 Essentially, this recipe is a papaya purée and vanilla ice-cream, but it's a true Brazilian classic that will have you coming back for more.
For best results, choose only a ripe papaya and combine with vanilla ice cream and crème de cassis (black currant liqueur). To make it healthier or vegan-friendly, swap out the vanilla ice cream for a low fat or plant-based alternative.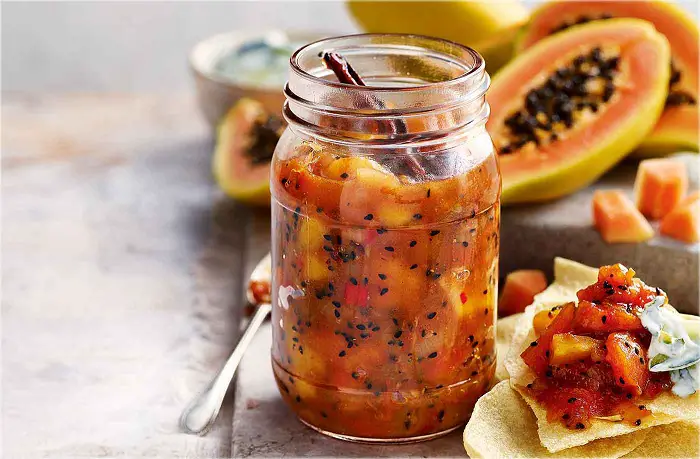 5. PAPAYA AND MANGO CHUTNEY RECIPE FROM TESCO
Sweet and spicy mango chutney is a pantry staple for many, but it's definitely worth making your own. With chunks of fresh papaya as well as mango, this simple chutney is bursting with flavor.
It takes just 15 minutes to prepare and 35 minutes to cook, but you'll soon have the most delicious papaya infused chutney you've ever tasted!
6. HOMEMADE PAPAYA FRUIT ROLL UPS FROM LITTLE GRAZERS
Fruit rollups are at the top of every kid's school lunchbox wish list, but store-bought versions are often loaded with sugar and preservatives.
The good news is you can make a much healthier version of these popular snacks using just three ingredients: papaya, lemon, and maple syrup.
Bake the thinned-out mixture in the oven at a low temperature for a few hours, and voila! Very clever.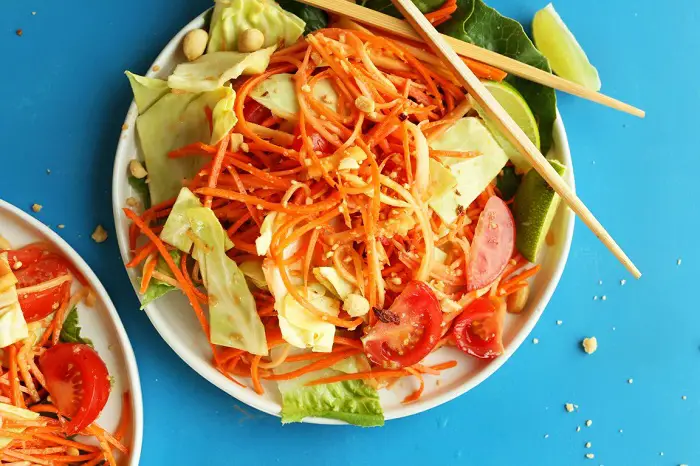 Not only is this recipe both easy and healthy, but it comes together in just 30 minutes and is absolutely delicious!
The secret to a great papaya salad is in the sauce – specifically one that contains peanuts, garlic, Thai chilies, coconut sugar, salt, lime juice, and vegan fish sauce.
Simply pour it over your papaya salad and you've got yourself a winner.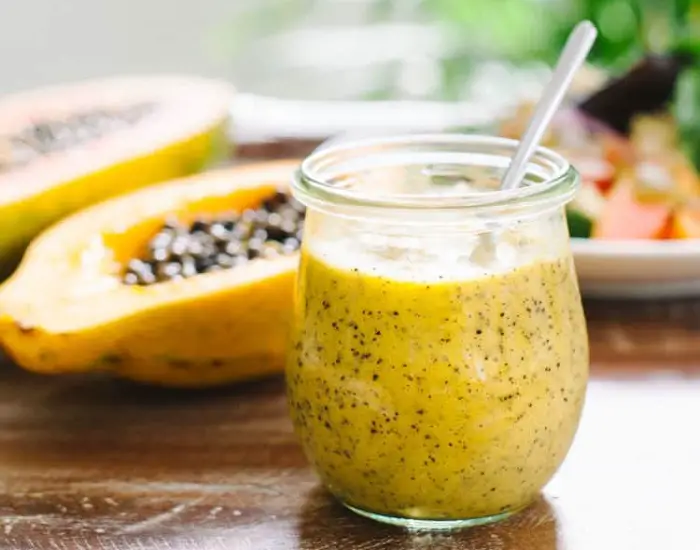 8. PAPAYA SEED VINAIGRETTE DRESSING FROM KITCHEN CONFIDANTE
Papaya seeds are good for you, and delicious drizzled over a salad in this papaya seed vinaigrette dressing.
It only takes 5 minutes to make and contains ingredients such as fresh papaya, papaya seeds, balsamic vinegar, agave nectar, Dijon mustard, ginger, kosher salt, black pepper, and olive oil. It's the perfect way to transform a salad from blah to hurrah!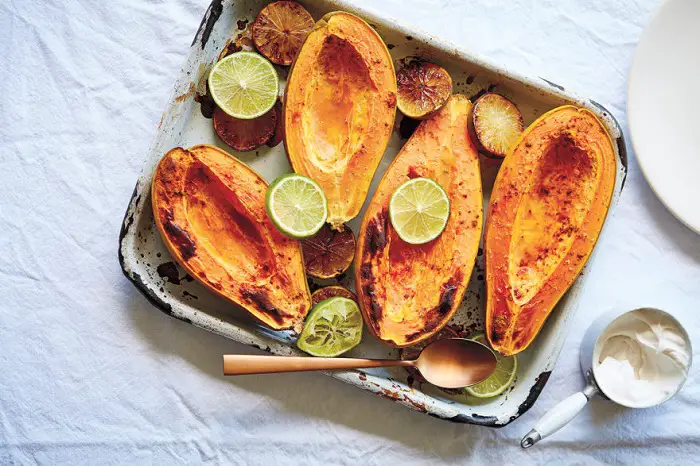 9. BAKED PAPAYA WITH LIME AND COCONUT FROM SUPERCHARGE YOUR LIFE
Papaya is a food recommended to those who are trying to shed some kilos or beat the bloat.
This baked papaya with lime and coconut recipe is a tasty way to incorporate the fruit into a weekly meal and it contains other tasty ingredients such as cinnamon.
You simply bake the papaya then drizzle it in coconut yoghurt. Divine!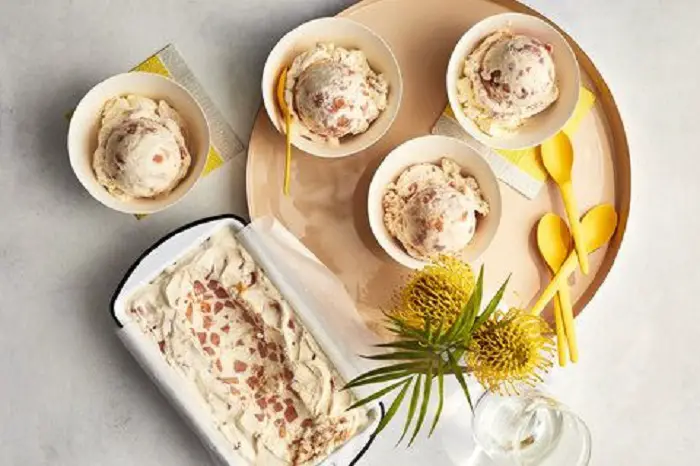 10. NO-CHURN PAPAYA ICE CREAM FROM REAL SIMPLE
This recipe is way easier to make than regular ice cream, since all you have to do is whip up heavy cream with sweetened condensed milk and fold in some papaya.
The chef recommends scooping it right out of the freezer or turning it into decadent sundaes with roasted pineapple, toasted coconut flakes, and a sprinkle of flaky sea salt.
How good does that sound?!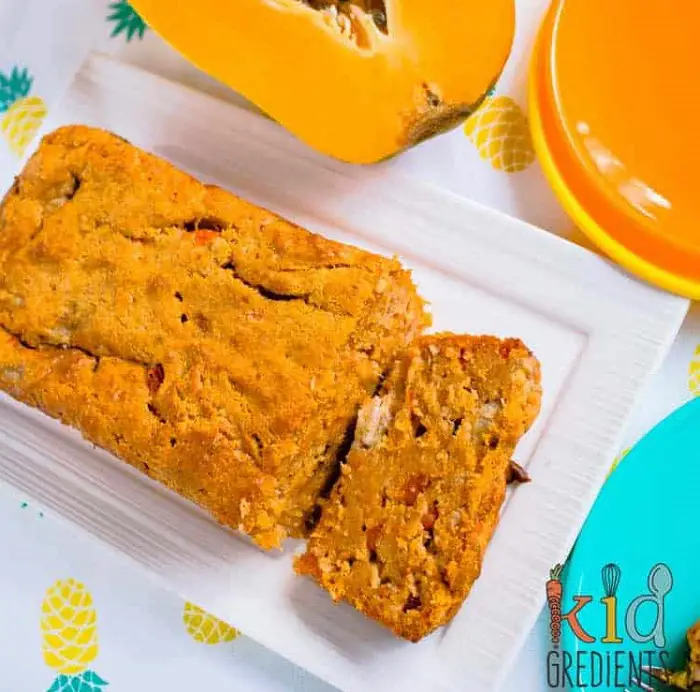 11. TROPICAL PAPAYA AND BANANA BREAD FROM KIDGREDIENTS
The added bonus with this papaya and banana bread is that it's so sweet that it only needs a tiny bit of sugar. In fact, you could possibly skip it altogether!
This banana bread is also dairy free, and you can make it gluten free by swapping plain flour to its gluten free counterpart. It's a tropical take on banana bread that you'll have on repeat!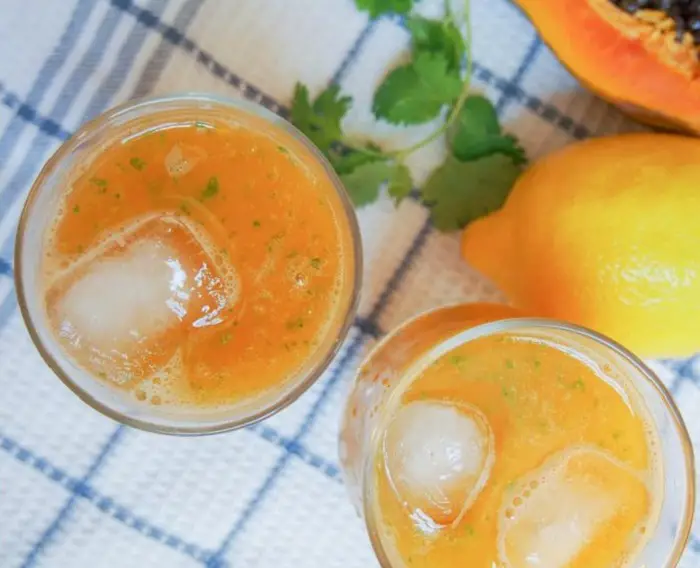 12. PAPAYA LEMONADE (OR COCKTAIL) FROM CAROLINE'S COOKING
This papaya lemonade is a variation on the classic – it's fresh, mildly fruity, and is absolutely perfect for summer. This papaya lemonade is really easy, as you just throw everything into the blender.
It contains refreshing ingredients such as papaya chunks, lemon juice, water, cilantro leaves, and honey. That will cool you down in no time!
13. MANGO AND PAPAYA FRUIT SALAD FROM KITCHN
Either eaten on its own or as a side, this mango and papaya salad might seem minimal, but it's utterly delicious – not to mention, healthy!
It contains lime zest, lime juice, honey, mango, and (you guessed it) papaya. It can be made up to one day ahead and will also keep for a couple of days in the refrigerator in an airtight container.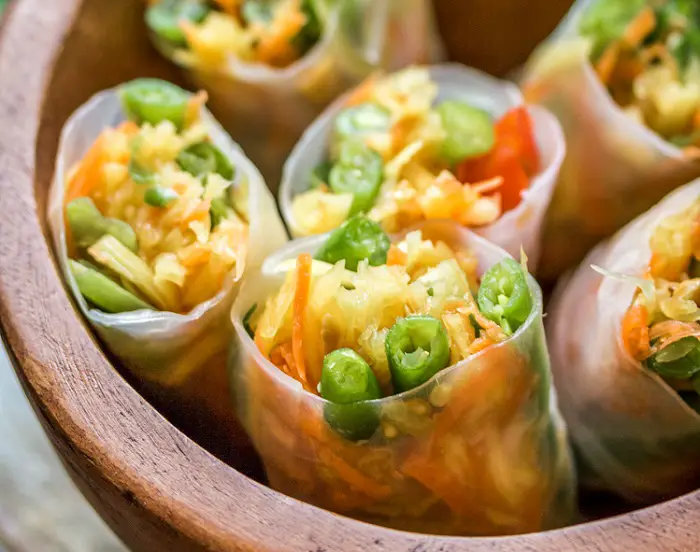 When ??u can't decide between fr??h r?ll? and papaya salad, make ?????? ??l?d r?ll?!
These papaya salad rolls just wouldn't be complete without an amazing peanut sauce, but thankfully, the recipe includes the ingredients and method for this too.
These look fresh, light, and delicious – everything you would expect from a Thai classic.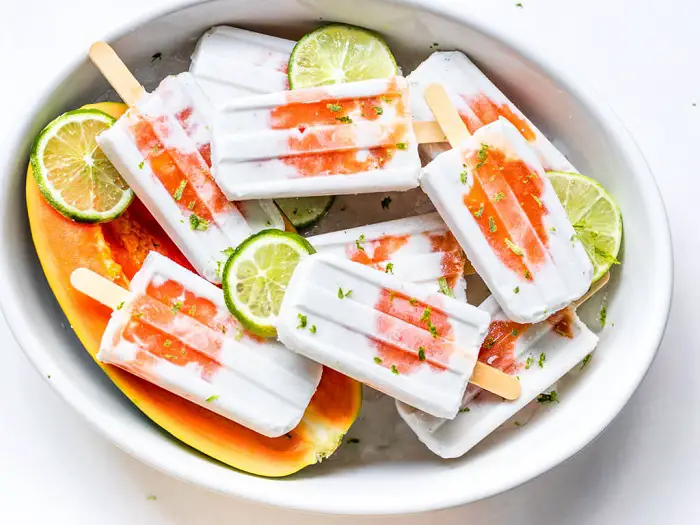 All it takes is some fresh papaya, lime juice, coconut cream, vanilla, and sugar to make these incredibly easy vegan papaya and lime popsicles!
They're so tasty, you'll want to make them on repeat during the hotter months. Plus, they're pretty guilt-free too, as they contain way less sugar and preservatives than store-bought popsicles.
Time to Get Your Papaya On!
There you have it – our top 15 papaya recipes to make your day even healthier! Remember, papaya is an excellent source of nutrients, including vitamin C, fiber, antioxidants, vitamin A, vitamin E, phytonutrients, and flavonoids.
With the fruit known to aid in the prevention of conditions such as high cholesterol, colon and prostate cancers, macular degeneration, and more, who wouldn't want to increase their intake of it?
Whether you're looking for papaya infused breakfasts, snacks, lunches, dinners, or desserts, this top 15 list will certainly give you a great starting point.
Which papaya recipe will you be trying first? We'd love to hear from you in the Comments section below!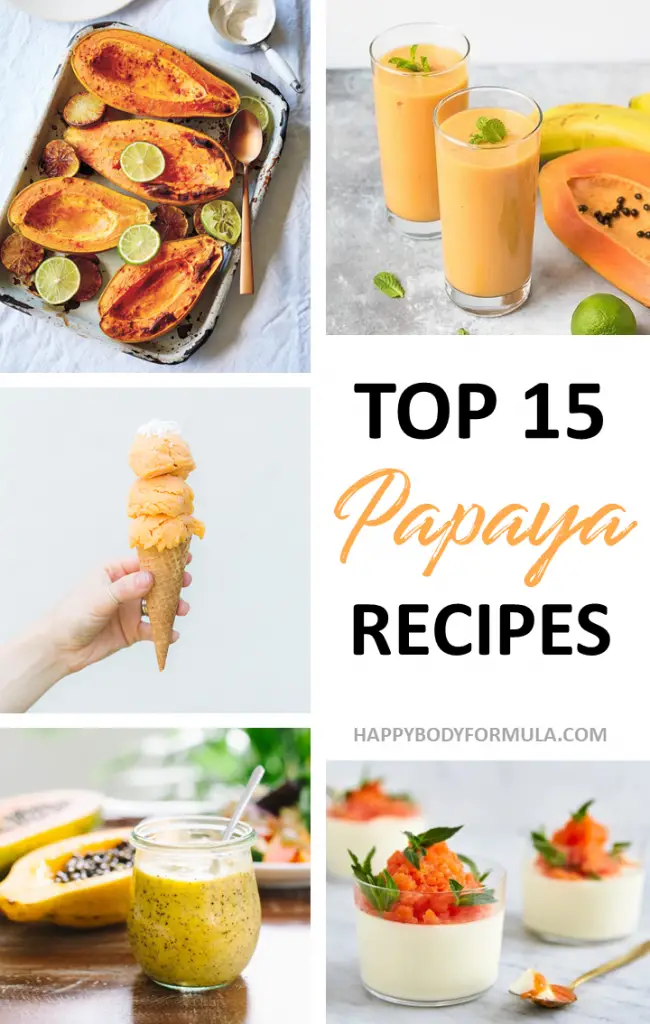 Melanie Clarke is the founder of Whim Online Magazine, an online magazine based in Australia that has a strong focus on whimsical + dreamy photography, as well as art and fashion content.