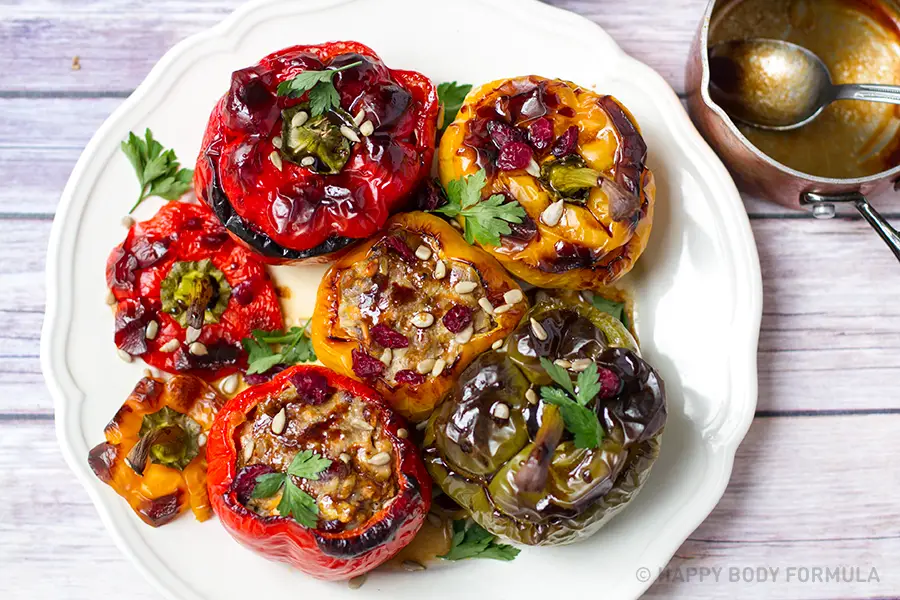 I think almost every cuisine has a dish based on a vegetable cavity stuffed with some delicious filling.  I remember my grandma and my parents often made vegetables stuffed with rice and pork – I think it's a very eastern European thing – so I wanted to make my own healthier version without the rice but with some extra goodies such as nutritious carrots, cranberries and sunflower seeds.
The sweetness of the carrot and cranberries really compliments the flavor of the pork and the sunflower seeds add a little extra crunch and fiber. Add to it the vitamin C loaded peppers, and you have a high protein meat dish that is actually all about the vegetables.
Looking for more meals like this? Consider our 7 Day Make Ahead Meal Plan. Three hours of prep will have you set to eat healthy all week.

Pork & Cranberry Stuffed Peppers
To get the best taste, make sure to use good quality, free range pork mince. For those who don't eat pork, other ground meat such as lamb, beef or chicken can be used instead. Dried currants or some chopped up raisins can be used instead of cranberries. We recommend to serve these with a side of zucchini noodles, steamed broccolini, or other green vegetables. A small side of simple white rice will also be nice.
Ingredients
1 tsp coconut oil or ghee
1 brown onion, finely diced
1 medium carrot, grated
2½ tbsp sunflower seeds
Pinch of sea salt
500g minced pork
3 tbsp dried cranberries, roughly diced
Zest of 1 lemon
1 tbsp Worcestershire sauce (optional)
2 garlic cloves, grated
Generous pinch of nutmeg
1½ tsp sea salt
½ tsp ground black pepper
1 tbsp virgin olive oil or melted ghee
1 egg
5 small to medium bell peppers, mixed colours (not too big)
For balsamic reduction
1 tsp butter
2 tbsp Balsamic vinegar
Pinch of sea salt
For garnish
Parsley
Extra sunflower seeds
Instructions
Preheat oven to 200 °C/395 °F.
Heat coconut oil or ghee in a frying pan to medium hot. Add onion and cook for a minute, while you're grating a carrot. Add the carrot and sunflower seeds, sprinkle with a pinch of salt and cook on medium heat for about 2 minutes, until slightly softened.
In the meantime, prepare other ingredients. Place minced pork in a large mixing bowl. Add cranberries, lemon zest, grated garlic, nutmeg, salt, pepper, olive oil or melted ghee. Then add the pre-cooked carrot and onion and mix everything together with your hands, until well incorporated.
Grease a small baking tray with some coconut oil or ghee.
Cut the tops of the bell peppers, about 1 centimeter from the top. Rotate the pepper as you cut the top off, it will feel like it's still attached to the main part. Carefully insert your fingers inside the pepper, twist and pull the seeded core that's attached to the cap. Remove any seeds stuck inside. I like to cut away any white flesh inside the cavity to free up more space for the filling. Then carefully, cut away the seeded core from the caps.
Sprinkle the inside of the bell peppers with a little sea salt and fill the cavities with the pork mix, pressing down with your fingers. Leave a little space at the top for expansion. Grease your hands with a little ghee or coconut oil and rub the outer sides of the peppers. Place on the prepared baking tray and place the caps on top. Bake in the oven for 30 minutes. Then remove the caps, set them aside and place the peppers back in the oven. Crank the oven to 225 °C/435 °F and cook them for further 10 minutes until browned on top.
For the reduction sauce, mix butter, pinch of salt and Balsamic vinegar in a little saucepan and bring to boil. Cook on boil until thickened and reduced by about half. Set aside. Heat up a little more just before serving. Drizzle the stuffed pepper with the reduction sauce and sprinkle with extra sunflower seeds and some parsley.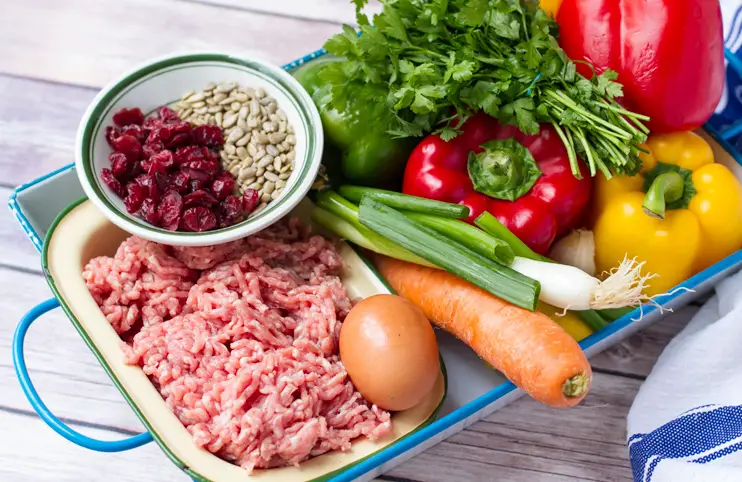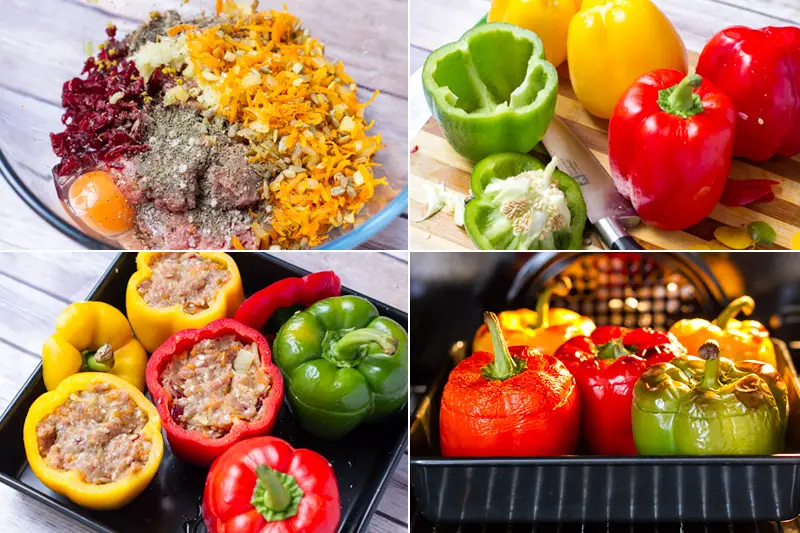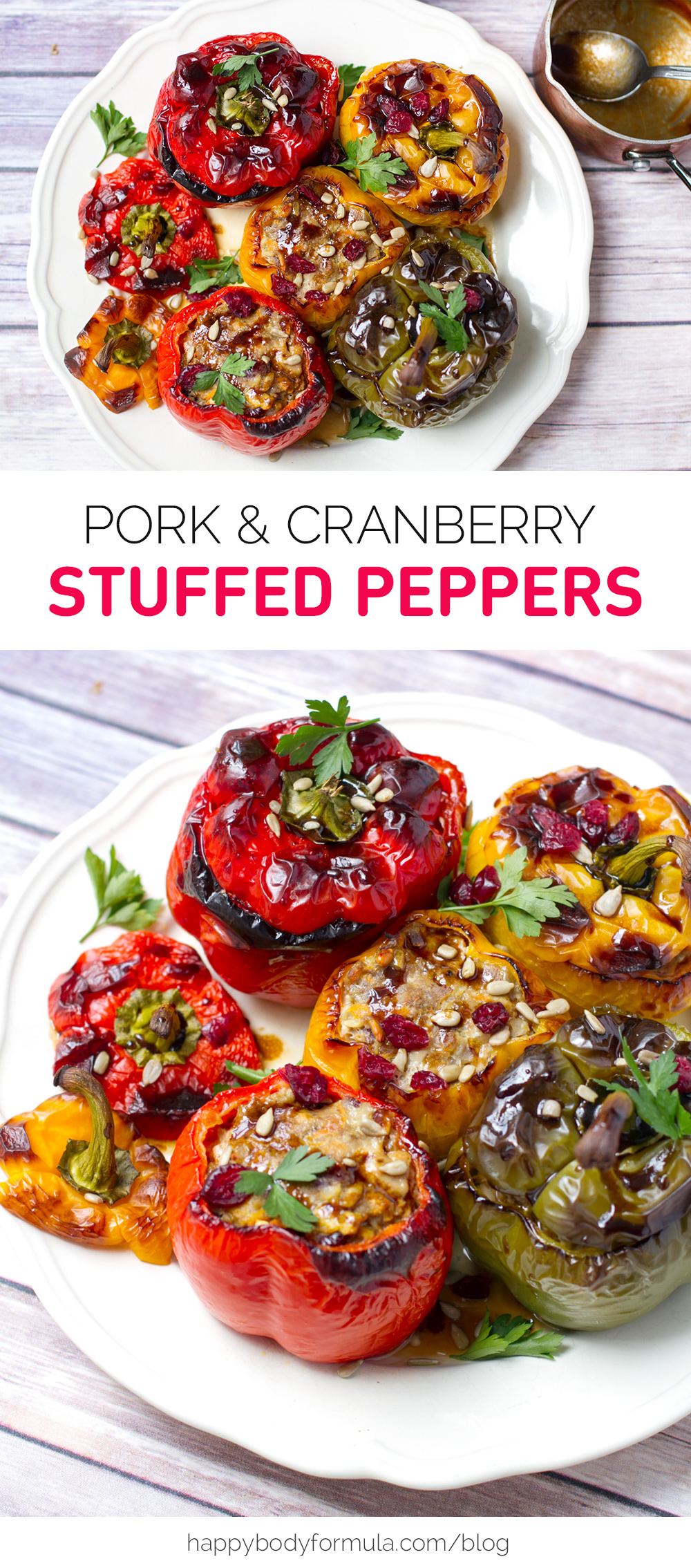 Music, mountains, dogs, travel, food and friends.