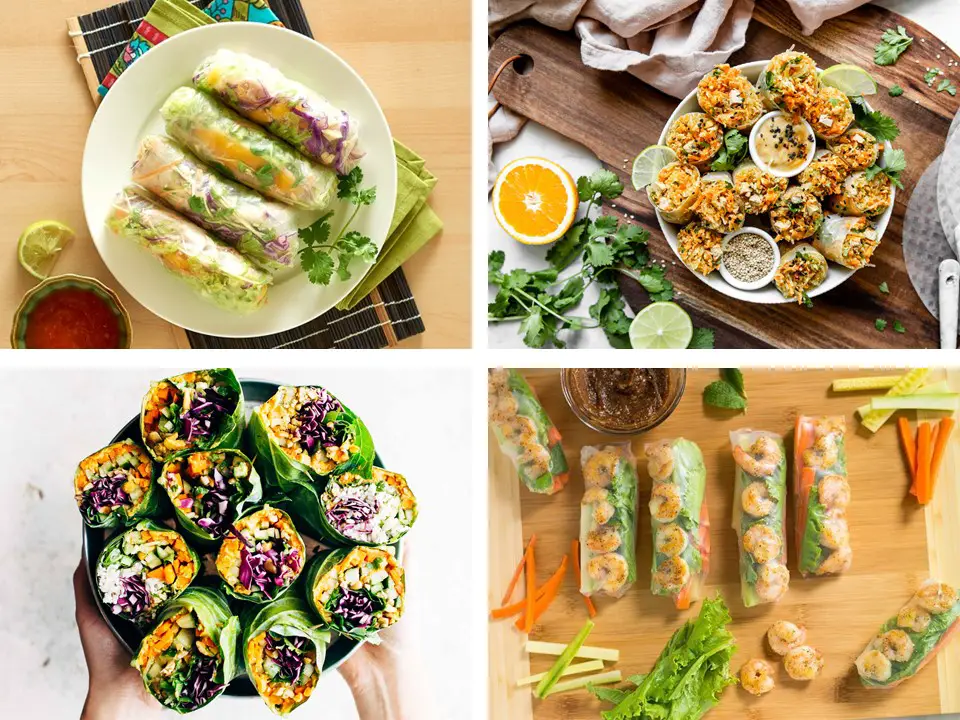 What's not to love about rice paper rolls?
They're incredibly versatile meals or snacks which take just minutes to make, plus they're often an easy and affordable option when entertaining guests.
We'll admit, it's not often that we come across an unhealthy rice paper roll, so we decided to round up not only 20 of the healthiest rice paper roll recipes, but also 20 of the most delicious. 
Whether you're craving chicken, seafood, tofu, or even fruit, we've got a rice paper roll recipe that you can whip up in no time at all. Ready to find your next favorite go-to meal?
Let's get started!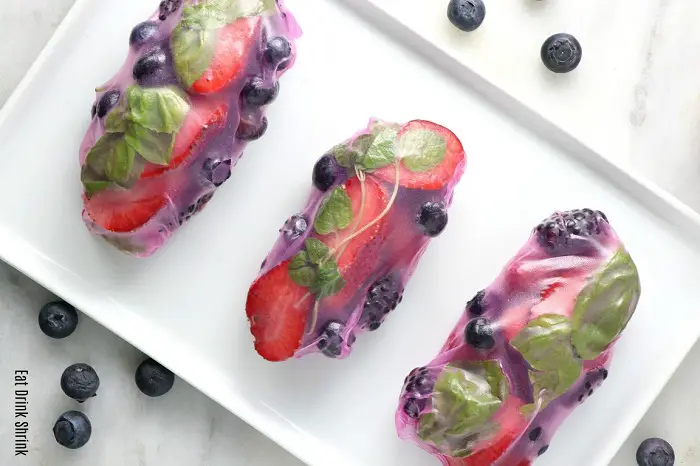 1. DRAGON FRUIT SPRING ROLLS FROM EAT DRINK SHRINK
If there's one way to make eating fruit and vegetables more exciting, it's to put them in a rice paper roll! These pretty-as-a-picture dragon fruit rolls are bursting with color, not to mention vitamins and minerals.
They contain blueberries, raspberries, blackberries, strawberries, dragon fruit, mint, and basil. Plus, they're accompanied by a coconut whip dipping sauce!
2. ONE-BOWL TOFU THAI RICE PAPER ROLLS FROM EARLY BRAWD
These one-bowl Thai rice paper rolls are the perfect dish for a healthy and fresh lunch. They are super easy to prepare too – all you need to do is mix everything in a bowl!
They also come with a deliciously creamy peanut dipping sauce to satisfy your tastebuds. They contain tofu, raw rice noodles, shredded coconut, carrots, coriander, toasted peanuts, sesame seeds, and more.
3. DUCK AND MANGO RICE PAPER ROLLS FROM OLIVE MAGAZINE
These delicious duck and mango rice paper rolls will soon become your go-to dish for when you entertain friends.
You see, they're easy to make, nutritious, and pack some seriously good flavor, plus they'll be ready in as little as thirty minutes. The mixture of smoked duck breast, mango, mint, coriander, red onion, and plum sauce is addictive!
4. DETOX RAINBOW ROLL-UPS WITH PEANUT SAUCE FROM PINCH OF YUM
With nutritional ingredients such as carrots, chickpeas, curry, red cabbage, peanuts, and dark leafy greens, this isn't your average rice paper roll. In fact, it's a detox roll!
They're colorful, quick to make, and filled with essential vitamins and minerals, making them a fun meal that's so good for you too. Just add peanut dipping sauce and you're good to go!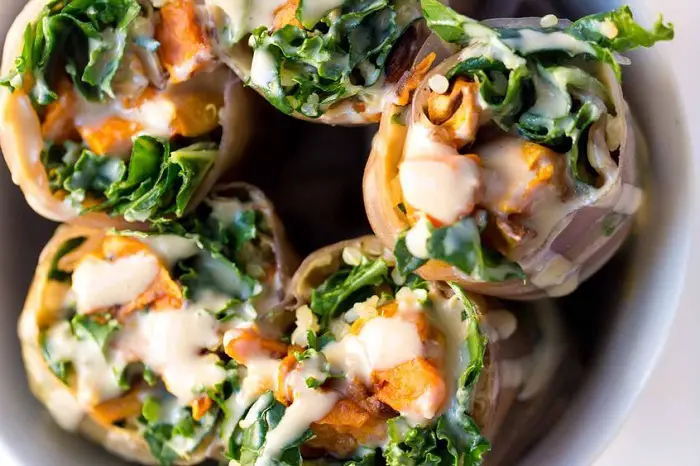 5. SWEET POTATO, KALE AND QUINOA SPRING ROLLS FROM SIMPLY QUINOA
They might be called spring rolls, but these delicious treats feature favorite winter vegetables such as kale, sweet potato and garlic.
Just when you thought it couldn't get any better, they're also accompanied by a scrumptious tahini sauce, making you continuously want to go back for more.
With just 5 minutes of prep time and 25 minutes of cooking time, you'll have a tasty, nutritious, and filling meal in little time.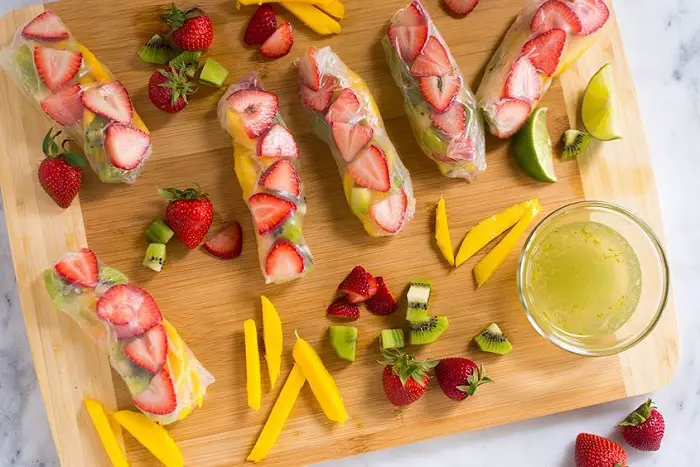 6. KIWI STRAWBERRY SPRING ROLLS WITH HONEY LIME DIPPING SAUCE FROM A SWEET PEA CHEF
If you fancy mixing up your usual bowl of fruit, why not try this recipe for kiwi and strawberry rice paper rolls with a honey and lime dipping sauce?
Although it seems more sweet than savory, there's no guilt to be felt here! They also contain mango for a summer hit and will become your (or your children's) most favorite post-dinner treat.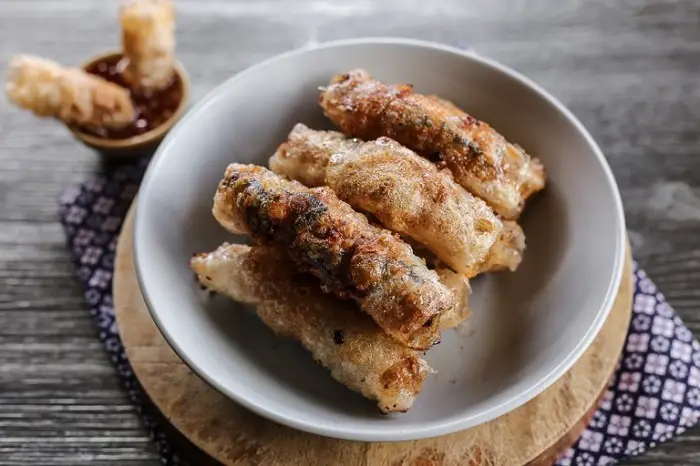 7. DEEP FRIED RICE PAPER ROLLS (VIETNAMESE SPRING ROLLS) FROM ANG SARAP
Alright, it's okay to deep-fry things from time to time providing they're filled with healthy ingredients inside. These ones contain the goodness of pork, shrimp, crab meat, shiitake mushrooms, wood ear fungus (not as scary as it sounds), carrots, and shallots.
They take a little longer than uncooked rice paper rolls to make, coming in at 50 minutes preparation and cooking time all-up. It's totally worth it though.
8. SLOW COOKER HONEY SRIRACHA CHICKEN SPRING ROLLS FROM THE BEWITCHIN KITCHEN
They might sound decadent, but these rice paper rolls are gluten free and paleo! The chicken is cooked in the slow cooker, meaning you can leave it alone to cook while you do something else.
Plus, the end result is juicy, melt-in-your-mouth chicken! These tasty rice paper rolls also contain cashews, bell pepper, carrots, honey, sriracha, parsley, soy sauce, and garlic. How good does that sound?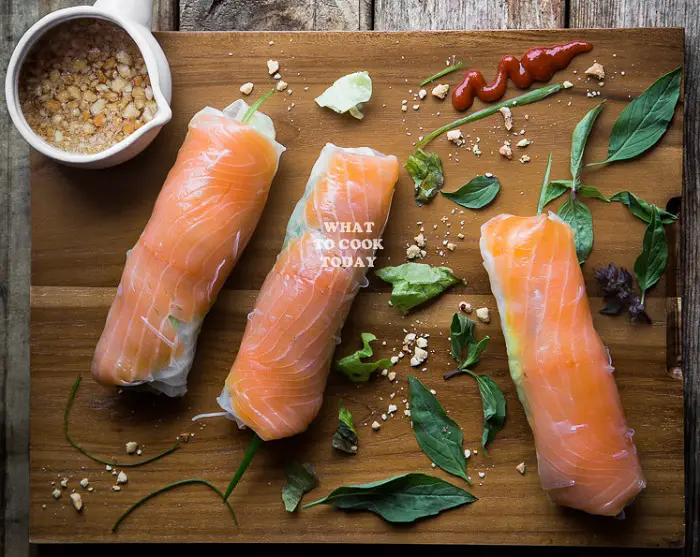 9. SMOKED SALMON FRESH SPRING ROLLS FROM WHAT TO COOK TODAY
If you're looking to boost the nutritional (and flavor) content of your rice paper rolls with some smoked salmon, then this is the recipe for you.
Not only do they look utterly irresistible, but they taste pretty darn good too, thanks to delicious ingredients such as vermicelli noodles, lettuce, basil, and mint.
The accompanying dipping sauce will also have your mouth watering, featuring an Asian-inspired concoction of fish sauce, lime juice, minced garlic, roasted peanuts, and more.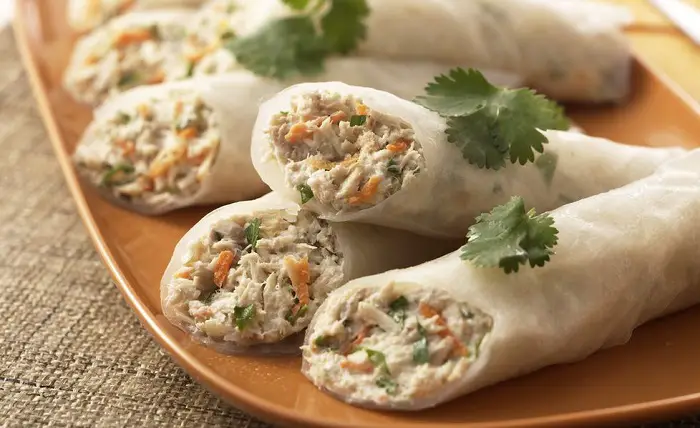 10. TUNA RICE PAPER WRAP FROM PREVENTION
If you love tuna, then we have great news. You can also put the nutritional ingredient in rice paper rolls to create a snack or meal that's healthy and delicious.
These tuna rice paper rolls also contain other ingredients such as celery, carrot, cilantro, scallion, and more. A few drops of hot pepper sauce also gives the dish a kick of spice and flavor.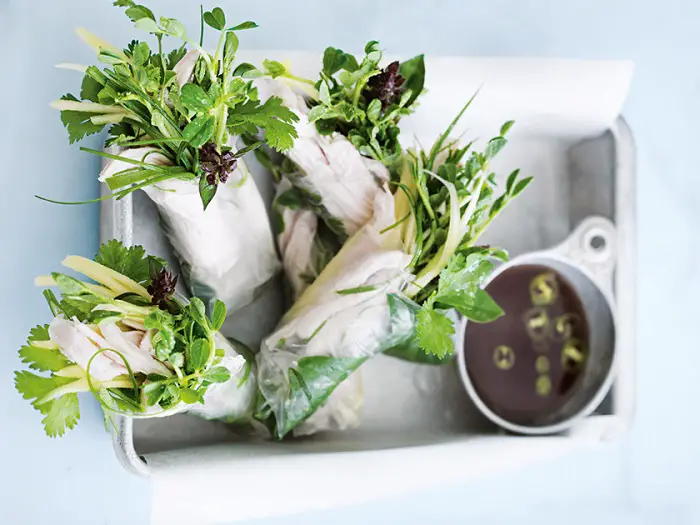 11. CHICKEN AND COCONUT RICE PAPER ROLLS FROM DONNA HAY
Chicken and coconut are a flavor combination made in heaven, and when combined with ingredients such as lemongrass, kaffir lime leaves, Thai basil, coriander, green mango, snow peas, and green onions, it's absolutely to-die-for.
We love that these rice paper rolls are a little rustic too, allowing you to be a bit messy, have fun, and above all, enjoy good food.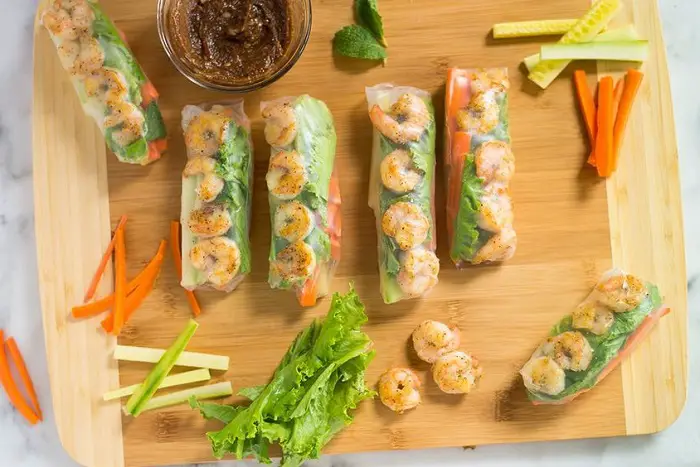 12. SHRIMP SPRING ROLLS WITH SPICY ALMOND DIPPING SAUCE FROM A SWEET PEA CHEF
If you're looking for a seafood rice paper roll recipe featuring shrimp, then you're in luck. These shrimp rolls are accompanied by a spicy almond dipping sauce, giving them the perfect amount of heat.
Other ingredients include cucumber, carrots, lettuce, and mint leaves. It's like a shrimp salad, but in finger food form!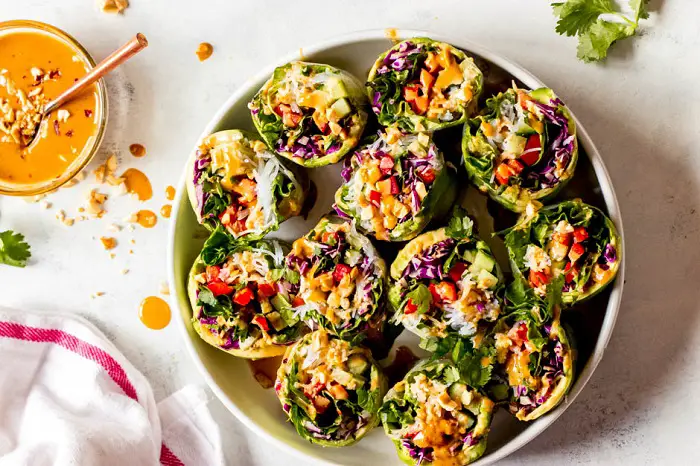 13. VEGETABLE RICE PAPER ROLLS FROM LITTLE BROKEN
Ready for some quick and easy vegetable rice paper rolls with the most delicious peanut dipping sauce?
These fresh and colorful rice paper rolls are packed with lettuce, avocado, cabbage, bell peppers, cucumbers, noodles, and fresh herbs, making them highly nutritious.
The sweet and slightly spicy peanut sauce is the perfect accompaniment to lift the flavors and give it some zing. Very clever!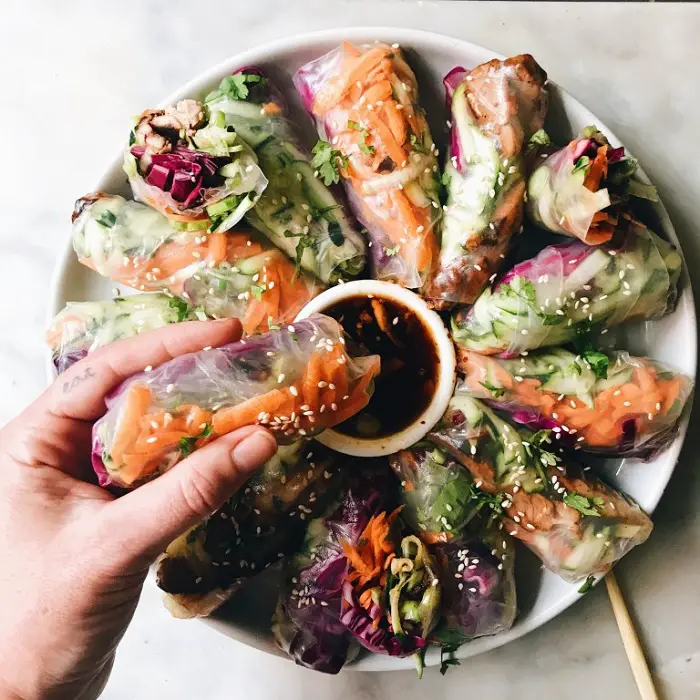 14. GINGER AND TAMARI CHICKEN RICE PAPER ROLLS FROM THE HEALTHY HUNTER
These rice paper rolls are vibrant and can be filled with any salad ingredients you've got lying around in the fridge. Just make sure you chop the cabbage finely and the chicken into thin slices, as this will make tightly rolling each rice paper roll way easier.
The real flavor of this recipe lies in its wonderful ginger and tamari sauce, which is addictively tasty.
15. BUFFALO CHICKPEA RICE PAPER WRAPS WITH TAHINI RANCH DIP FROM THE CURIOUS CHICKPEA
These buffalo chickpea rice paper rolls are refreshing and stuffed full of creamy avocado, crisp red bell pepper, spring-tender collard greens and a plethora of fresh herbs.
Plus, they're a bit spicy thanks to the pan-fried buffalo chickpeas. They make a nice presentation for a party appetizer, while being filling enough for a light lunch or dinner. The recipe also includes a delicious tahini ranch dip.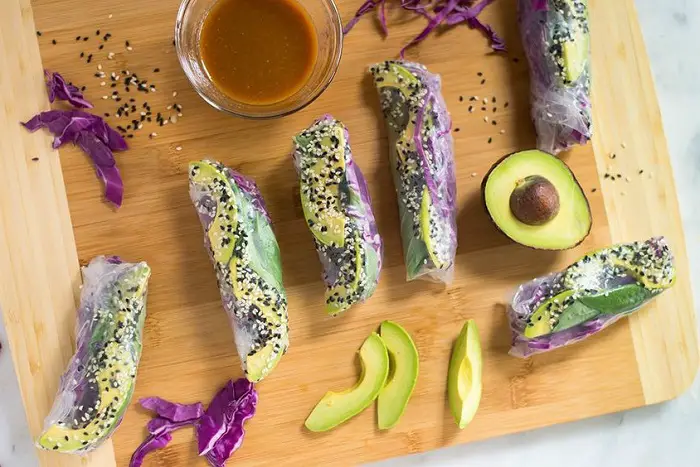 16. SESAME AVOCADO AND CABBAGE SPRING ROLLS WITH HONEY MISO DIPPING SAUCE FROM A SWEET PEA CHEF
Just in case you were wondering, these sesame avocado and cabbage rice paper rolls do taste as good as they look!
The sesame crusted avocados taste even better when wrapped in rice paper and dipped into a honey miso sauce, so we recommend you make double.
These take just 8 minutes to prepare, followed by 10 minutes of cooking (a.k.a making the rolls) time. So easy!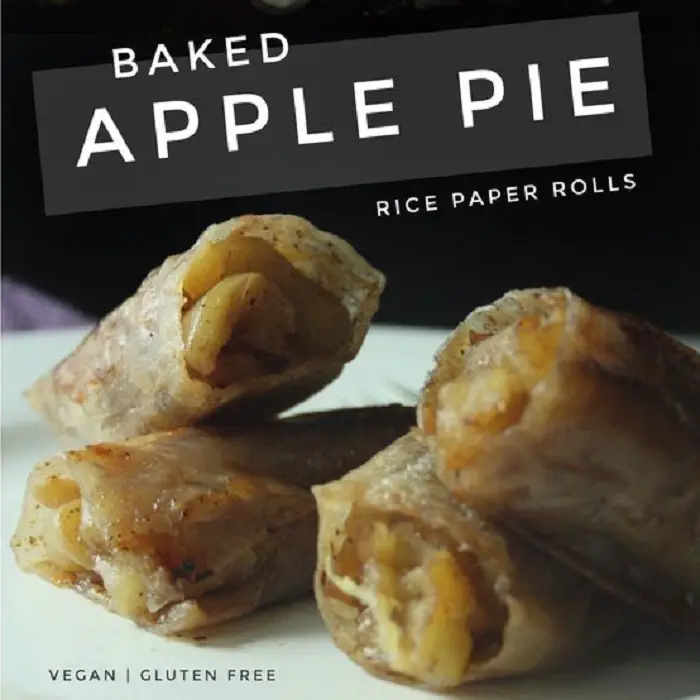 These 5-ingredient gluten free and vegan baked apple pie rice paper rolls are one of the most simple desserts you've ever come across.
You'll just need some apples, brown sugar, cinnamon, cooking oil, and the rice paper rolls. Once the rolls have been made with the filling, you just cook them in a pan over the stove, turning occasionally. What a genius idea!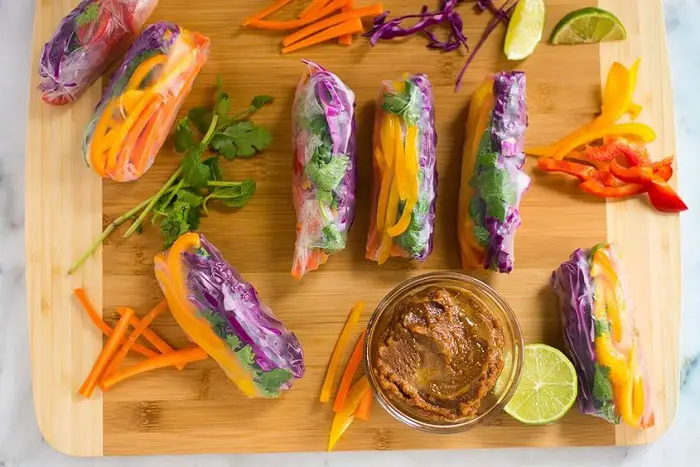 18. RAINBOW SPRING ROLLS WITH GINGER PEANUT DIPPING SAUCE FROM A SWEET PEA CHEF
These rainbow rice paper rolls are the perfect meal idea for vegans and vegetarians.
They contain fresh and colorful vegetables such as red pepper, carrots, yellow bell pepper, and cabbage, as well as nutritious herbs including cilantro and mint leaves. Just dip them into the ginger and peanut dipping sauce and your tastebuds will be in heaven!
19. GARLIC CHICKEN SPRING ROLLS WITH AVOCADO CILANTRO DIPPING SAUCE FROM A SWEET PEA CHEF
Garlic chicken in a rice paper roll?
It's as though all of our recipe dreams have come true! Just when you though A Sweet Pea Chef couldn't come up with any more brilliant ideas, she shares this gem with us.
The creamy avocado and garlic chicken goes really well together, plus other ingredients such as cucumber, quinoa, and iceberg lettuce keep it feeling light and fresh.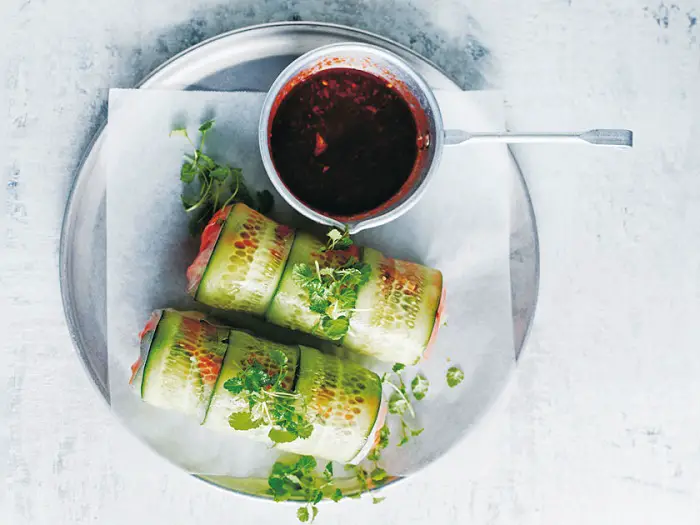 20. SPICY TOFU AND GREEN TEA NOODLE RICE PAPER ROLLS FROM DONNA HAY
Now this is a genius way of presenting a rice paper roll!
Underneath that stunning layer of cucumber are other ingredients, such as firm tofu, green tea noodles, carrot, and mint leaves.
This unique flavor combination might sound strange, but it totally works, giving you a highly nutritious rice paper roll that's also low in calories!
Which Recipe Paper Roll Recipe Will You Try?
There you have it – 20 healthy and totally delicious rice paper roll recipes that you can enjoy tonight!
Not only do rice paper rolls serve as a nutritious and tasty dinner idea, but they can also be enjoyed as snacks, lunches, or if they're on the sweeter side, as dessert.
Forget rice paper rolls being a meat-only dish too; this humble and versatile food can be eaten by vegans, vegetarians, and gluten-intolerant, as there are so many ingredient combinations to try.
Rice paper rolls are also a great way to mix-up your usual salad, as you can fold these ingredients neatly into the roll and team it with a scrumptious dipping sauce of your choice. Trust us, when it comes to enjoying a mouth-watering rice paper roll, the sky is the limit!
Which rice paper roll recipes will you be trying for yourself? We'd love to hear from you in the comments section below.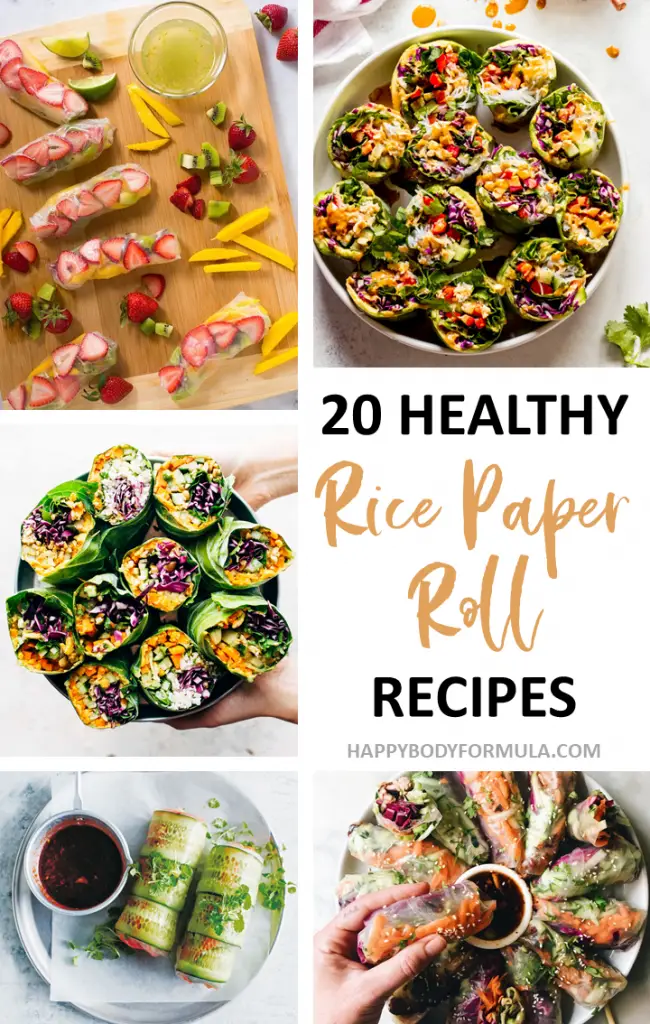 Melanie Clarke is the founder of Whim Online Magazine, an online magazine based in Australia that has a strong focus on whimsical + dreamy photography, as well as art and fashion content.