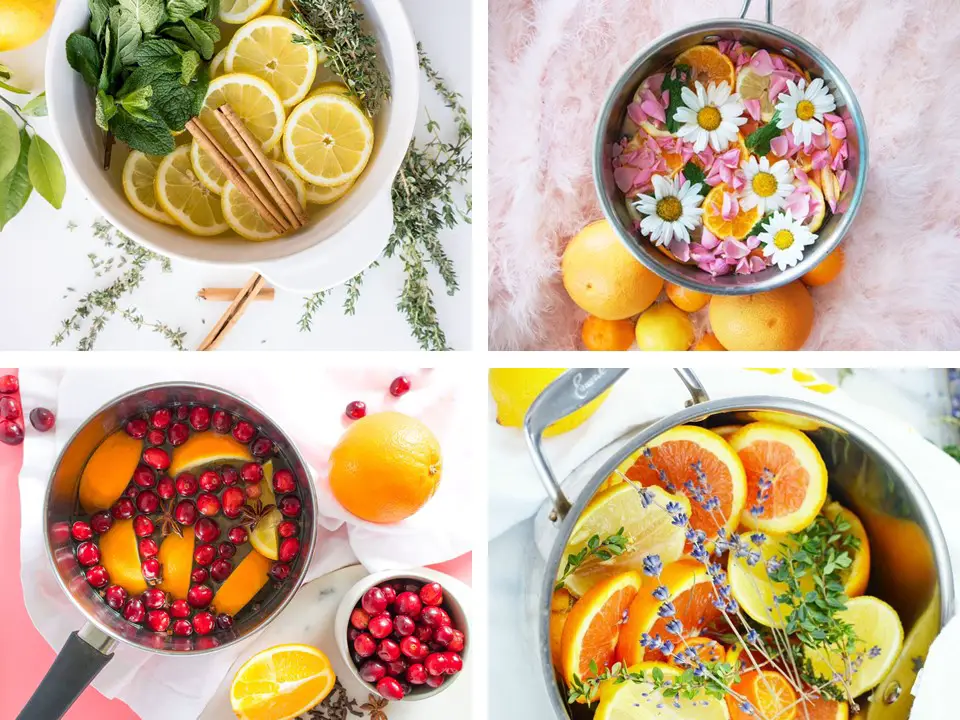 We've all been here before: you've got guests arriving within the hour, but your home is smelling not-so-pleasant, whether it be from a pet, someone's smelly shoes, or that freshly laid manure in the backyard.
You've run out of sweet-smelling, natural candles and don't want to drown your environment with air freshener spray that's laden with harmful toxins. Rather than spiral into a panic, you can quickly and easily refresh your home and give it a beautiful aroma using nothing more than a handful of common ingredients, your stove top, and a pot.
Simmer pots, also known as simmering potpourri, are anything but new, but recently they've picked up in popularity due to their clean, harmless, and chemical-free nature.
You simply take a handful of ingredients (such as herbs, fruit, flower petals, etc.) and let them bubble away in a pot until you no longer require their perfume. Intrigued? You'll be pleased to know we've rounded up 22 of the best simmer pot recipes below.
Here's how you can quickly and easily transform your home into a sweet-smelling paradise!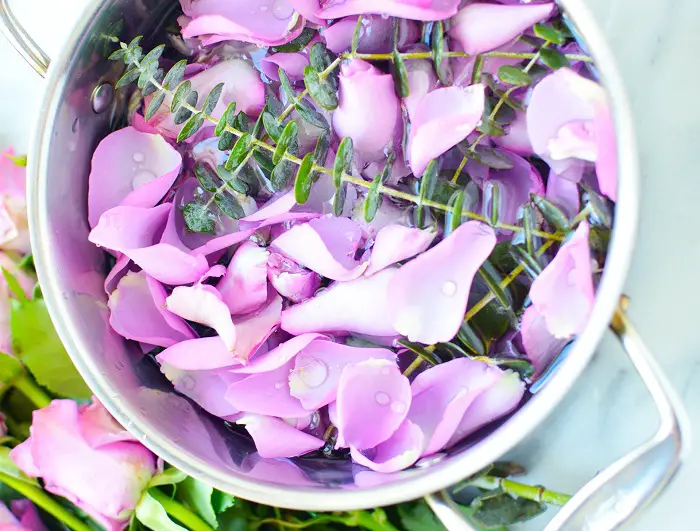 1. ROSE EUCALYPTUS SIMMERING POTPOURRI FROM GET GREEN BE WELL
This rose eucalyptus simmering potpourri is the perfect idea for a homemade, natural air freshener! Plus, it's so easy to make when you have a bouquet of roses that are starting to fade.
Both roses and eucalyptus contain natural essential oils for aromatherapy and when combined in a simmering pot, they're also visually stunning. Did you know you could even use this simmering pot to clear blocked sinuses from a cold or flu?
The eucalyptus is ideal for assisting with this!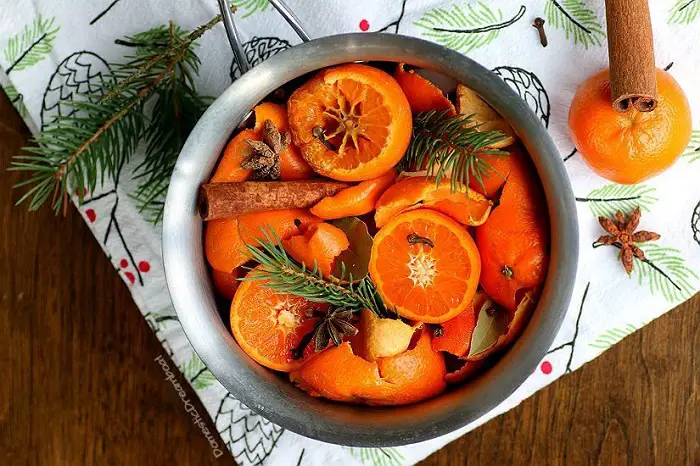 2. HOLIDAY SCENTED STOVE TOP SIMMER POTPOURRI FROM DOMESTIC DREAMBOAT
Make your house smell like it's ready for the holidays with kitchen scraps and pantry staples in this holiday scented stove top simmer. The best thing about this recipe (other than its incredible, festive aroma, of course) is the fact that it's flexible, so if you happen to be missing one of the ingredients, it's not a big deal!
Just throw everything into a small saucepan, cover it with water and bring it to a simmer. Reduce the heat so it's just steaming, and your house will be fragrant for hours!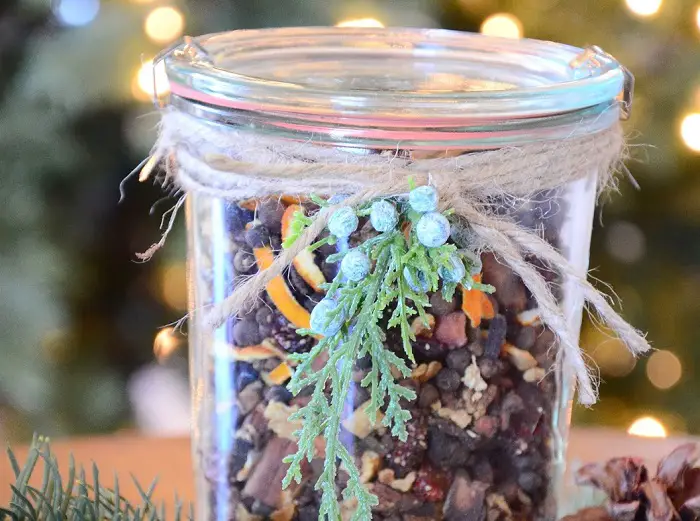 3. 'CHRISTMAS IS IN THE AIR' SIMMERING POTPOURRI FROM STONE GABLE
If you'd love the aroma of cloves, cinnamon, orange and other wonderful spices wafting through the air, then this Christmas inspired simmering potpourri is for you!
As this recipe explains, no room spray or candle can recreate the aroma of real spices and other Christmas goodies gently simmering on the stove.
This one uses a combination of ingredients such as dried lemon peel, whole cloves, star anise, dried cranberries, nutmeg, allspice, cinnamon sticks, dried orange peel, and mulling spices.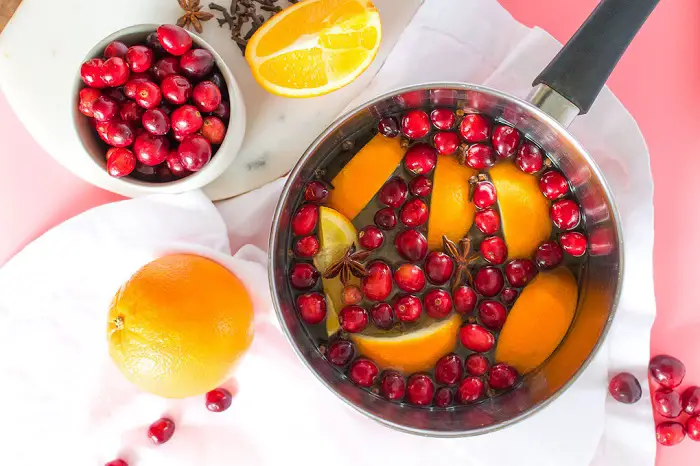 4. SPICED CRANBERRY SIMMER POT FROM CARRIE COLBERT
There's something about the combination of spices and cranberries in this simmer pot that will make you think of Christmas and wintertime. While this one might look extremely pretty, it also uses common ingredients such as oranges, fresh cranberries, cloves, and star anise, meaning that it's very easy to recreate.
You could even place these ingredients into jars and decorate them with ribbon, ready to give to your loved ones as an aromatic gift!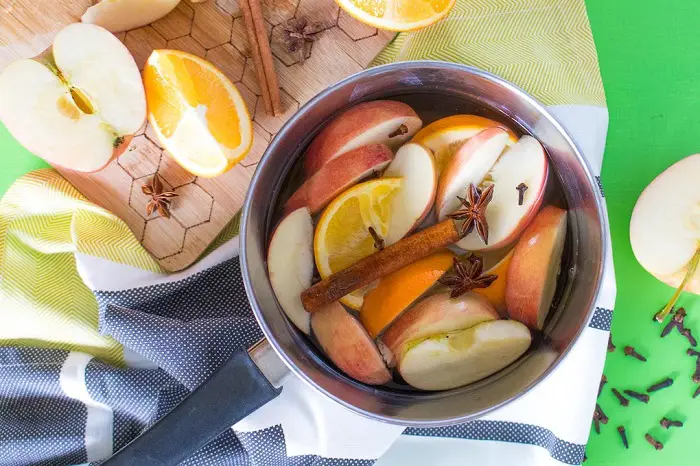 5. APPLE CINNAMON SIMMER POT FROM CARRIE COLBERT
This simmering potpourri encompasses our all-time favorite fall scents and is a go-to on a gloomy fall day. You start by cutting apples and oranges into slices, keeping the skin on.
Then, you add water, cinnamon sticks, and star anise to the pot before heating it on low. Once it begins to simmer, simply leave it on the stove for as long as you desire its aroma. It's sure to lift your spirits!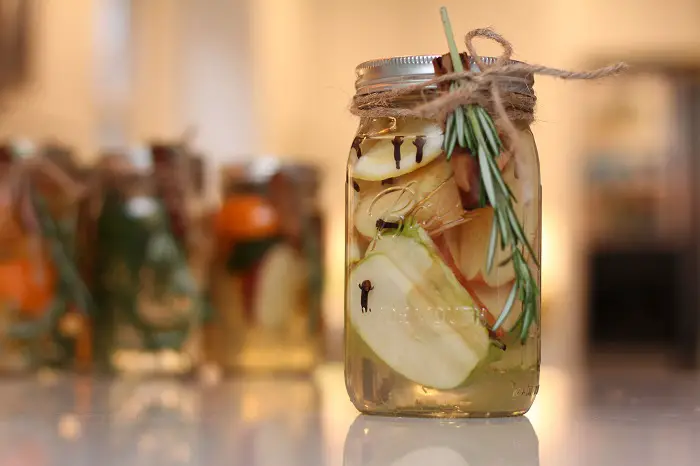 6. FALL MASON JAR POTPOURRI FROM SMART CENTS MOM
This post gives you not one, but six simmering potpourri recipes you can easily place in mason jars, ready to give to your loved ones this Christmas, or even to sell at your local fair.
They use kitchen and pantry staples such as apples, oranges, cinnamon sticks, lemons, cloves, nutmeg, vanilla, rosemary, and cranberries, helping to make your home smell divine. Plus, we think they look stunning when arranged into decorated mason jars like this!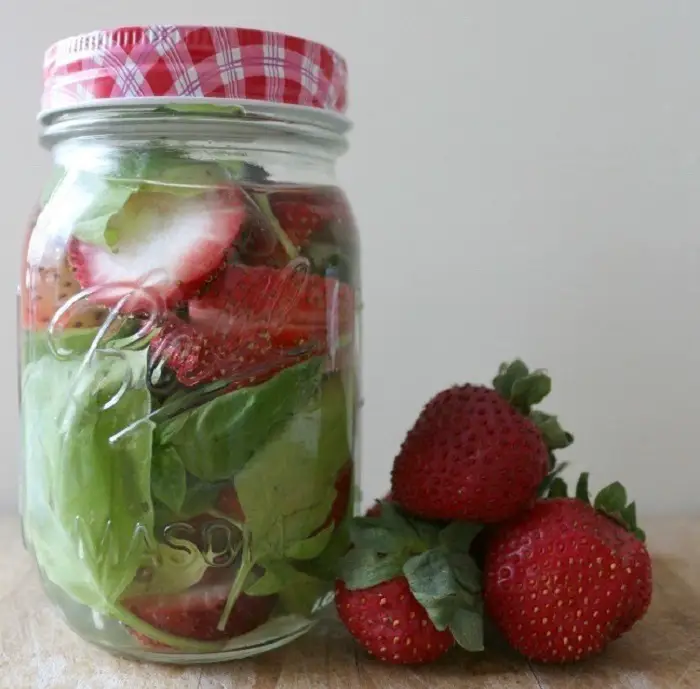 7. STRAWBERRY BASIL SIMMER POT FROM THE CROWNED GOAT
This simmer pot recipe might be simple, but it's bursting with fresh and sweet scents to instantly give your home a summer inspired lift. All you'll need are strawberries, basil and lime juice to bring it to life.
Simply bring the contents of your pot to a boil, then turn the heat down to low. Allow the contents to simmer for a few hours and add water as needed. Too easy!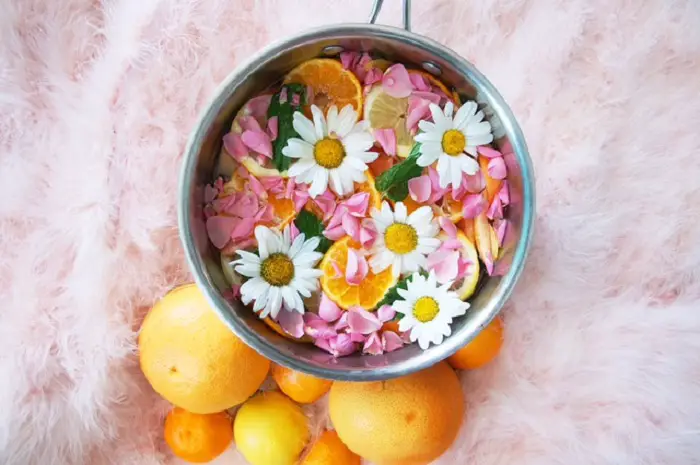 This unique and visually stunning simmer pot uses ingredients such as grapefruit, clementines, lemon, mint leaves, and rose petals to fill your home with an aroma that will remind you of the warmer months.
The post also recommends other beautiful combinations, including rosemary and vanilla, coconut and lime, and lavender and lemon.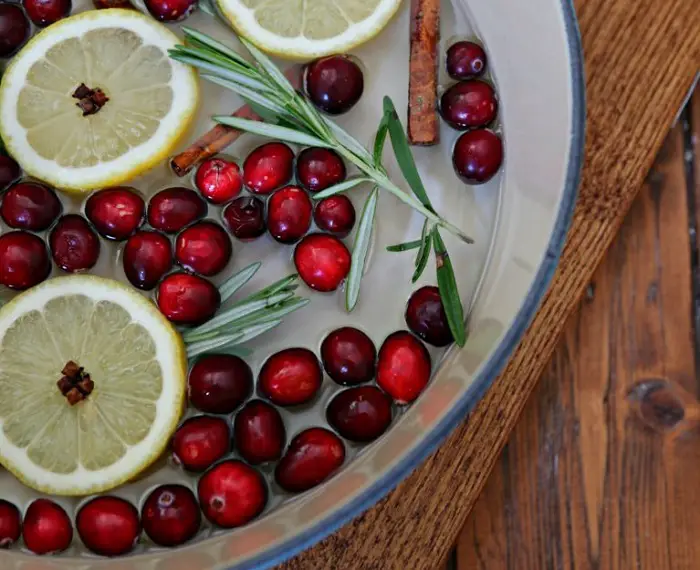 9. HOLIDAY SIMMER POT FROM BELL'ALIMENTO
This easy holiday cranberry spice simmer pot is a clever, all-natural, and inexpensive way to make your house smell amazing during the holidays. Cranberries, cloves, herbs and lemon slices are a quintessential holiday combination.
You can also save your orange peels, lemon and lime peels, and apple and pear skins, as they make excellent additions!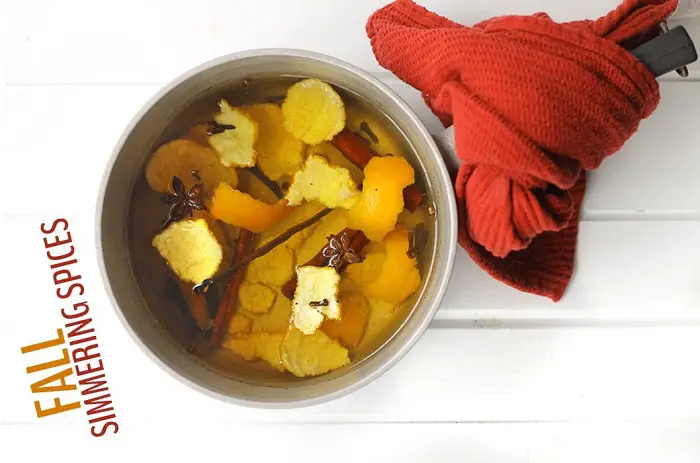 All you need are some orange peels, vanilla beans and cinnamon sticks to make your home smell like your favorite scents of fall. Optional extras include cloves, star anise, freshly grated nutmeg, or cardamom pods.
Be warned though: this simmering pot recipe smells so good, you'll want to cook it all-year-long! Why not dry the ingredients and place them in jars for whenever the fancy strikes? Then, you'll never be without your favorite scents.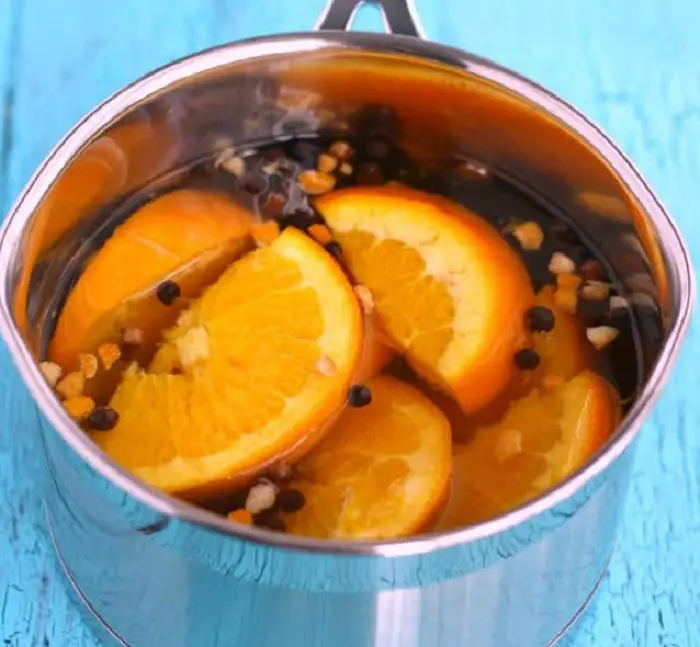 11. DIY SIMMER POT RECIPE FROM THE PRETTY BEE
These simmer pots are so great for your own home during the holiday season and also make wonderful gifts.
You just place the ingredients in a large mason jar, put some baker's twine as well as a tag on it and you have a great, thoughtful gift that your loved ones are sure to love!
This DIY simmer pot recipe uses natural ingredients such as cloves, lemons, mulling spices, rosemary, and vanilla.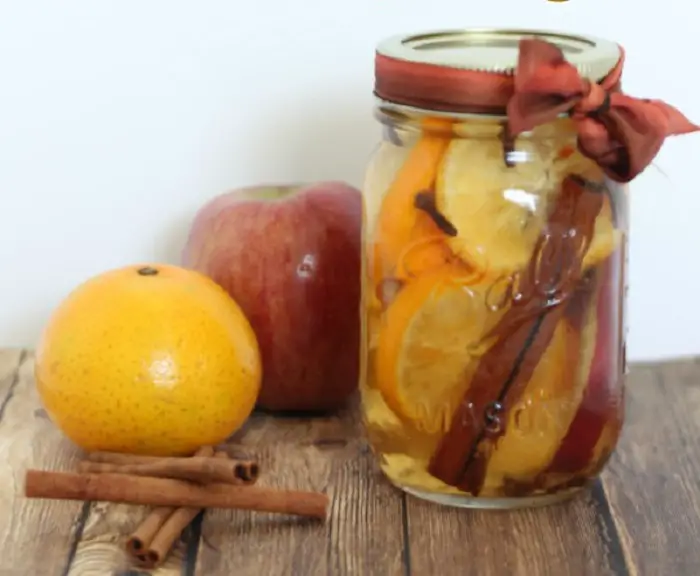 This simmering pot recipe is perfect for spring and summer, as it features the beautiful citrus notes of orange, combined with ginger. The end result is a light, fresh scent that makes your home smell like you've spent the day spring cleaning!
You'll need about 1/4 cup of sliced ginger root and 4 Halo oranges, also sliced. To reuse the simmer pot, simply pour the contents of the pot in a mason jar or other airtight container and store in the refrigerator until the next day.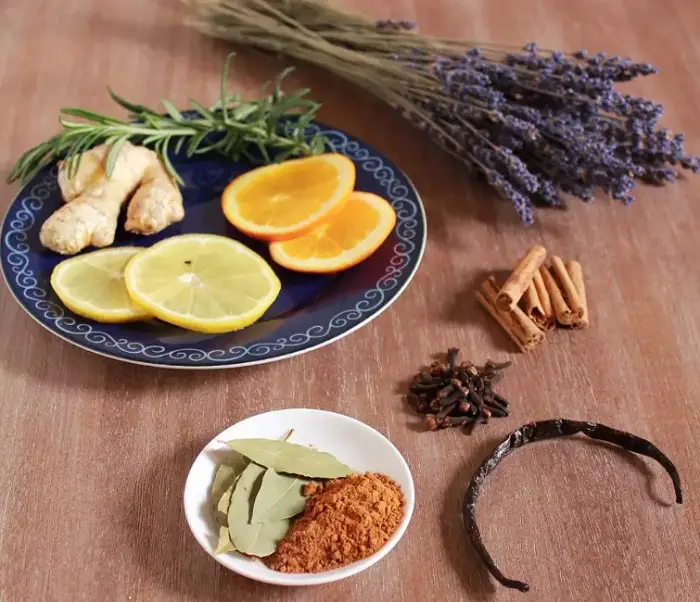 13. EASY STOVETOP POTPOURRI FROM THE KITCHN
Creating a cozy atmosphere gives guests a warm welcome, no matter the size of the space. One of the best ways you can do this is through appealing to their sense of smell, particularly with this easy stovetop potpourri.
This recipe recommends different ingredient pairings to create an aroma that you love. From apples, cinnamon, and cloves, to lavender, nutmeg, cloves, cardamom, and cinnamon – there's a scent among this list for just about every preference!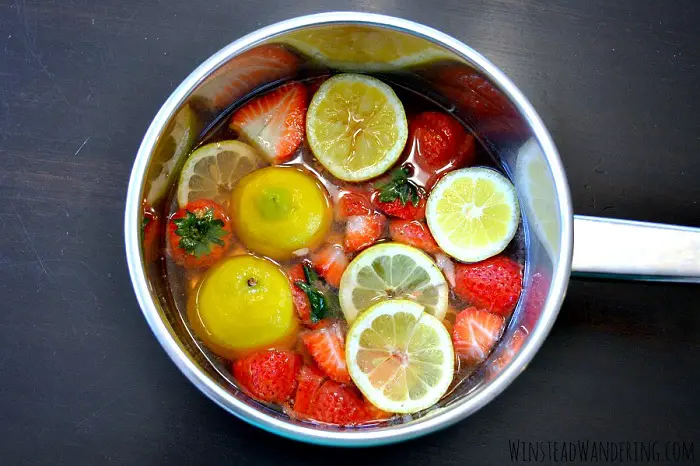 14. HOMEMADE TROPICAL SUMMER STOVETOP POTPOURRI FROM WINSTEAD WANDERING
Bring fresh summer scents inside with this homemade tropical summer potpourri made of lemons, strawberries, and coconut extract. We haven't come across a stovetop potpourri recipe using coconut before, so are excited to see a version that encompasses a summer spent on a topical island!
All the ingredients in this summer potpourri come together to make a sweet, fresh concoction that'll perfume your whole house in the lightest and most refreshing way.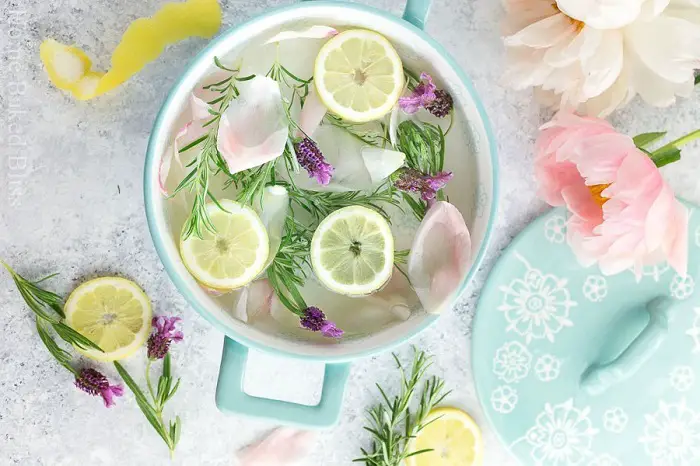 15. SPRING STOVETOP POTPOURRI FROM HOMEBAKED BLISS
Bring springtime scents into your home with this fragrant spring inspired stovetop potpourri. It's made with citrus fruits, herbs and floral essential oils, including ingredients such as rosemary, lavender, rose petals, lemon, and essential oils (which, if you have pets, you may want to emit).
This recipe recommends adding no more than 5 drops per scent, because you don't want to give yourself a headache!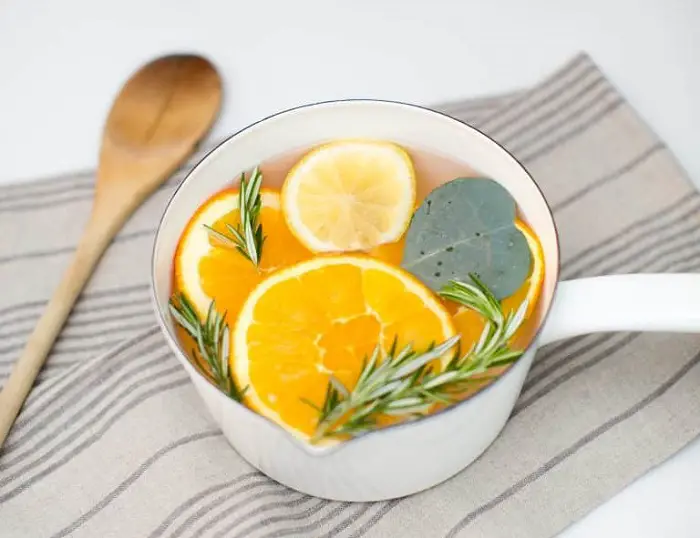 16. UPLIFTING ROSEMARY CITRUS POT SIMMER FROM HELLO GLOW
Here's a helpful hint for when you need to clean your home, but just can't motivate yourself to do so.
Put on this uplifting simmer pot recipe of citrus slices, rosemary and any other herbs you want to add, as well as essential oils, and you'll be in the mood for spring cleaning in no time.
Sometimes, we just need to appeal to our sense of smell to help us get off the couch and start being productive!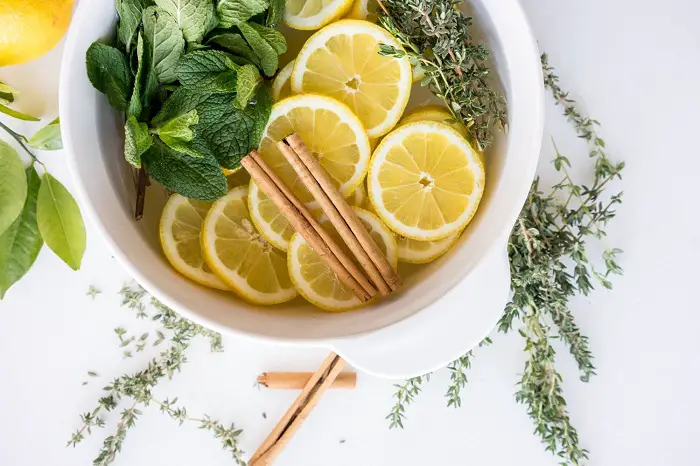 17. SPRING INSPIRED STOVETOP POTPOURRI FROM GATHERING DREAMS
Here's a natural and homemade scent that will bring the beautiful smell of spring into your home, no matter what season it is. Along with a fresh and inspiring aroma, this DIY offers additional benefits too.
If the air in your home is quite dry, simmering pots will also help you to add moisture to the air. This post actually offers three fresh variations to help you embrace spring: lemon and rosemary, lime, mint, ginger, and thyme, and lemon, cinnamon, mint, and thyme.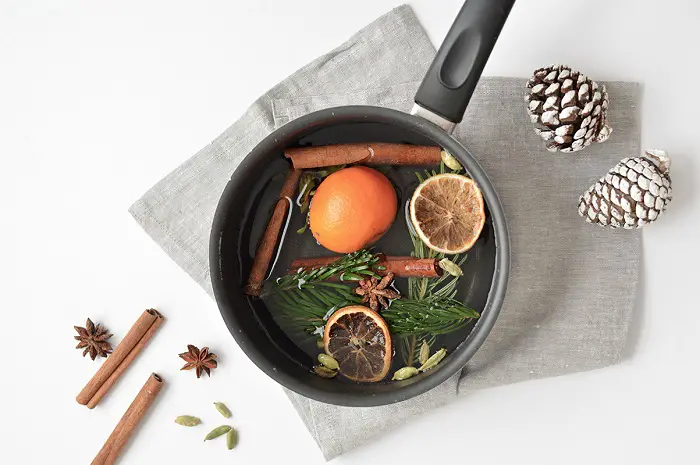 18. CHRISTMAS INSPIRED SIMMERING POT FROM BURKATRON
Nothing beats the smell of Christmas, but how can you fill your home with those sweet, nostalgic aromas all-year-round?
This Christmas inspired simmering pot is the answer, as it uses ingredients such as cinnamon sticks, oranges, cloves, star anise and vanilla pods for a warming fragrant scent.
If you happen to have some available, why not throw in some cutting from a pine tree too? Very festive!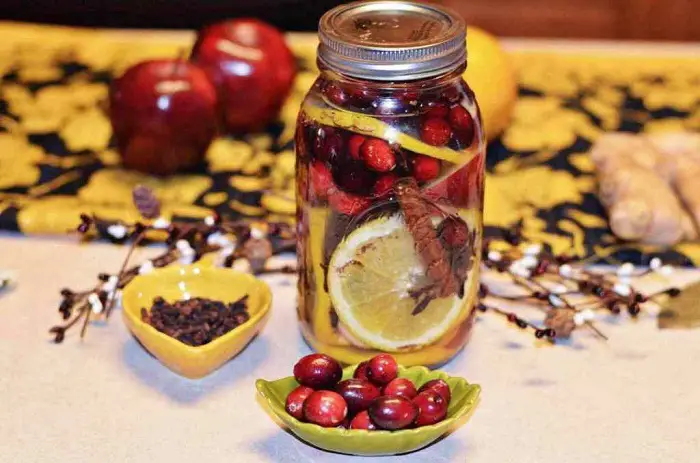 Ditch the candles and make your home smell like fall naturally with this fall simmering pot recipe! Sadly, many of your favorite candles most likely contain artificial ingredients, including toxins which have proven to be harmful to our health.
Instead, fire up the stove and place a pot of red apples, orange peel, cinnamon sticks, cloves, cranberries, bay leaves, vanilla extract, almond extract, ground nutmeg, and ginger on it. Heavenly!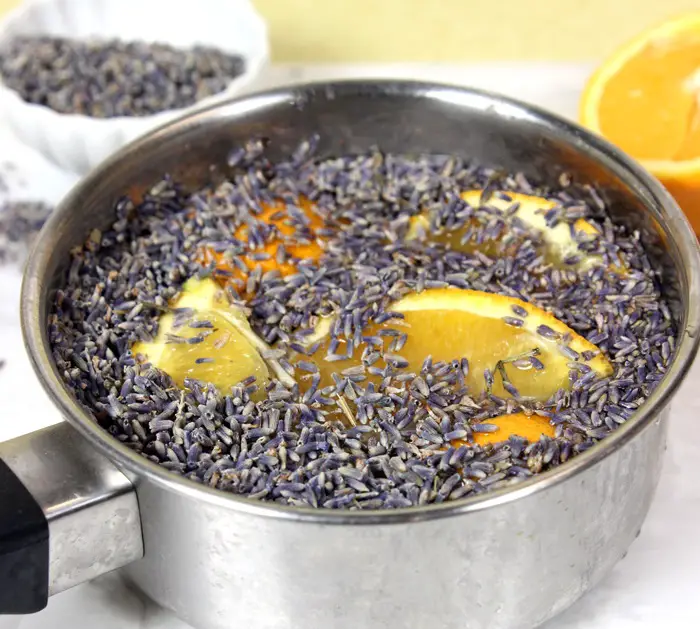 20. LAVENDER AND ORANGE SIMMERING POTPOURRI FROM SOAP QUEEN
If your kitchen and surrounding area needs some freshening, this orange and lavender simmering potpourri will fill the air with a crisp and relaxing scent. It only uses a handful of ingredients, yet packs a scent that's relaxing and refreshing.
Remember, never leave the house while your potpourri is simmering and don't let the water completely evaporate either – otherwise, you'll be left with a burnt smell that's anything but nice.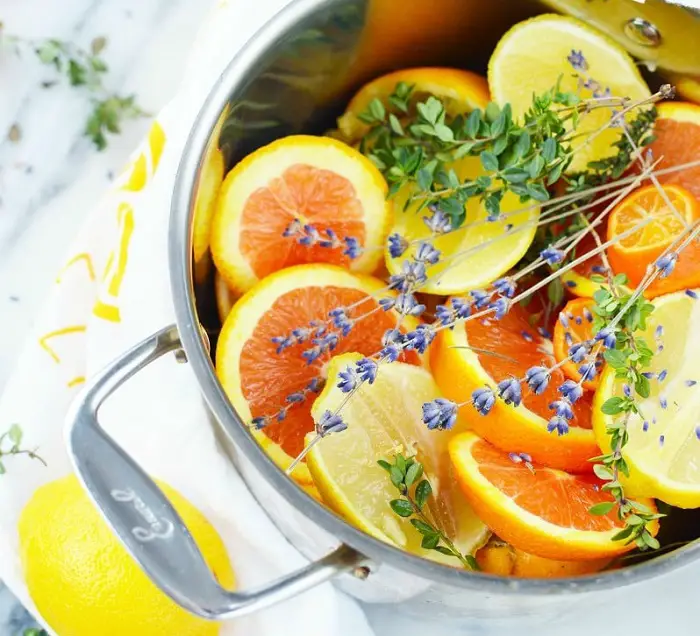 21. LEMON, LAVENDER AND HERB SIMMER POT FROM GET GREEN BE WELL
Fancy making a natural and homemade stovetop potpourri recipe with the calming aromatherapy of citrus, lavender and herbs?
This post explains that fragrance has been scientifically proven to alter human brain function, including how well you think, your mood, and social behavior.
Make this lemon, lavender, and herb simmer pot and you'll feel uplifted and refreshed in no time!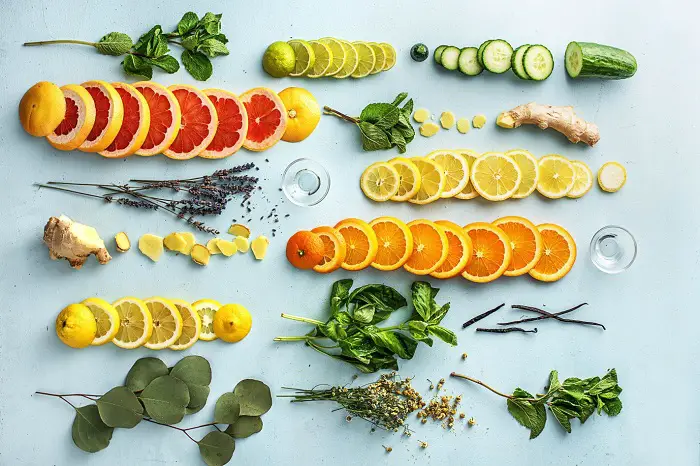 22. SPRING SMELLING SIMMERING POTPOURRI FROM FRESH TIMES
Who wouldn't want to make their home smell like a fresh garden bursting with herby, citrusy goodness? This DIY simmering potpourri recipe will tell you how, featuring not one, but 6 ingredient combinations!
Which one will you choose: lime, mint, and cucumber; grapefruit, mint, and ginger; lemon, lavender, and almond extract; orange, ginger, and almond extract; lemon, basil, and vanilla extract; or eucalyptus, mint, and dried chamomile?
Which Simmering Potpourri Recipe Will You Try?
There you have it – 22 of the best simmering potpourri recipes to help your home smell sweet – no matter what the season. You would have noticed that all of these recipes contain natural, aromatherapeutic ingredients to not only mask bad odors, but benefit your wellbeing too.
Simmering pots are so easy to achieve yourself. You simply place the required ingredients into a pot with water and bring it to a slow simmer. The recipes in this post are here to inspire and guide you, but why not get creative and try your own combination of aromatic ingredients? The sky is the limit with these!
Which simmer pot recipes will you be trying this weekend? We'd love to hear from you in the Comments section below!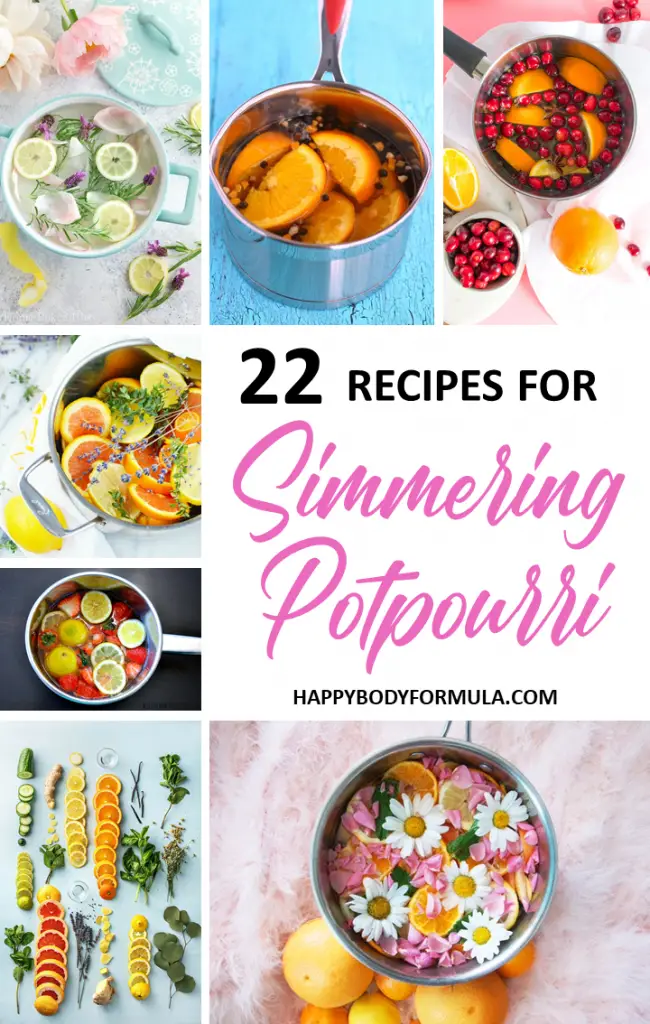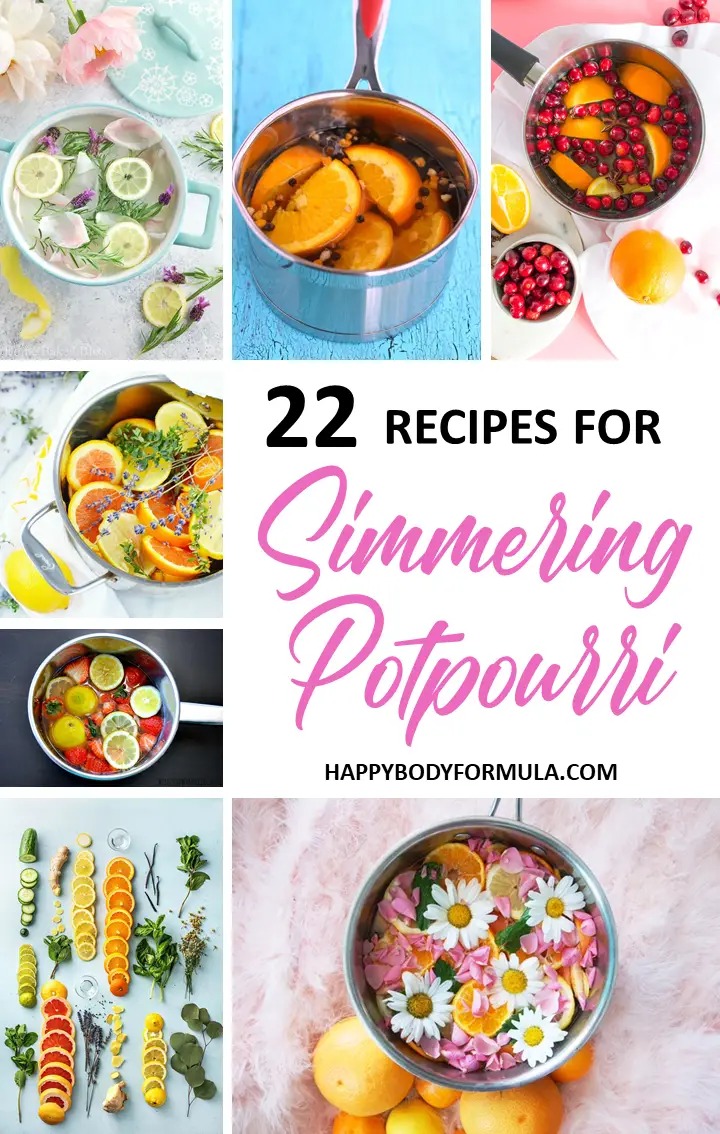 Melanie Clarke is the founder of Whim Online Magazine, an online magazine based in Australia that has a strong focus on whimsical + dreamy photography, as well as art and fashion content.