This quick and easy meal might be slacking in the 'prep time' department, but it's making up for that with big flavor and lots of nutrients. We could all afford to squeeze healthier food into less time – right?
We're pairing up one of our favorite naturally gluten-free "pseudograins" – quinoa – with grilled shrimp for a big boost of protein.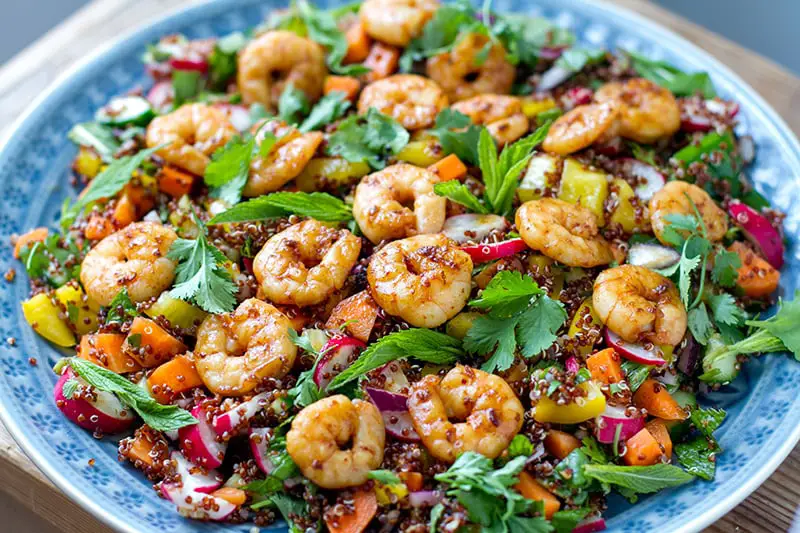 Quinoa has a funny name, but it's worth getting to know. Pronounced 'keen-wah,' this grain-like food is actually a seed.
It's pretty healthy for any gluten-free diet, and it's especially popular with omnivore's because it's a complete plant protein. This means it contains all the amino acids we find in animal foods!
Pretty impressive for a plant, right? It's also pretty high in fibre, comparatively speaking; other grains just don't stack up. Fibre + protein = satiation! This meal is going to fill you up while keeping things light.
It's also rich in magnesium, vitamin B2 (riboflavin), and manganese. Bonus: it's tasty, the texture is good, and it looks pretty! One note: try to buy fair-trade quinoa whenever possible!
Prawns or shrimp are another super healthy addition to any diet. They're a fabulous source of lean protein, they're loaded with selenium and B12 – two hard-to-get vitamins in most other foods, and they contain some phosphorous and choline.
These vitamins and minerals are super important for a variety of reasons.
Veggies and herbs give this dish their color and character. The more green and colorful things = the better. Fresh, organic veggies and flavorful, aromatic herbs are loaded with antioxidants and micronutrients to balance things out.
Cook's notes:
Any color quinoa can be used in this recipe. You will need about 2/3 of a cup of uncooked quinoa. We recommend that you soak quinoa for 3-4 hours in slightly salted, cold water before cooking it.
Rinse the quinoa, then add to a pot with at least double the water and bring to a boil. Reduce the heat to medium and cook for 10 minutes. Drain well before using in the salad.
I used defrosted peeled prawns, which is more economical, but you can get fresh shrimp and peel it yourself before cooking. Grilled chicken or pork can also be used, and for a vegetarian version you can leave the salad as is or add some grilled mushrooms.
Coconut aminos is a soy sauce alternative made from coconut tree sap. It has a similar flavor to soy and it's just a little bit sweeter. Wheat-free Tamari sauce can also be used, in which case you can add a little more honey or rice malt syrup to the dressing.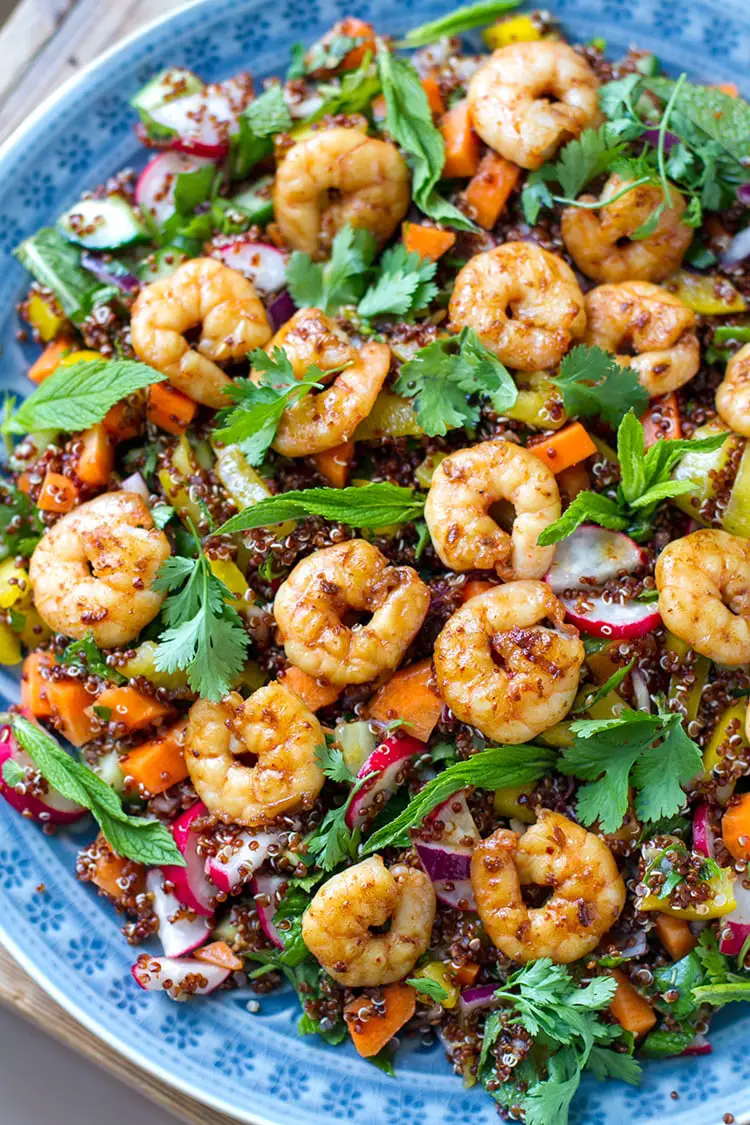 Thai Quinoa Salad
Ingredients
1 medium yellow pepper, diced
1 medium carrot, diced
1 medium cucumber, diced
5-6 radishes, sliced
½ red onion, finely diced (and soaked in cold water for 5-10 minutes)
Handful of mint lives, torn up
Handful of coriander leaves, chopped
2 cups of cooked quinoa
For the dressing
1 tablespoon grated ginger
1 garlic clove, grated
1 tablespoon coconut aminos
1 tablespoon fish sauce
½ teaspoon chilli flakes or pepper
2 teaspoons sesame oil
Juice of 1 lime
1 teaspoon honey
For the shrimp
150-200 g / 4.5 oz peeled shrimp (defrosted is fine)
Pinch of red chili flakes or pepper
Pinch of salt
½ teaspoon garlic powder
1 tablespoon coconut oil
Juice of ½ lime
1 tablespoon coconut aminos
Instructions
Cook quinoa, if needed. Simply follow the instructions on the packet. You will need about ⅔ cup of uncooked quinoa.
Prepare the salad ingredients and set aside in a bowl.
Whisk together the dressing and stir through the salad.
Sprinkle the prawns with chilli, salt, and garlic powder. Heat the coconut oil in a large frying pan over medium-high heat and add the prawns. Cook for one and half minutes on each side, then drizzle with the lime juice and coconut amigos, and stir through for 15-20 seconds until slightly caramelised and browned.
Top the salad with the prawns and garnish with extra herbs.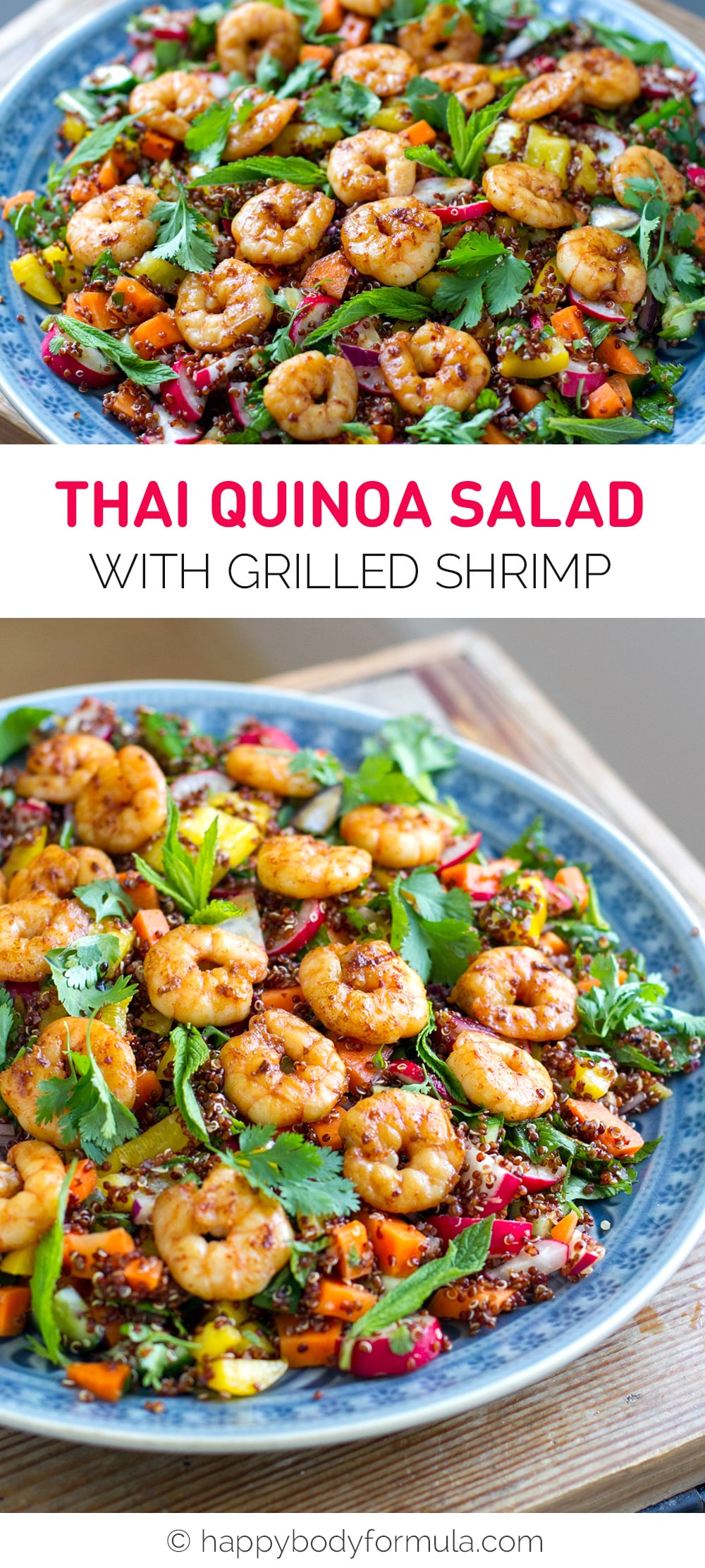 Music, mountains, dogs, travel, food and friends.