Ah, the cauliflower boom of the past few years; the cruciferous veggie really opened the doors for recipe experimentation. What was once a grain could now be replaced by cauliflower – low-carbers and paleo-dieters, rejoice!
The most popular recipe to be born of the cauliflower craze is pizza crust.
Perhaps like me, time and time again, you've attempted the recipes using cauliflower only to get results that wouldn't quite stick together.
If one thing about pizza is true (besides that it is the best food ever), it's that picking it up by the slice is vital to the experience. If you've had a similar go of it on your crust baking endeavors, here are a few new methods to try.
This roundup features many options for making crusts including meat, a multitude of vegetables (not just cauliflower!), nut flours, and egg alternatives for an AIP-friendly option.
It might take time to find which variation becomes your own weekend night go-to when you're tempted to get delivery, but this is a good list to begin your trial-and-error with.
Nut-free paleo pizza (two ways)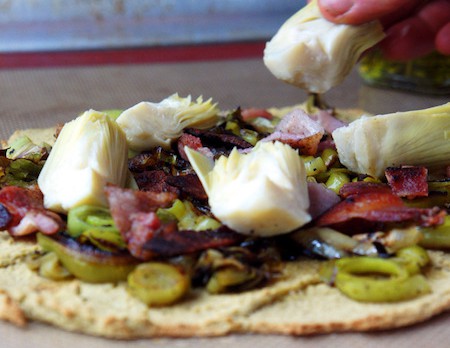 This crust features the up-and-coming plantain as the base. Traditional grain recipes are being paleo-fied with these adaptable fruits all over. They make a great contender for the perfect pizza with their immune-boosting properties (hello vitamin A and vitamin C!) and fibre content.
They're versatile and easy to work with, but make sure to use a green plantain for baking. You'll get that chewy center and crispy crust. Get the recipe from Foraged Dish.
Mexican meatza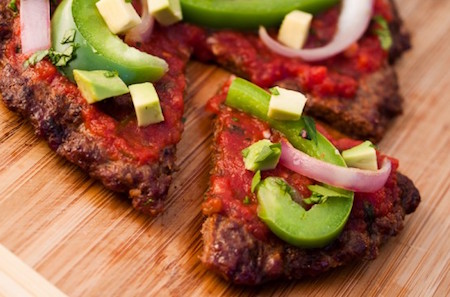 Meatza is decidedly the easiest option, as it takes the guesswork out of your crust actually sticking together and staying in one piece. The base of this recipe simply begins with a pound of ground beef and various spices.
You can take the "taco pizza" route, or top your meatza with whatever your heart desires. You can get the original recipe from Mel Joulwan, and you might as well check out her version of the Italian take on meatza while you're at it!
Thin & crispy paleo pizza crust
This crust gets its flavor from Italian herbs, and its crispy texture from a blend of tapioca flour and olive oil. Use a quality bottle of extra virgin for the best and most authentic taste, and perhaps a little extra drizzle on top.
There's even a video tutorial included for this recipe in case you're a total kitchen newbie! Perfecting your pizza can be tough work – we get it. Get the recipe from A Girl Worth Saving.
New York style paleo pizza crust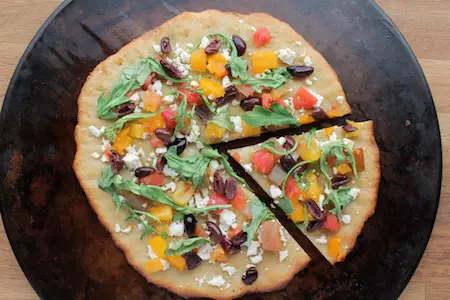 We all have our pizza preferences. While some of us are fond of the Chicago deep-dish, others of you may miss the thin crusts reminiscent of an old-school NYC pizza joint.
The trick to this texture is letting the dough rise – yes, it can happen even when it's grain-free! Get the recipe from ZenBelly.
Mini paleo crust pizzas (nut-free)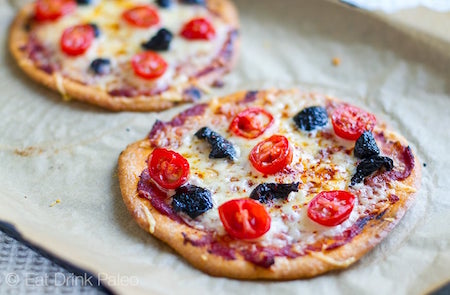 How about some single-serve pizzas? While you could feasibly turn any crust into a personal pizza, we love these mini crusts. They're nut-free, and they have the perfect bite to them and you can easily pack them into the kids' lunchboxes as an alternative to the processed "pizza" snack packs from the store.
These are simple to make, and you can skip cheese in the toppings if you don't do dairy. Get the recipe from Eat Drink Paleo.
Grain-free deep dish pizza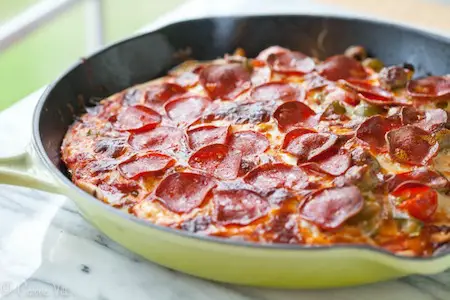 If Chicago-style deep dish is more your thing, this recipe has you covered. The dough gives a nice rise, and it bakes evenly in cast iron skillet.
It's a simple toss-up of grain-free flours including fibre-rich coconut flour and tapioca starch which lends the crusts on our lists their chewy texture – arguably one of the most vital components of a successful deep dish crust! Get the recipe from Deliciously Organic.
Vegan & AIP-friendly pizza crust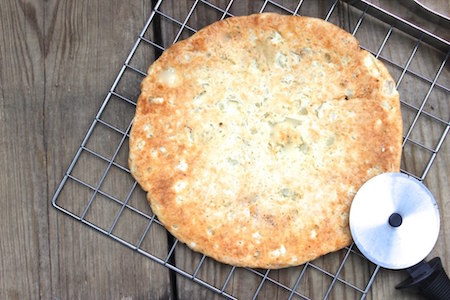 Have you ever used yuca before? It's a great starch to bake with, and this recipe is the perfect introduction to the underrated root vegetable. It's comparable to a white potato, but it's a better option nutritionally, especially if you are sensitive to spuds.
Plus, this recipe is perfect for nearly everyone as it doesn't contain eggs or nuts! Get the recipe from Predominantly Paleo.
Chocolate pizza with cocoa cauliflower crust
Pizza is a pretty simple food with endless options to cater to your taste, but what about dessert? This cocoa crust boasts some veggie power (and all those nutrients to go along with it!) with a ridiculous layer of bananas, dark chocolate and coconut.
So, pizza for dinner and dessert? We're on board. Get the recipe from Clean Eating With A Dirty Mind.
3-ingredient sweet potato pizza crust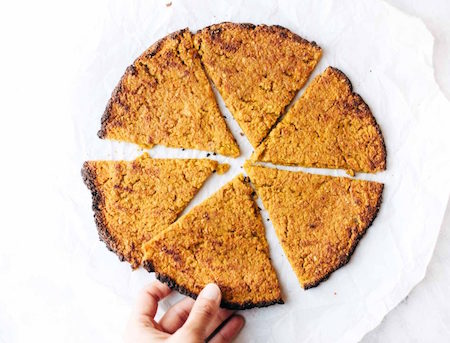 Nothing but delivery could make pizza simpler than this 3-ingredient crust. While sweet potato is the main ingredient, this crust also uses gluten-free oats so it's acceptable for a modified paleo diet.
If you're not keen to grains, try out a blend of grain-free flours like nut meal and coconut flour instead. In any case, this crust is budget-friendly and simple to whip up when you need a healthy pizza. Get the recipe from Pinch of Yum.
Low-carb supreme pizza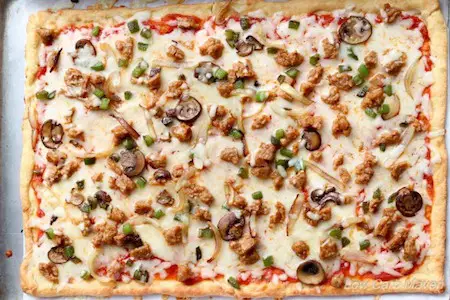 If you're looking for low-carb, some of these flours and veggies aren't going to cut it. While we love our safe starches like plantain, yuca and cassava flour, some people just prefer something a little more fat-centric which is a-okay.
This crust features dairy with both cheese and protein powder, so it's pretty substantial! Get the keto-friendly recipe from Low Carb Maven.
What's your go-to paleo pizza crust? Share your simple recipes with us, and send this roundup to your pizza-pie loving friends! Indulge healthily.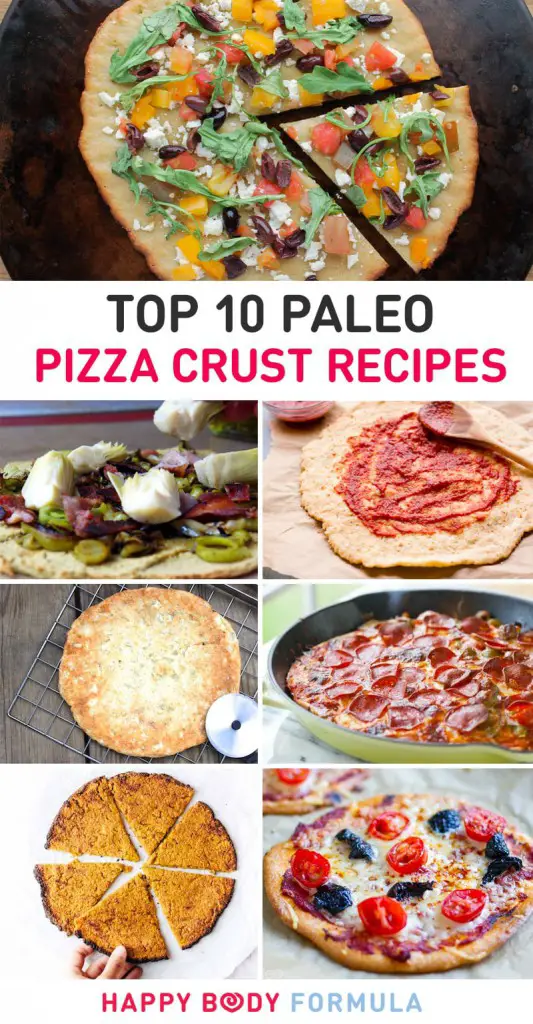 Music, mountains, dogs, travel, food and friends.