If you like to observe trends and patterns in popular recipes and food blogging, you may have noticed a cascade of bowl meals. We're talking about nourish bowls, superfood bowls, protein salad bowls, smoothie bowls, breakfast acai bowls – the list goes on and on. They are essentially bowls filled with super healthy, nutrient dense foods and ingredients, presented in a compartmentalised manner which, for some reason, makes us want them so much more. Maybe it's the fact that we get to visually register all the 'super food, antioxidant rich' bits and pieces that are about to enter our bodies and that makes us feel proud and satisfied.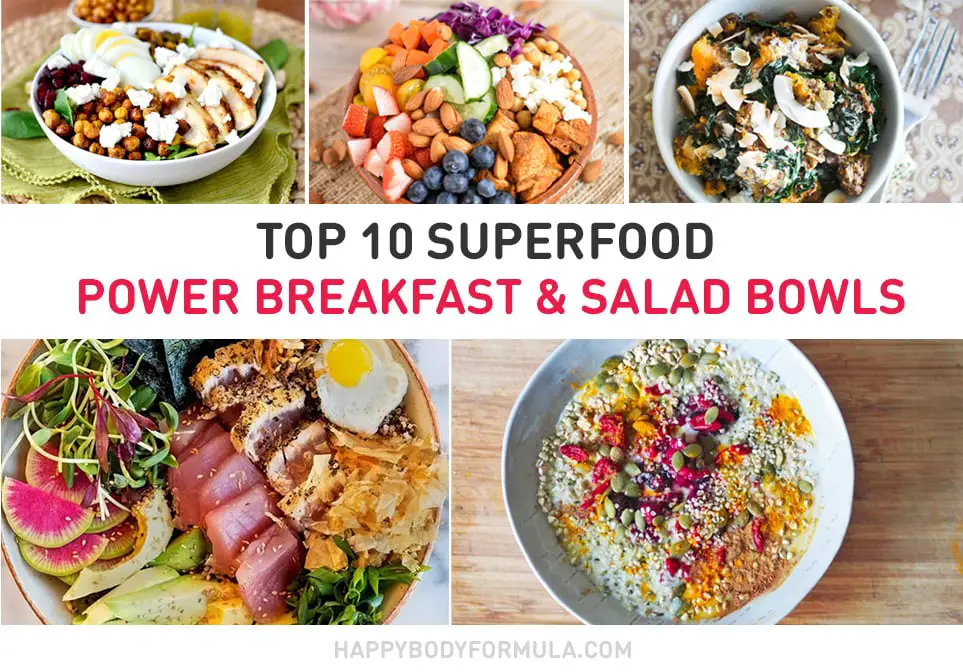 Whatever the reason, if having our food in a bowl helps us to eat healthier, we're up for it. We've decided to scout for some of the Internet's best meal bowls.
We selected a combination of savory and sweet recipes, all of which are high in nutrients. Some contain legumes, grains or dairy so we've provided alternatives for people avoiding these foods.
The idea, really, is to give you guys some inspiration to create your own 'awesome bowls' of real food. All it takes is a few good ingredients and a bowl big enough to contain 'em.
Sprouted buckwheat &  coconut yogurt breakfast bowl
Buckwheat is a pseudograin, or rather a seed, that is gluten free and high in B vitamins and iron. It does however contain similar anti-nutrients to grains and that's why it's important to soak and/or sprout the buckwheat grouts.
This not only removes the anti-nutrients, such as phytic acid, but also activates certain enzymes making buckwheat easier to digest and the nutrients more bio-available. We also love the addition of turmeric, cinnamon, vanilla and hemp seeds on top. Serve it with your favorite yogurt and berries. This recipe is from Ashley Neese.
Deconstructed sushi roll bowl from Wild Green Sand Sardines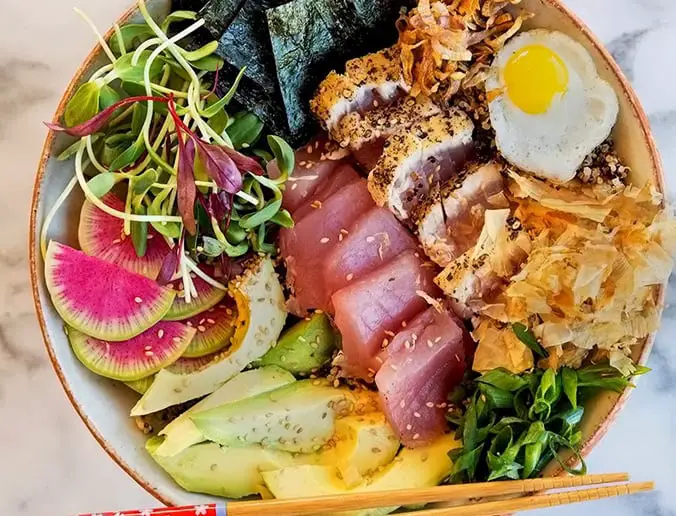 There is so much we love about this dish! Healthy fats of fish and avocado, minerals and iodine rich nori, calcium rich sesame seeds, crunchy radish and greens, and a little fried quail egg on top – come on?! You can choose to add rice or quinoa to this dish. Find the full recipe and instructions at Wild Greens & Sardines 
Vegetarian super food bowls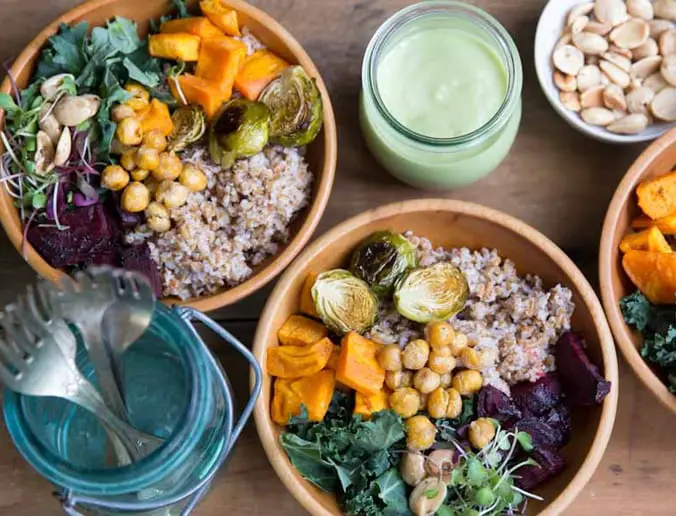 For a vegetarian fix we picked this super food bowls from The Vintage Mixer. This screams 'autumn on a plate' and we love the earthy, warm flavours and colours of the dish.
We would choose white rice, quinoa or buckwheat instead of bulgur and add some roasted cauliflower. Don't forget to soak and properly cook the chickpeas and any grain you use for this dish to remove some of the anti-nutrients and to make those foods easier to digest.
Cajun prawn & zucchini noodle bowls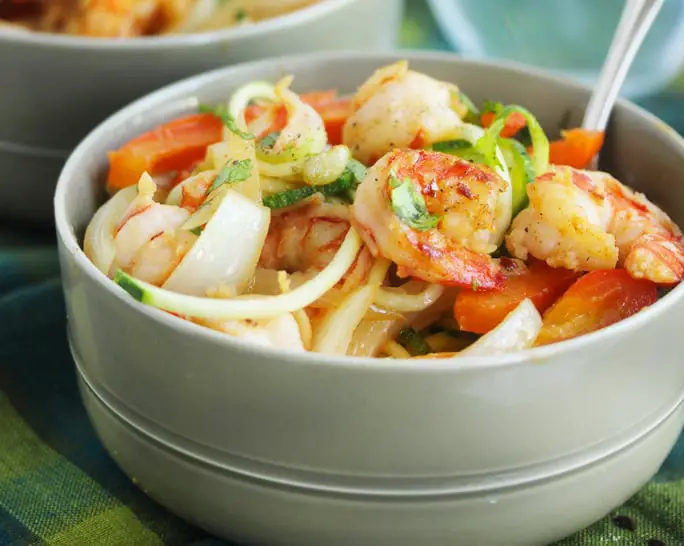 This dish of protein and mineral rich prawns with zucchini noodles (we love zucchini noodles!), onion and peppers is super simple.  Seasoned with garlic and spices, it's packed with both flavour and nutrients. This recipe is from Lexi's Clean Kitchen.
Chopped chicken salad bowls with cashew honey mustard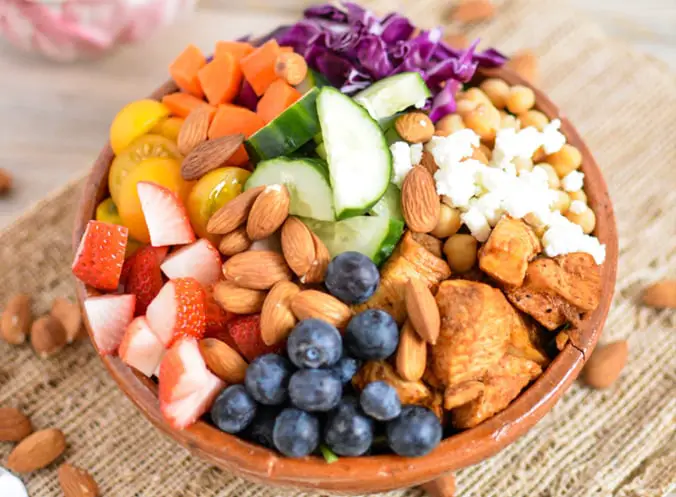 This protein and detox food bowl is from Cooking & Beer (don't you just love the name of their site?). It's a very well balanced bowl with good amount of protein from both chicken and nuts, antioxidant rich berries, vitamin and fibre rich carrots and cabbage and even a little goat's cheese, which is rich in calcium and flavour. The dressing sounds absolutely divine, so give this one a try.
Butternut pumpkin, kale & beef breakfast bowl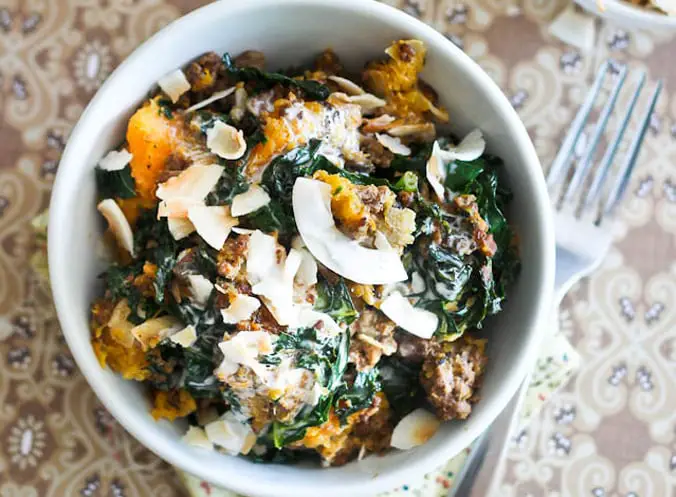 This 'breakfast bowl' recipe from The Healthy Foodie  is actually egg free so it's perfect for those following an autoimmune protocol type diet or simply looking for a different, savoury morning meal. It's full of lovely, warm spices and is well balanced between protein, carbohydrates and fats. Love the beta-carotene rich pumpkin and the super nutrient kale as the veggies. Breakfast for dinner anyone?
Chipotle mahi mahi burrito bowls with coconut lime rice & strawberry mango salsa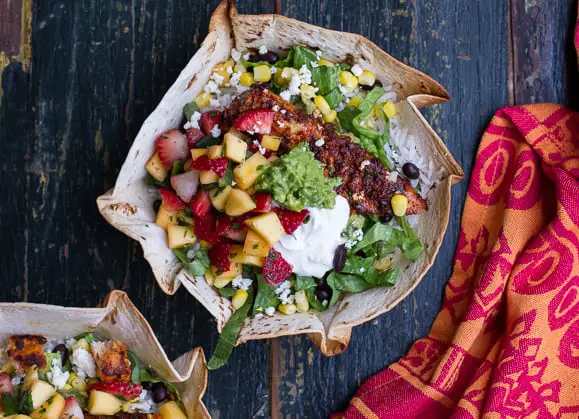 Oh my, where is my Mai Tai? This recipe is like a trip to the Caribbean without living your lounge room. You can use any type of fish for this dish and the rice can be omitted or swapped for cauliflower for those looking for a lower carbohydrate version. We love it just the way it is. Enjoy this bowl from Half Baked Breakfast.
Sea goddess bowl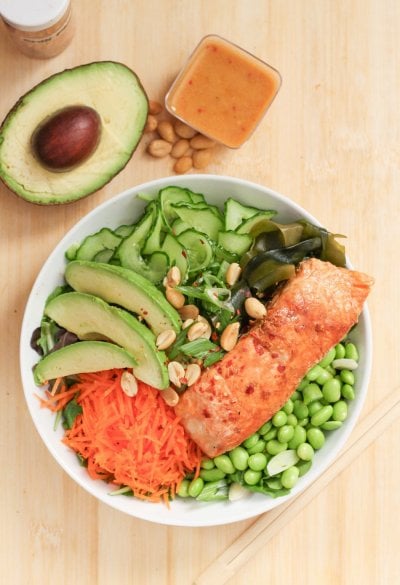 Have you noticed that quite a few of these bowls have fish? It's rich in protein, minerals and healthy fats and great for your brain function. Make sure to choose wild and sustainable fish and seafood where possible. This recipe comes from Eat Spin Run Repeat and my suggestion would be to swap those nasty peanuts for cashews or almonds and the edamame beans for some sweet potato, quinoa or another pre-soaked legume of your choice. Young edamame beans are actually not as harmful as processed soy foods, so they're okay in small amounts.
Matcha mint chip breakfast bowls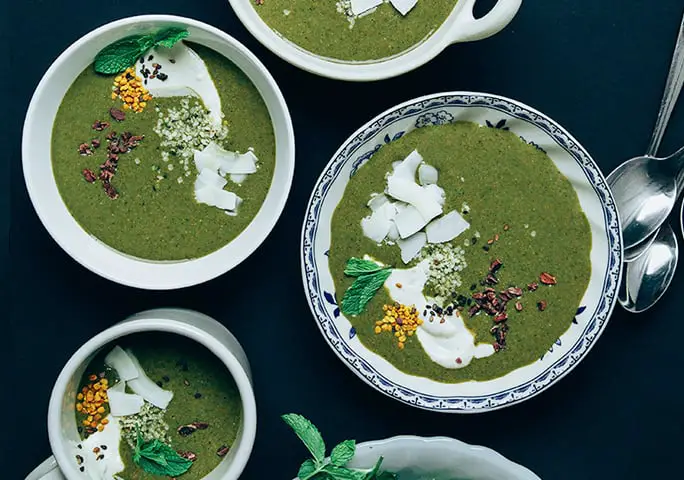 This is more of a breakfast smoothie bowl, and what we like about it is the addition of matcha (antioxidant rich green tea powder) and leafy greens. You can use your preferred protein powder or simply make without and have a boiled egg on the side. This gorgeous photo and the recipe are from The First Mess.
Chicken power bowls with crispy baked chickpeas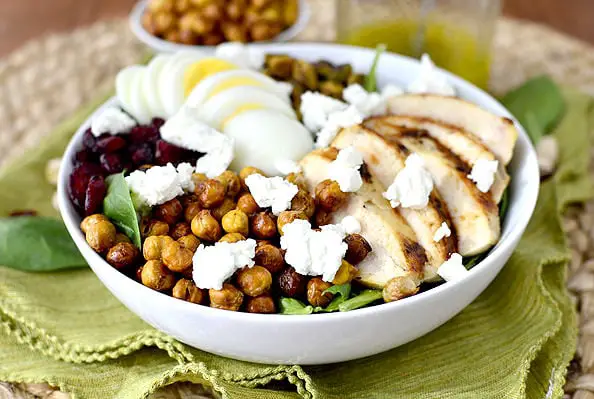 And to finish off the list we have this lovely, protein rich salad bowl with chicken, egg and chickpeas or garbanzo beans. We recommend using dried chickpeas, which you will need to soak overnight and then cook for at least 1 hour before continuing with the steps in this recipe. Chickpeas can also be replaced with some nuts or cauliflower for those avoiding all legumes. Recipe is from Iowa Girl Eats.
Want more recipes like this?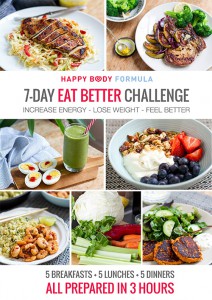 Is life getting in the way of your goals to eat healthier and feel better?
We know it's hard to stay on track when you're tired and busy during the week. We often make bad choices when unplanned and unprepared.
That's why we created our make ahead meal plans, complete with real food recipes and shopping lists that will cover you for five dinners, lunches and breakfasts.
We believe that planning and preparing meals ahead of time is your best strategy towards healthier eating. Get the 7 Day Meal Plan Today.
What is your favorite way to build a bowl? Leave your favourite bases, toppings, and proteins below!
Music, mountains, dogs, travel, food and friends.