The worst excuse we know for not eating healthy? Not having time. The thing is, you do.
We've shared our favorite 30-minute recipes, but today, we're cutting the clock even further with our favorite healthy 15-minute meals.
Everyone has time to whip up one of these dishes when life is feeling a bit too busy to even think of opening the fridge. Simple, quick and nutritious is the name of the game here.
And let's face it… 15 minutes is quicker than takeout or starting up the car to hit the drive-thru!
1. Chinese tomato & silky egg stir-fry from I Heart Umami
Silky eggs come together with pre-cooked prawns and tomatoes in this insanely fast dish. Seriously – you're going to wonder why you haven't been making this one for years!
It is loaded with protein, Chinese-inspired flavor and beautiful texture which you might be able to deduce from the name of the recipe. Get the details from I Heart Umami.
2. Veggie loaded avocado & tuna salad from The Natural Nurturer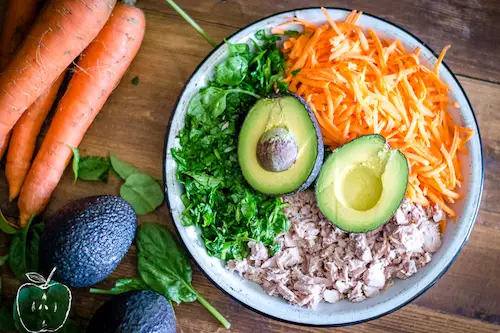 Salads are a no-brainer when it comes to putting something together that's quick. The challenge comes in making sure you get proper nutrition! When it comes to no-prep protein, tinned seafood from a sustainable source is the best you can get.
When it comes to healthy fats, slicing open an avocado might take a minute. The veggies are up to you! Get the recipe from The Natural Nurturer.
3. Peach & pan-fried scallops from Paleo Magazine
Pan-frying scallops is one of the simplest ways to fancy up dinner a bit in a flash. This salad is super fresh with juicy peaches and a bed of slightly spicy arugula.
If you have other pre-prepped veggies or fruits on hand, you could toss some on here. A simple dressing of olive oil will do this dish justice! Get the recipe from Paleo Magazine.
4. Start Loving Sardines Salad from What Great Grandma Ate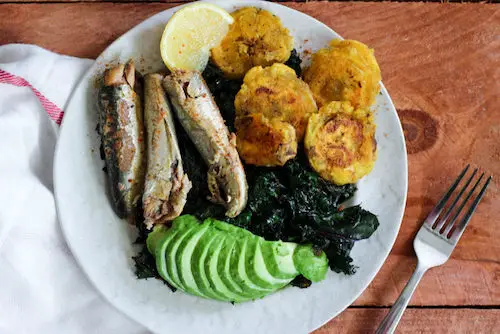 Growing a deep love for these marvels from under the sea can be a tough feat, but it's all about pairing them with the right foods. When you do love them, they are an amazing pantry staple for quick lunches at home or for packing ahead of time.
This salad brings in zesty lemon, crunchy, salty tostones – fried plantains – and creamy avocado for the win! Get the recipe from What Great Grandma Ate.
5. Zoodles with chorizo, chicken & a fried egg from Comfort Bites
This is a "toss all the good things you can find" together meal. It's as simple as a salad with a similar format for those of you who just want a quick hot meal!
A clean chorizo (sugar-free and uncured) with some quick chopped chicken over zucchini noodles is good enough. Put an egg on it, and you've got a seriously hearty meal! Get the 5-minute recipe from Comfort Bites.
6. Wild mushroom and tarragon paleo risotto from Greens of the Stone Age
Step things up a notch if you're trying to get an impressive and comforting dinner on the table in a pinch. This risotto is grain-free with a quick base of cauliflower that doesn't need quite the tending that rice does, with all the earthy, umami flavor from fresh mushrooms plus plenty of garlic, tarragon and olive oil. Yum!
Get the recipe from Greens of the Stone Age.
7. Honey & sesame seared salmon from Delicious Obsessions
Toss this on a simple stir-fry, heat up some frozen veggies for a bed, or place it atop a fresh green salad. The options are endless, but the point is that making a filet of fish delectable and delicious doesn't take more than 15 minutes.
And that? Well, it's something we love. Get the recipe from Delicious Obsessions.
8. 15-minute paleo shrimp stir-fry from Eat Drink Paleo
Stir-fry is perhaps the fastest way to add flavour to a dish. The sauce is a mix of pantry staples like coconut milk, lime, fish sauce, garlic and ginger leaving you with a taste bud explosion!
Once again, seafood steps in for some speedy protein and you've got yourself a complete meal. Plus, this one is easy to double up and batch cook for tasty leftovers. Get the recipe from Eat Drink Paleo.
9. Avocado ahi tuna poke bowls from What Great Grandma Ate
You could head out to the nearest Japanese restaurant to pick up an awesome bowl of poke, but you'll pay the price. Keep it quick and budget-friendly by doing it at home!
These bowls are a lunchtime marvel – perfect for dinner too – with some already-prepared white rice of cauliflower rice, raw veggies and a delicious quick marinade for the ahi. Get the recipe from What Great Grandma Ate.
10. Simple egg drop soup from Nom Nom Paleo
It's as simple as you make it with this one. A pot of simmering bone broth and a few eggs are all you need. Stir a few times, add some flavor with fish sauce, salt, sesame oil or whatever tickles your fancy, and garnish with some bonus items if you're feeling up to it.
This might take you five minutes, and it's the ultimate nutrient-dense combo! Get the recipe from Nom Nom Paleo.
11 . Roasted chicken & veggies from Gimme Delicious
Check out all the color in this quick dinner! Pre-heat the oven, chop and toss on a sheet pan for both swift cooking and clean-up, which is a huge bonus if you ask us!
Evenly chopping all your favorite veggies and some chicken is the key to making sure everything is perfectly cooked in 15 and on your plate (then in your belly!). Get the recipe from Gimme Delicious.
12. Spiralised apple salad from Jessica Gavin
Beautifully sweet, this base of apple is an interesting way to do a salad! It's the perfect quick vegetarian dish to whip up with a tangy citrus dressing, dried cranberries, crunchy pecans and creamy cheddar cheese.
If you want to add some protein, chicken would pair beautifully with this toss-up of ingredients! Get the recipe from Jessica Gavin.
13. One-pan broccoli cashew chicken from Recipes to Nourish
Here's a testament to our idea that ordering out takes longer than cooking takeaway food at home does. This one-pot Chinese-inspired dish is budget-friendly and  easy to make.
It won't disappoint! Get the scoop on how to make it from Recipes to Nourish.
14. Cauliflower & chicken fried "rice" from Joyful Healthy Eats
Cauliflower rice is easy to make in the first place, but it's an especially useful frozen food to have handy for those nights that call for a 15-minute meal.
Try this healthy "fried" rice with none of the refined oils, soy or hidden sugar! It's a fantastic way to get in your veggies. Get the recipe from Joyful Healthy Eats.
15. Korean beef & quinoa bowl from Smile Sandwich
You can use any mince that you have handy for this one, because it's all about the Korean flavor! Plant protein-heavy quinoa comes together really quickly for this one, too, or you can make some ahead of time and pop it in the freezer for easy defrosting.
Get the dish from Smile Sandwich.
Now quick – you have 15 minutes! What will YOU make tonight? Let us know what meals you are most excited to try, or what your go-to healthy yet speedy recipe is.
Music, mountains, dogs, travel, food and friends.