What's the number one excuse people make when asked the question, "What stops you from eating healthier?" It's hard to say, but one of the most common is undoubtedly time, or lack thereof.
Fortunately, there's a way around that.
Cooking real food doesn't need to be time-intensive. In fact, some of the best dishes are the simplest dishes. The ones we're featuring here are simple to make whether that means minimal ingredients, minimal prep or minimal skill.
Every recipe on our roundup takes 30 minutes or less to make from start to finish. Don't let time be what gets in the way of you getting healthy.
Looking for more quick, complete, healthy meals? Check out our 7 Day Make Ahead Meal Plan.
Chicken pho with raw zucchini noodles
Soup generally takes quite a bit of time to make, but this pho is an exception to the rule. While it's handy to have broth prepared and stored away for cozy soup dinners, the rest of this dish comes together in a flash.
Whether you need a meal to fight off a cold or you're craving traditional Vietnamese food, this recipe is all you need. Get the details from The Holistic Ingredient.
Pan-seared trout with orange butter pecan sauce
This gorgeous and quick recipe uses just six ingredients, and you might already have most of them handy. Simply serve with a side of salad or roasted vegetables. Get the recipe from Wicked Spatula.
Grilled pork cutlets & hazelnut red cabbage slaw
This complete paleo meal gets everything done in one fell swoop, and in less time than you'd expect. Grilled pork chops are a fantastic source of protein, and they cook up rather quickly. They're paired with a colorful, unique, hazelnut-infused slaw.
Get the recipe from Eat Drink Paleo.
Sweet potato & kale home fries with eggs
There's nothing quite like a meal done in a single skillet, as it cuts down both cooking time and dish time. Score! This breakfast is packed with greens, healthy carbs, protein and fat making for the perfect blend of morning fuel. Get the recipe from The Natural Nurturer.
Paleo orange beef stir-fry
Another huge component in us "not having enough time" is what we do instead of cooking. Perhaps, you've saved your go-to takeout restaurant's phone numbers under your favorites.
Fortunately, this orange beef is done in 30 minutes (which would be your wait time anyways), and it's a whole lot better for you than its takeaway twin. Get the recipe from Rubies and Radishes.
Dairy-free beef stroganoff
Craving comfort food? This is it. This stroganoff boasts the ease of using just one dish to cook with, and you'll undoubtedly have leftovers which will save you even more time down the road.
There's no dairy or gluten in this guy – just a delicious blend of beef and mushrooms. Check out the recipe from Paleo Power Couple.
Prawn & collard greens salad with cashew satay
This simple dish incorporates collard greens for a switch-up from the usual kale or spinach with a healthy dose of creamy, dreamy Asian-inspired "peanut" sauce with better-for-you cashew butter.
Get the recipe from the archives on The Happy Body Formula blog.
Breakfast burrito collard wraps
We're going two for two on collard greens in today's roundup. These big leaves are highly nutritious and packed with vitamins and minerals, and they make a great substitute for wheat or corn tortillas.
Breakfast burritos are the quintessential morning 'fast food,' so do it right with this bacon and egg wrap from What Great Grandma Ate.
Spiralized apple kimchi salad with garlic beef
Spiralizers are the true MVP's in 30-minute meals, and not just for zoodles (but we'll get to that). This spiralized apple kimchi salad mixes up the sweet and savory for an incredibly interesting and unique base to pair with garlicky beef.
Whip this one up for your adventurous eaters. Get the recipe from Cotter Crunch.
Spicy grilled shrimp with guacamole
Seafood and avocado are a superfood match made in heaven, and they make for some of the quickest fuel for our bodies. Shrimp can easily be bought pre-cooked which means all you have to do is thaw 'em and grill 'em.
Serve these skewers up with a simple side salad for a satisfying weeknight dinner. Get the recipe from Paleomg.
Hearty Chinese egg drop soup
Egg drop soup is another darling of the takeaway scene, but it's seldom seen as the main course. This dish is perfectly hearty enough to stand in for dinner when you're busy, but need nourishment – and quickly!
Homemade bone broth is a powerhouse, and the final dish includes eggs and chicken for adequate protein. Sneak a few extra veggies in if you're feeling ambitious. Get the deets from I Heart Umami.
Turkey bolognese zucchini noodles
We told you we'd get to the zoodles, so here you have it. This simple dish is loaded with lean protein, a vegetable-heavy base, and a delicious sauce. Oh, and don't forget the cheese if you tolerate dairy well.
You could choose to use beef instead if it suits you well. The idea here is that spaghetti dinner takes 30 minutes and it's on the table. Get the deets on this dish from Whole and Heavenly Oven.
Paleo zucchini fritters
Fritters are a great option if you're looking for quick, easy and painless. Unfortunately, many are loaded with wheat flour and fried in refined oils – yuck! This healthy rendition is mostly made up of veggies and lightly cooked in olive oil.
Serve with protein prepared earlier in the week for something nourishing in a flash. Get the recipe from Paleo Grubs.
Emergency meatballs
The name says it all. Unexpected company? Getting home late? Just too hungry to cook? The idea is to make a big, big batch of these and toss a bunch in the freezer.
They make for a simple protein addition to meals when the fridge is running a bit bare. Get the recipe from Stupid Easy Paleo.
Paleo pancakes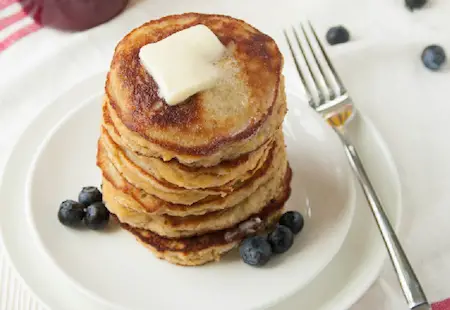 Perhaps morning is your big struggle when it comes to eating healthy. Maybe, waking up 30 minutes earlier to make breakfast doesn't sound so great either. When you add pancakes to the equation though, it's a little easier to make breakfast at home.
Get this quick recipe from My Natural Family.
What's your go-to meal when you're crunched for time? Share your favourites with us.
Music, mountains, dogs, travel, food and friends.