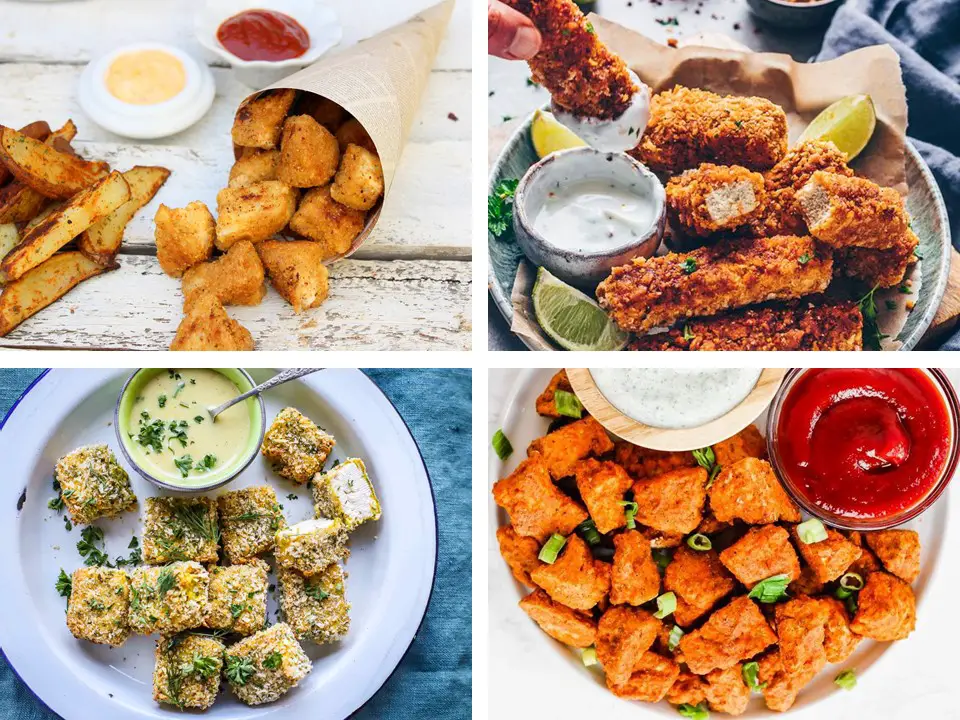 Chicken nuggets are a staple snack in many American households, but for those who are vegan or vegetarian, foregoing the delicious food can still be disappointing.
After all, who doesn't love the crispy and seasoned goodness of the outside of a nugget, not to mention the soft, warm inside and array of dipping sauces you can pair it with?
This might seem like a no-brainer, but (spoiler alert!) nuggets don't have to be made from chicken.
In fact, you can still create a crispy, crunchy, and perfectly seasoned nugget using ingredients which are healthy for you – including chickpea, eggplant, mashed vegetables, and (perhaps the most popular of all) tofu.
To help you on your vegan nugget journey, we've rounded up 17 of the most delicious, yet easy-to-make vegan nuggets that you'll find.
Trust us, once you try one of these tantalizing nugget recipes, you'll never go back to the original!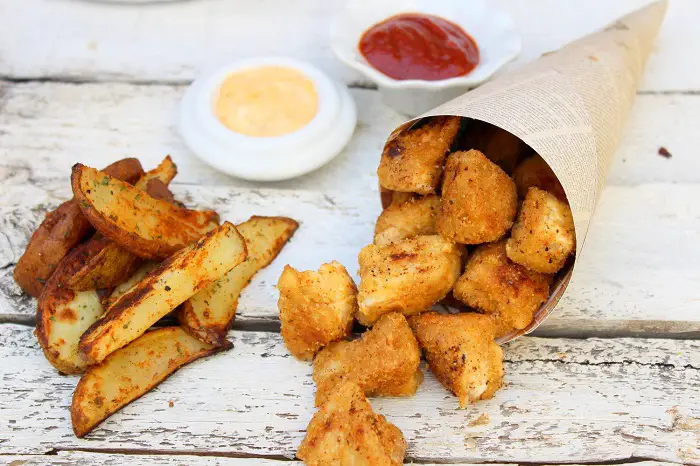 1. THE BEST TOFU POPCORN/NUGGETS WITH 3 EASY DIPPING SAUCES FROM UNDER A LEMON TREE
If you prefer your nuggets more on the "popcorn chicken" side (just, you know, without the chicken), then you'll love these tofu popcorn / nuggets.
If you have a "tofu hater" at home, you might want to try this recipe first, as it will have them becoming tofu's biggest fan.
In this recipe, the tofu is first coated with corn starch, then dipped into this breading made from oat flour, nutritional yeast, coconut sugar and spices.
The resulting crust is crispy, flavorful and golden brown!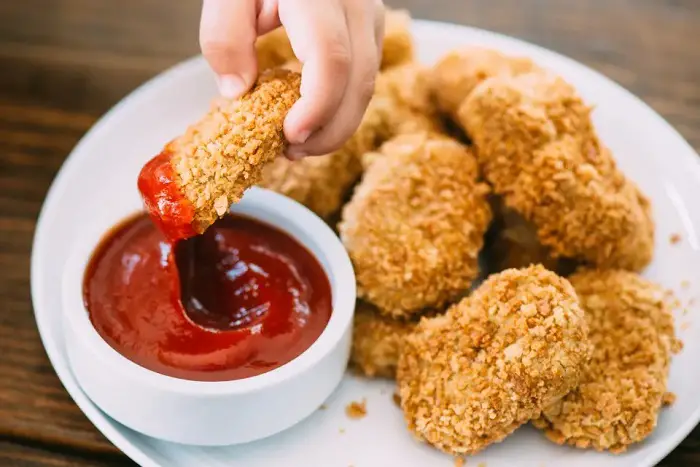 2. CHICKPEA NUGGETS FROM THE KITCHN
If tofu still isn't quite your thing, or you simply want to try a different alternative nugget recipe, then take note: these chickpea nuggets are divine and super easy to make!
These chickpea nuggets might look like chicken nuggets, but are vegan, baked (not fried), egg-free, and require only six pantry staples. Ingredients include panko or gluten-free breadcrumbs, rolled oats, garbanzo beans, kosher salt, garlic powder, and onion powder.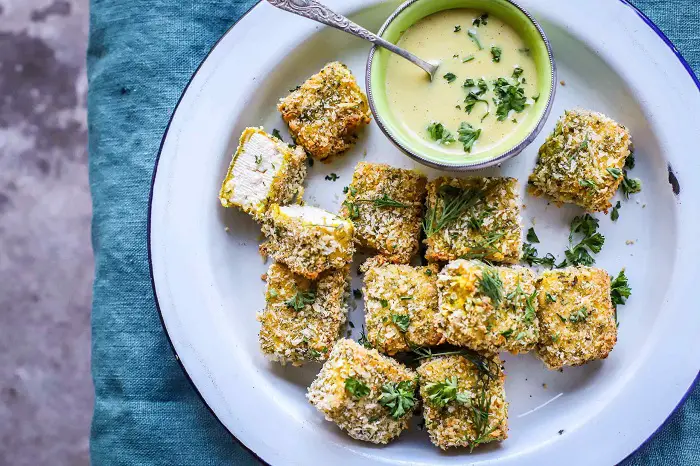 3. CRISPY RANCH TOFU "CHICKEN" NUGGETS WITH MAPLE-MUSTARD SAUCE FROM KELLIE'S FOOD TO GLOW
Pop these crispy baked tofu nuggets in a sandwich, on your favorite salad, or dip them in an easy maple-mustard sauce (recipe included!).
These crispy ranch tofu nuggets use ingredients such as firm organic tofu, dried parsley, dill, garlic granules, onion granules, chives, salt, white pepper, flour, ground turmeric, panko breadcrumbs, nutritional yeast, and oil spray.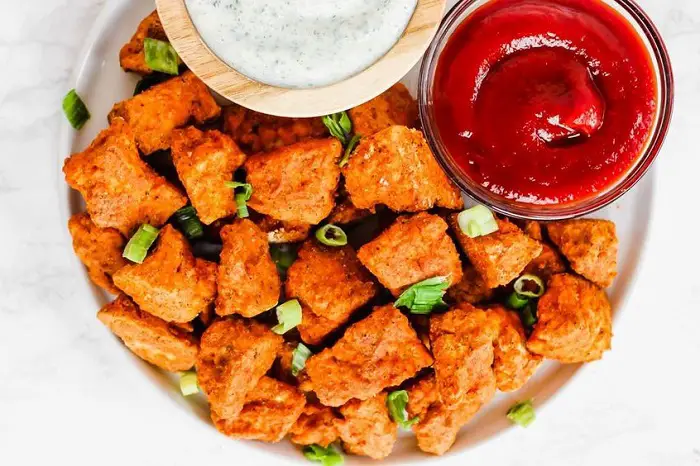 4. BAKED BUFFALO TOFU NUGGETS WITH VEGAN RANCH SAUCE (GLUTEN-FREE) FROM EMILIE EATS
These baked buffalo tofu nuggets are a fun snack or side dish for kids and adults alike, plus they're vegan and gluten-free!
Serve them with a dairy-free ranch sauce for the ultimate appetizer. Delicious and healthy ingredients include chickpea flour, garlic powder, onion powder, ground cumin, smoked paprika, and more. Serve these up next game night or girl's night in.
Your guests won't know what hit them – in a good way, of course!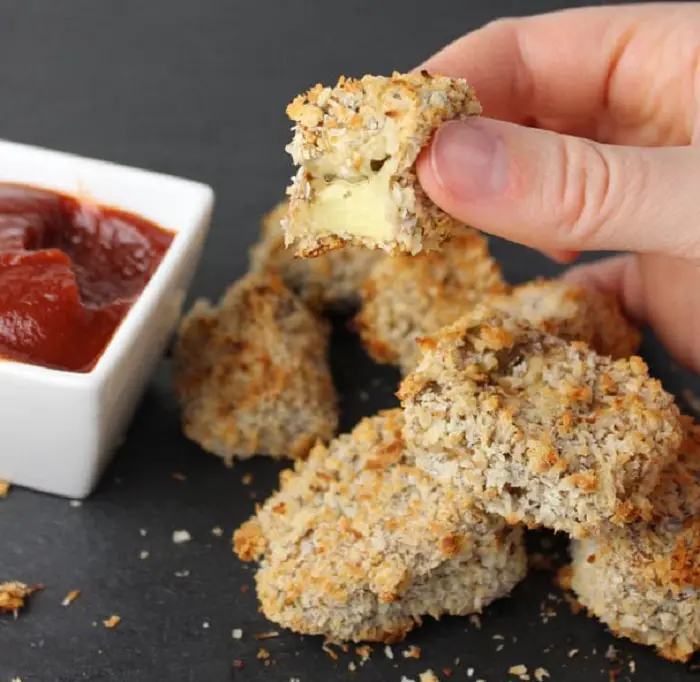 If there's one way to guarantee you'll enjoy eating eggplant, it's to turn it into these crispy nuggets. Either cooked or fried, these tasty morsels will melt in your mouth.
Ingredients include eggplant (of course), salt, flour, salt, pepper, ground flax or chia, warm water, panko, and shredded coconut. The best part? You can team these nuggets with a classic ketchup or get adventurous!
We're thinking ranch sauce, sriracha…you name it!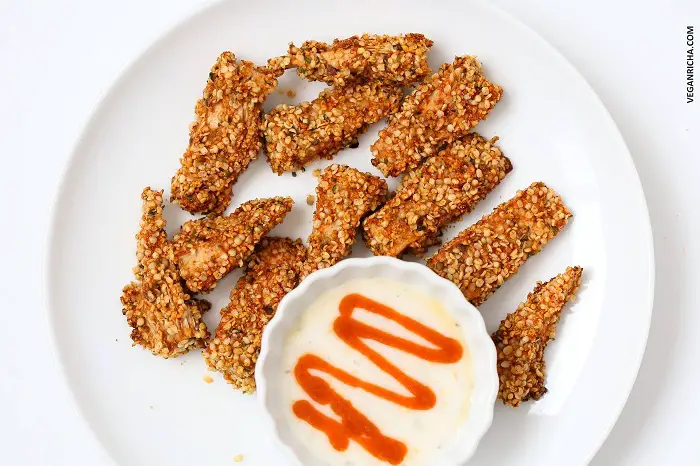 6. SPICY HEMP CRUSTED JACKFRUIT NUGGETS FROM VEGAN RICHA
These spicy hemp crusted jackfruit nuggets are vegan, gluten-free, and soy-free, making them a win-win for many.
The jackfruit pieces are dipped in a flavorful batter, rolled in spices and hemp seeds and baked to crisp. Just pair them with your favorite cooling sauce, whether it's blue cheese sauce or a yoghurt-based one.
You can even add coarsely-ground nuts to your batter for a crunchier texture.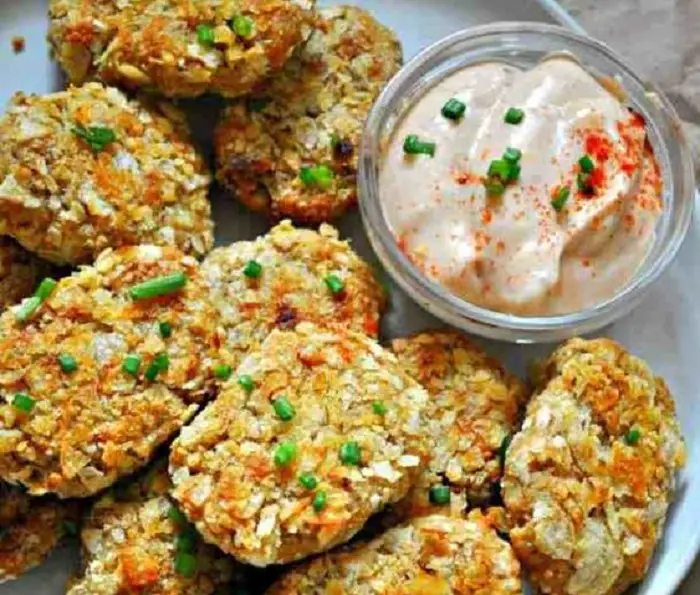 7. VEGAN POTATO CHIP CRUSTED CHICKEN NUGGETS WITH FRY SAUCE FROM RABBIT AND WOLVES
These nuggets are chickpea and vital wheat gluten based, plus they have the most amazing salty chip coating!
The accompanying vegan fry sauce is made from ingredients including vegan mayonnaise, ketchup, pickle juice, paprika, and garlic powder.
How delicious does that sound?
You could even pair the nuggets with ketchup, BBQ sauce, ranch sauce, or any other condiment that takes your fancy.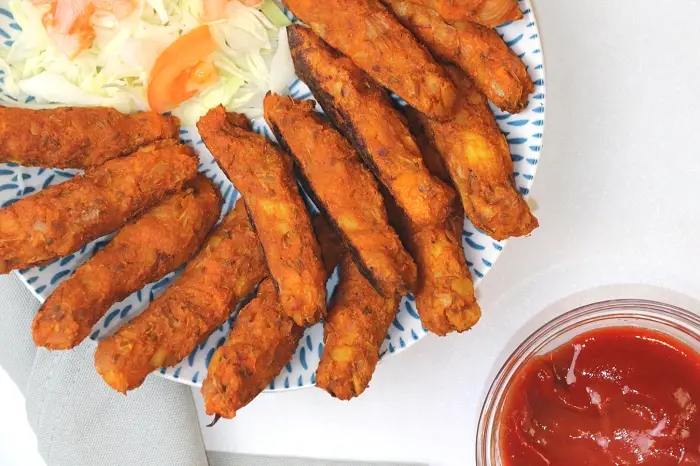 These squash finger nuggets are vegan, gluten-free, easy to make, nut-free and require only 7 ingredients!
To make these delicious nuggets, all you need is squash, potato, olive oil, onion, cumin seeds, soy sauce, and paprika powder.
If you're in need of some inspiration as to what you should serve these with, the chef pairs hers with a mix of Sriracha sauce and ketchup, along with a side of melted vegan cheese.
Delicious!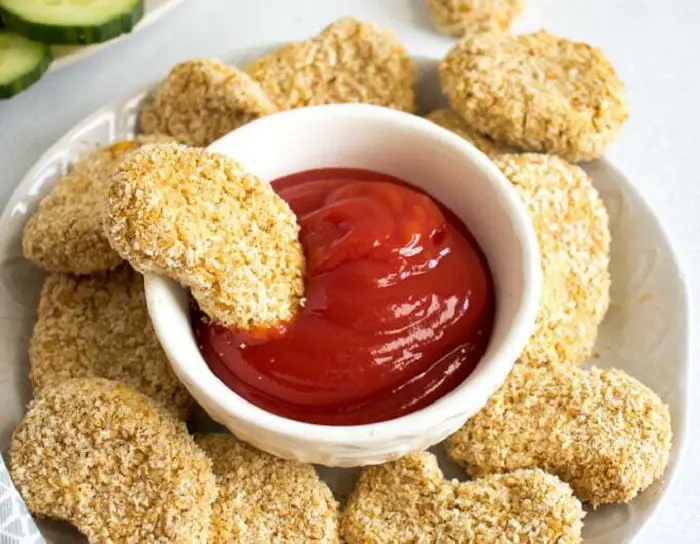 9. VEGAN BAKED CHICKPEA NUGGETS FROM VEGGIE DESSERTS
These tasty baked chickpea nuggets are super easy to make using just 6 ingredients in 30 minutes of total cooking time.
They're soy-free, oil-free, dairy-free, nut-free and easily made gluten-free, meaning that the whole family will fall head over heels in love with them (and hopefully no one has to miss out!).
Ingredients include rolled oats, chickpeas, water, onion powder, garlic powder, ground cumin, and breadcrumbs.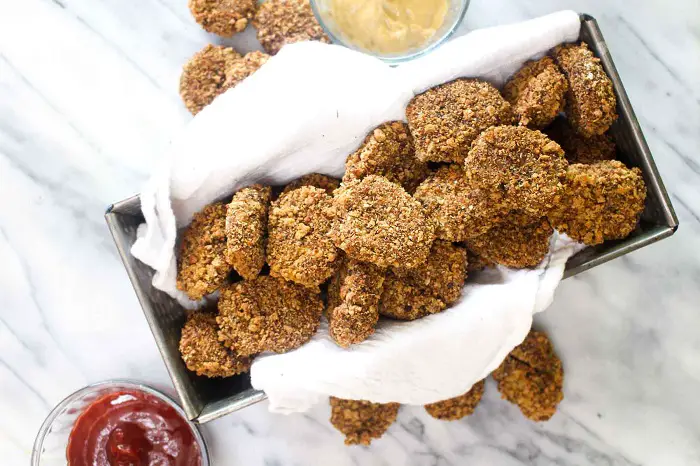 10. RED LENTIL VEGGIE NUGGETS FROM DARN GOOD VEGGIES
Fancy making some kid-friendly nuggets that sneak in a few servings of veggies?
These red lentil veggie nuggets feature ingredients such as cauliflower, carrot, yellow onion, peas, red lentils, avocado oil, garlic, nutritional yeast, Italian seasoning, honey, nutmeg, bean flour, and salt.
They might look great, but they sound totally delicious too!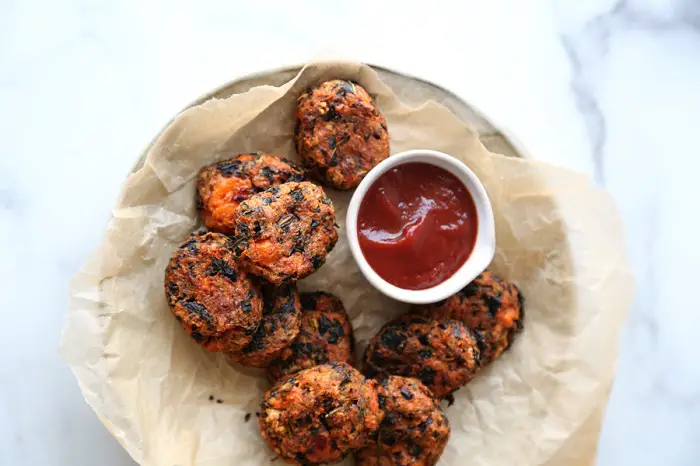 11. KALE AND SWEET POTATO VEGGIE NUGGETS FROM FEED ME PHOEBE
According to the chef: "You'll be amazed by how quickly these veggie nuggets come together with a little semi-homemade help from the store.
You can enjoy them with any sauce of your choosing and freeze them for any future last-minute lunch or study breaks".
These healthy nugget alternatives feature sweet potatoes, kale, chili powder, smoked paprika, flax seed meal, gluten-free breadcrumbs, and sea salt. Yum!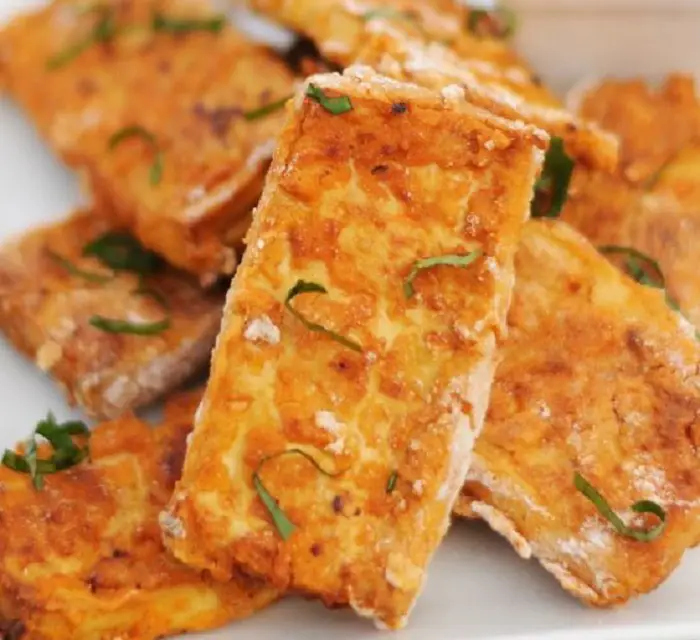 12. CRISPY PIZZA TOFU NUGGETS FROM FRIED DANDELIONS
These homemade crispy pizza tofu nuggets are sure to be a hit with both kids and adults alike!
They gain inspiration from three of the most wonderful foods (pizza, tofu, and nuggets) and contain ingredients such as vegetable stock, onion powder, fennel seeds, oregano, garlic powder, nutritional yeast, tomato paste, agave, non-dairy milk, and more.
You can even dip them in a Marinara sauce if you wish to truly celebrate those Italian pizza flavors!
These are a variation on corn fritters, a Pennsylvania Dutch dish that originated in the United States. Whether you choose to eat these as a delicious appetizer or a casual dinner, we can guarantee they're delicious.
They contain ingredients such as creamed corn, whole kernel corn, yellow cornmeal, vegan egg replacement, plant-based milk, salt, black pepper, basil, and vegetable oil.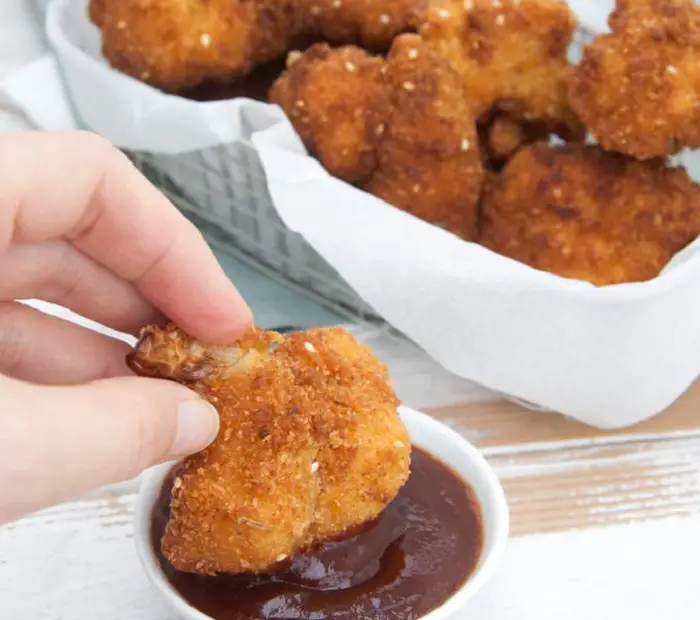 14. BREADED & FRIED CAULIFLOWER NUGGETS FROM ELEPHANTASTIC VEGAN
Looking for a vegan or vegetarian-friendly game day snack? When you bite into these nuggets, you won't believe that they're made from cauliflower. Just pair them with your favorite sauce (we recommend barbecue sauce) and enjoy!
Other ingredients include breadcrumbs, panko flakes, flour, sesame seeds, and spices of your choice.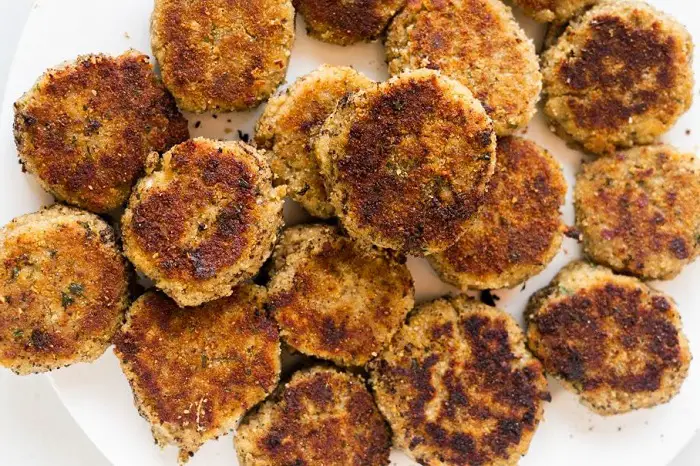 Eggplant veggie nuggets are healthy, easy to make and kids love them. Plus, they're made with simple ingredients and are ready in less than 20 minutes!
They contain shredded eggplant, eggs, salt, flour, Italian breadcrumbs, mozzarella cheese, and olive oil. Rolling the nuggets in extra breadcrumb mixture gives them a delicious, crunchy coating.
Trust us, your kids will never turn this veggie snack or meal down!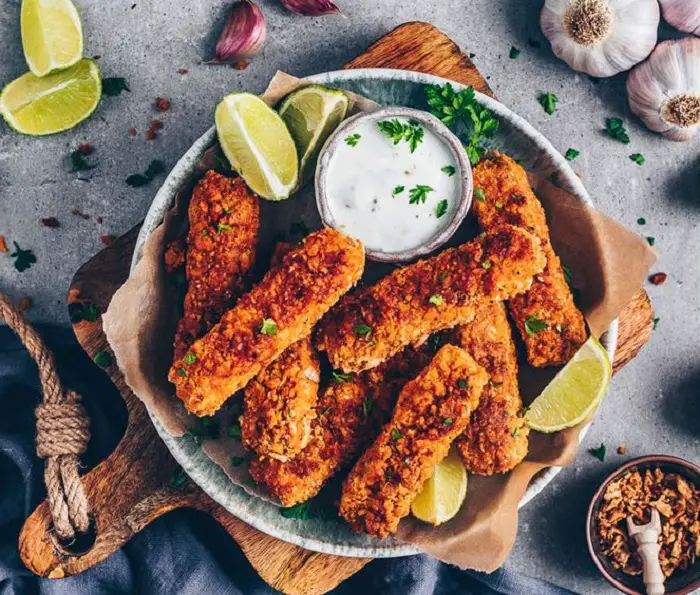 16. CRISPY BAKED TOFU NUGGETS FROM BIANCA ZAPATKA
Imagine this: crispy and crunchy meatless fingers which are tossed in a flavorful barbecue sauce. Sound heavenly?
We think so! To make these, you'll need firm tofu, panko breadcrumbs, neutral oil, paprika, sea salt, black pepper, nutritional yeast flakes, corn-starch, non-dairy milk, apple cider vinegar, and barbecue sauce.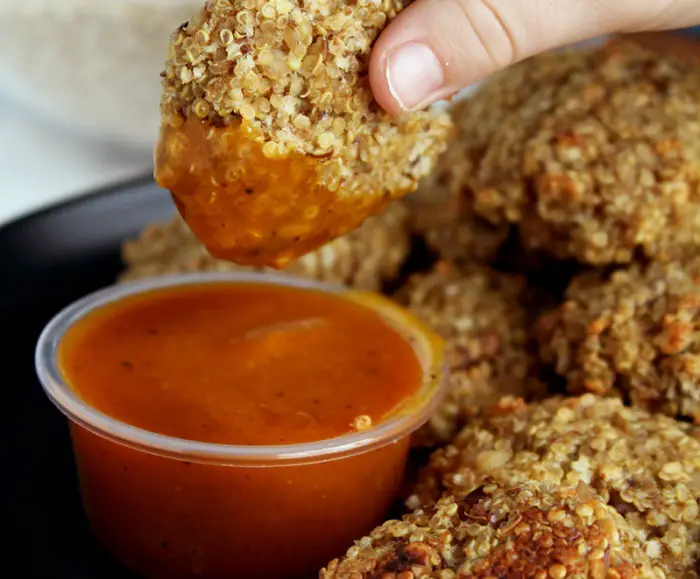 If you want to satisfy that kid craving for nuggets, but you also want your kids to eat healthy, then you're in luck.
Not only are these nuggets meat-free, but they're also very healthy and packed-full of ingredients such as ground flax seed, filtered water, quinoa, walnuts, cauliflower, panko breadcrumbs, nutritional yeast, baking powder, onion powder, pink salt, and garlic powder.
Winner, winner, vegan dinner!
Which Vegan Nugget Recipe Will You Make?
There you have it – 17 vegan nuggets that both children and adults will love!
Whether you're looking for an easy, meat-free dinner, game day snack, or appetizer when friends come around, these chicken-free nuggets are sure to impress.
While chicken nuggets might seem like a freezer staple in many households, it doesn't have to be that way. Swap the saturated fat, meat products, and high salt content for nuggets made from tofu, cauliflower, or other fruit or vegetables.
We promise they don't just taste good, but are also a lot healthier for you and your family.
Which vegan nugget recipe will you be trying from this list first? We'd love to hear your thoughts in the Comments section below!
Share on Pinterest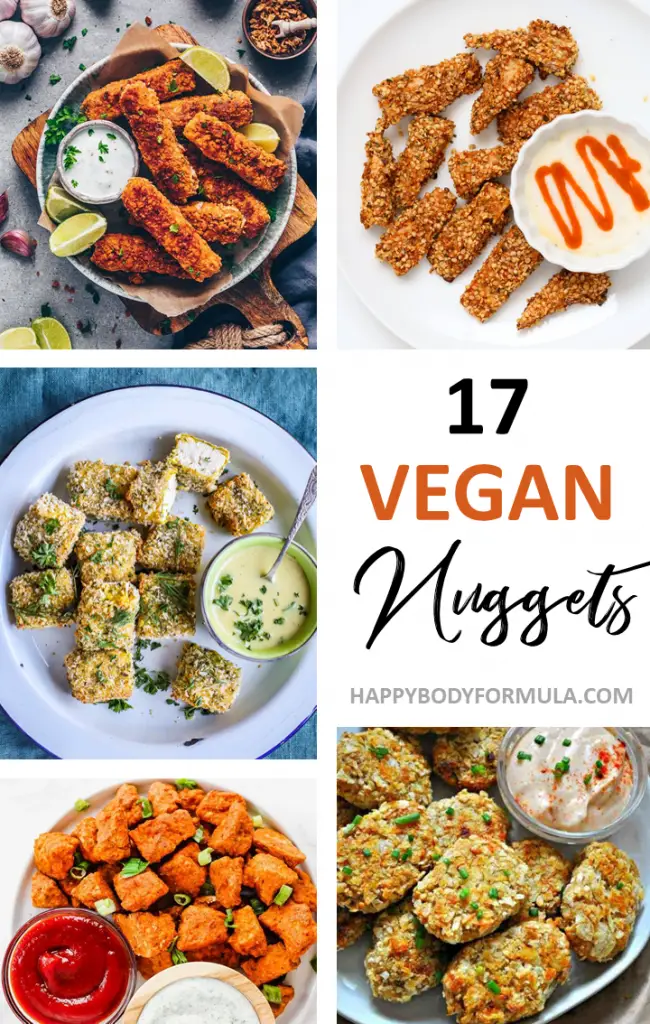 Melanie Clarke is the founder of Whim Online Magazine, an online magazine based in Australia that has a strong focus on whimsical + dreamy photography, as well as art and fashion content.