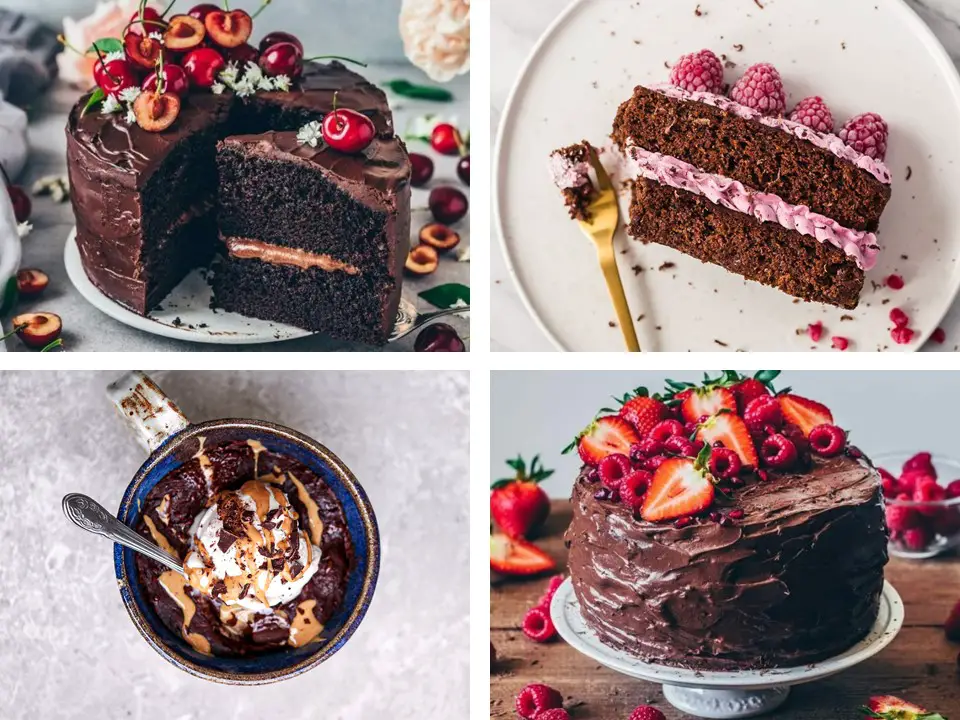 When you think of the basic ingredients of a cake – especially a chocolate one – you probably think of milk, eggs, and butter.
While this might not be an issue to some, for vegans, it puts a spanner in the works. But what if we told you vegans can now have their chocolate cake and eat it too?
You see, we've rounded up the 30 most decadent, delicious, and drool-worthy vegan chocolate cakes around, featuring everything from moist sponge cakes and creamy mousse cakes, to cupcakes, mug cakes, and tasty international favorites.
Many of these recipes are even gluten-free or keto friendly, so you've got yourself a win-win!
If you're worried that these chocolate cakes are lacking in flavor though, we can assure you: even your non-vegan friends will find it hard to look past these delicacies.
Ready to check out the best 30 vegan chocolate cakes? Let's get started!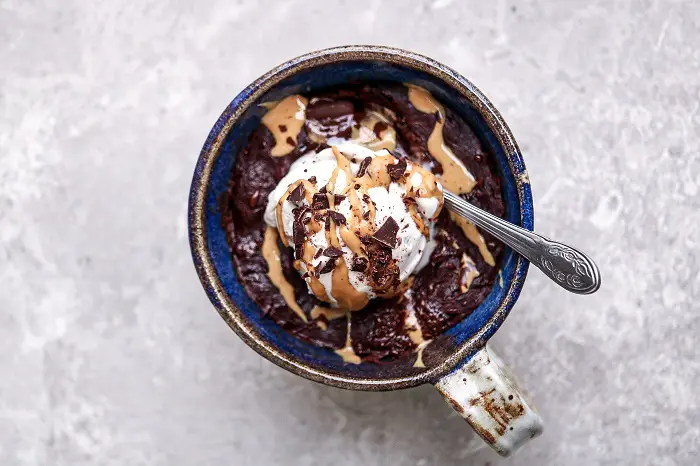 1. CHOCOLATE PEANUT BUTTER MUG CAKE (GLUTEN-FREE) FROM PLANT AND SPROUT
This is the simplest, healthiest, and richest dessert you can make within 2 minutes, so there's no excuse to miss out on dessert just because you're short on time!
To make this decadent, vegan and gluten-free mug cake, you'll just need one ripe banana, cacao powder, peanut butter, salt, baking powder, maple syrup (or a sweetener of your choice), and some chopped dark chocolate (optional).
You'll fall head-over-heels in love with its unique flavor.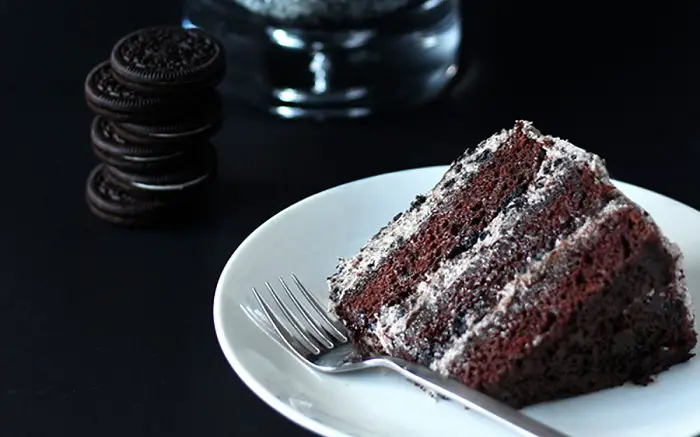 Oreos don't just bring back great childhood memories; they're also vegan, taste delicious, AND work perfectly when crushed up on a cake. Worried about all of those Oreo calories?
In this recipe, applesauce is substituted for oil as an attempt to try and curb some of the unhealthiness, but all up, it's a delicious cake best saved for those special milestones in life.
Oh, and that vegan buttercream with blended Oreos through it is absolutely incredible!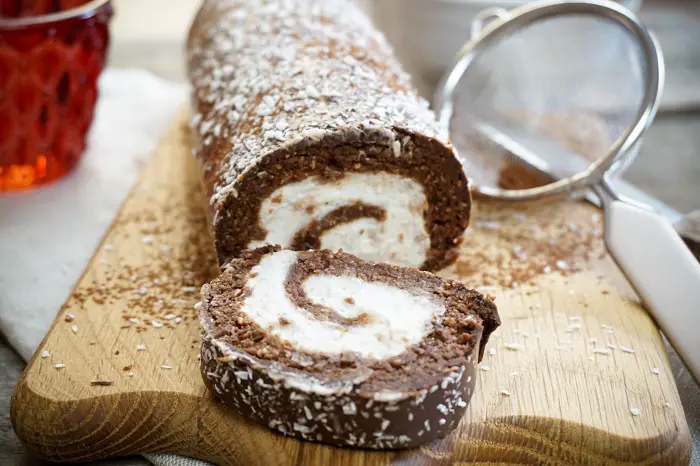 3. VEGAN CHOCOLATE SWISS ROLL FROM THE TASTY K
With a crunchy chocolate shell on the outside, a soft chocolate dough beneath and a creamy coconut filling, this vegan chocolate roll makes the perfect combination for a heavenly treat!
Best of all, it is refined sugar-free and only naturally sweetened, so you don't have to feel guilty about grabbing seconds.
To add a festive or more colorful twist, simply top the chocolate Swiss roll with fruit, such as cherries, strawberries, blueberries, blackberries, or whatever else your heart desires!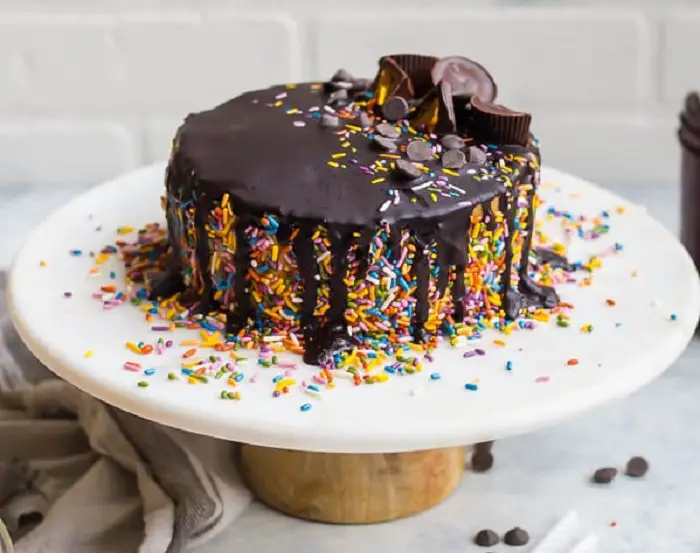 4. VEGAN BUCKEYE CAKE FROM FOODUZZI
Is there a greater food pairing than vegan chocolate and peanut butter?
The chef of this recipe attributes that moist and gooey chocolate cake to "vegan yogurt and vegan buttermilk as our 'moist-makers', lots of cocoa, hot coffee, and two flours". And as for that frosting?
It simply contains vegan butter, powdered sugar, vanilla, almond milk, and salt. When finished, simply top the cake with all sorts of fun things, such as sprinkles, vegan peanut butter cups, and chocolate chips. Now, that's a cake worth celebrating for!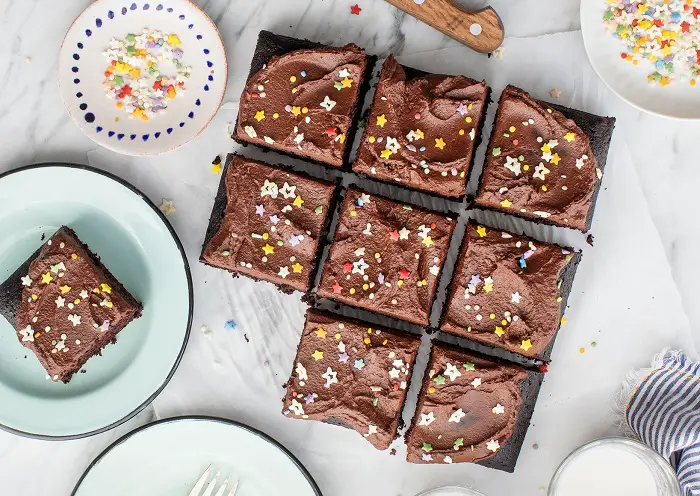 Heralded as the "best vegan chocolate cake", this creation is moist and deeply chocolatey, with a rich chocolate frosting made from a secret ingredient: sweet potato!
It may just be the healthiest cake you've ever eaten, but you wouldn't know it, thanks to its rich, dark chocolate flavor. Just some of the other ingredients include cinnamon, almond milk, maple syrup, apple cider vinegar, coconut oil, and cacao powder.
Sounds divine!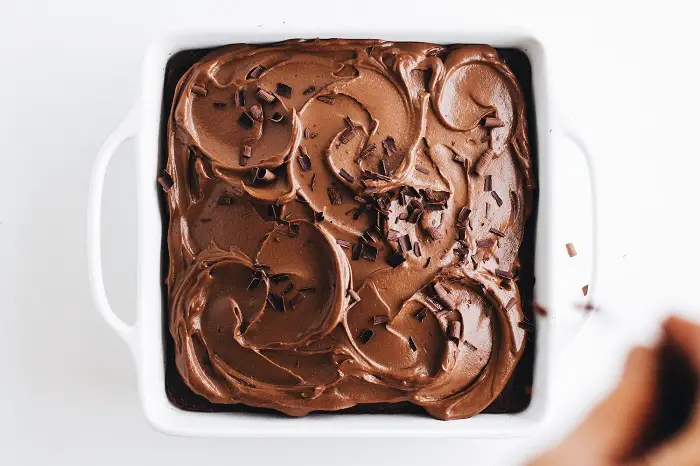 6. GLUTEN-FREE VEGAN CHOCOLATE CAKE FROM FEASTING ON FRUIT
Apparently using a Vitamix is the secret to getting this cake just-right, but we're sure any food processor would do the trick. This vegan chocolate cake is also gluten-free, so it can be enjoyed by many!
Just some of its ingredients include oat flour, cacao powder, tapioca starch, almond milk, almond butter, coconut sugar, applesauce, apple cider vinegar, vanilla extract, and coffee extract (which is optional).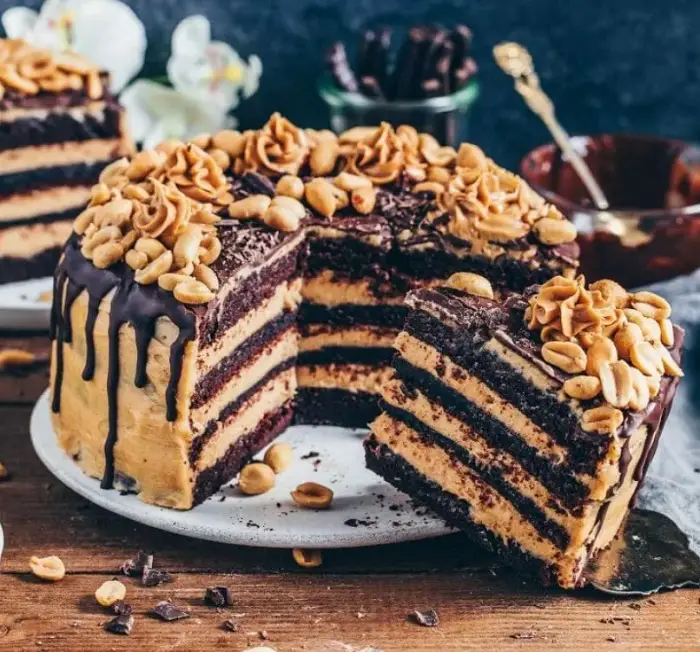 7. CHOCOLATE PEANUT BUTTER CAKE FROM BIANCA ZAPATKA
This chocolate and peanut butter cake has been likened to the flavors of a Snickers bar! It's a soft and moist vegan chocolate cake filled with a rich and creamy peanut butter frosting, making it the perfect dessert or cake for celebrating just about any occasion!
If you want smaller bites of chocolate and peanut butter heaven, you can even replicate this recipe but pour it into a cupcake pan. Genius!
8. NO-BAKE VEGAN CHOCOLATE PIE FROM ELA VEGAN
Ready for a no-bake chocolate pie that's also dairy-free, gluten-free, soy-free, and only has 9 simple ingredients?
This vegan chocolate pie not only looks divine, but has a rich, fudgey, and creamy taste and texture that you'll love.
It contains nuts or seeds of your choice, oats, salt, dates, vanilla extract, dairy-free chocolate chips, maple syrup, avocado, sweet potato, and cocoa powder.
Veggies in a chocolate cake?! That's one way to turn it into the tastiest health food on the planet!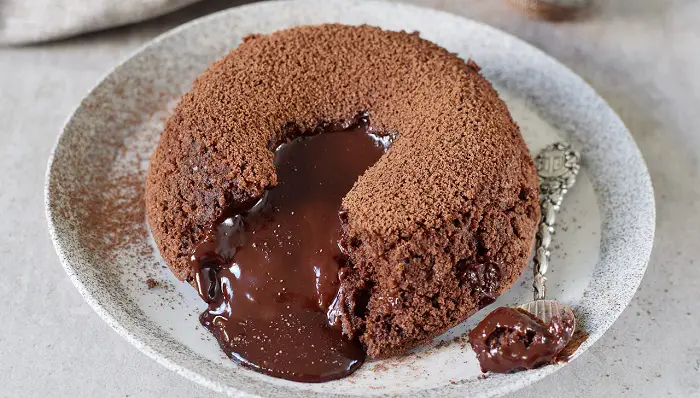 9. VEGAN CHOCOLATE MOLTEN LAVA CAKE (GLUTEN-FREE) FROM ELA VEGAN
Speaking of chocolate lava cake, here's how you can make a delectable vegan and gluten-free version. If you've never heard of a molten lava cake before, then it's simply a flourless cake with a liquid chocolate center. Trust us, it's good.
The ingredients are oats, almonds, banana, a sweetener (you can use coconut sugar, cane sugar, brown sugar, etc.), plant-based milk, cocoa, baking powder, baking soda, salt, and vanilla extract. So easy!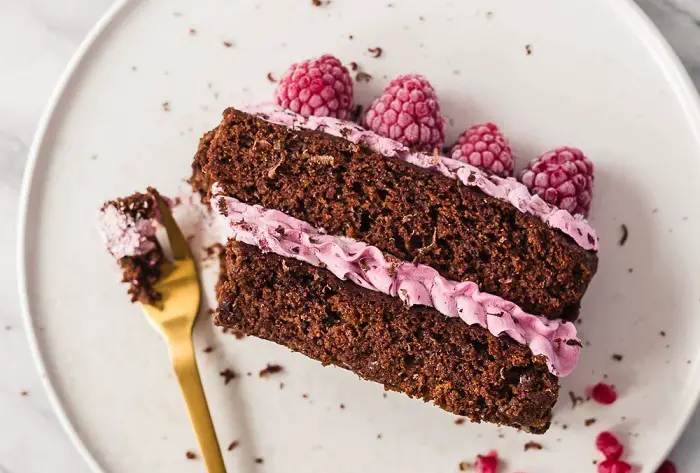 10. VEGAN CHOCOLATE CAKE WITH RASPBERRY CREAM FROM MY BERRY FOREST
We've got to say it: this vegan chocolate cake with raspberry cream looks like a work of art. This cake is simply perfect for Valentine's Day, but of course it's delicious any day!
Just some of its ingredients include almond butter, plant-based milk (such as oat milk), apple cider vinegar, spelt flour, coconut sugar, and more. Layer it up and enjoy it with your friends or family – even though it will be ridiculously hard to share!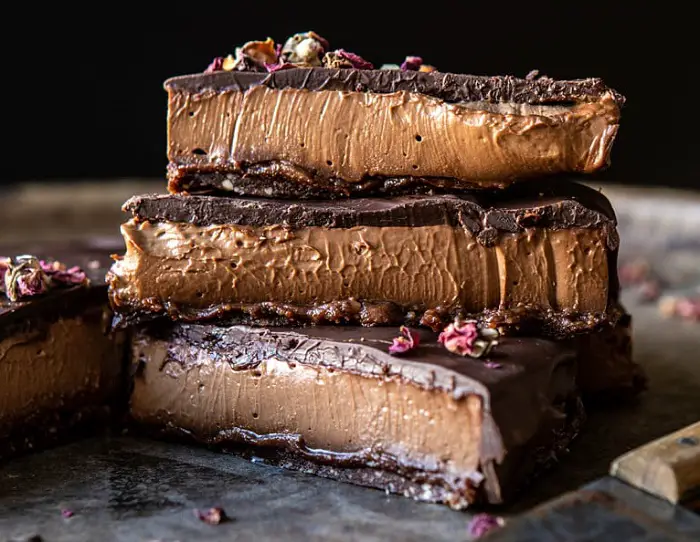 11. VEGAN TRIPLE CHOCOLATE MOUSSE CAKE FROM HALF BAKED HARVEST
If the soft, luscious look of this vegan triple chocolate mousse cake hasn't got your mouth watering, then we don't know what will!
The chef describes her creation as "cashews blended into an extra smooth and creamy vegan chocolate mousse and spread over a chocolate nut-based crust, chilled until firm, and topped with sweet dark chocolate."
It sounds (and looks) absolutely incredible.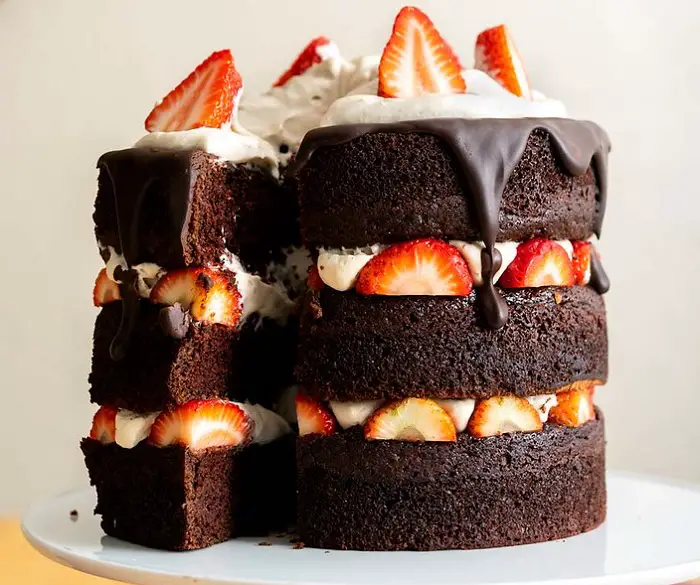 12. VEGAN CHOCOLATE LAYER CAKE WITH VANILLA MOUSSE FROM VEGAN YACK ATTACK
If you're looking to spoil that special someone with something other than a box of chocolates on Valentine's Day, this recipe has got you sorted.
This vegan chocolate layer cake with vanilla mousse and strawberries should be at the top of everyone's wish list each February – or any day of the year for that matter!
This one features ingredients such as raw cashews, firm tofu (we kid you not – it's for the mousse!), agave nectar, olive oil, apple sauce, apple cider vinegar, fresh strawberries, and more. Doesn't sound so unhealthy either, hey?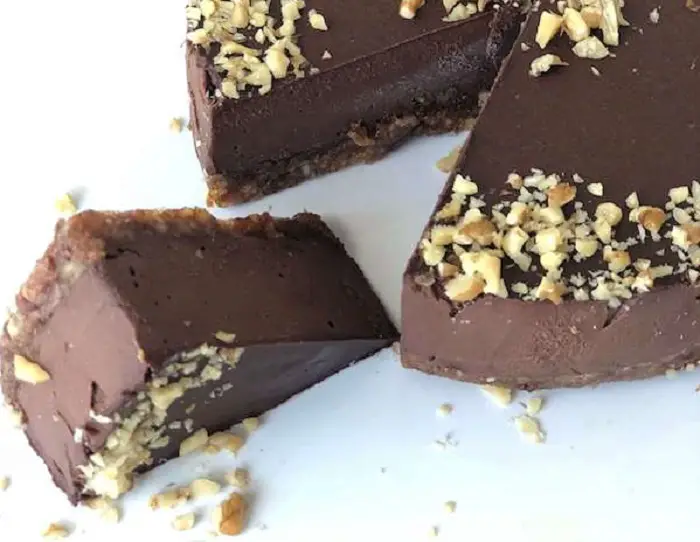 13. VEGAN AND GLUTEN-FREE CHOCOLATE TRUFFLE CAKE WITH RAW CACAO FROM LIVE KINDLY
This vegan and gluten-free chocolate truffle cake is delicious and decadent, and you won't be sorry when you eat a slice – or three.
The chef recommends having a really good blender on-hand (such as a Vitamix, Blendtec, or Ninja) to make it super creamy. If you don't have a high-powered blender, just blend the mixture for a very long time until it is super smooth.
You'll love the inclusion of ingredients such as raw pecans, Medjool dates, raw cashews, coconut nectar, and more.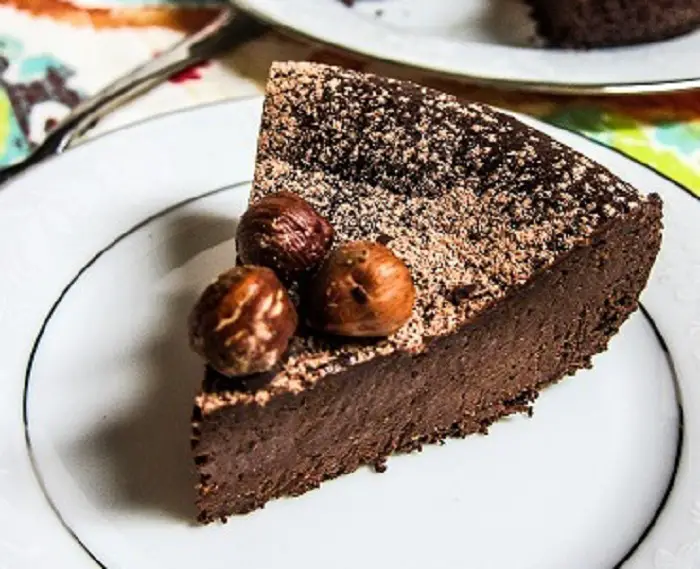 14. VEGAN HAZELNUT FLOURLESS CHOCOLATE CAKE FROM FRAGRANT VANILLA
A vegan hazelnut and chocolate flourless cake that tastes like brownie batter? Count us in!
It uses ingredients such as ground flax seed, filtered water, unsweetened chocolate, hazelnut or almond butter, pureed pear or apple, coconut sugar, sea salt, pure vanilla extract, hazelnut meal, raw cacao powder, plus hazelnuts and chopped dark chocolate to garnish.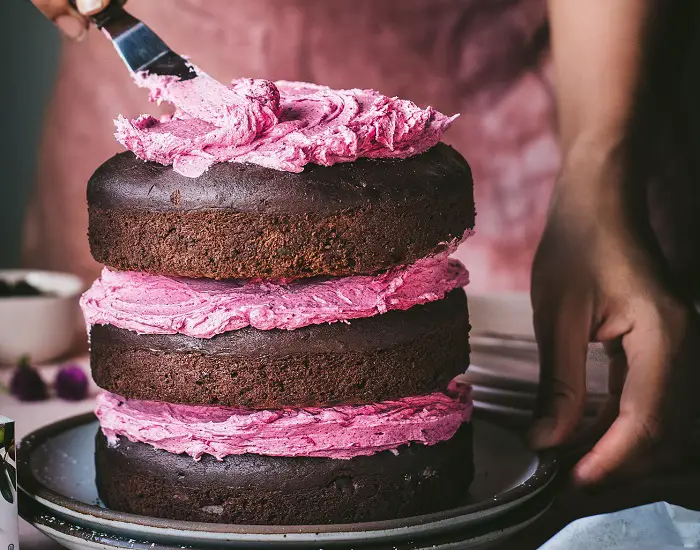 15. VEGAN CHOCOLATE LAYER CAKE WITH HIBISCUS FROSTING FROM RAINBOW PLANT LIFE
This vegan chocolate layer cake with hibiscus frosting can be described as "vegan buttercream frosting spiked with a fruity tartness from hibiscus, then sandwiched between three layers of moist chocolate cake with chocolate chunks floating throughout".
How good does that sound?! This recipe also includes some brilliant tips for making vegan cakes in general.
For example, did you know that espresso amplifies the deep, rich flavor of chocolate without adding any noticeable coffee flavor? You have all of that to look forward to and more.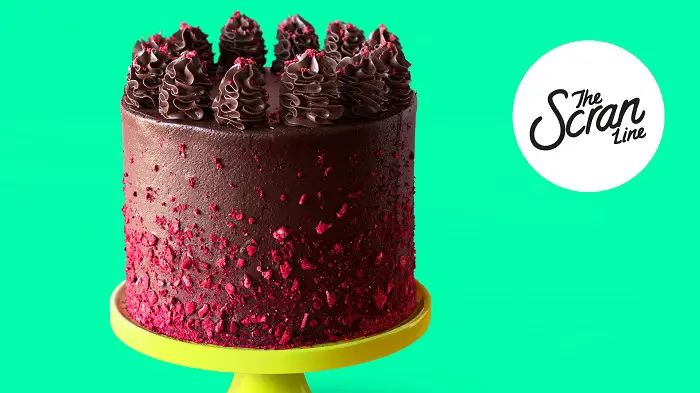 16. VEGAN CHOCOLATE RASPBERRY CAKE FROM TASTEMADE
Think vegan means boring? Prepare to have your illusions shattered with this vegan chocolate raspberry cake!
It's an absolute work of culinary art that involves not one, but four cake layers, covered in a creamy frosting and decorated with freeze-dried raspberries.
Just some of the ingredients include coconut or almond milk, apple cider vinegar, frozen raspberries (for putting in the cake batter), vegan margarine, cocoa powder, and raspberry essence.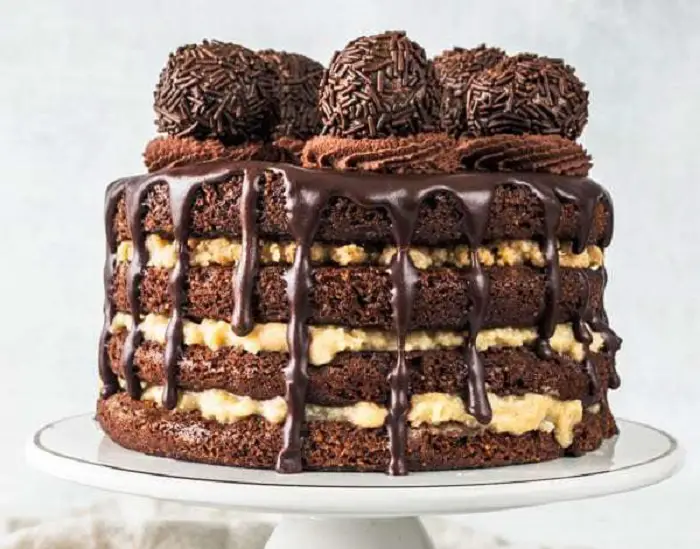 17. VEGAN GERMAN CHOCOLATE CAKE FROM PIES AND TACOS
This German chocolate cake is completely dairy-free, plant-based, paleo – you name it! It features the popular German treat, brigadeiros, but in vegan form.
It features a delicious coconut filling and the moistest cake ever, so who needs frosting? Just some simple ganache oozing out between the layers is enough to make your tastebuds sing.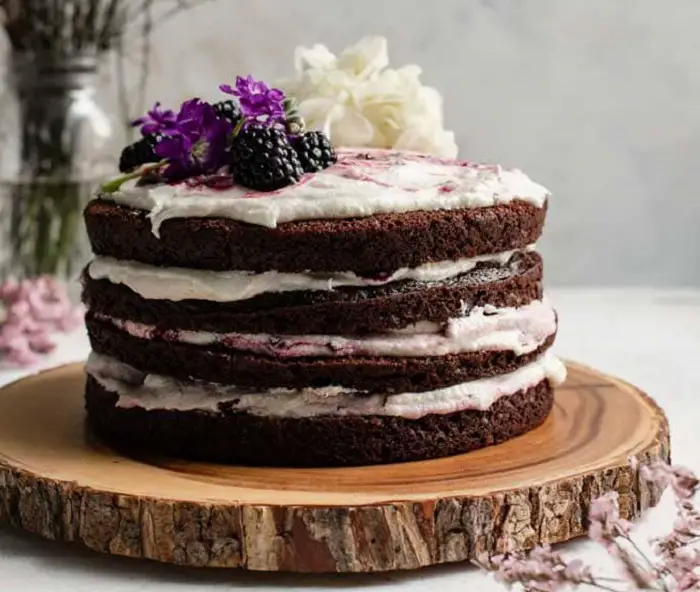 18. BLACKBERRY LAVENDER CHOCOLATE CAKE FROM THE CURIOUS CHICKPEA
This blackberry lavender chocolate cake is a show stopping dessert in both flavor and looks. It's so easy to put together, and a cake that you and your guests will enjoy.
Better yet, even your non-vegan friends would never guess that it's vegan!
Here's a tip: bake your cake layers the night before to allow them ample time to chill in the fridge, before assembly.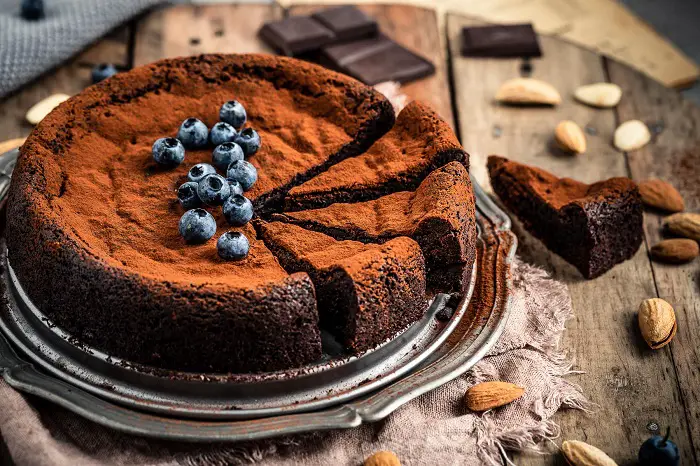 19. GLUTEN-FREE PALEO FLOURLESS VEGAN CHOCOLATE CAKE FROM BEAUTY FOOD BLOG
This vegan and gluten free chocolate cake is a cross between a vegan caprese cake, a truffle cake and a brownie. It also gives you a nice boost of serotonin, thanks to the almonds, chocolate and bitter cocoa.
You'll love its thick, fudgy, and oh-so-chocolatey texture, making you go back for seconds…or thirds. Plus, it only uses 10-11 ingredients, with a prep time of just 5 minutes.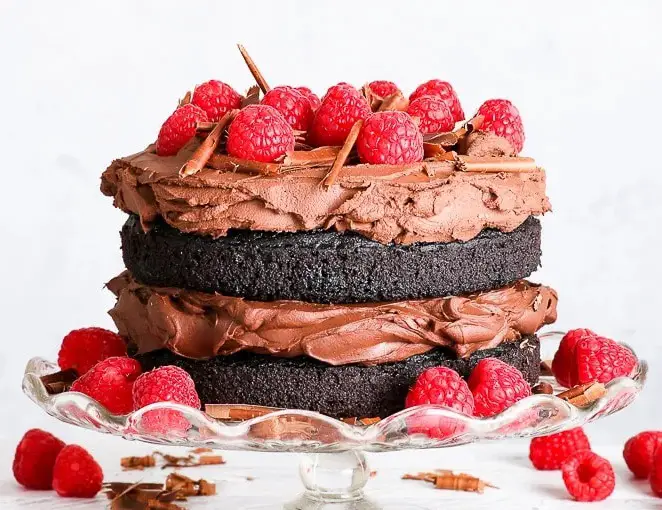 20. GLUTEN FREE VEGAN CHOCOLATE CAKE FROM THE LOOPY WHISK
This gluten free vegan chocolate cake will blow you away – with how it looks, how it tastes and how incredibly easy it is to prepare.
It contains no gluten, no eggs, no butter and no milk, yet you're still left with a moist, decadent, and delicious chocolate cake that everyone is sure to love. And as for that super fluffy frosting?
It contains just two ingredients: coconut cream and melted chocolate. That's all you need!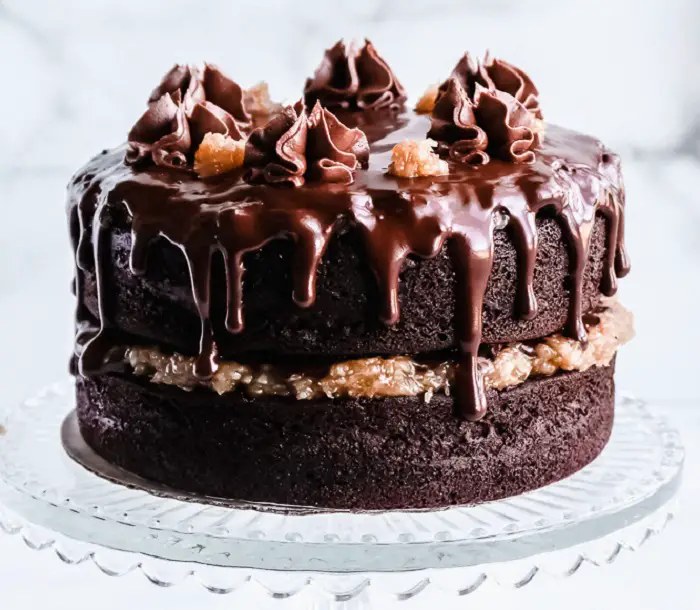 21. GERMAN CHOCOLATE CAKE FROM ALLERGYLICIOUS
Along with being vegan, this German chocolate cake is also gluten-free. The chef describes it as a "rich and decadent German chocolate cake, layered with sweet coconut icing and drizzled in chocolate ganache".
Our tastebuds are already tingling! The coconut filling is thick, gooey, chewy, and perfectly sweet. Plus, it's made from simple ingredients you likely already have on-hand.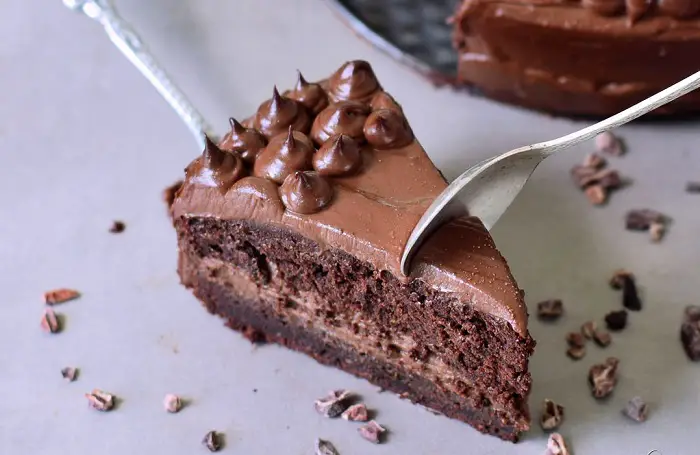 22. VEGAN CHOCOLATE ZUCCHINI CAKE (GLUTEN-FREE, OIL-FREE RECIPE) FROM ELA VEGAN
We know what you're thinking: zucchini, in a cake?! That's not the only vegetable that this fudgy, chocolaty, moist, and rich cake has managed to squeeze in.
It also contains sweet potato, as well as healthy ingredients such as shredded unsweetened coconut, brown rice flour, ground flax seeds, agave syrup, sunflower seed butter, cacao, plant-based milk, and more. We can't wait to try it!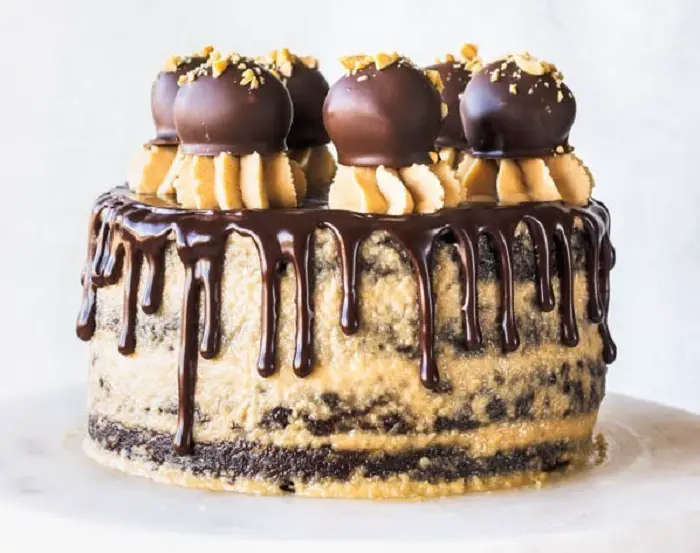 23. CHOCOLATE PEANUT BUTTER VEGAN CAKE FROM PIES AND TACOS
This chocolate peanut butter cake topped with peanut butter truffles is both vegan and paleo, making it a no-brainer for many.
It's also gluten-free and refined sugar free, but full of flavor and deliciousness. We just can't look past that peanut butter frosting, with a ganache drip, topped with peanut butter truffles.
Does it get any better than that?!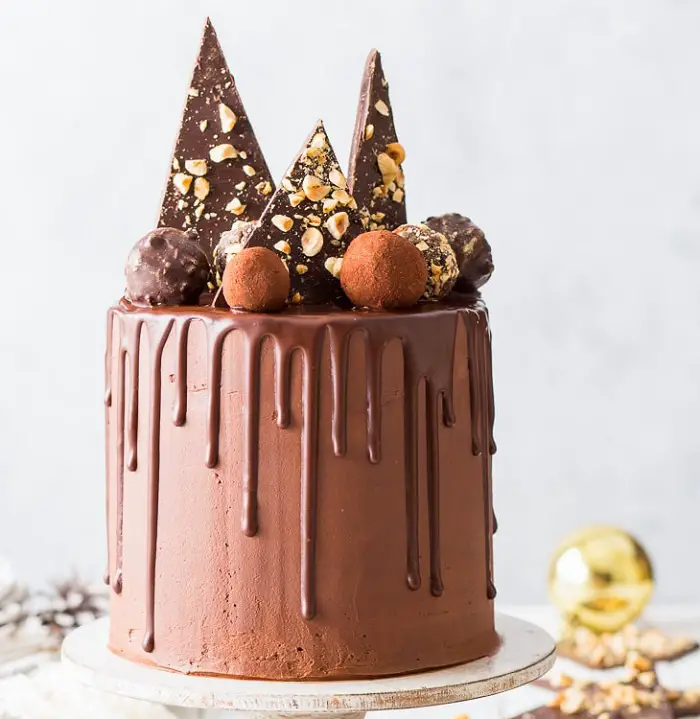 24. LUXURIOUS VEGAN CHOCOLATE TRUFFLE CAKE FROM THE LOOPY WHISK
"With melt-in-the-mouth chocolate sponges, fluffy vegan chocolate frosting and absolutely stunning decorations, it's the perfect showstopper for all occasions," says chef Kat.
We couldn't agree with her more and think it looks like an absolute masterpiece. You see, there's the luscious ganache drip, hazelnut-studded chocolate shards, and those truffles – where do we even begin?
Sure, it's a little more ingredient heavy than the other recipes on this list, but trust us, it's totally worth it for any special occasion.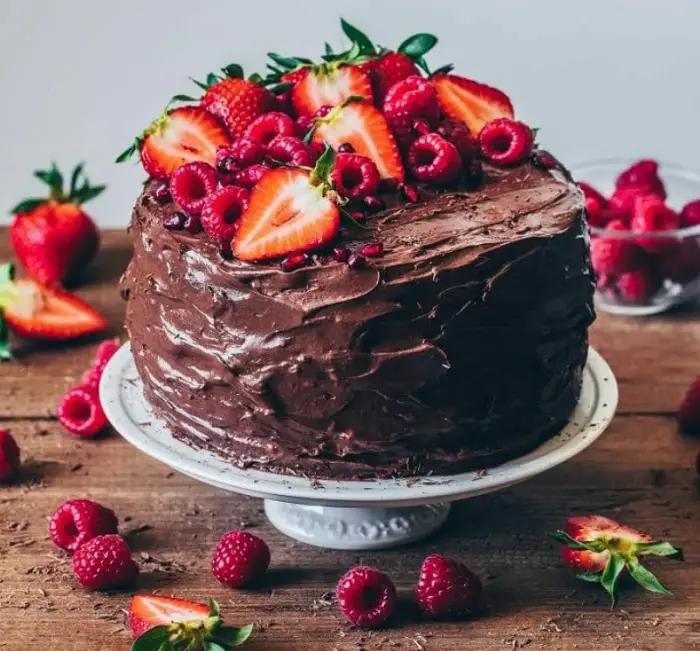 25. VEGAN CHOCOLATE RASPBERRY CAKE FROM BIANCA ZAPATKA
If you're looking for a vegan chocolate cake which is layered with chocolate mousse and homemade raspberry jam, then this is the one for you.
You can also turn this recipe into a single layer cake or cupcakes – just keep in mind that baking times will change.
The chocolate frosting alone contains ingredients such as non-dairy whipping cream, non-dairy bittersweet chocolate, and powdered sugar. And then there's those luscious berries on top…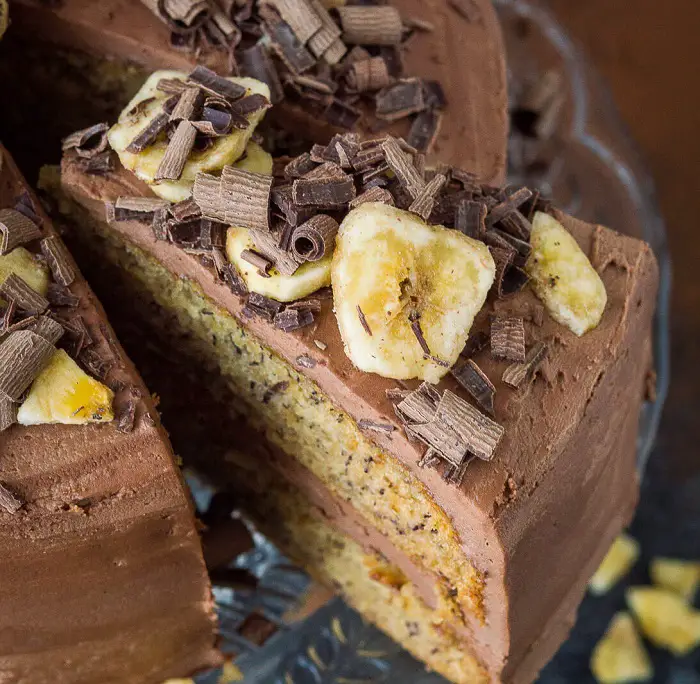 26. VEGAN BANANA CAKE WITH CHOCOLATE PEANUT BUTTER FROSTING FROM DOMESTIC GOTHESS
This is the perfect vegan chocolate cake for all occasions! You see, it features a fluffy, moist banana cake filled with smooth, creamy peanut butter and chocolate buttercream.
All up, it takes 45 minutes to prep and cook, so you can have a delicious cake in under an hour. Some of the ingredients include ground cinnamon, very ripe bananas, unsweetened plant milk, sunflower oil, vegetable shortening, dark chocolate, and cocoa powder.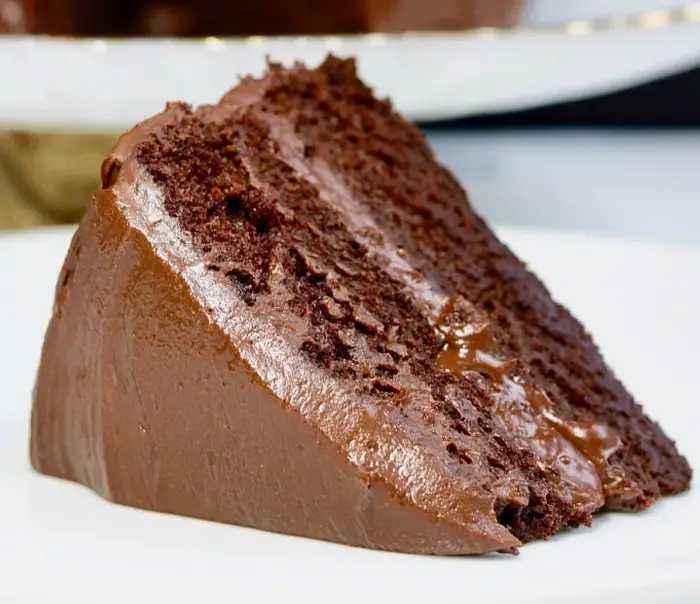 27. THE BEST VEGAN CHOCOLATE CAKE EVER FROM THE CHEEKY CHICKPEA
Could this be the best vegan chocolate cake ever? You'll just have to make it to find out! It's super moist and fudgy, quick and easy, rich and chocolatey with the most delicious chocolate ganache vegan frosting.
Plus, it takes under an hour all-up to prepare and cook! Trust us, your friends and family won't even guess that this cake is egg and dairy free.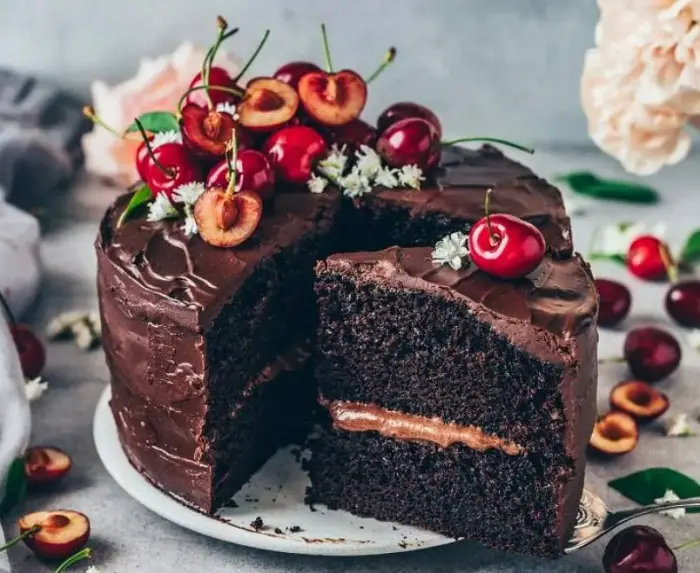 28. EASY, CHERRY-TOPPED VEGAN CHOCOLATE CAKE FROM BIANCA ZAPATKA
This delicious, easy, and cherry-topped vegan chocolate cake can be made using simple ingredients, all in the one bowl. Just some of these include apple cider vinegar, cocoa powder, instant coffee granules (optional), vanilla extract, and apple sauce.
We recommend serving it with whipped coconut cream, a scoop of vegan ice cream, or some dairy-free yoghurt on top. Yum!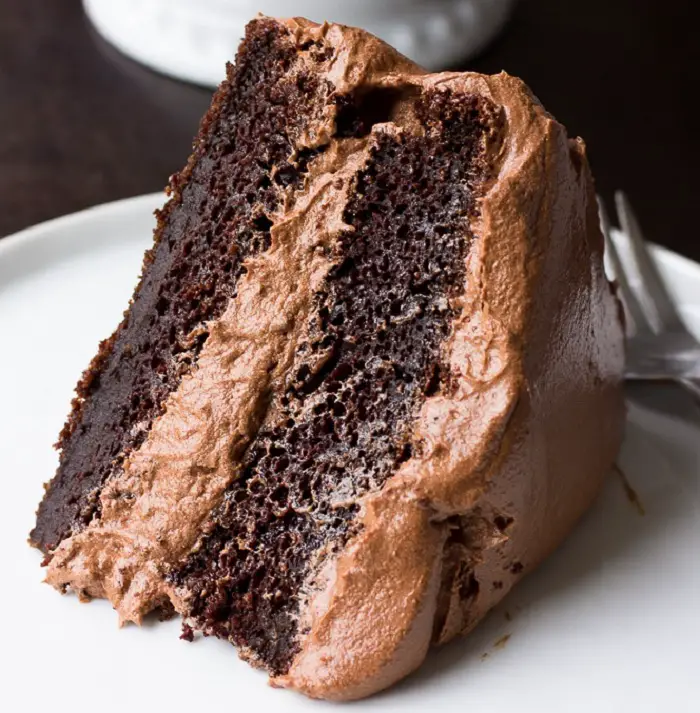 29. THE BEST, SUPER-MOIST VEGAN CHOCOLATE CAKE FROM NORA COOKS
If you've had a store-bought vegan cake before, you may have been disappointed by its strange taste or lack of moisture. With this quick and easy recipe, you'll never be disappointed with a vegan chocolate cake again – we promise!
The secret to achieving a super moist, mouth-watering vegan cake is not just apple sauce, but adding a cup of boiling hot water to the cake batter right before baking. It makes such a difference!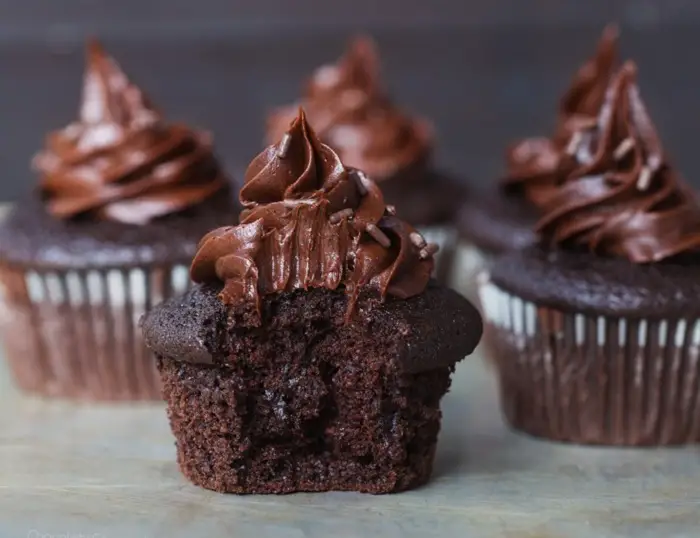 These are deep, dark, rich, and fudgy vegan chocolate cupcakes – with no eggs required! This basic chocolate cupcake recipe uses vinegar and baking soda to create an acid-base reaction, causing bubbles to form and thus the cupcakes to rise as they bake.
You'll just need a short list of ingredients which are most likely already in your kitchen, including apple sauce, coconut oil, pure vanilla extract, cocoa powder, apple cider vinegar, and more.
Which Vegan Chocolate Cake Will You Make?
There you have it – 30 of the best vegan chocolate cake recipes you'll ever find! After all, why should vegans have to miss out on one of their most favorite desserts? Now they can have their cake and eat it too!
Aside from being free of animal products, many of these vegan chocolate cakes are also gluten-free, paleo, or keto, meaning that a wide range of people with dietary requirements can enjoy them.
Whether you're celebrating a birthday, Easter, Christmas, graduation, name day, Mother's Day, Father's Day, or anything else, these vegan cake recipes are the perfect way to spread some cheer (and some deliciousness!).
Which vegan chocolate cake recipe will you be trying first? Feel free to pick out your favorite and start slowly, or start at the top of the list and work your way through – the choice is yours!
Share on Pinterest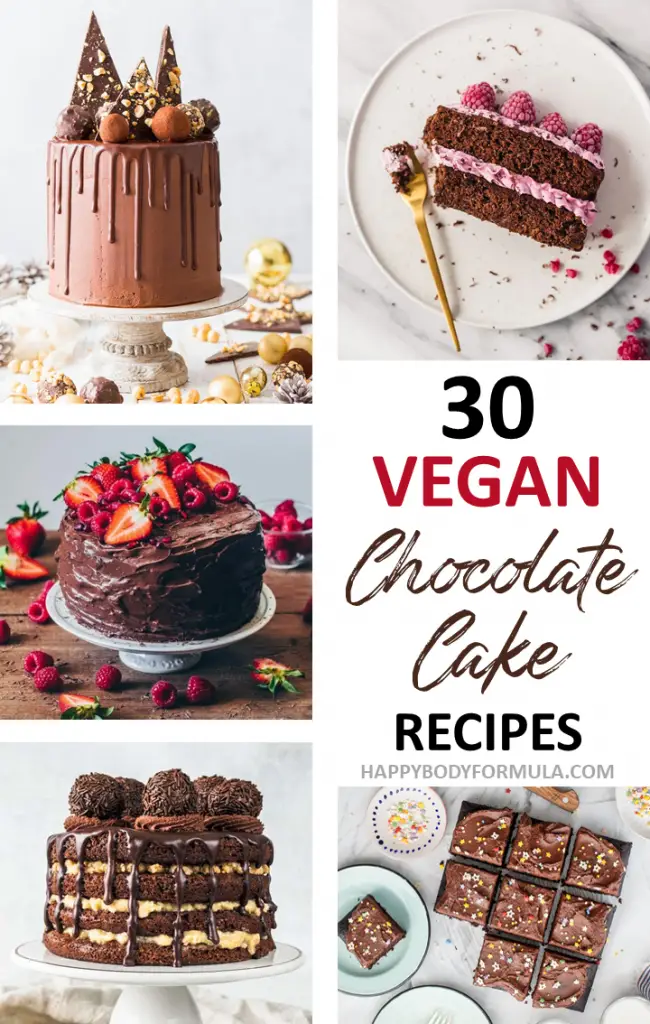 Melanie Clarke is the founder of Whim Online Magazine, an online magazine based in Australia that has a strong focus on whimsical + dreamy photography, as well as art and fashion content.