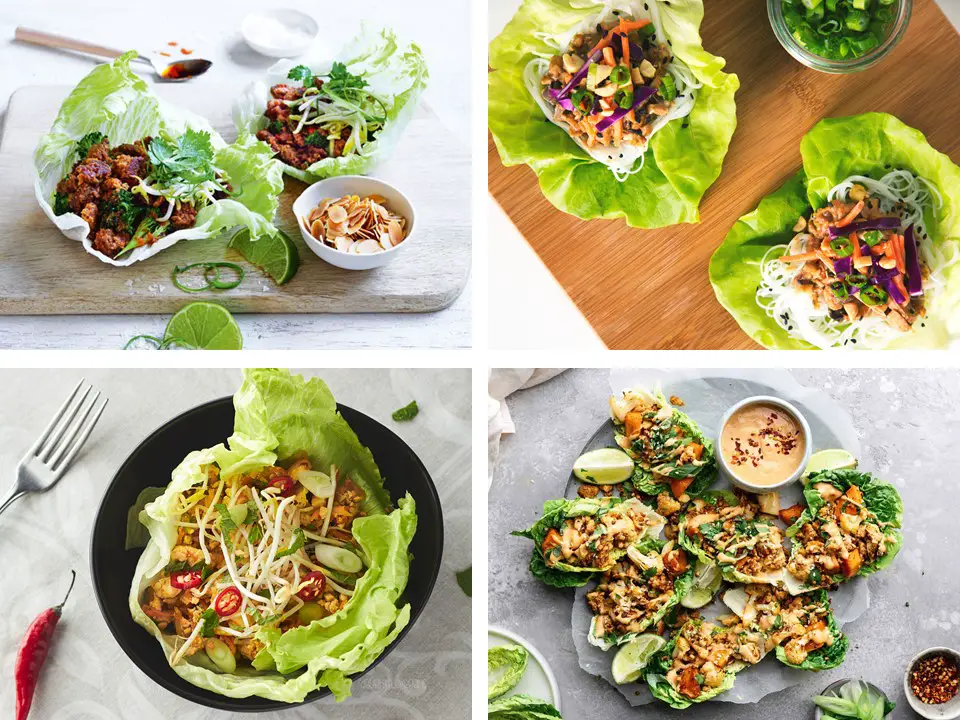 San Choy Bow has a long line of additional names, including lettuce cups or lettuce wraps. And then there are the variations in spelling, such as san choy bao and san choy bau.
While it might be enough to make you confused, all you really need to know is this: san choy bow is an unbelievably delicious dish that can easily be made into a healthy, vegan version.
We'll admit, san choy bow is a pretty darn healthy dish already, but when you swap out the meat for plant-based alternatives such as tofu, vegetables, jackfruit, and more, you're left with a meal that isn't just guilt-free, but fits in perfectly with your dietary requirements too.
Ready to discover the greatest round-up of vegan lettuce cups on the world wide web?
Here are 33 vegan san choy bow recipes you won't want to miss!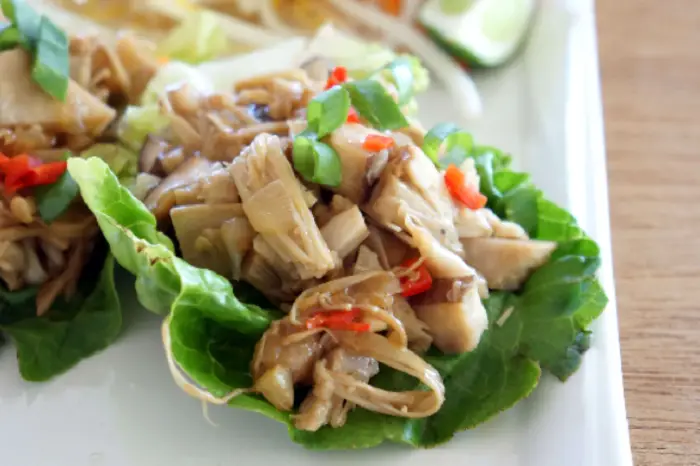 1. PULLED JACKFRUIT SAN CHOY BAU RECIPE FROM WELLBEING
Jackfruit is most famous for being vegan pulled "pork" in BBQ sauce, so what happens when you use this same idea but present it in a lettuce cup with oriental inspired sauce?
This san choy bow recipe uses tasty ingredients such as onion, garlic, ginger, young green jackfruit in water or brine, enoki mushrooms, shiitake mushrooms, spring onions, bean sprouts, carrots, and so much more.
It looks (and sounds) divine!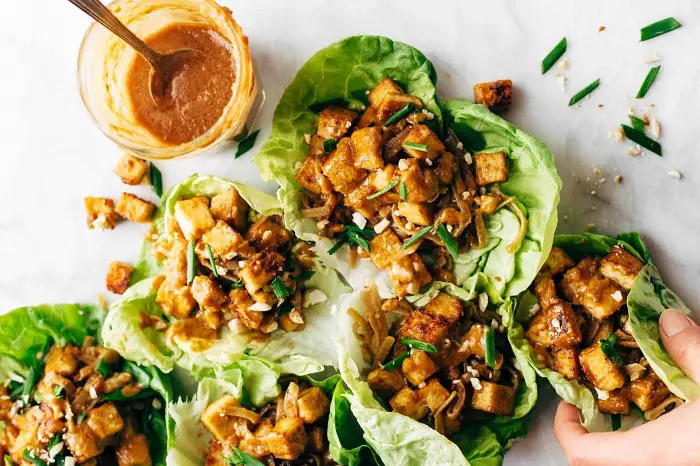 2. FIRECRACKER VEGAN LETTUCE WRAPS FROM PINCH OF YUM
Browned crispy tofu bits, sticky brown rice noodles, delicate lettuce leaves, and creamy umami sauce…is your mouth watering yet?
These firecracker vegan lettuce wraps use tofu as the hero ingredient, pairing it with fresh ingredients such as ginger, garlic, cilantro, and lime juice.
And as for that firecracker sauce? It contains the deliciousness of peanut butter, soy sauce, sesame oil, rice vinegar, chili paste, and sugar. Yum!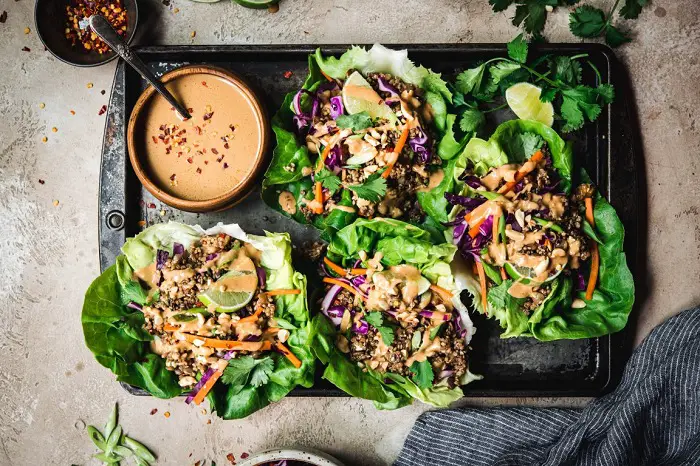 3. VEGAN ASIAN LETTUCE WRAPS FROM CROWDED KITCHEN
These healthy vegan Asian lettuce wraps have a gluten free lentil walnut filling and a creamy peanut sauce, plus they're packed with umami flavor and make for a quick (30 minute), easy and delicious weeknight dinner.
How good does that sound? Other fresh ingredients include purple cabbage, carrots, cilantro, and scallions. And as for that peanut sauce?
You'll just need ingredients such as unsweetened peanut butter, tamari, rice wine, chili oil, coconut sugar, ginger, garlic, and water to whip it up.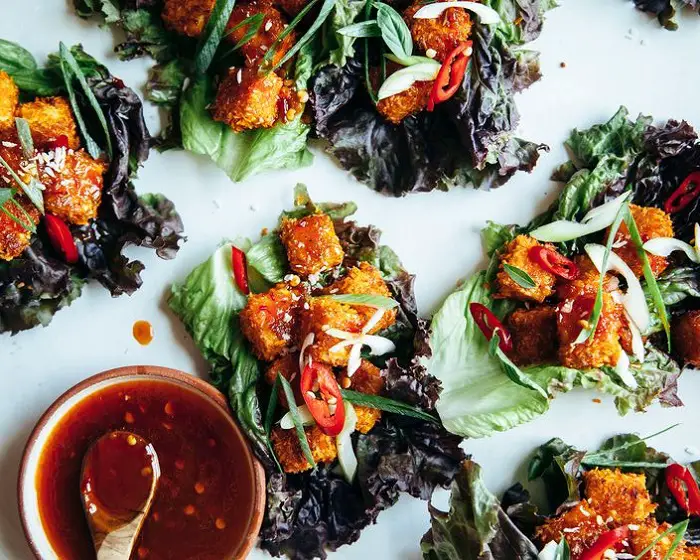 4. CRISPY COCONUT TOFU LETTUCE WRAPS WITH SWEET CHILI SAUCE FROM THE FIRST MESS
What sets these crispy coconut tofu lettuce wraps apart from the others is just that – the crispy, coconut-dipped coated tofu that has been baked to perfection.
The lettuce wraps are then paired with a sweet chili sauce made from rice vinegar, fresh lime juice, chili garlic sauce, agave nectar, avocado oil, and tamari.
Trust us, you and your family will be having more than a second helping with this meal!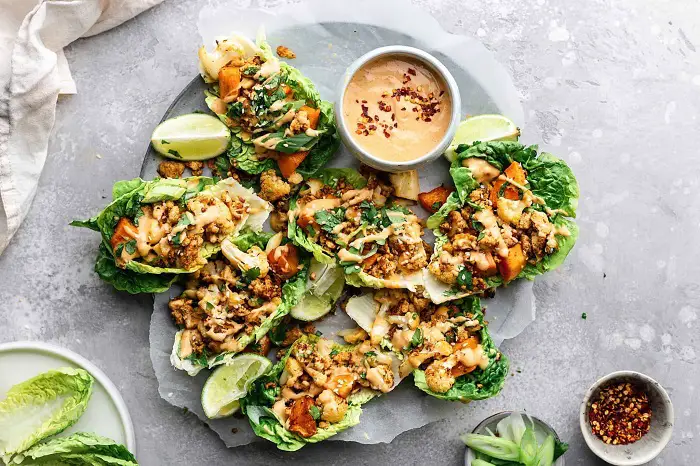 5. THAI SWEET POTATO AND CAULIFLOWER LETTUCE WRAPS FROM CUPFUL OF KALE
These healthy Thai sweet potato and cauliflower lettuce wraps are tasty, fresh and filling!
They're also paired with one of our favorite Asian-inspired sauces of all-time – peanut sauce.
These take just 45 minutes to make all-up and contain ingredients such as cauliflour, sweet potato, garlic, onion, form tofu, soy sauce, and Thai red curry paste. Count us in!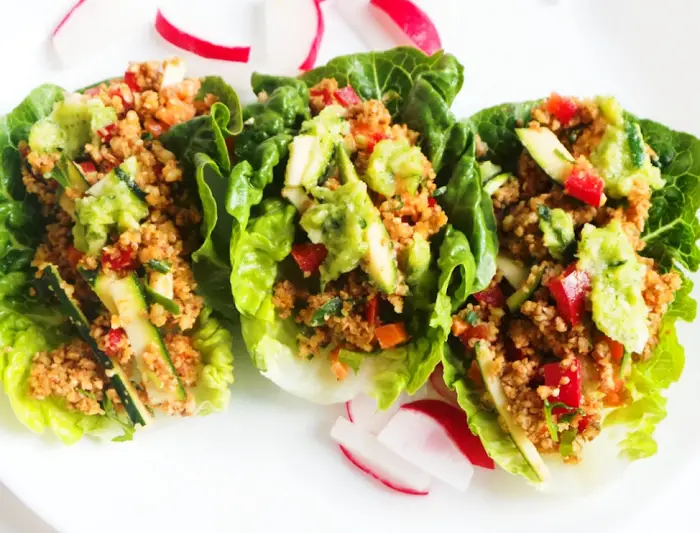 6. TASTY VEGAN & LOW-CARB LETTUCE WRAPS FROM BEAUTY BITES
According to the chef, these healthy lettuce wraps are light, but satisfying for dinner and are perfect if you want to include more plant-based, but also low-carb recipes in your meal plan.
Nicknamed "anti-inflammatory wraps", they're also full of antioxidants, vitamins, minerals and healthy fats, helping to give your health a really nice boost.
Some of the ingredients include walnuts, sesame seeds, turmeric, coriander, ginger, carrot, zucchini, red pepper, and more.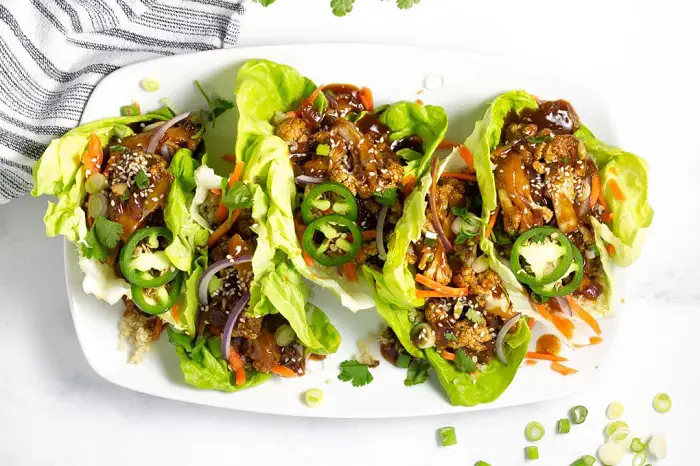 7. KOREAN CAULIFLOWER LETTUCE WRAPS FROM MIDWEST FOODIE
Looking for a healthy and satisfying mid-week meal that only takes half-an-hour to put on the table?
Look no further than these delicious Korean cauliflower lettuce wraps, which according to the chef, go a bit like this: "A simple Korean inspired sauce coats florets of tender cauliflower, wrapped in butter lettuce and garnished with fresh herbs and sesame seeds."
Sounds pretty darn good, right?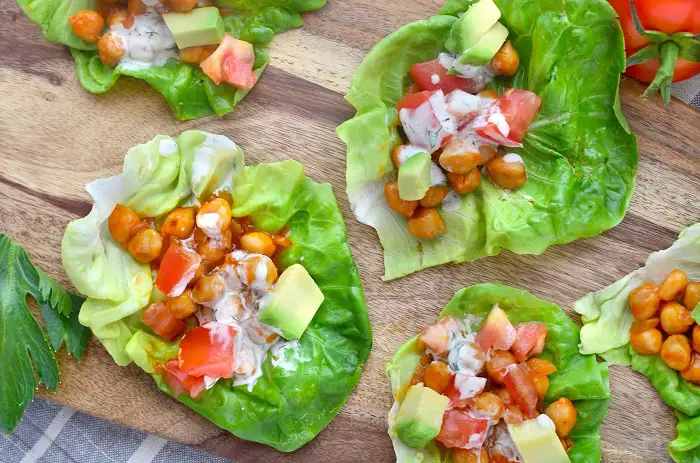 8. BUFFALO CHICKPEA LETTUCE WRAPS FROM DELISH KNOWLEDGE
You are going to love these vegan and gluten-free lettuce wraps, which are ready in less than 20 minutes!
They're also packed with protein (buffalo chickpeas), healthy fats (avocado) and lots of vegetables (cucumbers, tomatoes, lettuce), so if you're looking for a healthier and lighter dinner option, this is the one for you.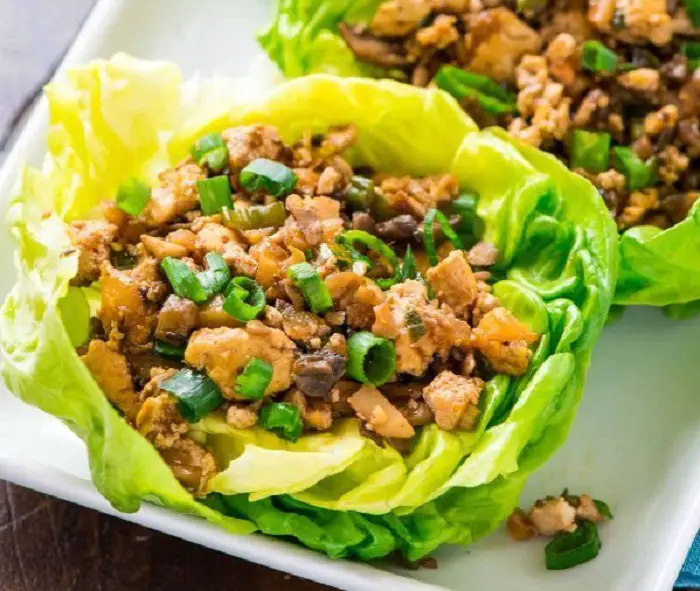 9. VEGETARIAN LETTUCE WRAPS (COPYCAT PF CHANGS) FROM WELL PLATED
Aside from tasting even better than the famous PF Chang's, these vegetarian lettuce wraps are also vegan, gluten free, dairy free, and low carb – how good is that?
They contain delicious ingredients such as hoisin sauce, soy sauce, rice vinegar, extra-firm tofu, baby bella mushrooms, water chestnuts, garlic, ginger, and more.
To keep them gluten free, simply use gluten free hoisin sauce and gluten free soy sauce, or substitute tamari instead.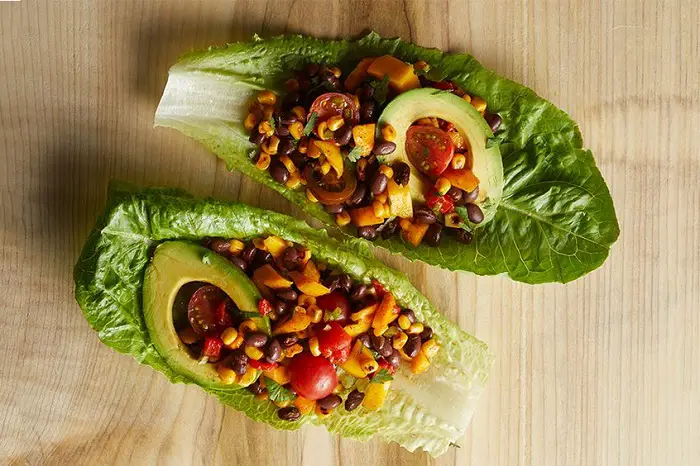 10. BLACK BEAN, CORN, AND ROASTED RED PEPPER LETTUCE CUPS FROM FORKS OVER KNIVES
Looking for a one-bowl, no-cook, no-fuss recipe that's easy enough for lunch but elegant enough for a dinner party?
These black bean, corn, and roasted red pepper lettuce cups might embrace what's known as san choy bow, but puts a fun, Mexican twist on it!
It's also extremely easy to make. You simply combine all of the ingredients, season with salt and pepper, then spoon the bean mixture onto the lettuce, and top with the avocado. So easy!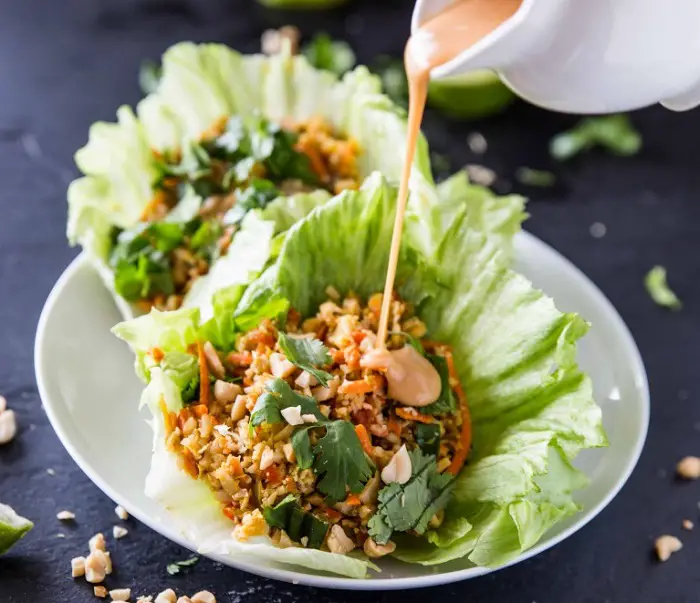 11. CAULIFLOWER RICE LETTUCE CUPS WITH SRIRACHA PEANUT SAUCE FROM VEGGIE AND THE BEAST
Fancy a veggie-packed lettuce wrap made with cauliflower rice, seasoned with soy sauce and lime juice, and drizzled with a thick and spicy peanut sauce?
These lettuce wraps are refreshing and light, and the rich and spicy peanut butter finish is the perfect finale.
To make the dipping sauce, you'll just need peanut butter, coconut milk, agave nectar (or honey), sea salt, brown rice vinegar, and sriracha.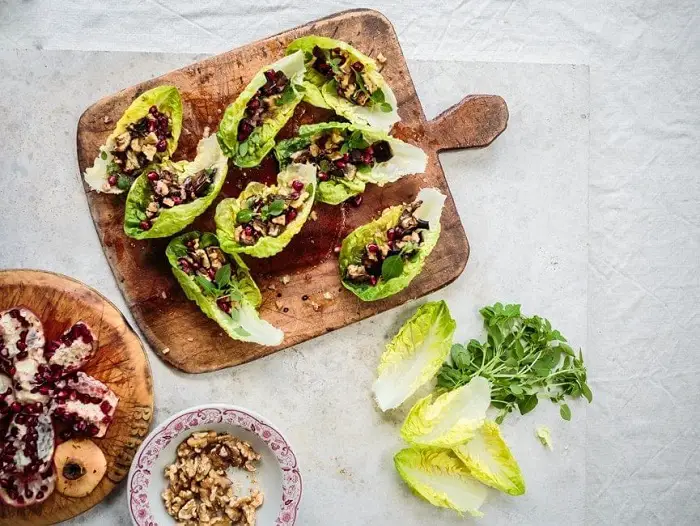 12. AUBERGINE, BASIL & POMEGRANATE LETTUCE CUPS FROM TOP WITH CINNAMON
Inspired by a generous, leafy salad, these aubergine, basil, and pomegranate lettuce cups pack a serious punch!
You drizzle each cup in a delectable miso-ginger dressing, which is made using ingredients such as finely grated ginger, crushed garlic, maple syrup, miso (which can be bought in gluten-free varieties), rice vinegar, and refined olive oil.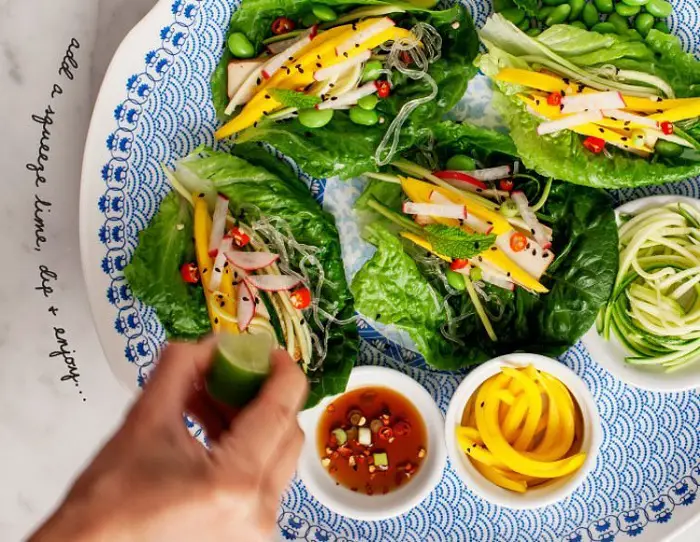 13. MANGO & ZUCCHINI LETTUCE WRAPS FROM LOVE AND LEMONS
Filled with sweet and spicy components and dipped in a bright sauce, these lettuce wraps are the perfect combination of simplicity and bold flavor.
Whether you choose to eat them as an appetizer, lunch, or light dinner, you're sure to feel instantly refreshed and surprised by their tasty zing.
Ingredients include kelp noodles, zucchini, mango, radishes, scallions, Thai red peppers, edamame (or a baked protein of your choice, such as tofu), fresh mint, and more.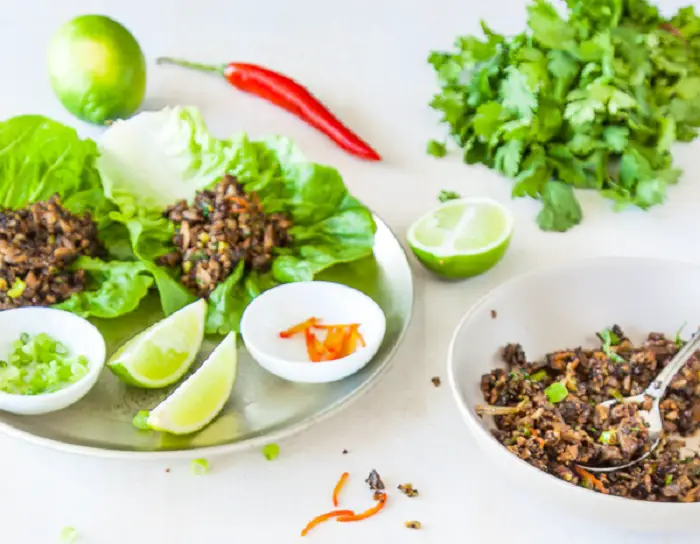 14. MUSHROOM AND QUINOA SAN CHOI BAO FROM DELICIOUS EVERYDAY
Is there a greater, vegan-loving pairing than mushrooms and quinoa?
These unique san choi bao also contain a whole host of other much-loved ingredients, including cloves, ginger, spring onions, coriander leaves, red chili, and more.
Serve them with lime wedges and if you're looking for some additional crunch, some toasted peanuts would go perfectly sprinkled over the top.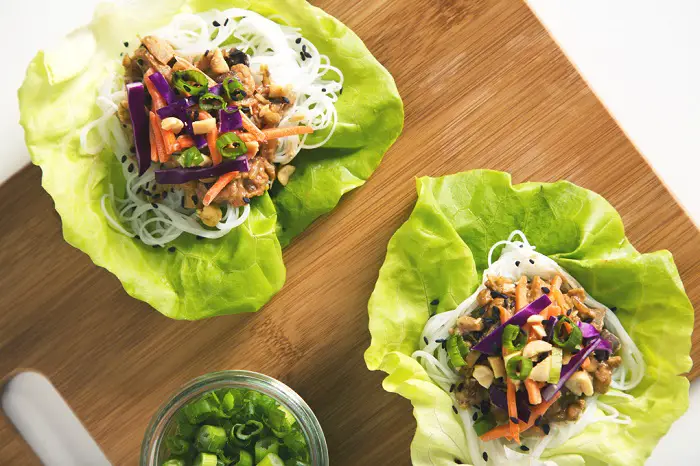 15. TEMPEH THAI LETTUCE WRAPS WITH PEANUT SAUCE FROM PICKLES AND HONEY
The chefs describe these as "30-minute vegetarian Thai lettuce wraps with a protein-packed tempeh and mushroom filling, lots of bright, crunchy toppings, and a simple peanut sauce that's so delicious, you'll want to lick the blender".
If that hasn't got you interested, we don't know what will!
With these lettuce wraps, you can look forward to ingredients such as red cabbage, carrots, green onions, rice noodles, lightly salted roasted peanuts, and so much more.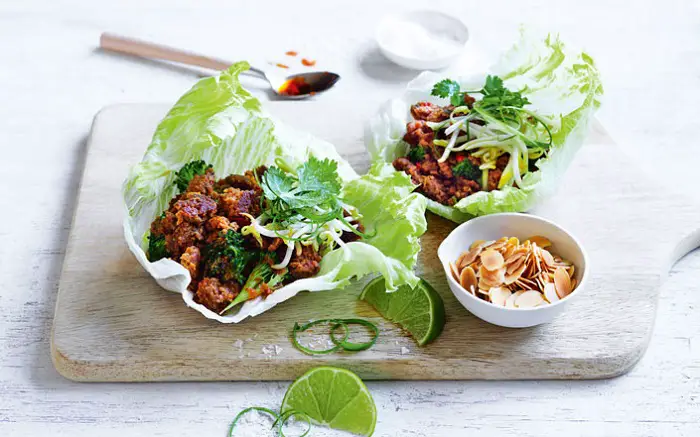 16. VEGETARIAN SAN CHOY BOW FROM COLES
Before you read the word "mince" in this recipe, you want you to know that you don't have to fret.
This unique vegetarian san choy bow recipe actually uses plant-based mince, along with other vegetarian ingredients such as broccoli, red capsicum, celery, spring onions, coriander, bean sprouts, flaked almonds, iceberg lettuce, and more.
Now that's one incredibly healthy meal!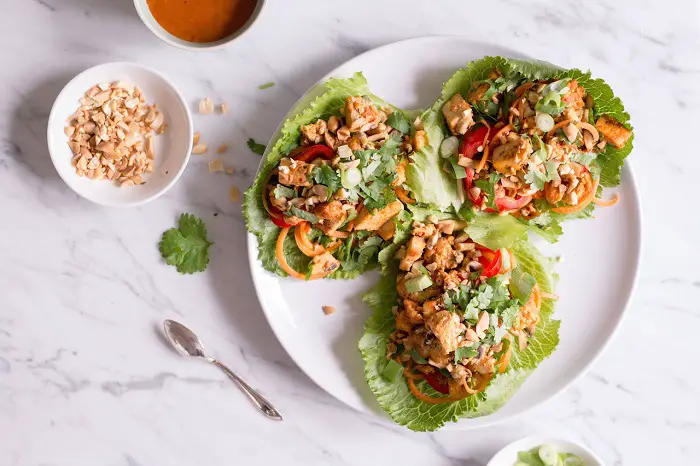 17. THAI LETTUCE WRAPS WITH TOFU AND PEANUT CHILI SAUCE FROM HEAVENLYNN HEALTHY
These Thai lettuce wraps are made with many fresh and raw ingredients, so naturally, you'll find a good amount of nutrients in this dish, including vitamin C, vitamin A, healthy fats, and protein.
If you're not a fan of tofu, you can substitute the main ingredient for something else, such as sweet potato, cauliflower, or plant-based mince.
The accompanying peanut chili sauce will become a staple in your rotation of dipping sauces, and it contains ingredients such as garlic, ginger, lime, pure peanut butter, rice vinegar, tamari (or soy sauce), maple syrup, water, and unsweetened chili sauce (like Sambal Olek) or 1 chili.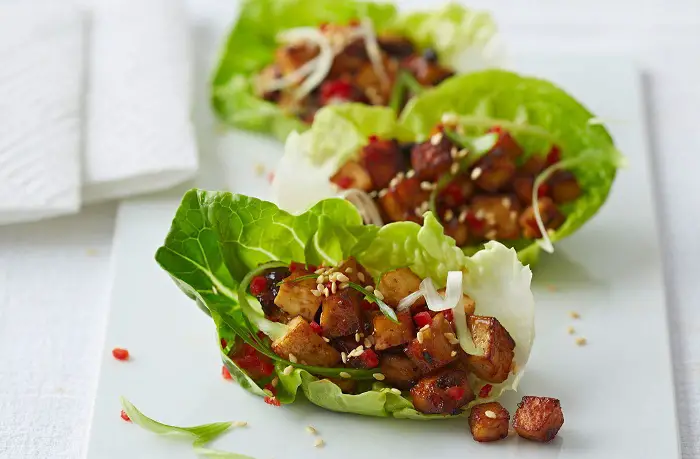 These little black bean tofu cups pack some serious Asian flavors and are delicious as part of an oriental meal or served on their own as a light lunch.
They take just 15 minutes to prepare, as well as an hour marinating time and 25 minutes cooking time, so while they might not be the quickest san choy bow on this list, they're certainly one of the most flavorful.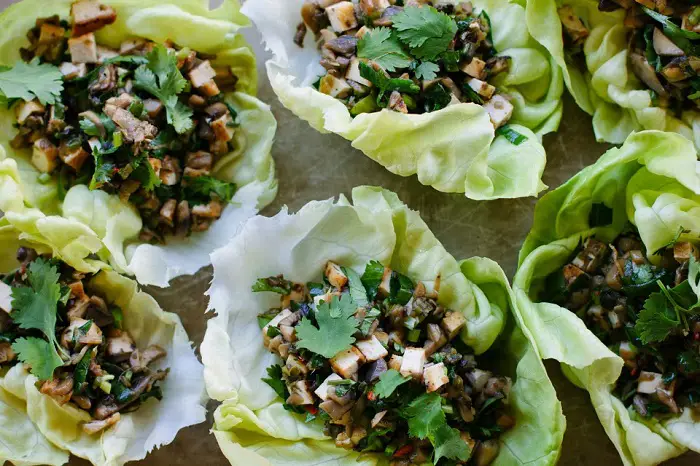 19. MUSHROOM AND TOFU SAN CHOY BAU (GLUTEN-FREE) FROM MY DARLING LEMON THYME
Did you know mushrooms are packed full of nutrients, including B Vitamins (B12 and Folate), Vitamin D and minerals such as selenium, phosphorus, copper and potassium?
Luckily, they're the star of this mushroom and tofu san choy bau, which also features ingredients such as garlic, spring onions, ginger, red chili, cilantro, gluten-free soy sauce, shaoxing cooking wine, and more.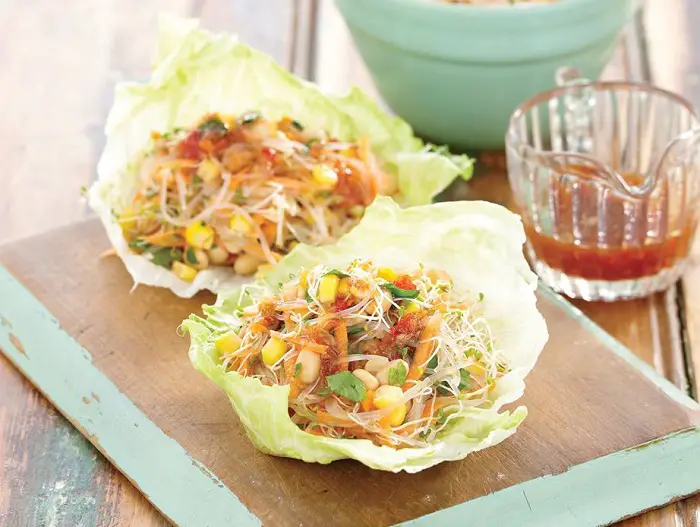 This vegetarian san choy bow is crispy, colorful, and crunchy – all of the things you'd want from a delicious lettuce cup!
You see, they contain ingredients varying in texture, such as rice vermicelli noodles, green onions, carrot, snow pea sprouts, coriander, soy beans, corn, peanuts, and iceberg lettuce.
They'd be perfect for serving up at your next get-together with friends or family.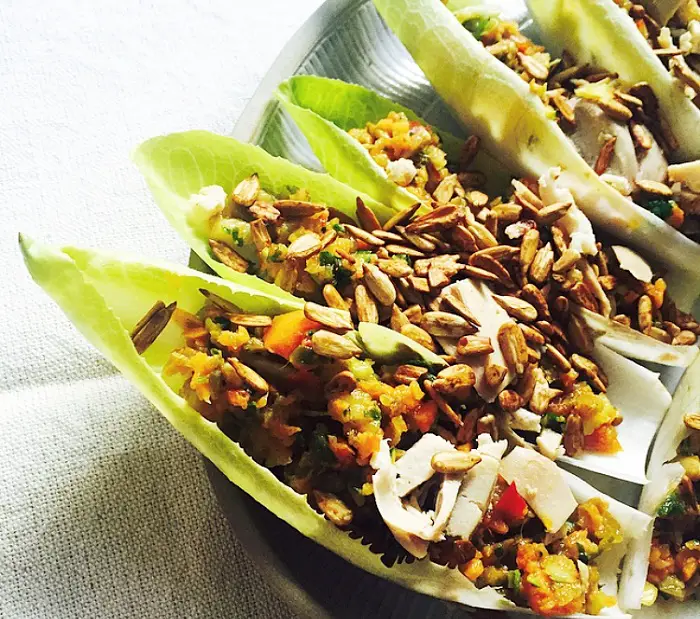 21. RAW VEGGIE SAN CHOY BOW FROM LOW TOX LIFE
According to the chef, this raw veggie san choy bow is "zesty, cleansing and uplifting either as a side to fish or meat, or on its own with added protein from nuts, seeds and the dressing".
Because it's a raw dish, it's very quick and easy to make. You essentially just blend all of the veggies and herbs together in a food processor, then whisk all of the dressing components together in a separate bowl.
Just place into each lettuce cup, sprinkle with nuts and seeds, and you're good to go!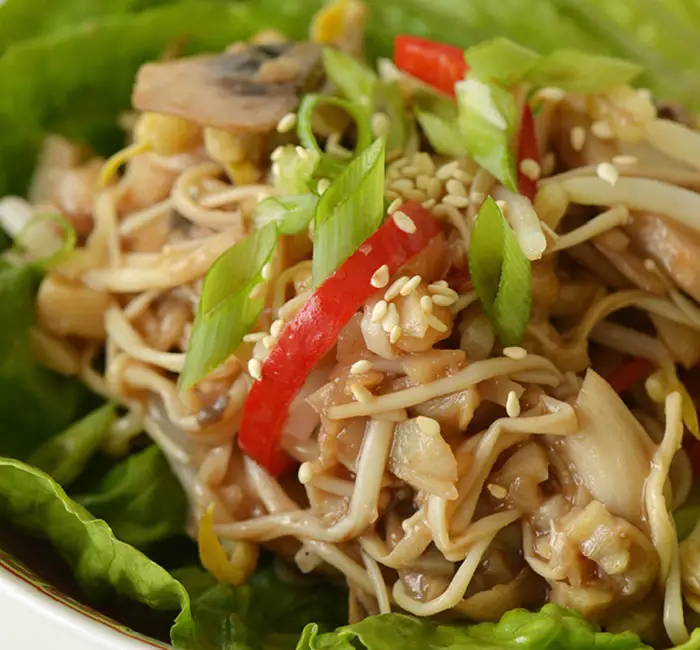 22. VEGETARIAN MUSHROOM AND GINGER SAN CHOY BOW FROM BAKE FOR HAPPY KIDS
These look great, don't they?
Inside of this vegetarian mushroom and ginger san choy bow, you'll find ingredients such as mushroom and ginger (of course), as well as red chili, garlic, cilantro, water chestnuts, hoisin sauce, bean sprouts, spring onions, cos lettuce, and sesame seeds.
We've been told that even the most meat-loving person in the family will love this dish!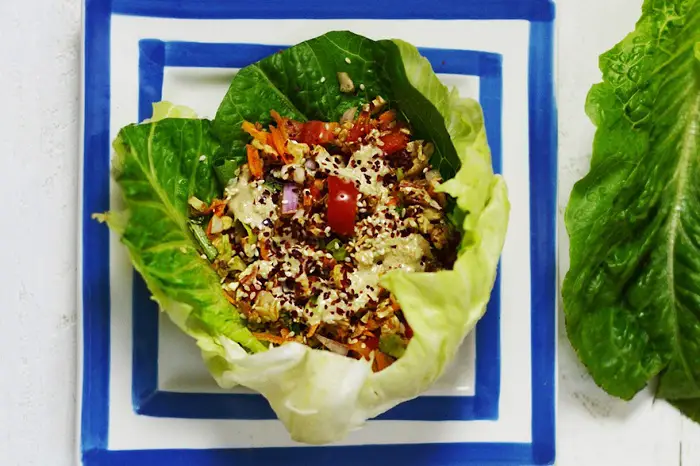 23. HEALTHY VEGGIE SAN CHOY BOW FROM OLIVIA BUDGEN
This san chow boy recipe is absolutely delicious; light, tasty and very satisfying!
The fresh crispiness of the iceberg lettuce combines so well with the satisfying textures of the veggie filling. Then the creamy sweet and spicy dressing tops it all off perfectly!
If you're wondering what's in that dressing, it contains the goodness of tahini, garlic, ginger, raw apple cider, and water. Genius!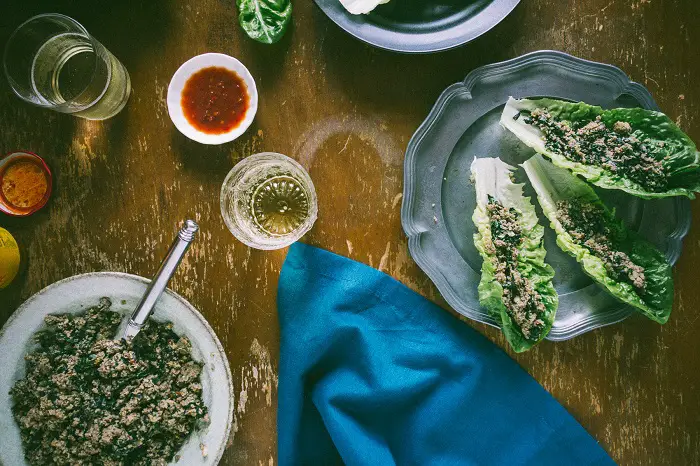 Ready for a non-traditional san choy bau recipe made with nutritious mushrooms?
We think this version doesn't steer too far from a traditional version, as it still uses Asian-inspired ingredients such as garlic, ginger, sambal oelek (chili paste), oyster sauce, and Shaoxing wine.
Perhaps its twist comes from the addition of kale, as well as a lightly-beaten egg – both of which offer even more nutritional value!
25. SAN CHOY BOW WITH PICKLED VEGETABLES RECIPE FROM MINDFOOD
This vegetable-loaded san choy bow recipe actually lists mince in its ingredient list, but of course, you can leave this out for a vegetarian and vegan-friendly version.
We think the idea of using pickled vegetables in these lettuce cups is genius, as it gives the dish a lovely sweet and sour taste that you'll keep going back for more.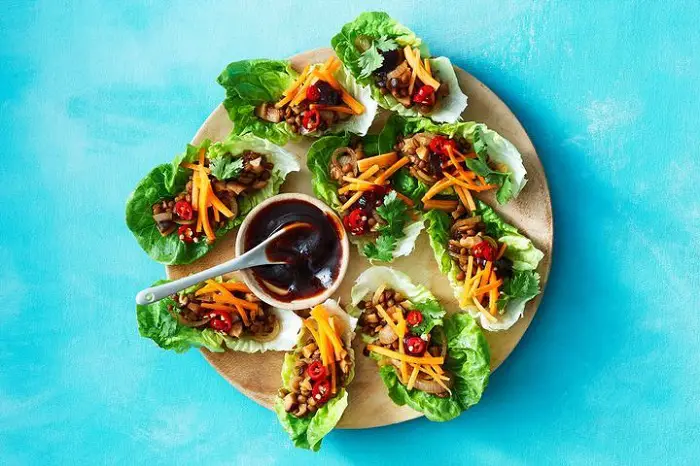 26. VEGETARIAN SAN CHOY BAU FROM TASTE
This dish is so easy to prepare and cook, you could be eating this tasty high-protein san choy bau in under 20 minutes!
This one is quite a traditional recipe, using ingredients such as brown onion, shiitake mushrooms, ginger, carrot, red chili, cilantro, hoisin sauce, soy sauce, and Chinese cooking wine.
But what we were surprised to see within the recipe is brown lentils – a nice, healthy, and crunchy addition that'll make you wonder why you haven't been including them all along!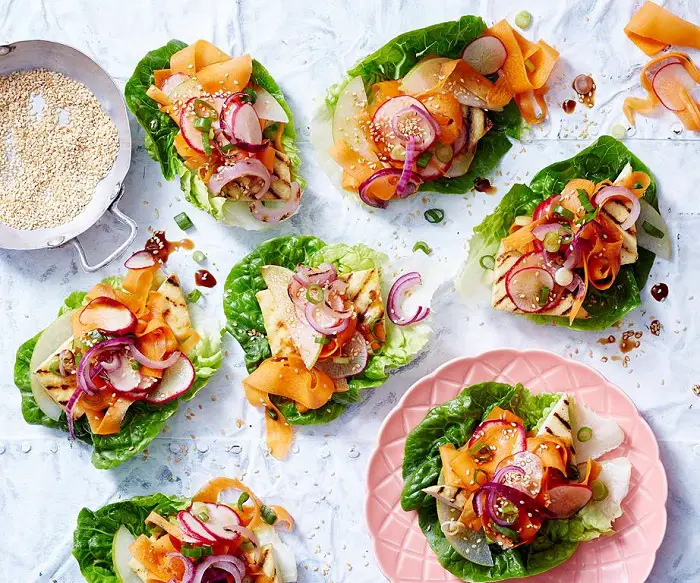 27. TOFU AND CARROT KIMCHI LETTUCE WRAPS FROM WOMEN'S WEEKLY FOOD
These lettuce wraps are packed full of zesty homemade carrot kimchi and grilled tofu for a healthy vegan twist on classic sang choy bau.
Kimchi is traditionally left to ferment, but this quick version mimics the flavours in a fraction of the time. You can, however, buy small tubs of kimchi from most Asian grocers, if you prefer.
Either way, this san choy bow tastes heavenly!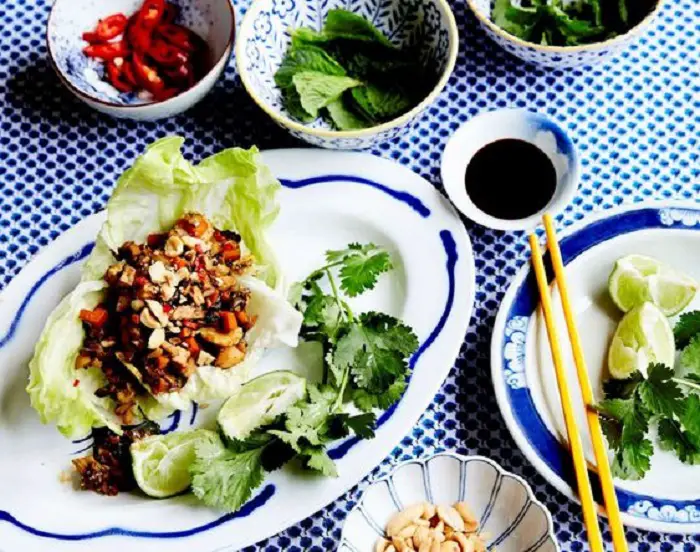 28. MUSHROOM AND TEMPEH SAN CHOY BOW FROM VEGKIT
If you've never heard of tempeh before, it is a cake-like substance made from cooked and slightly fermented soybeans.
Not to be confused with its softer cousin, tofu, tempeh actually resembles  a very firm veggie burger or a block. It's an easy recipe that'll go from the kitchen counter to your dinner table in 40 minutes or less.
Oh, and did we mention it's highly nutritious?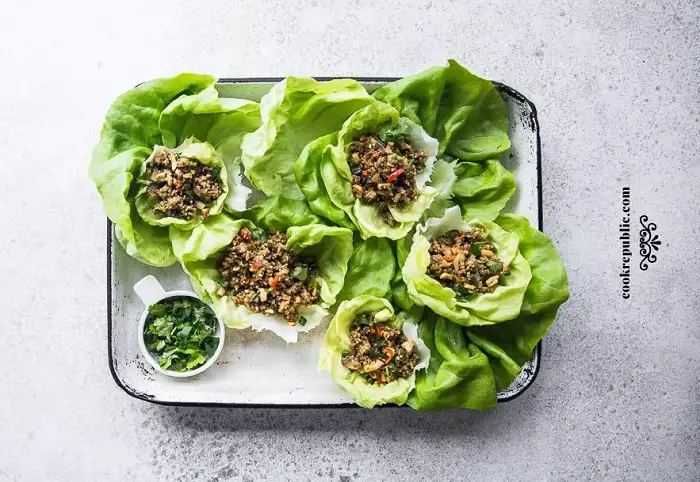 29. VEGAN QUINOA MUSHROOM SAN CHOY BOW FROM COOK REPUBLIC
Quinoa adds body, texture, and extra protein to this dish. The flavors in this vegan quinoa mushroom san choy bow are delectable too, featuring salty, sour, and spicy with a hint of sweet.
That's because this recipe is packed with wonderful ingredients such as ginger, red chili, garlic, Swiss brown mushrooms, tamari, coconut sugar, lime, roasted peanuts, coriander, and more.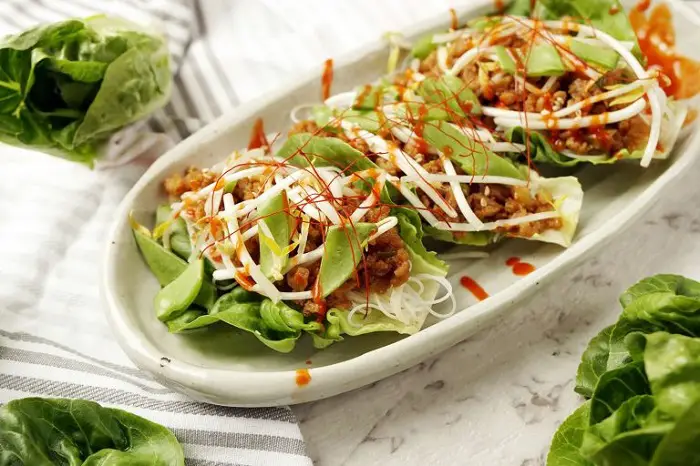 Here's a brilliant vegan san choy bow recipe that takes just 10 minutes of cooking time!
It uses dried soy mince (which you rehydrate, according to the instructions), as well as hoisin sauce, soy sauce, Shaoxing wine, chili, spring onions, water chestnuts, Vermicelli noodles, bean sprouts, snow peas, and Sriracha sauce (among other ingredients).
Our mouths are watering already!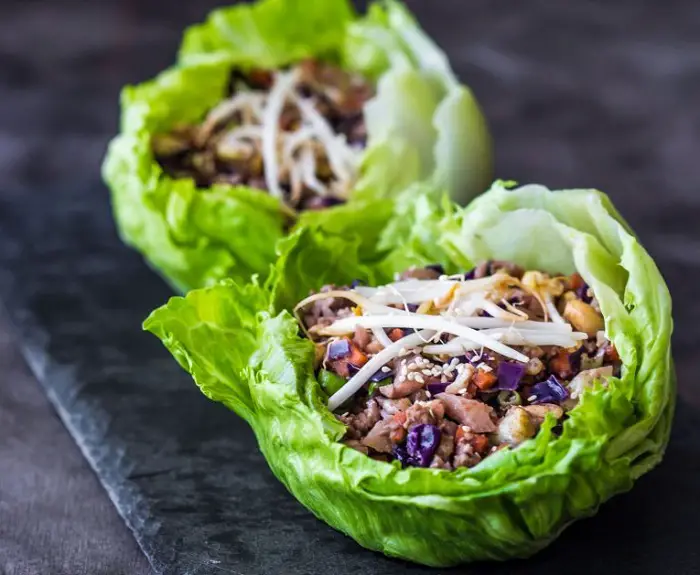 How's this for convenience? The veggie filling in these lettuce cups is all made in one pot and takes less than 30 minutes to cook!
It's super flavor some thanks to all the tasty Chinese sauces and spices that are used, and the filling is bulked up with a generous amount of chopped cauliflower and tempeh.
Whether you enjoy this dish as an entrée, side, or main meal, you're sure to enjoy both its taste and nutritional benefits.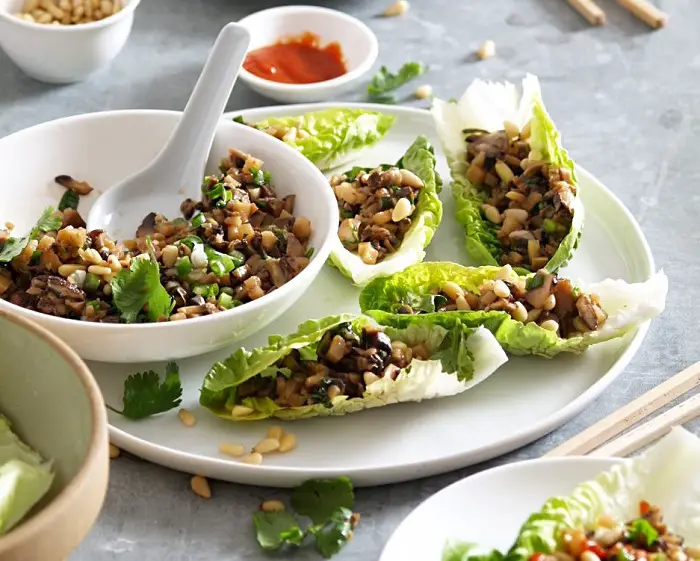 32. MUSHROOM WATER CHESTNUT SAN CHOY BAU FROM FRESH HUNGER
In this tasty creation, "crisp gem lettuce leaves are filled with sautéed mushrooms and crunchy water chestnuts that have been tossed with sweet and salty hoi sin, ginger and garlic sauce then topped with pine nuts and green onions".
Yikes, that sounds like one heck of a delectable dish! If you're looking to make the switch to more vegan meals, this is a great one to start with.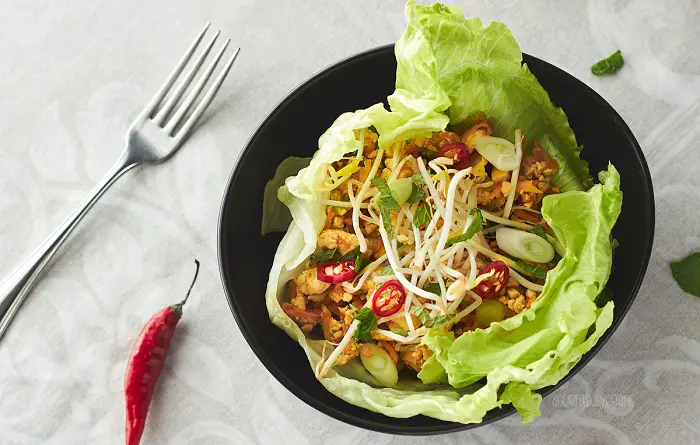 These san choy bow are a little bit spicy, but you can tone it down a bit by omitting or reducing the chili flakes.
You can either use large lettuce leaves which leave you full after just one lettuce cup, or smaller varieties of lettuce (such as baby cos) which let you fill up on multiple small lettuce cups – the decision is yours!
We think you'll love the combination of ingredients in this one, including red onion, ginger, firm tofu, carrot, baby corn, water chestnuts, mint, and more.
Which San Choy Bow Recipe Will You Try!
There you have it – 33 vegan lettuce cup (san choy bow) recipes that will make your midweek dinners so much easier and healthier!
Remember, these tasty dishes can also be made as appetizers, lunches, snacks, or light dinners, so they're incredibly versatile.
Many of these san choy bow recipes feature traditional, Asian-inspired ingredients which are also great for your health, including ginger, garlic, red chili, and bean sprouts, as well as non-traditional versions making use of weird and wonderful products.
Whether you're looking to make your vegan lettuce cups with Tempeh, plant-based mince, quinoa, or more, there's certainly something on this list to suit you.
Which vegan lettuce cup recipe will you be trying first? We'd love to hear from you in the Comments section below!
Share on Pinterest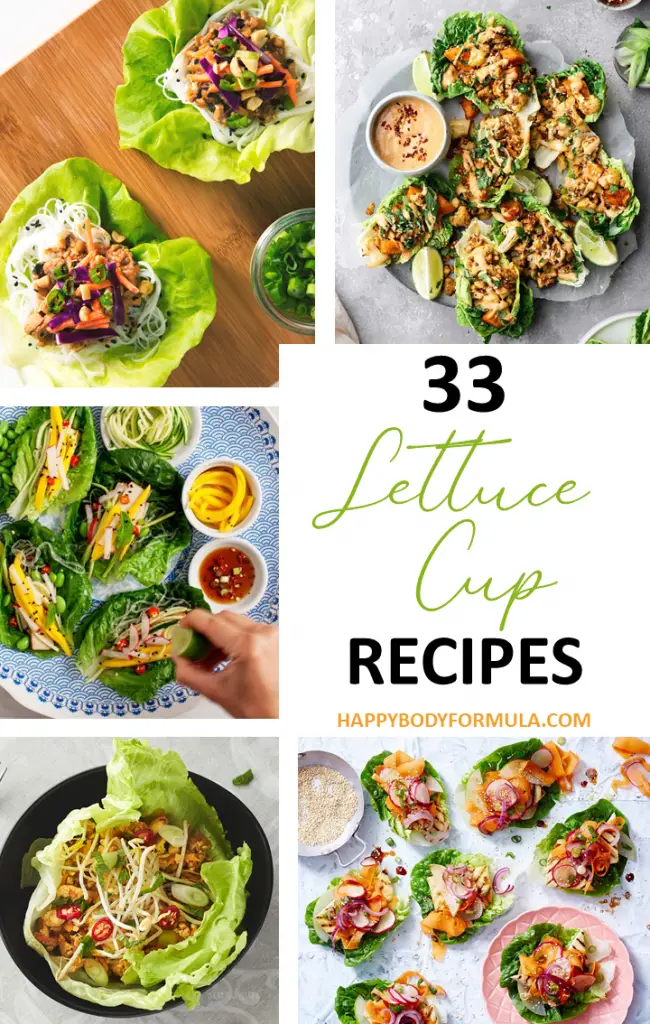 Melanie Clarke is the founder of Whim Online Magazine, an online magazine based in Australia that has a strong focus on whimsical + dreamy photography, as well as art and fashion content.