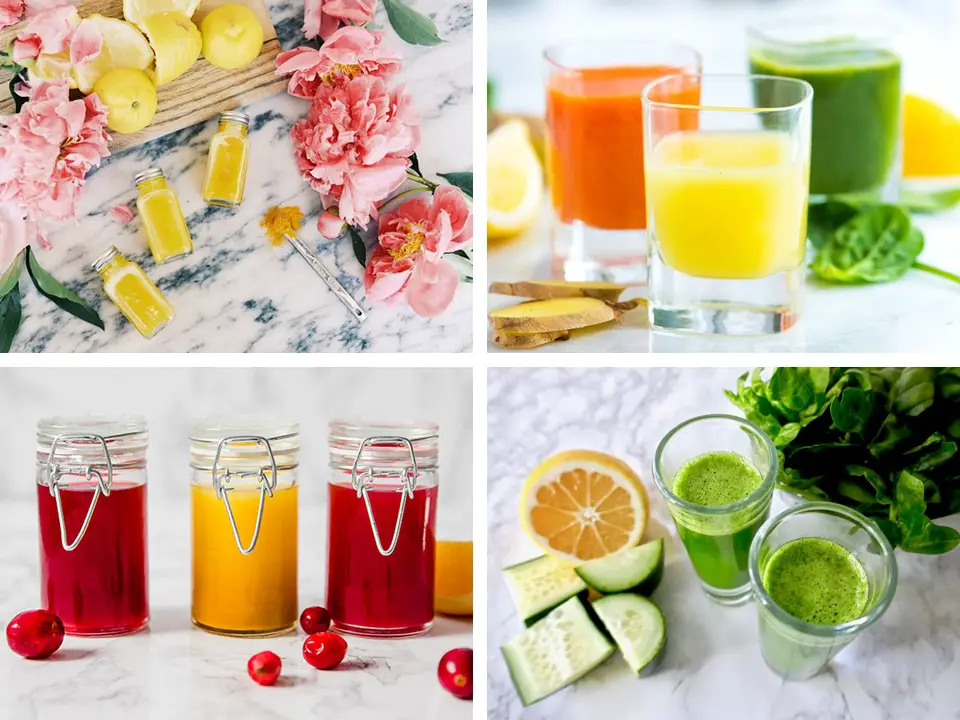 You've heard of alcoholic shots, but what exactly are wellness shots and how can they benefit your health?
While some might be quick to pass these off as yet another, short-lived wellness fad, we have to admit it: these little guys pack a seriously good punch.
Wellness shots (also referred to as power shots or immunity shots) are nutrient-dense powerhouses packed into a tiny shot glass. They're strong and concentrated, aiming to help boost your overall health in just one gulp. 
While smoothies make wonderful breakfasts-on-the-go or post-workout treats, they can still take a little while to get through – especially if you're dealing with not-so-tasty ingredients, or just have trouble tolerating the taste of veggies.
What could be more convenient than knocking back a whole smoothie's worth of nutrition in one swift gulp? We're yet to find anything quite so appropriate for the time-poor!
If you're ready to embrace wellness shots in your own life, you're in luck. We've rounded up the top 12 wellness shot recipes to help you start your day the healthy way.
1. HEALTHY VEGGIE SHOTS AND FRUIT CHASERS FROM DESSERTS WITH BENEFITS
We all know that a balanced diet featuring fruit and vegetables is required, but some people find it hard to factor them into their every day.
This is where these healthy veggie shots and fruit chasers come in handy, as you can quickly and easily knock back your whole days' worth of the stuff in just a few seconds. Genius!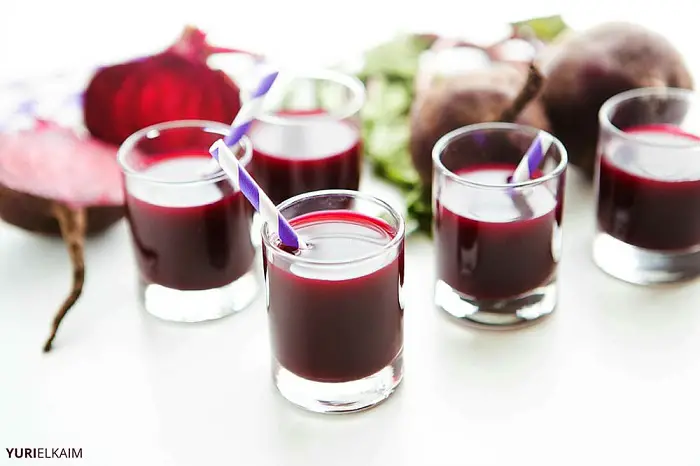 2. DIY NATURAL BEET SHOTS ENERGY DRINK FROM YURI ELKAIM
Several recent studies have revealed that beet juice increases exercise performance, so these natural energy shots containing beet juice are perfect for sports and exercise enthusiasts.
It also contains a number of other healthy ingredients, including cucumber, apple, and ginger. You simply press them through a juicer and you're ready to go.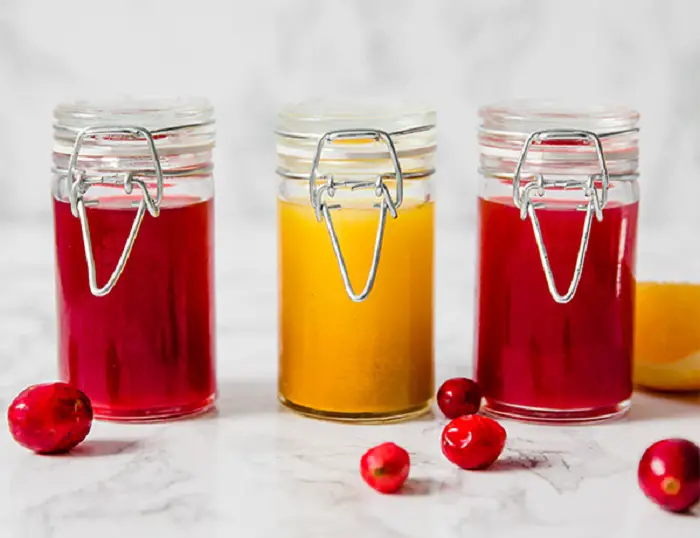 3. APPLE CIDER VINEGAR SHOTS FROM UNBOUND WELLNESS
These DIY apple cider vinegar shots are a nutrient powerhouse! They're sugar-free and easy to make at home, making them the perfect pre-work or post-workout pick-me-up.
The best part is they can be made in three delicious flavor combinations, including orange and cranberry, orange, turmeric, and ginger, and pomegranate and lemon. Simply add water to your concoction to make it shot-ready.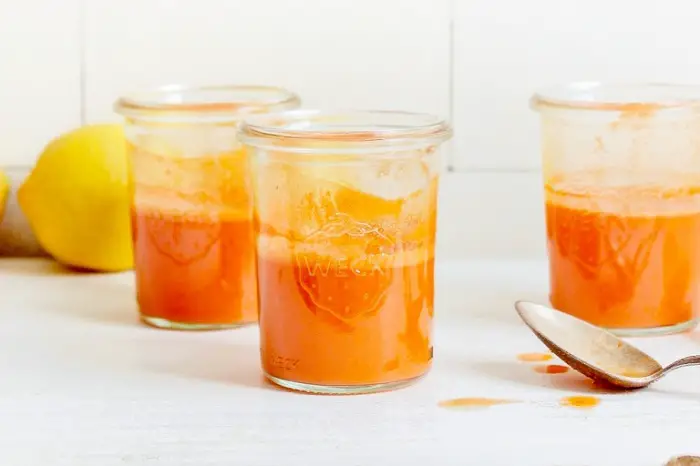 4. IMMUNITY JUICE SHOTS WITH CARROT, GINGER, LEMON AND GARLIC FROM WITH FOOD AND LOVE
These immunity juice shots are particularly beneficial during flu season, as they help to boost your immunity and ward-off any pending cold or flu. After all, who has time for sick days?
The ingredients – carrot, ginger, lemon, garlic, and apple cider vinegar – are all full of antioxidants, vitamins, and minerals. If you're already sick, it's not too late. Take this concoction and watch your recovery time speed-up!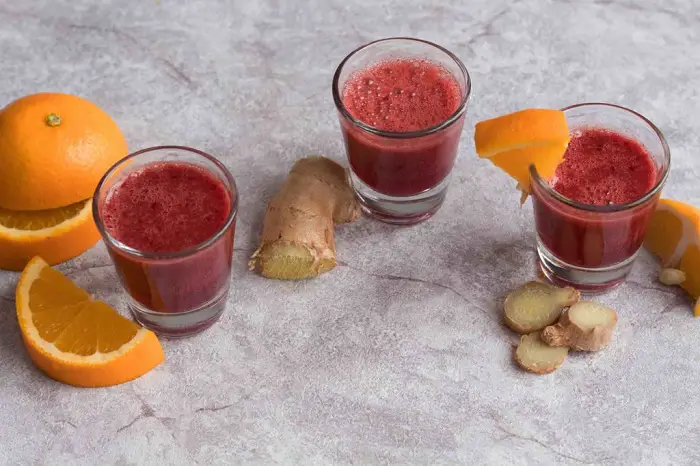 5. CHERRY GINGER POST WORKOUT RECOVERY SHOTS FROM PROGRESSING IN DISGUISE
Zap muscle soreness and recover faster from your workouts with this refreshing post workout recovery shot!
This recipe is packed with healing and anti-inflammatory ingredients that not only taste great, but help reduce the amount of time you spend recovering after a particularly tough day at the gym.
They contain orange, lemon, cherries, turmeric powder, beet root powder, freshly grated ginger, and a dash of cinnamon.
6. CHLOROPHYLL WELLNESS SHOT FROM GOOP
Who knew that monk fruit, lemon juice, ginger juice, liquid chlorophyll, and cayenne pepper could taste so good?
This one packs some serious heat, but once your tastebuds recover, it's worth it for the health benefits. The recipe mentions that if you can't find monk fruit anywhere, you can easily just leave it out.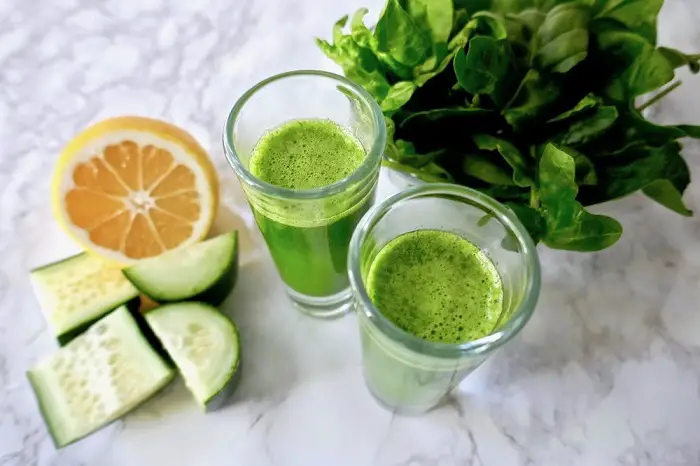 7. GREEN IMMUNE BOOSTING SHOT RECIPE FROM TASTING PAGE
When you're feeling a little run down, this healthy green drink will give you a shot of energy and help keep your immune system strong.
This green immune boosting shot has just 3 ingredients, plus Harvest Blend, a supplement which gives you about another 25 superfoods with just one helping. You'll lose count of just how many beneficial nutrients are in this incredibly healthy wellness shot!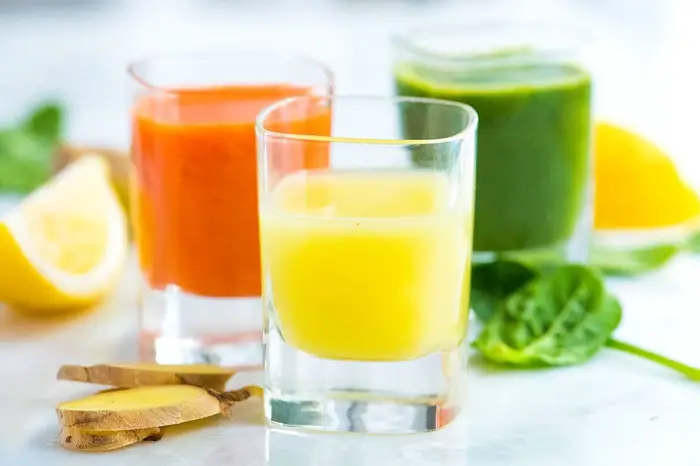 8. THREE GINGER POWER SHOT RECIPES FROM INSPIRED TASTE
This post will give you not one, but three amazing ginger power shot recipes to boost your health. The delicious combinations include lemon and ginger, carrot and ginger, and green apple and ginger.
Which one takes your fancy the most? No matter what flavor combination you prefer, one thing is for sure: these power shots will give you an instant pick-me-up, helping you feel refreshed and full of energy for the day ahead.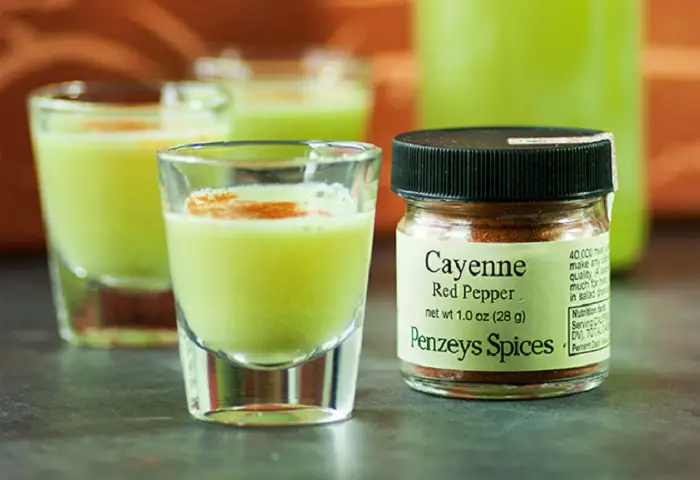 9. WELLNESS JUICE SHOT FROM FLO & GRACE
If you (or someone you know) has woken up with the flu, then you'll want to make this wellness juice shot ASAP.
It contains immune-boosting ingredients such as celery, green apple, ginger and lemon, topped with fiery cayenne pepper. It's a wonderful natural remedy to add to your arsenal and is sure to speed-up recovery time like no other.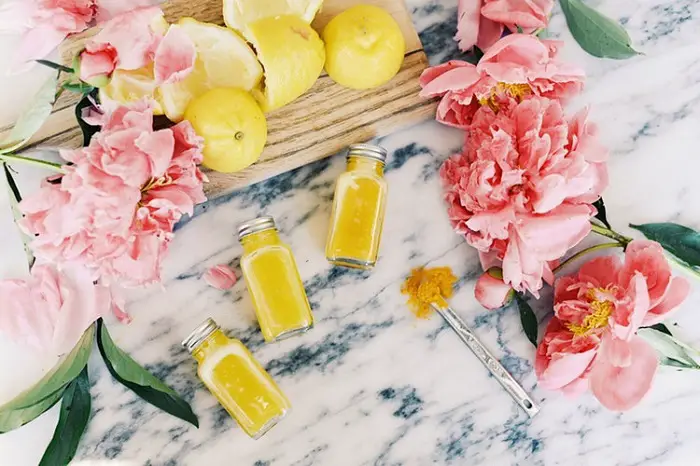 If you haven't heard about the incredible health benefits of turmeric, you're in for a surprise. This super food is an anti-inflammatory, anti-aging, powerful antioxidant, and immunity booster, making it the perfect ingredient for a wellness shot.
For this recipe, you'll need a few simple ingredients such as coconut water, fresh turmeric, ginger root, lemon, honey, and a pinch of sea salt. Sounds delicious!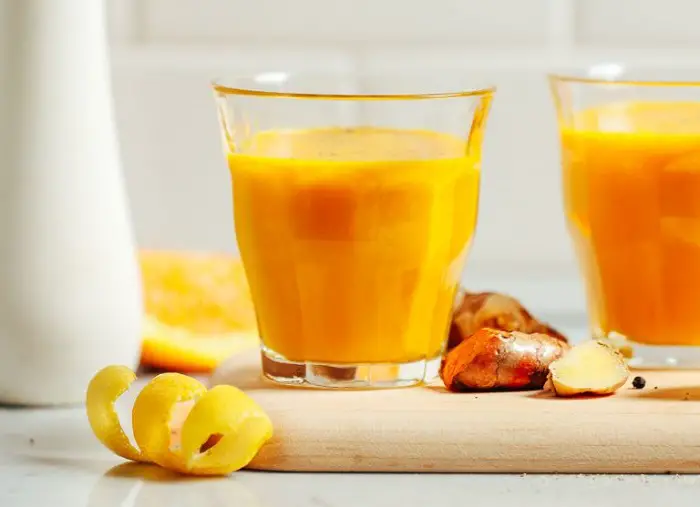 11. LEMON GINGER TURMERIC WELLNESS SHOTS FROM MINIMALIST BAKER
This 5-ingredient, 5-minute shot is just the thing you need to start your morning with (or as this post suggests, to ring-in a healthy New Year!).
It combines orange, lemon, fresh turmeric, ginger, black pepper, and extra virgin olive oil to give your health a seriously good boost. Plus, it tastes divine, thanks to naturally sweet ingredients such as orange.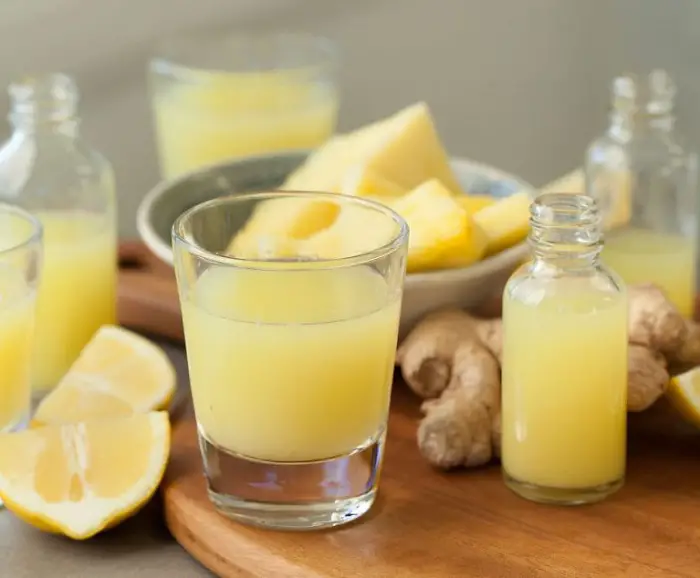 This spicy and sweet juice shot works to support good digestion and settle upset stomachs. It's made with fresh ginger, pineapple, lemon and fennel and is a powerhouse of anti-inflammatory, stomach soothing and immune-boosting goodness.
For extra belly healing properties, try mixing in an equal amount of coconut water kefir. It's packed full of gut-friendly probiotics!
Which Wellness Shot Will You Explore?
There you have it – our top 12 wellness shot recipes that you can use in your daily life, whether it's as the first thing in the morning, after a workout, or the last thing at night.
Because these shots are highly concentrated with beneficial ingredients such as fruit and vegetables, they're more easily absorbed by your body, working to instantly boost your health. They're also much less time-consuming than sitting down to a full-sized smoothie, let alone a bowl of vegetables. After all, we're a time-poor bunch!
Start with the wellness shot recipe that takes your fancy the most, then slowly work your way through the list to expose yourself to new flavor combination and health benefits. While one wellness shot might aim to increase energy, others are effective at aiding with post-workout recovery or healing a cold or flu.
Which wellness shot (or shots) will you be trying this weekend? We'd love to hear from you in the comments section below!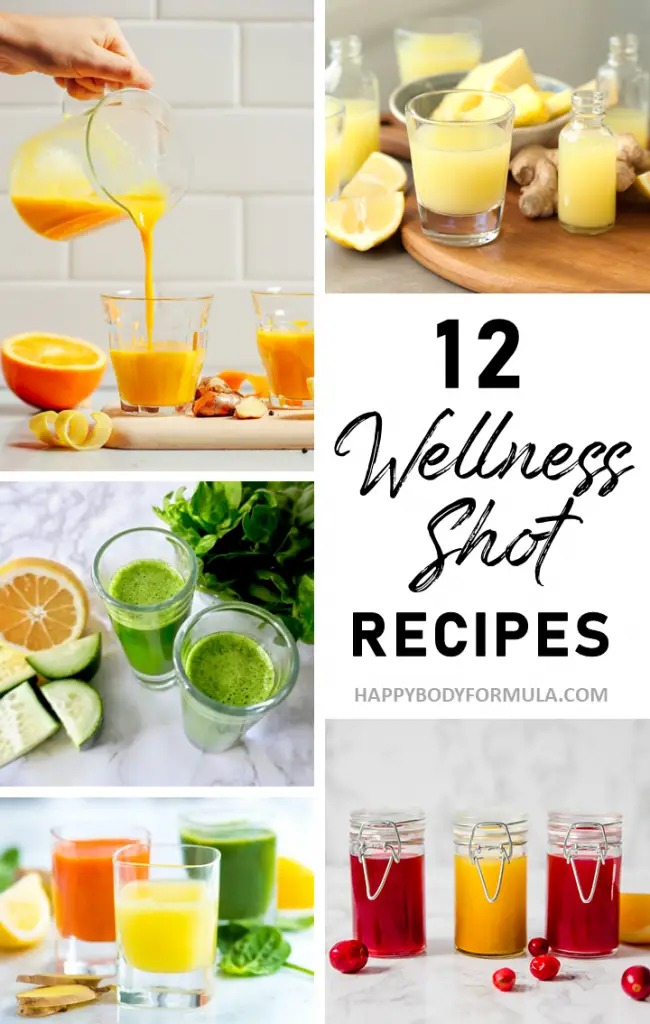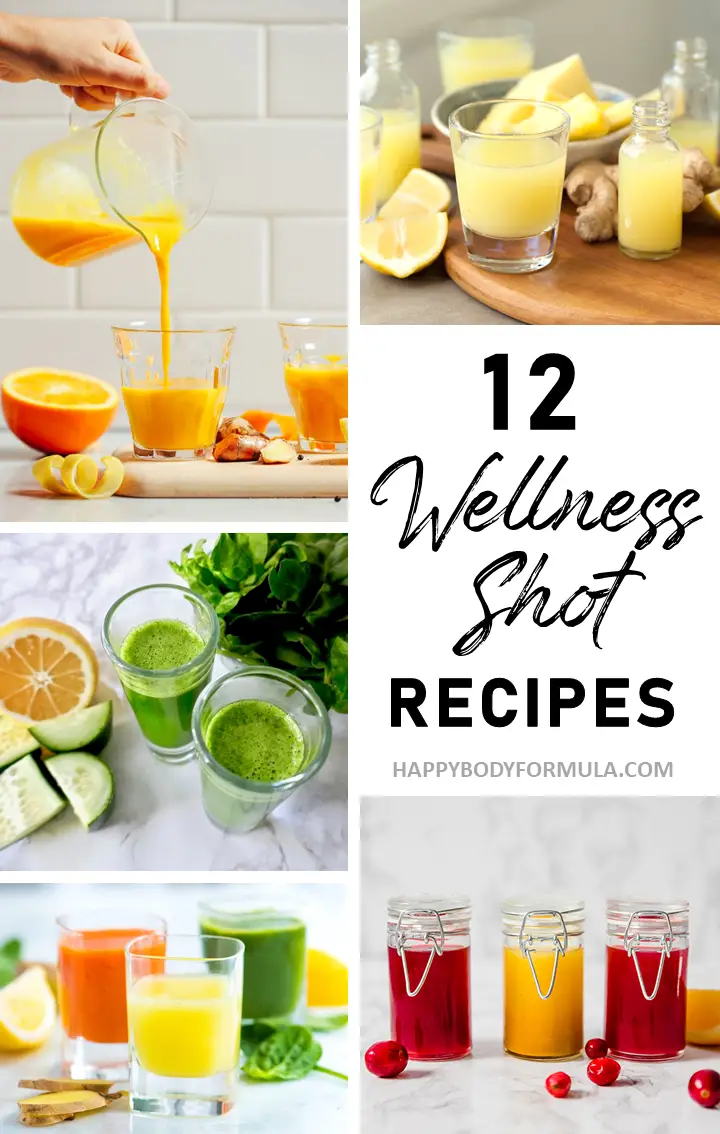 Melanie Clarke is the founder of Whim Online Magazine, an online magazine based in Australia that has a strong focus on whimsical + dreamy photography, as well as art and fashion content.