If you've never had a poke bowl before, you're in for a treat! Even if you have, you're probably accustomed to ordering them at restaurants or sushi bars. Why not make your own at home?
While poke is a fabulously healthy option even when eating out most of the time, controlling and customizing your ingredients will save you money, ensure quality ingredients that agree with YOUR body, and give you the best taste possible.
We have a roundup of some of the tastiest poke bowl recipes we could find.
If you can get your hands on some sushi-grade fish, the rest is simple! The fish is totally worth the splurge, too.
These are great summertime dishes to cool down with, and you can definitely do some poke prep by making bowls earlier in the week to tote in your lunchbox.
You can learn how to build your own poke bowl here, or get some serious fish-spiration with these poke ideas.
1. Spicy paleo poke bowls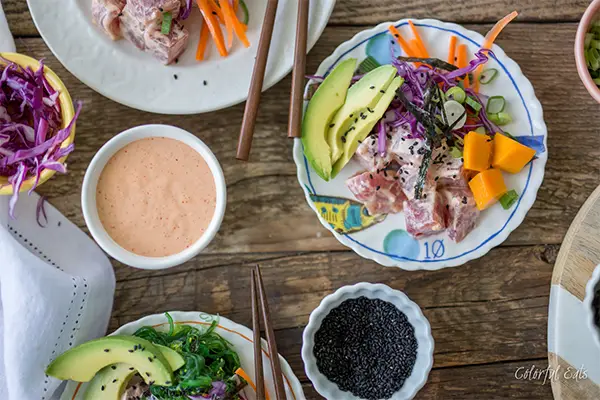 Traditional poke isn't going to be strict paleo as it usually features some rice, so we thought we'd kick things off with this grain-free poke bowl. It uses avocado oil mayonnaise from Sir Kensington's mixed with Sriracha for a creamy, spicy sauce to toss around that fresh ahi in.
The rest is up to you with the veggies. This recipe uses cabbage, carrot, seaweed, avocado, and even some fresh mango to sweeten things up. Get the details from Caroline Potter.
2. Tuna poke avocado boats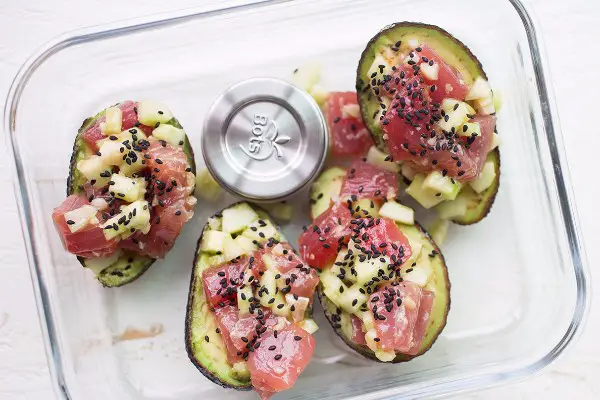 Why not swap your bowl for an avocado? This is one of our favorite real food hacks for stepping up any meal's deliciousness potential.
Avocado is a fabulous complement to any poke bowl in the first place, so we love this boat recipe packed with tuna, macadamia nuts, cucumber, and Whole30-compliant sesame oil and coconut aminos, skipping out on the soy. Get the recipe from Anya's Eats.
3. Ahi poke stack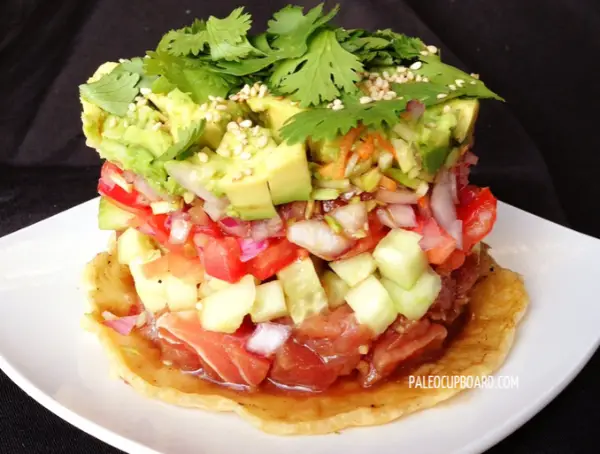 Why put it in a bowl when you could stack it up like this? Dinner for one or cooking for guests, this one is totally impressive and totally tasty – even if you can't keep it in one piece while you eat it!
It's like poke Jenga, layered with a beautifully sweet marinade, tuna, cucumber, broccoli slaw, tomatoes, and avocado. The best part might be the grain-free won-ton it's served atop. Can you say YUM? Get the recipe from Paleo Cupboard.
4. Spicy wild Alaskan sockeye salmon poke bowls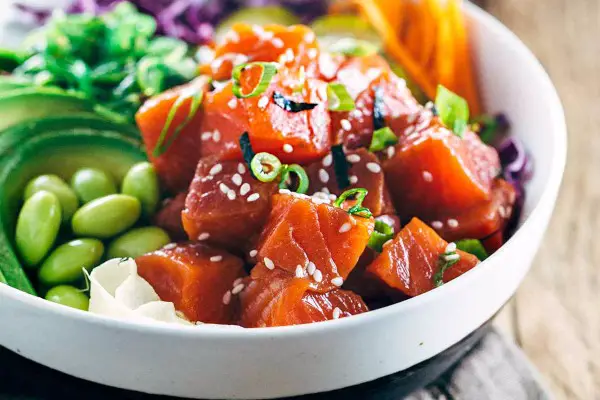 With this bowl, you'll be eating the rainbow and loving every second of it. Salmon is a fabulous choice for poke bowls, especially if you're watching mercury levels as it doesn't contain quite as much as tuna (which is 100% fine and healthy on occasion!).
It's served atop a beautiful crunchy salad, shown here with cabbage, carrots, avocado, and edamame. This dish also comes with a quick pickled cucumber recipe that'll bring a bit of tang to the picture! Get the recipe from Jessica Gavin.
5. Shoyu ahi poke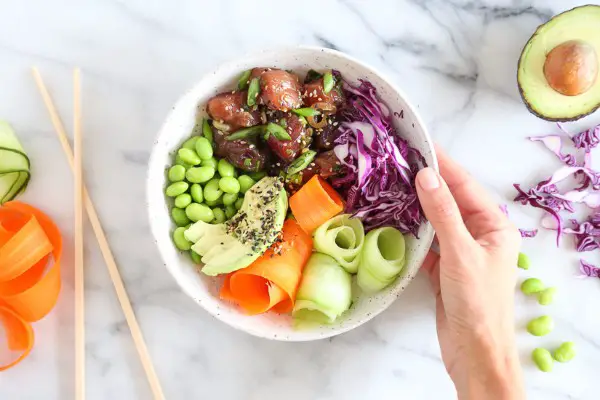 Shoyu ahi is a traditional Hawaiian dish of raw fish with soy sauce and sesame oil. It's fabulous over a bed of steamed rice and/or with all of the veggies your heart desires.
This bowl is seasoned with furikake – an umami-packed sea veggie – to deepen the flavor and add some extra layers to this already tasty poke! There's also a paleo adaptation for this to keep it Happy Body Formula-friendly and soy-free.
Get the recipe from Skinnytaste.
6. Spicy shrimp poke bowl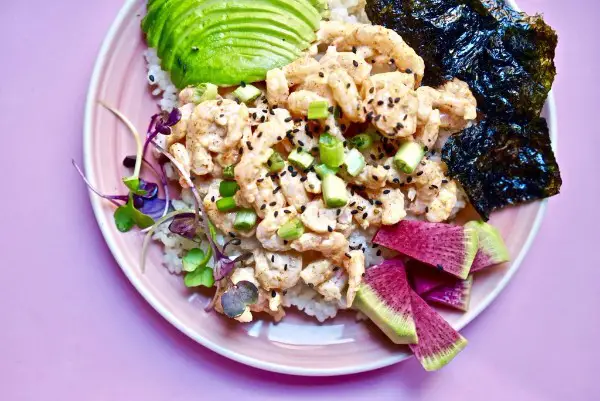 Poke isn't limited to just tuna and salmon. You can pretty much use any sushi-grade fish, and shrimp is yet another delicious option for building your own bowl.
Shrimp is by far the most budget-friendly of the bunch, so if you need your fix without having to dish out the big bucks, this might be your best bet! This recipe is served over rice with prawns coated in a dreamy mayo-based sauce.
You can serve it with anything else you have handy including nutrient-dense sprouts or vibrant watermelon radish like this bowl. Get the recipe from Abby Langer Nutrition.
7. Seared Hawaiian beef poke
Variety is the spice of life, so this fun poke-themed bowl made with seared beef instead is a fabulous idea for both the wallets and BBQ parties alike!
It's got a similar seasoning you'll find in most traditional Hawaiian poke bowls with the soy and sesame, and the light sear will lock that flavor in while the tender, rare inside melts in your mouth.
It's served atop a fresh chopped salad of onion, radish, cucumber, tomato, and chillies for a kick. Get the recipe from Great British Chefs.
8. Salmon poke with macadamia nuts & fried shallots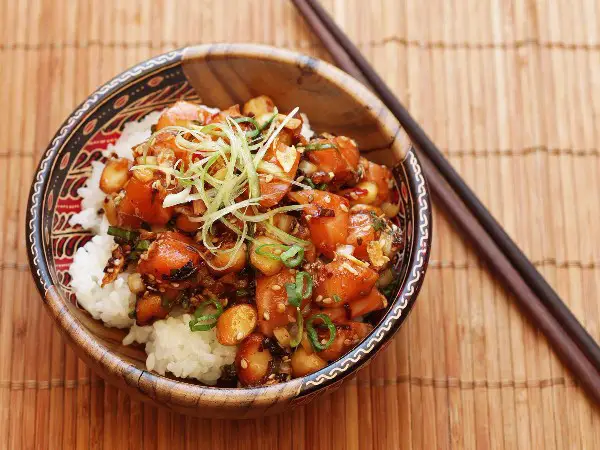 The perfect poke bowl has it all. It's got some raw food and some cooked food. It's got sweet notes and spicy notes. It's got some crunch to it to add texture alongside that melt-in-your-mouth raw fish.
It's got a bit of smoke and tons of umami. That's why we love this recipe. It brings in healthy fats from buttery macadamia nuts and next-level flavor with a simple topping of fried shallots where a little go a long way.
Get the recipe from Serious Eats.
9. Tuna, nori, & avocado poke bowl
Perhaps the best part about this begins with the rice "salad" at the bottom. It's a luscious, tasty, and healthy mix of short-grain brown rice and white sushi rice.
It's topped off with beautiful tuna, strips of salty, iodine-rich nori, and ripe avocado then dusted with sesame seeds and macadamia nuts, toasted to perfection. Get the recipe from Good Food.
10. Salmon & avocado poke bowl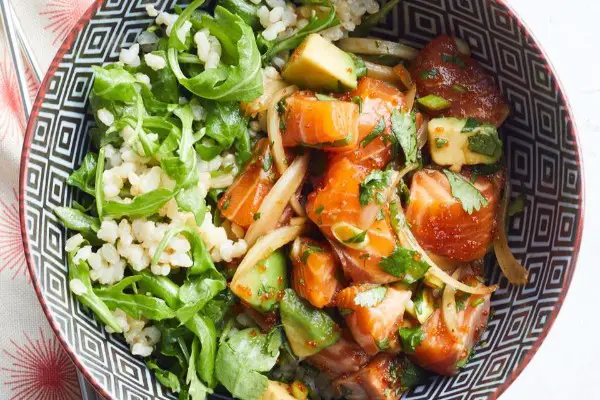 Salmon and avocado are pretty standard fare in the world of poke. This mixture is served atop a green-infused brown rice salad, boasting strands of nutritious and deliciously spicy arugula and Chinese-style dijon mustard for a unique spin on the classic!
Top it off with fish roe or caviar for the best results (and because you deserve to feel fancy). Get the recipe from Eating Well.
Hungry now? Share this with your sushi-loving friends, or plan a DIY poke night! Let us know which recipe you're most excited to test out. Share this roundup on Pinterest from here!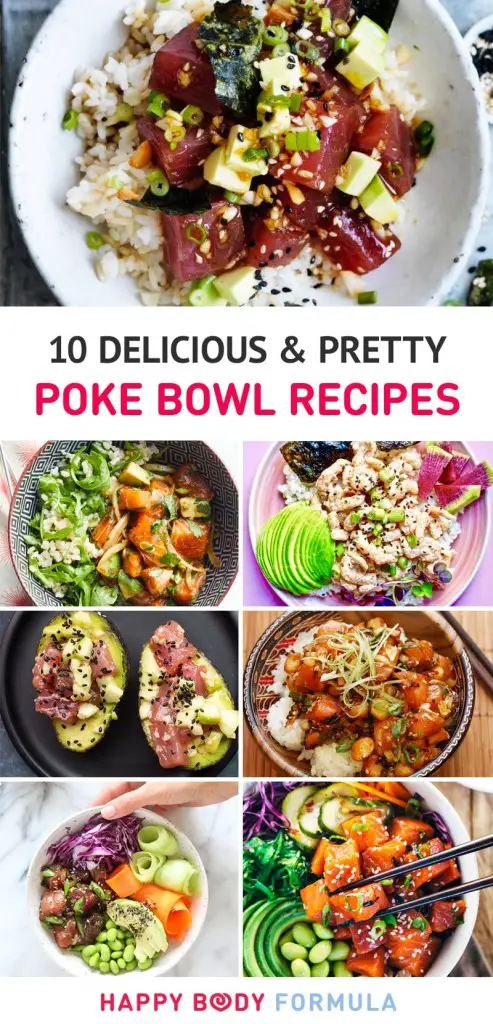 Music, mountains, dogs, travel, food and friends.