I don't know about you, but I sort of like eating dessert for breakfast. There's just something about it.
Maybe it's that shift back into pre-paleo habits; biting into something sweet reminds me of jam on toast, luscious coffee shop muffins or something far less wholesome or rewarding – big bowls of sugary cereal.
No, they weren't healthy, but they were sweet. If you've got a sweet tooth like I do, then there's no better way to wake up – right?
The issue is obviously the hunger pangs that set in just an hour or two after breakfast, and it took me long enough to figure out why I was always hungry, but that's another issue.
The missing component? Protein, of course! See, bacon and eggs hit all the notes with some serious fuel to keep you going, while simple sugars run right through you after the initial energy boost.
We think you can probably have your dessert for breakfast and eat it too, though, so we're rounding up some protein-heavy morning meals that feel quite decadent, but won't have you longing for lunch at 10 a.m.
1. 
5-minute spiced quinoa coconut porridge from Happy Body Formula
Five minutes for a protein-packed breakfast? You bet. This quinoa porridge is perfect for busy mornings when you need a hot meal on the run as you can prep the seed ahead of time for easy use.
Add protein powder, hemp seeds or some yoghurt to bring in even more protein to this fabulous gluten-free oatmeal alternative. Get the recipe on our blog.
2. Peanut butter breakfast sundae from E.A. Stewart
If someone told me I could eat a sundae for breakfast and it would be totally acceptable – like, acceptable enough to Instagram it and hashtag it #cleaneating – I would have to say, "NO WAY." It's true though.
This jar meal looks decadent, but it's literally made with frozen lentils for an awesome plant-based protein boost without any powder. Say what?!
If you don't do peanuts, swap 'em and the butter for almond butter or cashew butter instead. Get the recipe from E.A. Stewart.
3. Chocolate hazelnut breakfast cookies from Cotter Crunch
Dunk 'em, pack 'em on your way out the door or savor them over a slow morning sip sesh with a hot cuppa. Protein cookies are the jam because we all need a reason to feel good about eating cookies.
Side note: why aren't cookies a food group in and of themselves yet? Anyways, these guys fit the bill with a healthy boost of satiating protein from plant-based Vega One protein powder and that classic hazelnut and chocolate combo.
Nutella, anybody? Plus, they are vegan! Get the recipe from Cotter Crunch.
4. Sweet cinnamon and banana omelette from Liezl Jane
Omelettes are a blank canvas, but seldom do we think of them taking on sweet flavors. Eggs offer up a mild flavor and good texture for a grain-free "crepe," so why not dress it up in bananas, cinnamon, chopped nuts, some creamy nut butter and desiccated coconut?
It try it out or top it off with this simple way to keep breaky sweet. Get the recipe Liezl Jane.
5. Chocolate coffee chia breakfast bowl from Paleomg
Chocolate was made for coffee, or maybe it was the other way around. In any case, we get to wake up with a little jolt in our mug more than we get to wake up with chocolate, so this bowl is kinda, sorta perfect.
Plus, it's got a gorgeous texture from chia seeds in the bottom which help boost the protein content. OH, and the best part? Toppings. Galore. Go crazy with it.
The base also features chocolate Primal Fuel protein powder. Get the full recipe from Paleomg.
6. Salted caramel mocha protein donuts from Purely Twins
Ah, the donut. It's a breakfast staple for some reason, despite traditionally being entirely void of nutrition. Yep. Cake-y, doughy, and covered in a layer of sugar, it's basically a triple dose of the sweet stuff.
It tastes good, but it doesn't feel good. These treats are a little different though. A plantain base means they're packed with healthy starch, and you can add a scoop of protein to make them substantial!
Get the recipe from Purely Twins.
7. Caramel & chocolate chip protein banana bread from Sprinkle of Green
Banana bread is nice and all, but it's pretty extraordinary with the exquisitely mouth-watering additions of both caramel and melty chocolate chips. Food crush, much?
Skip the bakery and the poundcake for a protein-rich slice of THIS. It's just as dense and moist like your classic dessert-for-breakfast loaf, but it features egg whites, yoghurt, coconut flour, almond flour and flaxseeds which all provide some substantial protein powder while keeping it grain-free and paleo-friendly, depending on what type of yoghurt you use.
Get the recipe from Sprinkle of Green.
8. Banana paleo protein pancakes from Peachy Palate
Stacks on stacks on stacks. If it's not your money, it should be your flapjacks. This pile of pancakes is grain, dairy, soy and sugar-free and it still tastes really good. Plus, you can just tell the texture is on point.
The base is made up of your protein powder of choice, eggs, coconut flour and psyllium husk which makes them super filling considering all that fibre and protein!
It's the ultimate combination for staying full all morning – perfect for busy weekend mornings with enough energy for the gym and errands (and maybe mimosas). Get your brunch on with this recipe from Peachy Palate.
9. Maple cinnamon sweet potato waffles from Ambitious Kitchen
If you're not a pancake person, you're probably a waffle person. Okay – maybe you're neither. I don't want to make assumptions. Whichever way you swing, this recipe is worth waking up early to iron out.
It packs in some healthy veggie vitamins and minerals from sweet potato, and protein comes in from cottage cheese which lends itself beautifully to that chewy-on-the-inside, crunchy-on-the-outside texture we're all after in a stellar waffle.
Get the recipe from Ambitious Kitchen.
10. 
Chocolate & quinoa breakfast bowl from Minimalist Baker
There will be no shortage of chocolate in this roundup. After all, we're talking decadent breakfast options! Quinoa is a seed we quite like for its high protein content, and it makes for a porridge much like oatmeal.
It does contain a bit more protein at around 8 grams per cooked cup! This "brownie bowl" can be boosted with a scoop of protein powder or a sprinkle of hemp seeds.
Don't forget some real dark chocolate! Get the recipe from Minimalist Baker.
Get ready to indulge. Whether you're big into chocolate or you can't get enough waffle house Belgians, we hope you found some tasty ideas for expanding your healthy breakfast options on our decadent roundup.
Share if you liked it! Pin from here.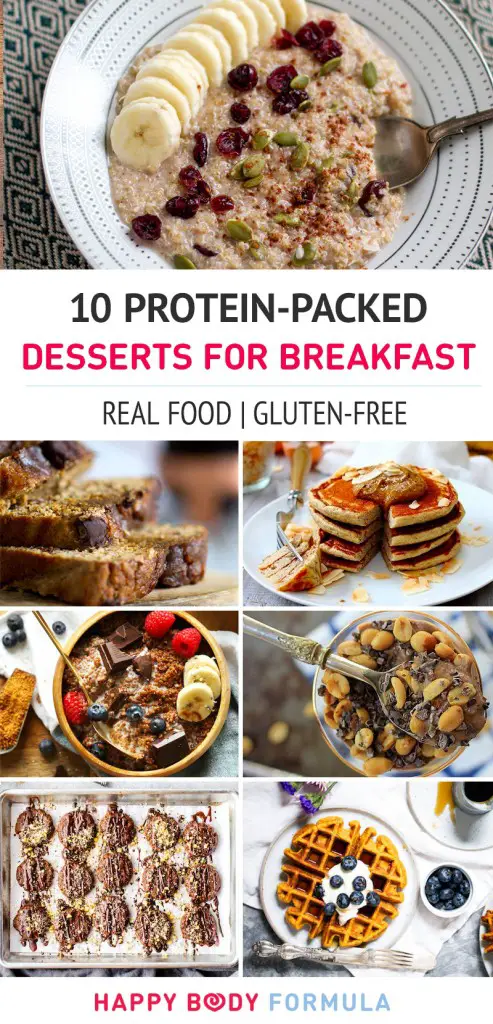 Music, mountains, dogs, travel, food and friends.