If cookies were a food group, we'd likely encourage eating them at least once per day… you know, for your mental health. While they're not generally thought of as healthy fare, we're changing the game here.
Protein bars are fine and all, but the flavor and ingredients can make it feel like less of a treat. Considering protein is an important macronutrient, and we highly encourage getting enough of it at every meal, these sweet treats will fit the bill for daily indulgence you can feel good about.
No boxed dough here – just real food ingredients.
These healthy, high-protein cookie recipes are perfect for snacking at home or on the go. You can pack 'em up in the kids' lunch boxes and boast about your grain-free baking skills, or break out a batch to take to your next potluck.
No bake cookie dough protein balls
Okay, so maybe they're not cookies, but we all know the best part about cookies isn't the final product – it's sneaking tastes of that dough! There's no raw egg risk with these guys, and they weren't meant to be baked in the first place.
Almond butter and your protein powder of choice make these the perfect snack to hit the gym with, or just nosh on when the sweet tooth hits hard. Get the recipe from Well Plated.
Paleo protein brookies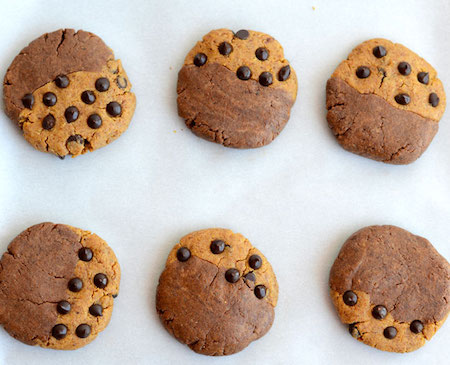 The 'brookie' is a match made in heaven, essentially combining what is good about chocolate chip cookies and brownies, and pairing them together. This version is both paleo-friendly and protein-packed, so they're not your average brookie.
This dough also uses a luscious blend of creamy almond butter and protein powder. Get the recipe from Fit Foodie Finds.
Maple pecan protein cookies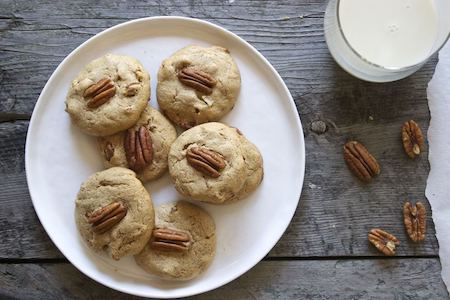 A nutty base is the perfect vessel for pecans in this gorgeous cookie recipe. Maple syrup pairs perfectly with the flavors in these guys, and the ingredient list is super simple.
At first glance, you think you'll want to eat half the batch in a sitting, but the protein gives these bites plenty of sustenance to actually keep you fueled and full. Get the recipe from Naked Cuisine.
Double chocolate power cookies
Each serving of these cookies has 18 grams of protein, hence their 'power cookie' title. There is real power hiding out in these with plenty of grass-fed collagen which is fantastic for the skin and the gut.
Bonus: double the chocolate, double the fun. Get the recipe from Living Loving Paleo.
4-ingredient chewy cinnamon protein cookies
These cookies are so easy to make, they're grain-free, paleo-friendly, and vegan so they make an easy go-to recipe for just about anyone who wants to indulge wisely.
They are extra chewy and delicious, and they taste like oatmeal raisin cookies – even without the oats or raisins. Get the recipe from Purely Twins.
Avocado protein chocolate cookies
Avocados? Yes, please. These fudgy bites pack in real food power with a little green from the avocado plus healthy fats and antioxidant powerhouse, goji berry.
They also feature a base of quinoa flour which is inherently gluten-free (it's a seed – not a grain!) and protein powder so they're extra satiating. Get the recipe from Cookies to Kale.
Chickpea flour chocolate chip cookies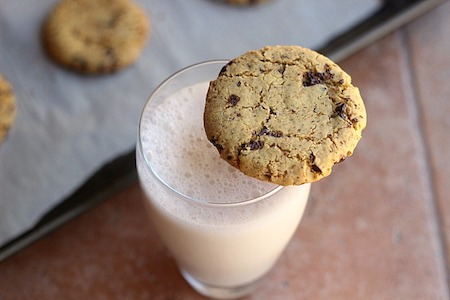 Chickpea flour is yet another versatile and gluten-free and grain-free baking tool we love, because it is naturally packed with protein and super nutritious!
These chocolate chip cookies are also quite low in sugar which means they are totally HBF-approved. Get the recipe from Oatmeal With a Fork.
No-bake chocolate cherry protein cookies
This is a duo we love – chocolates and cherries – and they make a rather tasty snack. Plus, they require zero baking and the ingredients are versatile; you could easily use cranberries or dried blueberries in these cookies instead.
The chocolate drizzle kind of takes these to the next level, so don't skip the final step. Get the recipe from Fit Mitten Kitchen.
Chocolate protein cookies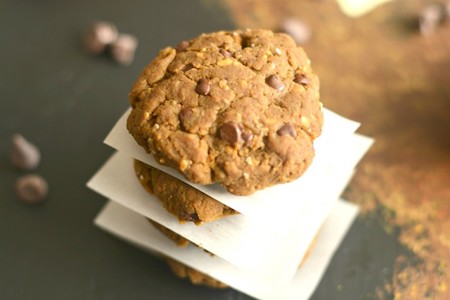 Six ingredients make up these glorious peanut butter and chocolate chip cookies. These are full of fibre-rich flaxseed and omega-3s from chia seeds, plus a little nutrient boost from bananas which also lend themselves well as a natural sweetener.
Get the recipe from Skinny Fitalicious.
Cranberry chocolate protein cookies
If you're in the market for something festive during the holiday season, or you just like to get your cranberry fix year-round, these are the treat for you.
They're packed with chocolate protein powder and oats for a blend of complex carbs, fibre and protein to keep you full. Nobody will tell if you pop a few for breakfast. Get the recipe from Hummusapien.
Protein powders we love
Many of the recipes in this roundup contain protein powder. What's the best choice? While we always recommend eating real food above all, protein powder can be a great supplement to use, and it works fabulously for baking healthy, gluten-free treats.
There are a few reliable options in terms of ingredients. Here are some of our favorite paleo protein powders.
PlantFusion is a fantastic plant-based option using pea protein and sprouted quinoa and amaranth. These are easy to digest when they're properly prepared, and their products are great because they don't use soy or sugar.
Naked Whey is made with grass-fed whey protein, and it only contains one ingredient so it's versatile. You can add vanilla essence or cacao powder to switch up flavors whilst baking, and the sweetener levels will be 100% up to you as it contains none at all.
Nutiva Hemp Protein is a good source of plant protein – rich in omega-3s and fibre – that mostly anyone can tolerate since some can't do grains, dairy, or peas.
Paleo Protein Egg White Powder is a good choice for those who want a simple, one-ingredient powder from a real food source.
Vital Proteins Collagen Peptides provide a fantastic source of sustainably raised animal protein without any flavours or sweeteners. Collagen and gelatine have loads of health benefits, so it's a welcome addition to any diet.
What batch of cookies will you be making for a protein-rich snack this week? Tell us your favourites, and share these recipes with your foodie friends!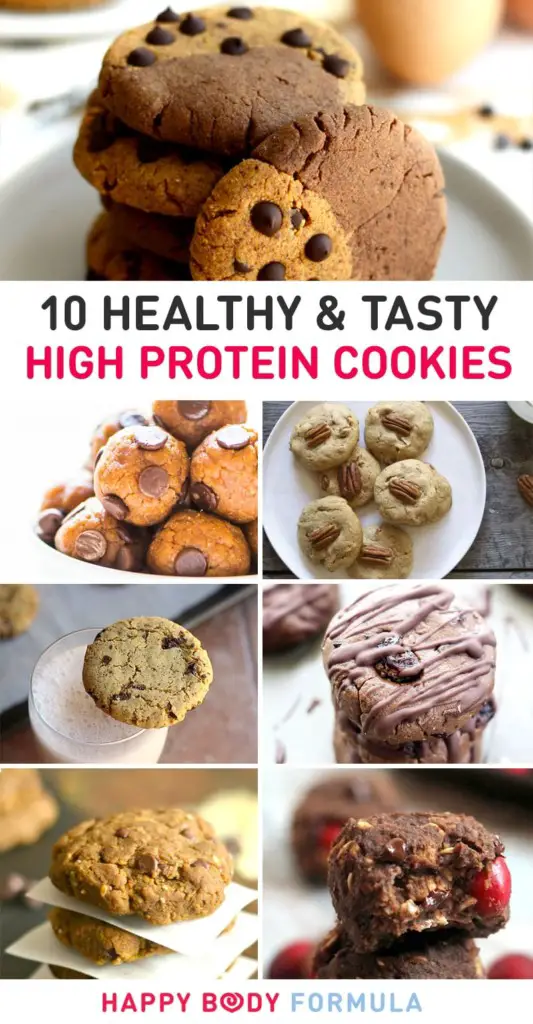 Music, mountains, dogs, travel, food and friends.