Sweet potatoes are the ultimate comfort food, especially considering the countless ways you can prepare them. As the name suggests, they even make a fantastic dessert sometimes, whether it's a simple drizzle of nut butter or when you use them in baked goods. The runner up in the 'comfort food' department?
Stuffed to the brim, of course.
Sweet potatoes are the superior spud in the real-food-o-sphere for a few reasons. Sweet potatoes are:
An amazing source of vitamin A (400% of the daily recommendation!).
A good source of the minerals potassium, magnesium, manganese and iron.
Low on the glycaemic index – lower than white potatoes!
High in dietary fibre – good for your gut health.
Beneficial in maintaining stable blood sugar.
The list goes on and on. Beyond that, they taste pretty darn good. Roast up some chips or wedges, toss some into a breakfast hash, or use them to bulk up soups and stews.
They also make the perfect veggie vessel to fill up with other tasty foods, for those of you who like to get creative.
We've got ten delicious stuffed sweet potato recipes, if you need some inspiration. These dishes are an easy way to get a complete meal on the table while keeping it healthy and relatively simple.
Slow cooker buffalo chicken stuffed sweet potatoes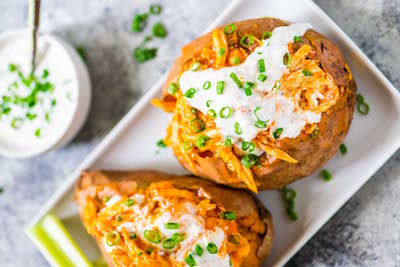 These fellas are a bit like loaded fries or chips, but loads healthier – no refined oils included. The buffalo chicken is a hands-off slow cooker recipe, and having baked sweet potatoes ready for the week ahead basically makes this dish the easiest dinner ever.
This recipe uses yoghurt and bleu cheese on top, but you could opt for a spoon of coconut yoghurt or coconut cream instead, if you want to do it without dairy. Get the recipe from Well Plated.
Taco stuffed sweet potatoes
To allow yourself the ultimate creative freedom in the kitchen, this 'taco bar' idea is key. Set out some pre-cooked protein, diced tomatoes and jalapenos, your favourite salsas, a little cheese or sour cream if you like, and avocado – the sky is the limit.
Get more ideas for your taco stuffed sweet potato from Peas and Crayons.
Dessert stuffed sweet potatoes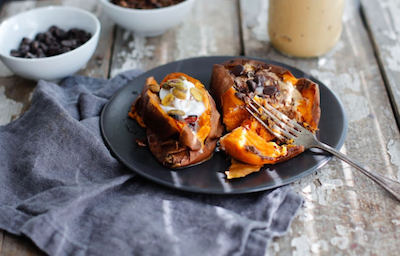 Savory not really calling your name? This is the dessert bar of stuffed sweet potatoes. You'll find innovative topping suggestions ranging from creamy nut butters to protein powder whip for a post-workout treat, to goji berries, nuts and seeds. S
weet potatoes make a fantastic cure for that raging sweet tooth, so keep this one bookmarked. Get the full scoop from Nutrition Stripped.
Enchilada stuffed sweet potatoes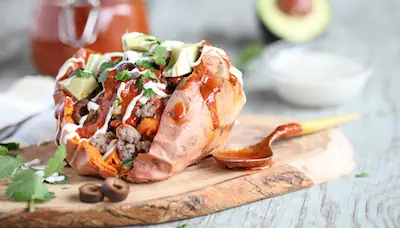 If taco stuffed sweets just aren't cutting it for you, the enchilada sauce in this recipe should kick things up a notch. Beef, poblano peppers, olives, and cool avocado tucked inside should subdue the craving for all things Mexican food.
Get the recipe for the potatoes and the gluten-free enchilada sauce from Against All Grain.
Caesar salad stuffed sweet potato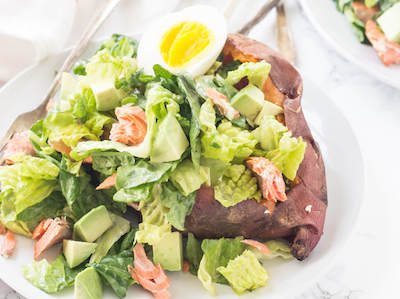 Caesar salad is better in a sweet potato than a bowl – fact! This recipe is a way to make those who aren't keen on getting their greens really enjoy digging into a salad.
It's chock full of salmon, avocado, caesar dressing and a boiled egg on top. Bonus? The dressing is totally dairy-free. Get the recipe from Wicked Spatula.
Pizza stuffed sweet potatoes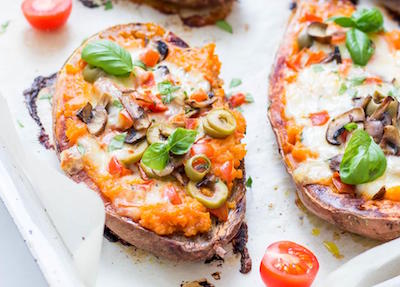 Pizza without the crust? Yes, please. While nothing beats a hot slice every once in awhile, sneaking in that craving the healthy way isn't always an easy feat. These sweet potatoes are filled up with classic pizza toppings and flavors with simple veggies and cheese.
If you're skipping dairy, you could opt for a sprinkle of nutritional yeast instead, and to make it a complete meal, you can add your favorite protein – bacon anybody? Get the recipe from Use Your Noodles.
Thai chicken stuffed sweet potatoes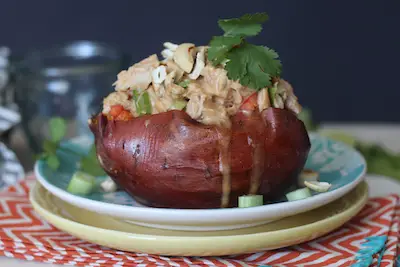 If buffalo chicken isn't your jam, perhaps Thai chicken is. Here's another way to get your takeout fill the all natural way with nothing but real food.
This stuffed 'tater boasts a heap of "peanut" sauce-smothered chicken, and you can even take the super easy route and use rotisserie chicken from the store for the protein. Boom! Dinner is served. Get the recipe from Paleomg.
Loaded sweet potatoes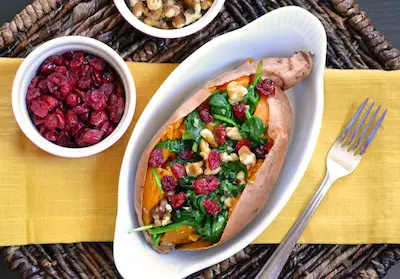 Stuffed sweet potatoes are the perfect meal to dish out for a Meatless Monday. This recipe uses up fresh greens, cranberries for a pop of sweetness, and walnuts for a boost of omega-3s, protein and crunch.
It's simple and humble. Of course, you could add some pork stuffing for a Thanksgiving feel, or shredded chicken to make it a bit more protein-heavy. Check out the recipe from Budget Bytes.
Chorizo and chicken stuffed sweet potatoes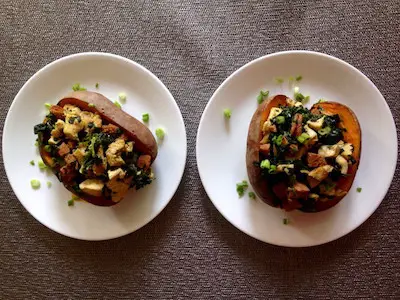 Double the protein, double the fun – right? These guys are perfect for breakfast, lunch or dinner. The chorizo adds loads of flavor with smoked paprika and a dose of healthy fats.
You'll also get a little green action from the spinach in this recipe from Paleo Running Momma.
Paleo sweet potato Sloppy Joes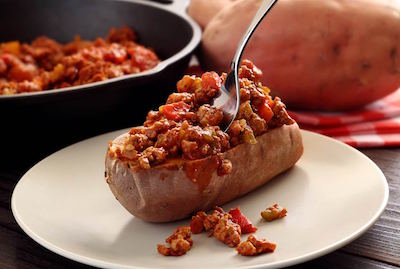 Sloppy Joes are the quintessential weeknight meal. You know – those nights you get home from work a little late, and dinner just needs to happen now.
Unfortunately, most versions of this comfort food are piled high on buns with a literal box of ingredients in between. Fortunately, doing it in a more nourishing style is simple enough with this recipe from Paleo Newbie.
What's your favorite way to stuff your sweets? Share your creations with us below!
Share this article on Pinterest.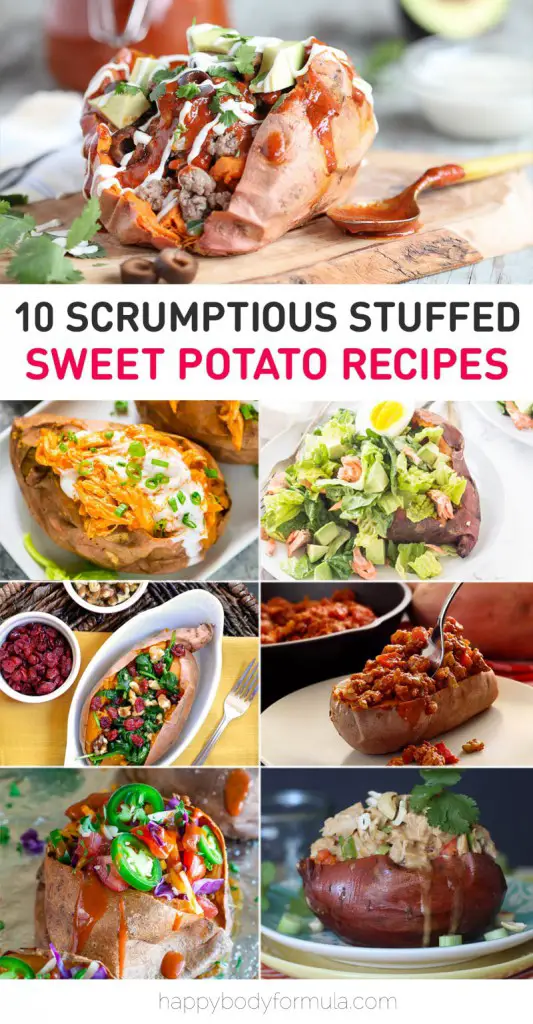 Music, mountains, dogs, travel, food and friends.