Everything you ever needed to know about paleo protein powder
Protein is the macronutrient that can do no harm. We talk it up and pair it with healthy fats to do it justice while we shun carbohydrates without much reason. The truth is that you need a little bit of everything to keep operations running smoothly.
The body's need for protein is a highly convoluted discussion topic which leads us to believe that more = better. While carbohydrate and fat intake waiver with physical demand and workout routines, protein remains just about the same across the boards.
We need quite a bit of it, but too much protein is just that – too much. Some people's primal lifestyles present more demand for a paleo protein powder, though.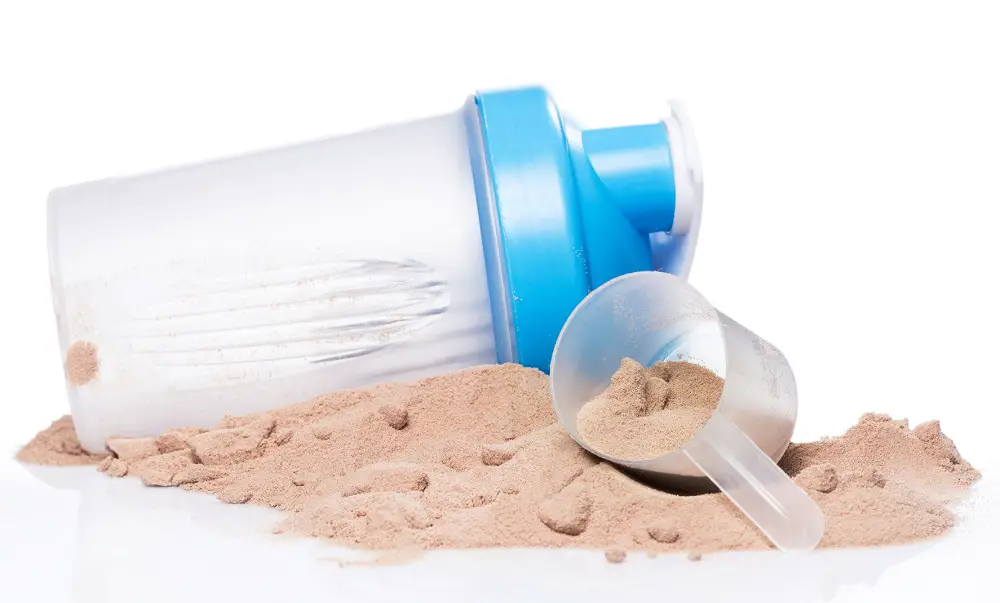 According to Lean Habits for Lifelong Weight Loss, we should be receiving consistent amounts of protein at every meal. As a general rule of thumb, you can safely aim for 25-40 grams at breakfast, lunch, and dinner.
If you're eating a paleo-type diet of animal and veggies, this is easily achieved with a palm-sized portion of meat. Above all, protein helps to promote satiety, keep you full for longer, and retain muscle mass.
Even if you're on-the-run and live a busy lifestyle, protein is a necessity. From the busy bee to the athlete who needs nutrition pronto, a paleo-friendly protein powder can be incredibly useful to have on hand.
Oh, and you can make tons of high-protein cookies with them. SCORE. Real food sources are always preferable, but we know that they aren't always an option.

What supplement is right for you? Check out the benefits of the best paleo protein powder and Whole30 protein powder options on the market.
For a list of more international brands of paleo friendly protein powders (Australia, New Zealand and UK specific), please scroll to the bottom.
We've got no soy, no whey and no sweetener here. Say what?! This is a rarity in the protein powder game, so this brand is a clear winner to us when it comes to transparency and real food ingredients. They do offer stevia-sweetened powders too, but these aren't compliant Whole30 protein powder options while their classic mix is perfectly acceptable.
So, what IS the stuff made of? A nice mix of egg white protein and beef protein. Basically, it's an easy way to use your blender bottle to eat a nice, hearty, warm breakfast of steak and eggs (well, sort of).
PaleoPro's beef protein is sourced from grass-fed cows. These cows aren't treated with antibiotics or hormones, so you can ensure that you're getting the best quality protein imaginable. This is sorely overlooked in many whey or beef protein powders on the market which is one of the reasons this brand reigns superior.
This powder doesn't JUST use the egg whites – it uses the whole egg. If eating real food has opened your eyes to anything, let's hope it's that the yolk is where it's at – it being the nutrition! It's also easier to digest than the whites so this powder is less likely to cause digestive distress.
At 25 grams of protein per serving, we want to make sure our bodies are actually taking all that in. Rest assured, this powder is highly bioavailable due to its ingredients and minimal denaturing of the beef and eggs. Can you tell we're all about this product? If you're looking for your one-stop shop, this might just be the best paleo protein powder.
Find the PaleoPro Protein Powder here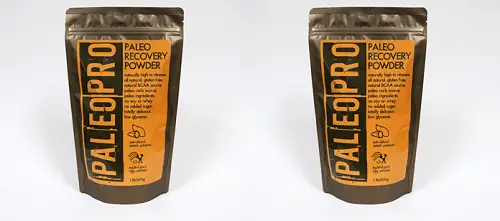 Many of us seek out a paleo protein powder that will help us fuel up for our workouts. While prepping your muscles for a tough workout is something you shouldn't be looking over, neither is aiding them in proper recovery afterwards.
This unique recovery supplement combines sweet potato flour with egg protein for a little starch action to replenish glycogen stores and keep things in working order.
By combining protein powder with some starch powder, we have a blend that acts more efficiently as a full meal. Pure protein isn't always the answer depending on our goals and needs.
This could be a really great addition to your workout routine, and you could easily add some MCT oil to the mix if you're looking for a complete meal that also includes healthy fats. Oh, and this is a good option for Whole30 protein powder if you need it to supplement your program with!
The recovery powder contains both real food sources of carbohydrates and protein which is the perfect blend for post-workout replenishment if you're on-the-go and can't sit down for a proper meal.
Carbohydrate needs depend on how active you are. Competitive athletes can benefit from a meal replacement like this whereas a non-competitive athlete could easily subsist on the carbs they get during meals throughout the day.
Following a paleo diet limits your options of carbohydrate sources, so sweet potato is one of the best ways to get it in. It's a low-glycemic food which will keep blood sugar under control and help you to avoid feeling super hungry later, even after the toughest circuits.
Both training tolerance and recovery after a workout are highly impacted by carbohydrate intake. Since a paleo diet is generally on the low-carb spectrum, a supplement like this one could help you step up your game in the gym.
Find the PaleoPro Paleo Recovery Powder
We've got one long list of ingredients with this protein blend which isn't always a bad thing. Generally speaking, less is more when it comes to supplementing with protein. In the way that you seek food with minimal ingredients on a healthy diet, the same standard should apply to choosing a paleo protein powder.
Since this blend is comprised of raw plant foods, its individual sources all offer a little something of their own to the full package.
See, most animal proteins are complete meaning they contain the entire mixed bag of amino acids. Some plant proteins don't have these properties, so Sun Warrior has stepped up to really bring all that and more to the table with their blend.
Here are some highlights in the ingredient list, and why these sources of protein are so good for us!
Pea protein may be a somewhat controversial paleo "food," but technically, it's compliant. It's hypoallergenic, so if you aren't opposed to eating peas, it's a perfectly suitable alternative to dairy-based protein. It's also packed with BCAAs which will help you pack on muscle, so consider adding this powder to your pre-workout routine.
Cranberry protein? Yep – it's a thing. In addition to its protein content, this plant-based source maintains its antioxidant content through processing, so you get even more health benefits.
Hemp protein contains omega-3 fatty acids which are necessary on their own and in accordance with omega-6s to feel your best. It's best received through animal sources, but this is one of the most concentrated plant-based sources out there.
While whey is most easily digested, this specially curated blend is designed for optimal plant-based digestion, therefore standing in as a suitable dairy alternative.
Find the Sunwarrior's Warrior Blend Vanilla Raw Vegan Protein
Here's one that follows our "less is more" rule with just one ingredient – egg whites. Right off the bat, there's no denying this is a compliant paleo protein powder. This brand will also give you the most bang for your buck, as it's the least expensive contender on the list, coming in at less than $25.00.
It's also compliant if you're looking to make a Whole30 protein shake because of course eggs are legal!
It also packs in quite a bit of protein with rather low calories which isn't a priority for everyone. It does give you more room to add energy from other healthy smoothie additions, though.
It's unflavored and unsweetened, so if you just need something handy to add to your morning smoothie like the blends we feature in our 7-Day Make Ahead Meal Plan, look no further.
The paleo diet is chock-full of eggs quite naturally, seldom eliminating the yolk. The yolk is the most easily-digested part of the egg, so egg white protein does have potential to upset the stomach more than the average protein supplement – just a fair warning.
The egg whites in this product are pasteurized, so they're entirely safe to eat.
This protein supplement is absorbed by the muscles in a different manner than whey which makes this a more ideal choice for supplemental protein rather than "recovery" protein.
Since this powder does not have any flavor or sweetener, the taste isn't quite ideal. You'll want to add this to smoothies or a drink that provides flavor on its own which will make it easier to swallow than shaking it up in the blender bottle with water or almond milk. On the other hand, you can use this to replace egg whites in recipes while cooking, so it's highly versatile. High-protein pancakes, anyone?
Find the NOW Foods Eggwhite Protein
On the hunt for a lean, clean, chocolate protein supplement? This one has what you want. Just three ingredients make this one of the best paleo protein powder options and one of the best flavored powders on the market.
Most of the flavored options are sweetened with stevia including this one, so avoid it if you're sensitive to the extract or if you're looking for a Whole30 protein shake. Otherwise, this protein contains just beef protein isolate and cocoa powder.
We particularly like this brand because their product is also derived from grass-fed cows. Beef protein doesn't only add to muscle strength, growth and mass but it also lends itself well to protecting and recovering  joint surfaces, connective tissue, ligaments and tendons – important factors if you're supplementing your workouts with the stuff!
Beef protein isolate includes the benefits of collagen and gelatine. In addition to the protein, you'll also get a full complex of amino acids and the building blocks of better hair, skin, bones, and nails. Consider this a food product and a beauty product.
This is the best protein source for people who want to avoid both dairy and eggs. Whey is more easily absorbed and digested by the body, but it's not technically paleo while this product fits the bill.
Unsweetened cocoa powder is a bit of a "super food." It contains zinc, manganese, magnesium, and iron. Cocoa is also thought to boost endorphins which could help improve your mood. You can't argue the joy that chocolate brings to the plate (or the shake).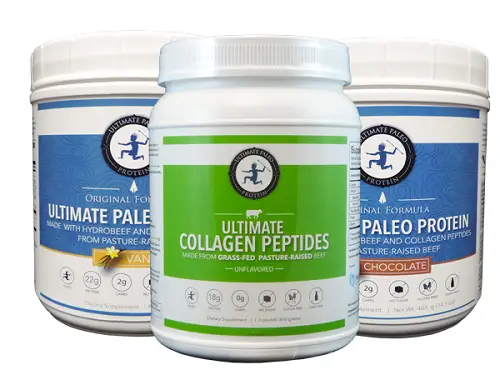 If you're looking for a way to compile your supplement intake into fewer individual products, this paleo protein powder could help you narrow down your morning routine. Like most flavored powders, this contains stevia extract so you can choose whether or not that works for you.
It doesn't impact blood sugar though, and the good ingredients make this a truly healthy choice which we'll explain below.
Overall, the list of ingredients is uniquely designed for a multitude of health benefits and loaded with the best stuff that your body needs!
The L-glutamine content – 500 mg. per serving – in this product helps to aid protein synthesis, so you know your body is getting the most from this product whether you're using it before or after your workout. It's an amino acid for the muscles! It's also a good natural supplement for sleep, so consider this paleo protein shake a good midnight snack option…
L-glutamine can also be beneficial if you're hoping to heal leaky gut. Gut health is such an important part of the paleo diet and a proper meal plan, so feeding it the right foods to help the good bacteria thrive is crucial. Speaking of the gut…
This product contains 2 billion strains of probiotics! How's that for a protein powder? Probiotics help to assure that the good bacteria in the gut outweigh the bad, leading to endless benefits including better digestion, gut permeability, immunity and more.
The inclusion of MCT oil (medium-chain triglycerides) makes this food easily used by the body as energy, so it's an all-inclusive source of both fuel and recovery. MCTs are thought to potentially aid the body in weight loss as well.
Find the Ultimate Paleo Protein Vanilla Flavour
7. For the primal folks:

Naked Whey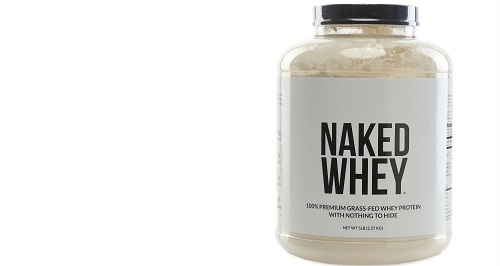 Back to basics! Here's a solid whey supplement if you tolerate grass-fed dairy well. The label says it all: "Nothing to hide." We've got one simple ingredient with maximum protein benefits in this powder.
While this isn't strictly a paleo protein powder, the source, minimal processing, and final product all get the seal of primal approval. All things considered, this dairy isn't denatured so it's more well tolerated by individuals who don't always include dairy in the diet.
Plus, we'll talk more about why whey presents less of an allergen issue – even for those who might be lactose-intolerant.
The source of the whey in this powder comes from grass-fed dairy cows from small, local (to the company) cows. Therefore, the quality is far superior to your run-of-the-mill whey protein. Grass-fed dairy is ideal because cows often feed on grain, and you know what they say – you are what you eat!
Whey protein contains the highest concentration of BCAAs (branch chain amino acids) which help to aid in the synthesis of other amino acids that are used up during exercise. It's recommended to pack these in before a workout, as they'll provide you with adequate energy. It's the kind of stuff in popular 'pre-workout' supplements, but most have undesirable side effects, artificial colour and artificial sweetener.
Even if you don't tolerate dairy well, your body may react differently to whey. It's simply a different product than yogurt or milk. Casein (which is found in most other dairy products) is more problematic and allergenic than whey.
Whey can help to curb glucose spikes, reduce insulin levels, and even reduce stress. Read more about the endless benefits here.
Find the Naked Whey 100% Premium Grass-Fed Whey Protein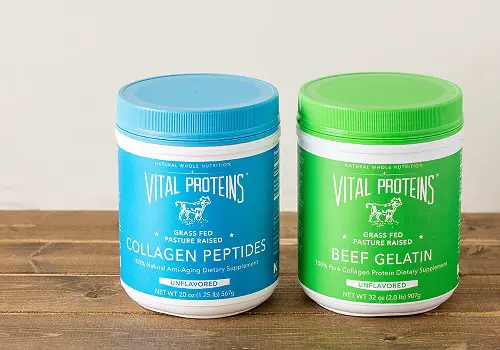 While this product isn't necessarily considered a protein powder, it packs in some of the same benefits as the ones listed above. For individuals who follow the autoimmune protocol or need a truly Whole30 protein shake ingredient, this is arguably the best and most natural option for a protein supplement on the market.
It might not be ideal for the aspiring bodybuilder, but it's certainly a worthwhile addition to your pantry even if protein isn't the goal. Hello gut health, glowing skin, growing hair and just feeling good!
The source of this product is just about as good as it gets. The animals are grass-fed and grass-finished, and the cows are raised on small pastures. If ethics are your main concern, this product's high standards can't be beat.
Collagen can help to balance out hormones. Many people who follow a paleo diet – women in particular – hope to manage hormones using real food as a tool. Collagen can help to support healthy thyroid function and reduce cortisol levels. Essentially, it's great for weight loss or management and keeping stress levels low.
Collagen is what the bones are made of, so consider this product food for the bones. It's a great addition to anyone's diet, including the athlete's diet whose bones need a little extra love.
With 18 grams of protein per scoop, this powder does have what it takes to provide you with energy and satiety which are two of the main goals when we add a protein supplement to the diet.
Find the Vital Proteins Pasture-Raised Collagen Peptides
More international brands of paleo friendly protein supplements 
Hopefully, you've discovered a product that has the potential to work for YOU. Diet is no "one-size-fits-all" deal, so it's important to do your research. Consider what place additional paleo protein powder supplementation has in your life and what benefits you're seeking in addition to a healthy diet. The final choice depends on your lifestyle, food restrictions, physical activity levels, and frequency of usage. If you'd like to learn more about nutrition and sourcing responsible food, join our 30-day reset and recalibration program.