Seaweed is a total powerhouse when it comes to nutrition, and before you get turned off by its presumably fishy taste, hear us out! Not only is it good for you, but it tastes amazing.
It comes in so many different varieties, that there's inevitably a seaweed for everyone out there – even the skeptics. There are ways to eat it that won't even feel like you're eating seaweed in the first place.
Some benefits of seaweed:
Iodine. This is something many people don't get quite enough of, and seaweed is hands-down one of the best food sources of it. It's important for good thyroid health and functioning, and considering its absence in salt sometimes, deficiency has become more prevalent.
Other minerals. Including calcium, magnesium and iron.
Vitamin C. Gram for gram, seaweed contains more than oranges! While seaweed is an amazing source of vitamins and minerals, we tend to eat it in smaller doses, so it doesn't always make a big impact. It's a great way to supplement fruit and veggie intake, though.
Anti-everything. Anti-everything bad, at least. Seaweed has anti-inflammatory, anti-viral and anti-bacterial properties making it a fantastic food for healing and immunity.
https://happybodyformula.com/wp-content/uploads/2017/01/10-seaweed-recipes-you-wont-say-no-to-493×1024.jpg
If you want to learn more about seaweed, check out our feature: Seaweed 101 & Why It's So Good For You.
Maybe, you aren't put off by seaweed, but simply don't know how to cook it at home. It's commonplace in Asian cuisine like sushi, miso soup and seaweed salad.
When you learn to use it in your own kitchen, though, you can really reap the benefits and get creative. Here are ten recipes you'll love, and some of the amazing properties of this superfood from under the sea.
1. Paleo seaweed & cucumber salad
 
Seaweed salad is a commonplace side dish if you're ordering out some sushi. It's unbelievably tasty, too, but it's often doused in mysterious sauces and oils. You can't be sure that you're not taking in all those health benefits without a dose of refined veggie oil or MSG.
Instead, make it at home with this recipe from Rubies and Radishes featuring cool cucumber. gluten-free tamari and good-for-you sesame oil which brings home the flavor.
2. Kale caesar nori wraps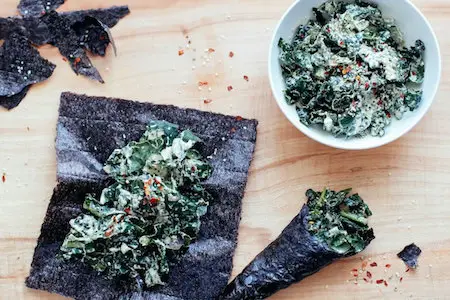 Caesar salad with a twist? We like it. Wrapped up in nori, this vegan recipe from Nutrition Stripped has tons of healthy spins with only the good stuff. If you're looking for a tasty way to pack in more greens, this is a super fun way to eat salad!
The caesar dressing is dairy-free to boot, using healthy fats from macadamia nuts and tahini to create that creamy, classic texture and flavor.
3. Quick kelp noodle soup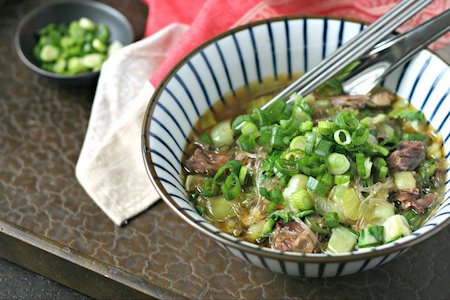 This dish is really easy to make, and it's perfect for those of you who are missing your noodles! Kelp noodles are super low-carb and rather tasteless, which isn't a negative; it simply means that they're super versatile, and you can use them in a variety of dishes.
A base of bone broth, beef, chile or jalapeno and tender bok choy make this cosy soup from Everyday Maven a fantastic option on a busy weeknight.
4. Kombu broth (vegetarian dashi)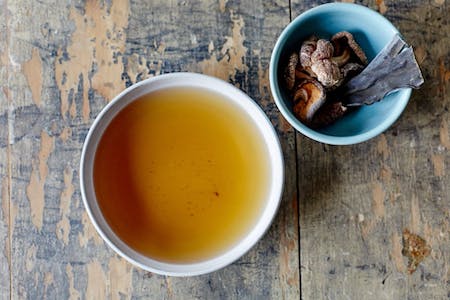 Dashi is a staple in Japanese cuisine, the way that many American recipes call for chicken broth or something similar – and you know we love our bone broth! Dashi has some serious umami, and just as many health benefits, though.
This broth is injected with flavor from kombu – a dried seaweed with loads of glutamic acids. Get the recipe from The Kitchn (and stock your freezer!).
5. Ginger salmon nori rolls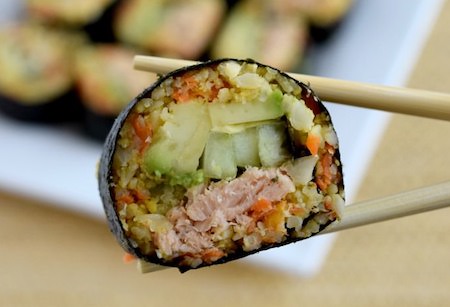 If you've got a craving for sushi, these hand rolls will hit the spot. They're grain-free, instead using cauliflower rice, and highly customizable so you can toss whatever you've got handy in 'em.
These ginger and salmon rolls from Hold the Grain are loaded with healthy fats, omega-3s and outta-this-world flavor for a simple and healthy lunch.
6. Korean rolled omelette with seaweed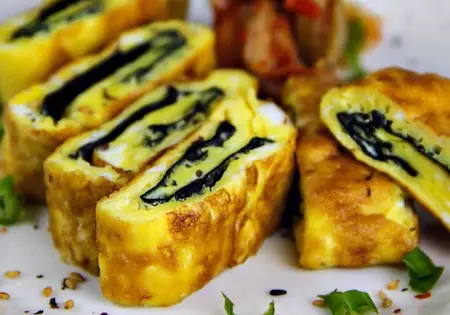 Seaweed for breakfast is an awesome way to kick off the day. This Korean omelette looks pretty to serve, and it tastes amazing.
It's also just four ingredients, and you could easily roll this up the night before to take with you on your way out the door. Get the recipe from Kitchenbowl.
7. Sweet potato & dulse quinoa bowl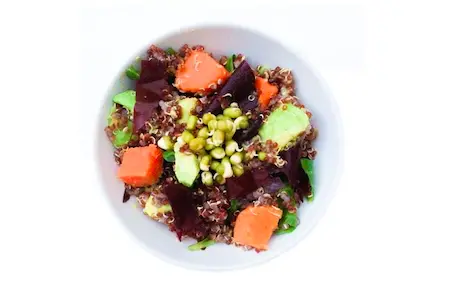 We're all about savory bowls, and this one fits the bill. It scores a 10/10 on both the delicious and nutritious boards considering its base of gluten-free, plant protein-packed quinoa, leafy green spinach, our favorite starch – sweet potato, and dulse which brings home that deep flavor and boosts this bowl's benefits even more.
Get the recipe from This Is Seaweed.
8. Classic miso soup with tofu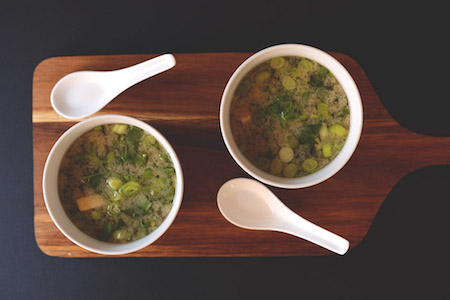 Classic miso soup might be another way you're rather familiar with eating seaweed already. It's a simple and nourishing dish no matter how you spin it, and if you don't eat tofu, you can easily add in some fish or shredded chicken to make it a main dish.
This 15-minute soup recipe from Minimalist Baker is no-fuss, and you'll love all the taste just a few ingredients bring into the mix.
9. Bulgogi Kimbap (seaweed rice rolls)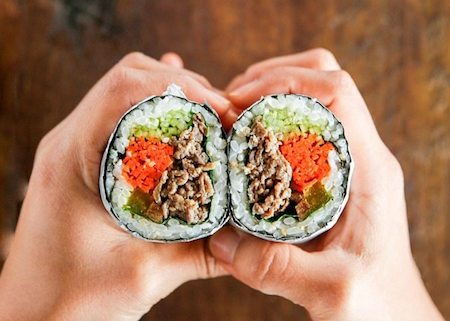 Kimbap is all about the fillings – can you tell? It might look a bit like sushi, but it relies on the flavor of what's inside so no sauce is needed, sort of like good BBQ. This version is filled with bulgogi, which is a delicious
Korean marinated beef. Seasoned burdock root and pickled radish with plenty of other veggies mean these are loaded with vitamins, minerals and some serious crunch. Get the recipe from My Korean Kitchen.
10. Seaweed pasta all'Amatriciana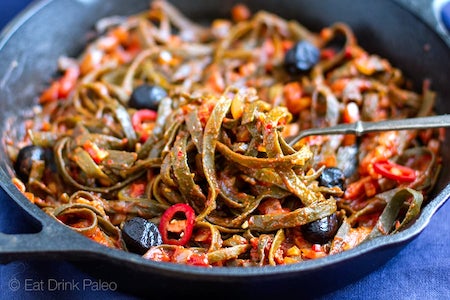 Seaweed pasta is a great way to substitute regular spaghetti, even in traditionally Italian dishes like this one. Sea pasta is rather neutral with a slight umami flavor, so it adapts to whatever sauce you'd like.
It contains all of those lovely seaweed benefits, and it's low-carb. This recipe from Eat Drink Paleo comes together with fresh passata and olives.
Have you used seaweed in the kitchen! Let us know how. Otherwise, what recipes are you looking forward to making? If you're feeling more inspired to use this superfood at home, share our tasty roundup from under the sea!
Music, mountains, dogs, travel, food and friends.