The holidays are the most wonderful time of the year for many. Naturally, gathering is about family, giving thanks and hopefully some time off from the hustle and bustle of daily life, but there's no doubt we get a little excited for something else – FOOD!
While we don't blame you for leaving behind grandma's Jello concoction, we do love a good opportunity to rework leftovers into a little magic. If you've got a big bird on display this year, you'll likely have quite a bit to work with the next day, if your friends and family are saving room for dessert.
Don't let that bird go to waste.
We have tons of innovative and nourishing ways to use up leftover turkey and take it to new levels, whether you're a brunch aficionado or you're craving a cozy bowl of soup.
https://happybodyformula.com/wp-content/uploads/2016/11/12-ways-with-leftover-turkey-pin.jpg
1. Brunch-spiration
Caramelised pork hash (left) can be done with just about any leftover meat, so if you want to extend Thanksgiving or Christmas dinner into brunch the next morning, this is the recipe for you. Toss an egg on it for good measure.
Also brunch-appropriate are the Vietnamese aromatic egg wraps, which you can toss just about any leftovers in and chow down on.
2. Get bready with it
This Thanksgiving bread is like stuffing in loaf form. It has all the quintessential ingredients plus some (we're looking at you, bacon). Top it off with some turkey and leftover gravy.
3. Make some turkey soup
Chicken soup is always popular, so why not mix it up with this turkey, broccoli and sweet potato soup from Plaid and Paleo? Better yet, use the bones from the leftover turkey to make your own bone broth.
If you're partial to creamy soups, this cauliflower chowder from Popular Paleo is perfect. It's nourishing with a pack of protein from the leftover turkey, and it's dairy-free.
4. Make broth… quick!
If you're efficient in the kitchen, you could have the turkey broth done before the tryptophan from all that meat makes you sleepy. Simply follow this speedy, fool-proof recipe for the Instant Pot from Raising Generation Nourished.
If you don't have a pressure cooker, the slow cooker or the stove top works – it will be a joy to wake up to the next morning!
5. Turkey casseroles & curries
This twist on chicken divan casserole features a dreamy, creamy blend of turkey and broccoli, perfect to transform those leftovers with just one dish. This recipe would also lend itself well to leftover roasted veggies, like green beans or brussels sprouts.
If you're craving Indian food with a little Thanksgiving tossed in the mix, this chicken tikka masala will make a beautiful dish with turkey instead.
The addition of cranberries really gives it that autumnal vibe, and you can even drizzle some homemade cranberry sauce on top with the coconut milk.
6. Turn it into pot pie
This pot pie is paleo-friendly, and it's also nut- and egg-free making it perfect for those following the AIP diet. The pie crust is super versatile, and you can easily pack it full of a variety of Thanksgiving leftovers, using turkey in place of chicken.
7. Frittata frenzy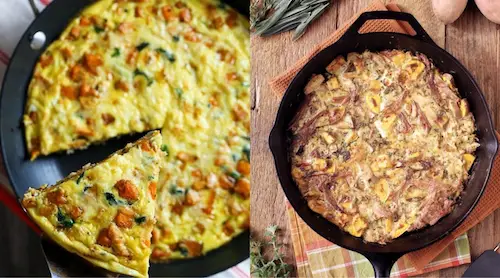 Consider breakfast made with these recipes. Turkey and sweet potatoes pair exceptionally well to encompass everything that is good about the Thanksgiving or Christmas feast tucked away in a gorgeous egg slice from Skinny Taste.
Break out the cast-iron for this protein-packed ham and turkey frittata from Real Simple Good. Toss in some veggies and fresh herbs to make it complete.
8. Make it bite-sized
Who doesn't love bite-sized food? These sliders otherwise known as Thanksgiving bruschetta are served on sweet potato rounds, and they're a fantastic way to pair up turkey and homemade cranberry sauce the next day.
Who doesn't love a simple, three-ingredient lunch? If the food coma is still in full effect the next day, this recipe is low-effort enough to get you going.
9. Veggie vessels
It doesn't need to be complicated. These stuffed sweet potatoes from Beyond the Bite 4 Life include plenty of veggies and a squeeze of lime for an interesting spin on flavor.
Both of these recipes lend themselves well to just about whatever you've got on hand. We love these Thanksgiving-esque lettuce wraps stuffed with a turkey salad using clean mayo, chopped celery, toasted walnuts and a sweet addition of grapes and persimmon.
10. Scrumptious salads
Sometimes, it's best to go light the day after Thanksgiving or Christmas. It's pretty notorious for overindulgence!
This turkey kale salad is the perfect way to 'detox' from a heavy meal the next morning, with plenty of raw veggie power, tossed with leftover poultry and roasted veggies plus a simple, no-fuss olive oil dressing.
Salads are also perfect for those celebrating the end of year in the warmer countries.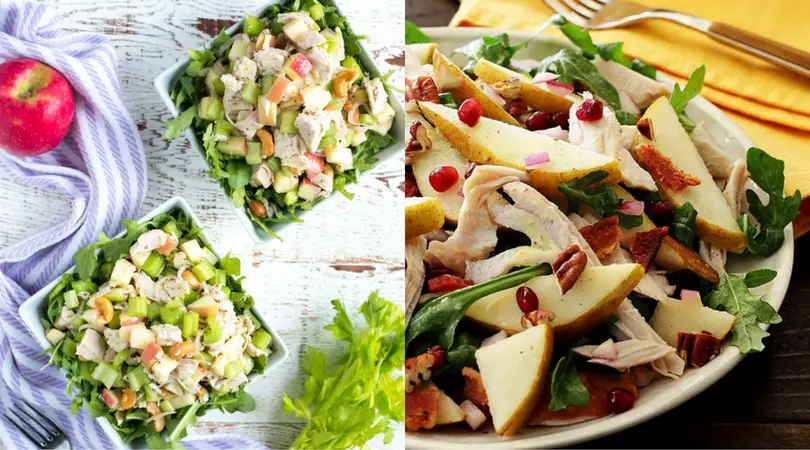 Seriously, you can't go wrong with greens the next day! We all know we need a post-holiday 'cleanse' sometimes. This one-bowl harvest salad uses up some fall-spiration, packing in those seasonal flavours into a light, summery dish like apples, celery and roasted cashews – yum!
Apples and pears – we all have our favorites. For those of you who prefer the latter, this leftover turkey salad is the jam. It features crisp fruit and a vinaigrette to match.
You'll love the blend of toppings from crisp bacon to tart pomegranate arils and crunchy pecans.
11. Sandwich it
Is this the ultimate Thanksgiving leftover recipe or what? Steph from Stupid Easy Paleo isn't messing around. It has everything you love about the feast the night before: succulent turkey, sweet cranberry relish, toasty brussels sprouts, and gorgeous sweet potato buns (no marshmallows or brown sugar required).
This is the way to go, and the recipe is grain-free. If you're feeling a bit less inspired, consider a nice gluten-free bread for your canvas instead.
12. Thanksgiving gone Mexican?
Yes, it's possible! Those gorgeous enchiladas from Kim's Cravings are packed with butternut squash, fresh sage and salsa. The cranberry salsa on top is really where it's at though; have you ever tried combining the antioxidant-rich fruit with cilantro? No? You should.
You can't go wrong with tacos. Have you ever had a taco you didn't like? Nope? Didn't think so! These paleo tortillas are rich with fibre and omega-3s from flaxseed, and they're full to the brim with fajita turkey and pomegranate-apple salsa.
You've gotta make it to believe it, and don't forget a generous dollop of coconut yoghurt or cashew cream on top. Get the recipe from Peachy Palate.
So, how will you be using up your Thanksgiving and Christmas leftovers? If you choose one of our picks, share it with us! Post-celebratory brunch is just as important as dinner. Happy holidays!
Music, mountains, dogs, travel, food and friends.