Along with the rest of the world – the paleo community in particular – I have fallen in love. Deeply, madly, unconditionally in love… with my Instant Pot. If you want to know more about how I feel about it, you can read my honest review of this kitchen staple.
I was a big proponent of my slow-cooker prior to my new appliance's arrival for a few reasons, namely the ease of it. Even if you love to cook, you might not always want to cook three meals a day.
The crock pot also provides that unbeatable texture and flavor that surface from setting it on low for eight hours. Tender, fall-off-the-bone meat and the natural juices making an effortless sauce for a pile of veggies on the bottom? Count. Me. In.
The Instant Pot does all that and more in record time. It's perfect for both meal prepping and cooking on the fly, and quickly.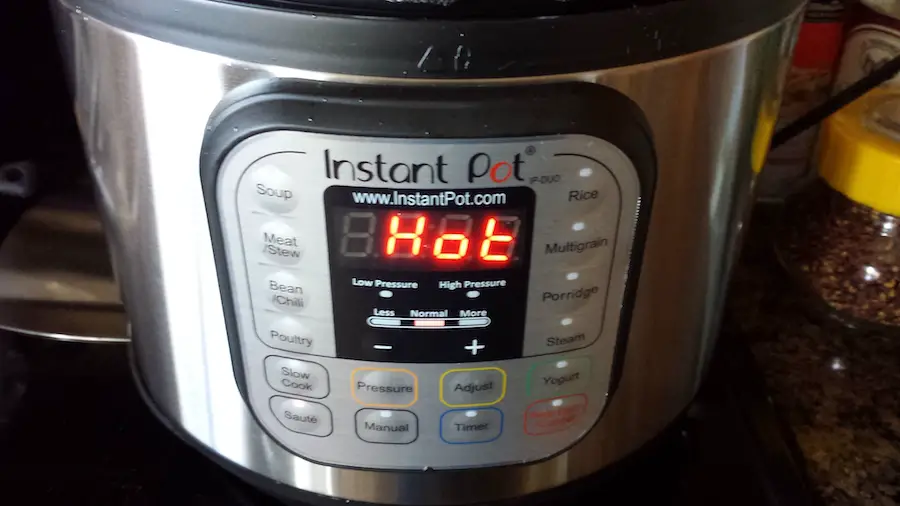 You'll quickly found out that you can make everything in these miracle pots including – but not limited to – large, inexpensive cuts of meat, perfect bone broth, and coconut yogurt. Oh, and cheesecake.
Everything from warm and cozy, sweet to savoury, and snack time staples like boiled eggs are made simple with the Instant Pot. Here are some great starter Instant Pot recipes that you'll keep coming back to.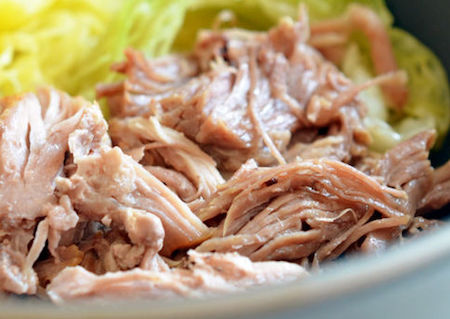 This is one of those recipes that pops up on real foodie's Instagram feeds pretty regularly. You're bound to see the leftovers reworked into countless dishes, or served fresh with a side of cabbage. The kalua pork is a mighty dish on its own or as an ingredient in something special.
Either way, this is one of those quintessential Instant Pot recipes. It's incredibly easy, and it uses pork shoulder which won't break the bank. This will be on your make ahead menu for months (or years) to come.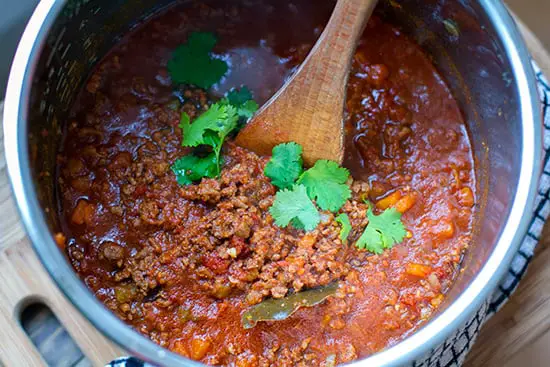 Bolognese is super tasty, and it freezes fabulously. This is a staple in any real food home to serve over gluten-free spaghetti or zoodles. It also goes well with a simple base of steamed veggies or spaghetti squash (which could also happen in the pressure cooker!).
It's all about getting the perfect flavor and heartiness. Get the recipe from Instant Pot Eats.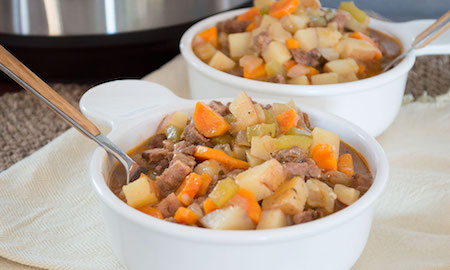 Beef stew is hands down one of the greatest comfort foods of all time. It's warming, cozy, and filling with all the veggies piled high amongst tender meat and juices. Often, it's also one of the most time-consuming recipes.
Usually, it's a game of letting the mixture simmer for hours just knowing that the longer it cooks, the better it will taste. With the Instant Pot, you can turn that tough stew meat into incredible, edible amazing-ness in record time. Get the recipe from Our Paleo Life.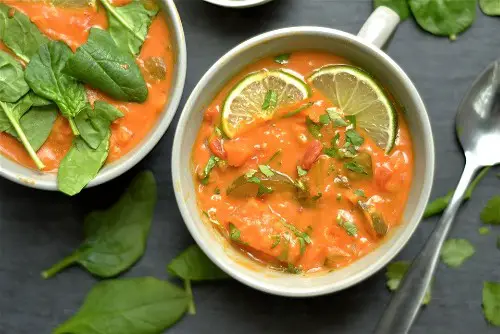 This recipe isn't only paleo, but it's meatless so it's perfect for a quick protein detox or for keeping your Mondays vegan or vegetarian-friendly like we recommend doing in the 30-day Happy Body Formula program.
It's vibrant, full of vitamins and minerals and super hearty with sweet potato, creamy coconut milk, zucchini, and bell peppers – you won't miss the meat, but you could add some simple shredded chicken or steamed prawns if you like.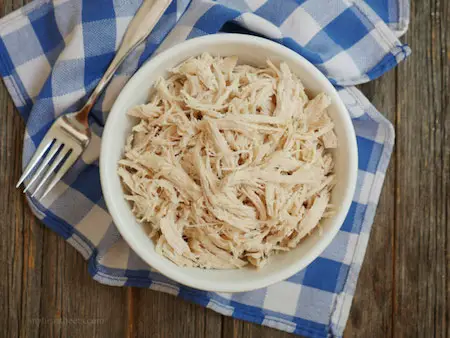 Chicken salad? Sure. Chicken soup? In a pinch. Lettuce cups for lunch? In the lunch box and ready to go. Quick and easy protein after a workout? You got it. A big ol' batch of shredded chicken is one of the most versatile pre-planned protein options you can possibly have handy.
With the Instant Pot, a big batch of this is so much simpler than baking or frying, and it takes far less time than slow-cooking. Check out these 15 recipe ideas using shredded chicken.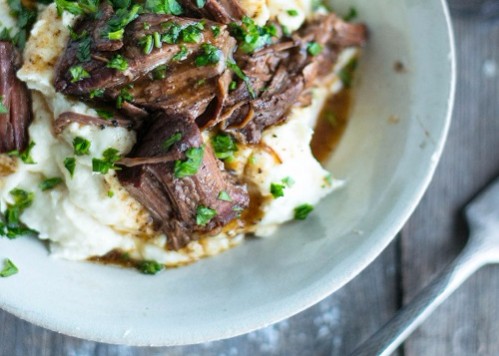 Pot roast is amongst the quintessential paleo and low carb pressure cooker recipes. Add some balsamic to the mix and a few other basic ingredients and you've got a seriously delicious and rich meat dish to serve atop mashed cauliflower or potatoes – you choose.
This is the perfect meal for batch cooking or packing up to take to the office for lunch.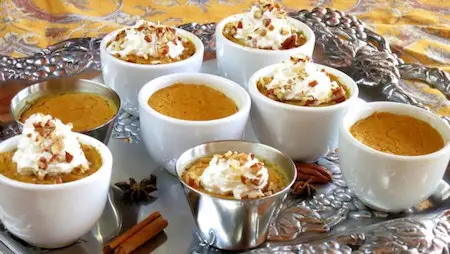 Amongst the most beloved Instant Pot recipes are those for cheesecake. Turns out, a properly-fitted springform pan in the pressure cooker is all you need, besides the ingredients. Unsurprisingly, most aren't exactly paleo-friendly.
This pumpkin pie uses butternut squash, coconut milk, and maple syrup for a simple and clean ingredients list, and you can make them single-serve style with oven safe ramekin dishes. Here are more of our favourite healthy pumpkin recipes.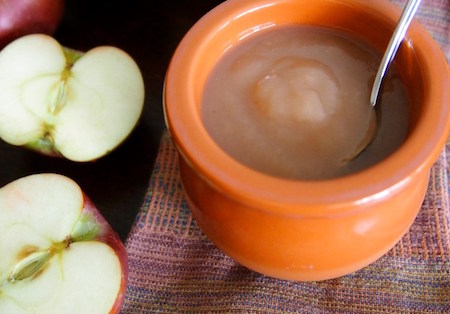 When the picking is good, we might find ourselves with a never-ending supply of apples. You can sneak a peek at the best paleo apple crisp recipes here. The simplest way to preserve the harvest is by making big batches of applesauce.
It's a great snack, it works well in baking as a sweetener and an oil substitute, and it pairs well with poultry. You could even jar it up and pack it up as a holiday gift.
The Instant Pot turns the daunting task of canning into something feasible and even enjoyable. More Instant Pot apple recipe ideas here.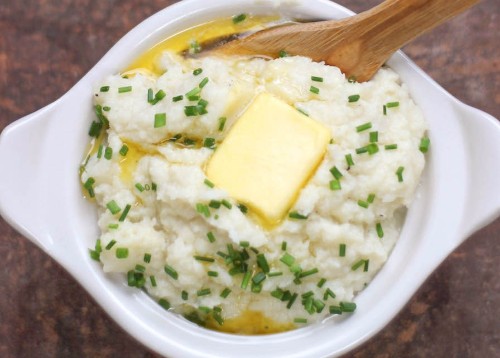 If you're skipping out on potatoes, you need something to pile up your pot roast pressure cooker creations on! This cauliflower mash is so simple to make in the Instant Pot – it literally takes a minute to steam it!
All you have to do is blend it and top it off with a generous pat of butter and you're totally good to go. This is great for those of you who need some low carb pressure cooker recipes or a simple side to add to the rotation.
Making your own batch of coconut yogurt just feels intimidating. It's one of those things that will inevitably save you money and add amazing variety to your diet after eliminating dairy, but it's hard to take the first step. With the Instant Pot, it's an easy feat with just three ingredients.
The appliance itself has a 'Yogurt' button, so there's literally no excuse to keep buying store-bought. No additives, no sweetener, just plain probiotic-packed deliciousness.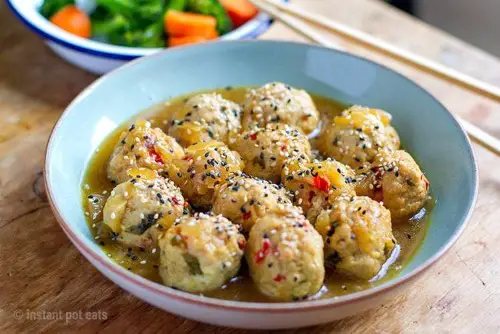 Curb your takeaway craving with these turkey meatballs! This is the perfect dish to make for stashing leftovers in the freezer.
The turkey meatballs are cooked in a Japanese-inspired teriyaki sauce with no refined sugar or MSG, and the recipe has a soy-free adaptation so it's a 100% paleo pressure cooker recipe.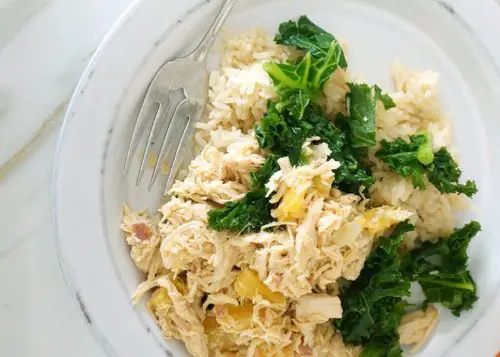 This is the perfect way to switch things up if you're used to batch cooking plain chicken. While a simple whole roasted chicken is packed with flavour and super versatile, sometimes we need a little variety.
Consider this the spice of life. This tropical recipe is the perfect combo of salty, sweet, and smoky, plus it will yield the most delicious leftovers for paleo burrito bowls or piling atop steamed greens.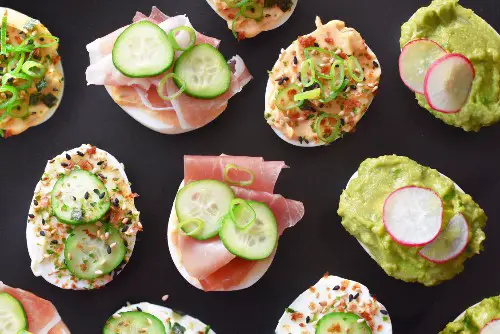 Boiling eggs isn't exactly hard whether you choose to do it on the stove top or by baking 'em in the oven. It's one of the easiest ways to prepare a protein-heavy snack ahead of time, and it's incredibly budget-friendly.
The truly difficult part? Peeling 'em. With the Instant Pot method, your eggs are ready in just five minutes and the skin comes off effortlessly. These Instant Pot recipes are designed to make your life exponentially easier, especially this one.
Check out this technique including instructions for those gorgeous deviled eggs from Nom Nom Paleo.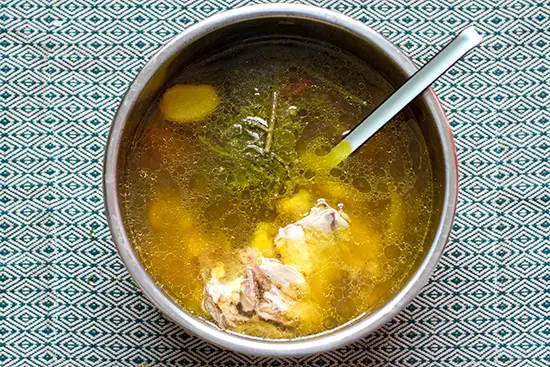 You want your bone broth to gel every time? This recipe is it. The Instant Pot makes it easy to get an awesome final result every time. It takes just 1.5 hours from start to finish, and the flavor is out of this world.
The pressure cooking allows you to use far less veggie scraps than you would in a slow-cooker or stovetop recipe. You'll never make broth any other way.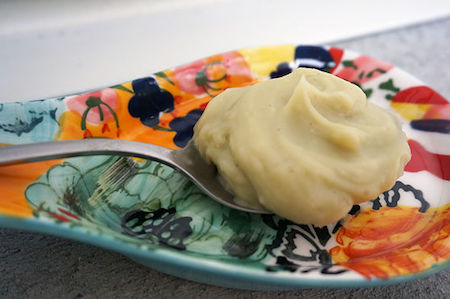 What would a roundup of Instant Pot recipes be without a little love for starchy sides? You can make potatoes in a million ways with your new handy-dandy kitchen appliance, but it's true abilities will shine through when you go to cook your sweets whole.
No more waiting (impatiently) for the oven to get that perfect spud. You can have mashed, silky sweets with no fuss using a little bit of that perfect batch of bone broth.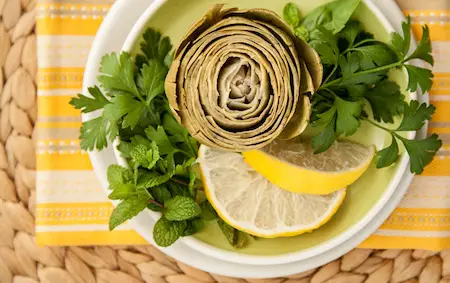 The Instant Pot isn't only good for making meat fall-off-the-bone tender; it's great for quick veggie sides. Artichokes are an often overlooked side dish, but the pressure cooker makes preparing them simple and effortlessly delicious.
Dip in some warmed ghee for an awesome treat. This dish comes out of the pot dressed to impress.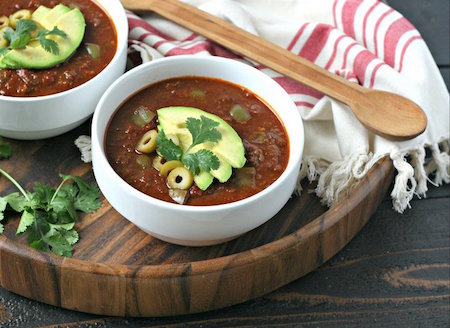 One of the healthiest, most nutrient-dense foods on the planet is offal. Unfortunately, it's not everybody's cup of tea (or bowl of chili, in this instance). The good news?
There are people out there on a mission to make organ meat taste really, really good – even to those who are skeptical. This pressure cooker chili is highly nutritious, and it features beef heart. Shh – nobody will ever know.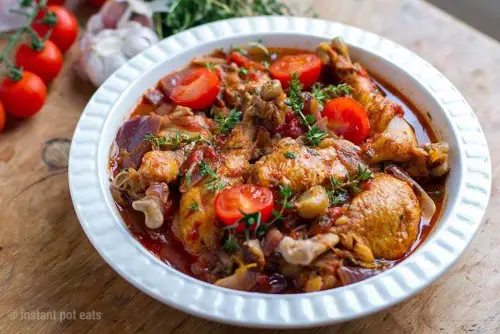 This fall-off-the-bone chicken is perfect in a rich, Italian-inspired tomato sauce with fresh herbs and loads of fresh garlic. You can serve it over rice, pasta, roasted potatoes and other veggies or mashed cauliflower.
Any which way, this delectable meal makes a hearty, gorgeous, protein-packed sauce.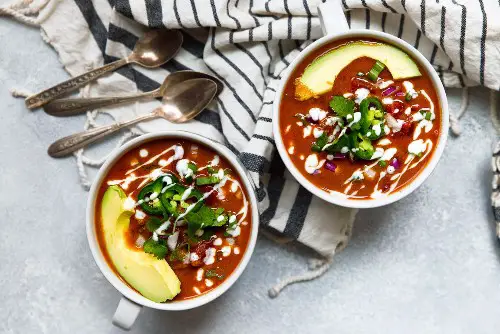 If you can't have tacos, have taco soup. It's effective and it's delicious. Plus, it's a minimal ingredient recipe with loads of flavor and you can make a big batch for the week.
This is one of those Instant Pot recipes you'll make over and over because the family will adore it, and you'll probably have the ingredients handy often. Coconut milk makes it nice and creamy, and the avocado slices on top will cool things down a bit.
Get the recipe from The Movement Menu.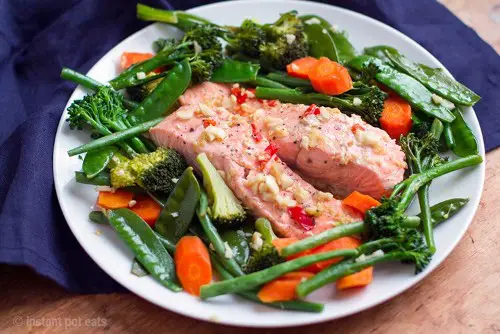 Simple steamed seafood comes together beautifully in the Instant Pot, and it goes without saying that it's done in a flash. This meal will take just 15 minutes from start to finish for a simple meal that tastes much like stir-fry but without the stirring.
Who could complain about that. Sub out Tamari for coconut aminos to make it 100% paleo.
For more paleo pressure cooker recipes, check out this round up from Instant Pot Eats.
Purchasing an Instant Pot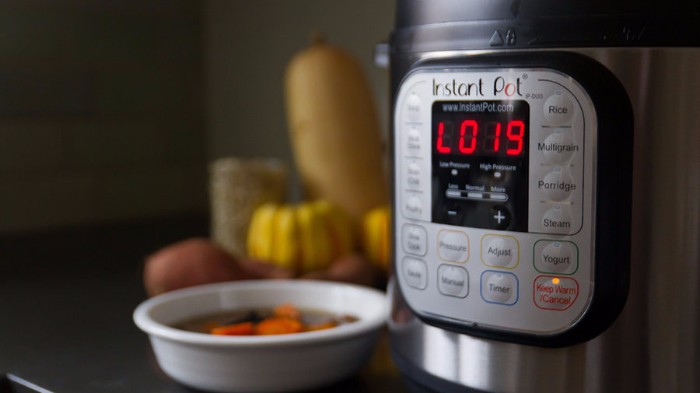 If you need some help choosing which Instant Pot is right for you, let me help! Read more about the differences between each model below. The major difference with the Instant Pot is in its powder versus the slow cooker which you might be used to.
The Instant Pot actually has a slow cooking function, so you can ditch your old Crock Pot altogether. The pressure cooker uses pressure which is why most of the recipes you'll make take less than 30 minutes to make! It breaks down the food much quicker which is its major advantage.
BUYING ON A BUDGET: Instant Pot IP-LUX60 V3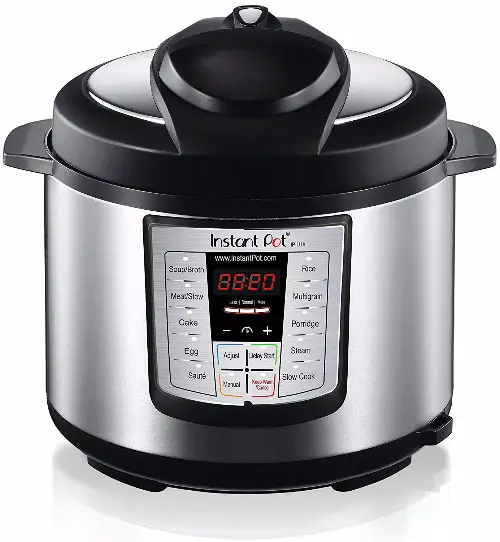 If you're buying on a budget, you can't go wrong with this model. It runs at just $79 USD and it actually cooks for the longest amount of time at 240 minutes compared to 120 minutes on the other versions!
It's slightly smaller than the 7-in-1 although it still has 6 QT capacity. It also has buttons for cake and eggs – the important things.
BASIC INSTANT POT NEEDS: The Instant Pot 7-in-1 6QT/1000W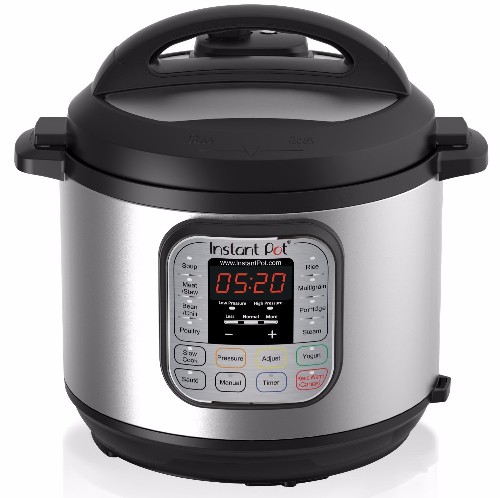 This is basically all you need! The 7-in-1 differs from the others because it has the coveted yoghurt button which makes homemade yoghurt – dairy or non-dairy – a breeze. It's pretty affordable, too, coming in at $99 USD. P.S. it occasionally goes on sale on Amazon, so it doesn't hurt to keep an eye out!
This will perform all the functions you could possibly need when looking at recipes for the Instant Pot and most other electric pressure cookers. It also has a 'browning' function so you can start and finish your recipe in here, even if you need a good sear ahead of time.
SPLURGE: Instant Pot Smart Bluetooth-Enabled Pressure Cooker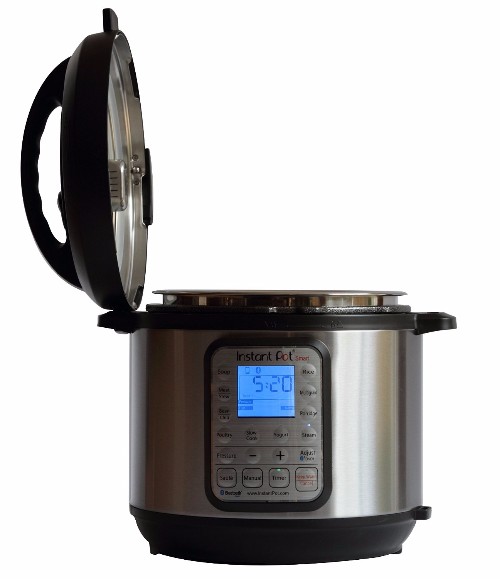 If you need a little something extra, this Instant Pot is approximately the same thing except it has Bluetooth capability. That means you can feasibly cook from your phone.
It's got 14 built-in smart programs, dual pressure, automatic keep-warm and 3 temperatures for saute, slow cook and keep-warm so you have loads of control with this machine. It costs just $50 USD more, so if you're more tech-y, this might be worth the investment.
What is your favourite dish to make in the Instant Pot? Share your best pressure cooking recipes with us below.
---
Share this round up on Pinterest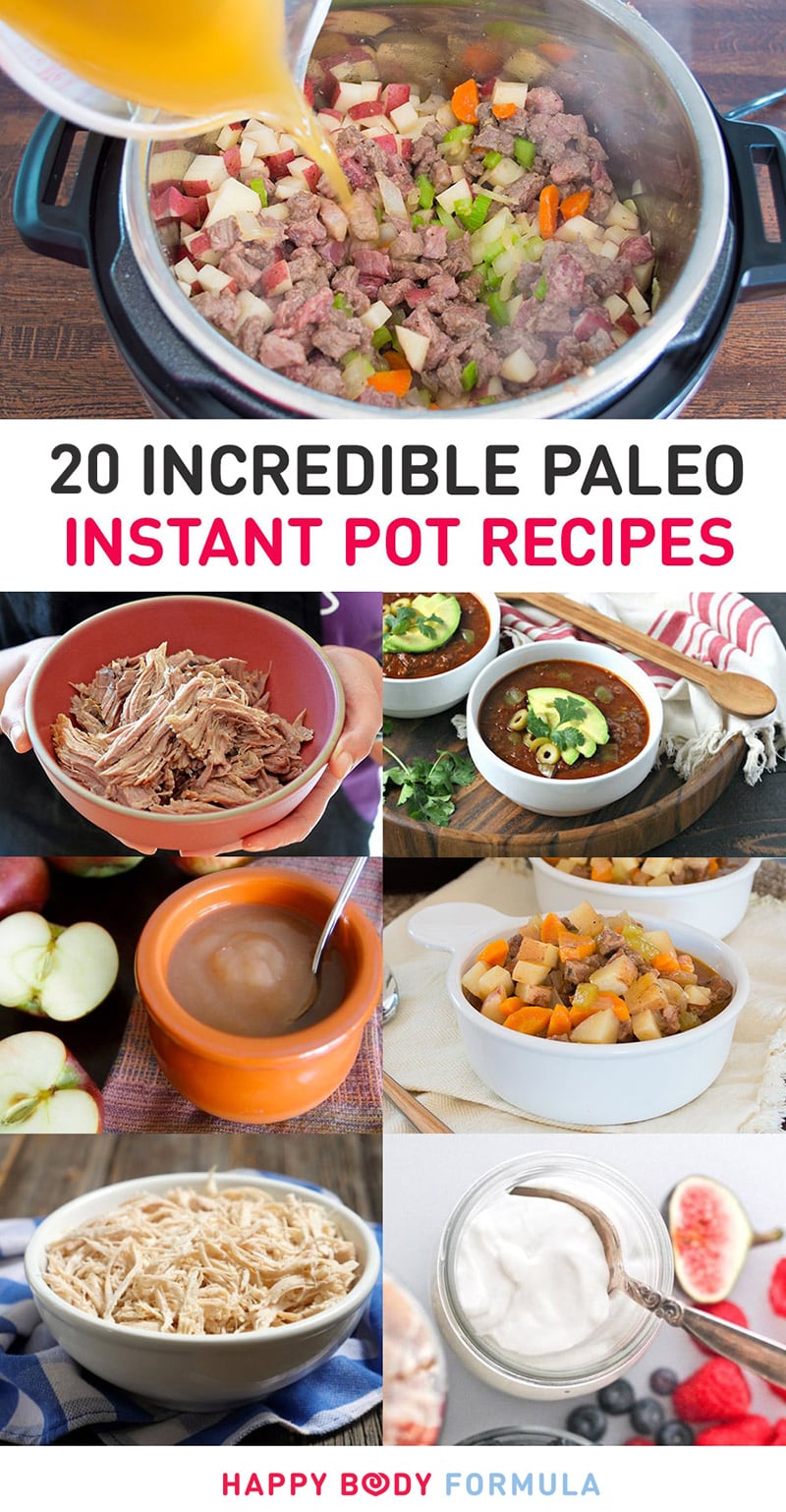 Music, mountains, dogs, travel, food and friends.