You have probably heard it a million times over. The team here at Happy Body Formula is especially adamant about this phrase: "Failing to plan is planning to fail."
It inspired our 7-Day Make Ahead Meal Plan, and it especially inspired the entire 30-day program. Our jam is the plan so your jam can be reaching your goals.
Chances are, you've learnt this lesson from experience. An even likelier possibility is that you learned this lesson through failure. So, what exactly does this entail when we embark on a journey toward health?
It means this: MEAL PREP. Yep. The cat is out of the bag.
If we know what we're doing that sets us up for failure, why don't we take action? Well, paleo meal prep takes time which is something many of us don't have much of to spare.
Scratch that thought – you do have the time. When it comes to an investment as important as your health, you can make it happen… promise!
A paleo diet – or a healthy lifestyle change in the most general sense – is almost always simple in theory: eat vegetables to your heart's desire, consume meat from good sources, have fish a few times per week for good measure, include healthy fats with every meal, and moderate your fruit and nut consumption to avoid weight gain.
When hunger strikes unexpectedly though, the story changes. Let's make it simple in practice as well; here are the steps to easy, paleo meal prep which will be the key to you making a plan and sticking to it.
1. Quit cooking as your hunger strikes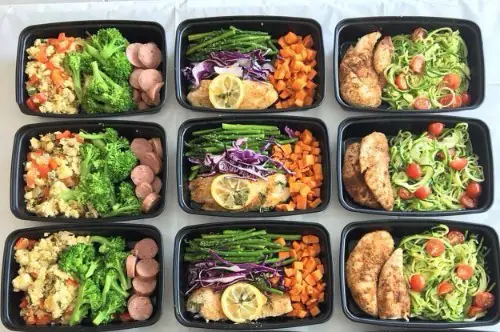 Better yet, stop buying meals as you get hungry! If you have the luxury to cook as you go, embrace it sometimes. Truthfully, most of us don't want to cook three times a day anyway.
Having food already prepared in your fridge is beneficial to anyone, even those of you who work from home. Spontaneity is good sometimes, but it's not always convenient and it can seriously derail us.
The food that is convenient is often toxic; this is easily learnt by strolling the aisles of the grocery or stopping at a fast food joint while running errands.
Meal prep means that you won't end up in these deep, dark places. By having meals ready, you don't completely eliminate guesswork or fun from eating either.
You may run out of a side dish before the week is over, but you can create a new one based on the protein you do have.
Just because you have a fridge full of leftovers doesn't mean you can't be creative while cooking-as-you-go. It just means that you will be inclined to make better choices, even when you get hangry (hungry + angry).
2. Make batch-cooking a non-negotiable weekly routine
You will be pleasantly surprised at how much fun it can actually be. Save 2-4 hours each weekend for cooking. In the beginning, it might feel stressful and time-consuming.
In reality, it will save you loads of time. This is especially true for those of us who tend to face the unexpected; staying late at work, an event with the kids, getting stuck in traffic, etc.
When our schedules change, the luxury of having the time to cook is eliminated and we can't be too naive to think this won't happen. Meal prep is preventative action.
Turn your kitchen into a space you absolutely adore. Declutter the area, make a much-needed update, or simply embrace what you're workin' with.
Do what you can to look forward to that slot of time each week. Download a good podcast, listen to an audiobook, or turn up your favorite record. It will pay off.
3. Update the toolbox
Certain kitchen appliances can cut your batch-cooking time in half. I rely heavily on my slow cooker and my food processor.
With the slow cooker, you can use the oven for dishes that need to be spread flat or a meal best cooked in a glass baking dish. The food processor easily chops and purees vegetables, meat and dough batters.
Spiralizers, the Instant Pot, and the Vitamix are also very useful investments. The spiralizer can keep you inspired with zoodle dishes and more.
The Instant Pot is incredible for cooking things like stew, whole roast chicken, boiled eggs, chili dishes, curries, pulled pork, and even cheesecake (we won't tell) in record time while being entirely hands-off.
The Vitamix is fantastic for smoothies, soups and all your blending and processing needs.
Bonus: a legitimate excuse to buy yourself presents! Yep, you deserve it.
4. Always prep your veggies ahead of time
Chop, spiralize, or food process your favorites so they're ready for quick sautéing, roasting, salad-making, or just plain snacking. Even just prepping your veggies will make cooking delicious, healthy food easy and quick to do throughout the week.
Think along the lines of simple 'cleaning out the fridge' veggie and meat dishes or sheet pan meals.
Chances are, you will run out of vegetable sides a lot quicker than you will protein. When you have food at your disposal ready for fast cooking like steaming and stir-frying, you won't be tempted to choose pre-packaged food out of convenience; your fridge is already full of stuff that's just as convenient so you stick to your paleo weekly meal prep.
Pick up your favorite frozen vegetables each week for the same reason. The same rules apply to preparing for paleo batch cooking. Wash, chop, and dice all of your ingredients throughout the day before.
That way, when you get into the kitchen the next day, you'll be ready to focus entirely on cooking.
5. Choose one large piece of meat to cook each week, and turn it into multiple dishes
Shredded chicken is easily converted to chicken salad and chicken curry. This way, you won't get bored, and just as importantly, you won't run out of protein.
One of the most common complaints about leftovers is the monotony – choose a versatile protein and get creative. Use it in many dishes throughout the week for a tasty variety of paleo meal prep ideas!
Shredded chicken can also become tacos, or you can throw it in an omelet for a protein-packed breakfast.
Mix it up with some bacon and toss in some greens. Use it in a cabbage and pepper stir-fry. Switch up your batch roast weekly.
Some other fine options are beef chuck, pork shoulder, and lamb leg. The flavor from roasting or slow-cooking one of these is untouchable with a few fresh herbs and sea salt.
These recipes also tend to involve the least amount of effort put forth. Hands-off cooking is going to keep you sane during your batch-cooking sessions!
Did I mention this was a guide to easy paleo meal prep?
6. Pre-assemble mason jar salads
Layer it up. Make a variety. Use homemade dressings. Put the dressing at the bottom, layer sturdy vegetables on top, and cap it off with the leafy greens. The trick to making a successful jar salad is in the order.
Pack up protein and additional toppings before you head out the door. Canned fish, boiled eggs, and portions of batch-cooked meat will pull a salad together with ease; there is no longer an excuse for sad desk lunches or ordering out.
Jars are inexpensive and handy for packing food and storing it; get your hands on a few like these ones and make easy paleo batch cooking *gasp* even easier! Make sure that you follow the order mentioned in the beginning to prevent the base of your salad from getting soggy.
Bonus: everyone at the office will see how vibrant and healthy your lunch is when it's packed in a jar. Who doesn't want to turn a few heads with their awesome salad skills? These are hands down one of our favorite make ahead paleo meals and office lunch ideas.
7. Learn about what you can and cannot freeze
This is one of the things we place an emphasis on teaching our 30-day Happy Body Formula program participants. Most cooked food can be preserved in the freezer.
The easiest foods include ground meat dishes like burgers and sausages, savory and sweet muffins, stews and curries, and homemade sauce.
The best method of storage by far are large, plastic bags that can lay flat and be labeled.
Be careful with mason jar storage as they are prone to breaking with temperature change.
Parchment paper in between items of food make it easy to remove one or two at a time, and it's also safe for the microwave or oven making reheating a breeze.
As a rule of thumb, freezing produce with a high water content or fat content won't work. Unless cooked or blended, do not freeze zucchini, cucumber, citrus fruits, avocado, or celery.
If you want to freeze vegetables, this can be done by giving it a quick steam first (i.e. broccoli, cauliflower, brussels sprouts, greens).
8. Go with a theme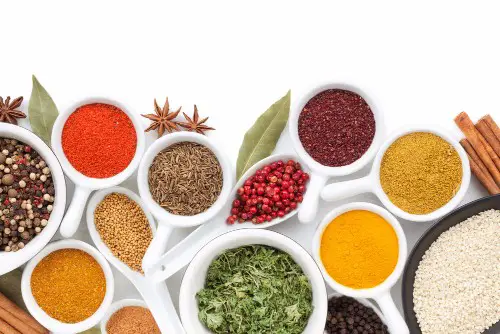 Choose a flavor profile and run with it. Gather up herbs and spices both fresh and dried that will complement each other well and work in all of the dishes on your menu.
Using curry powder, for example, or a good Italian blend keeps things super simple and easy to pair up with new foods later in the week. Choose a theme that lends itself well to everything on your menu if you'd like to embrace the minimalist cook strategy.
First, you'll cut down your grocery list. By following recipes exactly, we tend to run up the bill on ingredients like spices that are easily replaced by what we already have handy.
Second, you can mix and match dishes throughout the week. Your sides and proteins will all come together well which means you won't be eating the same thing every night.
9. Put your recipes on paper
One of the handiest tools I have in my kitchen is a giant clipboard on the wall. When I get ready to meal-prep, I print out my entire menu. I simply pin the instructions to the board and rotate them out as I work through each dish.
You can use recipes from the internet or pin up recipes from your own personal family collection. Either way, it's good to have a way to revisit the instructions without having to use your hands – they will be occupied!
I usually enlarge the font so that I can easily read it from anywhere in the kitchen, and this is my pro-tip to you. While it's good to reference the recipe throughout the process, it's important to read the recipe before you begin!
Some dishes are better with a marinade, and some ingredients work best at room temperature. Do your homework for the best results, but don't move your eyes from the prize.
10. Stick to the list
Take into account everything you need including your typical snack foods and kitchen staples. Read your recipes twice and make sure you've outlined everything that you need.
Categorize the list so your shopping trip is simple.
Shop at a market that you know like the back of your hand; if the broccoli is on the other side of the produce section than the apples, put it first on your list.
Another hard feat to tackle while transitioning to paleo is the new rules of the grocery store. Sure, you've heard to "shop the perimeter," but this is merely a guideline.
Generally speaking, this is where the healthy stuff is hiding out, but you have to plan for the times you'll need to delve deeper.
Set your plan in stone and don't stray too far. Pre-packaged items should be limited to cooking fats, coconut products, nuts and seeds, spices, compliant sauces and salsas, and non-dairy milk.
Keep it simple and take note of the pantry and fridge staples you run out during the week so you don't have to put too much effort into navigating the (tempting) aisles.
Are you convinced that you have the time now? The most daunting aspect of easing into a healthy lifestyle is navigation. We embark on a journey excited to absorb all of the new information at our disposal only to be discouraged by the vastness of it all. Fear not!
From the list to the store to the kitchen to the table, this comprehensive guide to paleo meal prep is the key to your success. We all get busy, but we all get hungry too!
Putting in the extra effort to make a plan will unlock the magic within, or you can let us do the work.
Music, mountains, dogs, travel, food and friends.