When you think of Italian cuisine, there are likely two things that come to mind first: big slices of pizza pie and heaping plates of pasta. In either case, we can agree on one thing – the more cheese, the better. You might be disappointed to know there won't be any pizza or pasta on today's list, but we simply hope to expand your repertoire when it comes to dishing out good, authentic-tasting Italian recipe at home.
While Italian fare is notoriously heavy, doughy, and cheesy, we're lightening things up with some healthy Italian recipes featuring some staple ingredients like eggplant, zucchini, fresh basil, ripe tomatoes, and more. These recipes are gluten-free and while they aren't as rich on the surface, the flavour certainly will be.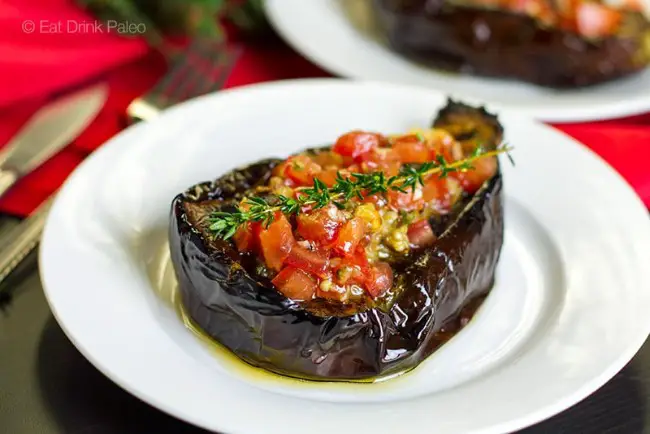 Salsa isn't generally considered Italian cuisine, and you might be thinking, "Where are the tacos?" This meat-free, vegetarian-friendly dish features a gorgeous, buttery, mushroom-y baked eggplant and the salsa is infused with fresh thyme, garlic, and olive oil to bring it that flavour. You can stuff the eggplant additionally with ground beef or shredded chicken for a protein boost.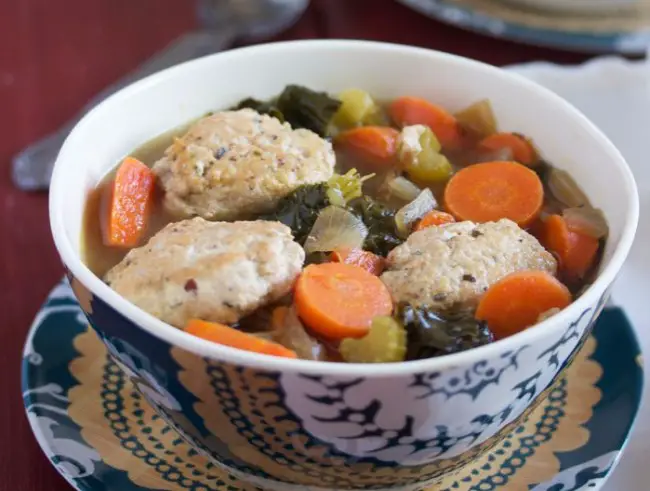 Growing up in an Italian home, my mother's wedding soup was an absolute staple – and one I looked forward to! She would cook a HUGE batch each Christmas Day and hand it out to family and friends. Yep – it was that good! It will always hold a place in my heart, so this grain-free version is a fantastic way to get your fix without the noodles. A sprinkle of Parmesan on top, though? That's a must!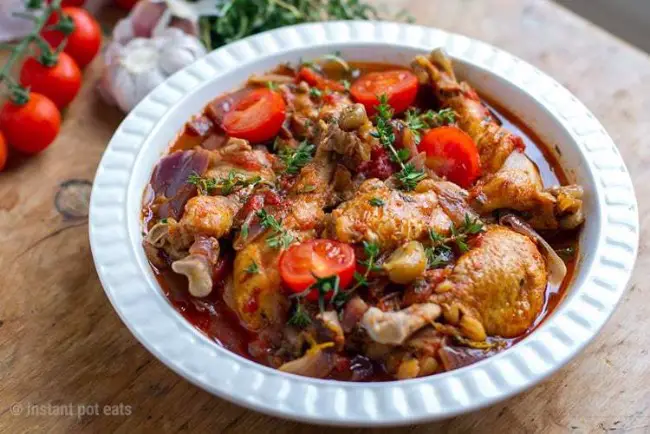 If you have an Instant Pot, you're definitely going to want to break it out for this quick and easy meal. These drumsticks will pair well with a bed of rice, pasta (yes, we said it!), potatoes, or steamed green veggies. In just 30 minutes, you get fall-off-the-bone, tender meat infused with fresh herb flavour and juicy tomato sauce.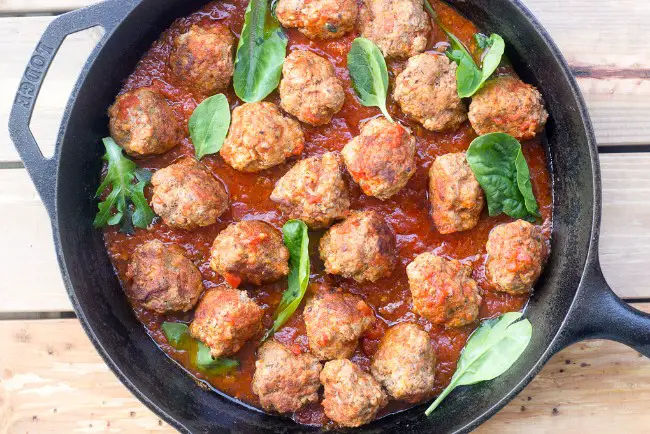 These are low-FODMAP and Whole30-friendly, so what more could you ask for? They're a perfect big-batch meal to prep ahead of time and toss in the freezer, too. Each meatball is bursting with a glorious blend of pork, lamb, and beef for max flavour and juiciness, plus an Italian mix of dried herbs. Serve over spaghetti squash or munch on a couple when you're feeling peckish.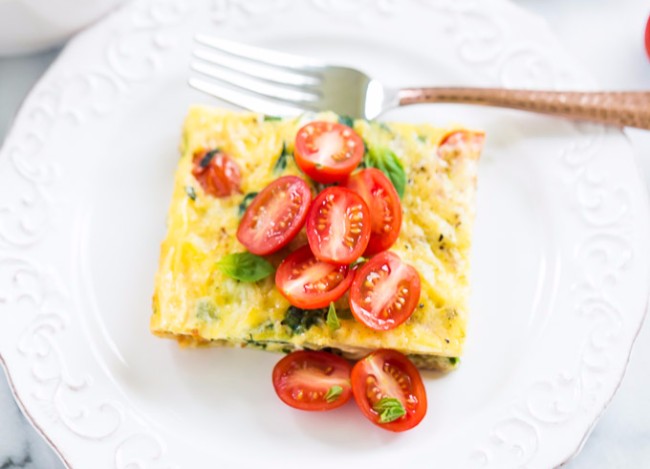 Italian food for breakfast? Duh. Wake up in Italy with a slice of this egg bake, loaded with spinach and Italian sausage. Sharp white cheddar and garnishes of cherry tomatoes and leaves of basil bring this meal together, plus it tastes great hot or cold and you can tote it out the door for a healthy, filling breakfast on your way to the office.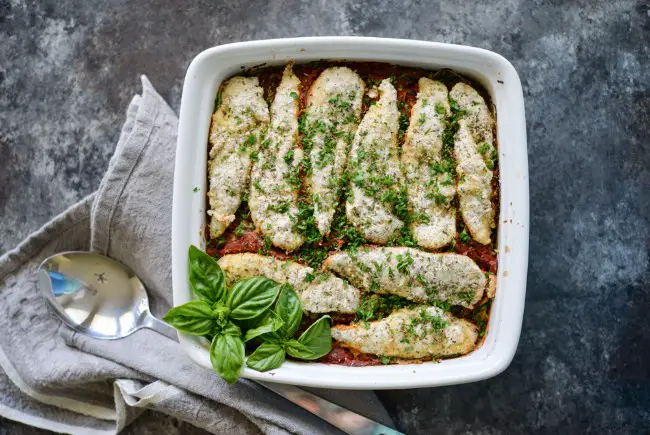 Homemade, sugar-free marinara sauce and a grain-free paleo "bread" crumb make chicken Parmesan easier than ever. Tasty, healthy casseroles are one of the most efficient ways to cook, and you know we just love 'em. You can serve this over zoodles or spaghetti squash to make it a full meal, or simply have a salad on the side. Don't forget the Italian dressing! For similar dishes, stock up on Rawmesan a.k.a. a dairy-free, raw foods cheese alternative.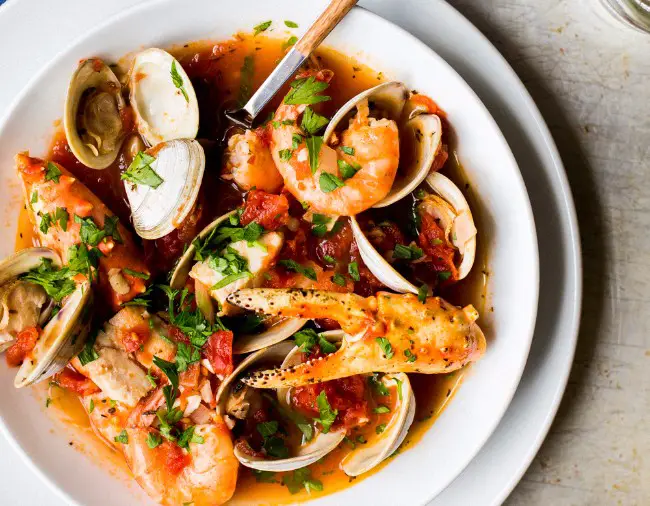 This Italian-American fusion is undoubtedly one of the most mouth-watering ways to do up seafood like a true Italian. This stew boasts a base of tomatoes, and it's loaded to the brim with fresh goodies from under the sea including shrimp, clams, crab, white fish, and lots of Italian herbs. This one is a fabulous winter warmer, especially if you're on the coast.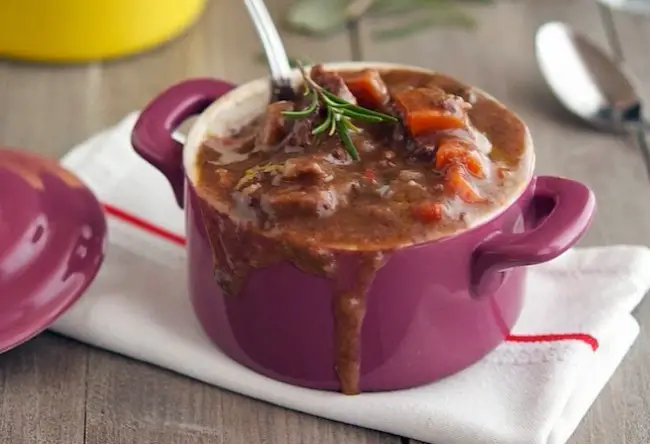 Ah, beef stew. You can never go long with a meal that takes all day to simmer, wafting its tempting aroma throughout the house as you check the clock, time ticking by slowly, wondering, "When will it be time for dinner?" This stew takes on Italian-inspired taste with a totally hands-off approach, plus it's freezer-friendly for quick and easy leftovers.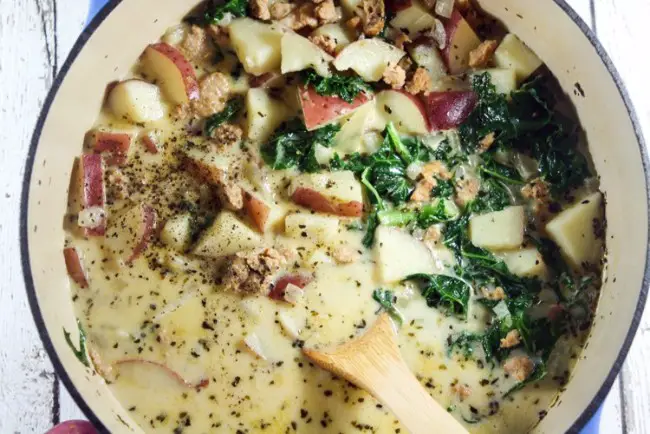 Endless soup, salad, and breadsticks from Olive Garden aren't exactly what we'd consider clean eats, nor is it authentic Italian cuisine. If you're on a budget and it's between a non-stop flight to Italy and your local chain restaurant, though, the urge can be tough to beat. Instead, opt for this dairy-free, totally clean version of the eatery's famous Zuppa Toscana, made rich with creamy coconut milk.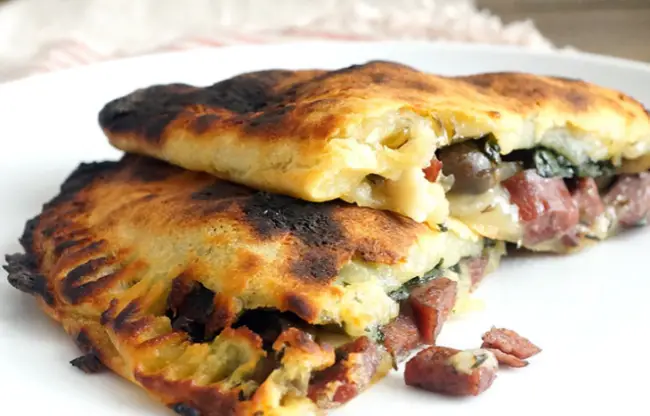 It's not exactly pizza, but it's not so far off. Instead of toppings, you get fillings, and who can argue with that? This is a popular pizzeria menu item, but it's just as greasy, doughy, cheesy, and not-good-for-you by any standards as its cousin. This recipe, though? Well, it's grain-free, dairy-free, nightshade-free, and a whole buncha other stuff. It's worth the effort of making the dough!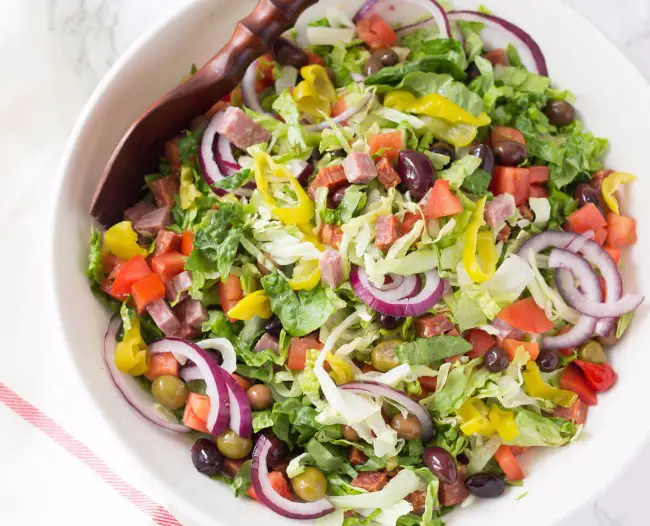 We said we'd keep it light, so we had to toss a salad into the mix (pun totally intended). The Italian sub is another pizza place specialty, but you can't always trust the ingredients. This is SO simple to make at home with some veggies and deli meat, and it's super satisfying. Bonus: recipe for homemade, refined oil-free Italian dressing.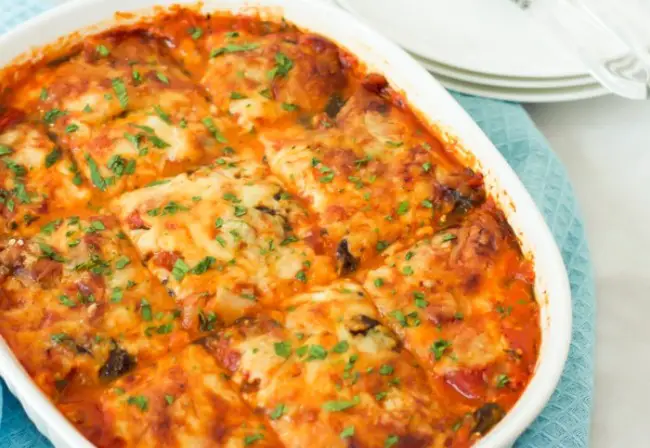 Does lasagna really count as pasta? It depends on who you ask. In any case, it's not your average bowl of spaghetti. This recipe skips out on wheat and noodles altogether in favour of healthy, low-carb zucchini, layered with ricotta, mozzarella, and red sauce. You won't miss the "real" pasta – promise!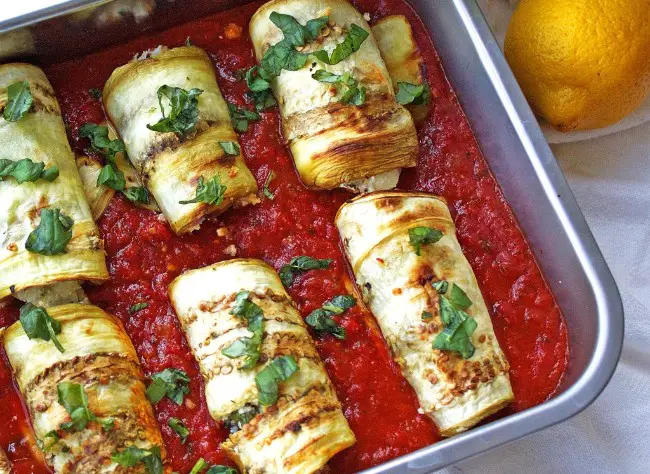 Involtini – Italian for little bundle – is a little bundle of joy in this case. These delightful eggplant roll-ups are easy to make, and this recipe uses a nut cheese in place of ricotta. It's like a toss-up between manicotti and eggplant Parmesan.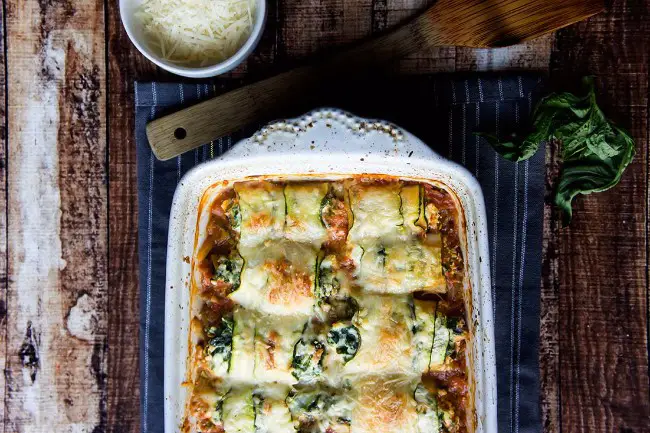 Manicotti is kinda sorta like lasagna, but any true Italian knows that this is the real deal. See, my mother would trade off wedding soup for manicotti from our relatives, and Christmas afternoon was the ultimate feast in my Italian home. This dish forgoes grain for zucchini (a clear winner in swapping out noodles) without forgoing anything else.
15. Raw tiramisu from Unconventional Baker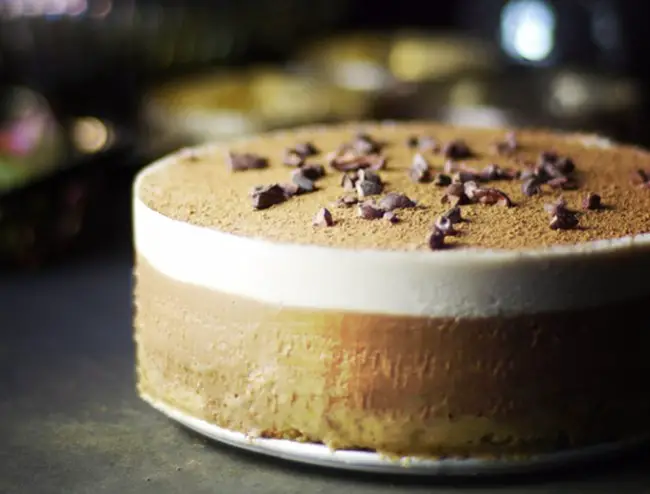 You didn't think we'd leave you without a little something sweet, did you? Let's end things on a positive note – dessert! Enjoy a slice of this dairy-free, grain-free, refined sugar-free tiramisu with a shot of espresso and call it a night. Totally vegan and paleo-friendly. You deserve it, after all. Plus, you don't even have to bake!
Let's hear from you! What's your favourite Italian dish? Did we cover it in our roundup? We hope you enjoyed this list. Make sure to share with your Italian foodie friends! Share this round up on Pinterest from here!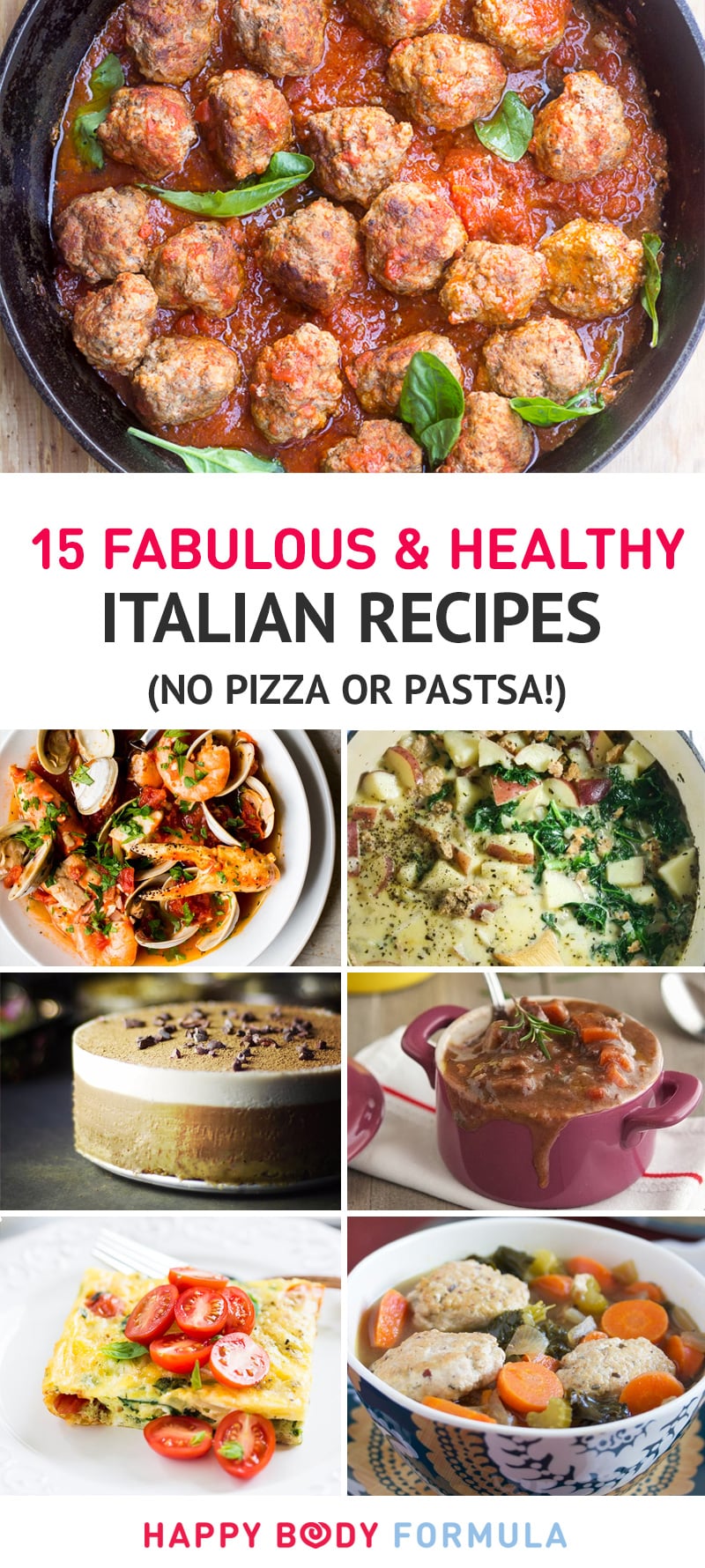 Music, mountains, dogs, travel, food and friends.