Balance. We all strive to find it in every part of our lives, but especially in our diets. This means red wine and dark chocolate on the regular (but not too regular).
The trick to giving up the guilt is not only finding time and space in our lives for these indulgences, but working with healthy and nourishing ingredients when it's time for a treat.
Where there is a will, there is a way and the universe is hard at work developing new ways to make dessert a perfectly healthy fourth meal here and there.
These are some of the most mouth-watering guilt-free desserts out there for every craving you can imagine.
Raw chocolate hazelnut cakes
Think Nutella without the sugar rush. These raw vegan treats are a bit like that mixed with ice cream aka pure heaven. This is a four-part recipe building the base, the gooey center, and the chocolate sauce on top, but it's totally worth the effort. Get the full recipe from Ascension Kitchen.
Sweet potato, caramel & chocolate Tiramisu cake
There's no case quite as convincing for a guilt-free dessert than when the main ingredient is a vegetable. Count me in! This Tiramisu is decadent and rich with chocolate and caramel with the secret ingredient nobody will guess. Get the details at Mummy Made It.
Fruit ice cream cake
One look at these gorgeous rainbow layers and you know you want to make this ice cream cake. Forget artificial dyes, this fruity masterpiece is all natural with its vibrant hues coming from the fruit itself.
This labor-intensive cake is a piece of art, so it's totally worth the time. Check out another recipe from Mummy Made It.
Epic raw banoffee cheesecake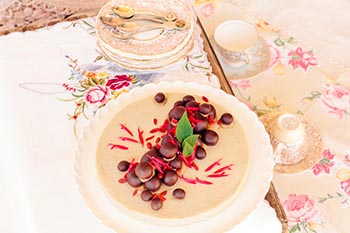 The name just about says it all. This cheesecake is truly epic with loads of healthy fats in its creamy filling and all raw ingredients. You can pop this baby in the freezer and take a slice for those nights that call for dessert. This treat recipe comes from Jules Galloway
Berry nice brownies
Know what pairs exceptionally well with brownies? Berries, of course! These sweet potato brownies will come to life with a surprise raspberry or cherry in every bite. Get the scoop on these heavenly slices from Well Nourished.
Raw chocolate berry tart
Is a little less chocolate and a whole lot more berries your jam? We get it. This tart is the perfect vessel for antioxidant-rich summertime berries with a fig-infused crust to boot. Read the details in another recipe from Jules Galloway.
Chocolate-hazelnut & salted caramel tart
This tart will hit the spot with a luscious chocolate spread, its hazelnut-based crust, and a secret layer of ooey-gooey salted caramel. Salty and sweet, this tart is something everyone will drool over. Catch the full recipe from the Merrymaker Sisters at Eat Drink Paleo.
Raw vegan rainbow cake
Okay, there's not much we can say to do this a cake justice. It's like magic, fairy, unicorn, rainbow cake. You're just going to have to make it for yourself. This rainbow cake will knock everyone's socks off. Get the details from the Merrymaker Sisters.
Chocolate brownies that will blow you away
On the hunt for the best paleo-friendly brownies out there? Look no further than these fudgy bites. With a simple ingredient list including a bit of veg power from sweet potato, these will become a weekend staple in your kitchen. This gorgeous dessert is another one from Eat Drink Paleo.
Cherry chocolate naked cake
Going for simple? While this cake requires quite a few ingredients and some baking skill, it is a naked cake which means you can skip the step of perfect icing, leaving it for the layers in between. This double chocolate whammy comes from The Urban Poser.
Gluten-free fruit cobbler
Tap into some old-school, rustic charm with this fruit cobbler. Bursting with berries in a fluffy gluten-free crust, this is the perfect pairing for some dairy-free ice cream on a warm summer day. Find out how to make it from Eat Your Beets.
Caramelized banana pecan ice cream
Speaking of ice cream, you might want to get your hands dirty with this one. Nutty perfection from pecans match up well with caramelized banana in this easy, 4-ingredient healthy ice cream from My Natural Family.
Samoa donuts
If you don't LOVE Girl Scout cookies, you're lying. Amongst the most coveted are the Samoas with their gooey caramel, chocolate drizzle and liberal amounts of coconut. The only way to make them better?
Turning them into a donut, of course. Fortunately, The Urban Poser was kind enough to make it happen.
Homemade Twix bars
If Girl Scout cookies aren't your cup of tea but the candy aisle is your main temptress, consider whipping up a batch of these gluten-free Twix bars. The crunch? Check. Chocolate? Gotcha. Caramel? You bet.
This recipe from Bakerita is no frills and you likely have the ingredients on hand.
No-bake chocolate caramel tarts
One look at that scrumptious center and you know you want to make this tart. You don't need to wait for a special occasion to cut into this goodness. Once again, caramel and chocolate come together for something truly special with this tart from Paleomg.
Rustic homemade marshmallows
S'mores, anybody? Whether you need a little something sweet to roast over the fire or the perfect garnish for a cup of hot cocoa, these rustic marshmallows will do the trick. They're a bit intimidating to make, but this recipe from The Urban Poser makes it easy.
Paleo creme eggs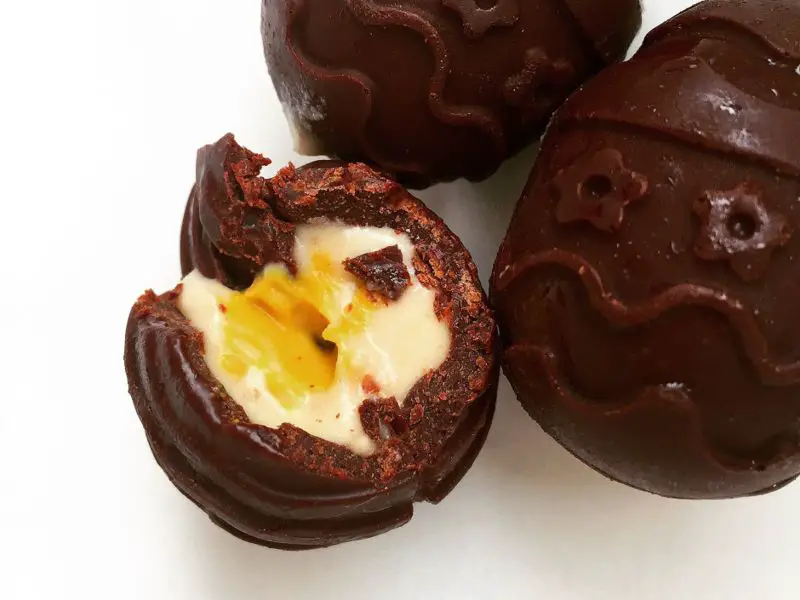 Just because it's not necessarily Easter doesn't mean these creme eggs aren't on the menu. With this recipe, you forgo the seasonal wait and all the junk in the store-bought brand. Check out the recipe from Greens of the Stoneage.
Grain-free magic cookie bars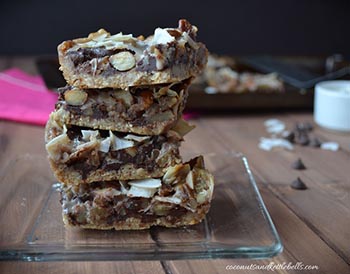 There's something about layers. It's like dressing for fall – it's just kinda fun. The more, the better, and these magic cookie bars have 7 layers of straight up deliciousness. Packed up with healthy fats from nuts and coconut, you have to make this dessert from Coconuts and Kettlebells.
Paleo cookie dough oreos
While it may have not crossed your mind until now, the ONE thing that beats a double-stuffed Oreo is an oreo cookie filled with cookie dough. Double the cookie, double the fun. This recipe does just that, and it's refined-sugar free. Grab the inside scoop from Living Healthy with Chocolate.
Paleo & vegan chocolate chip cookies
Looking for something a little more on the simple side? Chocolate chip cookies are your friend. Even this healthier, guilt-free version is easy to make with minimal ingredients you probably have on hand. Get a tall glass of milk ready for this perfect go-to dessert recipe from Wicked Spatula.
Got a favourite guilt-free dessert recipe that you love? Share it with us! Pin from here.
Music, mountains, dogs, travel, food and friends.