We are ALL about DIY beauty around here. Actually, we're all about DIY everything. From the amazing skin benefits of dry-brushing to homemade toothpaste, we're big believers in doing things the all-natural way.
The fact of the matter is, if you can do it on your own, it's probably better (i.e. healthier) that way. We think it's so important, that we dedicate an entire week of The Happy Body Formula to ridding your beauty routine of toxic ingredients!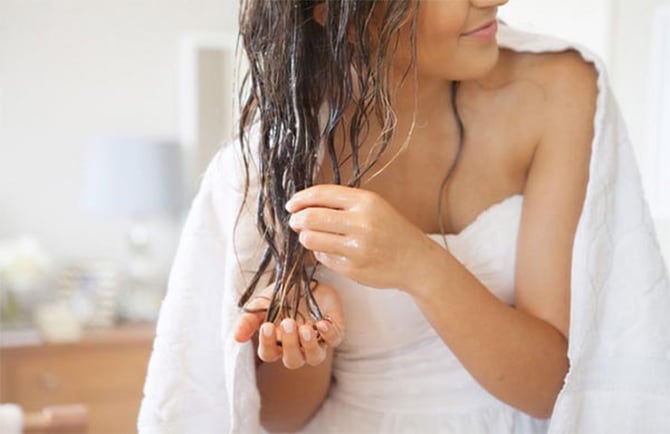 Skin scrubs, makeup and hair products are big culprits, and it's often hard to tell exactly what's hiding out. Moreover, it's hard to tell if these products are helping us more than they're hurting us.
Today, we're getting down to nourishing your hair so that it's soft, healthy and well-conditioned. The key is to not strip it of its natural oils, which many traditional and harsh cleansers do. From pixie cuts to long locks and natural to dyed, we've got the DIY treatment for you.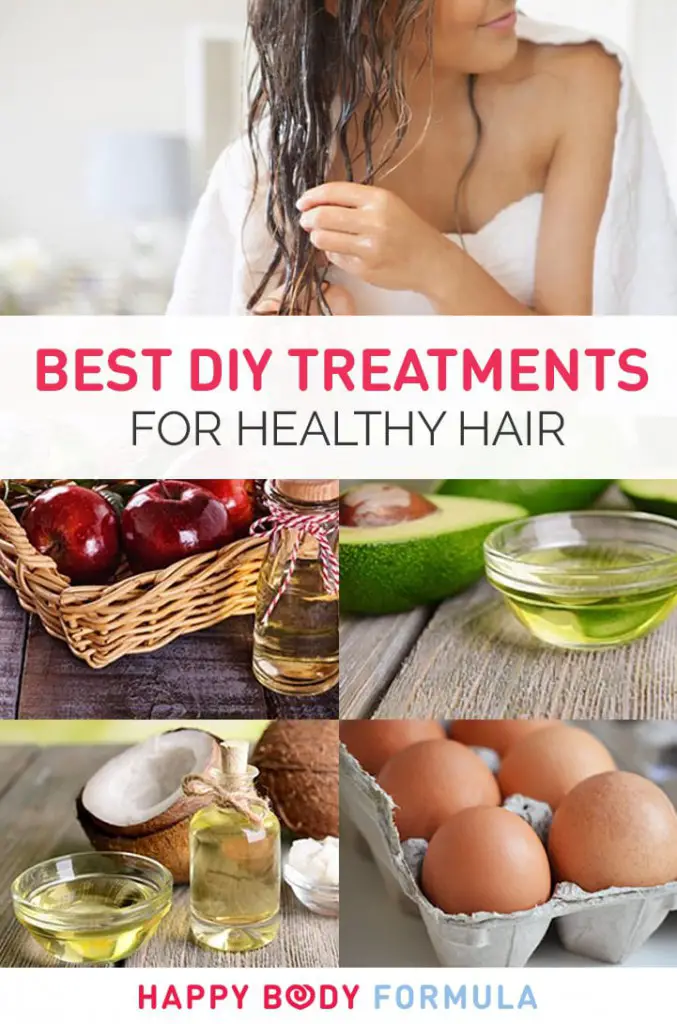 [/fusion_builder_column]
1. Avocado oil
If you know anything about us, you know that we are big proponents of avocado oil. Of course, we'll get to the other oils in this article too, but this one makes just as good a hair treatment as any.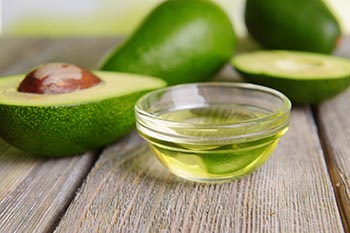 Massage avocado oil into the scalp. This stimulates blood flow straight to the follicles of the hair which promotes growth.
Vitamins B & E in particular are easily absorbed through the scalp, which can help both hair growth and helps to protect the hair against environmental toxins and damage.
To use as a moisturizer, mix 1 teaspoon of avocado oil with one beaten egg and a teaspoon of olive oil. Work from the roots to the ends, let it sit for a half hour, and wash out with shampoo.
2. Olive oil
Speaking of olive oil, it makes a great natural hair treatment too! As we mentioned above, combined with avocado oil, this dynamic duo is perfect for hair growth and deep conditioning.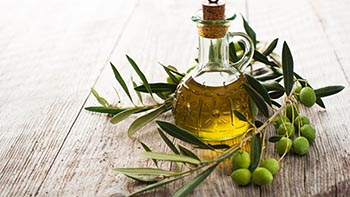 Dry, thick hair takes really well to olive oil. While olive oil can weigh down hair with a thinner texture, olive oil will give a dry mane the moisture it needs to look and feel healthier.
Split ends can be repaired and prevented with a bit of olive oil. Simply rub a bit onto the last two inches or so of your hair, and pin it out of the way so it doesn't get on your clothes or skin.
To use as a hair treatment, try mixing 1/4 cup of olive oil with a ripe, mashed banana. Massage through your hair and wrap in a shower cap or a plastic bag. Rinse with warm water after 30 minutes.
3. Coconut oil
Okay, I promise we'll move on from oils after this one, but of course coconut oil was going to end up here. After all, you can use it for literally everything (don't quote us on that). Here's how.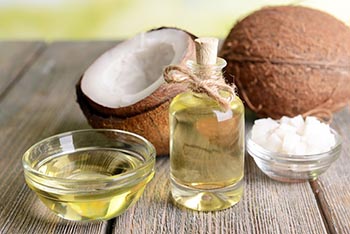 Dandruff can be drastically improved with the natural moisture found in coconut oil. Coconut oil contains antiviral and antimicrobial properties which can help fight dandruff at the source while soothing the scalp.
Styling hair with coconut oil is easy. Forget toxic gels and pomades. Remember, a little goes a long way! Use it to tame frizz, hide split ends, and easily detangle knots with a comb.
Use it as a shampoo by mixing 1/3 cup with a cup of castile soap, 1/3 cup of coconut milk and some essential oils. No toxins, no sulfates, and no harsh chemicals required!
4. Honey
Honey isn't just good for a sore throat. This sticky stuff has some serious benefits when it comes to DIY beauty from healthy, glowing skin to long and luscious locks.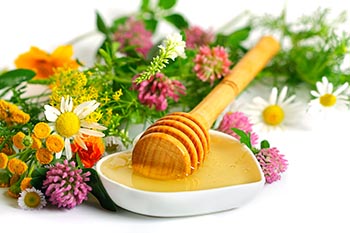 The high sugar content might not be ideal for consumption (in excess), but it is ideal for hair. It can actually help the hair and the follicles retain moisture, leading to hair growth.
Psoriasis can be treated naturally with honey because of its antimicrobial properties. It helps the scalp to stay clean and free of bacteria. This can also help with dandruff.
Honey and water make up one of the easiest DIY hair treatments. Simply mix 1/4 cup of honey with water to dilute the mixture enough to spread easily into your hair. Voila! No fuss, no hassle, no excuses.
5. Apple cider vinegar
Ah, here's another miracle food that we love to talk up. This is all for good reason! ACV has a reputation for better digestion, immunity and natural skincare, but it's also fantastic to tame your mane with.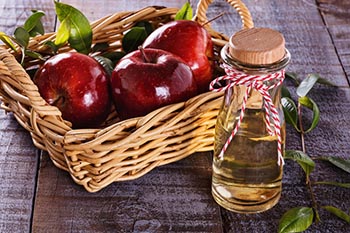 The pH levels found in apple cider vinegar are a perfect match for our hair. Without getting all science-y, the point is that our hair is already acidic, and most shampoos have too high of a pH level to keep those levels alkaline. ACV helps to find that happy balance.
Inflammation caused by dryness, harsh hair products, dandruff, psoriasis and sunburn can be counteracted with apple cider vinegar which is a notoriously anti-inflammatory food.
A standard rinse made from apple cider vinegar is simple to make and use. Just mix two tablespoons of ACV with 16 oz. of water and pour over wet hair after shampooing. Leave it in for 1-2 minutes before rinsing out.
6. Avocado
If the oil is good for your hair, why wouldn't the fruit itself be an obvious contender? With its healthy fats and creamy consistency, this stuff is made for an effective hair treatment.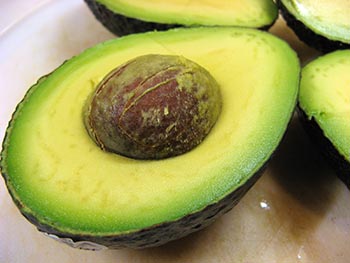 Shiny, soft and bouncy hair is often compromised by colouring, heat tools and styling. Avocado can fix all that because it contains the same oils found in avocado oil (duh), which help to repair all that damage.
The natural source of vitamin E is known to promote hair growth, so getting straight to the source with some direct avo on hair action is the best way to get longer locks.
You can use it on its own or mixed with other stuff like olive oil, coconut oil or egg yolks… there are a million recipes out there! Simply mash up an avocado and spread it onto your hair. Let it sit for 15 minutes and rinse. Boom! Soft and shiny.
7. Eggs
We've mentioned eggs enough times on the list now for them to get their time in the spotlight. Again, this is a beloved food when it comes to nutrition, but it also has moisturizing properties perfect for the hair.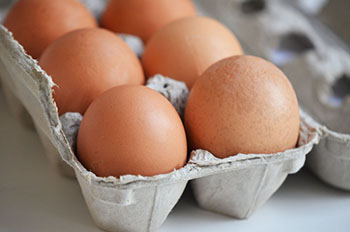 The yolks are where the magic happens, much like when it comes to breakfast. Here's where the vitamins A, E and D reside which can all contribute to healthier, longer hair.
Vitamin B12 which is difficult to get outside of animal products not only boosts hair growth, but it can give you a thicker and more voluminous mane.
To repair damage, whip up this recipe: 1/2 cup of honey, 1-2 tablespoons of egg yolk and olive oil. Leave it in for 15 minutes and wash out.
8. Yoghurt
DIY hair care is beginning to sound a lot like breakfast, but it drives the point home that we often have these ingredients lying around the house, ready for creative use. Yoghurt is no exception.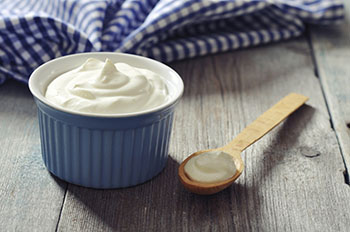 Protein might be the key to why yoghurt is great food for the hair. After all, the hair (and nails and skin) rely on protein to build and grow. That's why yoghurt is great if you're looking for a little extra length.
Biotin, a popular supplement taken for skin and hair growth, can be found in yoghurt and applied directly to the scalp making it the ultimate treatment for long locks.
To use a brightening mask for shinier, healthier looking hair, simply mix up 3 tablespoons of lemon juice, a tablespoon of olive oil, warm yoghurt and a whisked egg yolk. You'll get LOTS of benefits from this recipe!
9. Lemon juice
Piggybacking on our last recipe, let's talk about using lemon juice on your hair. While you might think its acidity means drier hair, you might be wrong. It has plenty of uses.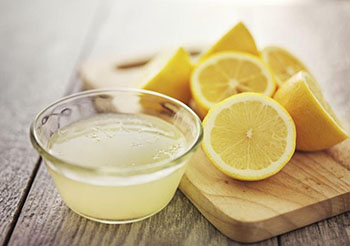 If you want to go lighter, you can skip the bleach. Bleach is harsh and does loads of damage to the hair. A little lemon juice combined with some time spent soaking up the sun can give you natural highlights without taking the brunt.
Treat an oily scalp with lemon juice as it has the ability to soak up oil like a sponge. Just soak your hair in lemon juice or apply it directly to the scalp and rinse out.
Avoid the heat because lemon juice can help you get straight hair without the aid of a flat iron. Mix 1/4 cup of lemon juice with a cup of coconut oil (melted) then refrigerate. Apply the paste, wait 15 minutes, rinse with cold water, and comb straight for sleek hair all day.
10. Champagne
Let's go out with a bang, or rather, a pop. It's time to celebrate, and what better way to do so in style? Of course, this might not be the most cost-effective option, but hey… who said we couldn't get a little fancy?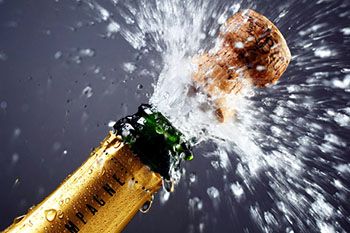 Enhance your highlights with a little bubbly. Use fresh champagne for a quick rinse to bring out the natural golden hues in your hair without any unnatural chemicals, dyes or shampoos.
Give yourself a root boost by spritzing a bit of champagne onto the scalp before you blow-dry.
To use as a rinse, comb fresh (i.e. bubbly) champagne through the hair and let it sit for 15 minutes. Wash out and blow dry. The high antioxidant content will leave you with a sparkly, shiny 'do.
Do you do DIY hair products at home? What is your favorite recipe or combination that you always have on hand? Share with us below!
Music, mountains, dogs, travel, food and friends.