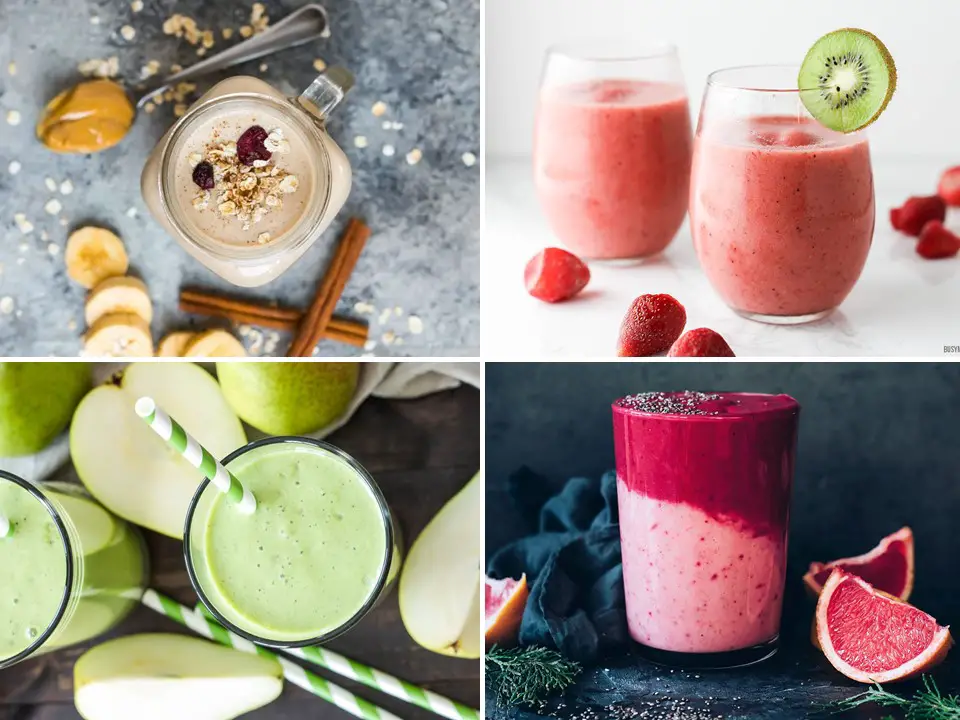 You would've heard it a million times before, but breakfast really is the most important meal of the day.
The problem is that in this day and age, many of us are simply too busy to grab a banana to eat on our way out of the front door, let alone prepare a hearty meal to gorge on before our work day begins.
We've got a solution for you that doesn't involve waking up an hour earlier. The answer? Healthy smoothies, as they're a nutritious, delicious, and incredibly healthy way to start your day.
Best of all though, smoothies can be prepared in as little as a few minutes, or if you're really stuck for time, why not do all of the prep the night before so you can simply blend, pour, and drink in the morning?
Here's our round-up of the top 20 breakfast smoothies to start your day with. From decadent cacao to vitamin-packed green smoothies – you're sure to find many recipes among this list that'll get your mouth watering!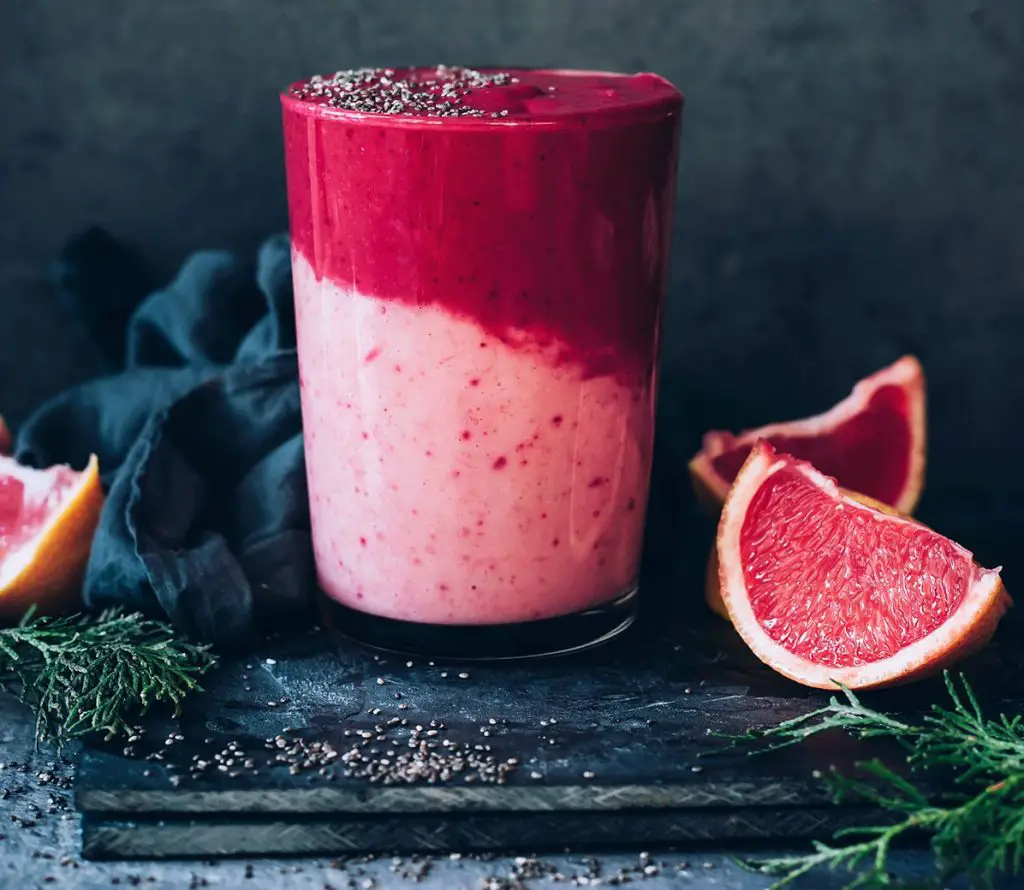 1. IMMUNE BOOSTING GRAPEFRUIT SMOOTHIE FROM HELLO GLOW
Not only does this smoothie looks extremely pretty, but it's also loaded with immune-boosting vitamin C, fiber and lycopene – all thanks to the grapefruit in it.
The trick is to look for red and pink grapefruits (which contain lycopene as well as higher amounts of antioxidants), as opposed to yellow or white grapefruit. Then, you'll be on your way to a much stronger and healthier immune system each morning you drink this smoothie!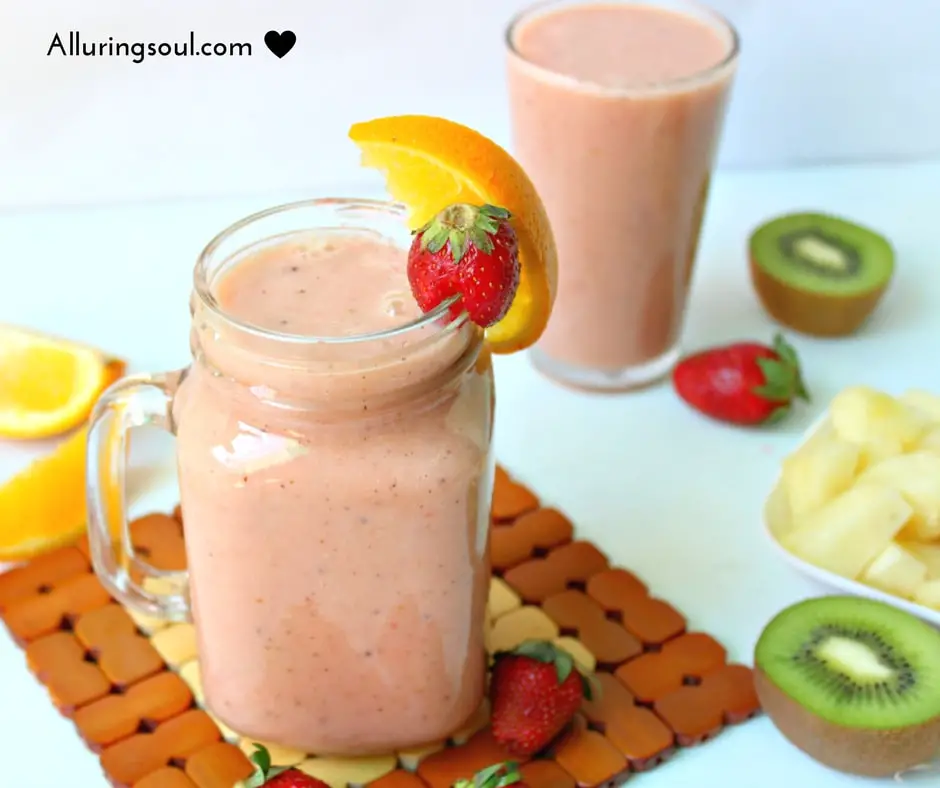 2. FAT BURNER AND IMMUNE BOOSTER BREAKFAST SMOOTHIE FROM ALLURING SOUL
Did someone say fat burning and immune boosting? This delicious smoothie contains 5 basic ingredients, including strawberry, pineapple, and kiwi. Plus, these fruits are packed with antioxidants and vitamin C, which is great for our health.
Simply add some orange juice, low fat yoghurt, and ice cubes, and you've got yourself one seriously good way to start the day!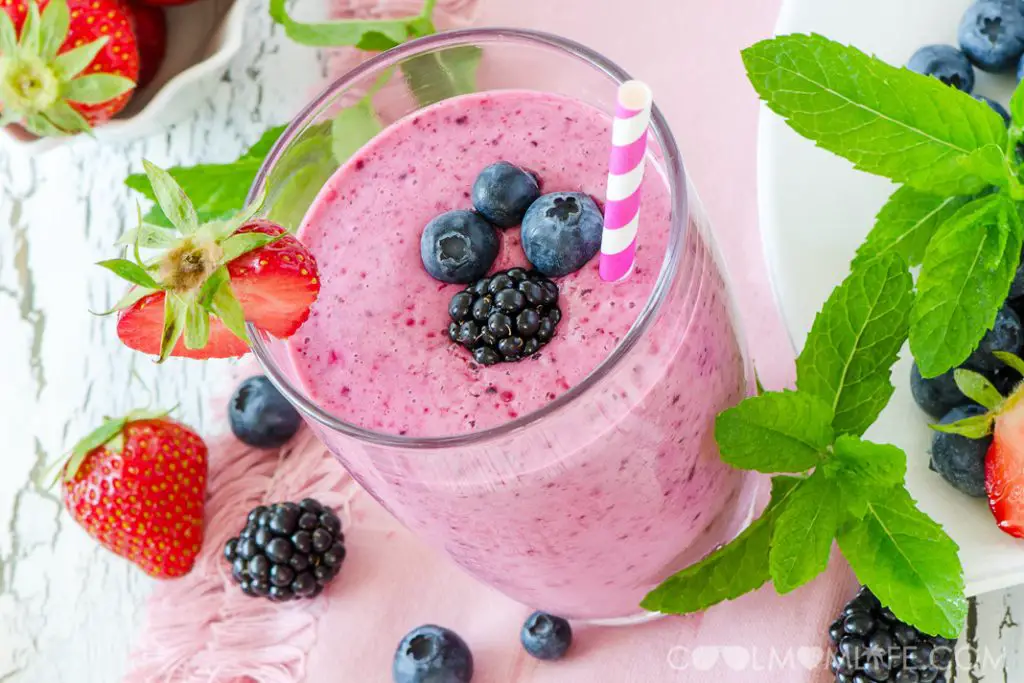 3. KETO BERRY SMOOTHIE FROM COOL MOM LIFE
If you're into the Keto diet, then this smoothie is the perfect breakfast to add to your day. Its texture is very smooth with a mild nutty taste and it contains raspberries, strawberries, blackberries, blueberries, almond milk and almond butter.
It takes just a total of 5 minutes to prepare and blend, so it's perfect for those who always seem to be on-the-go!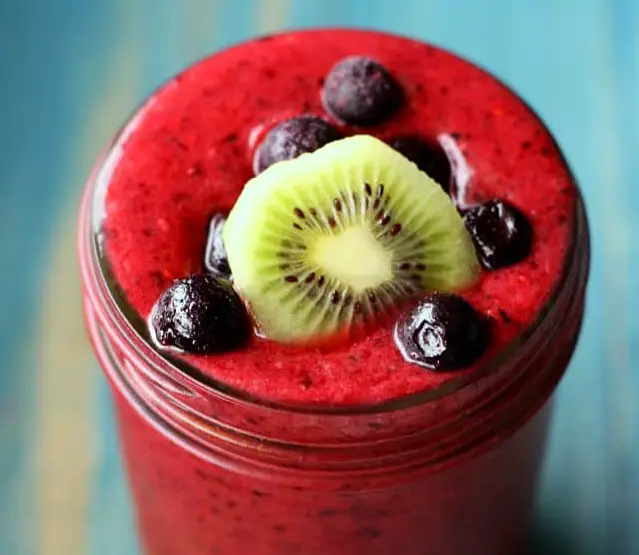 4. IMMUNITY BOOSTING TRIPLE BERRY KIWI SMOOTHIE FROM THE PRETTY BEE
How does this sound? "A fresh and healthy triple berry kiwi smoothie that's loaded with vitamins and antioxidants." This smoothie is a great way to boost your immune system, as it contains kiwi fruit.
In fact, just one kiwi has over 100% of the recommended daily value of vitamin C! It'll take just 10 minutes to prepare and one minute to gulp down.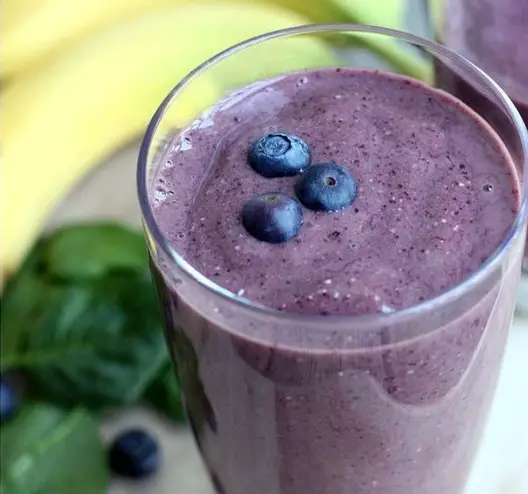 5. BREAKFAST POWER SMOOTHIE FROM MY RECIPE MAGIC
Blueberries, banana, oats and spinach are just part of what makes this "Power" smoothie so nutritious! Plus, these ingredients help to keep you fuller for longer, resulting in less snacking throughout the day.
Additional ingredients in this smoothie include Greek yoghurt, orange juice, and ice.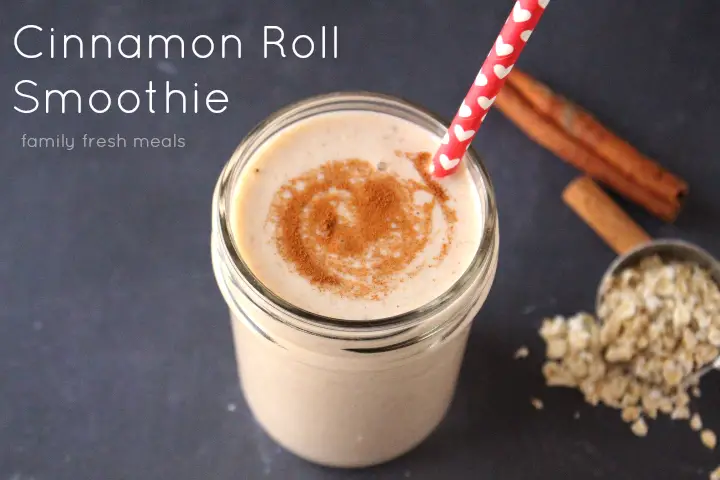 The aim of this delicious recipe is to take all the sweet, sticky, and spicy indulgence of a freshly-baked cinnamon roll and cram it into a glass.
Inside, you'll find vanilla almond milk, vanilla Greek yoghurt, old-fashioned oats, brown sugar, cinnamon, and banana. Does it get any better than that? We can't think of a sweeter (yet healthy) way to start your morning.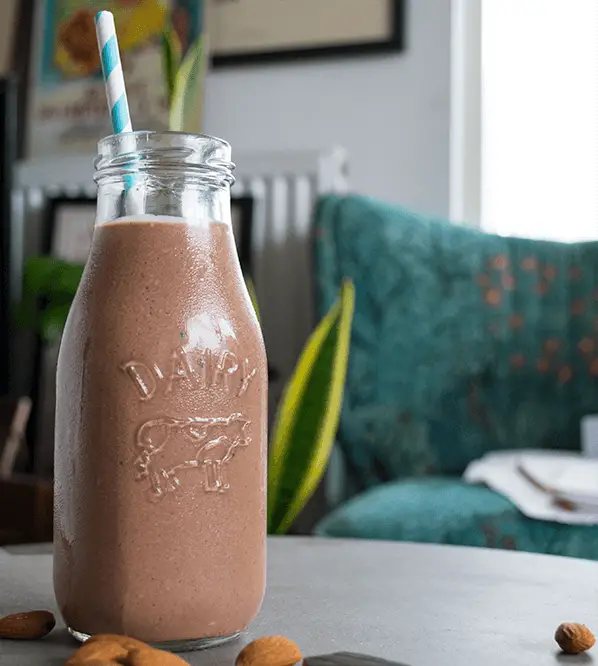 7. CHOCOLATE ALMOND KETO BREAKFAST SHAKE FROM I EAT KETO
This delicious keto breakfast shake is a great, indulgent way to start the day on a keto diet. It uses quality almond butter, which is a fantastic source of nutrients and healthy, monounsaturated fats.
The chocolate flavor is given to it by using cacao powder (raw chocolate), which is an excellent source of magnesium, flavanols and other nutrients, plus it contains 20 times more antioxidants than blueberries. How about that?!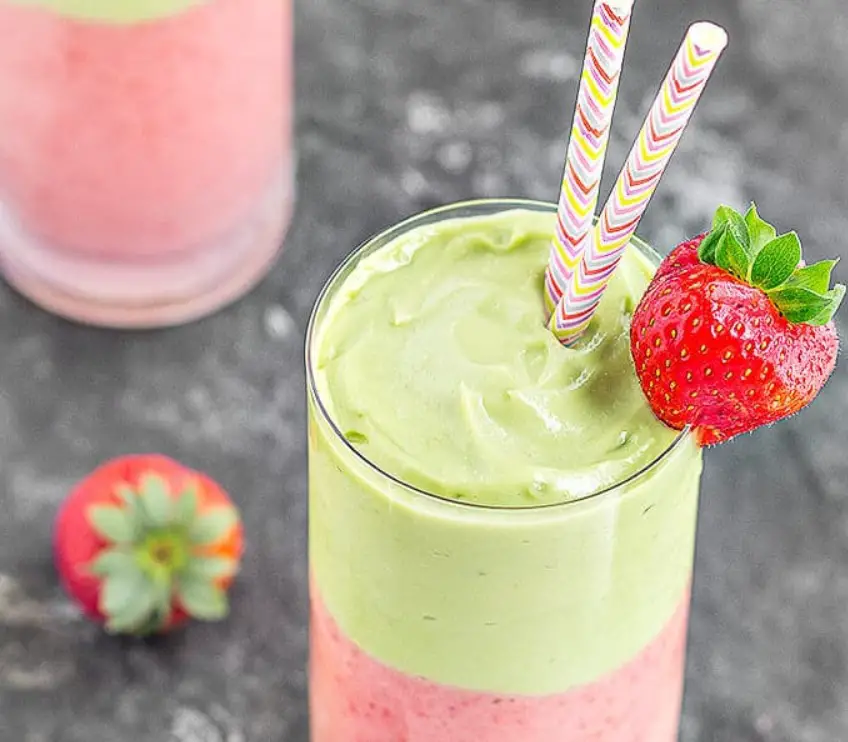 8. AVOCADO STRAWBERRY LAYERED SMOOTHIE FROM AS EASY AS APPLE PIE
This beautiful smoothie is packed with antioxidants from the berries and healthy fats from the avocado, making it a tasty and wholesome snack with just the right amount of sweetness. The secret to creating the look of colorful, clean layers is to freeze between pours.
After filling your glass halfway with the strawberry mix, pop it into the freezer for a few minutes and it'll be just firm enough to hold the avocado layer on top. Genius!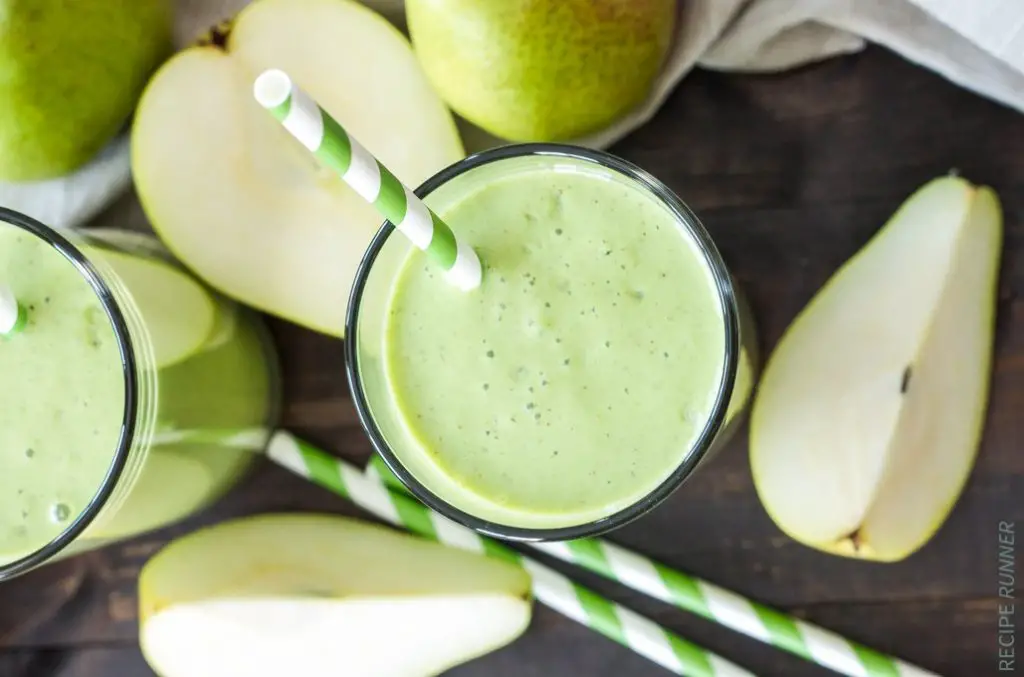 9. PEAR GINGER SMOOTHIE FROM RECIPE RUNNER
This refreshing Pear Ginger Smoothie is packed with greens, healthy protein and fiber, making it the perfect way to start each morning.
It takes just 5 minutes to make and contains delicious ingredients such as almond milk, spinach, pears, Greek yoghurt, almond butter, honey, ginger, and vanilla extract.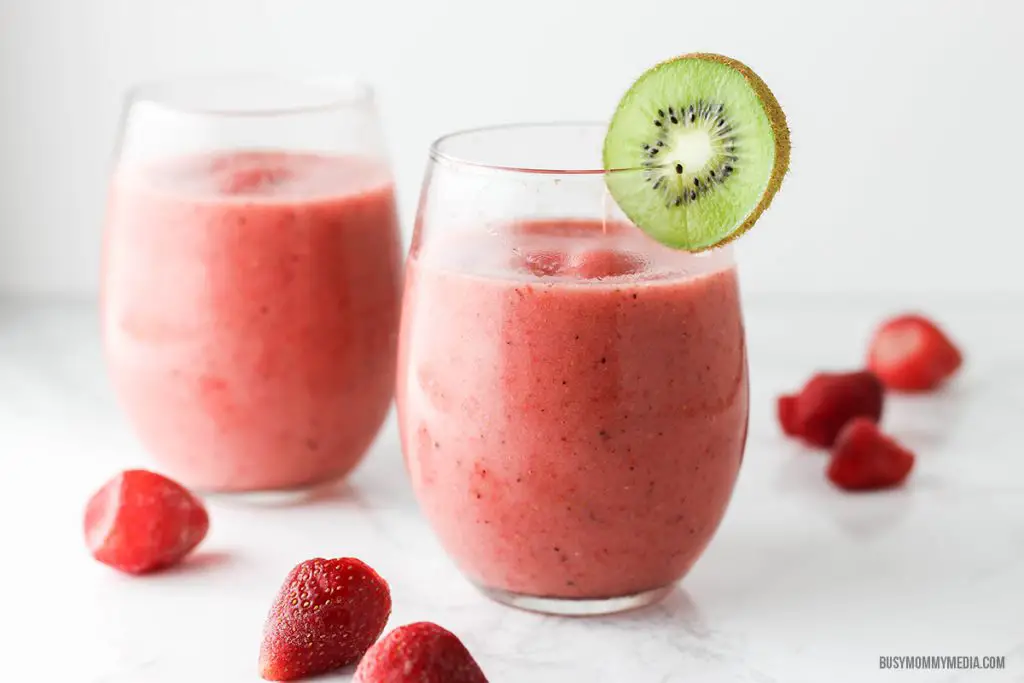 10. STRAWBERRY KIWI SMOOTHIE FROM BUSY MOMMY MEDIA
This smoothie is a great way to satisfy any sweet cravings without the additional sugar. Instead, it uses fresh, healthy ingredients such as strawberries, kiwis, banana, non-dairy milk, and vanilla extract.
It takes just a few minutes to prepare, meaning that you can have a healthy breakfast and still make your morning meeting!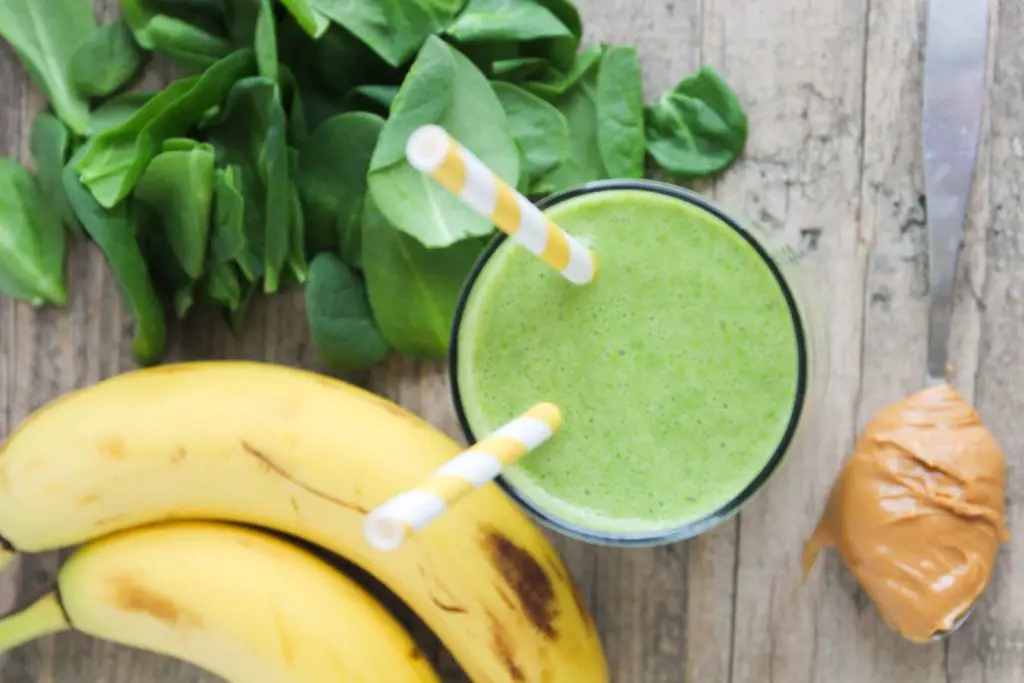 This smoothie tastes like an absolute dream, so you wouldn't believe that it has spinach in it! To make it, you simply add almond milk, spinach, banana, peanut butter, and honey to a blender and blend until smooth.
Then, for an icy touch, just add some ice cubes and blend again. We've been told that even kids will drink this smoothie, so it's the perfect way to (secretly) give them their daily dose of spinach!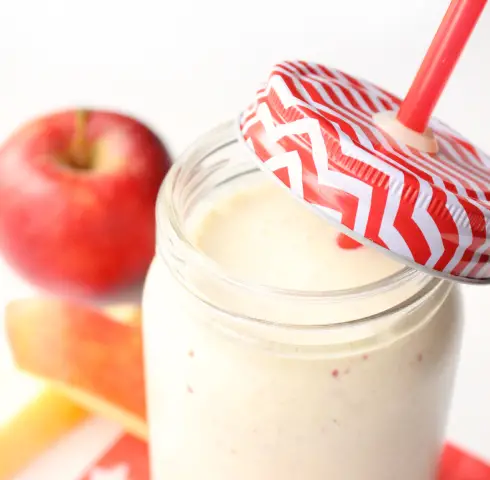 Everyone loves that classic, all-American dessert, and now you can recreate its flavors in a healthy breakfast smoothie.
It's blend of sweet honey, creamy yogurt, apples, and milk satisfies your apple pie cravings without all the extra fat. Plus, it takes just minutes to make (as opposed to the hours of baking that an apple pie requires).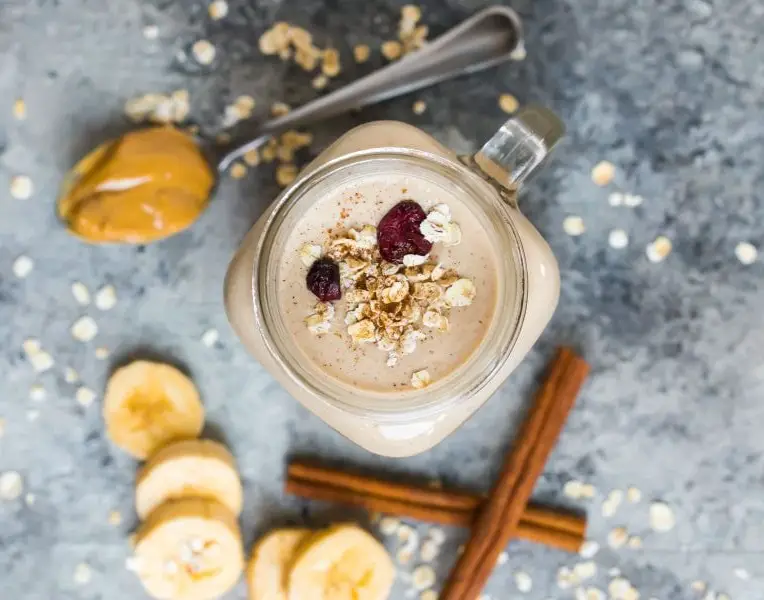 13. BANANA OATMEAL SMOOTHIE FROM WELL PLATED
When you think of some of the most popular breakfast flavors, they're oatmeal, banana, and cinnamon, right?
Well this mouth-watering smoothie from Well Plated blends these favorite flavors and more to create a recipe that will have you jumping out of bed in the morning. Think peanut butter, maple syrup, and vanilla extract. Yum!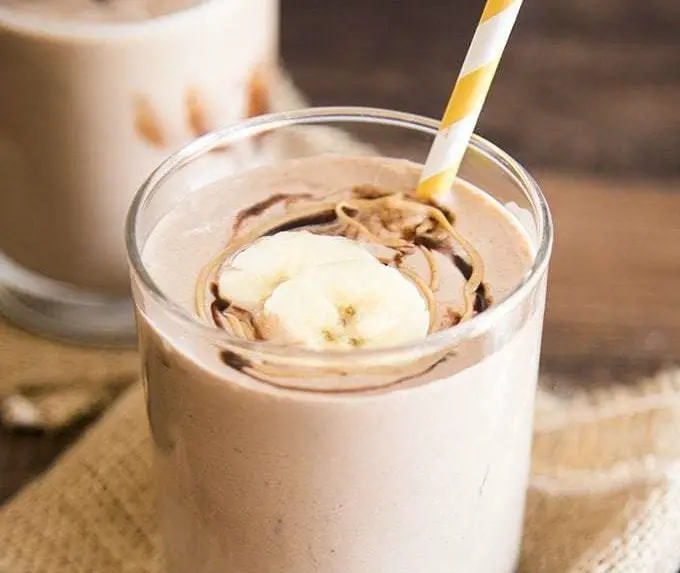 This breakfast smoothie is a bit of a treat, so you could also have it as a light, healthy dessert if you wanted to. It contains creamy peanut butter, bananas, milk, yogurt, cocoa powder and ice, meaning that in the scheme of things, it's actually not that bad for you – especially when compared to sugary cereals or other breakfast food.
You could easily substitute the cocoa powder for organic cacao powder too, infusing it with additional antioxidants (but without losing that chocolate flavor!).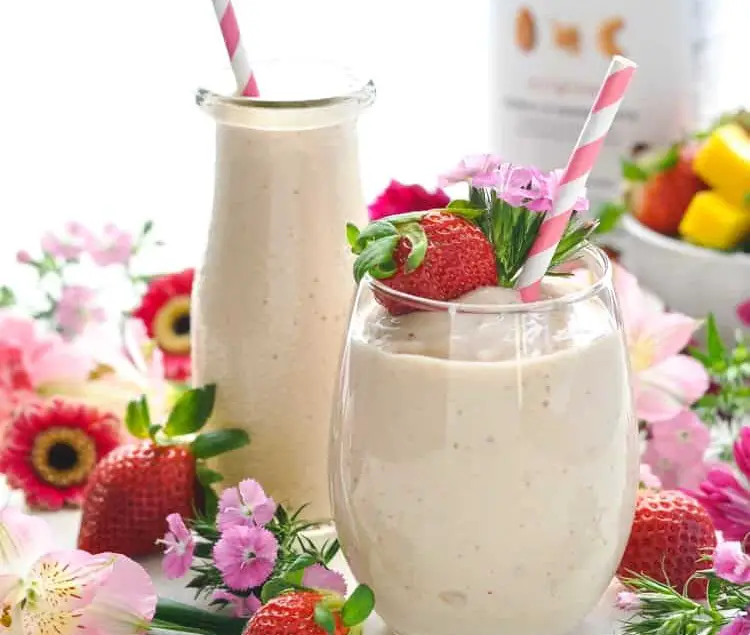 15. HEALTHY STRAWBERRY SMOOTHIE WITH MANGO FROM THE SEASONED MUM
This delicious, dairy free, vegan, healthy strawberry smoothie with banana and mango is so easy to make and perfect for summer!
It takes just two minutes to create, meaning that you never have an excuse to skip a healthy breakfast. Simply place the ingredients in the blender, blend it all up, and drink. Too easy!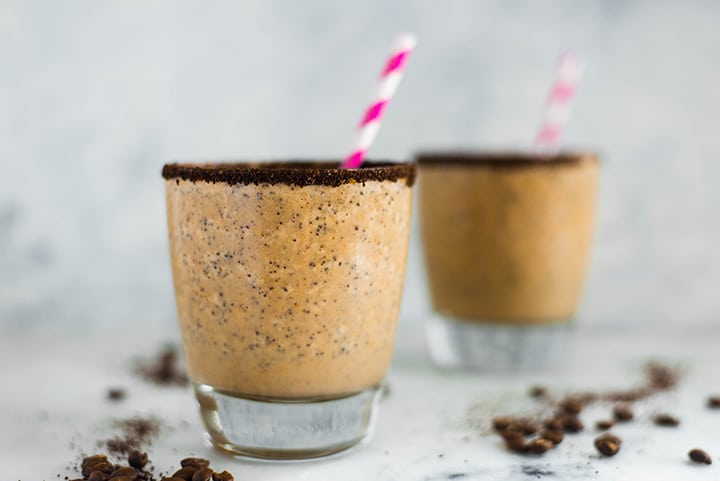 16. HEALTHY COFFEE SMOOTHIE FROM A SWEET PEA CHEF
Yes, you read that correctly! This healthy coffee smoothie is ready in 5 minutes and is healthier than the sugar-filled coffee drinks you are tempted to buy on your way to work.
All you'll need is milk of your choice, half a banana, nut butter, vanilla extract, coffee, and ice. Then, blend it all together for a morning pick-me-up that's filled with good stuff too.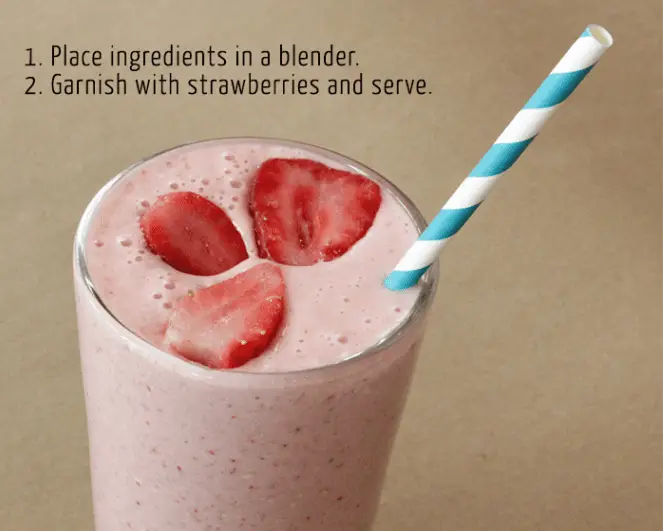 17. STRAWBERRY OATMEAL BREAKFAST SMOOTHIE FROM GLITTER AND BUBBLES
This breakfast smoothie can also be used as a post-workout snack, thanks to all of the goodness inside of it.
This recipe uses healthy ingredients such as rolled oats, banana, vanilla extract, soy milk, strawberries, and more. Simply garnish with sliced strawberries for a smoothie that's straight out of your favorite café!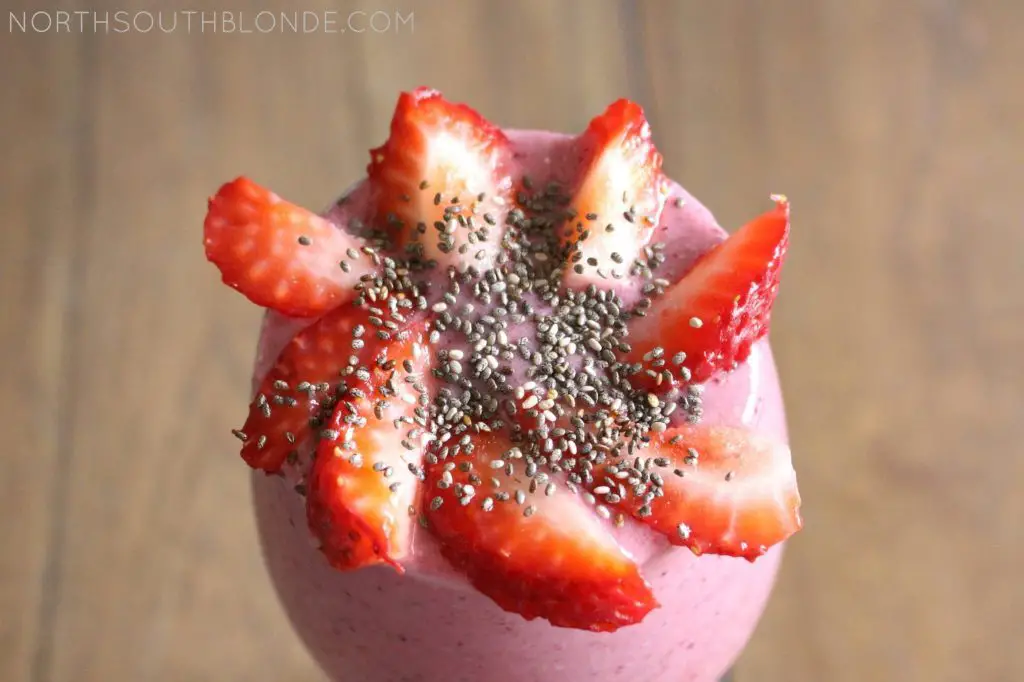 18. ENERGY BOOSTING OATMEAL BERRY BREAKFAST SMOOTHIE FROM NORTH SOUTH BLONDE
The best thing about a smoothie is that there are so many healthy benefits and nutrients packed into one glass. This smoothie is no exception either, as the ingredients are organic superfoods that are high in fibre, dairy-free, sugar-free, and gluten-free as well!
These include banana, mixed berries, rolled oats, raw honey, and chia seeds. Delicious!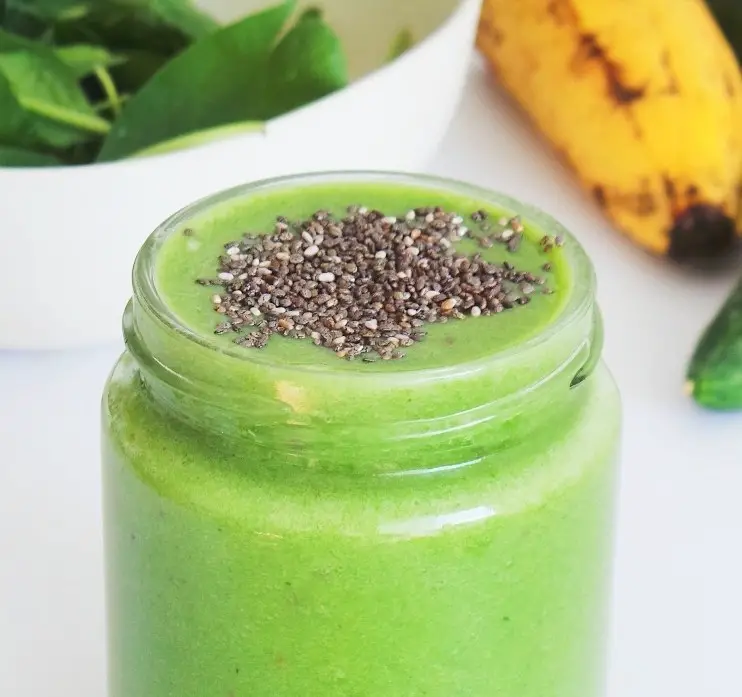 19. THE BEST GREEN SMOOTHIE RECIPE FROM BEAUTY BITES
This refreshing green smoothie with banana, chia seeds and peaches is a healthy snack that you can make in just 5 minutes.
You simply begin by choosing your green vegetables (the recipe recommends any of the following: spinach, lettuce, kale, nettle, fresh herbs, cucumber, celery), followed by a selection of fruits.
Adding avocado or banana makes the smoothie creamier, while spices such as ginger or cinnamon give it an added zing.
Banana seems to form the backbone of many smoothies, but what if you just really want a banana smoothie (and nothing else)? This brilliant recipe makes banana the hero ingredient, whilst pairing it with Greek yoghurt, almond milk, and honey to taste.
Rather than overshadowing the banana flavor, these ingredients serve to make it creamier and more delicious than ever.
Final Thoughts About Breakfast Smoothies
There you have it – the top 20 breakfast smoothies to start the day with! Not only are these smoothies extremely healthy, but they're also delicious, meaning you can enjoy them too.
Packed full of antioxidants, vitamins, and minerals, you'll soon be jumping out of bed in the mornings, ready to enjoy a positive and more energy-filled day.
Remember, with many of these smoothies taking just 5 minutes to prepare, there's no excuse not to start each day with a healthy breakfast smoothie.
In fact, if you're still low on time, you can easily prepare them the night before and refrigerate, ready to enjoy as soon as you wake up.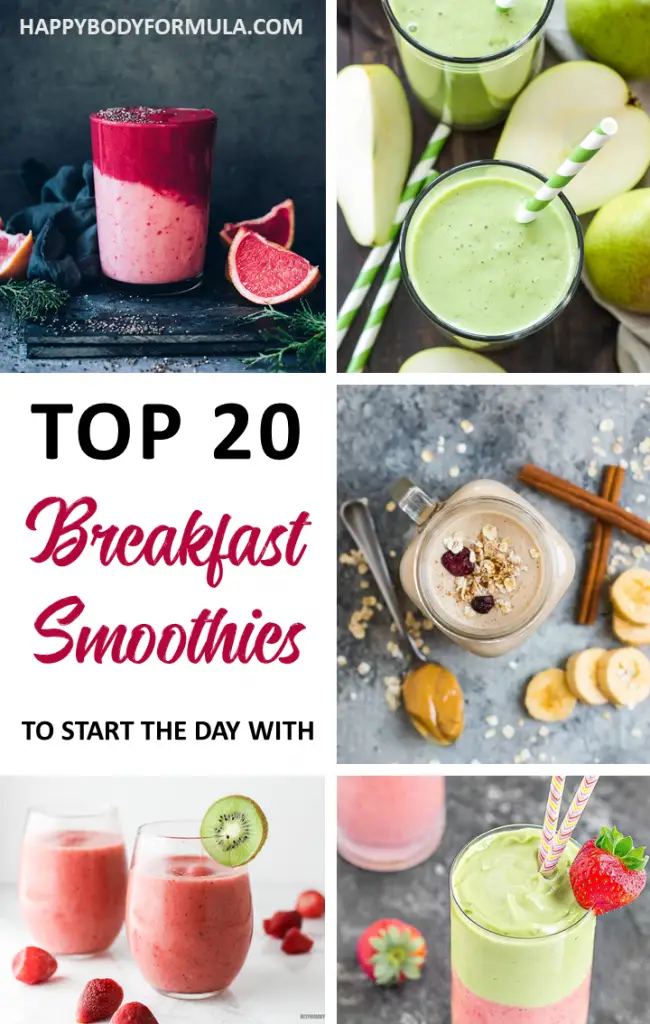 Melanie Clarke is the founder of Whim Online Magazine, an online magazine based in Australia that has a strong focus on whimsical + dreamy photography, as well as art and fashion content.